How to do competitive analysis on social media: case study

Article summary
In this article, we will tell you how to make competitor analysis with Awario in 5 steps. We took Apple Music, Spotify, and Deezer as examples to guide you through the whole process and dive deep into every step. Take this article as a guide for your study.
Competitive analysis is an analysis of who your potential competitors are, what marketing activities they do, and what results their campaigns get.
In fact, it is the easiest job for any marketer. Said no one ever. Still, competitive analysis is a crucial part of the groundwork done by every business hoping to stand out and sell well. To stand out, you need to figure out what your competitors are. To sell well — what they aren't. In other words, what your competitive advantage is.
When doing detailed social media competitive analysis, people usually start with the following basics:
the number of followers your competitors have
the rate of followers' growth, the assessment of the social media accounts they have (profile's consistency, design, etc.)
content assessment (the number of articles, photos, videos, competitive keywords, etc. per week; how relevant they are, how often they link to the website)
the level of engagement (the number of conversations, likes, and comments the social media posts cause on average).
After this, they go deeper — to the social listening stats.
Social media competitor analysis tools let you kill both of these birds with one stone. The results are impressive, too: 0 dead birds and full-fledged competitor analysis. Put simply, social listening brings you the best analysis of your competition at the least possible trouble.
With social media competitive analysis, you can reveal the following information:
Competitors' online visibility and brand recognition
Real-user feedback on products and services (including sentiment analysis)
Customer insights (geographic and demographic)
Influencers and mass media allies.
Naturally, this is a simplified version of a multi-layer process that is competitor analysis on social media. When done right, the knowledge of your competition lets you perfect your Unique Value Proposition, develop best-selling products, analyze and improve your content marketing and social media strategy, and even identify new market segments of your target audience. When done via social listening, competitor analysis is not only doable but also worth doing, even if you're going for it on top of the rest of your daily tasks.
Bear with me as I'll be walking you through competitor analysis with the one of social media competitive analysis tools Awario, one step at a time. In 5 steps or less, depending on how thorough you want to be, you'll understand and master competitive analysis.
Sign up for a free Awario trial
See Awario in action with a free 7-day trial. No credit card required.
By signing up I agree to the Terms of Use and Privacy Policy
As I'll be using Apple Music, Spotify, and Deezer as examples of competitive brands, you will also get some insights into which music streaming service is the best according to social media competitive analysis.
Step 1: Pick competitors & start monitoring
While this might seem self-evident (of course you know who your competitors are!), picking the right competitors to benchmark yourself against is a task of its own.
If you're thinking big and want to conduct comprehensive market research, you need every name of the competitive brand on the list. Big and small, well-established and new in your industries, more or less competitive, no competitor company account can be left behind.
For more customizable competitive analysis, you'll need direct competitors only, preferably a company list of comparable size.
Since we have the lineup ready — the very competitive Spotify, Apple Music, and Deezer — we'll be getting right to it. Namely, what we need is to set up mentions tracking on social media for each.
Sign up for Awario if you haven't already (use a free trial if you're new to the tool) and create a project.
You'll need to put in your brand name as well as your competitor brand names. The Product description field is optional as it's needed mainly for the Leads module.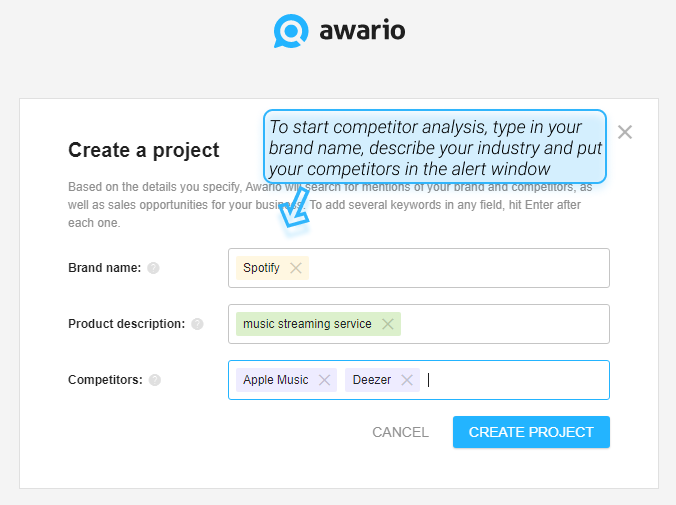 When you set up your alerts, Awario will start pulling mentions from social media. Give the tool some time and it'll pick up recent mentions as well as some historical data — this way you'll be able to do an initial analysis. That said, make it a habit to repeat the steps later on when mentions monitoring has been going on for a longer time. The more information you have, the more thorough your competitor analysis will be.
Step 2: Go through basic social listening stats
As soon as Awario has collected some data, you can go right to the Dashboard and take a look at the analytics. Feel free to add all alerts for a brand-to-brand comparison of all social media stats.
Let's see what we got here.
The sentiment analysis shows that Spotify has the most positive mentions. Besides, Spotify is in first place by the number of mentions and reach. Maybe, they have more powerful social media strategy?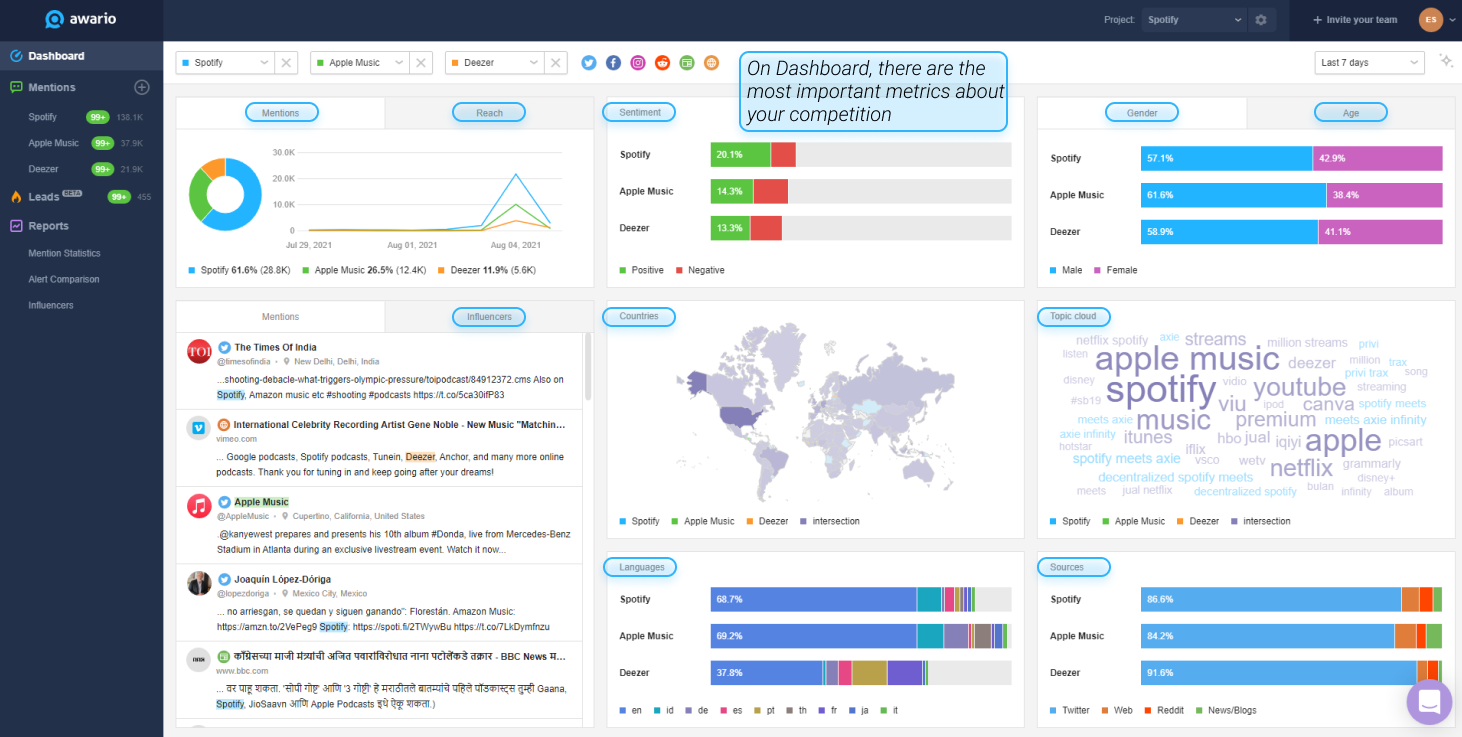 Mentions and Reach
The Mentions and Reach metrics will give you an idea of how much weight each of your competitors accounts has on social media platforms. The amount of buzz a name generates corresponds to brand recognition and overall visibility.
In social listening terms, measuring Share of Voice — the number of times a brand is mentioned on the web and in social media posts vs. the number of times competitor brands are mentioned — is the closest you can get to measuring market share.
As you can see from the Mentions analytics, Spotify has enjoyed the most online visibility out of the 3 brands. Awario collected 27.6K mentions of the streaming service on social media and the web (including news sites and forums) during 7 days. Apple Music goes next, with 11.3K mentions, and Deezer is way behind, with 5.4K mentions.
Sentiment
The next thing we'll be looking at is the Sentiment behind the mentions. Social media competitor analysis tools pride themselves in revealing analytics that goes far beyond comparing the number of mentions on social media. After all, not all buzz is good buzz, and this goes for social media more than anything.

From the get-go, we can see that Spotify, the leader in terms of the overall buzz, has 9.2% of negative mentions. Deezer, having the least mentions, has 11.5% of negative mentions. And Apple Music happens to be the most disliked brand, with 13.4% of negative mentions.
The competition gets even more interesting! If marketers of any of these brands were doing competitor analysis on social media at that point, they would feel all tense and, well, competitive.
Countries and Languages
The Countries and Languages sections will give you an idea of the geographical distribution of mentions. Depending on the markets you operate in, you can check specific locations to see if any market segments are overlooked and/or underserved by any of the business competitors. You can see how the competition is spread out and analyze what that means.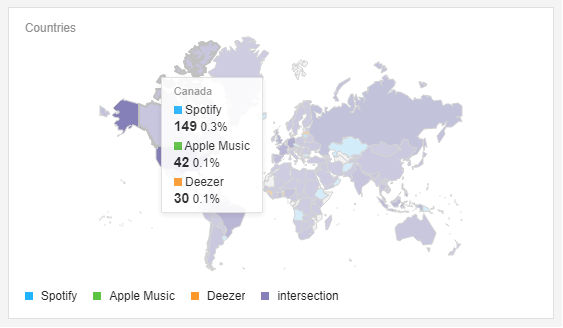 This is especially useful for international brands targeting globally. Naturally, if you're only serving a particular market, the countries and languages are the insights you already have.
Demographic insights, on the other hand, are valuable regardless of your market footprint. In competitive analysis tools, including Awario, you can often find metrics on gender and similar demographic insights.
Meet your personal social listening assistant.
Try fully automated, 24/7 competitor monitoring with Awario for free.
By signing up I agree to the Terms of Use and Privacy Policy
Age and Gender
These sections show who mention your brand most – women or men and reveal the age of people that post messages on the web about your company. It helps you to meet your target audience.
You can see that the music streaming services we chose for analysis are trying to draw the attention of the same audience.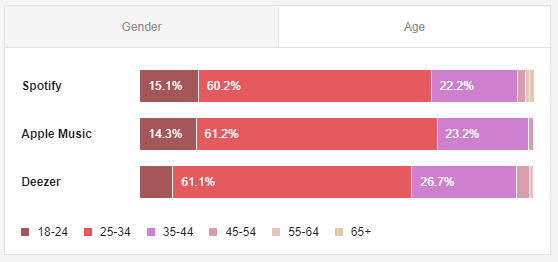 Sources
Next up is Sources — distribution of the buzz among social networks and the web. This is an important metric that gives you a breakdown of where the mentions come from, platform by platform. More often than not, there are unexpected insights into how well content competitors are creating, how their advertising is performing across social networks, as well as how much buzz is coming from the web and news.
Just as most tools for social media competitive analysis, when comparing competitors on social platforms and producing competitor report, Awario performs Twitter analytics, Reddit analytics, etc. and compares the results.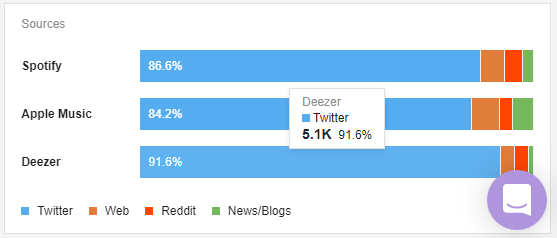 What stands out immediately is that Deezer, although having the lowest number of overall mentions, gets about 4% of those from the news and web. Spotify and Apple Music, our leaders in terms of mentions, get most of their buzz from social.
Influencers and Topic cloud
Now that we have some intel on where the mentions come from, we can go right into the Mentions and Influencers section for a quick overview of the most influential names behind the mentions of the competitive brands. These are individuals and mass media talking about the brands.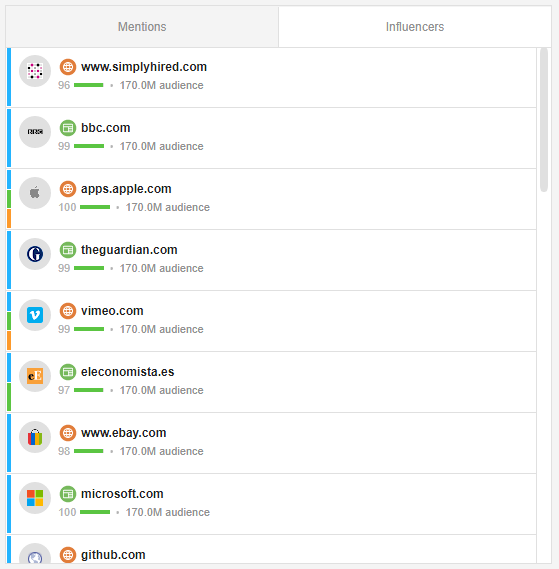 Meanwhile, to check the biggest topics featured in the mentions most often, you can refer to the Topic Cloud. We'll be looking into these competitor analysis features in more detail later on in this guide.
For now, we'll leave the Dashboard and tune into the mentions per se.
Step 3: Dive into mentions
You might have noticed that the entire Awario Dashboard is interactive — you can click on any graph, section, or name, and you'll be transferred to the corresponding mentions right away. This is how you get into the Mentions feed which is essentially the storage of all the mentions collected by the tool.
Here, you can access raw data and filter it the way that serves you best. Say, you noticed a spike in mentions of your competitor and you know that most of them appeared on Twitter.
Therefore, you want to do Twitter analytics and pull the Twitter influencers who have talked about the brand in the last month. Go ahead and apply these filters (and many more!) in the Mentions feed itself.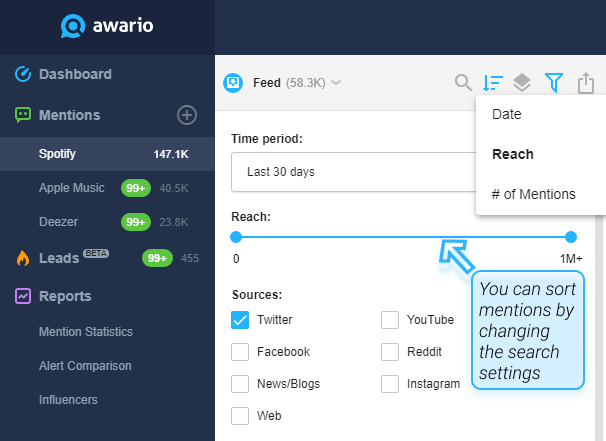 By applying your own filtering conditions, you get to extract highly specific data and instantly fetch insights that would otherwise require lots of time and effort.
Let's now see how by diving into mentions we can analyze competitors' strengths and weaknesses.
Get product feedback
To retrieve real-user feedback on any of your competitors' products or services, you can use the Quick search option.
For the purposes of this case study, we're interested in collecting feedback on competitive music streaming services. Therefore, we can run a search and see what our potential customers think about different aspects of competitors' products.
Let's see what real users think of things like interface, catalogs, device compatibility, customer support, etc. What we're looking for here is user-to-user recommendations and honest opinions that might give us some features and product improvement ideas. In other words, you can monitor competitors through customer reviews about their features.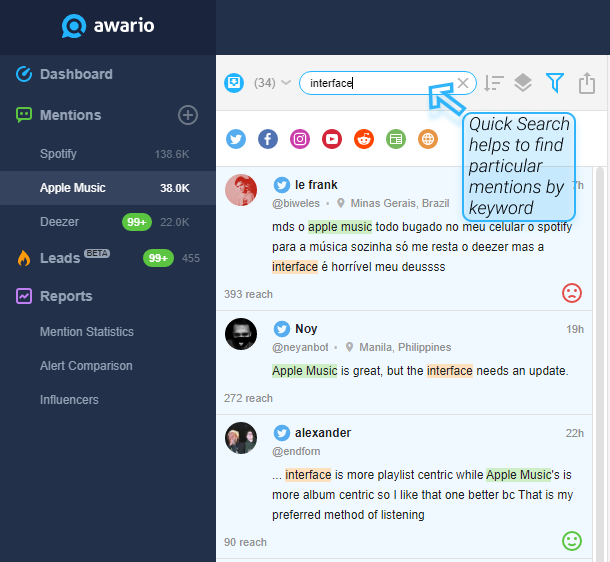 As you can see, I used the Quick search option in Apple Music Mentions feed to dig up all mentions of the platform's interface. I typed in "interface" as a keyword. I'm interested in the most popular opinions, so I've sorted the mentions by reach.
Depending on what kind of product or service you offer, think of the keywords you could put in the Quick search field to collect feedback on specific features or the lack thereof. Feel free to interact with mentions from the app in case there are issues you can address right away. By posting your replies to published customer comments quickly, you can prevent PR scandals around your brand.
If you're interested in conducting a brand-to-brand features comparison using social media competitor analysis tools (or the tool), make sure you check out my iPhone vs. Samsung competition case study.
Enjoying the post? There's more.
Sign up for our newsletter to get our best content by email.
Meet the influencers
More often than not, influencers are the biggest drivers of brand visibility. In social media management, influencer marketing, when applied wisely, is an effective and often free tool used to generate engagement and build that genuine brand-to-customer connection other forms of marketing may fail at.
Exploring influencers working with your competitors is made easy with competitive analysis tools. First, you can filter mentions by reach to find the most influential people who've talked about competitor brands. This way, you get to discover both major and smaller influencers as you're going through the mentions sorted by Reach.
Because the biggest influencers are displayed in the Dashboard as well, going through the Mentions feed is especially useful for digging up micro-influencers.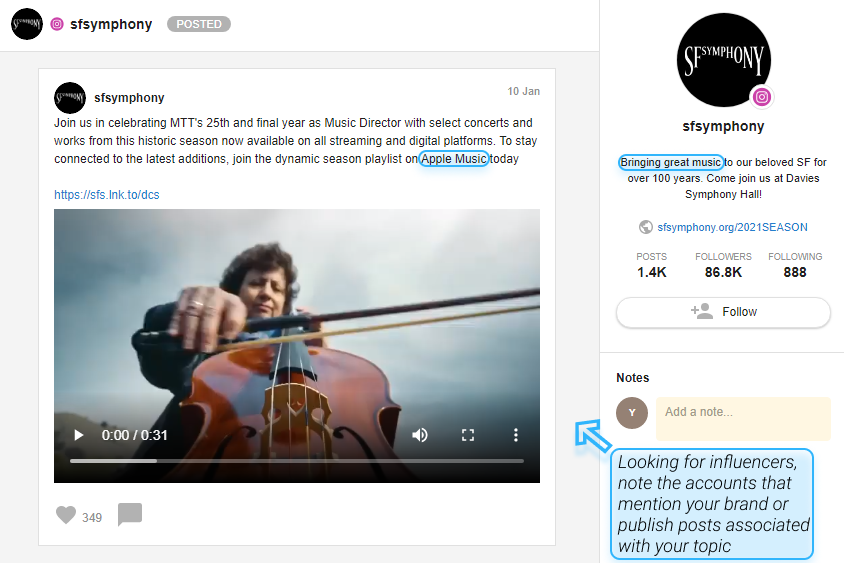 Applying the filtering skills, you got earlier, go ahead and sort the mentions by # of Mentions and group them by Authors — these are the people who've talked about the competitor brand most often. You can analyze the last social media activity they engaged in.
In-app, you can go to the mentions and interact with the authors right away. Alternatively, save the names in the directory for later but don't miss out on the opportunity to win yourself dedicated and influential brand advocates.
Grouping by Authors, you also get to see the most influential news outlets mentioning competitor brands. With mass media more than anything, it's likely that the outlets reporting on your competitors would be looking for industry news and trends and could cover some of your products and activities as well.
Step 4: Explore social listening reports
Awario's Reports section is where you get the results of the entire social media competitive analysis, including competitor research results and everything it incorporates: identifying competitors, tracking their business brands, analyzing competitors.
It's a shortcut to the insights social media competitor analysis tools uncovered. The longer mentions monitoring has been going on, the more comprehensive and thorough your findings get.
For the purposes of competitive marketer, reports offer an overview of all the metrics we talked about in this guide. With them, you can measure competitive performance on social media in detail.
The Alert Comparison report might be the most exciting part for marketers who analyze competitors. Here, you get back-to-back performance review, with up to 15 brands benchmarked against each other.
Share of voice
Counties and languages
Sentiment
Topic cloud
Top mentions
Age and gender
Influencers
Sources
The Topic cloud is an exciting feature I mentioned earlier while going through the Dashboard.
The Topic cloud is where you get insights into what words are mentioned the most alongside your competitor brand names. It is also the place to discover trending hashtags and jump on what's buzzing on social media at any given moment.
As part of the Alert Comparison report, we get Topic clouds for all of our alerts side by side.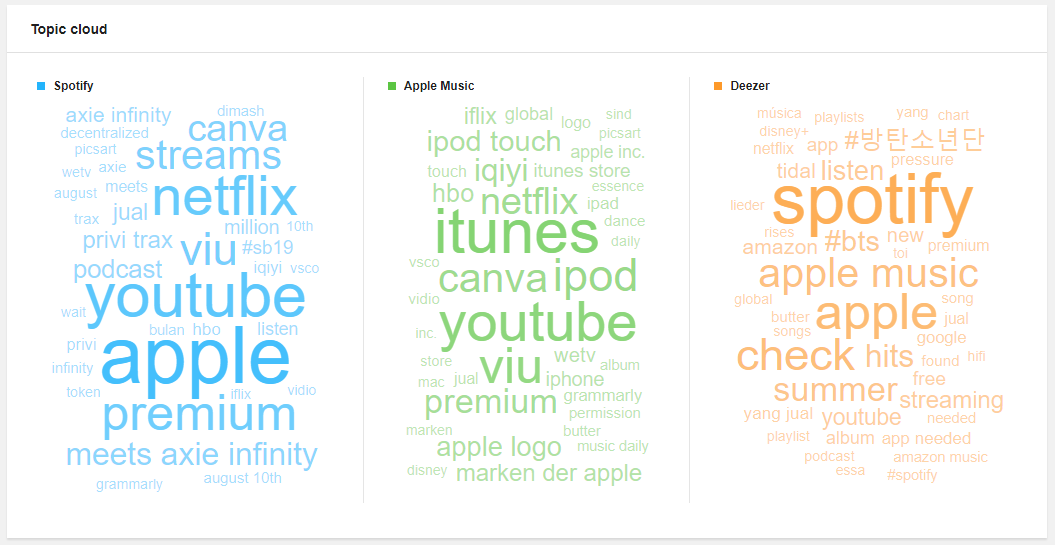 Before we move to the final step of this how-to, let's also take a quick look at the Influencers section of the report.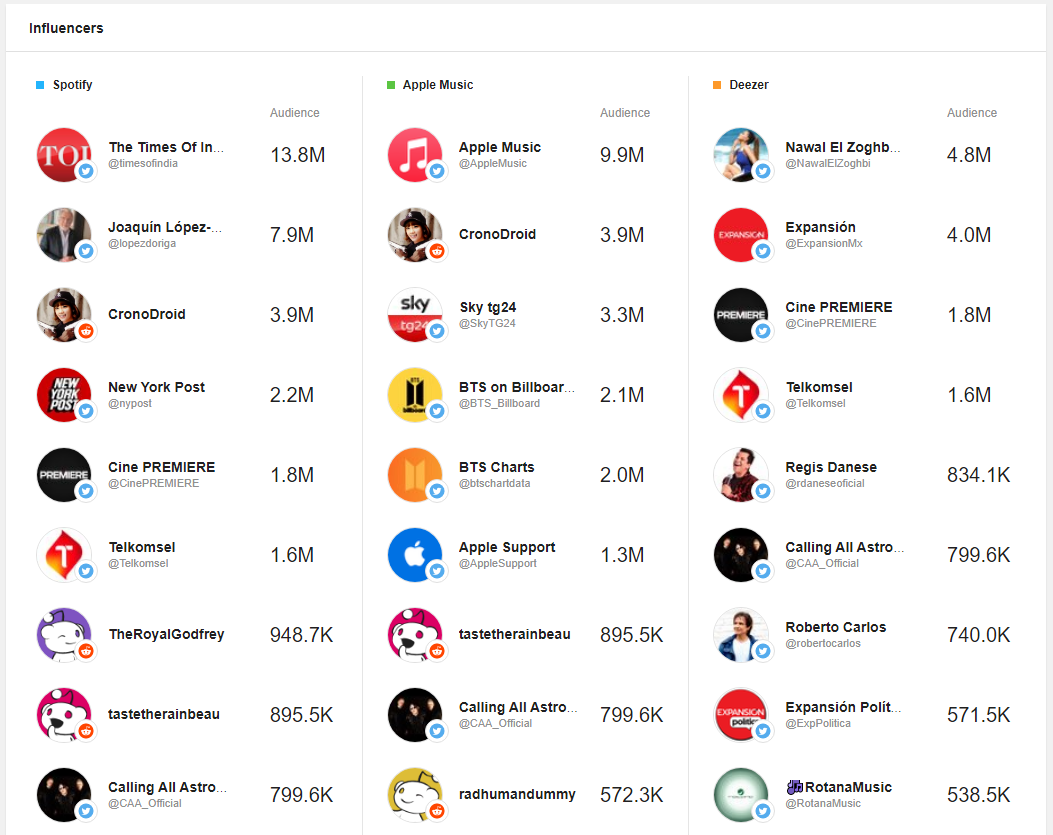 The Influencers breakdown in Alert Comparison is brilliant for benchmarking brand advocates against each other. What is more, seeing how names can overlap, you can always compare reach and draw valuable conclusions for your future influencer campaigns. Follow the accounts you are interested in to study it in detail.
As we learned from the competitive music streaming services featured in this case study, brands can share influencers quite comfortably, benefiting from enhanced visibility and customer loyalty.
Step 5: Sit back and feel proud of the work well done!
Good job! We've come a long 5-step way, having reviewed major social listening stats and analytics.
Please use this guide as a roadmap for future social media competitive analysis of your own. Remember: the longer you track mentions, the more insightful and comprehensive your analysis gets.
You can try various solutions for analyzing your competitors. The metrics I have mentioned earlier are available in most of them. Some tools for social media competitive analysis provide integrations with other marketing apps like scheduling posts or template creating ones.
Take a closer look at the metrics, grab Awario's free trial today, if not already, and start listening. Competitor analysis proficiency is just one of the many skills you'll gain with a social listening tool by your side.