Rozum Robotics intensifies its PR game with Awario

Summary
In this success story, we share how Rozum Robotics enhanced their PR activities towards the promotion of Rozum Café. The team took advantage of Awario social listening opportunities to improve targeting, create a pool of influencers, establish new media contacts and analyze the competitors better. Use this story as a guide to using Awario.
Company Profile
Rozum Robotics is focused on building outstanding robotic solutions. The company's product line includes high-precision servo motors, industrial robotic arms, frameless motors, grippers, CAN-USB adapters, robotic tool changers, and more.
Rozum Robotics is also the company behind the most advanced robotic coffee house to date, Rozum Café.
Sign up for a free Awario trial
See Awario in action with a free 7-day trial. No credit card required.
By signing up I agree to the Terms of Use and Privacy Policy
Rozum Robotics' Pains
The need to identify more specific target audiences for Rozum Café and engage with them to assist the sales team.
Lack of a solid brand monitoring tool to spot mentions of Rozum Café.
Absence of a tool to track down new media relations.
Challenge
Rozum Robotics was looking for a way to step up their PR game to get more recognition for their cutting-edge product, Rozum Café, and improve the performance of their lead generation channels.
The product we'are working on is truly innovative, and promoting something entirely new has its challenges. In our case, it is not enough just to get exposure. You have to grab the attention of the big media players and market influencers by fitting into as well as improve the quality of incoming leads. Enlisting Awario seemed like the next logical step.
Solution
After trying out several other products, the marketing team decided to go with Awario as their primary brand monitoring tool.
1. New Target Audiences Defined
Thanks to Awario, the team was able to define two new target audiences for Rozum Café. The overall quality of incoming leads has been improved as well.
The newly discovered target audiences helped the sales team focus their efforts on better prospects.
2. Media Connections Tracked
Awario reduced the research time spent on finding relevant media sources and influencers for promoting Rozum Café by 70%. The industries of interest were as follows:
● food tech
● robotics
● coffee business
The tool significantly simplified the process of keeping tabs on Rozum Robotics and Rozum Café mentions in the media worldwide by collecting all the references in one dashboard.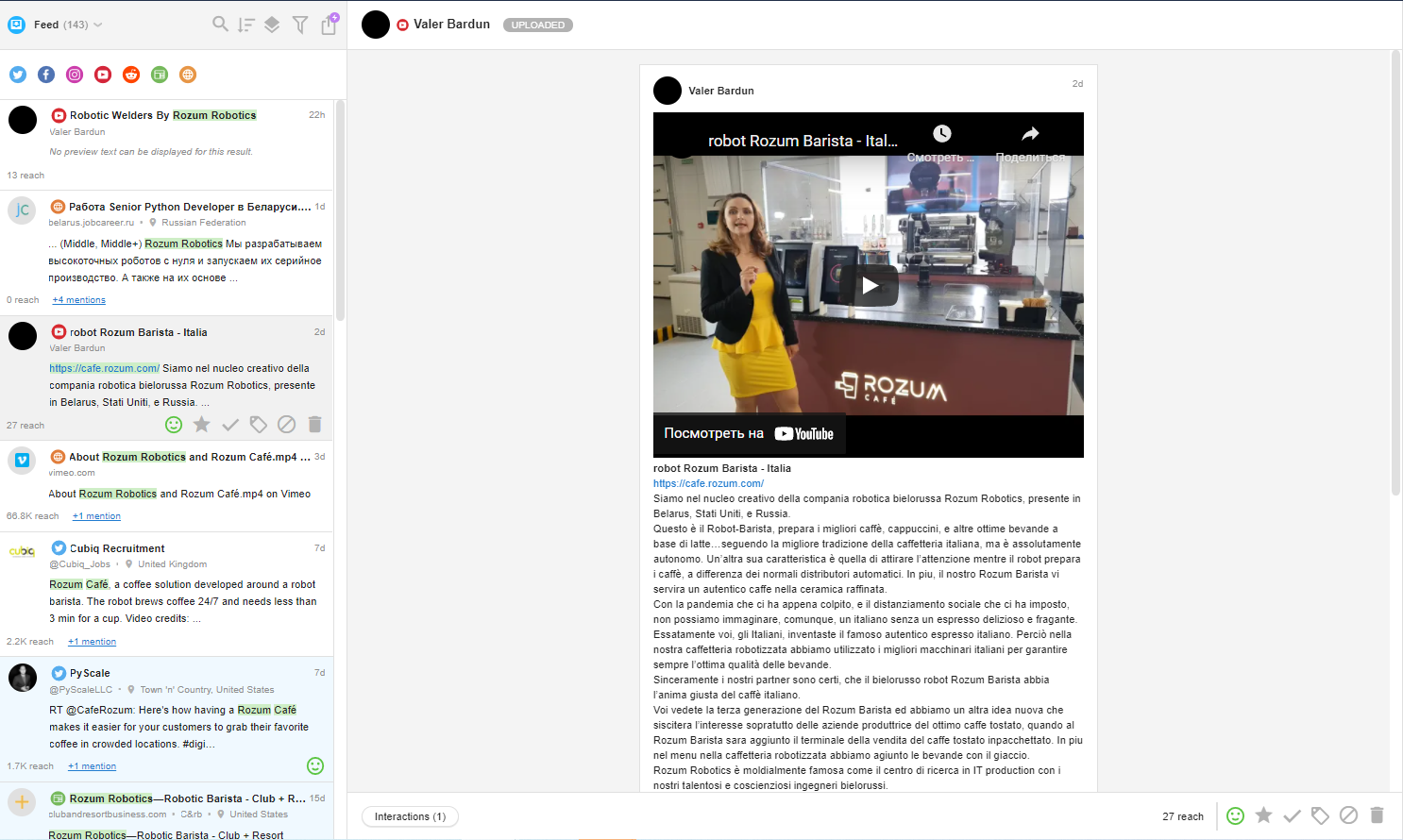 The sentiment analysis by Awario enabled the team to divide the mentions by categories just in a couple of clicks and thus measure the total discourse sentiment of their brand.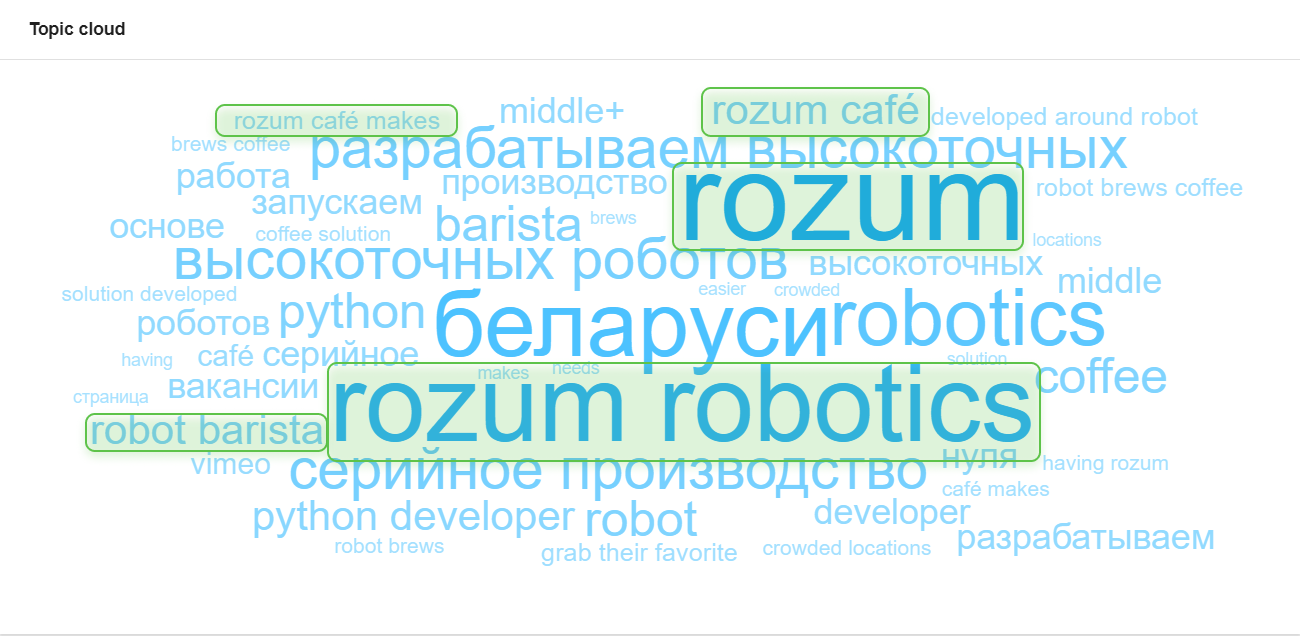 Spotting viral content regardless of the language became easier, and the marketing department was able to react to any mention in no time as well as track newly formed media relations for their PR efforts.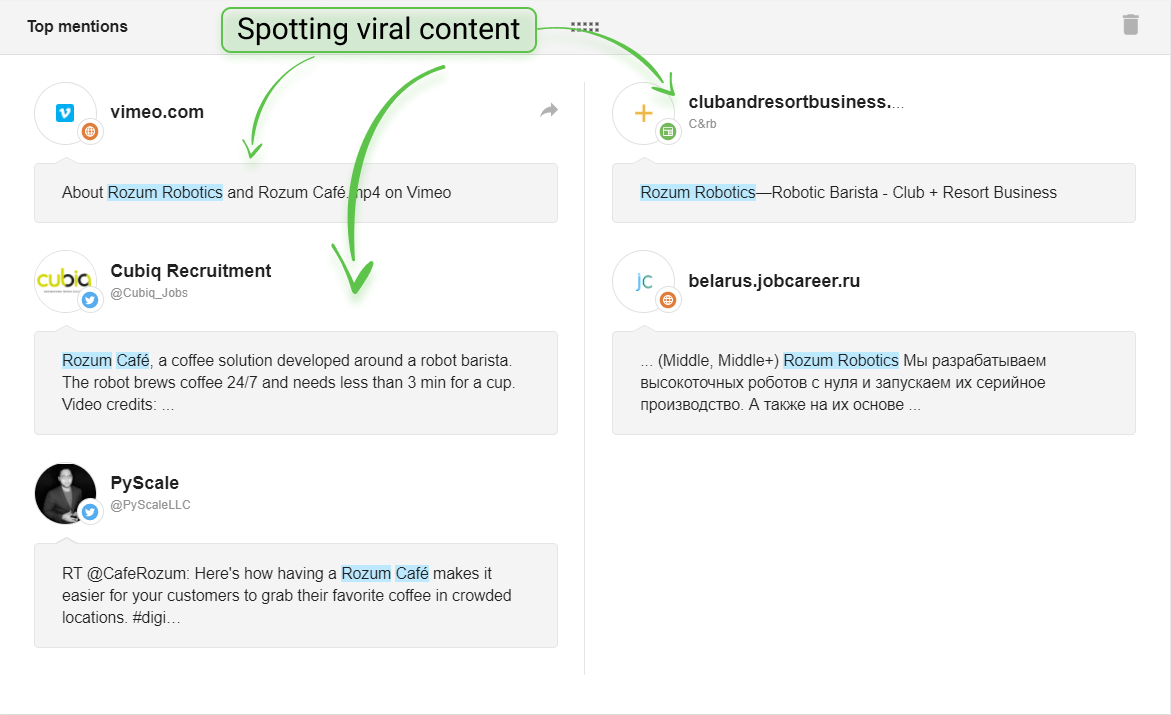 All the above-mentioned actions increased the visibility of Rozum Café both on social networks and in the press.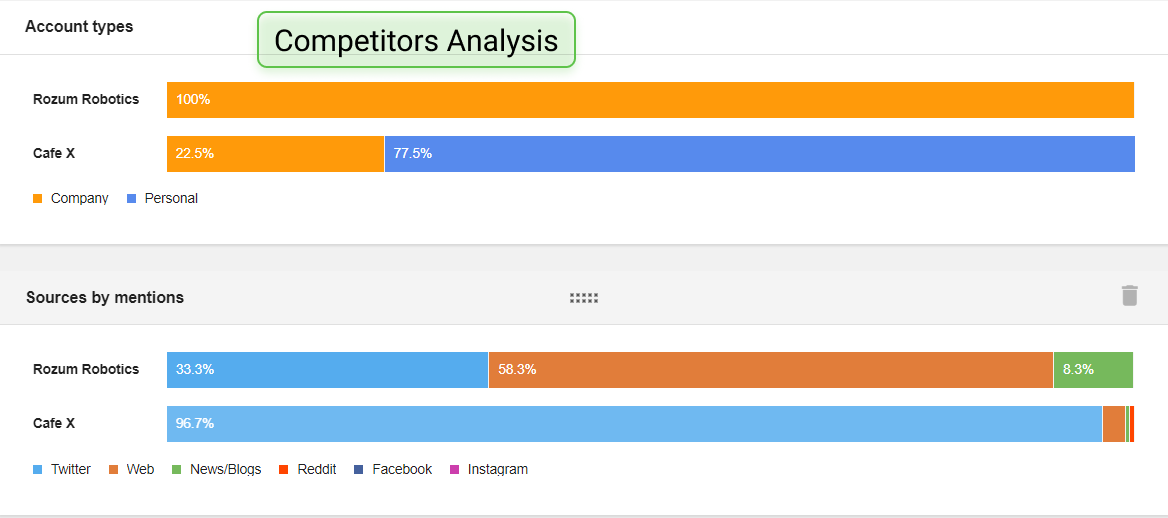 3. Competitors Analysed
The marketing team was interested in analyzing their competitors' postings on social media and comparing the sentiment of Rozum Café with similar automated coffee spots. Thanks to the alert system by Awario, they were able to spot such postings instantly.
Meet your personal social listening assistant.
Try fully automated, 24/7 brand monitoring with Awario for free.
By signing up I agree to the Terms of Use and Privacy Policy
Results and Improvements
● Quality of incoming leads improved.
● New TA found.
● Research time accelerated by 70%.
● New relations with media sources formed.
● Rozum Café sentiment measured.
● Competition spotted and analyzed.