Social listening for nonprofits: a complete guide

Nonprofits, more than any other organization, need to listen to their audience, beneficiaries, stakeholders, and the general public. Their success truly depends on the support of their proponents and allies.
Nonprofit organizations have to take care of so many things to ensure that people and institutions want to dedicate time, money, and effort to their cause. They have to have a deep knowledge of the issues they are working with, stay up to date with the latest developments, know their audience well so that they can deliver their message more effectively, find and communicate with allies, and keep their reputation crystal clear. That's why public communication might be even more important for nonprofits than for regular businesses.
Unfortunately, nonprofits are more likely to be tight on resources, be it money or people. You're spending the money and time to make the world better, you can't hire a huge team of market research specialists or throw cash into TV execs to play your ads. Luckily, nowadays we have an affordable way to connect to people directly through social media.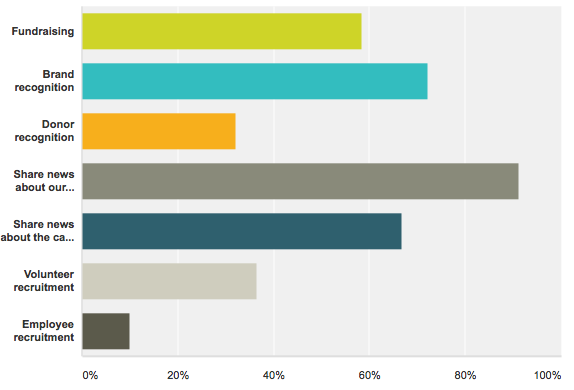 Your nonprofit probably has social media profiles where you share your accomplishments with the world and ask for support. But social media marketing can offer so much more. Social media can be the source of endless strategic insights supported by data. It also allows you to engage people already willing to support your cause and enables you to raise awareness of your issues on a much larger scale. The strategy that helps you uncover all this untapped potential is social listening.
This blog post's aim is to give any professional working for a nonprofit a workflow for using social listening in their strategy. Since there are so many ways to implement it, I chose to focus on the most common use cases while walking you through the social listening process. You can also download the PDF guide to share with your colleagues and come back to it whenever the need arises.
Before we get to the step-by-step, let's briefly touch on the basics: what social listening is and how it can be used by nonprofits.
What is social listening?
Simply put, social listening is a process of collecting, processing and interacting with public social media data based on the keywords you choose. A social media post or a website page containing your keywords is referred to as a mention. There are two ways to use social listening data: working with individual mentions and looking at the analytics for all the mentions around a certain topic.
To collect and work with social media data you need a social listening tool. I'm using Awario, not just out of loyalty, but because I genuinely believe that it's amazing. You can sign up for a free Awario trial here (and we also offer 50% discounts for nonprofits).
For example, let's say you work for WWF and you set up a monitoring alert for the keyword "WWF". By looking at the individual mentions you can respond to people asking about your activities, share your expertise, and maybe even find people who are looking to support animal rights but don't know how. Looking at the social listening data analytics will let you see how aware people are of your organization, where it's mentioned the most (both geographically and on the Internet), how people feel about it, and how all these stats change over time. We will talk more about working with social listening results in steps 4 and 5.
Enjoying the post? There's more.
Sign up for our newsletter to get our best content by email.
Not to sound arrogant, but monitoring the name of your organization is probably the simplest way to use social listening. It's an extremely flexible tactic that has many applications, so let's discuss some of them.
What can social listening do for nonprofits?
Disclaimer: what you can get from social listening depends greatly on the specifics of your mission and your goals. In basic terms, social listening gives you a way to connect to the right people and discover strategic insights supported by data (which can also answer the question "who are the right people?"). Here are some reasons for using social listening:
Learn what inspires people to donate or volunteer.

Identify major trends relevant to the organization's mission and then include the topics in their appeals.

Connect with supporters by responding to questions and comments or joining new conversations.

Determine what type of content works best.

Determine the best channels for communications.

Find social media influencers who can help promote your mission.

Show how well audiences understand the issues and gauge their level of awareness.

Safeguard the organization's reputation and respond to crises that might affect it.

Monitor partners to learn if they are mentioning the organization and its cause.

Reveal how many people discuss its key issues, measure sentiment surrounding those conversations, and track trends in mentions and sentiment.
As I said, there are many more ways to implement social listening in your strategy.
For example, I volunteer for an LGBTQ+ organization and we have some right-wing conservative opponents who are trying to limit LGBTQ+ rights in our country. I use Awario's social listening capabilities to monitor their social media and mass media activity using such keywords as "traditional values", "gay agenda", and so on.
As you can see the specific goals of your organization are very important. So no wonder that our social listening guide starts with defining the goals and objectives.
Step 1: Define your goals
Your goal is what will determine all your further actions from choosing keywords to the way you work with mentions. In this guide, I wanted to highlight some typical reasons for using social listening, but let me remind you once again, with a social listening tool the possibilities are endless. So why do nonprofits might use social listening?
Reputation management. Reputation is the biggest asset a nonprofit has. You can't encourage the goodwill of your supporters and donors if they are uncertain of your own goodwill. That's why it's vital to keep an eye on your public image and nip any potential misunderstanding in the bud.
Campaign monitoring. Social listening is a great way to understand how many people saw your campaign reached, what they thought about it, how it affected their behavior and more. This case study by #GivingTusdayNL is an excellent example of how to use social listening for campaign monitoring.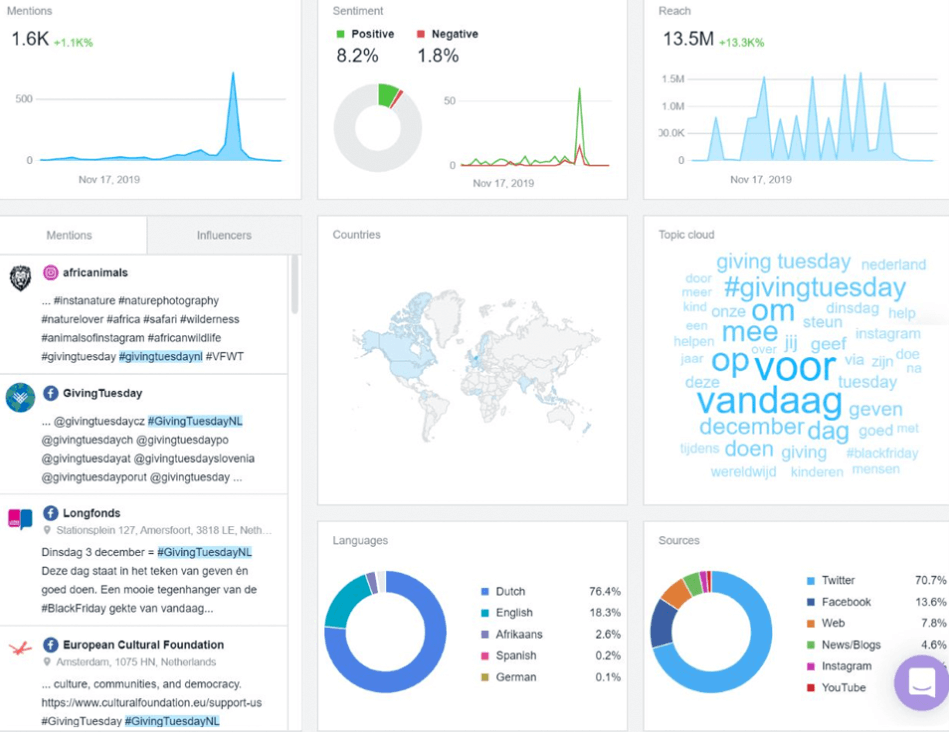 Mobilization. Are you looking for new volunteers or donations? Social listening can connect you to the right people, who already share your values and want to contribute in a meaningful way, but don't really know how to do it yet.
Amplifying your message. A large part of public communication is associated with mass media. Social listening can help you find the journalists and media outlets that are covering your topics of interest and build relationships with them. It also enables you to find social media influencers who'd be willing to promote your message to their audience.
Research. Social listening enables you to find out more about your beneficiaries, your niche, your allies and opponents and so on. You can research anything!
Protip: Obviously, you don't have to settle on one goal. Some goals may call for similar keywords, so you can use the same set of keywords with more than one goal in mind, for instance, looking for influencers and learning more about your target audience.
Step 2: Come up with keywords

The keywords are the words and phrases you'll be using to find social media data. Logically, your goals will determine what keywords you'll use. If you're struggling to come up with the right keywords, think about what phrases people might use when talking about your topic of interest.
Here are some examples of keywords for the goals we drafted earlier:
Reputation management. Of course, the keywords will include the name and website of your organization, but it's a good idea to also add your social media handles, key persons in your organization, and your partners as well as influencers you're working with regularly.
Campaign monitoring. The keywords should include the name of the campaign, the landing page URL, all the hashtags associated with the campaign and the names of the influencers involved in the campaign (think Emma Watson and #HeForShe).
Mobilization. For this one, you'll need to think of the words people might use when they want to support your cause. So, cause-related keywords such as "animal rights" + keyword phrases "how can I contribute". Awario Leads can help greatly here, which we'll go into more detail later on.
Amplifying your message. ​​​​​​You can look through the reputation management alert, see which media outlets and influencers already mentioned your organization, and try to establish robust relationships with them. You can also choose keywords relevant to your work and find new voices to promote your cause. For example, such keywords as "vegan", "zero waste", "recycling" and so on will help you find influencers who care about the environment.
Research. This one is all yours. Come up with keywords based on what you want to research. You can also do a simple Google search or Twitter search of your topic to discover more relevant keywords once you have at least one in mind.
Once you start getting the results, you can go back to your keywords and settings and tweak them a little bit to make the collected data even more relevant.
Protip: When putting the keywords in your social listening tool, don't forget to add the misspelled versions as well. People often misspell the names of organizations and people, as well as hashtags, but these mentions are still a source of valuable insights.
Step 3: Choose alert settings
An alert is a combination of your keywords limited by some filters and settings dedicated to one topic. The filters you can set up include:
Negative keywords i.e. the words you DON'T want to be included in your mentions.
Language of the mentions.
Location of the mentions.
Sources of the mentions (Facebook, Twitter, Instagram, Reddit, YouTube, news and blogs, the web).
Date range.
Whitelisted accounts and pages will be prioritized during the search.
Blacklisted accounts and pages i.e. the pages Awario does not collect mentions from.
By applying these filters, you make sure that you find only relevant data: for example, if your organization operates only on a local level, you can set a country filter to get mentions only from your country.
To ensure that you only get relevant results, you can also use Boolean queries. Boolean is another way to create search queries that allows you more flexibility. Let's go back to the example I already briefly mentioned: Emma Watson and #HeForShe campaign. Emma Watson is a famous actress, so if you simply choose her name as a keyword, Awario is sure to bring you many irrelevant results about her film career and personal life. But if you tell Awario to only collect posts that mention Emma Watson or #HeForShe, feminism, woman rights, the UN and so on, you'll be able to track how much her involvement benefited the campaign. And you can create this kind of query only by using the Boolean search mode.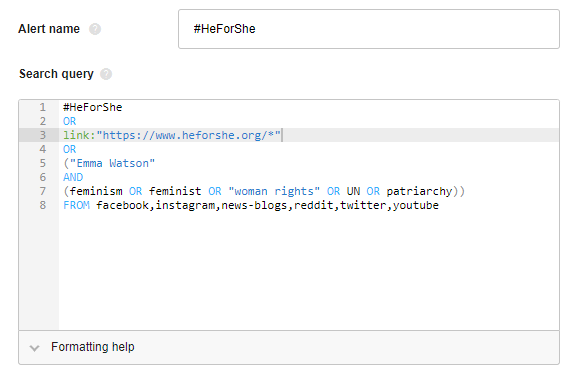 Another setting to pay attention to is notifications: this is where you choose if you want to get notified of the new mentions of your keywords and how you want to be notified: by email or through a Slack channel of your choice.
Protip: Awario also provides users with Awario Leads, a module to find social media users who are willing to support you. Here you just need to put in keywords that describe your work and your cause (for example, human rights, freedom of speech, freedom of expression) and specify other organizations who work in the same field. Awario will bring you social media posts from people looking to support an organization like yours so you can engage with them.
Step 4: Go through the results and interact with users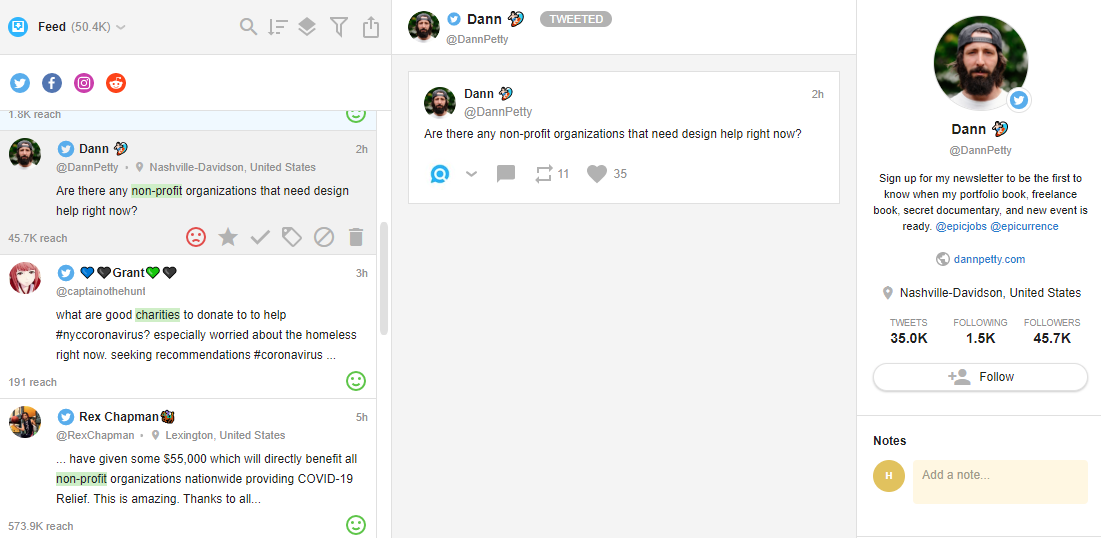 Once you set up the alert, you'll immediately start getting the results since Awario collects mentions in real time. You can interact with social posts right from the Mentions feed skipping the necessity to open another window. Mentions are displayed by date showing you the latest posts first, but you can also sort them by reach to see the mentions that were seen the most first.
Next to the sorting option, you have the filtering option which can help you filter mentions by reach, language, country, or sentiment (positive, negative, or neutral). The latter is especially useful during a crisis when you need to stay on top of the negative mentions and quickly react to them.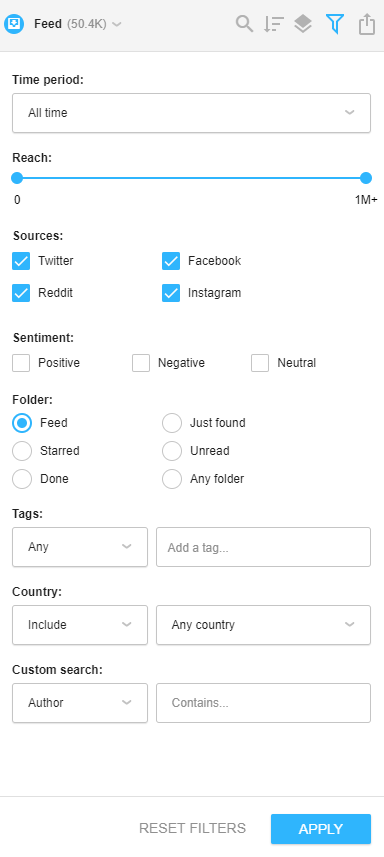 You can also search through mentions if you need to find posts that include a specific word or phrase.
If you want to share mentions with your colleagues or stakeholders, you can export them in a CSV file.
Protip: by monitoring keywords relevant to your niche you can find conversations to chip in with your unique experience and expertise. For example, if your organization works on saving the Amazon rainforests, you can engage in conversations around pollution and deforestation in the region providing data and nuance and thereby raising awareness around your cause and your organization at the same time.
Step 5: Check out the social listening reports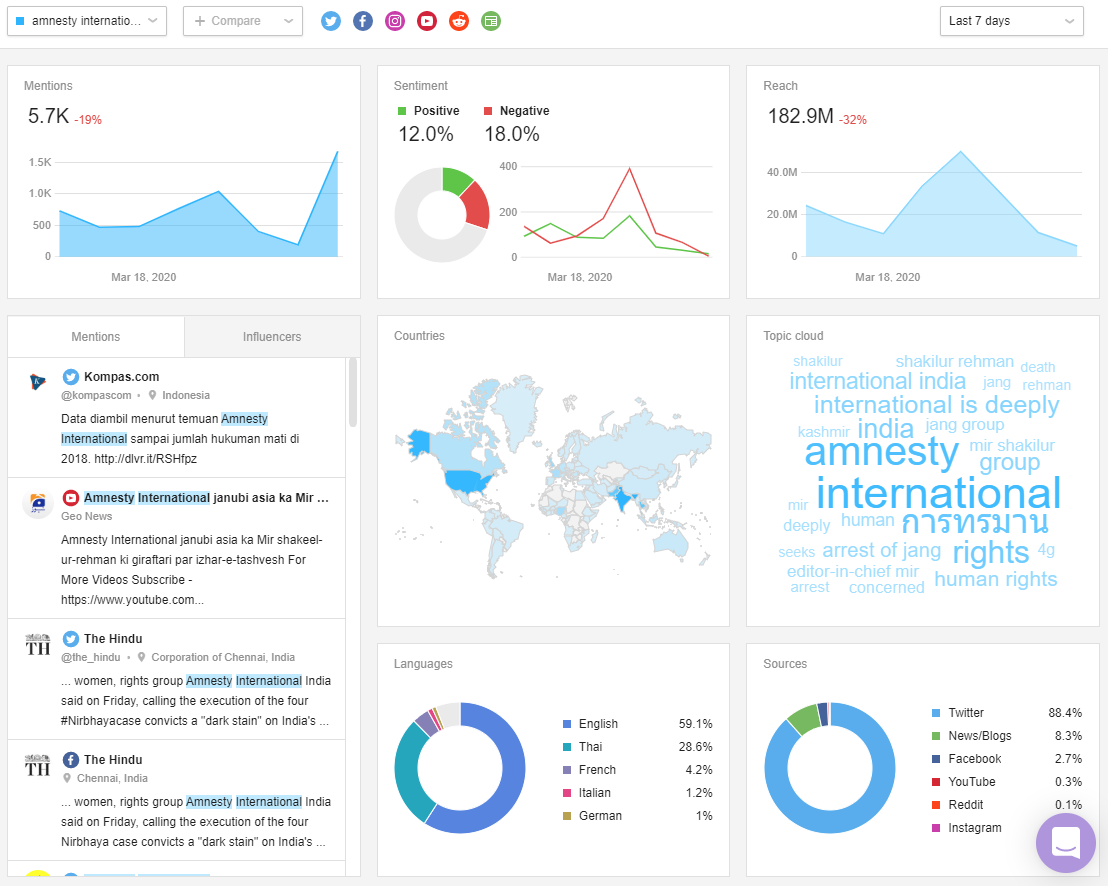 Now that you've dealt with the mentions, it's time to look at the big picture: the data insights. Awario's analytics can show where, how, why and who is talking about your organization, campaigns, and cause. You can already gain a deeper understanding of your topic by looking at the Awario's dashboard, but to dive into social data, check out one of the three types of reports Awario offers:
The Mention Statistics report shows you all the insights around your topic such as the number and reach of mentions and how it changes over time, the overall sentiment of the mentions, the geographical location and sources of the mentions and the words commonly associated with your topic. You can also see the most influential posts and accounts talking about your topics here.
The Alert Comparison report allows you to compare several alerts using the metrics from the Mention Statistics report while also determining the Share of Voice for each of the topics. This report helped me immensely when I was trying to enhance the language of our social media messages: I used Awario to determine which term describing non-heterosexual and non-cis people was more popular: LGBT+ or queer. I set up two alerts and then benchmarked them against each other using the Alert Comparison report which helped me to determine which wording will be more comprehensible for our audience.

The Influencers report shows you the accounts and websites with the biggest reach online. This report enables you to determine what mass media can help you get your message out there and what social media influencers are ready to support your cause and talk about it with their audience.
You can also share the data insights with your stakeholders in your annual report. Awario can help you with this by allowing you to share the reports via a link or a PDF file.
Protip: remember that you can create Mention Statistics and Influencer reports for more than one alert. For example, when looking for influencers to work with, choose alerts with your organization's name and keywords related to your cause: that way you'll be able to find both the influencers who are already aware of your nonprofit and the influencers who are interested in the issues you work with but haven't heard of you yet.
Step 6: Use social listening insights in your nonprofit strategy
The reason why we started this all! You now have the insights on how people perceive your organization, your campaigns, and the issues you work with, so use these insights to improve your work! Maybe social listening data will show you what social media sources you've been carelessly neglecting or what people you should work with to increase awareness around your cause, or maybe even give some constructive criticism that you can use to improve your organization's work.
To give you another example from my own experience, by monitoring the name of our organization I discovered that some people didn't feel like we managed to create a safe space for vulnerable people at one of our events. I reached out to these people, asked them for detailed feedback, and then we used this feedback to create safety guidelines that will satisfy everyone. And that's just one use case out of many!
I hope you now have the knowledge necessary to make the world a little bit better. Awario would like to help with that so we are offering a 50% nonprofit discount. You can also download a PDF version of this guide to have it available at all times or share it with a colleague.
Get this guide in PDF.
Enter your email to get this guide in PDF for keeps.