Seven steps to a successful social media marketing campaign

Article summary
Launching your first social media marketing campaign and want everything to go smoothly? Discover the 7 most useful steps that will help you launch an effective marketing campaign on any social media platform.
12 minutes read
Starting a business account on social media is one of the most effective ways for companies to reach their audiences. A nice bonus – it can be completely free. Or at the very least at a low cost compared to other marketing platforms.
But to effectively increase the number of followers and convert them into devoted customers, posting an article or two a month just isn't enough. You need something bigger than that. A social media marketing campaign.
With social media on board, you can boost the turbo and hot overdrive. Here's why social media is the way to go:
How to build a social media marketing campaign in 7 easy steps
Step 1: Clarify your goals and objectives
Any great undertaking starts with well-established goals and objectives. In your social media marketing campaigns, you need to clearly understand which outcomes you're striving toward.
Before getting down to business and formulating your ideas, let's define the difference between what is a goal and what is an objective?
A goal is an overall plan that has long-term outcomes. It answers the question: WHAT do you want to achieve? For example, increase in brand awareness, generating leads, and building a strong community.
While goals stand for a wider notion that can take several months or even a year, objectives are more specific, simpler to measure, and aimed at certain marketing campaign outcomes. The main question that objectives answer is HOW will you achieve your goals? For example, increase positive service/product feedback, release a new feature, or run an experiment.
Your mentions are almost here!
Fire up campaign monitoring and see Awario fetch social data in real-time.
By signing up I agree to the Terms of Use and Privacy Policy
Step 2: Investigate your audience
When planning a social media marketing campaign, it's essential to know who it is targeted for. Learning about the likes and dislikes of your followers and potential followers will help you to more effectively generate marketing campaign content that resonates with your audience and your prospects.
One of the effective approaches for studying your followers is creating customer personas. These are the personas that reflect the characteristics possessed by most people in your social media audience. For this, find out about the demographics— gender, age, location, etc. of the majority of your followers, what are their interests, and the main pain points related to your product or services.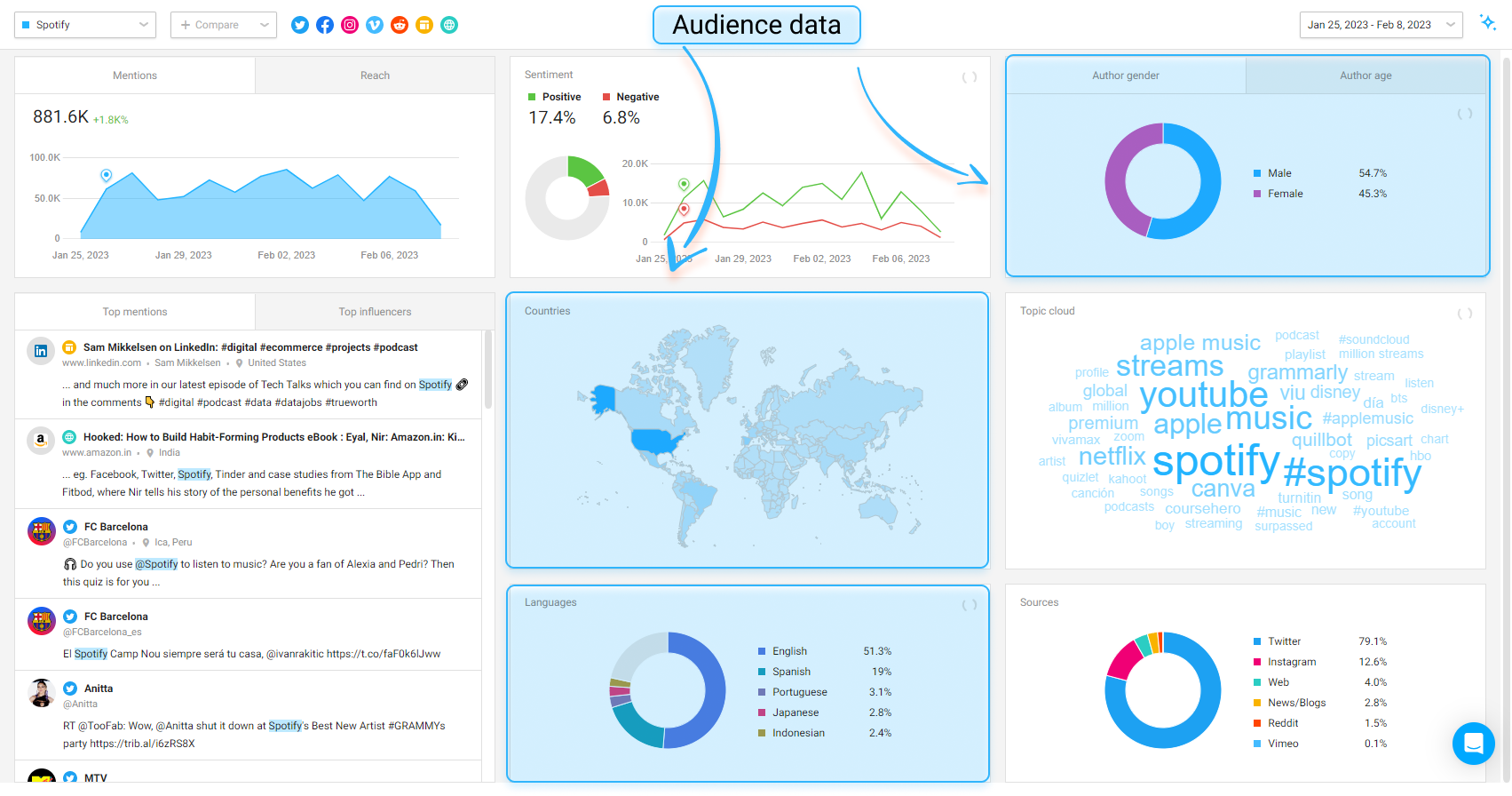 Then apply this knowledge to generate "an average follower/customer" of your brand. Don't limit yourself to creating only one digital persona, there can be several of them.
Having investigated your audience in detail you'll better understand how to connect with them, what type of content you can offer, on which social media platforms to run your campaigns, and much more.
Step 3: Choose the right social media platform
Now, as you're ready with your goals and objectives and know about your audiences' preferences, you've probably decided on the social media platforms you want to include in your marketing campaigns. Here are some of the most popular ones today:
Facebook (2.963 billion users)

Instagram (1.21 billion users)

Pinterest (433 million users)

TikTok (1 billion users)

Twitter (450 million users)

LinkedIn (830 million users)

YouTube (2.6 billion users)

Snapchat (332 million users)

Reddit (430 million users)

WeChat (900 million users)
When designing your strategy, you can choose to focus on only one social media platform or choose several to suit your needs. But, be careful and don't select too many.
Sometimes companies aspire to have a presence everywhere, however, this is not always the most impactful path forward. Instead, strive for a select few effective platforms.
It's a good practice to advertise your marketing campaigns over several platforms, but not too many. For example, Facebook and Instagram, supported by Meta, have a common Business Suite that allows companies to effectively manage their social media presence and run marketing campaigns on both platforms.
Enjoying the post? There's more.
Sign up for our newsletter to get our best content by email.
Step 4: Analyze your and your competitors' content
Sometimes a marketing campaign doesn't work as it should and there are various reasons why this may happen. One of them is the wrongly-chosen type of content. Before creating your content plan, it's essential to pick up the content that would motivate your followers to participate in your campaigns, raise brand awareness, and convert followers into customers.
To discover which type of content would work for your audience best, you should perform an analysis. It's easy to do with the help of social media listening tools such as Awario.
Awario allows careful investigation of your followers' content preferences by providing the latest data gathered around various social media platforms. Moreover, you can go one step further and find out more about your competitors' content strategies to make your campaigns appealing to wider audiences.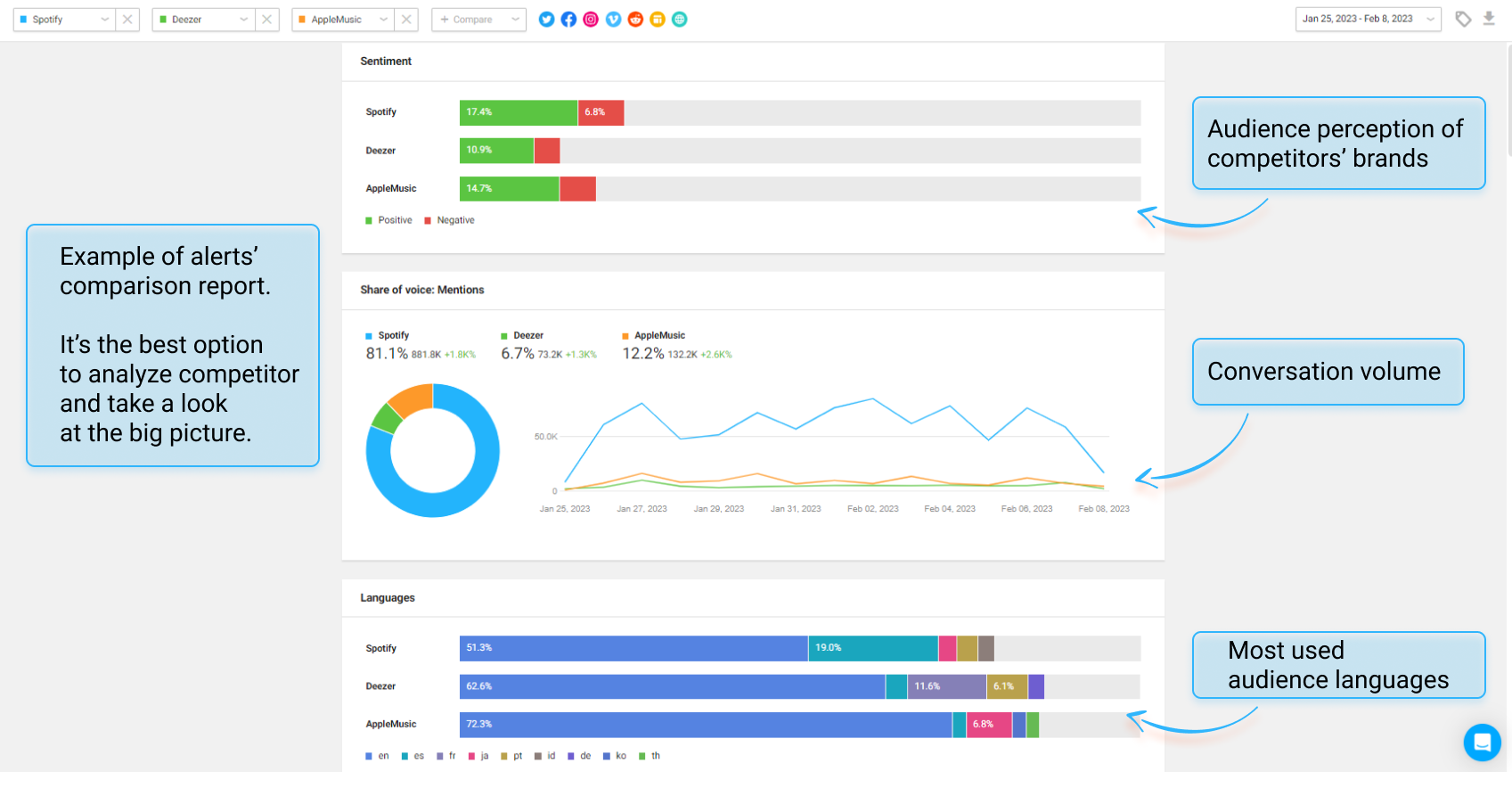 All you need to do is to create a project for your and your competitors' companies and gather valuable data. Browse through the social media pages of your and your competitors' subscribers, search content by keywords, reach the latest trends in the social media world, and stay updated with the most successful marketing campaigns.
There's no need to manually study each social media post, you can use Awario's advanced analytical capabilities, instead. Compare your social media presence with your competitors and find out about your and their strengths and weaknesses, to know how to use your marketing strategies further.
Step 5: Create quality content
High-quality content works as a motivator for your audience to interact with your brand. If your followers love what you post about and how you do it, you'll notice it in their engagement level. People will be willing to discuss the topics you raise in your social media posts as well as participate in your contests.
If you're uncertain about what to post, take your time and look through your competitors' posting activities, find out the general trends in your industry, or check the latest content from the influencers in your sphere.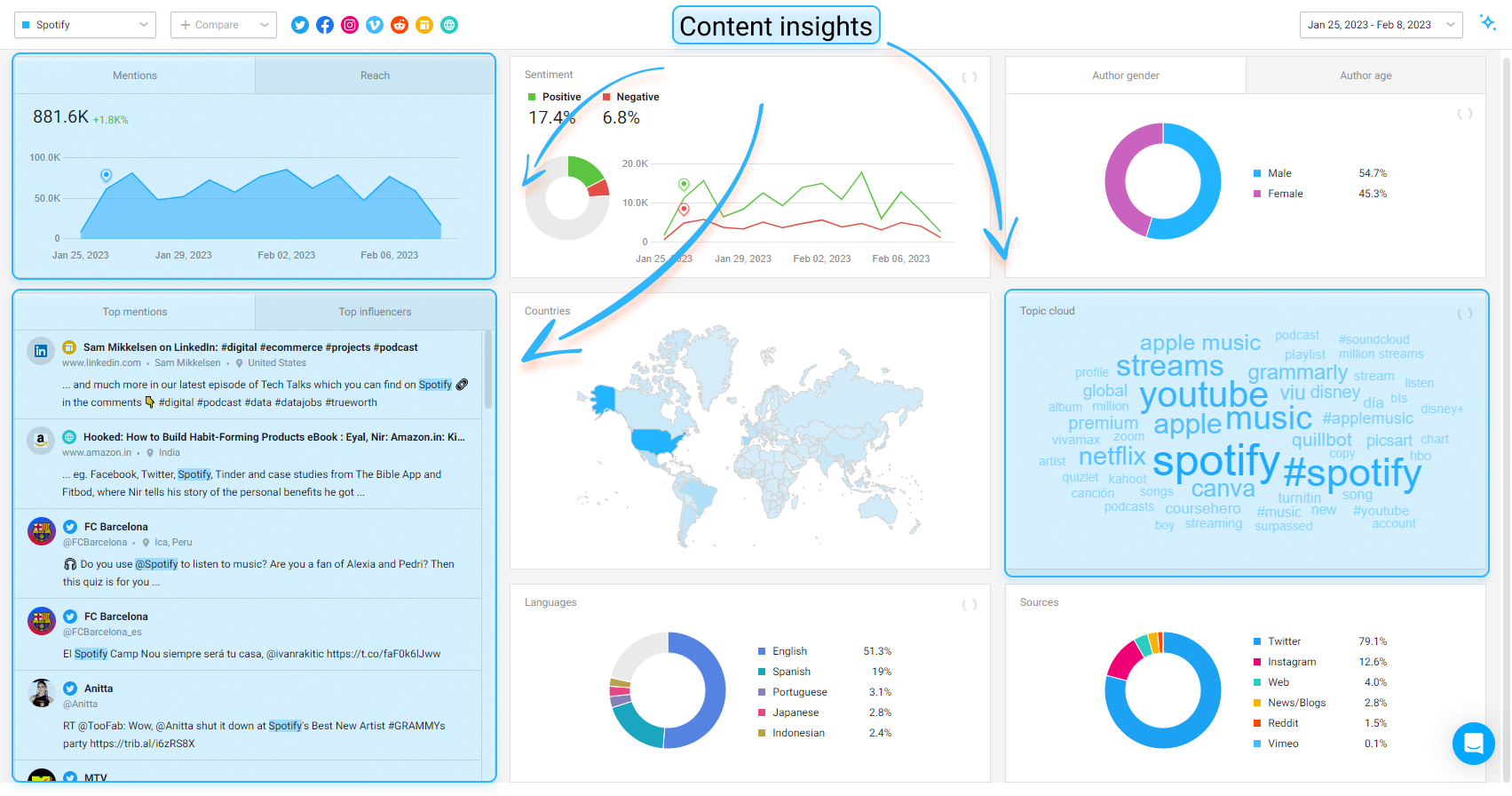 All this is simple to do with Awario. It'll quickly gather the latest industry news from various social media platforms, help you find the influencers and competitors in your domain, share the most commonly used keywords from the Topic Cloud related to your brand, and more. Using this tool, you'll quickly find inspiration for your marketing campaigns and be able to create content that wins the hearts of your followers.
Step 6: Create a posting plan
When the content is settled and the marketing campaign is almost ready, it's time to create a posting plan. The plan will help you stay time-bound and evenly spread your content through your campaign.
A posting calendar is also a great visual tool that helps focus on the most important things, e.g. what content to post, when to post, and where to post.
Posting frequency is essential for fueling up the interest of your audience. When your posts appear according to the schedule–not too soon, not too late, it'll allow you to capture the attention of most of your followers.

When creating your posting plan, think about content consistency as well. Don't put promoting materials one after another, this will make your audience tired of non-stopping advertising quickly. Instead, diversify your promos with informative and engaging videos or reading. This way, you'll keep your audience active and willing to follow your social media posts.
Step 7: Keep monitoring
The non-stop monitoring of social media and your brand's performance is the key to multiple successful social media campaigns. Companies that monitor their media activity before, during, and after media campaigns manage to achieve outstanding results as they always make the next step based on the gathered and processed data they get. And this is backed up by various social media listening stats:
Deep marketing campaign analytics will allow you to assess the campaign outcomes by various metrics such as audience reach, follower engagement, conversions, traffic on your business site, sign-ups, number of orders made, purchases, and much more. By comparing the initial metrics with those you get after holding your campaigns, you can realize how effective and successful they were.
Great, ready to go social! Next steps…
Marketing campaigns are an effective tool for improving your brand awareness, better engaging your audience, and increasing revenue. Yet, to hold a successful marketing campaign, you've got to be well-prepared and equipped with the best monitoring and analytical tools.
Awario is an outstanding social media monitoring solution with advanced analytics that has already helped lots of businesses to create and launch remarkable campaigns around diverse social media platforms. Thinking about your remarkable social media marketing campaign? Then start with Awario.