6 best online survey tools and why marketers need them

Summary
To run a really insightful survey, every marketer needs a toolset to run a survey, analyze results, and pull out info. In this article, we offer you an overview of the 5 best online tools for run a really great survey. Take a look and choose the one that fits your needs perfectly.
14-minute read
The new era of mobile technologies and the popularity of social networks give marketers an incredible opportunity to connect with users and build a closer bond. But you cannot build a relationship with your audience without understanding its needs and preferences.
For more data-driven decision-making, digital marketers still need surveys to collect the information that will help them run user behavior and sentiment analyses. In this article, I will share with you my Top 6 survey tools.
But first...
What is an online survey?
An online survey is a questionnaire designed to gather certain information from a specific demographic via the Internet. It can vary in length, layout and format, but generally, it provides a gross evaluation of customer needs. The potential audience can receive online surveys via email, social networks and other online means of communication.

The most effective are surveys that are short and easy to fill out, offer coupons and other incentives, and reach a broader audience. What are the benefits of conducting online surveys and how can you create one of your own?
The benefits of an online survey for digital marketers
Easy to administer
By launching a survey online, you make it much easier for customers to participate. Respondents no longer need to waste time on the phone or go to a physical location to take part in your survey. With wide access to the Internet, customers can fill out a survey at any time and any place.
Access to a wide pool of customers
It is no surprise that online surveys give you access to a larger scope of respondents. Underrepresentation is a big challenge for marketers since it leads to inadequate and one-sided outcomes and thus to bad marketing decisions. Going online, you will be able to reach people from all over the world, regardless of their income, location, age, and occupation.
Anonymity leading to honesty
You might not receive an honest answer over the phone or when interviewing in person. People tend to be more reserved and diplomatic when they openly voice their opinion to another human being. Online anonymity is to your advantage here, enabling you to receive the most open and honest feedback.
Cost-effectiveness
Probably the biggest advantage of an online survey is its low cost. You don't need to spend money and time on purchasing paper and other supplies. Even if you offer an incentive, your costs remain low, since you'd only be providing a small discount.
Automation
Online survey tools offer an easier process of results evaluation through automation techniques. Instead of reviewing the answers manually, you can simply put them through the system, which will analyze and summarize the responses.
How to prepare for an online survey
How do you create a survey that will generate the best results and facilitate your marketing goals?
Define survey objectives. First, you need to establish the goals of your survey and come up with a format that will help you achieve them.
Prepare questions. Start with the questions that assess the respondent's eligibility to participate in your survey. Follow up with questions that will help you gather information according to your objectives.
Choose an online survey tool. There is a multitude of web-based platforms designed for conducting surveys. In the next part, we will go into detail and try to pick the best tool to meet your needs, budget, and goals.
Design the survey. You can use a ready-made template offered by one of the many online survey tools. These were created by skilled professionals following the latest in layout and design.
Evaluate the questions. Go back to your questions and put them through a thorough review process. Make sure they are simple, comprehensive, concise, and accurate. Arrange them from easiest to hardest and estimate the duration of your survey — it should take up to 10 minutes to complete.
Test your survey. Create a small focus group and administer the test survey. Collect their feedback and amend your survey in accordance with their insights.
Launch your survey. Some paid online survey tools might take on the responsibility for reaching out to audiences; however, you might also want to post the link on your website and social media.
6 online survey tools you might want to try
How do you find the right tool in the abundance of online survey platforms? We have prepared a small guide featuring the five most prominent online survey tools: SoGoSurvey, SurveyMonkey, Typeform, GoogleForms, Zoho Survey.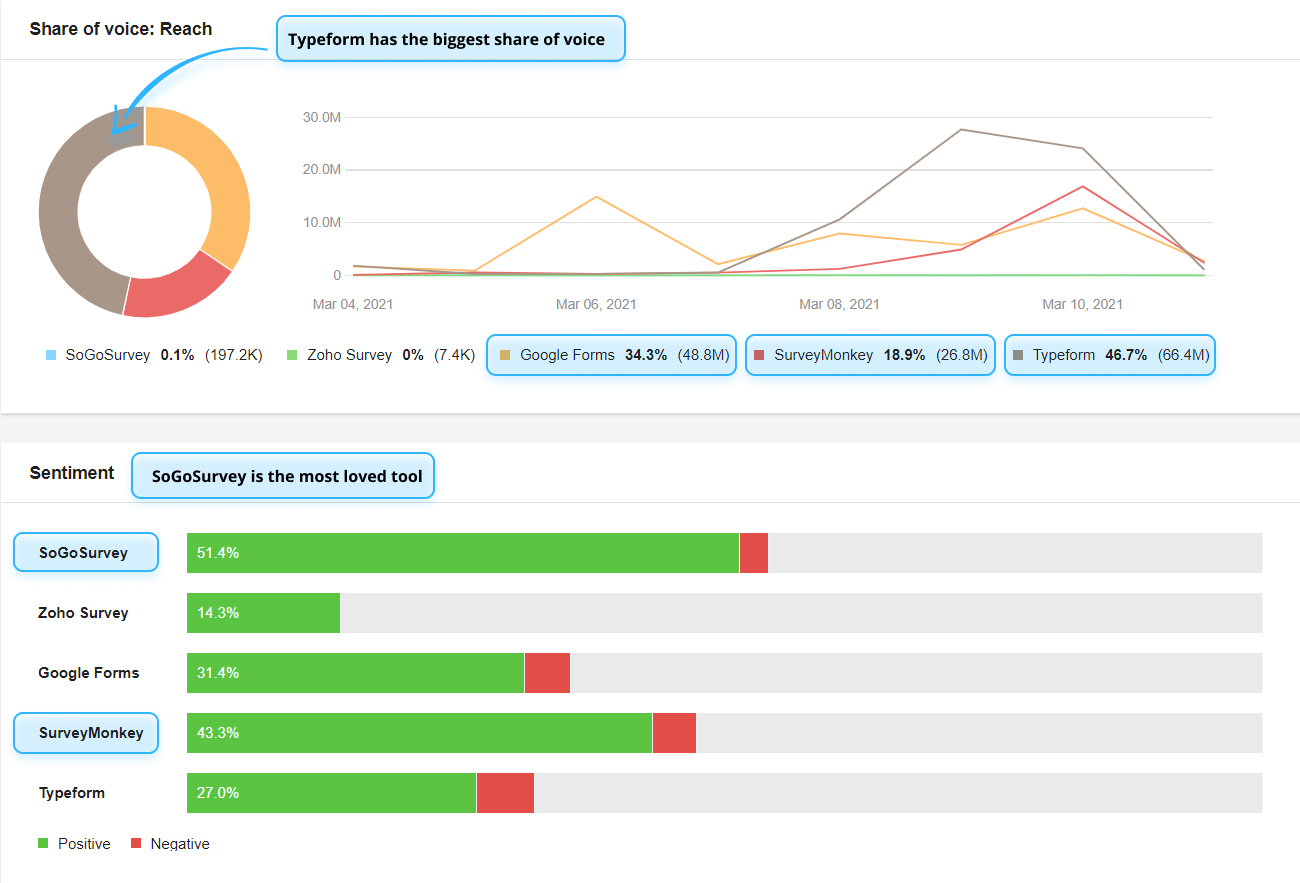 Awario for customer research without surveys
Customer tools, while very useful for a targeted collection of customer feedback and marketing insights, can be too rigid in some cases. The advantage of such tools as Awario is that it is able to gather and analyze organic opinions of your brand and product published online.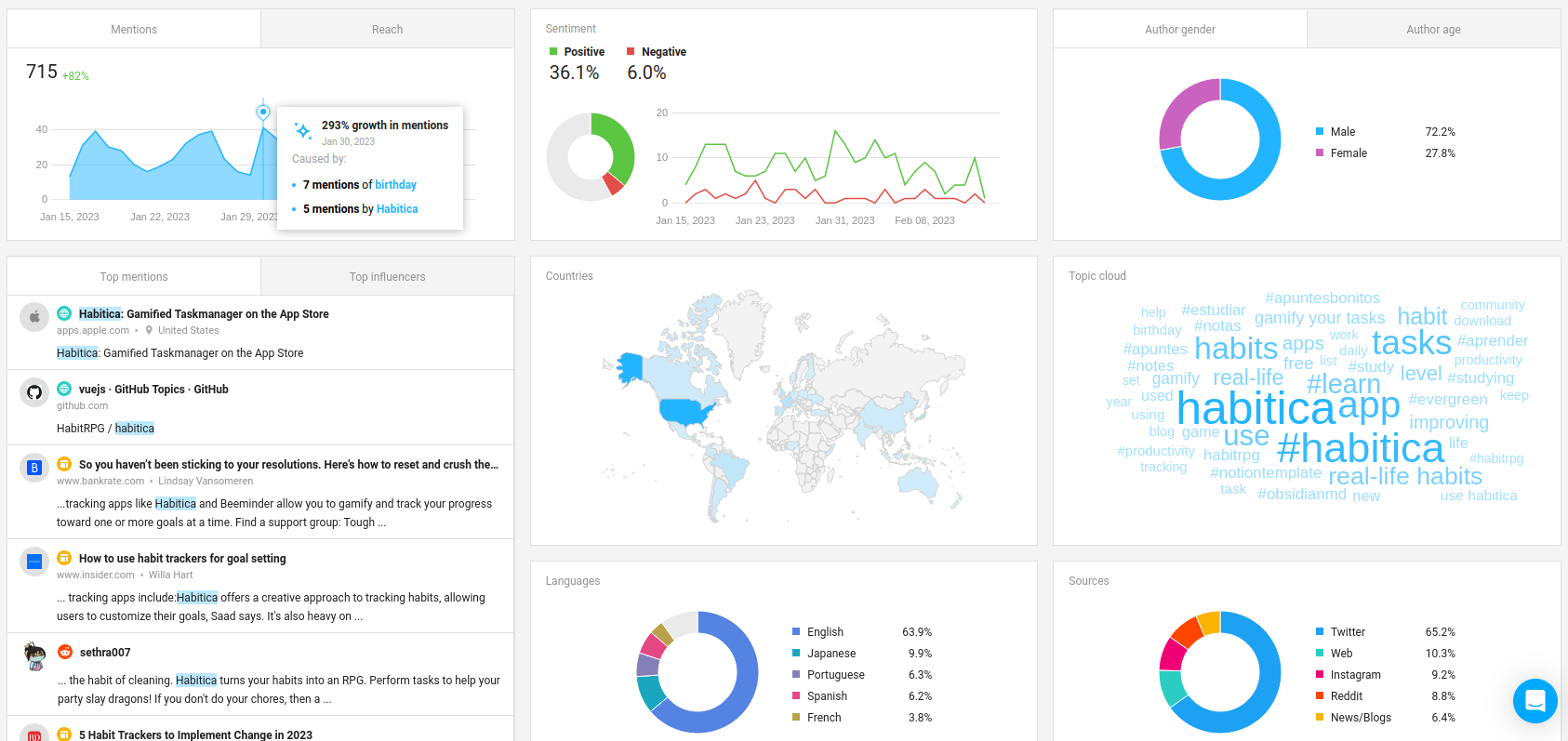 Why Awario?
Awario is a social listening tool meaning you can access any mention of your product posted on the Internet and the metadata around it (for example, its reach, sentiment, number of replies or comments, etc.). These reviews can help you not only find out more about a specific feature of your product but also point you in a new direction in your market research journey.
Awario's settings are extremely flexible which allows you to adapt them to any goals you might have. You can choose sources, languages, and locations of the reviews you want to find and even focus on very specific phrasings and requests thanks to the Boolean search mode.
Social listening reports provided by Awario allow you to access demographic data insights as well as robust analytics of your brand's popularity and performance online. These reports are able to show you the big picture regarding your brand or product as well as provide actionable marketing insights to inspire further digital marketing plans.
Pricing:
Starter: $39 per month
Pro: $119 per month
Enterprise: $399 per month
Free trial available
FinancesOnline rating: 8.4
SoGoSurvey for the ultimate user experience
SoGoSurvey has a well-established online reputation when it comes to enhancing the customer experience and employee engagement with the help of online surveys. Regardless of your industry and the size of your business, SoGoSurvey will enable you to collect feedback from your customers or employees by conducting various types of surveys.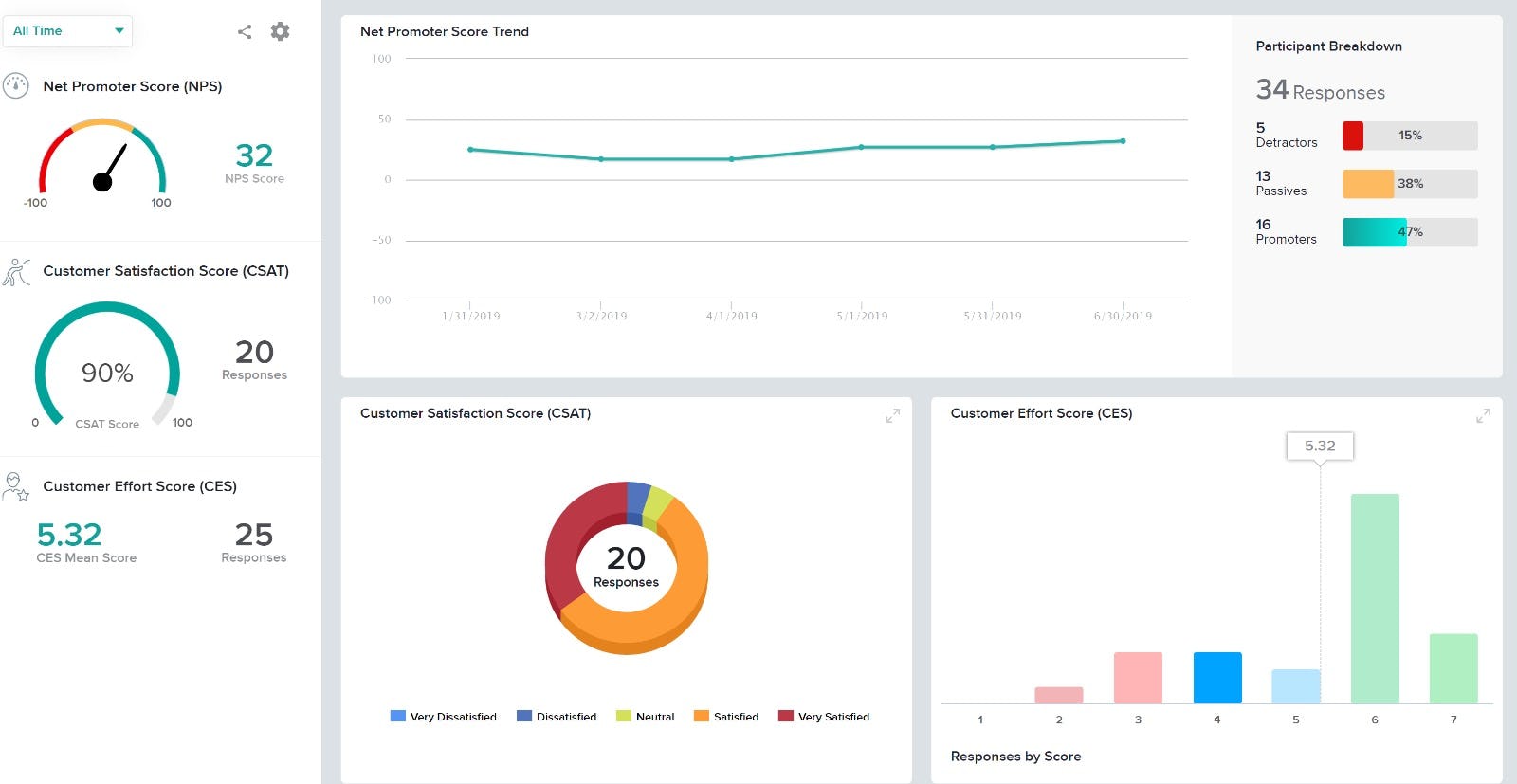 Why SoGoSurvey?
This platform has an extensive set of tools to create different types of questions, including image choice, matrix grid, and net promoter score questions such as "On the scale from 0 to 10…". It also offers a myriad of different templates and allows access from any device. In addition, it has a drag-and-drop feature that makes survey creation effortless for everyone.
The smart question creation feature allows you to hide certain information before it needs to be asked. Further, it automatically decides which questions to ask and which to leave out depending on the previous answers, thus personalizing your surveys.
But what SoGoSurvey is best known for is its superior customer experience and support. The SoGoSurvey team will accompany you at every step by providing a detailed user guide and a variety of helpful video tutorials. Moreover, you can even delegate to them the entire process of survey creation if you need to. Their excellent customer support team is always ready to help you via email, chat, or phone call.

Pricing:
Plus: $25 per month

Pro: $66 per month

Premium: $99 per month

All plans include a 10-day trial period.

Finally, SoGoSurvey offers a custom Enterprise plan.
Client brands: Cisco, eBay, Yamaha

FinancesOnline rating: 9.5
SurveyMonkey allows you to build any type of survey regardless of its purpose. The advanced features of the platform will help you launch anything from a simple quick poll to in-depth market research. SurveyMonkey also offers automation that delivers results in real-time.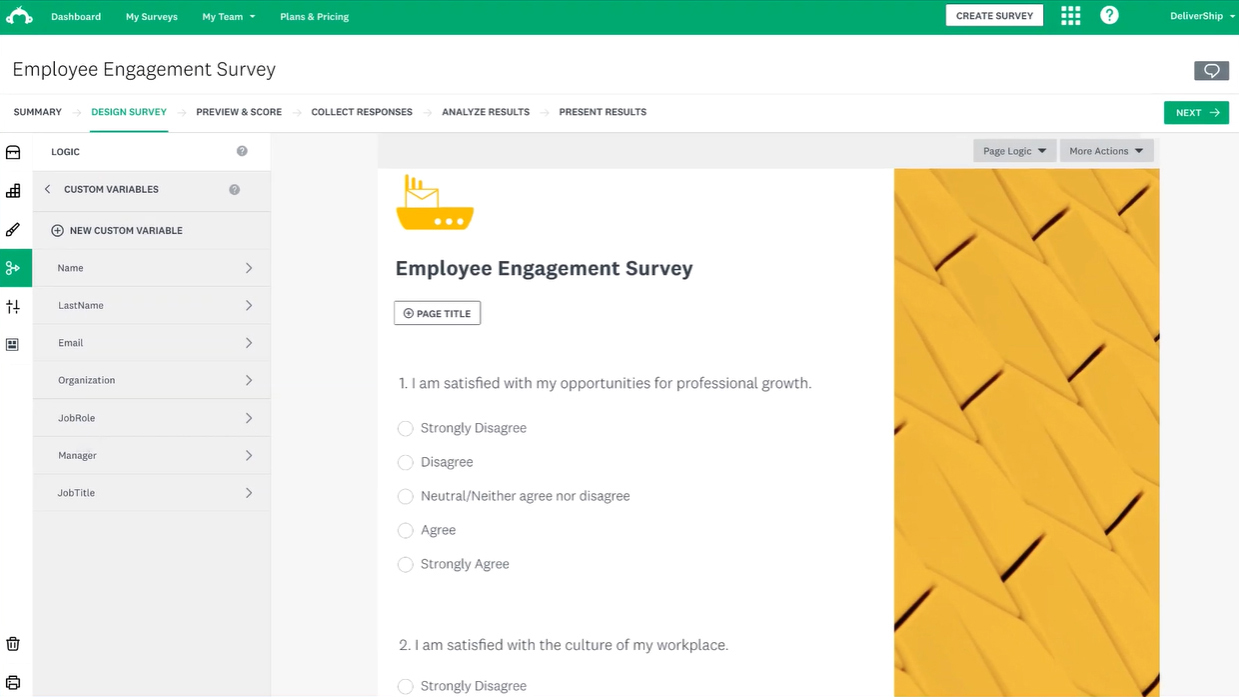 Why SurveyMonkey?
It offers great customizability and allows you to create anything from a short simple questionnaire to a complex survey within several minutes. SurveyMonkey is a tool with an interactive interface that makes surveys fun and dynamic.

You can also tap into a wide bank of ready-made questions to evaluate customer or employee satisfaction, brand awareness, and much more. The tool allows you to adjust and personalize the built-in questions to fit your agenda.

The best feature, however, is the security. If you handle large amounts of sensitive information, SurveyMonkey is a great choice. It provides excellent security with SSO, HIPAA, and GDPR compliance features.

Pricing:
Team Advantage: $25 per month
Team Premier: $75 per month
Enterprise plan is offered to businesses that need a custom set of features.
Client brands: Johnson & Johnson, Box, Allbirds
FinancesOnline rating: 9.2
Typeform for extensive third-party integration options
Typeform is an online survey tool that makes filling out forms more fun. They took a step away from plain text boxes and decided to use interactive mediums to make the process more exciting. The creation of questions is a little different on Typeform compared to similar platforms but is still easy and intuitive.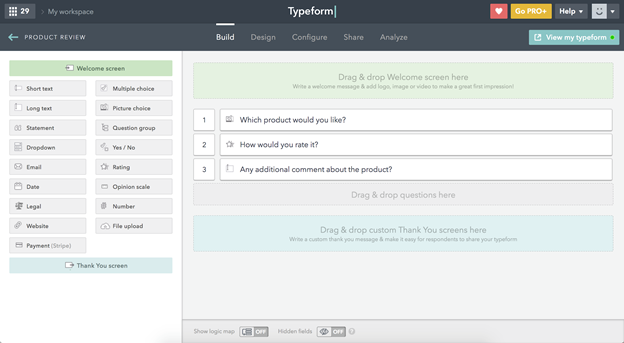 Why Typeform?
Typeform gives you access to hundreds of templates and designs. It also offers a feature called Logic Jumps, which allows irrelevant questions to be skipped depending on the previous answers. It makes surveys more personalized and enables easier segmentation.
Based on online reviews, the best thing about Typeform is probably its variety of third-party integrations: Canva, HubSpot, Google Sheets, Slack and many others. This makes creation and sharing of surveys much simpler and faster.

Pricing:
Essentials and Professional plan: $35 per month

Premium plan: $70 per month

Typeform also offers a free plan
Client brands: Slack, the Affinity Group, Amplitude

FinancesOnline rating: 8.6
Google Forms is a cloud-based survey tool offered by Google that allows you to build various surveys, quizzes, and registration forms. You can create a questionnaire with short-text answers, multiple-choice quizzes, and checkboxes. Google Forms lets you customize by adding images and videos to the text and allows the survey to convey your unique brand design. Later, answers can be easily organized by the respondent or by the question and transformed into charts for easier analysis.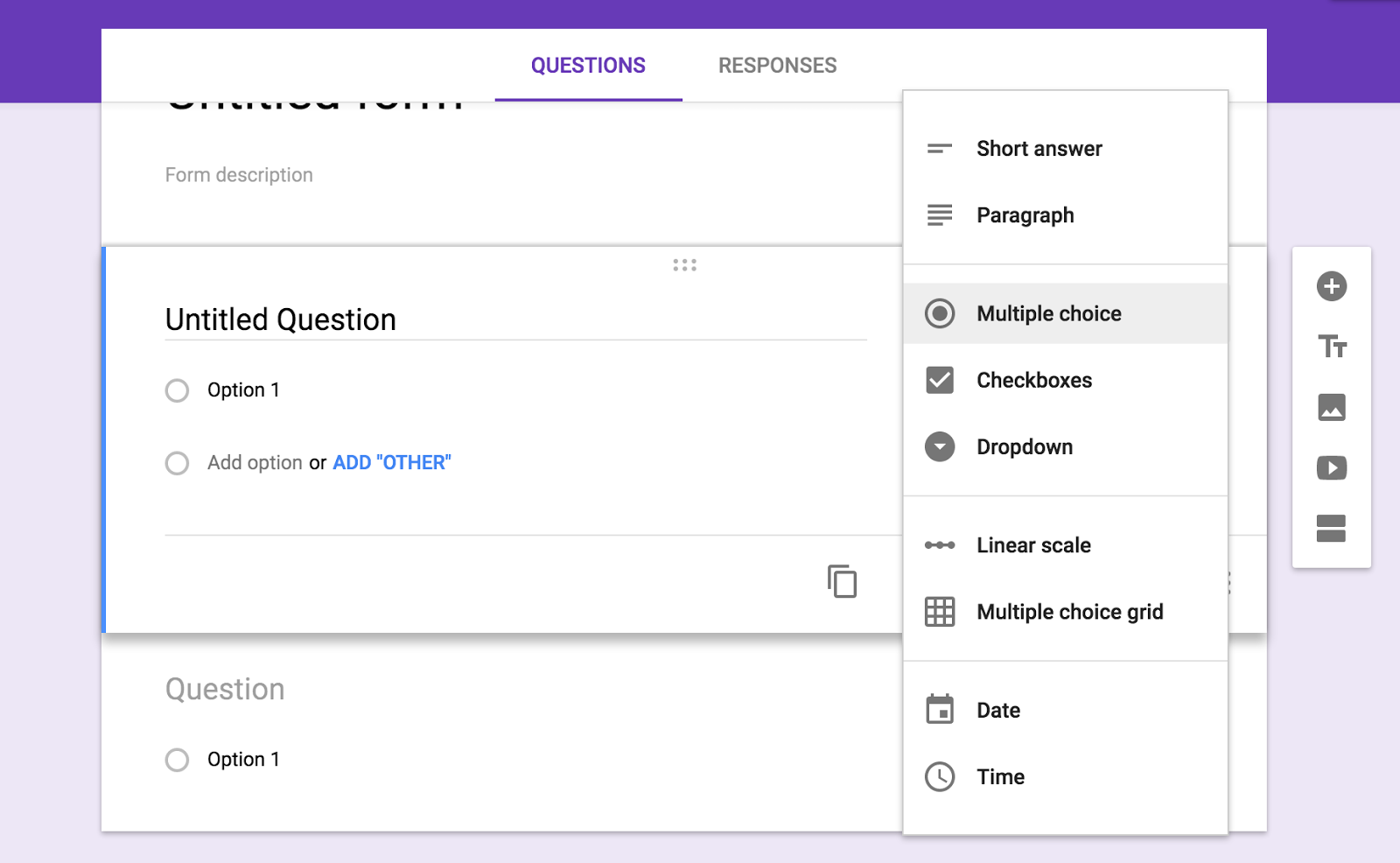 Why Google Forms?
Among other common features, Google Forms lets you hide irrelevant questions based on previous answers and shuffle the order of the questions for different respondents.
The functionality of Google Forms can be extended with Google add-ons to create more advanced summaries of responses.
The main reason for Google Forms' popularity is its affordability. You can use all of the features absolutely free of charge. This platform might be the best starting point to try out online surveys and evaluate their benefits for your business.
Pricing:
Google Forms are free of charge, given you have a Google account.

Client brands: Hyatt Hotels, Time Out Group, Penguin Random House
FinancesOnline rating: 8.9
Zoho Survey for access to Zoho tools
Zoho Survey is a web-based tool that offers a vast array of specialized templates for many industries: education, human resources, healthcare, non-profit, and others. It also comes with automatic chart and report generation, which makes result assessment much easier.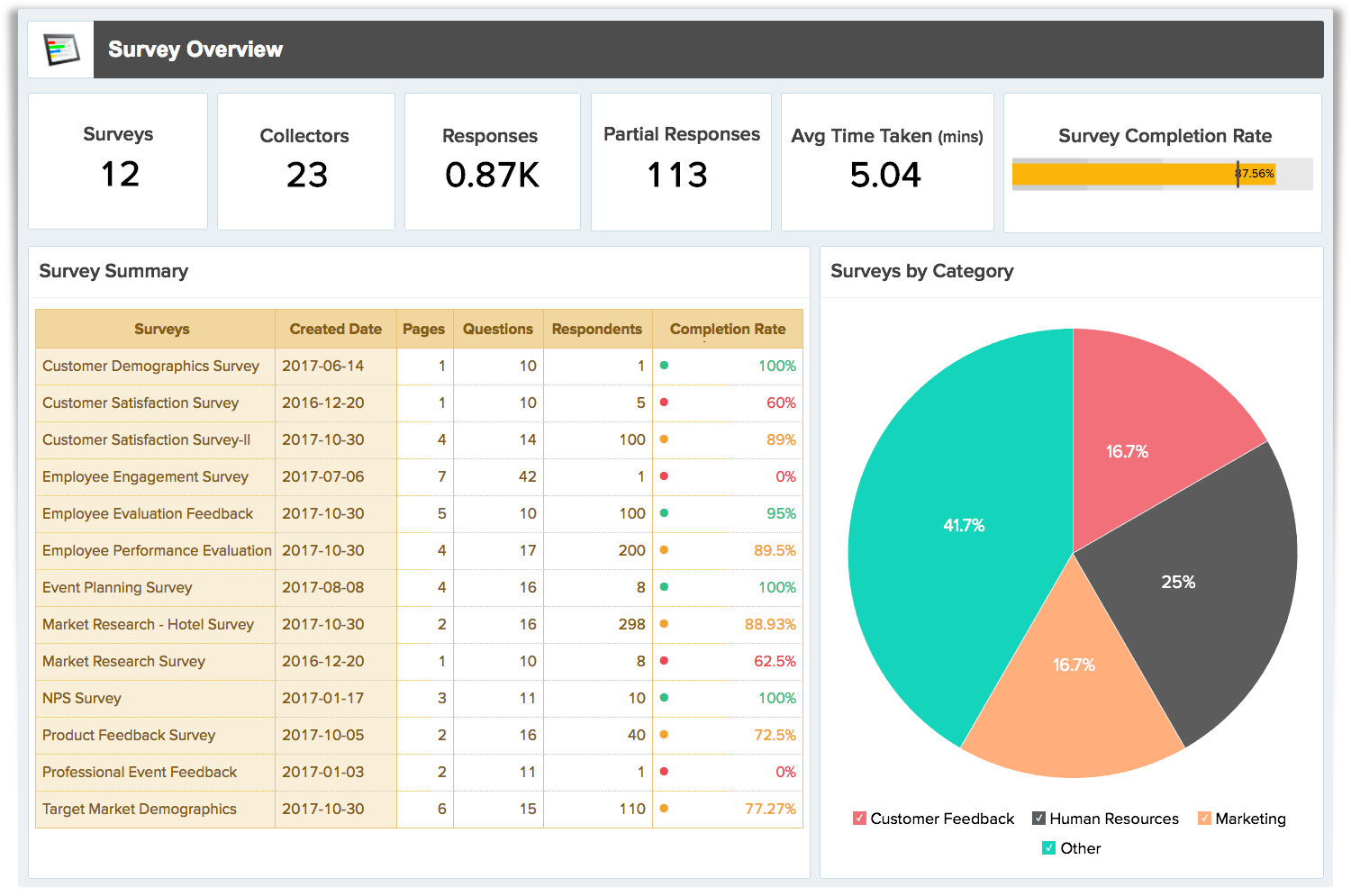 Why Zoho Survey?
In addition to its numerous templates, Zoho Survey allows you to create custom templates that you can reuse later. Zoho Survey also gives you a range of customization tools like logo upload, autofill, and piping to make your survey more unique. The survey can be shared via social media platforms, custom domain links, QR codes, and email campaigns.
If you know Zoho platforms, you are familiar with their incredible set of business tools for any purpose. Zoho Survey gives you access to the whole array of Zoho products that can be integrated into your surveys, such as Zoho Analytics, Sheet, Flow, CRM, and others. Outside of Zoho platforms, you can integrate with MailChimp, Eventbrite, Zendesk, etc.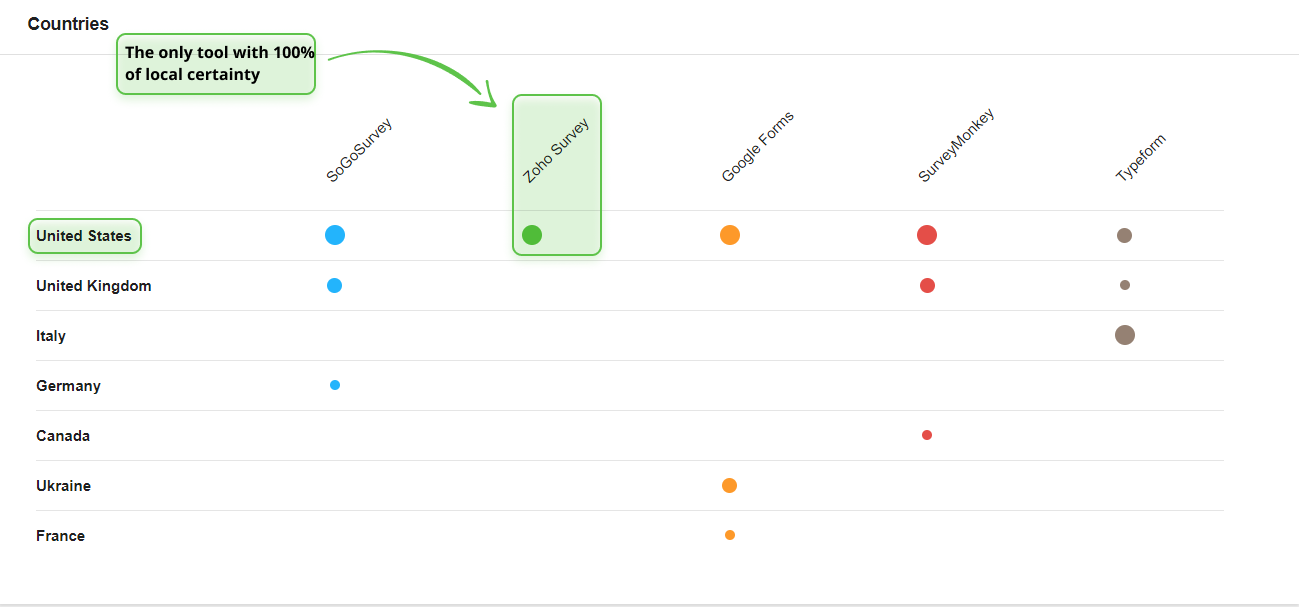 Pricing:
Plus: $20 per month
Pro: $25 per month
Enterprise: $60 per month
Zoho Survey also has a free plan
Client brands: Apple, Adidas, HBO
FinancesOnline rating: 8.4
Conclusion
Online surveys are an affordable way to collect important customer data. There are other methods you can employ too, such as social listening. Awario is a social listening tool and a novel approach to gathering and evaluating customer information. The tool silently collects and analyzes information about your brand to help you make informed decisions in the future.