Top 5 Instagram Influencers (and what brands can learn from them)
The total number of monthly active Instagram users is 700 million. As many as 400 million log in daily. This makes Instagram the most engaged social media platform. Its demographics is more female oriented with 68% being females. 59% of Internet users between the ages of 18 and 29 use Instagram and 33% of internet users between the ages of 30 and 49 use Instagram.
With this kind of usage it's not surprising that Instagram influencers are as influential (and in many cases more influential) as people that proved their expertise through other channels of distribution. Actually, top Instagram influencers charge up to $100,000 for a sponsored post. Why is it so important to know more about Instagram celebrities? Firstly, because their tactics and strategies are the ones that you might be able to use for your business, if you want to promote it on Instagram. And there is a large chance you do. Secondly, because social media success stories like that help understand how to build a personal brand on social media. They are obviously different from traditional methods of building a personal brand and extremely important in times when the number of your Twitter followers directly influences your sales.
According to Forbes, the most successful Instagram influencers of 2017 are the following:

Daily Dose is a motivational Instagram account created by Tim Karsliyev. It has 1.2 million followers, and the level of engagement is absolutely impressive. The account has a range of filtered pictures with inspirational and motivational quotes. It aims to help young adults that populate Instagram achieve more in life, become rich and successful. How did it happen that the creator of the account became an Instagram celebrity? In the interview given for Huffpost, he points two main reasons for his success:
Daily Dose is beyond a brand, it's about building others up;
The author aggressively studies market trends which allows him to constantly moving with the varying tides of business.
This might sound obvious, but consider this: most Instagram accounts created by companies only post photos of their products or related to their products or brand image. Most personal accounts simply post photos of themselves. That's the whole "selfie" culture. Daily Dose completely refocuses that and makes the viewer the center of attention. The second lesson to be learned from the Daily Dose might seem shallow but is pretty important nevertheless. The format that Daily Dose uses, a quote on a beautiful image, increases significantly user engagement. If that's one of your goals, consider using this format for the messages you want your viewers to perceive (e.g., sales, deals, product releases).

Tonio Skits is a comedian with over 3.6 million users and over 50 million monthly impressions across all social media platforms. Despite being famous and well, on MTV, he continues to create, edit and direct his own original content. Tonio became a social media star through viral marketing: he posted a breakup video that went viral. After that Tony's success has been attributed to his ability to embrace his culture and background by incorporating them into the videos.
The secret behind Tony's social media success that took him much further than social media is exactly that – his authenticity. Surely, he's also funny and undoubtedly talented. But the lesson that CEOs and marketers should take away is to embrace who they are and make it your differentiating feature.

Desi Perkins is a lifestyle and beauty blogger with 3.4 million followers on Instagram alone. She gives instructions on everything make-up related from skull faces to perfect "nude" looks. Desi is your 1000s reason that if you're anywhere in this industry, you need to be on Instagram. And if you're planning to get successful on it, as opposed to having a hundred followers, you have to put some serious effort into the photos. Unfortunately, simple filters is not enough anymore. Desi shows us that your Instagram account has to look like a Vogue cover to get your account to the top.
It is often assumed that you have to be extra-creative on Instagram, to come up with looks that are never seen before to get noticed by subscribers. However, Desi followed the traditional routine: find what works well and copy it. She did makeup looks inspired by stars like Jennifer Lopez, Kylie Jenner and Taylor Swift. Nothing new; but obviously popular and done well by Desi.
Remember that you don't have to reinvent the wheel to be successful on social media. Look at what works for your competitors, and copy their tactics. And if you can, do it better than them.

Thought Instagram is about beautiful girls and makeup? No, Instagram is, and always has been, about food. First food, then everything else. So if your business is somehow food-related, there is no way around Instagram.
As you might've guessed, @CookinWithMima is a recipe Instagram account with 2.5 million followers. It doesn't follow any special rules that make the reasons for its popularity apparent. Most recipes are not that easy to make and involve loads of ingredients. Some, however, are cheap and easy. She covers both healthy and and not so much recipes. So what makes her that successful?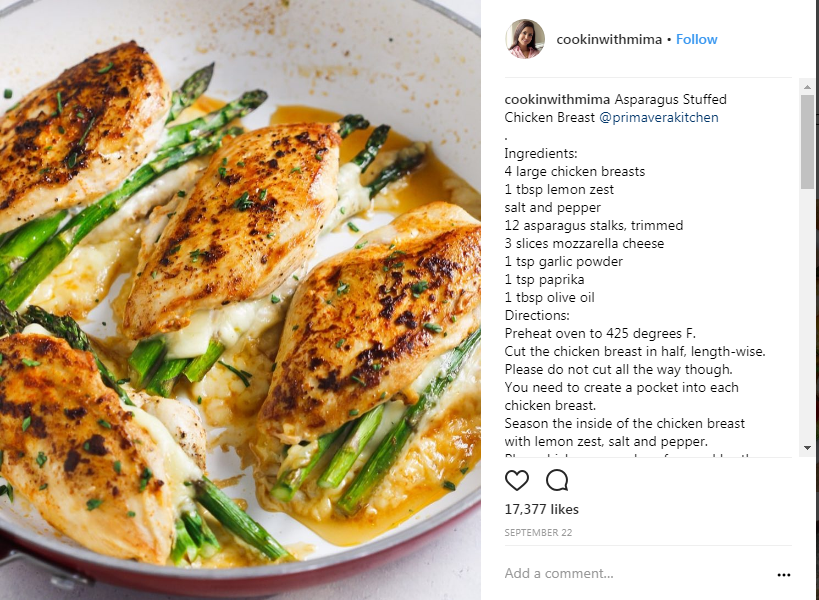 In the interview given for Huffpost, Mariam Ezzeddine, the account holder, shares her views on promoting with Instagram. She says that the most valuable help is the feedback you get from the audience. By listening to feedback and opening her mind to what her audience is saying, she managed to get much further than most similar entrepreneurs.

Joel's Instagram won't strike you as anything special. It's aesthetically pleasing, the colors are well matched, the quotes appear now and then, so do the photos of the author. But nothing more than that; yet the account has 13.6k followers.
The creator behind it is Joel Contartese – one of the first entrepreneurs to monetize social media in 2012. Not that long ago, is it? He is still considered one of the top content marketers of 2017 by Inc. Magazine. Joel is a brand architect and a social media strategist, which explains his inadequately large following. On his website, he explains the key steps to social media marketing for whatever you're selling: a personal brand, like himself, or a product:
create social media profiles with quality content and aesthetics that resonates with your brand and audience;
track the reputation of the business and find out how people perceive your brand;
carry out social media contests;
engage with the audience.
Conclusion
If your field is one of the most popular fields of Instagram, for example beauty, food and entertainment, it's time to go ahead and copy the strategies of the top influencers. Some of their tricks are transferable and can be applied to any account, some not so much. If your niche is very different from the ones discussed above, search for the niche influencers. Sign up for Awario and start social media influencer marketing campaign based on your chosen keywords. Then look at their profiles or do the outreach, your choice!
Also, who are the influencers you follow on Instagram and why? Let me know in the comments!