Twitch marketing cases: how brands get settled in Gamer Wonderland

Article summary
Some marketers feel that Twitch is about esports and gaming only. On the other hand, this streaming platform attracts millions of people daily. It makes Twitch suitable for successful marketing campaigns. In this article, we consider the perks of Twitch for brand promotion with examples of real case studies.
When you get Twitch for the first time, you probably feel like Alice in Wonderland. It is a New World where users spend 95 minutes on average watching how streamers play Fortnite, draw anime characters, or perform their alternative music.
"It is not for my company!" you can say, heading to the exit. However, such solid brands as BMW and Old Spice stay here and run their campaigns. Why?
Michael Aragon, Chief Content Officer of Twitch, describes it as a multi-player entertainment platform where people with similar interests gather to chat and enjoy the experience with their squad. These real-time dialogues are like virtual parties that can last more than ten hours! Not surprisingly, Twitch streams are much more engaging than videos on other social platforms.
High engagement level and a strong bond with the audience are the main reasons why you should think about marketing campaigns on Twitch.
Take a look at this article to learn the basics of Twitch. Or, if you already know what the platform is, let's go on a journey!
Sign up for a free Awario trial
See Awario in action with a free 7-day trial. No credit card required.
By signing up I agree to the Terms of Use and Privacy Policy
Why promotion on Twitch is a super creative marketing task
Twitch is different. In a nutshell, it is a unique audience, new content format, and strategy. In this short video, you can find out more about the history and the peculiarities of the platform.
Audience
In 2020, the average daily audience of the platform was 30 million users, 7 million streamers went live monthly, and 1 trillion minutes of video was watched, as Twitch statistics show. Nearly 50% of all visitors are between the ages of 18-34.
To get more insights into Twitch's audience, I used Awario as a social listening tool. I created an alert to find mentions about the platform on the web and social media.
Awario gave the following results:
Twitch was mentioned most by people from the UK and the US;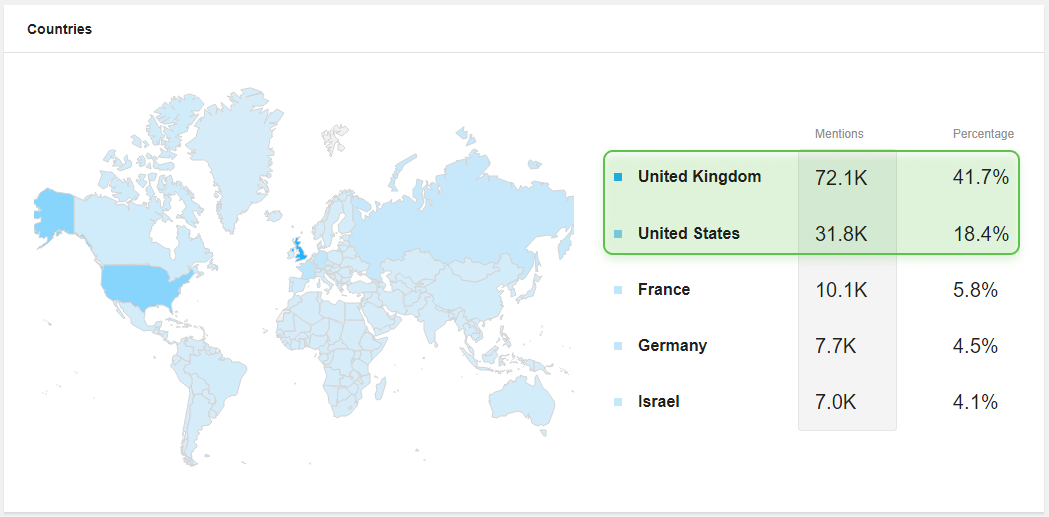 the platform is generally discussed by men (69.9%);

the majority of people who mentioned the platform speak English (57%), French (3.7%), and Spanish (2.6%);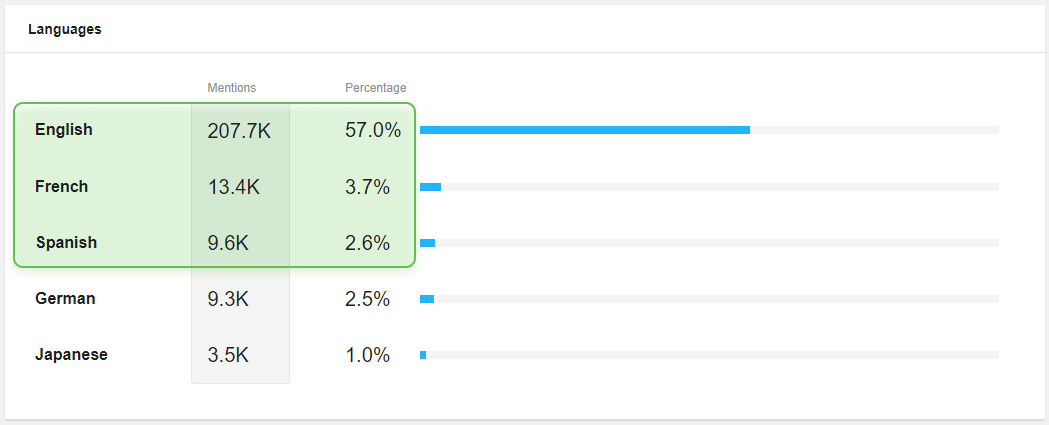 people 25-34 years old mostly talk about the platform (54.1% of mentions), the group of 35-44 is in the second place (37%);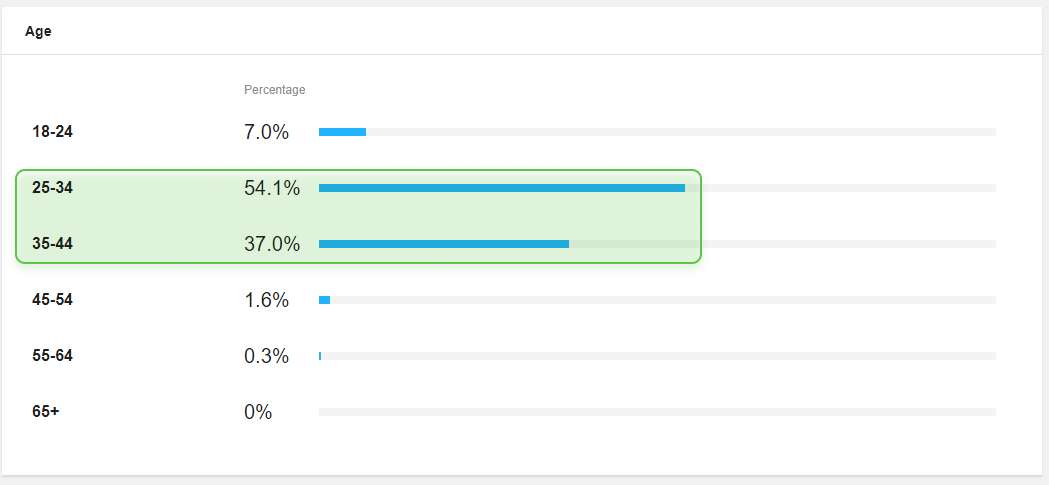 users mention Twitch more than brands: 64.4% of mentions were done via personal accounts and 35.6% via companies' pages.

The platform unites extraordinary people who love watching what other users do or share their routine or leisure with others. There are large communities around games, music, food recipes, ASMR, pets, and the like. "Just chatting" is maybe the number two category after "Games" by user popularity because users primarily go to Twitch to find like-minded people and talk to them.
---
Opinions exchange
We want to make Awario even more beneficial for you. Please, share your opinion with us by responding to this short survey
---
Content strategy
Twitch requires live video only. However, there are a lot of saved streams on the channels. But you can't repurpose content, for instance, from YouTube, there. You have to create new one.
Besides, to retain and grow your audience, you need to stream regularly. "Being live every single day, I was able to build connections with people on a much more personal level and at a faster pace than I did with other platforms," SypherPK, who has 4.7 million followers on Twitch, said about his Twitch marketing strategy.
Making videos for your own Twitch channel is a massive and time-consuming task. For example, the shortest streams in the Art category last at least two hours!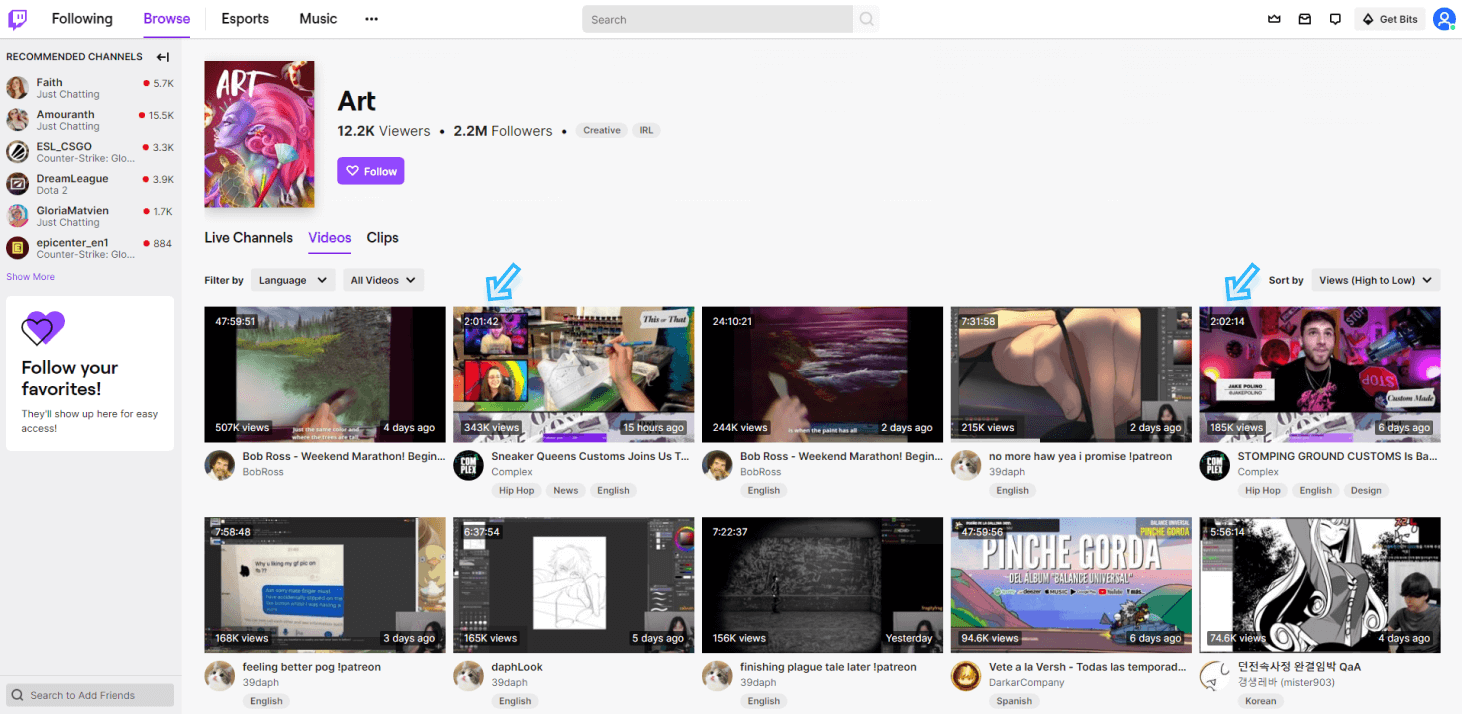 The new level of engagement with the audience
Twitch is a reality show without editing. The number of viewers is one of the significant indicators of your stream's popularity. You constantly need to nurture and entertain them. For example, you can mention every new subscriber by name, run giveaways, share discounts. It allows you to build a strong emotional bond with your audience.
Any stream on Twitch has a live chat that is available to followers and subscribers only. The latter get more options as emojis posting or recorded streams viewing.
The more users watch a stream, the more messages they will post in a chat. Usually, people comment on what a streamer is doing, ask questions, and post tons of emojis. Of course, you need to moderate their quick reactions.
Engaging with followers, you need to be very friendly and sincere. Otherwise, they quickly leave your channel and switch to another stream.
Content topics
Streaming games is the most popular content format on Twitch. Gamers just share their desktops, start their favorite game, and comment on what and why they do. However, some companies turn their streams into TV show alternatives with a studio, guests, music pauses, and so on.
Making a plot for your first stream, do not forget that a stream is about the process. Whether you are a gamer, artist, or tailor, you need to shoot how you are doing something. There are talking heads shows on Twitch, too, for instance, in the Politics category. However, this is not mainstream content on the platform.
Subscription specs
The last peculiarity relates to a subscription to your channel. There is a difference between a follower and a subscriber on Twitch.
Any person can follow you free to watch your stream and write to your chat. However, there are paid subscriptions that include benefits for users.
Subscribers can view the channel almost without ads, chat during Subscriber-Only mode, watch Subscriber streams, and so on.
In other words, followers help your content get popular on the platform, while subscribers potentially can become your sponsors. Streams with a big number of viewers have a chance to appear in recommendations for other Twitch users. So, as a marketer, you should pay more attention to growing your following.
Marketing case studies
Now you already know that Twitch is not only about gaming. First of all, it is about online entertaining in real-time. Many companies got the point and launched their streams or reached out to Twitch influencers. You can find a lot of ad banners in the profile of every popular streamer.
For instance, this is how the About page of Fnatic, an esports team and a big Twitch influencer, looks like.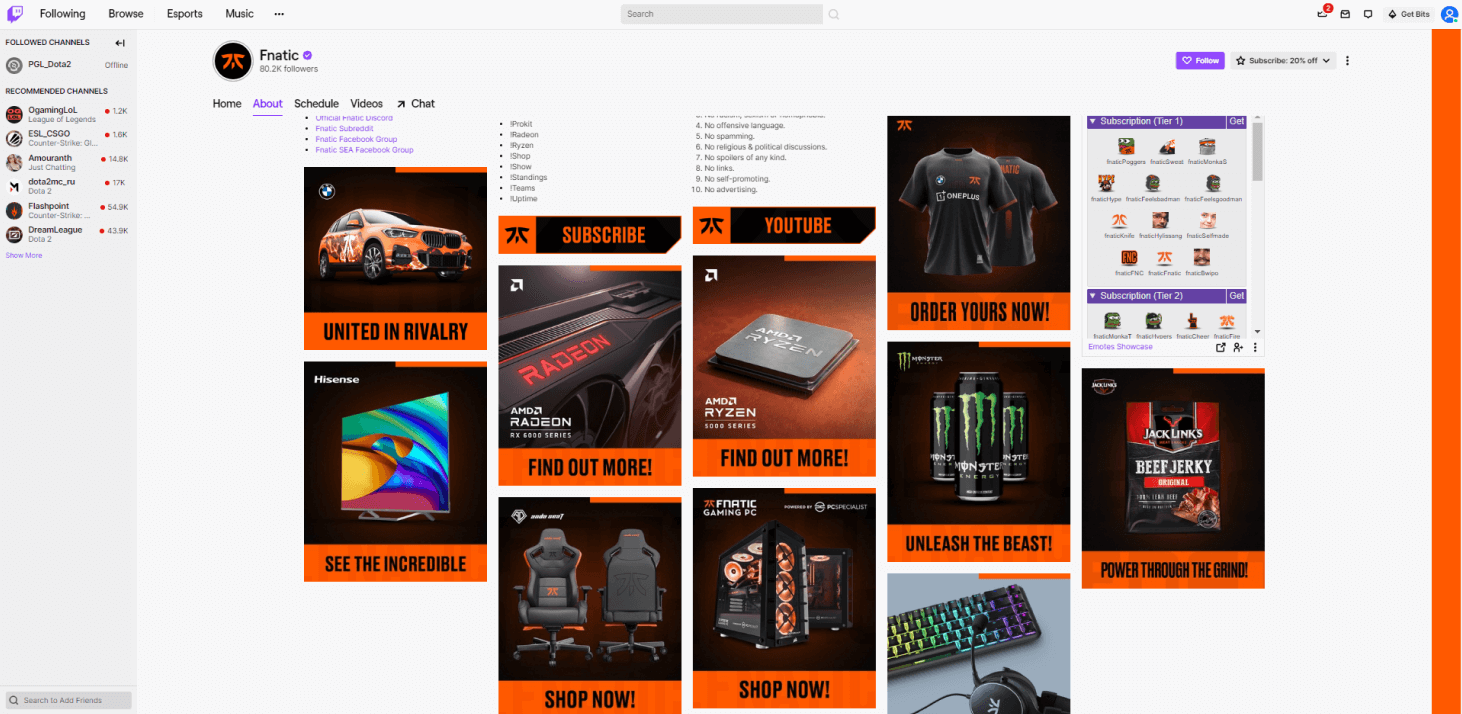 However, some brands go beyond advertising on channels and sponsoring esports tournaments.
Let's look at four marketing cases.
#CashAppPayDay: a PR event for brand awareness
Cash App, a mobile payment service, used Twitch as a platform for a big promotional show. The company created a channel where it launched an event lasting almost eight hours!
Considering the Twitch audience preferences, the show organizers invited 21 top content creators as guests and co-hosts of #CashAppPayDay. For instance, at the beginning of the event, 24KBrownMagic, a Twitch influencer with 48K followers, performed his welcoming song. Also, members of 100Thieves, a popular esports team, accompanied the presenters throughout the show.
#CashAppPayDay was full of entertainment. Participants staged a rap battle, played a quiz game, and run a UNO championship with $100K in bitcoins as a prize. Of course, there was a lot of interactions with viewers during the event. They cluttered a chat with tons of comments and emojis.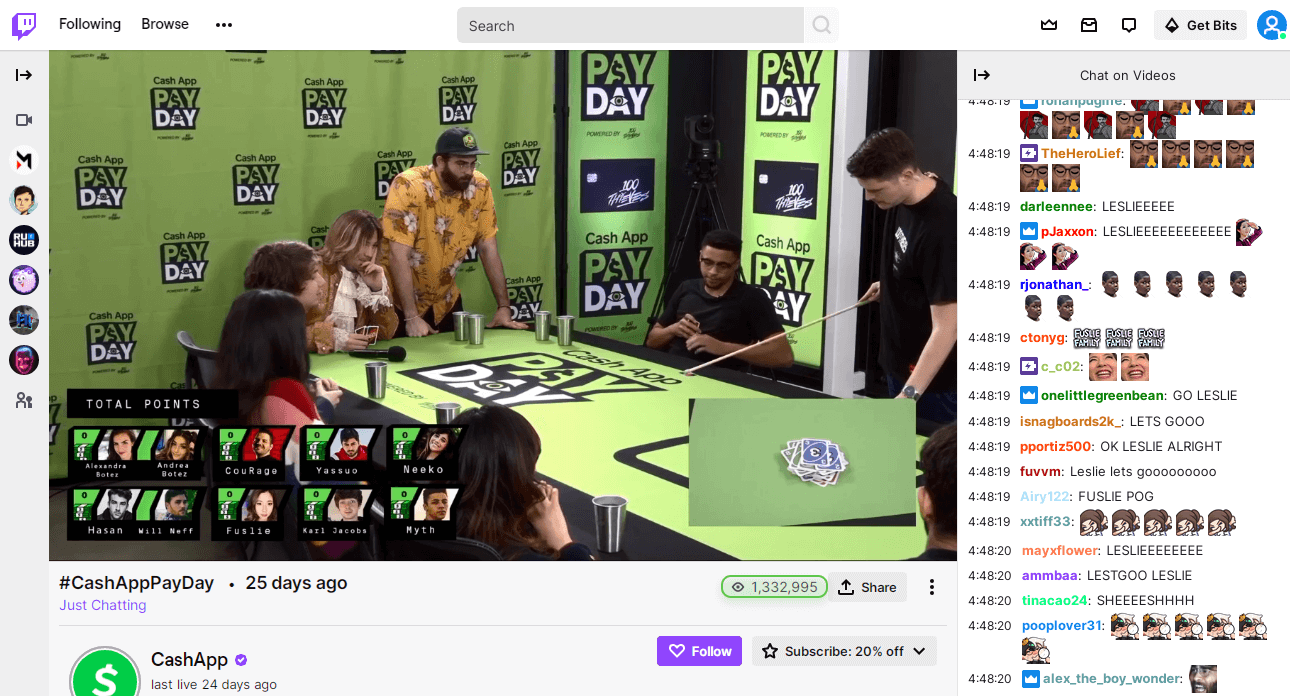 Between fun activities, viewers were shown Cash App commercials that emphasized the benefits of the service and urged people to sign up for it.
As a result, the stream earned 1.3 million views. Almost 484K users followed the Cash App channel. Surprisingly, there are no other videos beyond #CashAppPayDay on the channel. What a start on the new platform!
Marketing takeaway
Twitch is a good choice for PR events presenting B2C brands. Launching any activities there, reach out to influencers to grab more attention to your content and understand how to prepare it. You can invite them as co-hosts, buy an ad on their channels, or agree on a mutual promotion.
Also, do not forget to highlight your event on other social media where you have a big following. For example, Cash App announced the show on its Twitter (with 1.2 million followers).
Start monitoring your brand today.
You should've been doing it yesterday – but the next best time is now with Awario.
By signing up I agree to the Terms of Use and Privacy Policy
BMW: brand promotion through esports events
Many solid automobile brands as Mercedes, Ferrari, or Hyundai often sponsor esports events. BMW is one of them, too. Besides, the brand team is an active participant in motorsport — not only in real races but also in virtual ones.
On Twitch, BMW has an official channel dedicated to motorsport simulation games — iRacing and rFactor that are quite trendy on the platform (more than 500K users follow these categories). Although it was created recently, there are many saved streams and 3.5K followers on the channel.
The company runs live streams of esports tournaments commenting on them. Also, BMW actively uses Twitch as an additional social media platform for brand promotion. You can find links to its official website and accounts on other social platforms on the About page.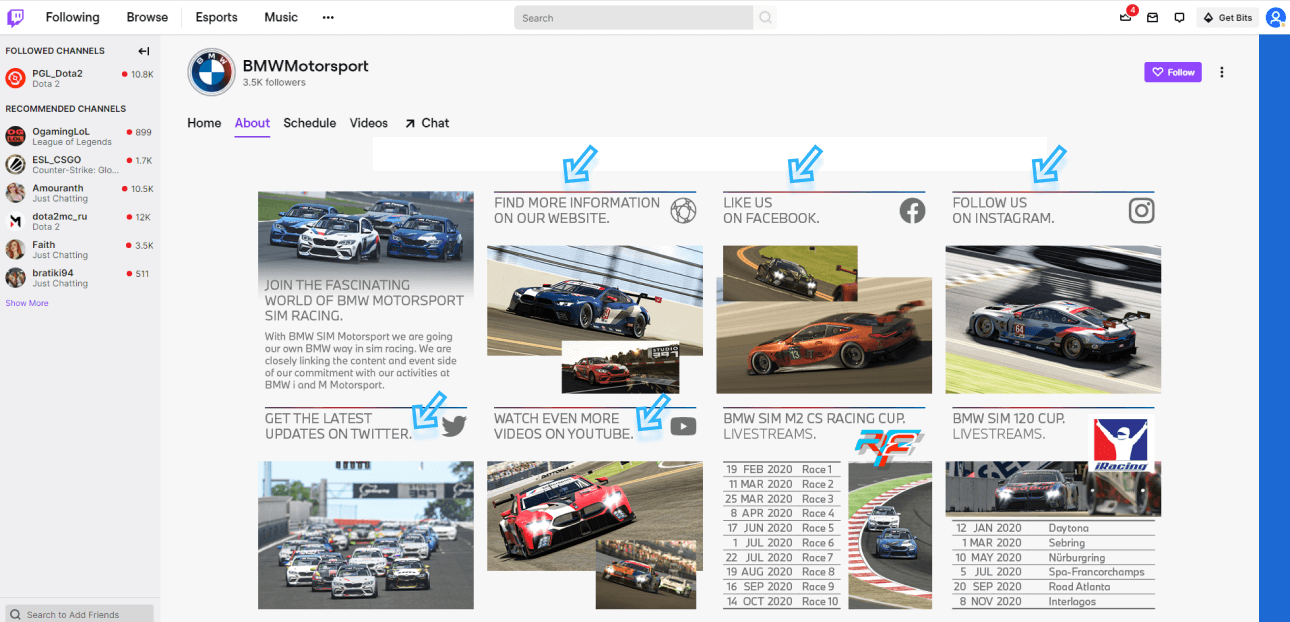 Marketing takeaway
Of course, gigantic companies as BMW have a huge advantage over the middle- and small-sized business. However, do not hesitate to try Twitch as a regular social media or an ad platform if your brand can be connected to esports events. For example, many manufacturers of computer products, beverages, energy drinks, and even mobile apps collaborate with streamers to promote their goods. Who knows, maybe you will find your target audience there!
Old Spice: an interactive game with tons of product placement
Are you confused? Yes, a famous brand of male grooming products streamed on Twitch, too. Maybe, this is the most striking marketing case of all, considering its scope.
Old Spice held a 2-day interactive game show, Foam Zone. Twenty-four contestants faced plenty of foam, obstacles, and comical tests. During the contest, the viewers could decide what happened next — a new difficulty will arise, or help will come — by commenting in the chat.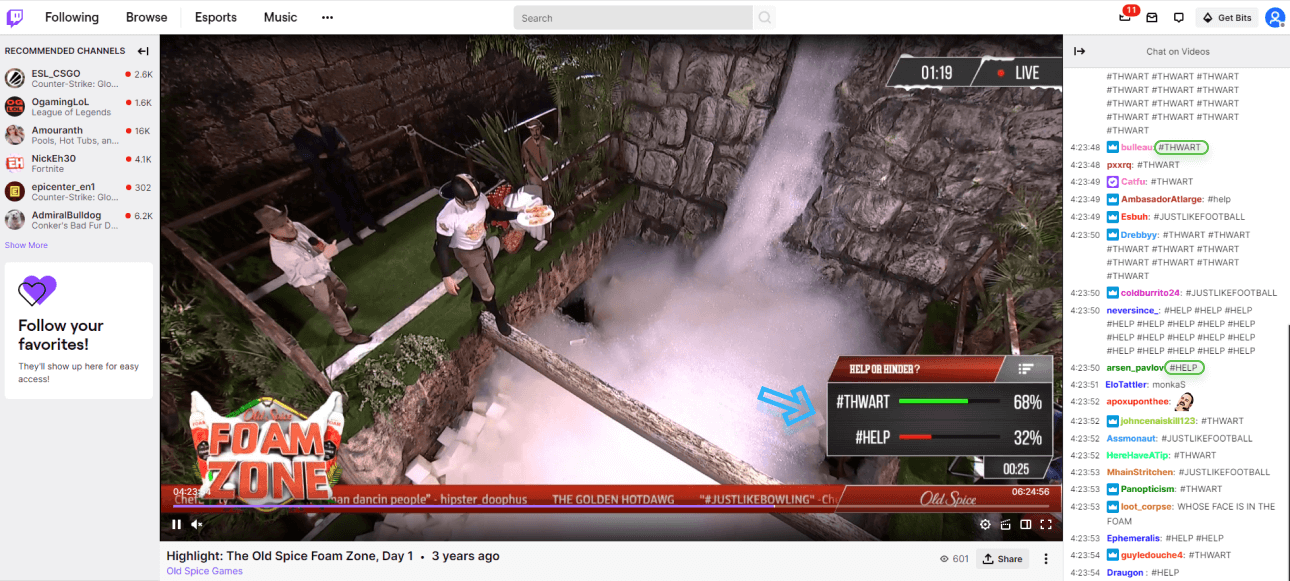 Of course, the action was saturated with Old Space signs:). Decorations, game accessories, items on the commentators' table were branded.
Although the show sometimes looked like a 6-hours promo with product placement, viewers were very active in comments. To keep in touch with the audience, organizers showed funny replies in the ticker on the screen and ran surveys.
Over two days, more than 1.3K viewers watched The Foam Zone. However, for the brand that is far from the game industry, hundreds of comments on Twitch were maybe even greater success. It is a fine example of an experimental promotional campaign.
Marketing takeaway
If marketing budget allows you, feel free to experiment with the content format. Twitch can be an effective social platform for product placement when your product or service is properly served. Streaming entertaining shows is a great opportunity to showcase your brand in front of an audience you have not targeted before. There are high chances you will find new customers here.
Speed Gaming Marathon: an esports team promotion through a charity event
Naturally, esports teams, not businesses, more often use Twitch for their promotion. For many of them, starting streams is regular work. To succeed and earn money, they need to attract sponsors, advertisers, and paid subscribers.
The SpeedGaming channel hosts a variety of speedrun events and esports tournaments. Recently they have held a 5-day charity marathon with speed games like Tetris to support No Kid Hungry motion.
To grab more attention, the team posted an ad around the event on the Homepage carousel. The streams were broadcasted in the public eye attracting new viewers who had recently visited the platform.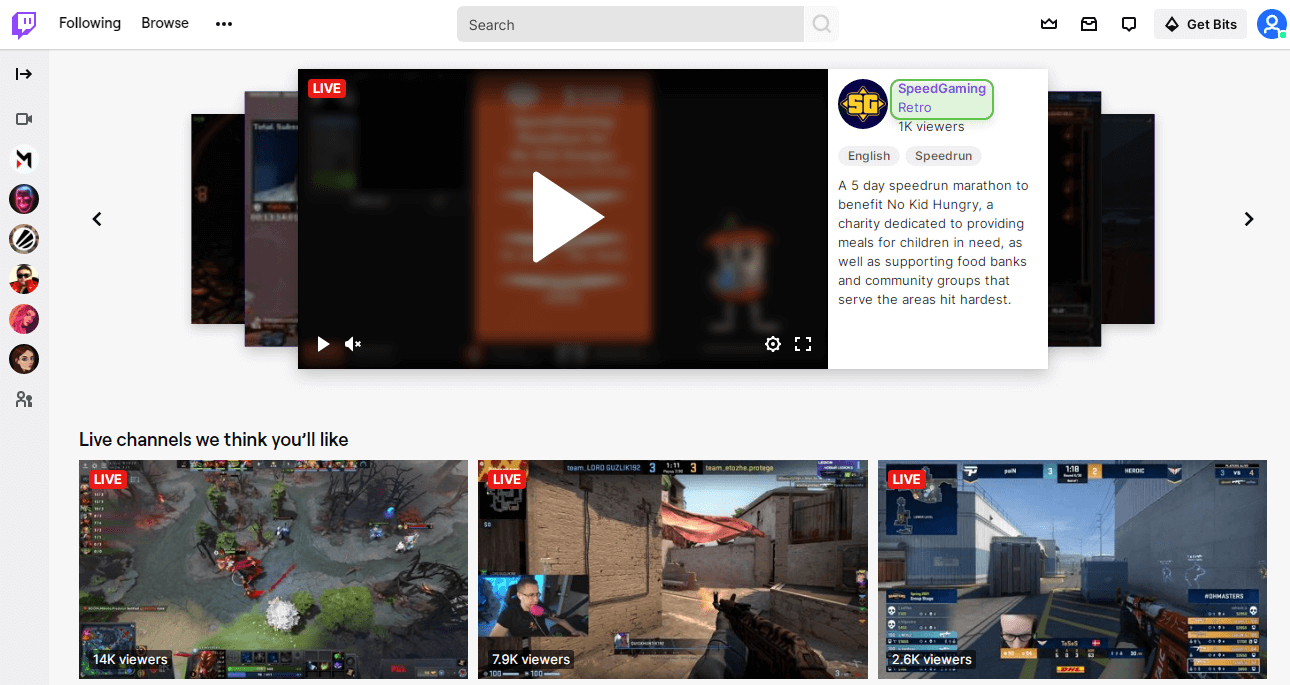 As a result, the streams dedicated to the marathon gained 140K views on average. That's 26 times more than regular viewings on the channel! I think the reason is not only a successful ad. It is a good idea behind the event as well.
Marketing takeaway
Probably you use ad abilities on Instagram, YouTube, and other social platforms and get a good result. Twitch is not an exception. Besides, it is a bit specific for newbies. If you want to get more views and followers to your channel, run an ad there.
Participating in charity campaigns is a good way to highlight your brand as well. As you can see, Twitch is great for that.
Enjoying the post? There's more.
Sign up for our newsletter to get our best content by email.
Wrapping up
For marketers, Twitch looks like a new reality portal. Keep calm and come in, there are no cyborgs there! The platform attracts millions of users with diverse interests. People come there for one reason — they want to have fun. So, just entertain them!