Twitter analytics tools for a winning marketing strategy in 2022 (free and paid)
Article summary
Sometimes, in-app Twitter stats are not enough to estimate your activities on the platform. Check out how these tools can boost your Twitter marketing strategy and make it data-driven.
While Twitter analytics are quite comprehensive, there are several downfalls with them:
You can only analyze your own tweets and Twitter profile, leaving you blind to your competitors, audience, and Twitter influencers' activities. This significantly limits your Twitter marketing opportunities and the ability to understand your customers.

Any Twitter report won't be as customizable as those offered by a dedicated Twitter tool. Designated analytics tools allow you to choose which data to include and save time on making a Twitter analytics report from scratch.
Fortunately, there are special Twitter analytics apps and marketing tools that can alleviate these problems and optimize competitor analysis, influencer research, and account analysis.
In this article, you will find a brief overview of seven free, partially free, and paid analytics tools. You can choose a couple based on the requirements that are important for your Twitter analytics and sign up for a free trial to test them out!
First, we need to understand why we need another service to plan our Twitter strategy.
To set up a successful marketing strategy for any social media – Twitter marketing is no exception – any business should follow these key steps:
Define your social media goals – for example, increasing engagement, reach, conversions, and customer loyalty;

Start your target audience analysis – age, location, hobbies, etc.;

Start tracking social media analytics of your competitors;

Run Twitter analytics to find the opinion leaders - influencers, experts, or even Twitter Topics where recent tweets from your niche are highlighted;

When the research and analyzing part is over, you can create and run your social media campaigns.
Making a good strategy without data analysis is an impossible task. To set goals and test hypotheses, you need various metrics and reports starting from the number of Twitter followers and ending with Twitter sentiment analysis.
There are a lot of social media monitoring and marketing tools that help you to map out your Twitter strategy through Twitter analytics.
Top Twitter analytics tools: what to choose
It may seem that Twitter analytics includes just the number of likes, comments, retweets, and followers. However, it is an overly simplistic approach to Twitter analytics which only focuses on native social media analytics. In fact, Twitter analytics can be so much more with the right marketing tools.
Twitter has a great variety of paid and free analytics tools. I will proceed with those seven I consider the most useful Twitter analytics tools but there are many more.
All of these Twitter analytics tools can become your reliable assistants and allow you to look at the analysis of Twitter data from a new angle. Despite the similarities, they are designed to solve different marketing tasks.
Hopefully, you will find the best Twitter analytics tools here!
| | | | |
| --- | --- | --- | --- |
| analytics tool | platforms supported | pricing | free trial |
| Awario | Twitter, Facebook, YouTube, Instagram, Reddit, news, blogs, forums, and the web. | $29-299/mo | 7 days |
| Tweetdeck | Twitter | Free | — |
| Tweet Binder | Twitter | $39-934/mo | A free Twitter analytics report with limited functionality is available. |
| Twitonomy | Twitter | $19/mo, $199/year | A free account with limited Twitter analytics platform is available. |
| Union Metrics | Twitter, Instagram, Facebook | $49-199/mo | Free Twitter analytics features with limited functionality are available. |
| Foller.me | Twitter | Free | — |
| Tweepsmap | Twitter | $14/mo | Free Twitter analytics features are available. |
As you see, the social media analytics tools can be quite different and also offer different levels of financial investments.
Let's break down the Twitter analytics tools from this table one by one, look at their most important characteristics and figure out which of them compliment your Twitter strategy.
Analyze your audience, find influencers, and compare your brand performance with the results of your competitors.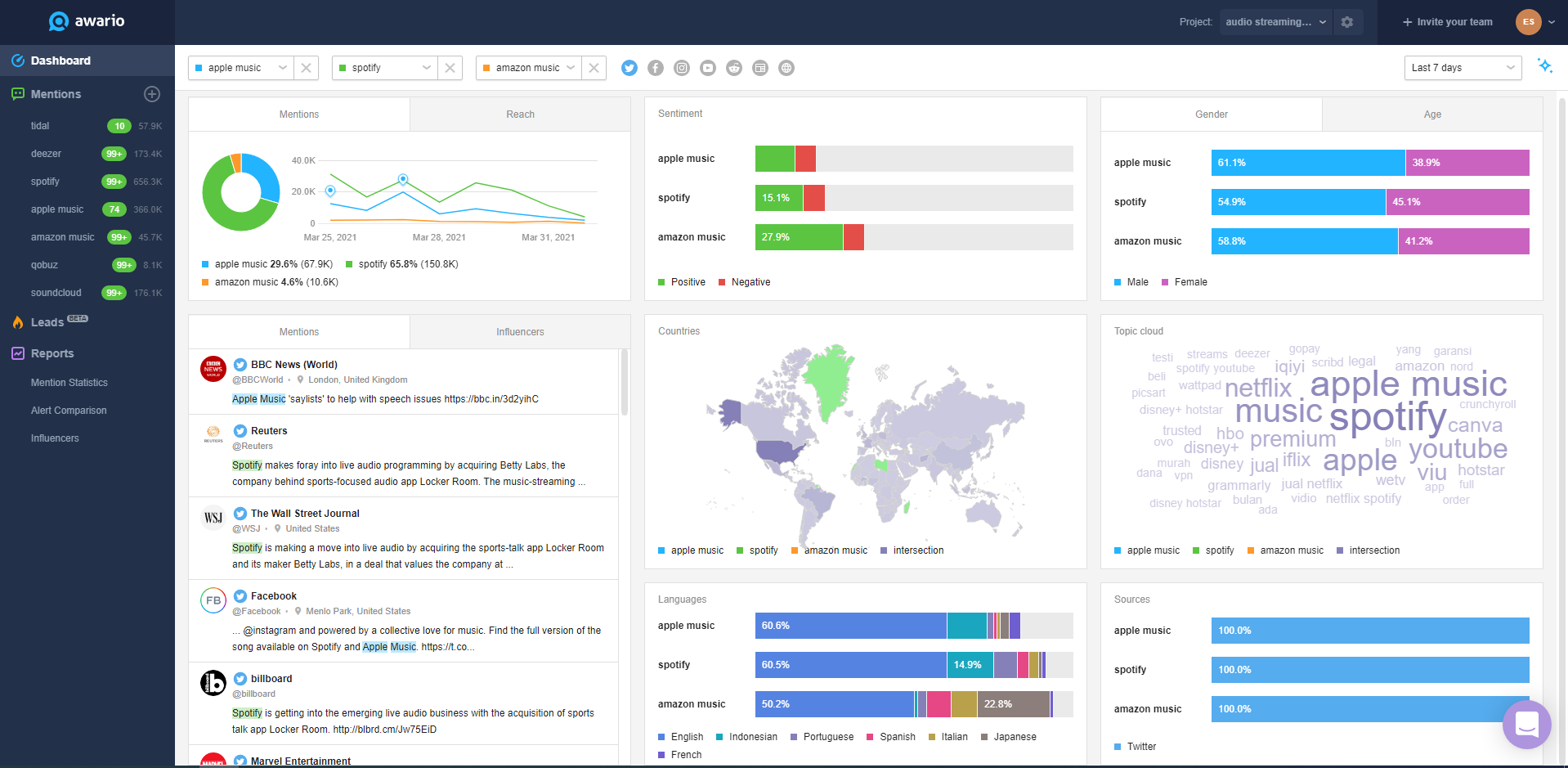 Awario is an easy-to-use tool for everyday social monitoring and picking up social analytics from Twitter. It's not primarily a Twitter tool since it supports a wide range on social media platforms and websites.
You can start by opening the Dashboard like I do to evaluate your Twitter strategies' efforts and define trends worth following in Topic cloud.
As a Twitter analytics tool, Awario monitors your brand mentions over the social network and converts your mentions stats into detailed reports. You can easily spot an increase in your brand's popularity or Twitter customer requests.
You can identify your Twitter audience's portrait and discover who they are, where they live, and what they think about your product. The tool also compiles the list of Twitter Influencers analyzing their popularity and sentiment. You can reach out to them directly to offer collaboration.
Alert comparison is a helpful Twitter analytics feature for competitor analysis. You can compare up to 15 mentions to look into your mentions and competitors' performing the following analysis:
sentiment;
language;
gender;
age;
geography;
reach;
topic cloud;
influencers.
You can also use Awario to measure the performance of posts in your Twitter account, for example, to collect hashtag analytics during giveaway contests or ad campaigns. Moreover, you can choose a Twitter hashtag to analyze and track, and get a full analysis of its usage.
These content analysis functionalities make it easy to spot Twitter trends early and hop on them.
Also, the tool allows you to monitor and manage comments around your brand on Twitter, so you can quickly reply to positive and negative ones in the app. It makes working with tweets easy by providing a sorting feature and facilitating retweet from the Awario's dasboard.
Additional platforms supported: Facebook, YouTube, Instagram, Reddit, news, blogs, forums, and the web.
Pricing: $29-299/mo, annual plans save you 2 months. A 7-day free trial is available.
Sign up for a free Awario trial
Fire up brand monitoring and see Awario fetch social data in real-time.
By signing up I agree to the Terms of Use and Privacy Policy
Build your Twitter workspace for tweeting out, messaging, catching mentions, likes, and trends.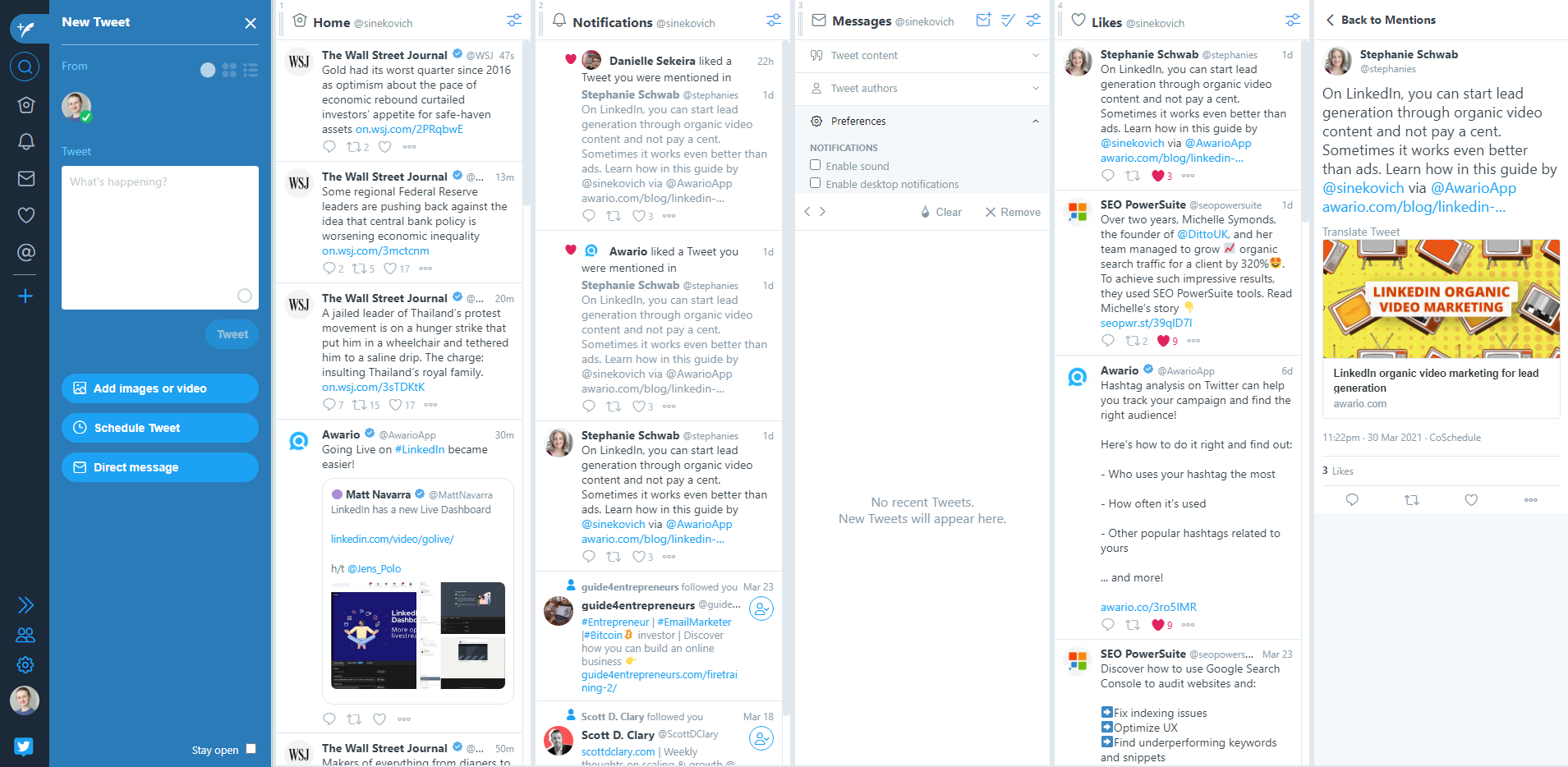 Tweetdeck is a useful assistant for Twitter publishing and managing your Twitter account. And it's one of the free Twitter analytics tools.
Initially, it was an independent app. After Twitter acquired it, the tool was integrated into the social media interface and became an alternative to a usual Twitter dashboard. The tool is available for you since you log in to your Twitter profile.
Originally, Tweetdeck is rather social media management than a Twitter analytics tool. You can schedule individual tweets, read your Feed, and check notifications and DMs. The big plus of Tweetdeck is the ability to add several Twitter accounts so you get access to the Twitter dashboard from multiple accounts at once.
The app can replace the Twitter home page for you. However, there is one catch. The tool is available in desktop mode only. Fortunately, Tweetdeck has flexible settings. You can change how it looks, choosing, swapping, and removing Feeds.
Moreover, the tool provides more than just Twitter account analysis that is available on the platform. Twitter analytics you can find in Tweetdeck:
the number of likes, comments, and retweets to your posts;

your brand or profile mentions;

the activity of people you are following (likes, accounts they started to follow);

trending topics and influencers' profiles by keywords, location, and engagement;

how popular a Twitter hashtag is.
In my opinion, the tool is perfect for creating tweets and monitoring their performance.
You can also engage with any Twitter account in the app – reply to tweets, send DMs, and even block accounts. It seems Twitter intends to further develop it by adding new features.
Additional platforms supported: No.
Pricing: Free.
Monitor the performance of your Twitter account, calculate its market value, analyze hashtags, and build thorough Twitter reports.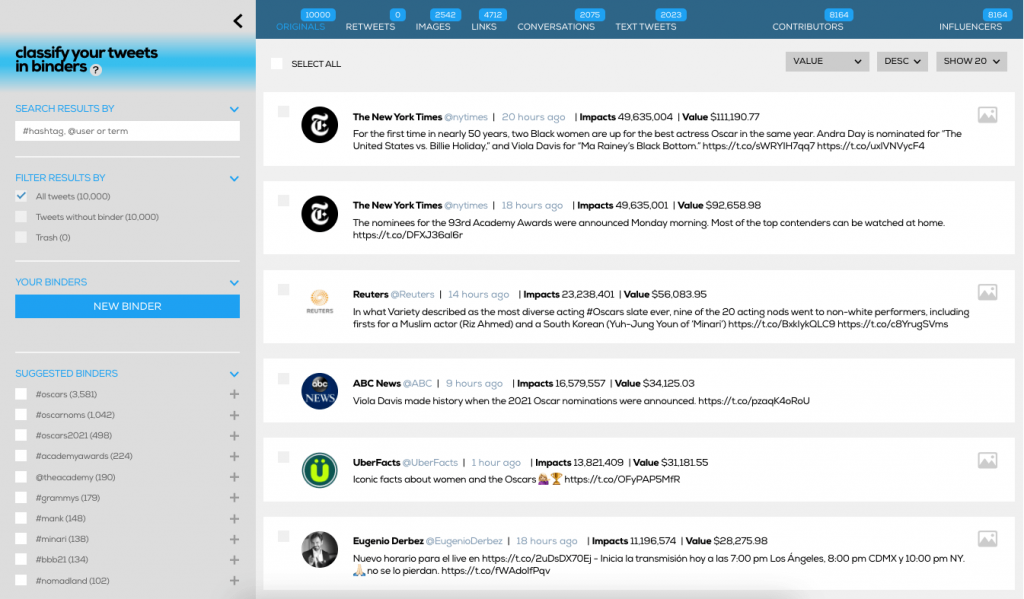 Tweet Binder is a Twitter analytics tool that converts various Twitter stats from your profile to a neat and detailed report. The analysis covers different periods:
last 7 days;
last 30 days;
real-time;
user-defined date range.
You can share reports with your manager or team via URL or Twitter.
In addition to the standard metrics like the number of followers, the tool has some specific ones. For example, you can learn the market and engagement value of your Twitter account or a hashtag. These variables count the amount of money your account or hashtag is worth in the market. You can mention it during conversations with macro-influencers you want to work with.
Tweet Binder uses the Twitter influence algorithm for searching for influencers on the platform. You can find them by keywords or hashtags. Analytics for hashtags can also be useful to spot relevant Twitter Topics.
The tool supports Twitter Advanced Search for pinpoint results. Tweet Binder shows Twitter accounts with a high engagement score that has a big and active following.
Twitter sentiment analysis is another helpful feature for marketers. It shows what emotions your tweets evoke. You can track this metric in dynamics to detect periods when the tone of your messages changes.
Additional platforms supported: No.
Pricing: $39-934/mo. You can generate a free Twitter analytics report with limited functionality (up to 500 tweets from the last 7 days).
Track your brand mentions, hashtags, or keywords, analyze your Twitter followers, and create Excel and PDF reports.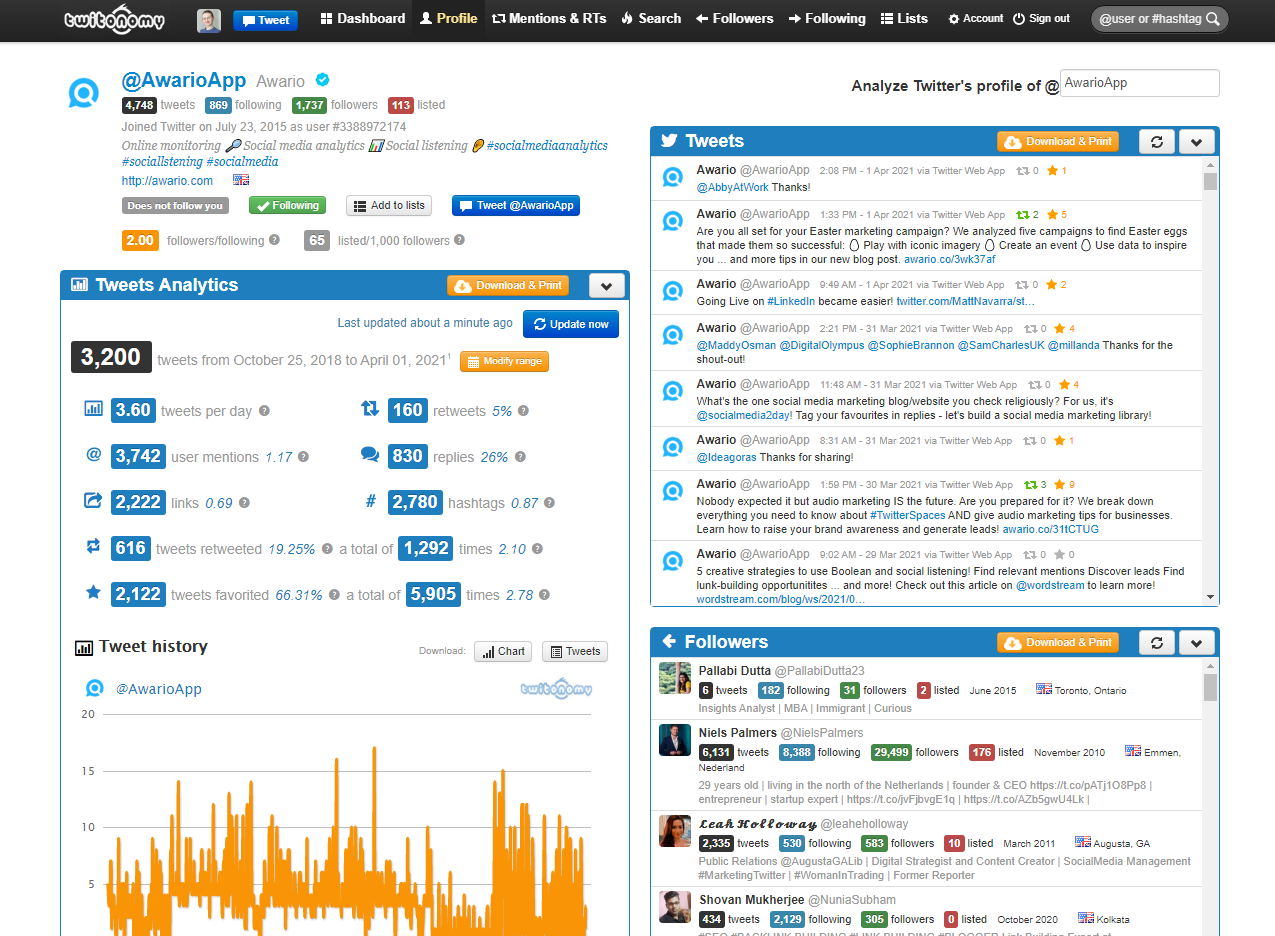 Twitonomy can be an effective Twitter analytics tool for Twitter stats tracking when you want to get an in-depth review of your or someone else's tweeting. The tool shows historical as well as recent Twitter data. A clear picture of any account activities is ready in a matter of seconds with its easy-to-grasp Twitter analytics reports.
Besides classic metrics like retweets, replies, and the number of followers, Twitonomy reveals additional useful data about a given Twitter account. For example, you can see tweets breakdown by hours and days of the week.
Also, Twitonomy calculates:
most retweeted users;
most replied to users;
most mentioned users;
most used hashtags;
platforms most tweeted from, etc.
As you can see, this tool might come in handy for competitive and followers analysis. You can use it for influencers' searches, too. In premium mode, all the data the Twitter analytics tool found can be exported to Excel or PDF documents.
In my view, a multi-parameter search is the Twitonomy killer feature and a stand-out among Twitter analytics tools. Using it, you can easily come up with content ideas. Type in your industry keyword to get a total number of Twitter posts around it, the list of most influential, engaging, and active users, and top hashtags. It is a good Twitter analytics tool for marketing suggestions testing.
Additional platforms supported: No.
Pricing: $19/mo or $199/year. A free account with limited Twitter analytics features is available.
Enjoying the post? There's more.
Sign up for our newsletter to get our best content by email.
Use real-time Twitter reporting for building your social media strategy: check how your content performs, research trends, and make better marketing decisions.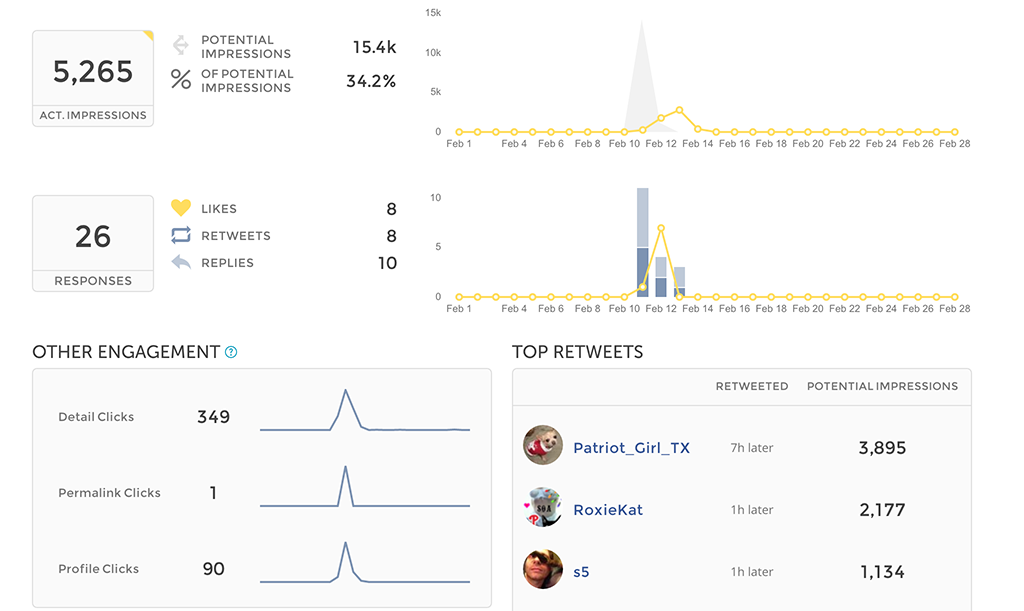 Union Metrics is a first aid kit for marketers with social media and hashtag analytics features. It's important to highlight that it supports more than just Twitter analytics, pulling data from Instagram and Facebook as well. Software like Hootsuite and Followerwonk work the same in this regard.
The tool can analyze recent as well as historical data. You will get the complete report about your account lifecycle to replicate best practices again.
In Union Metrics, you can analyze Twitter profiles, hashtags, or keywords related to your brand, campaign, or industry.
The tool compares impressions of your tweets and shares the insights for further Twitter content optimization. It suggests:
the best time to tweet out in your account;
the type of content that will get more reach (text, photo, video);
the list of your top hashtags;
the list of your contributors and top influencers.
Union Metrics allows you to run competitive analysis as well. You can track your competitors' pages on Twitter, check the share of voice in your industry, and define what kind of content your target audience likes.
There are dozens of quantitative and qualitative reports based on information about your Twitter performance. That is why you can gather detailed Twitter stats after your campaign ends.
Additional platforms supported: Instagram, Facebook.
Pricing: $49-199/mo. In the tool, you can use free Twitter analytics features with limited functionality.
Get an express report about your Twitter profile, catch popular topics and hashtags on the platform, and analyze your tweeting.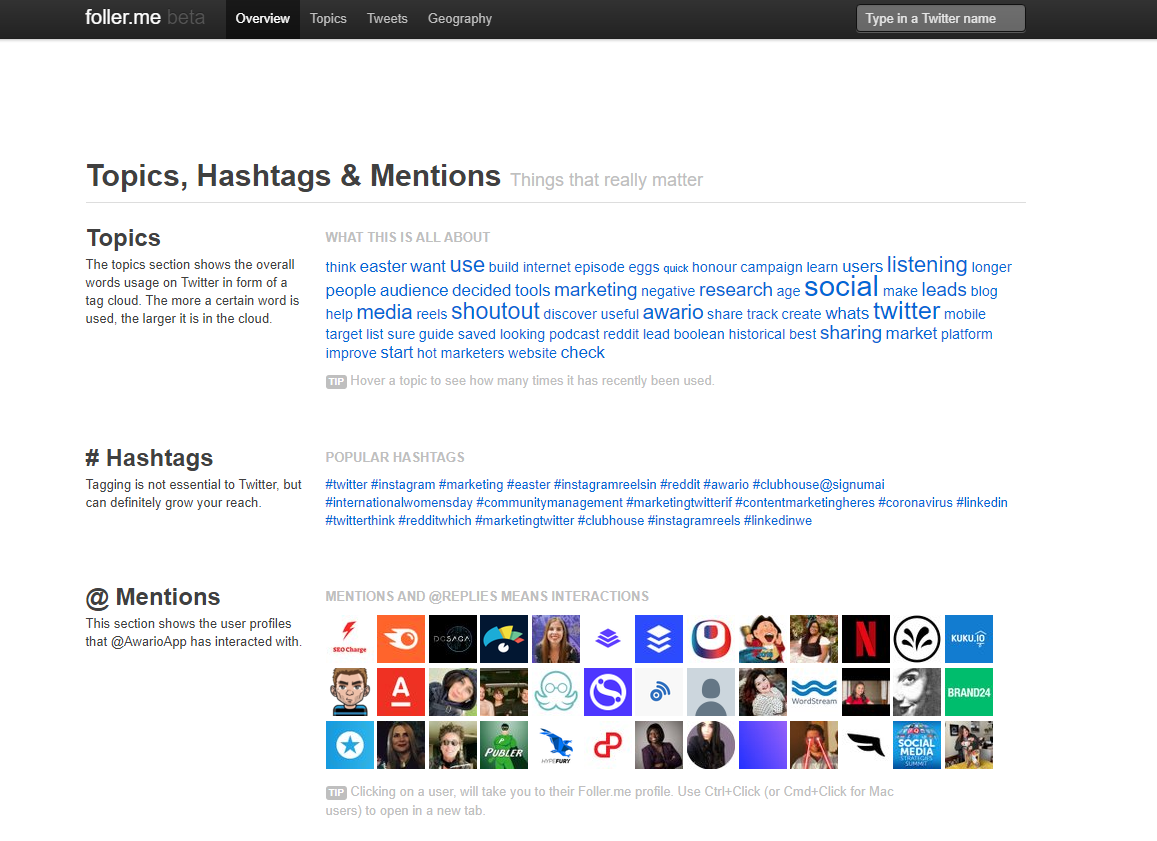 Foller.me is one of the free Twitter analytics tools. Despite the simplicity and the lack of strong features, this online analyzer can be useful for Twitter management. Foller.me provides free detailed reports about the brand activity on Twitter. You can also use it to the reliability of accounts you want to collaborate with. The tool easily detects spam accounts and robots.
Foller.me collects social analytics stats such as:
profile statistics – the registration date, location, language, the number of Twitter followers, etc.;
hashtags, topics, and your account mentions;
results of your tweets analysis – replies, retweets, links, the activity time.
It allows you to use the tool for competitive analysis as well. You can reveal influencers competitors work with, estimate their tweets' attitude (the version of sentiment analysis), and define popular industry hashtags for replication.
There are links to profiles, topics, and hashtags in the report. You can continue your research on Twitter. For example, follow some interesting accounts or reply to a tweet where your brand was mentioned.
Foller.me seems to be one of the most affordable analytics software on the market. Probably experienced marketers will find it too simple, but it is ideal for beginners in social media marketing. This information is enough to create a draft of the Twitter strategy.
Additional platforms supported: No.
Pricing: free.
Schedule and post your tweets, analyze hashtags and keywords, monitor engagement, and build a Twitter followers map.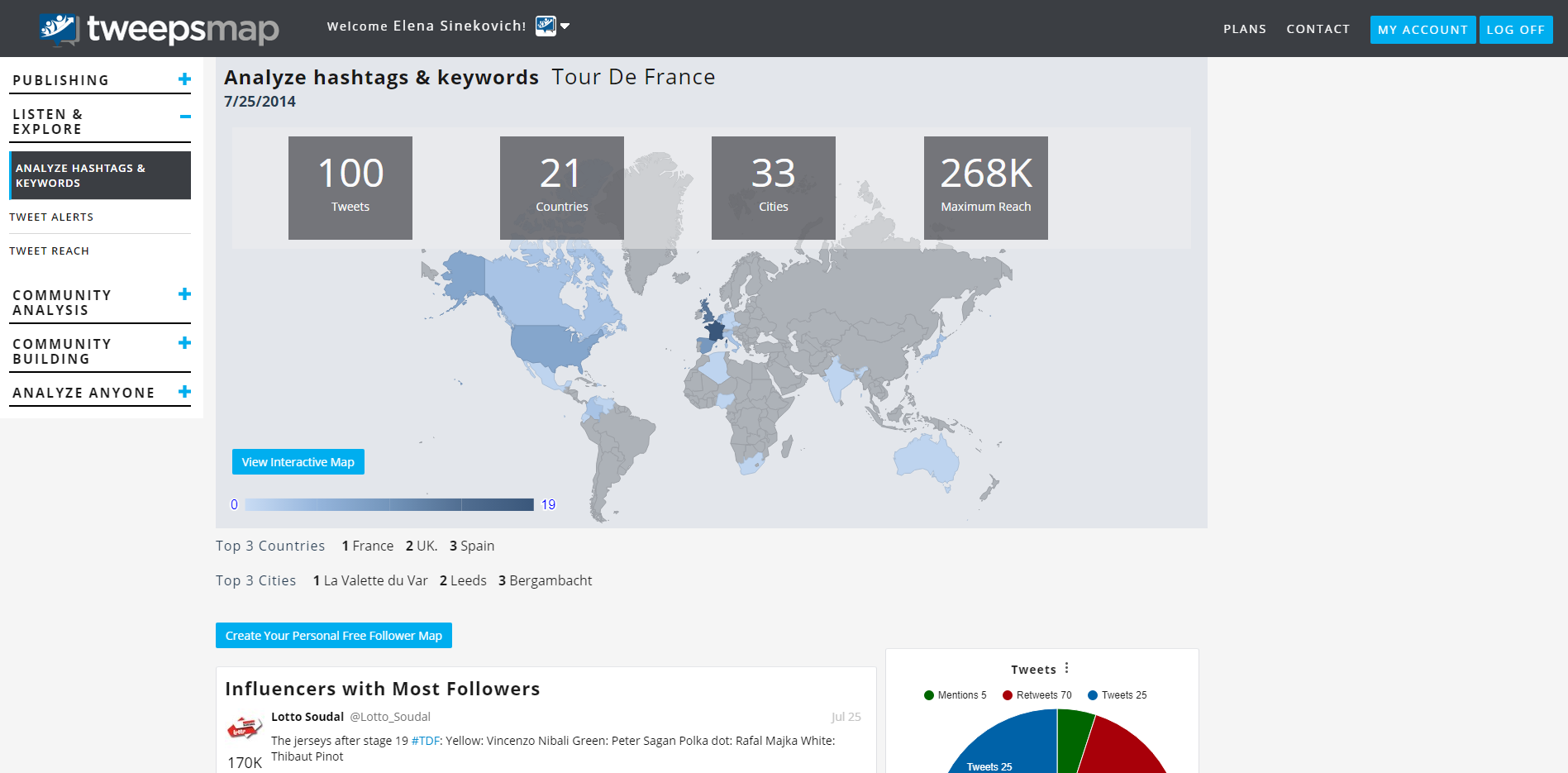 Tweepsmap is more than a simple Twitter tool and leans more into the data-driven Twitter analytics analizer realm. It is a powerful tool for scheduling posts and monitoring any profile's activity on the platform. Using it, you will know what works on Twitter and why.
The main features of the tool:
tweets publishing;
hashtags and keywords analysis;
audience analysis;
influencers searching;
Twitter community building and analysis;
competitive analysis.
On the interactive Twitter analytics dashboard, you can see the map of your followers. Tweepsmap shows your audience's language, occupation, and gender at the country, state, or city level. You can adjust the map to see the growth of your following by days, months, or years.
Another helpful feature is brand mentions and keywords analysis by location. It is useful for brand hashtag monitoring as well. Tweepsmap estimates reach, engagement, the number of tweets, and retweets with a given hashtag. Also, you will get a list of influencers with many active followers.
In the tool, you can analyze competitors' pages. For any account, Tweepsmap builds an interactive map showing followers' demographics, most used hashtags, influence distribution, etc. Finding common followers between accounts is available, too.
Additional platforms supported: No.
Pricing: $14/mo. Some features are free.
---
We live in the era of big data. To succeed, manual data collection and cursory analysis of your Twitter strategies and performance are no longer enough for businesses.
Twitter analytics tools automate your routine tasks and make work more interesting. After all, why not delegate all the tedious work to clever algorithms and leave the place in your schedule for the more creative part of social media marketing?