How to see how many times a hashtag was used on Twitter

Article summary
In this article, we explain how to see how many times a hashtag was used on Twitter and how to analyze Twitter hashtags. You can track hashtags to analyze your marketing campaign, monitor your event and see how it performed on social media, find your target audience, collect user-generated content, and improve your strategy based on the social listening insights.
13 minutes read
Our generation is defined by hashtags. Such hashtags as #MeToo or #BlackLivesMatter have allowed marginalized peoples to build entire movements and make space for important discussions. Meanwhile, other hashtags, such as #LikeAGirl helped to launch historical marketing campaigns that made a powerful impact on the company.
It's safe to say that everyone living in 2023 understands the power of a good hashtag!
Hashtags are GREAT. But which platform is the best?
Almost every social media network incorporates hashtags, but Twitter is probably the most optimized platform for using these handy symbols, including the best counter and analysis tool to get results. Several factors play into making the hashtags on Twitter king:
Twitter's feed algorithm takes hashtags into account when recommending new content. It does so by allowing you to subscribe to Topics. Hashtag topics give you a personalized Twitter experience with relevant posts, events, and ads, and allow you track in real-time the trends that matter to you.

Twitter encourages people to use trending hashtags when talking about relevant topics—its 'Trending' panel is always visible for users to keep them up-to-date on the latest trends without any extra effort needed to track hashtags actively.

Just one click on a hashtag takes you to the feed full of posts related to this hashtag topic. This option facilitates content discovery and allows users to stay on top of the relevant news at all times.

Hashtag mentions help users connect and call out directly to other Twitter users. Gone are the days when you need a guide to contact a celebrity or influencer. Instead, it may even be as simple as doing some analytics on famous people that love your brand and reaching out to them with a hashtag mention.
From how many times a hashtag was used to getting results: hashtags analytics in action
Hashtags on Twitter can be used to learn more about a certain topic or contribute our opinion to this area, follow an event, or join a community of people with similar interests. Essentially, it helps us stay even more connected. But that's not all these handy symbols do.
Many brands create their own hashtags for specific campaigns. Creating a unique hashtag allows your company to capture attention and raise brand awareness—and what's best is that it's only a few letters away. At the same time, a dedicated hashtag lets you easily track and analyze your campaign—we'll cover it later in the article, but think along the lines of Twitter users using hashtag and it bringing your brand to the forefront of peoples minds.
Marketers can also use Twitter hashtags as a tool for market research or lead generation support features (find out more about this in our article on Twitter lead generation). If you know how to track hashtag and utilize them in the right way, then you can access a whole new audience instantly.
How to do hashtag counting and analysis right?
Having the right hashtags can help you maximize the reach of your posts and connect with even more users. By knowing how many times a hashtag was used, you can potentially:
Hop on a viral trend

Use a hashtag related to a current event to talk about it from your brand's perspective to raise your brand awareness

Even just help direct people to products you know they'll love—all with a hashtag symbol

And much more
These use cases make hashtags on Twitter a valuable marketing resource that needs to be measured. All you need to do is to find the right hashtag tracker and get to work.
But all this is only possible if you have the right tools on hand and know how to find and track hashtags that correlate with your brand. After all, you wouldn't want to trend for fresh veal if you're a vegan food company, right? So where is the best place to start to turn analytics into die-hard hashtag followers?
Sign up for a free Awario trial
See Awario in action with a free 7-day trial. No credit card required.
By signing up I agree to the Terms of Use and Privacy Policy
# analytics: what is the most popular hashtag on Twitter?
Ever wondered? Analysis shows that the Top 5 hashtags on Twitter are:
#competition

#influencer

#influencermarketing

#fridayfeeling

#mondaymotivation
So, if you're looking for a how to on twitter hashtag counting that your audience are looking for, these hashtags may be the place to start
Why is it important to know how many times a hashtag was used? Analytics crash course
Let's start with the basics. First things first, there are several instances when it might be helpful to know the number of tweets with your hashtag mentions. Let's run through them quickly so you can get to grips on the why it's important to count how many times a popular hashtag was used:
If you're launching your own hashtag campaign, tracking the hashtag count will help you to define how successful your campaign was and how many people it reached.

If you're researching a community hashtag, it can show the size of your target audience. The number of tweets featuring an event-related hashtag represents how much buzz the event generated online.

If you're planning a content strategy for your brand and want to know which content is connecting, armed with the right analytics tools, you can unlock the power of hashtag counting and use it to your advantage connect with your audience in a way that works for them.
All in all, the number of tweets with a hashtag is an important metric for audience research, campaign analysis, and market research. But what really matters is knowing what to do with these numbers.
How to see how many tweets a hashtag has?
The best way to measure the popularity of a certain hashtag is to use an effective social media monitoring tool such as Awario. Awario's hashtag tracker feature allows tracking and counting hashtags on the Internet, across several platforms, including Twitter, YouTube, and Reddit. It counts hashtags and analyzes data surrounding them.
Awario is one of the powerful hashtag tracking tools for Twitter. Its abilities go far beyond counting just the numbers—aka how many times a hashtag was used. The tool allows you to gather and analyze data on social media and the web, so the analytics for hashtags it provides are quite comprehensive. It can show you:
The number of people who saw the hashtags

The sentiment people express

The gender breakdown of people using the hashtags

Countries and languages of the tweets

Most trending posts

Most popular Twitter users using your hashtag

How many there are other popular hashtags related to yours

Context of discussions around the hashtags

Which accounts and topics drive the conversation
All these insights and analytics can be used in planning and evaluating your hashtag campaign, developing your social media strategy, and upgrading your Twitter lead generation techniques. Bet you didn't think a simple tool used to track a hashtag could do all that, did you? So then, what is the best way to track hashtags and how to find the best one to suit your brand?
Awario is an extremely user-friendly hashtag tracking tool. It tracks various hashtags on Twitter and allows you to get the most out of them. But first things first, before you put the hashtag analytics into action, you just need to go through three easy steps first. Don't worry. These won't take more than 10 minutes!
How to find and track in 2 easy steps
Step 1: Set up a hashtag monitoring alert
If it's your first time using Awario as a hashtag tracker, the tool will ask you to create a project. Since we have a specific goal in mind — tracking a Twitter hashtag — hit Create an empty project instead to set up a hashtag tracking alert.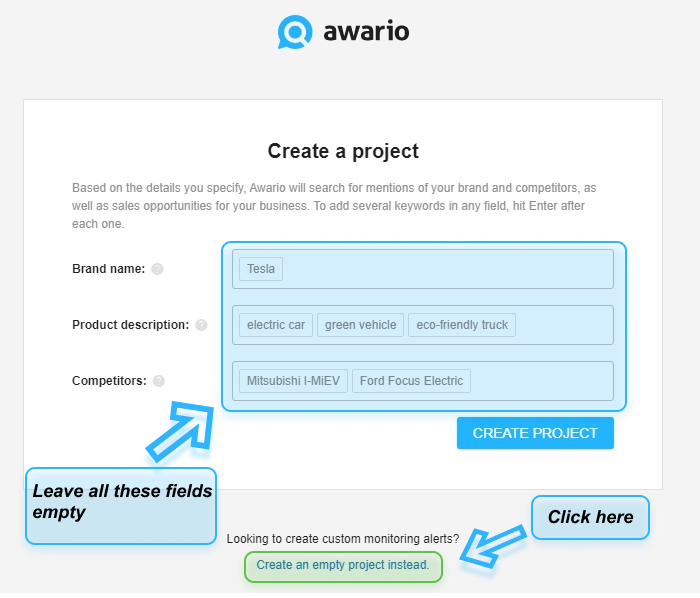 Then click the Plus icon at the top left corner of your screen to create the alert.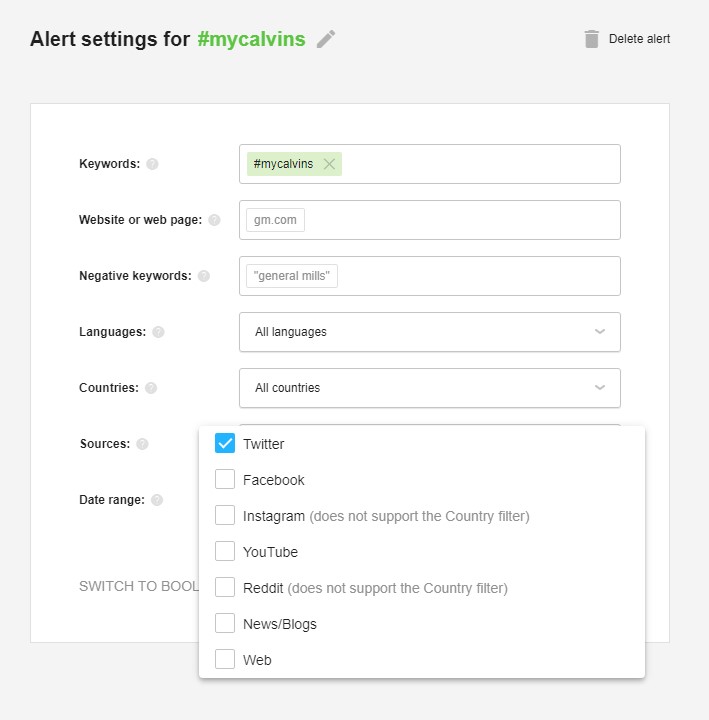 Let's go through all the settings one by one to set your hashtag counting off on the right foot.
Add your hashtag or hashtags as your keywords. The website or web page field allows you to track the links to your websites on the Internet. For now, leave this field blank.

Negative keywords allow you to eliminate irrelevant posts, making Twitter hashtag counting and tracking more accurate. For example, let's say there's a brand using a popular Twitter hashtag—#flowerpower, but they want to eliminate any mentions connected to hippies. They can add "hippie" as a negative keyword, so every time someone uses hashtag #flowerpower to talk about hippies, the tool will ignore this tweet.

Languages and countries categories are useful if you're, for example, tracking a hashtag campaign that targets a specific country.

We, of course, choose Twitter as the source of mentions.

Date range allows you to choose how old the data you collect will be. Mind you. Twitter only allows 7 days of historical data. However, if you continue tracking hashtags, you'll get more and more data with time.
All you need to do now is click Save, so you'll immediately get access to the tweets. Congrats, you got the first step of your Twitter tag analysis in the bag. What's next?
Step 2: Work with mentions
As Awario supports opportunity to track in real time, you don't have to wait — the tool will immediately provide you with posts mentioning your hashtags on Twitter. Now let's put that insights into action.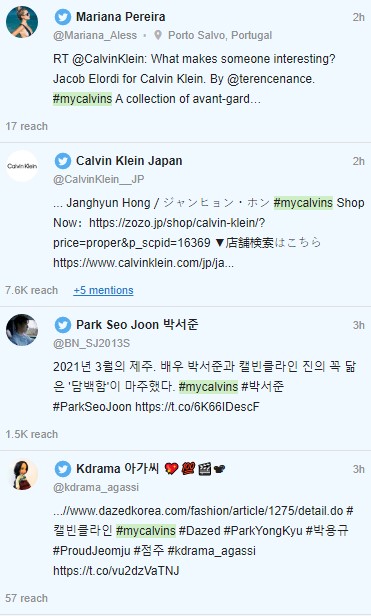 To make use of the Twitter hashtag counting feature and measure your hashtag performance, go to the Dashboard and select a time frame you are interested in.

As you will see, the Twitter hashtag counting will show up on the top left corner of your Dashboard. For example, #MarketingTwitter was mentioned more than ten thousand times in the last month. In addition to that, you immediately notice how the popularity of the hashtag changes over time.
Tracking your Twitter hashtags can give you many insights into what your audience is really looking for. Here's what the Dashboard with essential info on your hashtags looks like.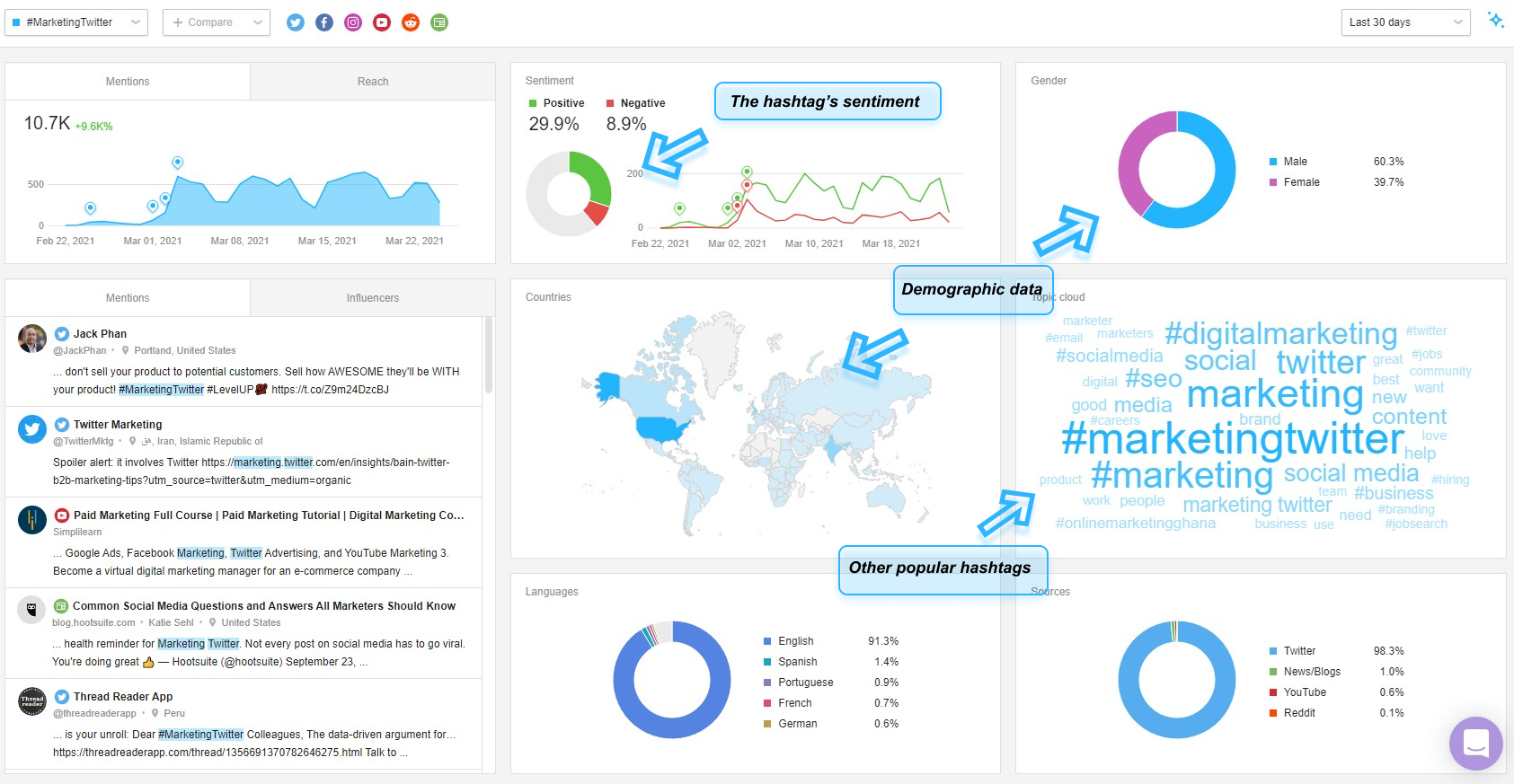 As you can see, Awario gives you much more information than a simple number of tweets with your hashtags. Instead, it's a throughout analysis of all you need to know when it comes to hashtags. Let's go through the list of all the insights you can get from Awario and check where to find them in the tool.
How many people saw the hashtag
This simple Twitter hashtag counting feature is super useful as it shows the reach. To estimate it, go to the Dashboard and click the Reach widget.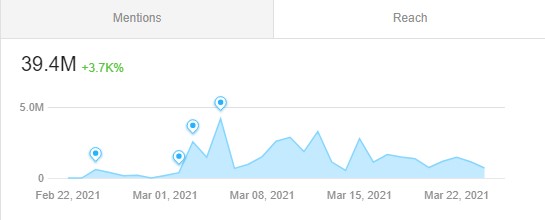 The sentiment around the hashtag
Awario's hashtag tracker for Twitter is able to tell what percentage of the messages featuring your hashtags are positive and negative. If you want to quickly check how people feel about your marketing campaign or event, this is the metric for you.
You can find this information on the Dashboard.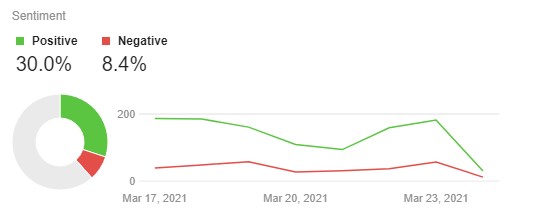 The most popular tweets with the hashtag
Top posts on Twitter that include your hashtags can show you what drives the conversation and what thoughts and opinions resonate with people. There are several ways to get this information with Awario.
The quickest way is to have a look at the Mentions widget on your Dashboard. It will show you top messages in the given time frame.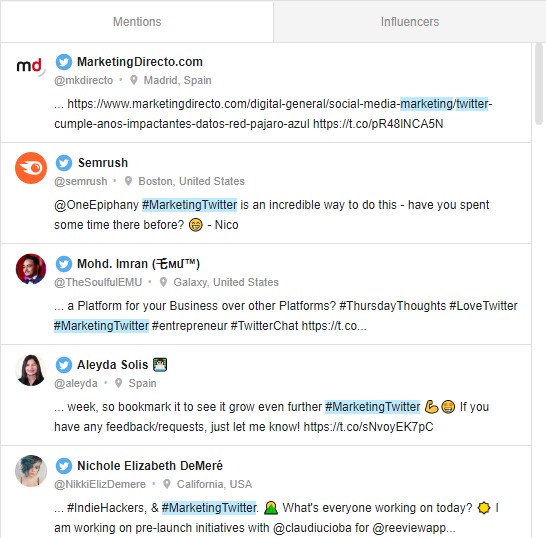 Another way is to go to your Mention Feed. To do this, click on the name of your alert and sort them by Reach to get the top tweets with the highest number of impressions.
Top posts on Twitter can help you see the main ideas and topics of discussions. However, sometimes you need to dive deeper and see which tweets and topics generated many impressions at a particular point in time. To see this, go to the Insights icon at the top right corner of your Dashboard.
This can be used to see which aspects of your hashtag campaign excited your audience the most, or, if you're tracking an event hashtag, which moments really stood out.
Top influencers and most active Twitter users
Let me paint you a picture: you log in and see that an influencer organically included your campaign hashtag in their tweet. Sounds like a social media manager's dream!
Identifying influencers is an important part of campaign evaluation, and Awario's hashtag tracking feature can help you find all the micro-and macro-influencers who used your hashtag. To track the number of times influencers have used your hashtags on Twitter, click on the Influencers report on the left sidebar.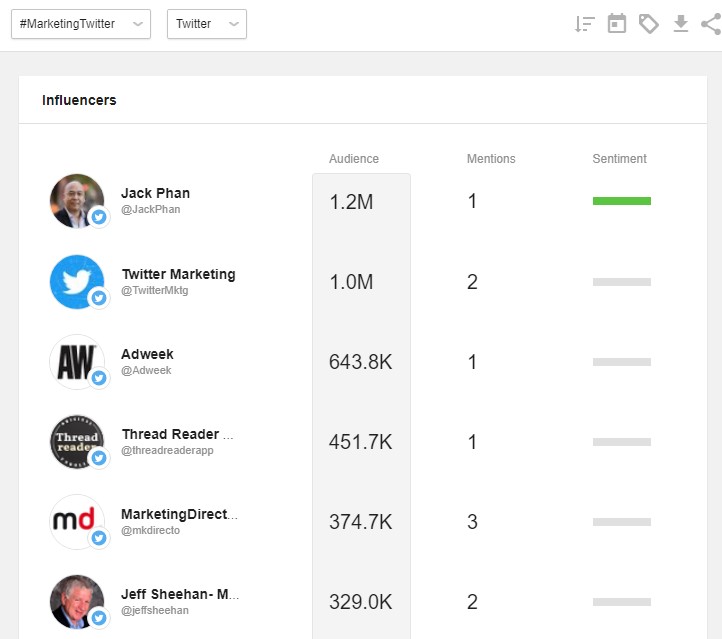 Here you can sort influencers by reach or by mentions. The latter will help you identify Twitter users most involved with your campaign or event.
If you want to know more about finding influencers on Twitter, check out this guide. Or, if you're an audial learner, listen to our podcast about influencer marketing! You won't regret it.
Demographic data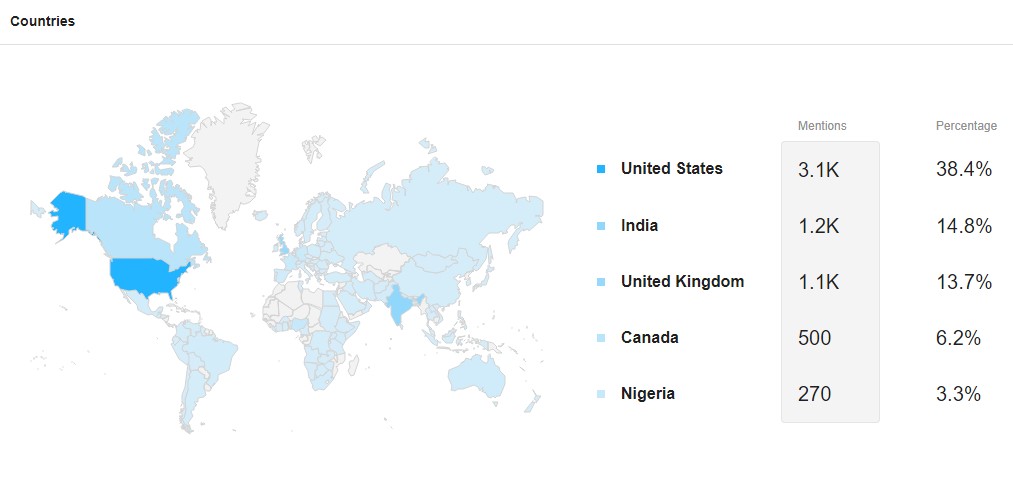 Knowing the number of tweets your hashtag was used allows you to understand the reach. But oftentimes, you need to know who these people are.
Awario's Dashboard shows you the genders, locations, and languages of your audience. In addition to that, it can show you how many times your hashtag was tweeted by a person or an organization.
This information is vital to understanding your campaign's actual audience.
Popular hashtags
If you're conducting hashtag research, your goal is to find hashtags associated with your main one: to expand your reach, find new audiences, etc.
Awario's Topic Cloud allows you to estimate Twitter hashtag performance by popularity and see the phrases used along with the hashtag you monitor.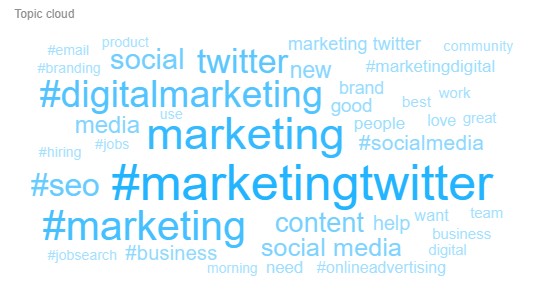 You can later use them in various social media strategies or add them to your alert settings to broaden your research. Just click on your alert and add the relevant hashtags to your keywords!
How to compare Twitter hashtags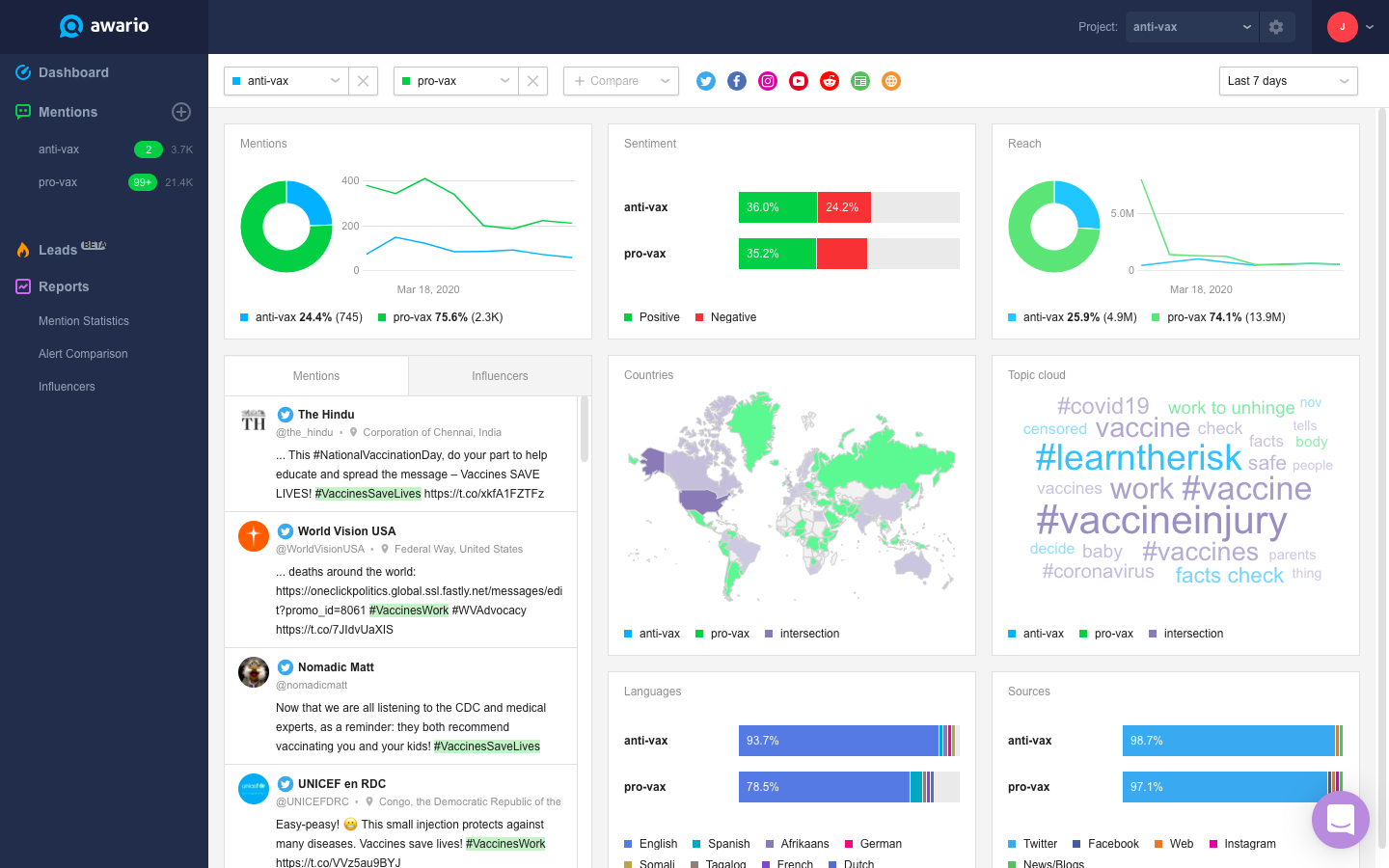 If you're running a hashtag campaign, you might be curious to see how it performs in comparison with your competitors. The same goes for events or branded hashtags: hashtag comparison allows you to benchmark your own success against other players on the field.
First of all, you need to create alerts for your competitors' hashtags. Workflow is pretty much the same: go back to Step 1 of the article if you need any help completing this.
Then go to the Alert Comparison report on the left sidebar of your screen. Here you can compare Twitter hashtag performance of all the aforementioned metrics, including the number of tweets each hashtag was used, their reach, demographics, sentiment, and so on.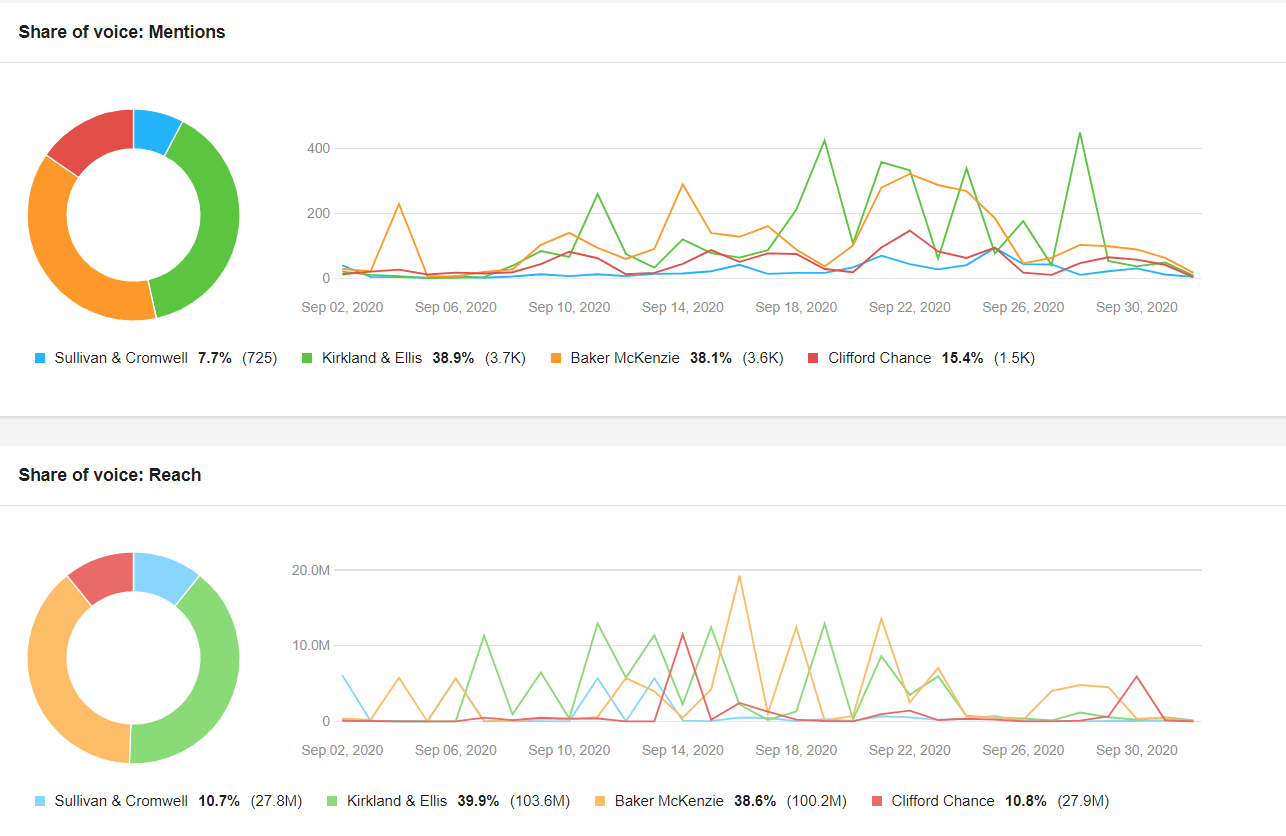 Hashtags: the mystery has been unlocked
The question: "How to see how many times a hashtag was used on Twitter?" seems like a simple query, right? And it can be, if we talk solely in digits. However, if we dig deeper and use the right hashtag tracking tools, we discover that Twitter hashtag monitoring not only answers this question, but gives so many more valuable insights as well.
Twitter hashtags can reveal follower engagement, how Twitter messages' impact onto the audience, level of follower engagement and so much more. That's why there's no excuse to not track this valuable metric and get the most out of your hashtag campaigns!