How to get leads on Twitter: a complete guide

Article summary
With over 230 million users worldwide, Twitter is a premium platform for your brand's communication needs without the premium pricetag. Learn how to tap into its power.
28 minutes read
Limiting your marketing strategy to cold calls or emails? So last century! Modern marketing is driven by email campaigns, smart website SEO, and connections built with your brand's social media. It's all about lead generation and finding a way to keep your audience connected so your competitors don't turn their heads.
With communication and connection the keys to keeping your audience engaged, which tools are the best at getting the job done? Twitter is one of the foremost communication platforms. Although a single tweet can only contain up to 260 characters, over 230+ million people use the platform to connect; proving that less sometimes is more.
So what can your brand's tweeters do to dive into the world of Twitter effectively and what are the most actionable ways for your company to generate leads and get results? Let's take a look.
Why is Twitter a perfect platform for lead generation?
Before we get to the reasons why you should search for leads on Twitter, let's take a look at some of the Twitter stats that make this platform so effective:
While Twitter is growing in popularity and increasing the number of users from 5 to 7 million per quarter, this is just one of the many reasons why marketers love this social media platform.
Sign up for a free Awario trial
See Awario in action with a free 7-day trial. No credit card required.
By signing up I agree to the Terms of Use and Privacy Policy
Reasons to use Twitter for marketing and lead generation
Twitter fits almost any brand — while Instagram is perfect for visual brands, Facebook is great for brands that foster a strong community, and LinkedIn suits B2B solutions best, Twitter works great for any brand type promotion. In fact, 93% of Twitter users say they are open to interactions with brands if they are done the right way (more on the "right way" part later).

New content is easily discovered — Twitter's algorithms suggest Tweets of your followers and those your followers follow as you're more likely to be interested in them too. This way, you don't get into the recommendation loop of your own liking but discover something more unusual to your tastes, making it exciting to browse the platform. Meanwhile, this is good news for brands as once your brand post gets a like, it's automatically shared among lots of Twitter users.

Twitter is geared towards conversations with strangers — unlike Facebook and Instagram, Twitter makes conversations with strangers commonplace. You can easily interact with anyone with an open account. This means that people interact with strangers all the time. It's not considered a faux pas for a brand to do the same.

Twitter communities — yes, Twitter has communities. They may not be as obvious as Facebook or Reddit communities. There is no one group or subreddit to join to get involved in the conversations around marketing for example. However, these communities are tied by hashtags and mutual connections. By finding the community that could be interested in your product you find your target audience.
Tips on how to convert your Twitter into a lead-generating machine
Twitter has lots of tricks and hacks on how to optimize your profile and activities. Let's have a look at what you can do to start the lead generation process on this social media giant!
Get your profile conversion ready
The first step for effective lead generation activity is to optimize your Twitter profile for conversion. As you're going to interact with people who haven't heard about your brand, you need to make sure they understand what you do right away.
Remember! First impressions matter.
To show potential followers what your brand is all about, go through our checklist and make sure each point is ticked:
Your Twitter bio communicates your value

You have a link to your landing page in your Twitter bio

You've pinned a selling tweet (can be a part of a thread if you need to convey a lot of information)

Your recent tweets include calls to action
It's a good idea to add some brand-related keywords and hashtags to your bio. This way, your profile will appear in the search results to anyone who looks for relevant business topics on Twitter.
For example, in our Awario Twitter profile, we've added industry-related hashtags: #marketing, #social media analytics, #social listening, #social media, and the keywords: social listening, marketing tasks, so that you know precisely what we do right away.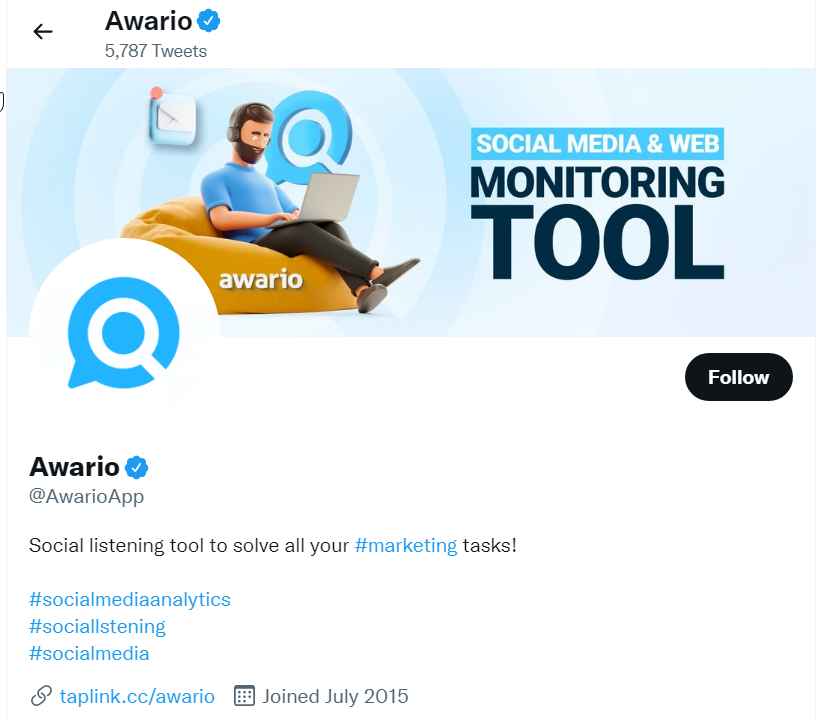 Pin the Tweets that attract your target audience
Pinned Tweets are a great way to funnel your audience in accordance with the goals you strive to achieve. Think of what you want your followers to do as they reach your profile. If this is an increase in email subscribers, then you should promote your newsletters. If you've got a new service or a product to offer, then sell it in your Pinned Tweets. Simple!
A pin to your profile Tweet can help you cover lots of your marketing goals. However, one Tweet is never enough to share everything you want with your followers. For this, extend your Pinned Tweet with Twitter Threads. Just add more Tweets united by the same topic as a thread to the main Tweet and tell your story.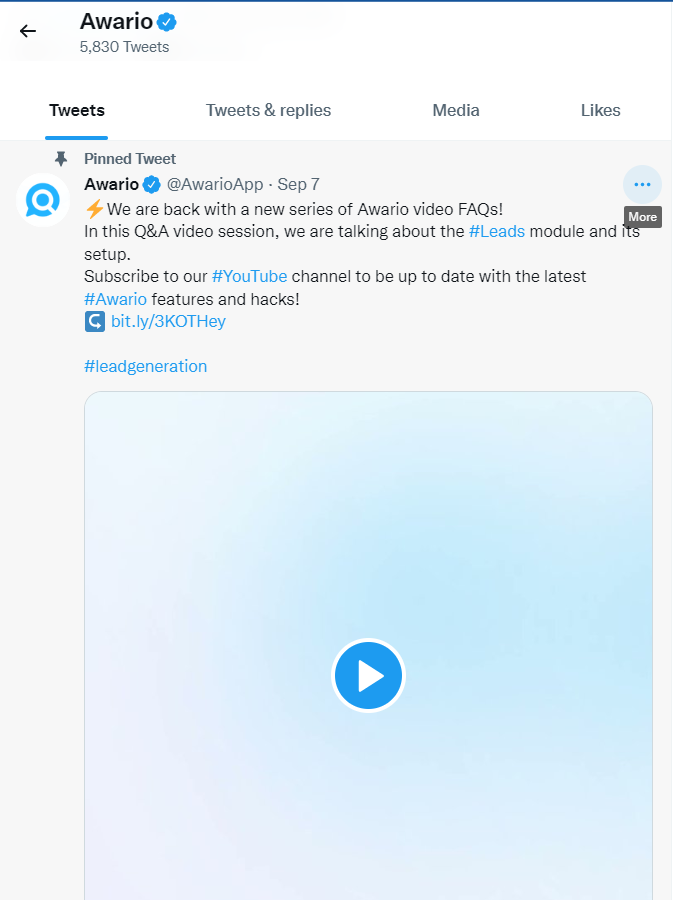 Create the Tweets your audience can relate
Creating content with your audience in mind is a way to successful lead generation on any social media platform, including Twitter. After all, exciting and interesting content is what your audience keeps coming back for more.
But, how to find out what your audience really likes? Here is where social media listening tools come in handy. Use social media listening tools such as Awario to find out what people talk about your industry niche, brand, and competitors on Twitter and gain content creation insights using advanced analytic tools. Awario will help you remain strategic about your Tweets and create content that will effectively capture your audience's attention.
Tune up your Tweeting schedule
Randomly posting on Twitter might be not the best strategy if you want to cover the greatest possible number of readers. To prevent your creative posts from passing unnoticed, you need a well-established Tweeting schedule. For this, you need to track the time when users are the most active on your profile and assign your posts for this time.
According to Buffer, the best Tweeting time is from noon to 1:00 p.m. local time. Meanwhile, the highest Tweet volume occurs from 11:00 a.m. to 1:00 p.m. whereas the lowest volume is observed between 3:00 and 4:00 a.m. It's also a good idea to refrain from tweeting between 8:00 a.m. to 10 a.m. and between 6:00 p.m. to 9 p.m.
Tip: Weekends are the best tweeting time for B2C companies, while for B2B companies it's better to do it during the working week.
Be a pro-active Twitter user
Making your profile discoverable on Twitter is work halfway done. Now, it's time to start being active
n this social media platform. The first thing to do is to get strategic and think of the places of interest for your potential leads. These can be certain topics, chats, hashtags, conversations, and more.
As you find the Twitter users you want to target, think of ways to start communicating with them. This can be joining conversations in comments or answering some Tweet questions. Start talking to your audience but don't sell hard, think of the value you could offer so that it piques your potential followers' interest.
Hilton is a great example of a brand's proactive behavior. The company has started its Hilton Suggests. This is a program that uses social listening to find people who are tweeting about traveling. Hilton's staff that works in the destination area reply with personal recommendations on what to see and which places to visit through the Hilton Suggests account.
Note that people traveling DO NOT mention Hilton in their tweets. More often than not they aren't even Hilton's customers—but this tactic gives the brand exposure and boosts the brand's reputation. People are impressed by this level of attention and are more inclined to stay at Hilton's hotels in the future.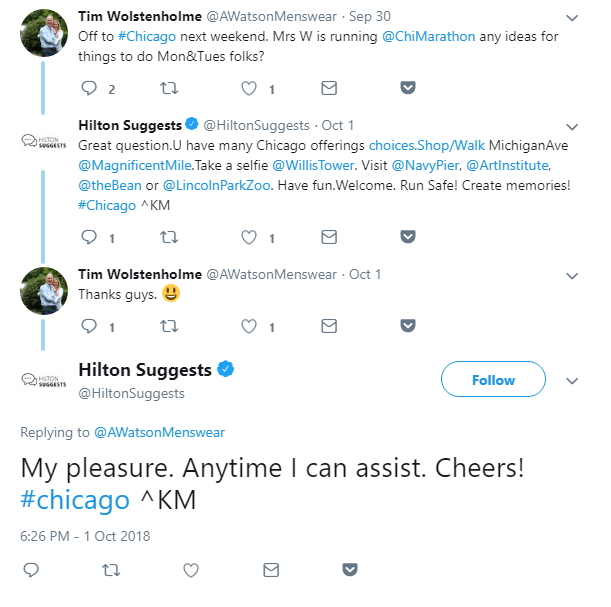 Create Twitter lists
Twitter offers tons of accounts to follow and it can be challenging to stay updated with the most important Twitter events. Twitter Lists will help you put the accounts you follow and activities you've engaged with in order and keep in touch with them easily.
What can you put in your Twitter lists? In short, virtually anything. For example:
Create a separate list for your friends and nearest and dearest to visit their profiles regularly

Separate your work and working team members from other stuff in your newsfeed

Gather your potential clients in one list to have quick access to them, these can be people who are interested in your content and offerings

Track your competitors effectively by gathering them into a separate list

Bind the top social media experts in your sphere together and add them to a Twitter list

Make a Twitter list reminder with all the conferences and meet-ups you're planning to visit
The best part of Twitter lists is that you can organize your subscriptions in private lists so that only you can access them or create lists with valuable info to share with your audience.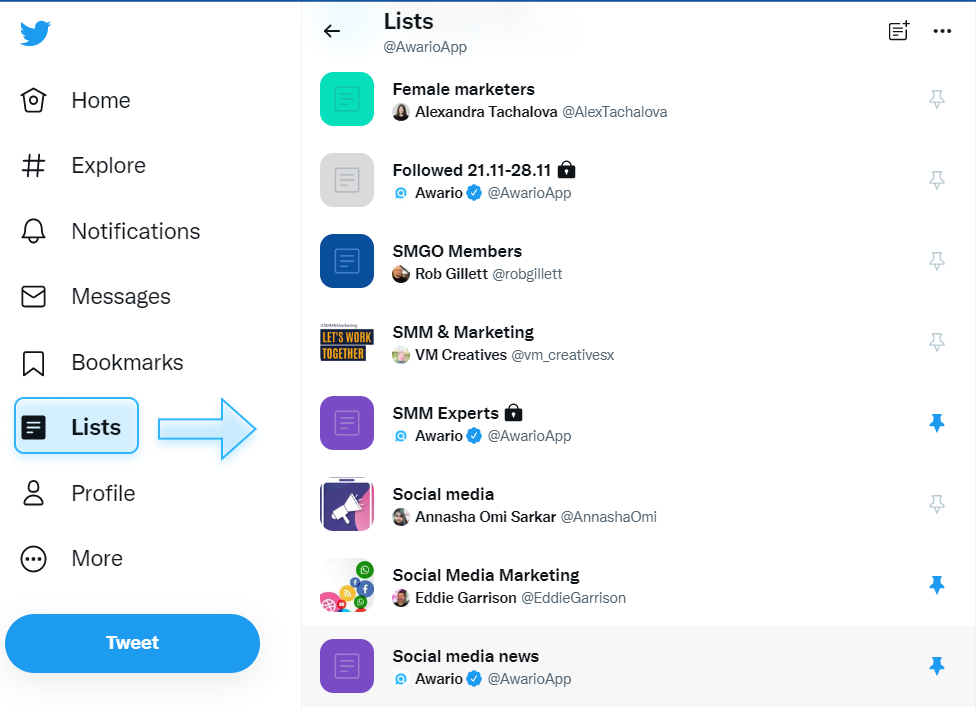 Experiment with Twitter ads
No marketer joins a social media platform without learning about its advertising capacity. Twitter also provides promotion options for businesses. There are three types of ads on Twitter:
Promoted Ads look like regular Tweets that reach large groups of users. The only difference is that they are labeled as "Promoted" so that users understand that it's an ad. You can offer your services or product with Promoted Ads for a certain fee charged by Twitter.

Follower Ads. With Follower Ads, you can start a followers campaign and advertise your account to a wider audience. Twitter will suggest your account as interesting though this suggestion will also be labeled as "Promoted".

Trend Takeover is a way to advertise Twitter trends. The company will put your ad in the top trends list on Twitter and the Explore tab on mobile gadgets. This way, your ads will become more visible to all Twitter users within 24 hours.
Practical steps on lead generation on Twitter
It's arguable that on social media, more and more people are ready to make purchasing decisions even if they come across your brand for the first time. The traditional hot leads/cold leads distinction should be reinterpreted. Instead, we need to evaluate leads based on their willingness to make a purchasing decision, not on the amount of time we spend nurturing them.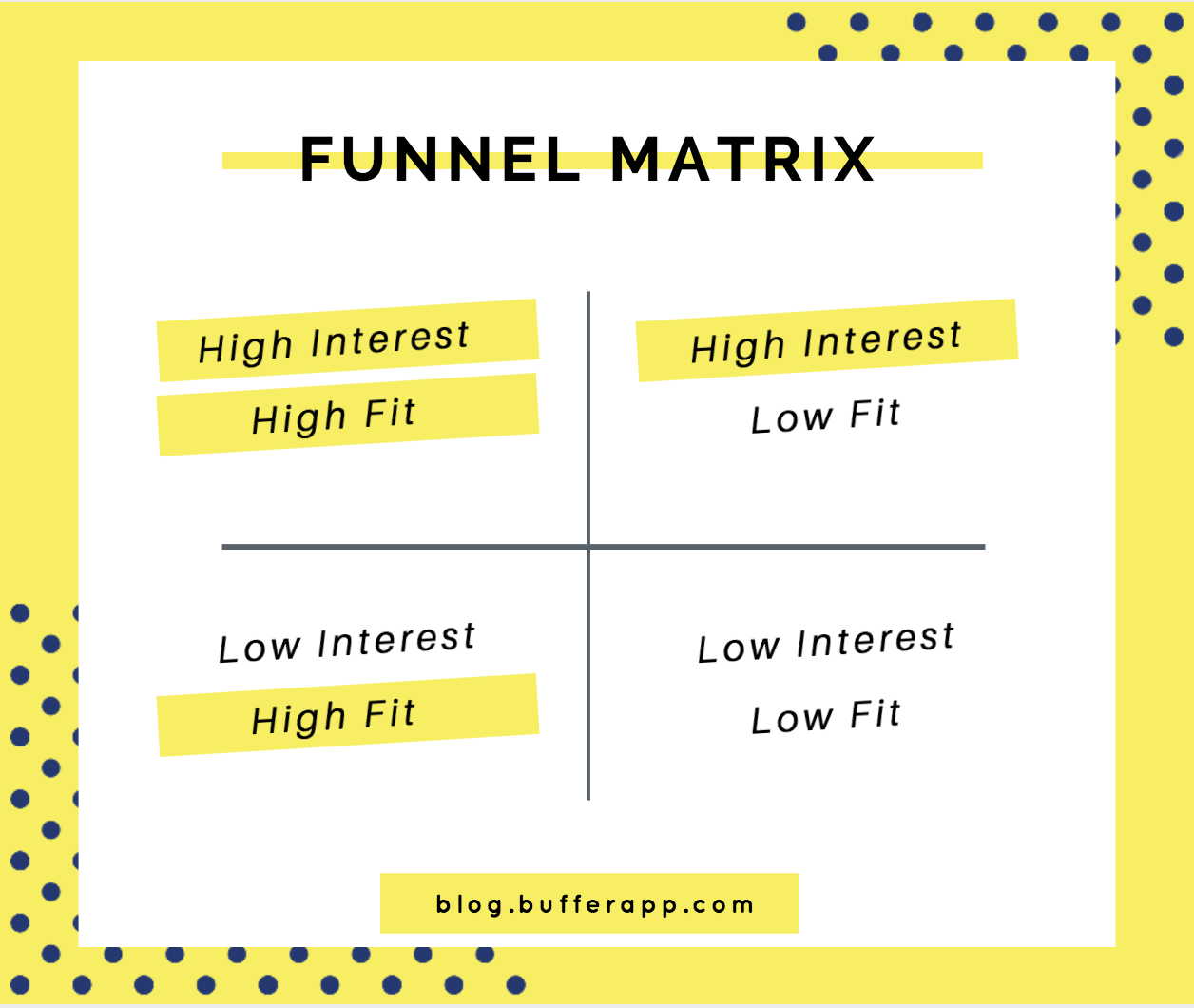 Kevan Lee, VP of Marketing at Buffer, suggests the following classification for potential customers:
High-Interest leads are interested in the solution you are trying to sell. However, some factors such as price, shipping conditions, or specific features may prevent them from going with your brand. These people are already actively seeking the solution thus they are highly interested.
High-Fit leads are the leads that fit your target audience perfectly but are not actively seeking the solution at the moment. They may not be aware that there is a product that solves their problem and because of that are not actively seeking it.
Obviously, Low-Interest Low-Fit people do not even count as leads. They are not your target audience. The people from the three other categories can become your customers.
Meanwhile, High-Interest Low-Feat leads are people that are on the market for your type of product but are unlikely to go with yours. For example, they might be looking for a web-based, photo-editing software tool while you're trying to sell desktop-based software. These leads are still useful for product development: you may see the market's demand and improve your product in the future. However, they are highly unlikely to convert for now.
The two categories that are the most interesting for us as they can bring ready-to-buy followers are Low-Interest High-Fit leads and High-Interest High-Fit leads. So without further ado, let's break down the ways to find and convert these Twitter leads with Awario (or another social listening tool of your choice).
Meet your personal lead generation assistant.
Try fully automated, 24/7 lead generation with Awario for free.
By signing up I agree to the Terms of Use and Privacy Policy
Low-Interest High-Fit leads: your target audience
In other words, this is your target audience: people who potentially have an interest in your product but are not actively buying it yet. To find them on Twitter, you need to find the community we mentioned above: people united by similar interests, mutual connections, hashtags they use, and so on.
You can find this community with Awario by monitoring niche-related keywords, key phrases, and hashtags.
For example, let's imagine you sell fishing equipment. You need to find people on Twitter who are interested in fishing.
Sign up for a free Awario account (if you haven't yet) and set up an alert that will include the words fishing, fishing rod, angling, and so on. Add as many words related to fishing as possible.
In the settings, you can specify the languages and locations of the tweets you want to find. You can also choose Twitter as the only source of mentions to eliminate posts from other platforms.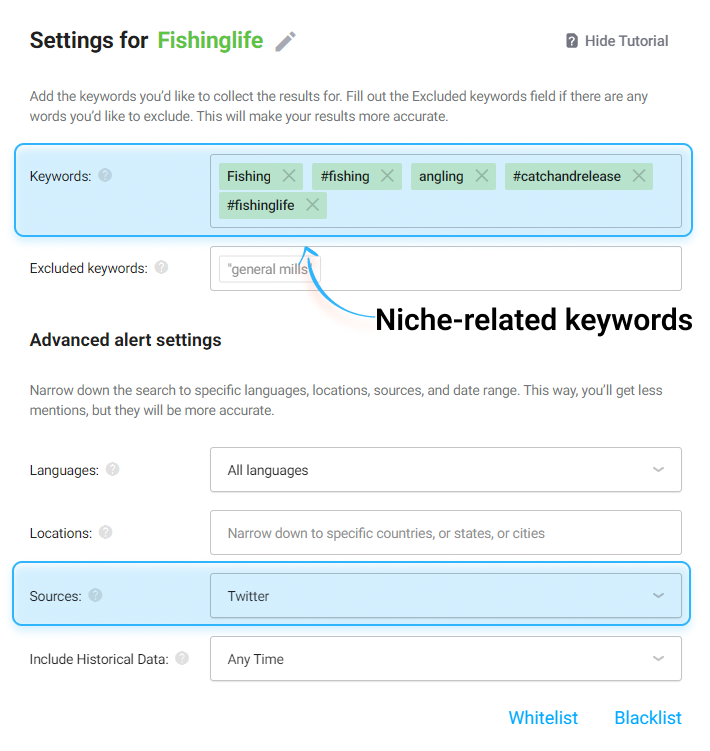 Once you click Save, Awario starts looking for the tweets mentioning your keywords. Group the found mentions by Authors and here's your target audience!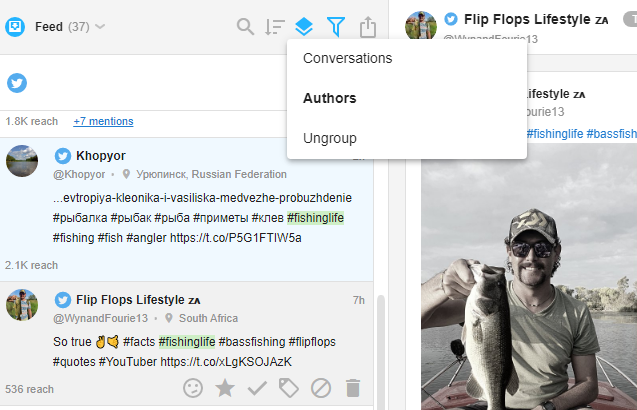 Check out this video to see a walk-through tutorial on how to set up an alert at Awario.
How to convert these leads
Awario allows you to interact with tweets right from the app.
However, when working with Low-Interest High-Fit leads, you have to be careful in order not to seem annoying or invasive. Don't bombard your audience with sales pitches right away. There are several tactics you can use.
1. Become a part of the community to raise brand awareness. Don't try to sell anything, at least at the beginning. Just answer questions and express your opinion on different topics that are brought up by Twitter users. This way you'll build trust and nurture Low-Interest leads till they become High-Interest.
2. Be bold and transparent. Reply to people talking about your niche with an explanation of how you found them and your offer. The key to success here is to be sincere.
For example,
Hey Jack, I stumbled upon your profile while scrolling #fishing. Seems like it's something you're interested in. In that case, why not check out our new line of rods. This one is even 50% off."
You can also add special value to your offer: explain what makes your product unique or offer a discount, coupon code, etc. This tactic is best used sparingly since you're reaching out to people out of nowhere and it may be seen as spam by someone.
In addition to that, you can check the Influencers report to see who are the most prominent voices in the community. This will help you find opportunities to reach your audience through influencers.
High-Interest High-Fit leads: your competitors' unhappy customers
What do you do when you're frustrated with a product? A lot of people go to Twitter to vent and complain! These people could become your customers if you quickly give them an easy way to solve their problems with your undoubtedly amazing offer.
To find people complaining about your customers you first need to set up a competitor monitoring alert. All the settings remain the same as with the previous one, the only difference will be the keywords that you use: these will be your competitors' brand names and products. You can also add misspelt versions and abbreviations of their name.

Note that if you're doing competitor monitoring specifically for lead generation, you don't have to create a separate alert for each competitor—you can add several competitors' names as keywords to one alert.
Once again, Awario will immediately find tweets mentioning your competitors. Now what you need to do is filter your Mention Feed to only see negative mentions: you can do that by clicking Filter mentions on top of your feed.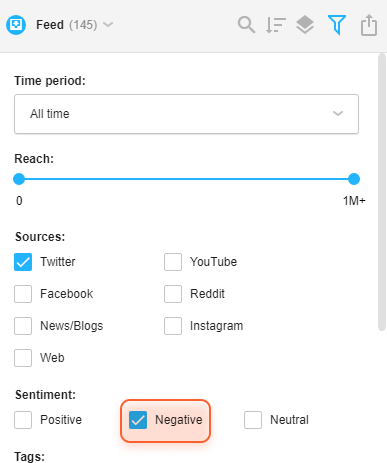 This way you'll get access to all the negative tweets mentioning one of your competitors and logically the majority of them will be from customers dissatisfied with their services.
Make sure you turn on push or email notifications for this alert since people who complain about products need a solution as soon as possible. Awario will notify you every time there's a new negative tweet about your competitor so you can respond right away.
How to convert these leads
One thing to remember is that you're trying to convert people who feel really frustrated.
That's why your sales pitch needs to be clear, and precise, and make it obvious how your offer solves your problem. When you're working with this type of lead, your perfect tweet should:
Be compassionate: express your support or validate their emotions to establish a connection with your lead.

Give an example of how your product solves the problem which the customer has with your competitor. For example, if they are complaining about a slow Internet connection you can add a screenshot with your Internet speed measure or a review that praises your Internet provider for the speed.

Explain how to purchase your product. You can offer them to move to direct messages for their contact information or give a link to your product—just don't leave them hanging and confused without a clear way to try your product.
So all in all, your perfect reply should look something like this: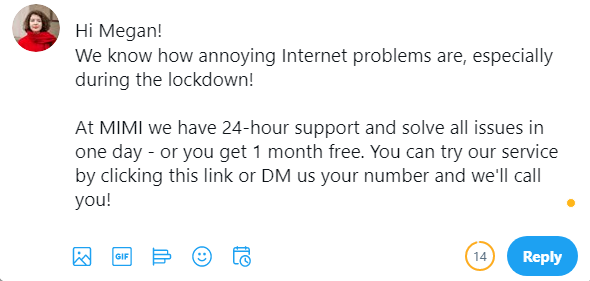 You can respond from your brand's account or from a dedicated personal account as someone who works at the company. Most of the time people tend to trust individuals (even employees) more than companies. Some companies choose to pose as customers of their own brand on Twitter, however, we don't recommend this as it can be quite deceiving.
High-Interest High-Fit: people asking for recommendations
Twitter link
This is actually the category of leads that we at Awario know very well as we actively try to convert them! We search for people asking for recommendations for social listening and analytics tools on social media (including Twitter) and offer them the option of trying Awario.
So when it comes to proof of the power of social selling, we got it in the bag and are happy to share how it actually works in practice. To give you some numbers, out of 100 people asking for recommendations about:
50 people respond with some additional questions or positive feedback and

20 people signed up for Awario's free trial.
Not bad for a few messages and tweets, right?
Twitter link
Admittedly, such requests for recommendations are rarer than other types of leads, and depending on your industry they might be hard to find. For example, you might come across them if you are actively involved in a Twitter community as we discussed above. However, Awario gives you an error-proof way to find these leads.
Awario Leads is a special social selling module inside Awario that uses social listening to find High-Interest High-Fit leads based on your product's description. It also finds complaints about your customers that we discussed above and puts them all together in one feed so you get access to all your High-Interest High-Fit leads in one place.
All you need to set up Awario Leads is to fill out product descriptions and competitors. To do this, think of the phrases your competitors would use to describe your product or service.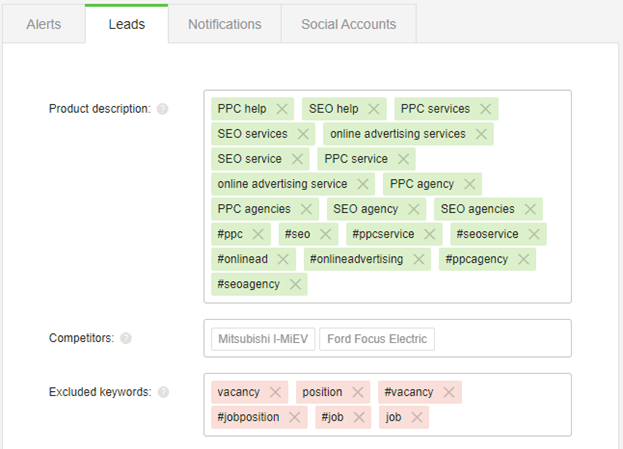 In Awario Leads settings you can also choose languages, countries, and sources of mentions. Check out this video to see the setup of Awario Leads in action.
How to convert these leads
How to convert these leads
These are the easiest leads to convert: they are already asking for recommendations so they are willing to try your offer.
The rule of thumb is to pay attention to the request for recommendation: if they are asking for specific features or conditions (for example, free shipping), don't forget to mention them in your reply. Once again, give them an easy way to purchase or try your product: a link to your landing page or a form to fill out.
If your product doesn't exactly fit their description, it's still a good idea to reply anyway, you never know who might be reading this thread, and it gives your brand additional exposure raising your brand awareness. However, be transparent that you're not sure if your product is the best fit for them. Invite them to ask more questions or check out your landing page.
Awario Tip
To evaluate how effective your social selling efforts are, add a trackable UTM link to your replies. This way you'll be able to count every lead that goes to your landing page.
From our experience, if their description is quite vague i.e. "Looking for a pan" you can ask additional questions, for example, what do you want to cook with it? This will make your recommendation more personal and the customer will be more inclined to try your product.
Before you go
For many brands, Twitter remains an untapped source of leads. Sign up for Awario's free trial and find your next customer on Twitter—using our tips! Having trouble connecting in a meaningful way? Why not check out our other articles and find out what to do next.