14 white label marketing tools. What digital marketing software can do?

Article summary
Digital marketers have many time-consuming tasks like gathering analytics from social pages or preparing marketing reports. Fortunately, there is marketing automation software for reporting, audits, and brand mention monitoring. It saves the time for digital marketing agencies and entrepreneurs who work with the business of all sizes.
White label marketing is a business practice that involves outsourcing a part of a task. For now, a brand can hire a third-party team for multiple marketing activities — from digital marketing campaign launch to marketing reports delivery.
Leading these projects, many companies and marketing agencies use white label tools. Usually, such software has the automation features to speed up marketing tasks.
Who needs white label software?
To serve a large number of clients, marketing agencies need to automate a lot of routine operations. Here white label tools come in handy! It is much more convenient to manage social media content, schedule posts, and generate reporting on the same platform.
Often white label software also serves as an online workspace for PR, marketing, SMM, and web content teams.
What can white label tools do?
White label tools have multiple features. Using them, a marketing agency can automate the digital marketing services like:
email templates creation
lead generation
collect websites and landing pages analytics in real-time
run PPC campaigns
build strong relationships with customers through multi-channel campaigns
manage social media accounts
generate comprehensive reports for their clients.
We have created a list of white label marketing tools for you to choose the best white label platform to speed up your tasks and improve your customer service!
1. Awario, generate detailed brand mentions reporting in a couple of clicks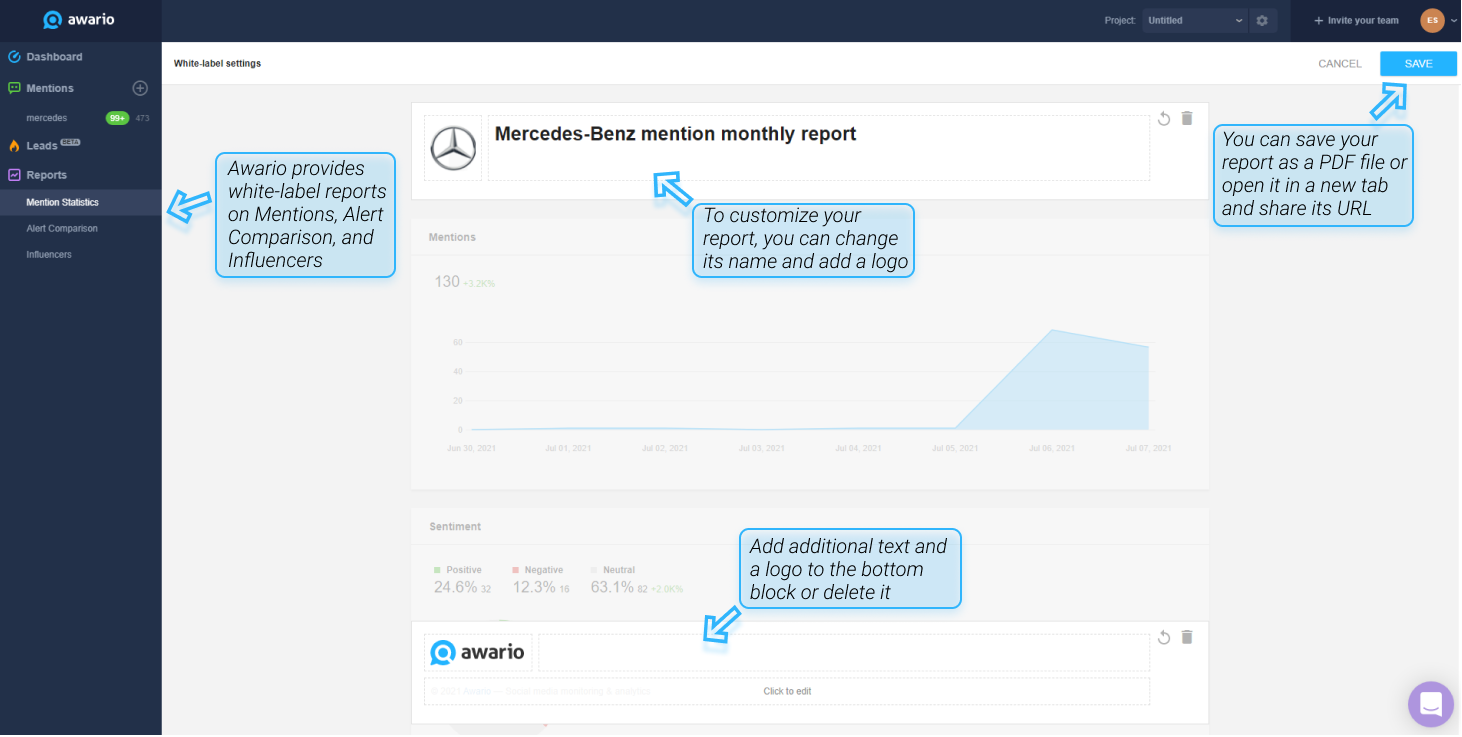 Awario is the easiest-to-use and most affordable tool for brand mentions' tracking and social media monitoring. All you need to create a project is to type in a couple of keywords related to your company or a brand of your digital marketing agency's client.
Awario scans popular social networks, blogs, news websites to reveal any mention of your brand, industry keywords, or competitors' names.
Additionally, the tool is suitable for content marketing and social media management. You can identify hot topics in your niche, check the sentiment and reach of posts and hashtags. Audience analysis is available, too.
Awario can work not only as social media monitoring but also as influencer marketing tool.
Marketing agencies can use this white label tool to generate multiple social media reports. There are Mentions, Alert Comparison, and Influencers reports in Awario. To make a white label PDF or online report, you can add a logo of your client and the company information there.
Pricing: Awario's plans starts at $29/mo. Enterprise plan costs $299/mo. By buying an annual plan, you save up to $50.
Trial: You can sign up for a 7-day free trial.

Sign up for a free Awario trial
See Awario in action with a free 7-day trial. No credit card required.
By signing up I agree to the Terms of Use and Privacy Policy
2. DashThis, create custom dashboards with key metrics
DashThis is an automated reporting platform that helps you collect analytics data from multiple sources. You can create several dashboards with statistics widgets dedicated to a particular project or client. For instance, you can connect this white label software with Facebook Insights, Google Analytics, Instagram Ads and monitor your campaign results in the one place.
A marketing agency with a lot of clients will appreciate the DashThis settings. You can create a kind of online control center for social media monitoring where your team will work together.
To customize your dashboard, move and rename widgets, change the data type: pie, graph, list, doughnut. You can also set up the date range, add a logo, and a report name. Creating dashboard templates from scratch is available as well.
The reporting feature is another generous DashThis offer. Dashboards can be saved as PDF files, shared by email, or by a link. Thanks to integrations with Google Sheets, MailChimp, and other platforms, you can generate detailed custom reports. Also, DashThis provides CSV templates.
Pricing: The Individual plan with three dashboards costs $39/mo. The Enterprise plan with 100 dashboards is $599/mo. The annual plan saves you up to $100.
Trial: A 15-day free trial with no functionality restrictions is available.
3. SEO PowerSuite, submit online SEO reports to your clients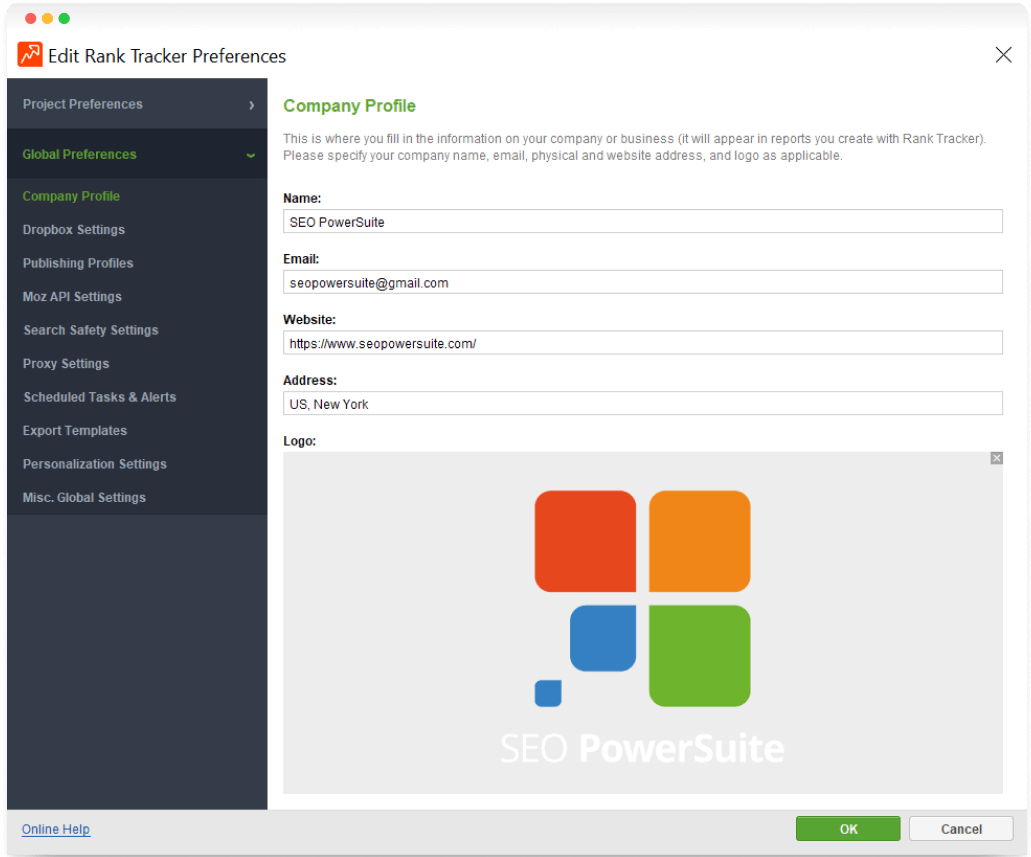 If you need to generate white label SEO reports, take a look at SEO PowerSuite tools. This SEO software pack includes Rank Tracker, SEO SpyGlass, LinkAssistant, and WebSite Auditor. These tools cover popular SEO services. They help you track ranking positions of your website and landing pages, optimize your online content, pick keywords, and analyze the competition.
All these tools with part automation provide white label reports. To create one, upload a company logo, add its name, a website, and email address (or the company information of your client if you work at a marketing agency). Then, these data will be displayed on the reports you choose from templates.
Additionally, you can create a white label SEO report from scratch. SEO PowerSuite provides customization design settings like color schemes for text and background, font sizes and effects, shadows, etc.
Also, SEO PowerSuite enables you to create separate folders with white label reports for customers. You can choose how you will deliver them — send via email, share PDF files, or link to the in-cloud folders.
This feature is helpful for big marketing agencies who offer their services to hundreds of clients at the same time.
Pricing: You can download the SEO tools with limited functionality for free. The licensed plans start at $99/year.
Trial: A 7-day free trial with full-feature functionality, including white label is available.
Meet your personal social listening assistant.
Try fully automated, 24/7 brand monitoring with Awario for free.
By signing up I agree to the Terms of Use and Privacy Policy
4. Whatagraph, all your marketing data in one place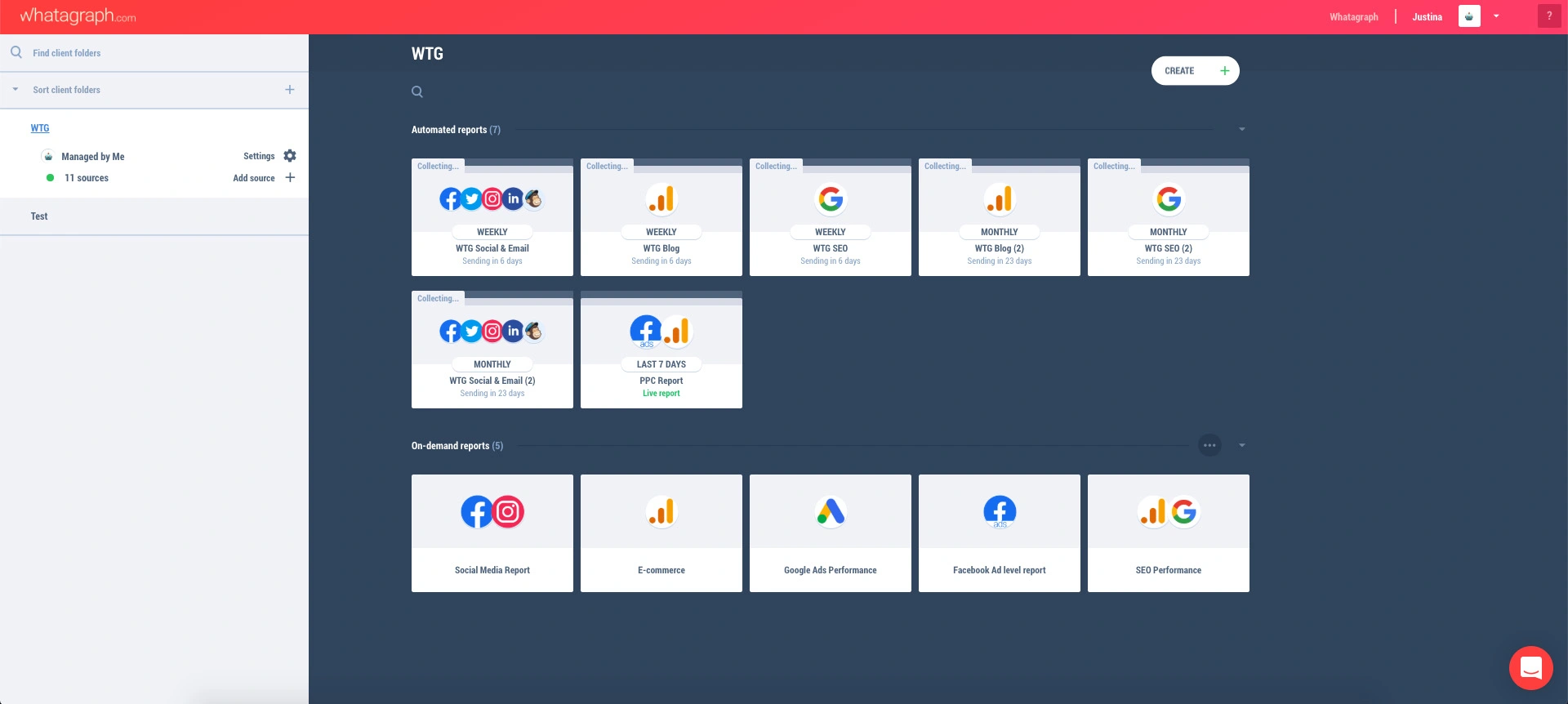 Whatagraph is a marketing data platform that helps connect, visualize and share all your marketing data in one place. You can use the tool to create functional, beautiful reports from a large number of data sources. Whatagraph is the ultimate solution for marketing agencies that deal with lots of clients and accounts per client. The tool integrates with over 40 data sources, such as Meta, Shopify, Mailchimp, Salesforce, Tik Tok Ads, and many more.
Whatagraph's advanced report customization, white-labeling, and personalized onboarding make this tool inevitable if you're serious about marketing analytics and data reporting.
Now you can even leverage Whatagraph visualization capabilities by transferring data to Google BigQuery. Build insightful reports and dashboards, customize data, and apply custom branding. Share on-demand access or automate send-out.
Pricing: The professional plan is €199 /month and premium is €299 /month.
Trial: A 7-day free trial is available.
5. Mautic, join the global community to improve white label marketing.
Mautic is "Linux" of white label marketing platforms. This open-source marketing automation software unites more than 200 000 companies that speak 35 languages.
The Mautic community promotes the idea of marketing automation in business. Joining them, you can not only use white label marketing software but also suggest new marketing solutions as a contributor.
As a white label software, Mautic helps you operate online marketing activities from one platform. You can set up campaigns through email, SMS, and web messages, track your website analytics like the number of visitors, and create new landing pages. There are native integrations and APIs that enable connecting the platform with other marketing services.
In addition to white label media monitoring tool, you get the opportunity to join the Mautic community with other marketing pros. The platform gathers "Mauticians" all over the world. There are high chances you will find people who live in your country and speak your language on the platform. Besides, founders organize meetups, camps, and other offline marketing events.
Pricing: You can use the white label marketing platform for free.
Trial: Not available.
6. ActiveCampaign, monitor your campaigns and create lead magnets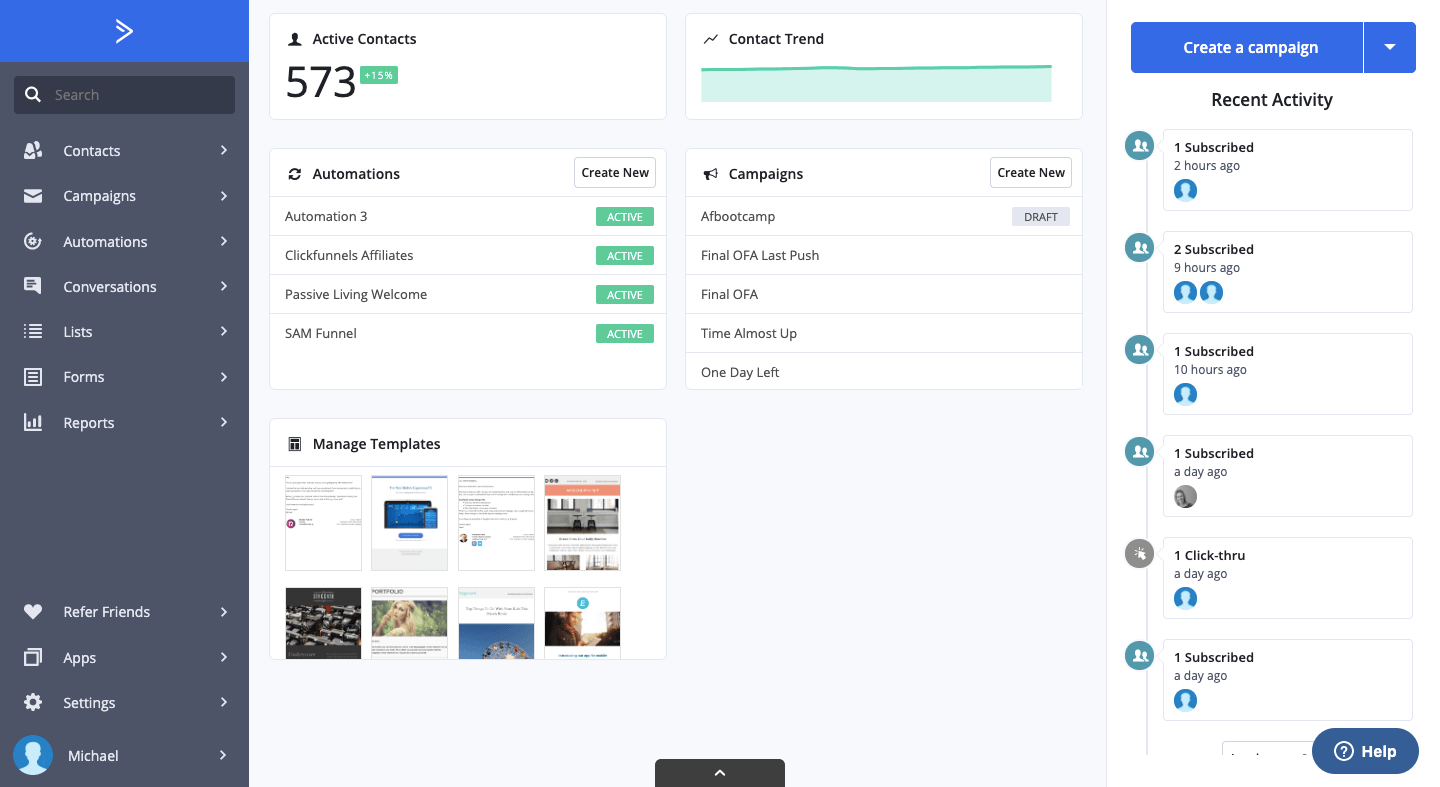 The idea behind ActiveCampaign is the automation of every online marketing activity. With the tool, you can do white label email marketing, split testing, run campaigns, automate text messages, create subscription forms, and manage your leads.
Preparing an email or a sign-up form for your website, you can use a drag-and-drop designer and ready-to-use templates to make your message stand out. After your campaign ends, the tool will show your results with metrics as email opened, site visited, the percentage of your video watched, etc.
Also, the software offers CRM automation. It is a handy option if you work at a big marketing agency. The white label tool provides contact management, lead scoring, deals and tasks tracking that relieves your team from time sinks manual duties.
The white label marketing tool integrates with WooCommerce, BigCommerce, PayPal, Stripe, Shopify, Facebook, and 850+ other online services. Сollecting and analyzing information from various sources allows gaining valuable marketing insights to build strong relationships with customers and boost sales.
Pricing: Plans are from $15/mo to $279/mo. You can save up to $50 by buying an annual one.
Trial: A 14-day free trial is available.
7. Databox, create team and client accounts to monitor your marketing results together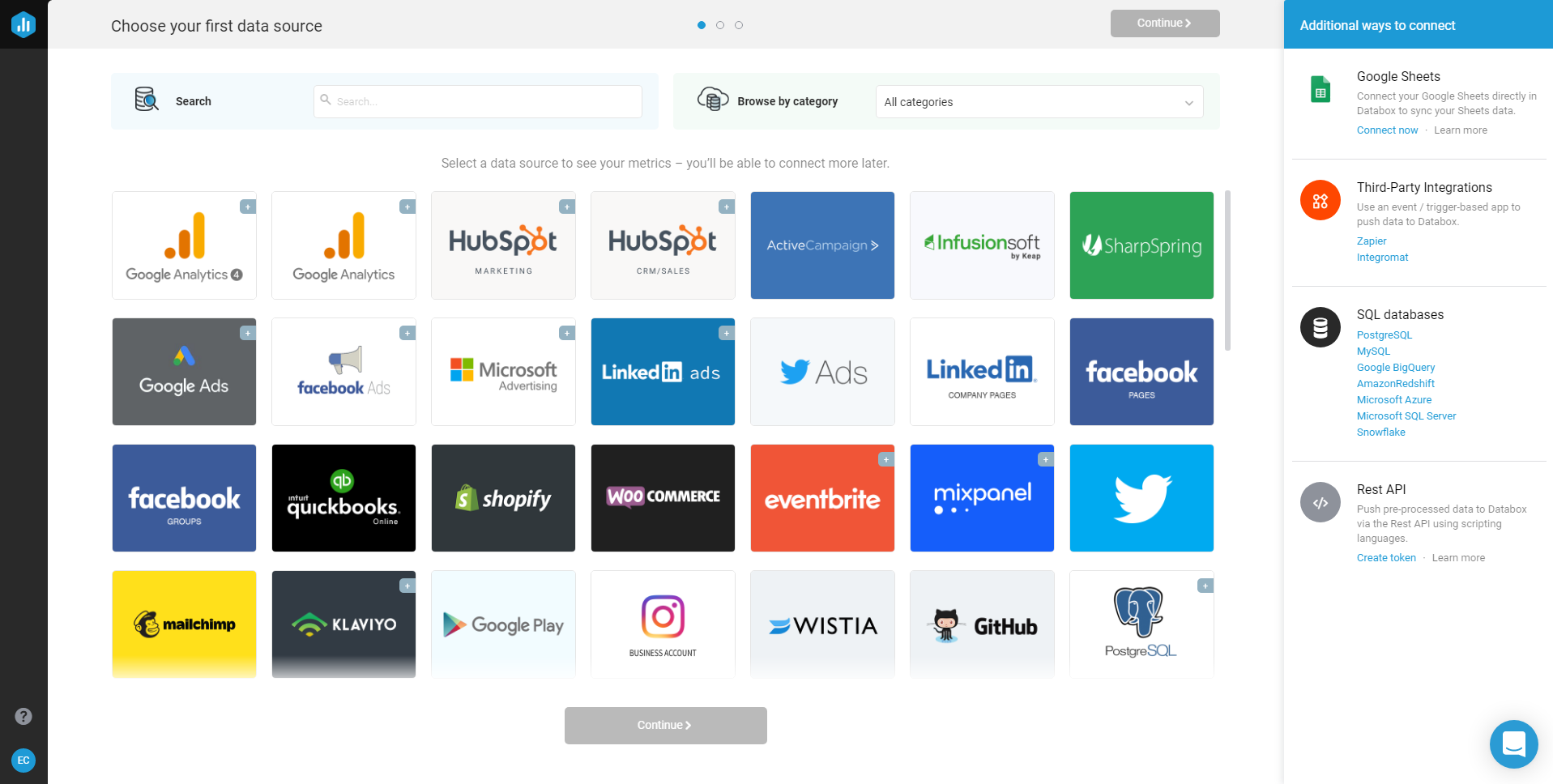 Databox measures white label social media metrics, email reports, and analytics from other marketing services in one place.
Using this software, you can create a custom dashboard (up to three available for free) in a couple of clicks. For instance, set up your social profiles as data sources, choose metrics — followers, mentions, posts performance — and start tracking white label social media campaigns.
In Databox, there are dozens of ready-to-use dashboard templates built by marketing professionals. Your choice depends on the main task: marketing automation, CRM and sales, project management, white label email marketing, SEO and SEM, etc.
Databox is useful both for marketing specialists and agencies. The latter will be able to automate client reporting, track campaign performance and KPIs in real-time, and create client accounts. They can check the results on their own via notifications or receive detailed reports from you.
Pricing: A free starter plan with limited functionality is available. Paid plans are from $169/mo to $289/mo. Paying annually, you save up to $58.
Trial: Not available.
8. HighLevel, build effective sales funnels and track how your customers go through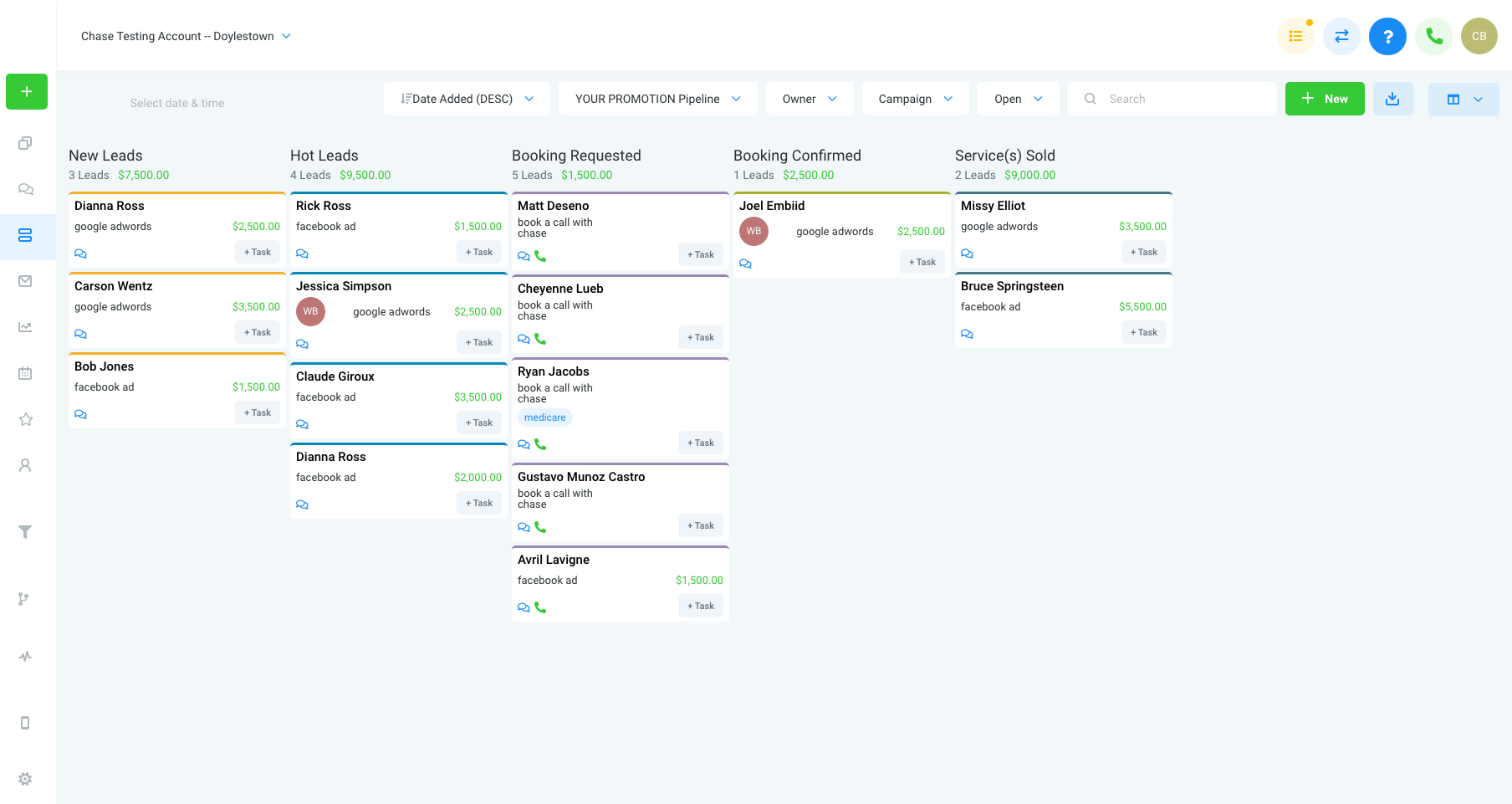 HighLevel is positioned as all-in-one sales and white label marketing platform for agencies. It is designed for lead generation through a 3-stage funnel.
At the capturing stage, HighLevel helps you attract prospects with ready-to-use landing pages, surveys, drag-and-drop subscription and sign-up forms. Also, you can use an inbound phone system.
At the nurturing stage, the messaging automation is at your service. In HighLevel, there are options for sending voicemails, SMS, Facebook messages, making forced calls, doing white label email marketing. You can create multi-channel campaigns to persuade prospects to make a purchase.
At the last — conversion — stage, the tool helps you collect payments, schedule appointments through an embedded calendar, and monitor campaign analytics.
HighLevel provides a Pipeline Management option that enables you to track what stage your leads are on in the sales funnel.
Pricing: A starter account costs $97/mo, an unlimited one is $297/mo. A white label mobile app costs $497/mo additionally.
Trial: A 14-day free trial is available.
9. Google Data Studio, create neat reports with branding quickly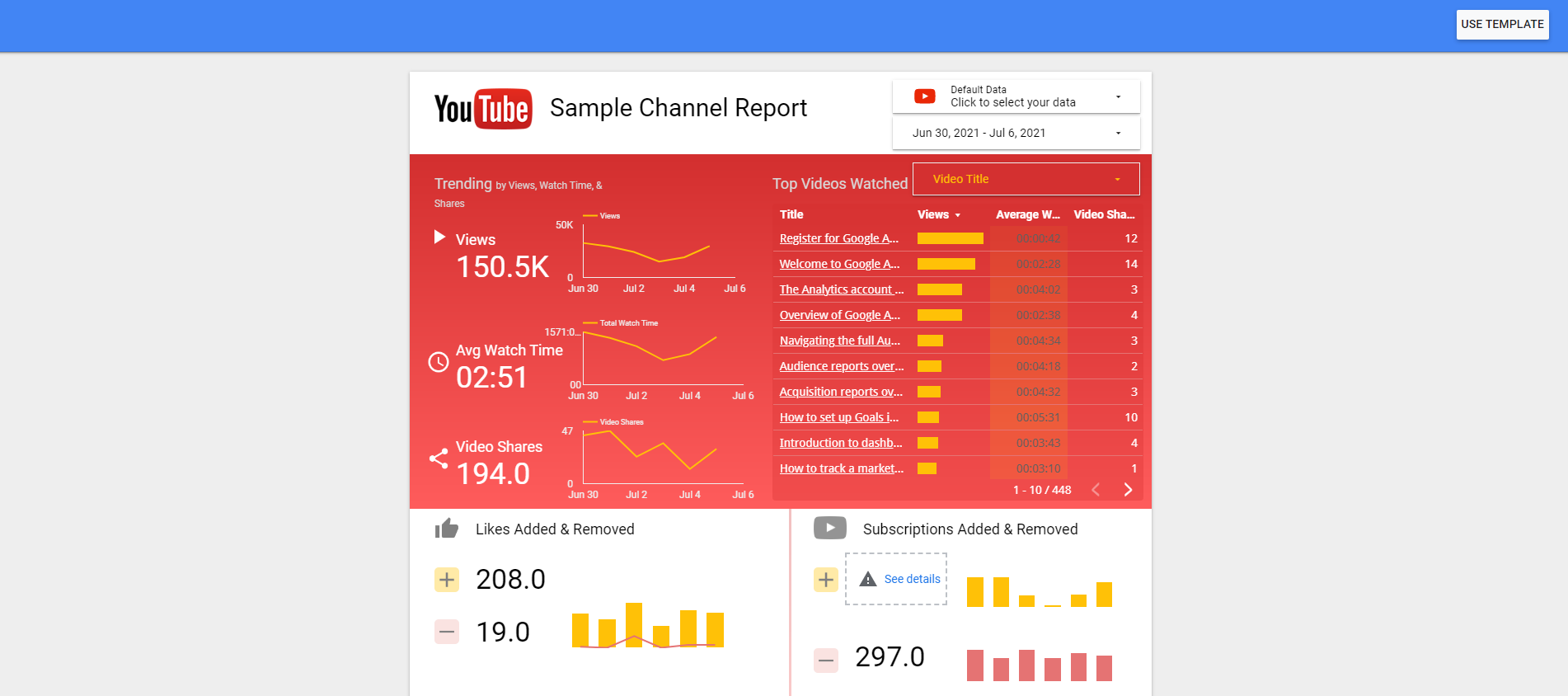 Free Google Data Studio comes in handy when you need to generate a white label social media report quickly. A Google account is all you need to start working with the platform.
You can prepare your report manually using editable white label templates, for instance, a website performance based on Google Analytics data, or a PPC campaign dashboard.
Generating white label reports is the main option of the tool. For the automation reporting, you have to connect your profile with sources. Data Studio supports connections with all Google services like Google Ads, Campaign Manager 360, Google Surveys, and the like. Additionally, you can add dozens of partner connectors as the information sources or build your own connector.
There are no fine-tuning settings and strong analytical options on the platform. However, for entrepreneurs and small businesses, Google Data Studio is the way to go.
Pricing: The platform is free.
Trial: Not avaliable.
10. Landingi, build your dream landing page to boost sales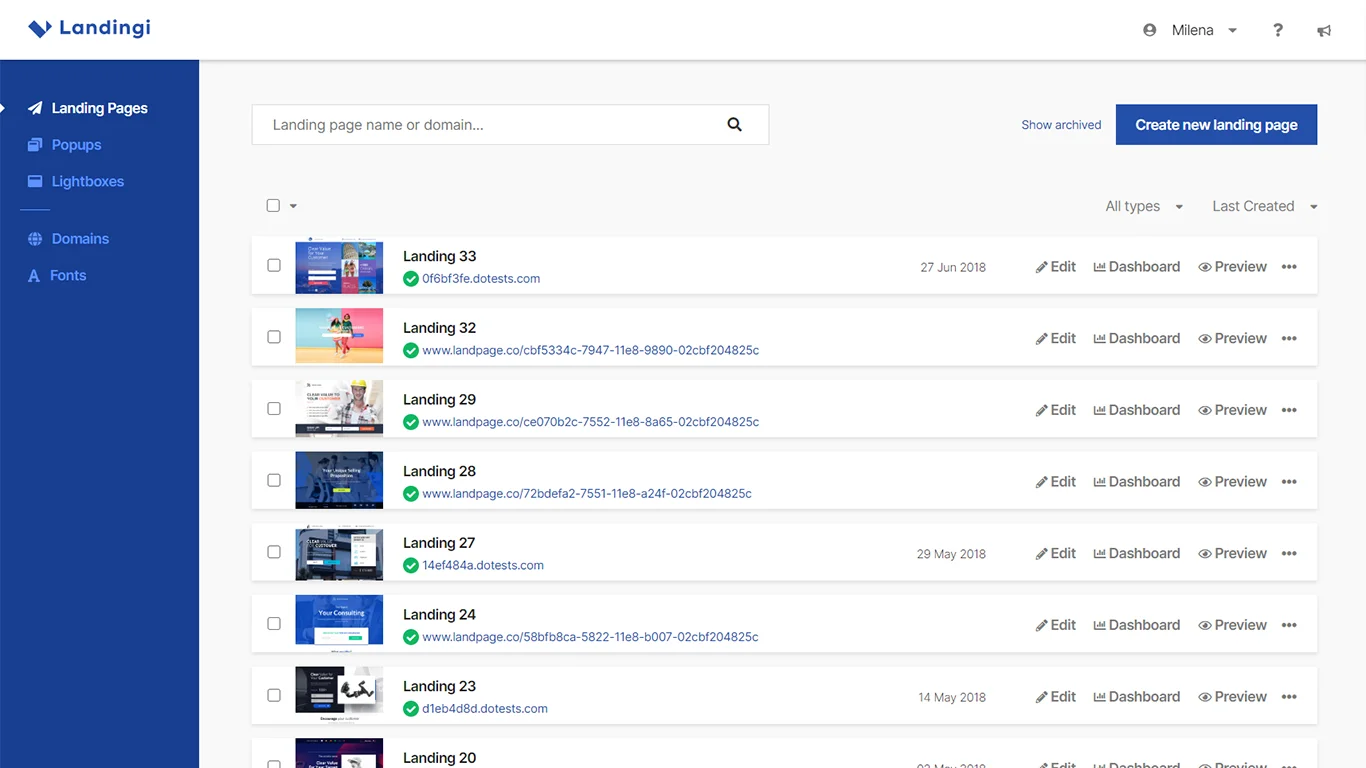 Despite the name, this white label solution is not only a landing pages builder with 400+ templates. Landingi also provides a Pop-up maker that you can integrate with popular email marketing services, including MailChimp, GetResponse, and FreshMail. Add a funnel maker to these white label tools to get a pre-designed solution for sales boosting.
Landingi works seamlessly with third-party marketing tools. In addition to the already mentioned email platforms, you can connect the tool with CRM systems, callback and chat services, analytics trackers, and other popular solutions.
The white label platform is suitable for digital marketing agencies the most. Using it, you can create dozens of landing pages, sub-accounts, and image libraries.
Pricing: Annual plans cost from $55/mo to $149/mo.
Trial: There is a 14-day free trial on the platform.
11. Agency Analytics, generate a multi-channel report on one screen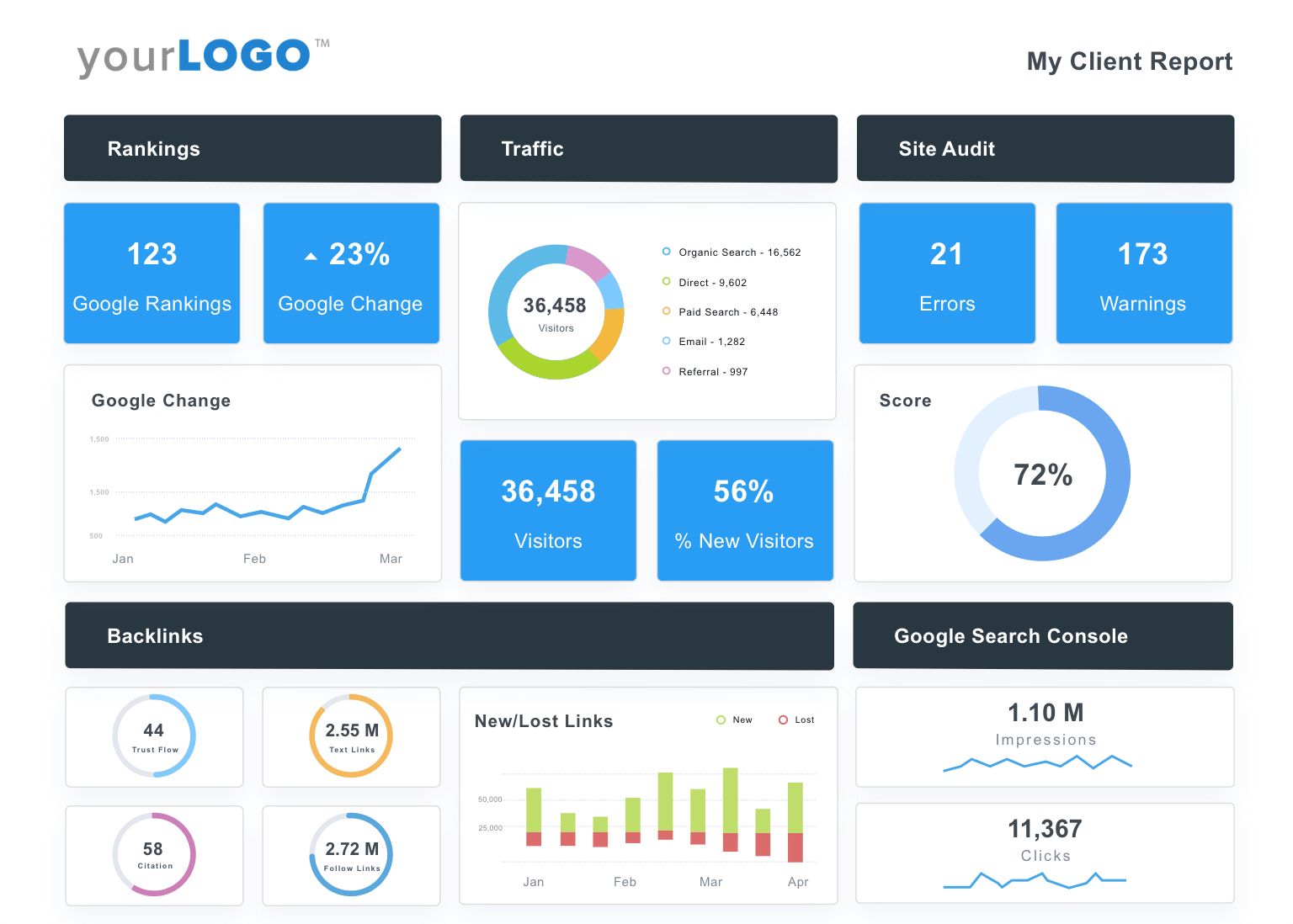 Agency Analytics provides multi-channel white label marketing reports. You can customize them by choosing sources of the information (Google Ads, Google Analytics, Facebook, etc.), widgets to display, logos, colors, and URLs.
Integration with over 60 marketing services and tools enables using Agency Analytics to track different digital activities. There is reporting on the performance of PPC, email, and social campaigns, websites, calls, and so on.
Marketing agencies will appreciate the commenting feature in the white label tool. You can clarify any section of your report to emphasize goals accomplished and make recommendations on changes to be made.
The tools have automated system of reports' delivery. With scheduling feature, your boss or client will receive them every day, week, or month.
Pricing: The Freelancer plan costs $49/mo. The full-packed Enterprise is $399/mo. Paying annually, you save up to $80.
Trial: You can use this white label software free for 14 days.
12. SendinBlue, use white label editors to create messages for your audience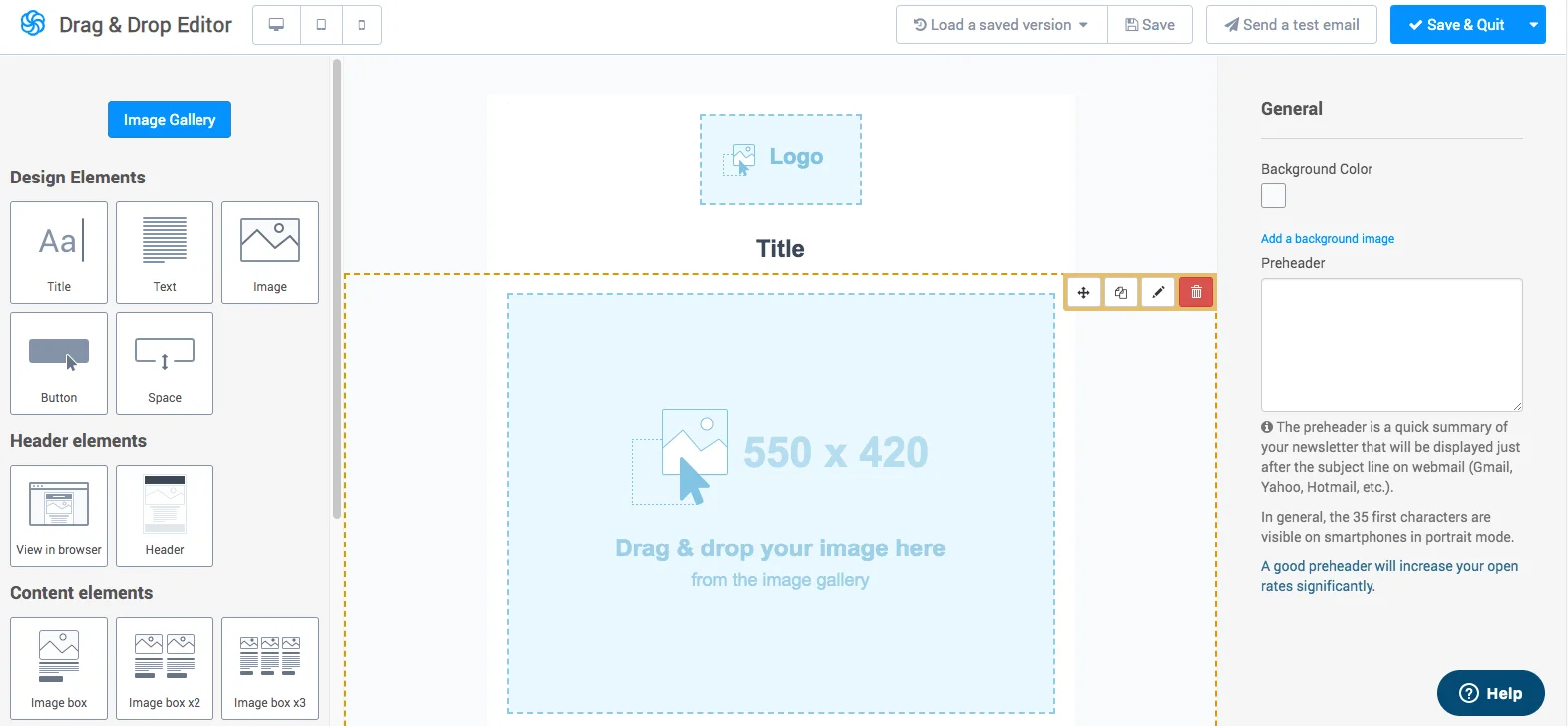 If you work in email marketing, take a look at SendiBlue. This is one of the popular white label services for email customization.
The tool has a drag-and-drop email editor with a big template library. You can create a new design of your email from scratch with ready-to-use blocks. Additionally, SendiBlu launches A/B testing of your emails and defines the best send time.
Besides a white label email editor, the tool has features for launching SMS campaigns, creating chatboxes, and managing customer messages. Many of these routine tasks can be automated with SendiBlue.
As a white label builder, the tool works well for creating signup forms, landing pages, and ad Facebook posts.
Pricing: SendiBlue has a free plan with limited functionality (up to 300 emails per day). Paid plans start at $25/mo.
Trial: Not available.
13. PromoRepublic, run campaigns and manage tens of social media pages with one tool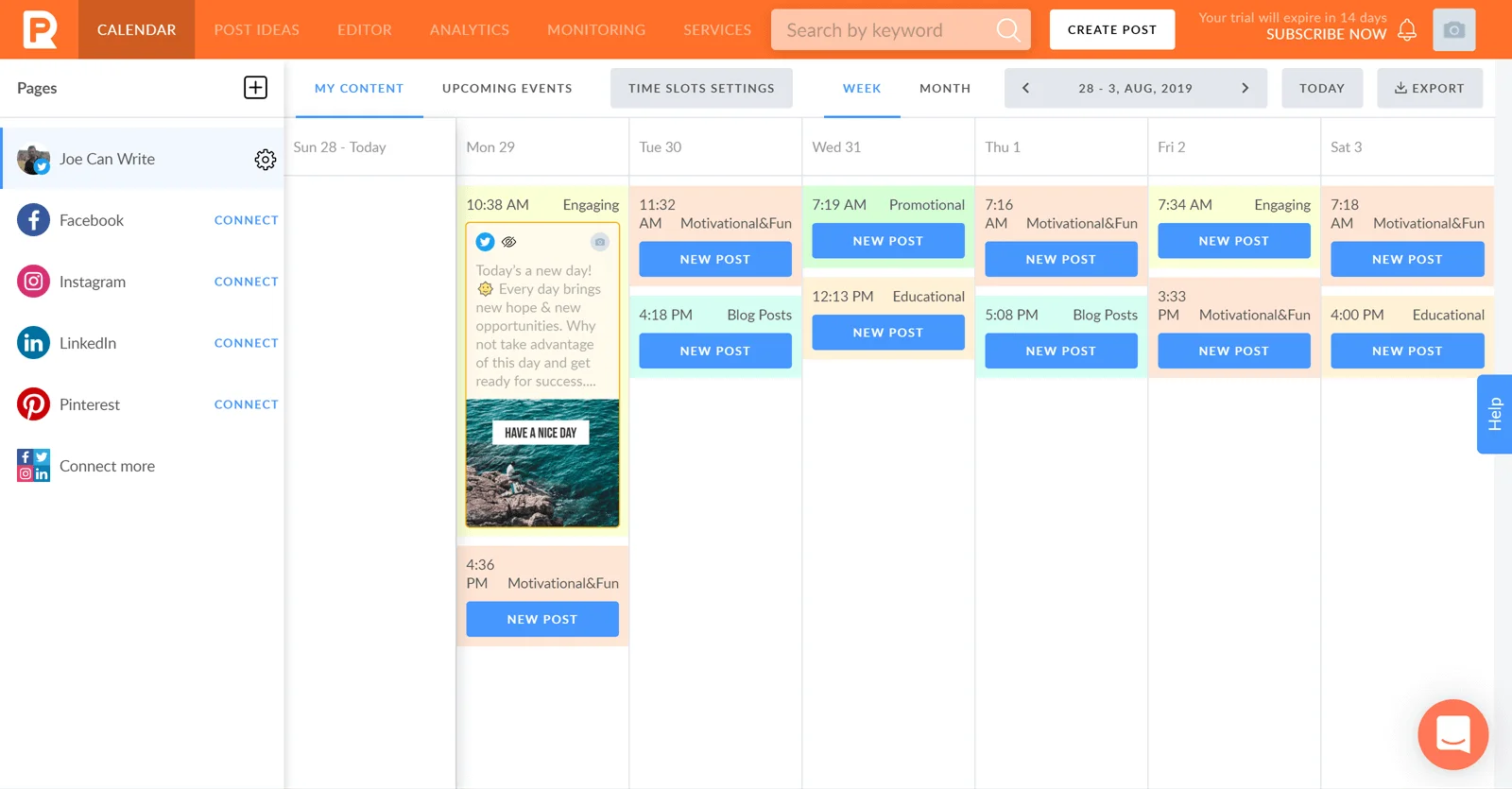 PromoRepublic is worth taking a look for marketing agencies with a lot of SMM projects. It is one of the leading white label services for social media management.
The platform provides features that help you manage tons of social profiles. You can choose among solutions for enterprises, marketing agencies, and small businesses.
The main features of PromoRepublic are content management and distribution on Facebook, Instagram, LinkedIn, Pinterest, and Twitter. You can create, schedule, and promote posts through the white label platform. Engaging with users and results analysis are available, too.
PromoRepublic provides a photo editor for branded content creation, a social media calendar, an ad manager, and a PDF reports generator.
Also, the white label platform can be a workspace for your whole team where you can save drafts and templates, get approvals from clients, and discuss your current tasks.
Pricing: Plans start at $49/mo. Annual plans save you up to $20.
Trial: Available. To learn details, you need to contact the PromoRepublic's support team.
14. Invoice Ninja, customize your invoices and automate their sending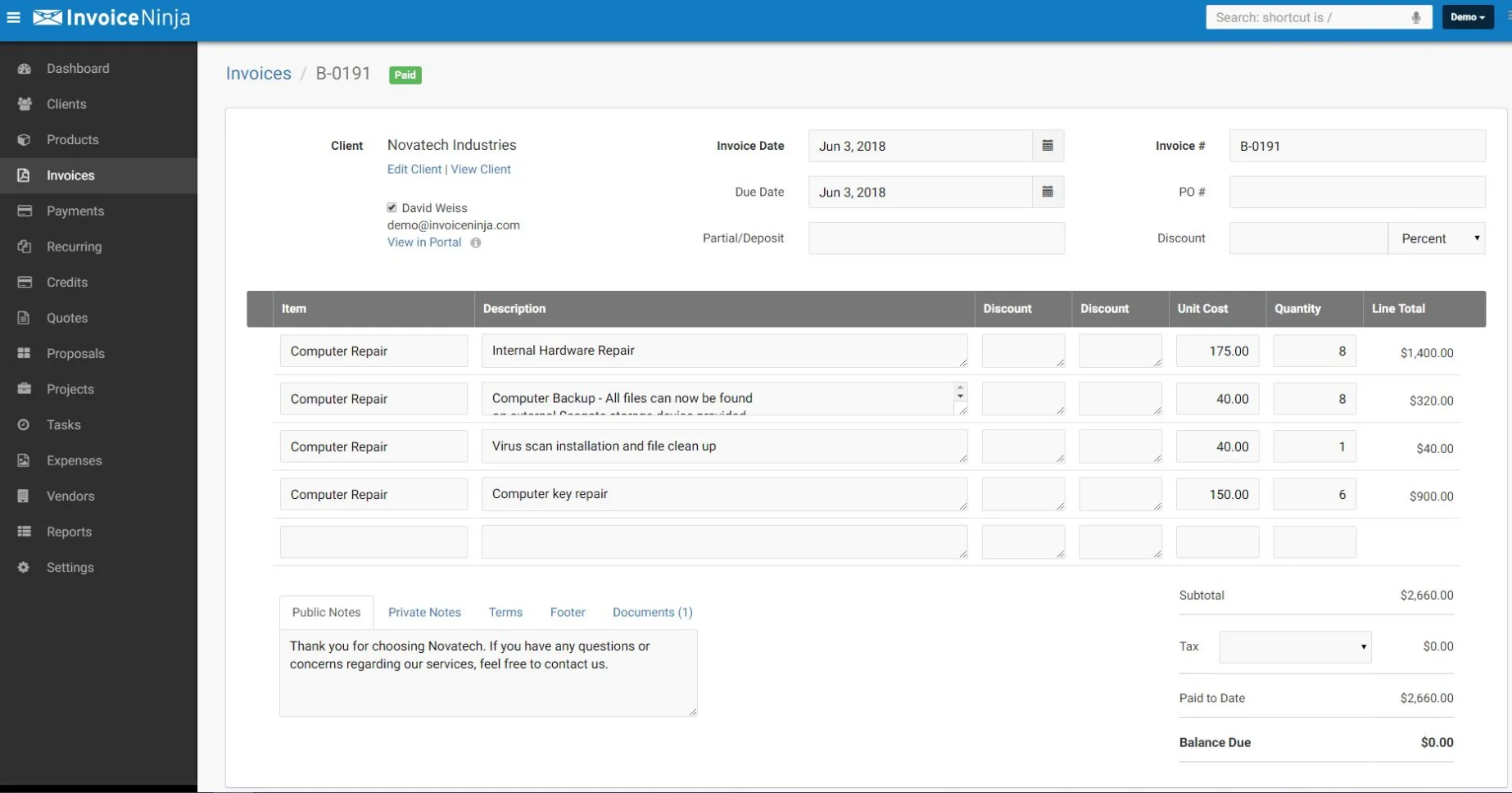 Finally, let's speak about money! Every marketing task has its financial side, and this is not about ROI.
InvoiceNinja is a white label online tool for creating invoices and proposals, time-tracking, and getting payments.
The white label platform provides various financial services. With InvoiceNinja, you can design branded invoices, create custom invoice emails, receive notifications when your clients view or pay invoices, and generate reports.
InvoiceNinja helps you automize your invoice workflow by auto-billing and auto-reminder email sending.
Of course, it is not really a marketing platform. However, there are marketing agencies among over 170 000 clients of the company. As an open-source platform, Invoice Ninja is supported by a big community of developers around the world. Definitely, this has a favorable effect on its prices.
Pricing: There is a free plan with a lot of features. Paid ones start at $10/mo.
Trial: Not available.
15. FreshBooks, customize professional invoices for whatever stage of business you're in
FreshBooks is an easy-to-use accounting software with bookkeeping features. Built for any business size you will be able to give your clients so many different ways to pay, from checkout links to credit cards and more. It gives you an option to level up your invoicing with multiple features and plans.
Whether you are a self-employed professional in need of Google Sheets invoice template or a business looking to automate processes, FreshBooks will make it easy…for you and your clients.
Moreover, it integrates with over 100 apps which can help you connect with your team and clients even when you're on the go.
What makes FreshBooks so great is that you can have unlimited access to it for 30 days, with no contracts and no credit card required. You even get free support in case you have questions about setting up your account.
Pricing: Starts at $6/mo.
Trial: 30 days for free.
Enjoying the post? There's more.
Sign up for our newsletter to get our best content by email.
Wrapping up
There is a lot more white label software for marketing professionals on the market than this article covered. However, the digital marketing software cannot replace our imagination and creativity.
What marketing tools do you use every day? What routine workflows do you want to automate with software?
Let's discuss it on Awario's social media pages!