12 key Youtube metrics to track for your business growth

Article summary
In this article, we cover the essential metrics from YouTube Analytics that you need to track your video strategy and recommend additional marketing tools to get more data.
More than 2.1 billion people watch videos on YouTube monthly. And while it's often enumerated with social media platforms such as Instagram and TikTok, I would suggest that YouTube is in fact a content platform closer to Netflix or Amazon Prime, with a heavy social aspect. And like any video content on a recognizable platform, it can do wonders for your brand awareness, reputation, and even direct sales.
Thus, the content you produce for this platform can be vital to your business's success. However, any marketing content is only as good as the preparations we put into it and the content strategy we developed. One of the essential aspects of any content strategy is analytics.
In this article, we cover all the metrics necessary to evaluate your YouTube performance and support your video content strategy.
Youtube analytics - what are they and where to find them?
YouTube Analytics is a tool that provides detailed statistics about the performance of your YouTube channel and videos. It enables content creators to track and analyze audience engagement, traffic sources, demographics, and other valuable metrics to better understand their audience and optimize their content strategy.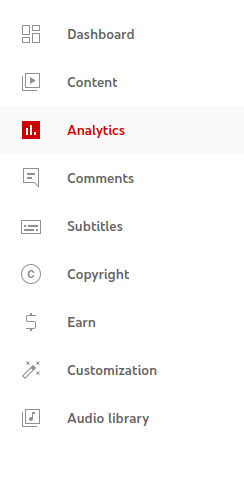 You can find YouTube Analytics on YouTube by clicking on the YouTube Studio in the drop-down menu in the top right corner of your screen. There you'll see the Analytics tab on the left-hand side menu with all the analytics accessible to you natively.
However, there is some data that is not accessible through YouTube's native Analytics, such as share of voice or sentiment analysis. Besides that, YouTube Analytics is not fit for sharing marketing insights with your colleagues and stakeholders. That's why you may need additional marketing analytics tools to support your YouTube analysis.
Here's a short list of marketing tools that can come in handy when you're trying to assess your YouTube performance.
3 marketing tools to evaluate your Youtube presence
1. Awario for social listening analysis
Awario's powerful social monitoring capabilities track channel names, video descriptions, and channel descriptions, among other things, to ensure that you never miss any relevant mentions of your company on YouTube. Its elaborate filter system helps fine-tune your YouTube keyword search to discover only the most relevant posts. YouTube is only one of the many platforms Awario monitors, so you can use the tool's insight to support your overarching marketing strategy as well as YouTube content.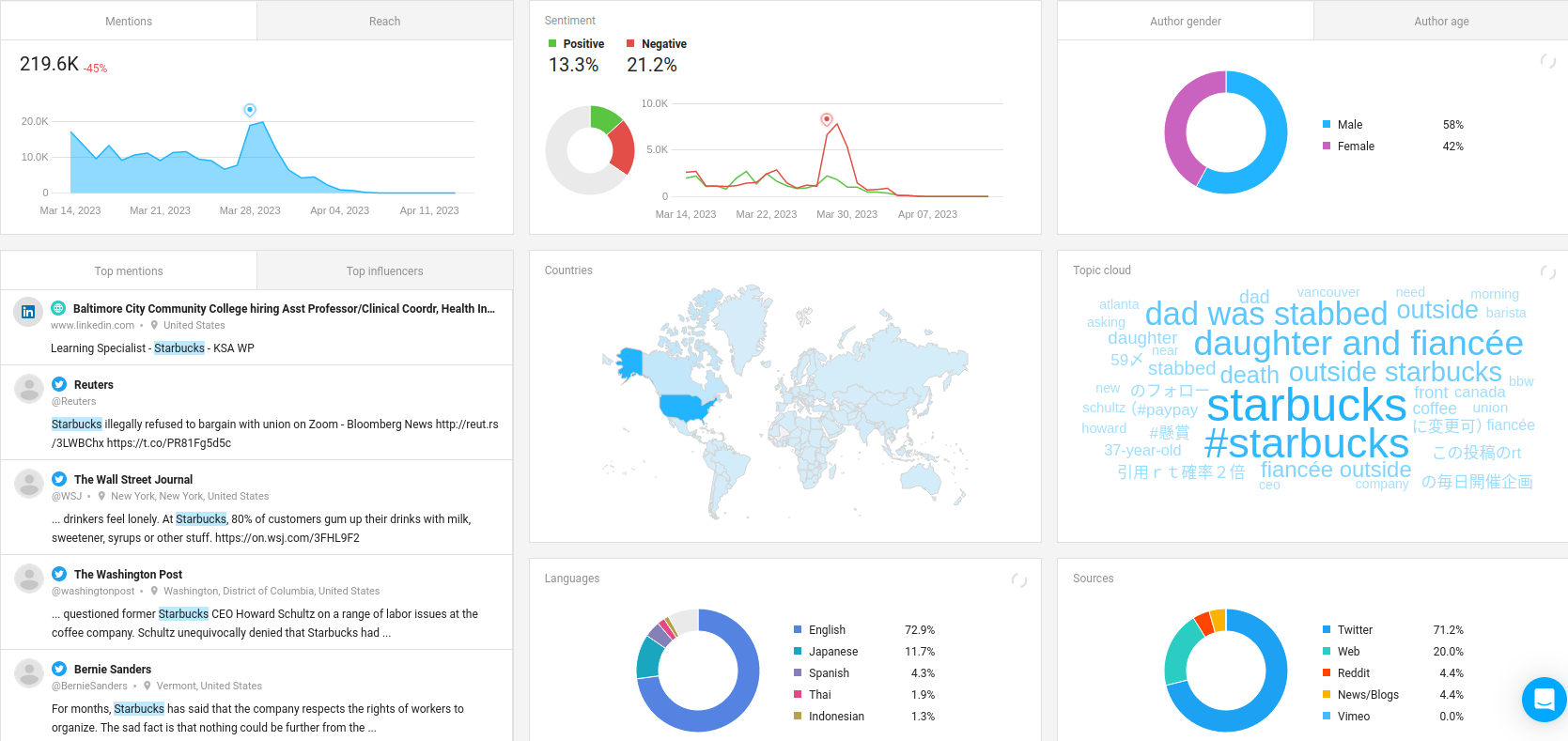 Monitoring your brand's reputation on social media is crucial, and YouTube is no exception. With Awario, you can discover what people say about your brand on the YouTube app in real-time.
You can sort the found mentions by reach to understand which videos and comments on YouTube garnered the most views.
Negative brand mentions can negatively impact your reputation and result in a PR crisis, making sentiment analysis critical for any brand. Awario ensures you discover negative brand mentions immediately and deal with them right from the application, enabling you to comment, like, and dislike videos without leaving the app.
Awario's YouTube tracking can reveal changes in reach and the number of your YouTube mentions, the sentiment behind the mentions, the locations and languages of your mentions, and the words commonly used alongside your brand. With Awario, you can derive actionable insights from your social listening data and present them to your colleagues and stakeholders in white-label reports.
Pricing: free trial is available. Subscriptions start at $39 a month.
widget name="SignUp" version="signup_block" title="Sign up for a free Awario trial" text="See Awario in action with a free 7-day trial. No credit card required." buttonText="Try Awario free"
2. Unbox Social for user-friendly visualization of insights
YouTube Analytics provides you with quite a lot of data so it can be hard to figure out what is really important for your strategy. Unbox Social tackles this issue.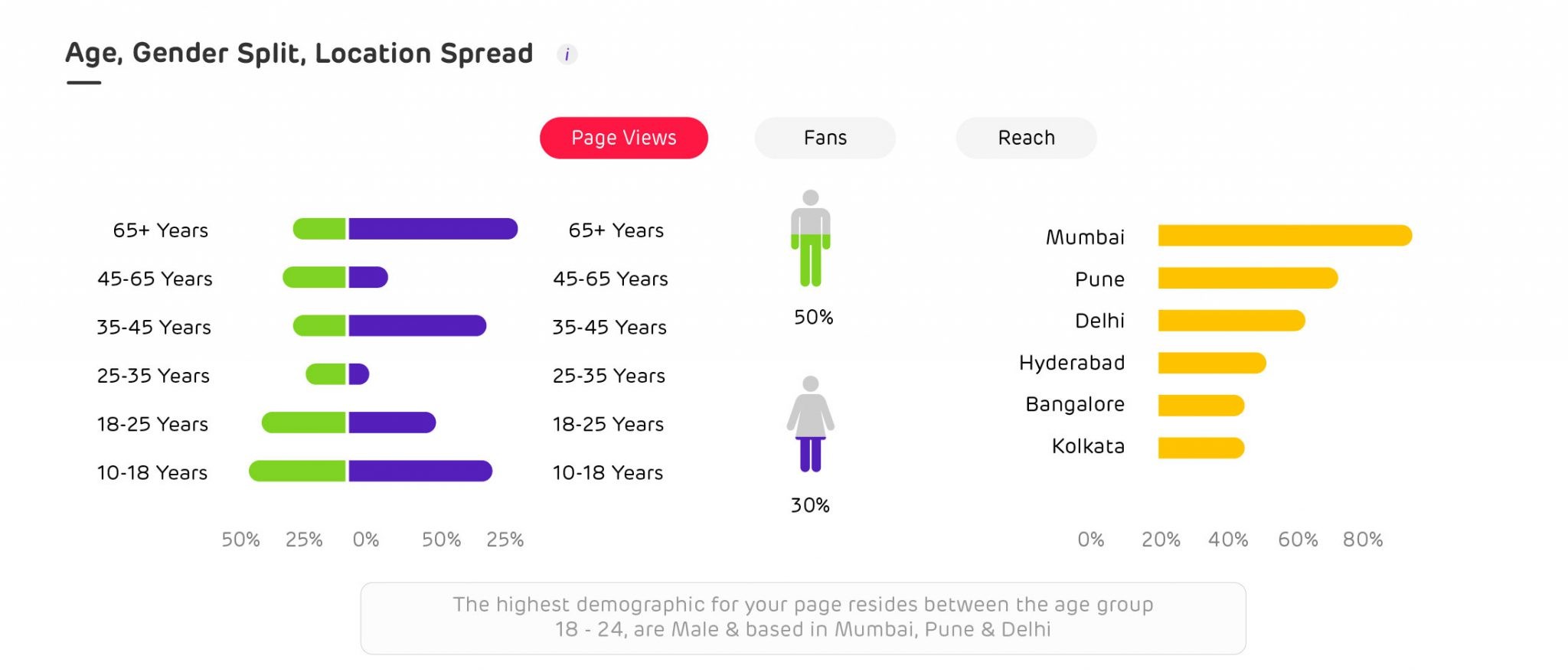 Unbox Social is a robust YouTube analytics tool that enables users to monitor their channel's performance with comprehensive insights into the performance of YouTube videos, keywords, and tags. This helps them understand what resonates best with their audience and optimize their content accordingly.
In addition to YouTube, Unbox Social offers social media analytics for Instagram, Facebook, and Twitter. The tool's features include interaction reports, demographic and gender information about the audience, watch time reports, average view duration, engagement rate, and management for various social media platforms.
Pricing: a 14-day free trial is available. Monthly pricing starts at $9 for the starter packet.
3. ChannelMeter for discovering monetization opportunities
ChannelMeter is a comprehensive and user-friendly YouTube analytics tool designed specifically for content creators and marketers. It offers an array of features, from in-depth insights into viewership performance to detailed analytics about monetization opportunities.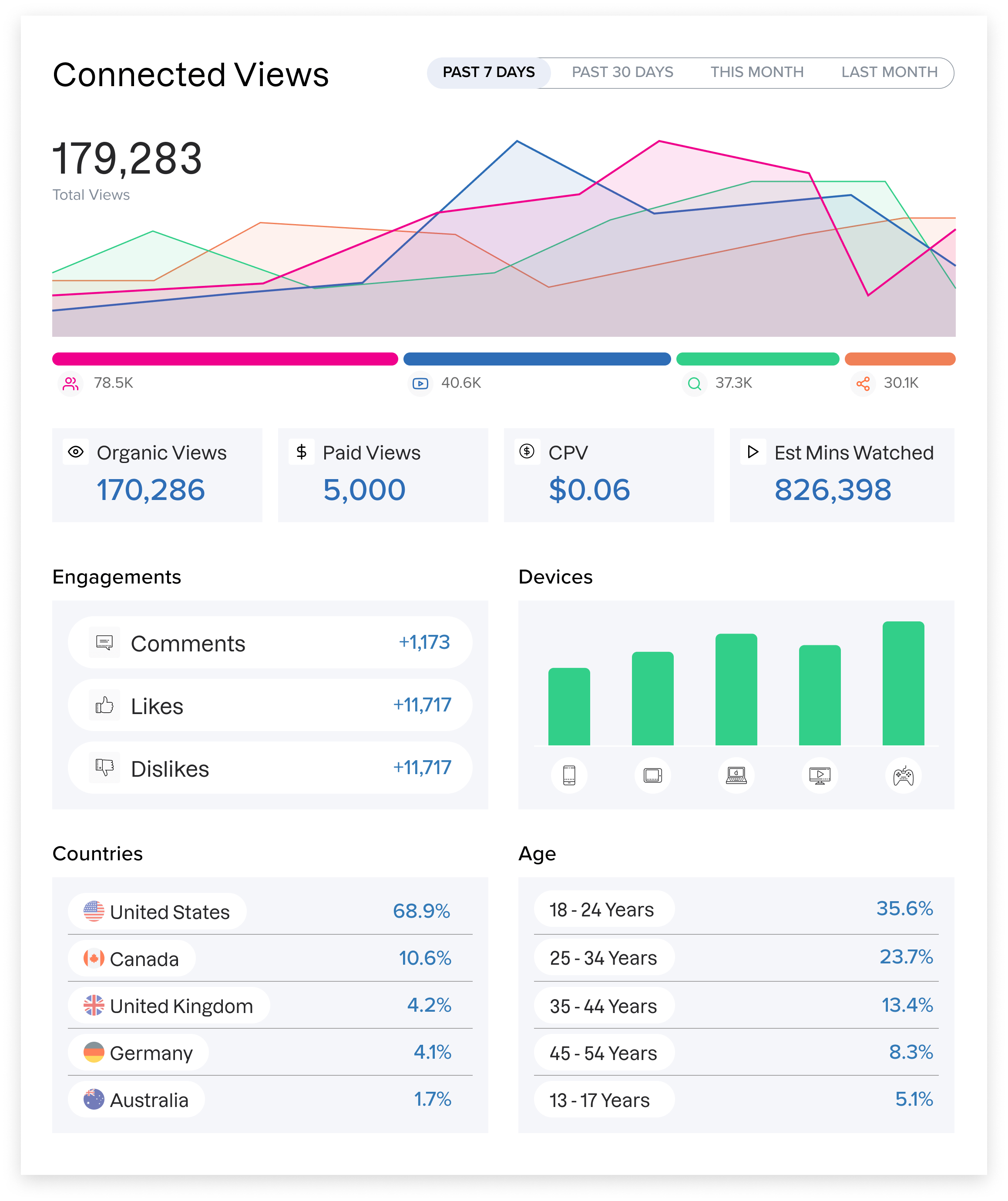 With ChannelMeter, YouTube content creators can gain a clear understanding of their channel's progress and take the necessary steps to make it even more successful. Some of its key features include YouTube channel analytics, competitor tracking, payout automation, video view statistics, in-depth analysis of various social media platforms, and the count of subscribers gained and lost in the latest period. Additionally, ChannelMeter offers a YouTube analytics app for convenient access to your channel's data.
Pricing: the basic functionalities of ChannelMeter are free of charge.
---
There are many YouTube tools on the market so you can always find something that suits your budget and needs. However, the main character of our blog post, YouTube Analytics, is completely free!
Let's go through all the metrics that are vital to consider for your YouTube strategy.
Youtube metrics to track: a guide to YouTube analytics
While YouTube Analytics are vast and diverse, we can approximately divide them into several categories. In this article, we pinpoint the metrics you need to track from each category.
The first one relates to how people watch your videos.
Viewership metrics
1. Unique viewers
The Unique viewers metric shows the estimated count of individuals who watch your videos within a specific time frame. This metric provides valuable insights into the actual size of your audience.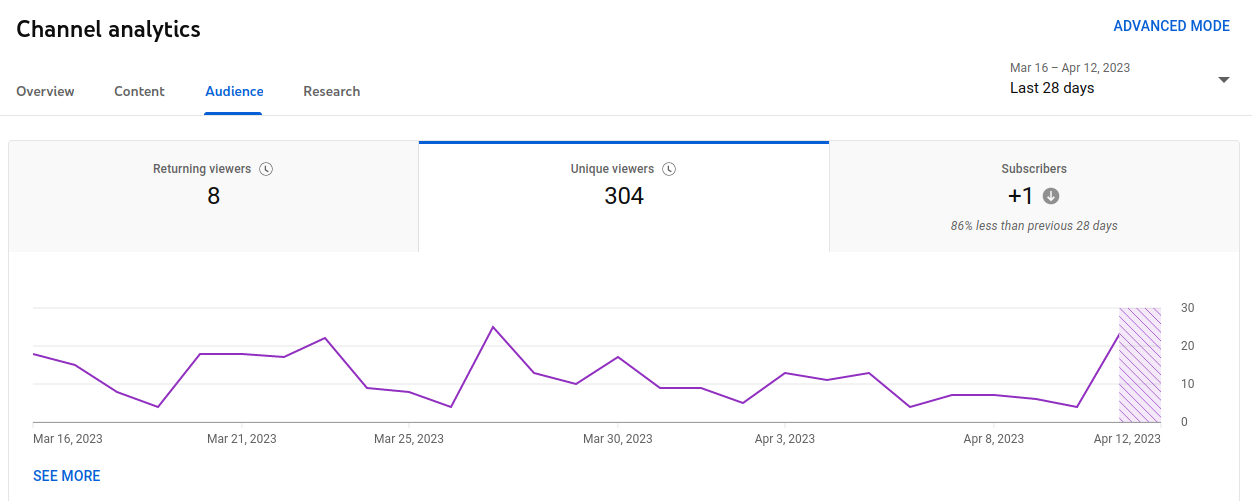 Additionally, you can utilize this metric to assess your subscribers' engagement with your videos. In case your unique viewers are lesser than your subscriber count, it indicates that your subscribers are not watching your videos as frequently as they could. Encourage them to be more active by requesting them to enable notifications for your new videos. To access this metric, navigate to the Reach Views and Audience tab within YouTube Studio.
Where to find: Channel analytics - Audience - Unique viewers
2. Watch time
The aggregate sum of minutes viewers have dedicated to viewing your videos is referred to as "watch time." This metric is essential since YouTube prioritizes videos and channels with longer watch times in their search results and recommendations. This is because the algorithm presumes that videos with higher watch time are more engaging.

The Watch Time report allows you to monitor the watch time your videos have garnered. Furthermore, you can arrange your videos by themes, styles, and lengths to identify your most compelling video types and rank each video by watch time.
Where to find: Channel analytics - Overview - Watchtime
3. Average view duration
The average view duration is calculated by dividing the total watch time of your video, including replays, by the number of video plays. This metric gauges the level of viewer engagement with your video.
widget name="SignUp" version="signup_block" title="Sign up for a free Awario trial" text="See Awario in action with a free 7-day trial. No credit card required." buttonText="Try Awario free"

A low average view duration indicates poor viewer engagement, while a high one signals engagement and longer watch times, which can improve search and recommendation rankings. You can find this metric in your watch time report.
Where to find: Channel analytics - Content - Average view duration
4. Average percentage viewed
The average percentage viewed indicates the percentage of a video watched by the average viewer, measuring the ability of the video to maintain viewers' attention throughout. The graph will show you the average percentage viewed for each of your posts.

Higher rankings in YouTube search and recommendations are rewarded to videos that can captivate viewers.
Where to find: Channel analytics - Advanced Mode - Content - Views by: Content - Overview - Average percentage viewed
5. Audience retention
Audience retention displays the proportion of viewers who watch and leave your video at each moment. Videos with high audience retention are prioritized in YouTube's search rankings and suggestions due to their ability to captivate viewers.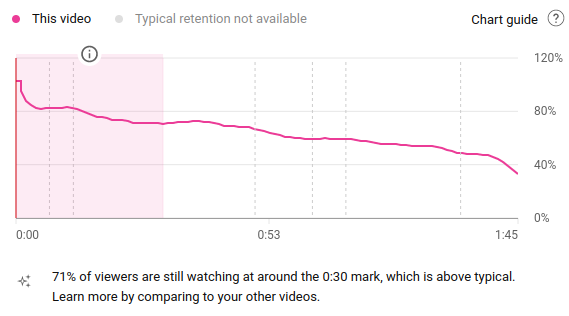 Additionally, audience retention can guide your future video strategy by highlighting the most engaging parts of your video, indicating potential topics for future videos. Identifying steep dips in engagement during video viewing can also help determine which elements may be dull, allowing you to remove them from current and future videos.
Mind you, you can only check Audience retention for individual videos, not for the channel overall.
Where to find: Video analytics - Engagement - Audience retention
Engagement metrics
Engagement represents all the actions people take to engage with your video - sorry for the wordplay! It's all the clicks, comments, and likes they leave. Most of the engagement metrics are only calculated for individual videos, not the channel as a whole.
6. Impressions click-through rate
Impression click-through rate measures your video's ability to attract viewers after appearing on their homepage, recommendation, or trending sections. High rates suggest an engaging title and thumbnail and relevant content for YouTube audiences. Click-through rates peak when a video is first released, with subsequent stabilization.

Assessing the metric alongside average percentage viewed and average view duration can verify if viewers watch after clicking. Misleading titles or thumbnails result in viewers leaving early, damaging trust in your brand. A low click-through rate with high engagement may indicate a specialized, devoted audience.
Where to find: Video analytics - Reach - Impressions click-through rate
7. Likes, dislikes, comments, and shares
In the realm of video marketing, social media metrics such as comments, shares, likes, and dislikes can provide an abundance of qualitative data.
For instance, comments can be used to glean insights into your video's emotional impact on viewers, providing a clear picture of how your audience responds to your content.
Shares, on the other hand, can be a powerful gauge of how much your viewers value your brand, as people often share content that aligns with their personal values and beliefs. By sharing your video, they are essentially vouching for your brand and publicly displaying their support.
Additionally, analyzing the ratio of likes to dislikes can help you identify which video topics resonate the most with your specific audience
Where to find: Advanced analytics - Content - Interactions
8. Card clicks
Cards are interactive panels that pop up during a video, prompting viewers to take a desired action like watching another video, subscribing to a channel, or clicking through to a different website.
By analyzing the click-through rate of each card, you can gain insights into which actions your viewers prefer to take while watching your videos. This can help you strategically place the most engaging card in each of your videos, potentially boosting your watch time, subscriber growth, or website traffic.
Furthermore, analyzing card clicks can help you identify the best timing, placement, and duration for your cards in future videos. You can use this information to optimize your video strategy and create more effective cards that encourage viewers to take the desired action.
Where to find: Advanced analytics - Content - Cards - Card clicks
Subscription metrics
More and more people are watching videos on YouTube without subscribing to the channels, that's why growing your loyal subscription base became even more important. Here's how to track it.
9. Subscribers
Your most devoted supporters are your subscribers. By subscribing, they publicly express their loyalty to your brand, content, and values, and are more likely to become advocates for your channel.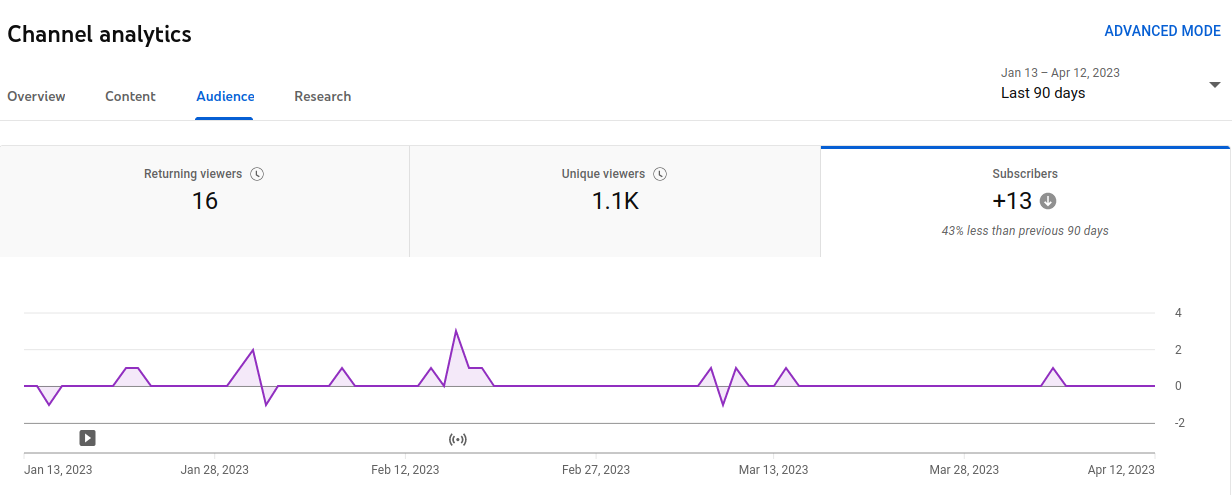 Additionally, subscribers play a crucial role in boosting your channel's visibility on YouTube, as they receive notifications about your new videos and are featured on the homepage. As a result, your videos will receive more views and your watch time will increase, especially considering that subscribers watch twice as many videos as non-subscribers.
Where to find: Channel analytics - Audience - Subscribers
Audience metrics
10. Demographics
Understanding your audience is key to creating content that resonates with them and drives engagement on your channel. Fortunately, YouTube's demographics report provides you with valuable insights into the various demographics of your viewers. This data is segmented by age, gender, and geography, allowing you to see who your most engaged audience is and who you should be targeting with your videos.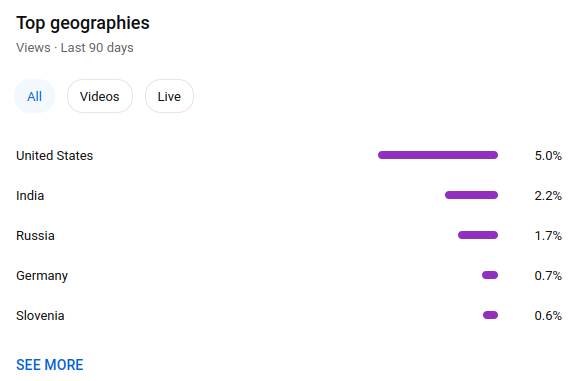 By analyzing this data, you can identify the types of videos that are resonating with your audience and make informed decisions about your content strategy. For example, if your demographics report shows that your audience is primarily composed of young adults between the ages of 18 and 24, you might consider creating more content that caters to this age group. Similarly, if your report shows that your audience is predominantly male, you might try creating content that appeals more to female viewers.
Where to find: Channel analytics - Audience
11. Traffic sources
One of the key components of YouTube Analytics is the Traffic Sources report, which provides valuable insights into how viewers discover your videos. This report classifies traffic sources into several categories:
External

YouTube search

Direct or unknown

Channel pages

Suggested videos

Playlists

Browse features

Other YouTube features

Playlist page

Notifications

End screens
The Traffic Sources report is a powerful tool for understanding which sources are driving the most traffic to your channel and which ones are generating the most views and watch time. By analyzing this data, you can gain valuable insights into your video promotion strategy and optimize it for maximum impact. For example, if you notice that a particular social media platform is driving a lot of traffic to your channel, you can focus more on promoting your videos on that platform to attract even more viewers.
Where to find: Advanced analytics - Traffic source
12. Keywords
One of the most important features of YouTube Analytics is the ability to track the keywords that are driving viewers to your videos. By examining the most popular queries used by viewers to find your content, you can gain valuable insights into what topics are resonating with your audience and what gaps exist in your content.
If you notice that the keywords being used to find your videos are only slightly different from the topic of your video, it might be worth updating your video to fill any content gaps and incorporate these keywords into your metadata. This can help your videos rank higher in search results and attract more viewers.
On the other hand, if the keywords being used to find your videos are significantly different from the topic of your video, it might be worth considering creating a new video on that topic. By doing so, you can capture the attention of viewers who are interested in that specific topic and attract a whole new audience to your channel.
Where to find: Video analytics - Reach - YouTube search terms
By regularly monitoring your metrics and making data-driven decisions, you can create content that resonates with your viewers, attract more subscribers, and increase engagement on your channel. Whether you're a seasoned video creator or just starting out on YouTube, leveraging the power of analytics can help you achieve your goals and take your channel to the next level.
Enjoying the post? There's more.
Sign up for our newsletter to get our best content by email.