10 best social media analytics tools + 10 tips on using them

Summary
Social media is full of valuable business and marketing insights. How can you find a shortcut to the metrics important to your brand? Here is a list of 10 best social media analytics tools for you. Dive in and whats suits you better.
Social media, being the world's largest focus group and database of marketing insights, has a lot to offer. Regardless of the size and profile of your business, social media can be used for so many things: 1) raising brand awareness, 2) managing reputation, 3) researching competitors, 4) providing customer support, 5) generating leads, 6) collecting product feedback, 7) running audience analysis, 8) sourcing and promoting content — the list goes on!
The problem is, social media is overcrowded and, therefore, full of data and insights irrelevant to your business. The absolute worst outcome of this is social media marketing being overlooked or paid very little attention to. To avoid this and get the absolute most out of social media, brands resort to designated social media analytics tools built to translate the overwhelming social data into data points. This here is a list of some of the best social media analytics tools.
All of the items on the list help you deal with a specific aspect of social media marketing. Alongside each tool, I also include a tip on what you can do with it right away to give you an idea of the software's potential. Without further ado, let's dive in.
1. Awario — industry, brand, and audience analytics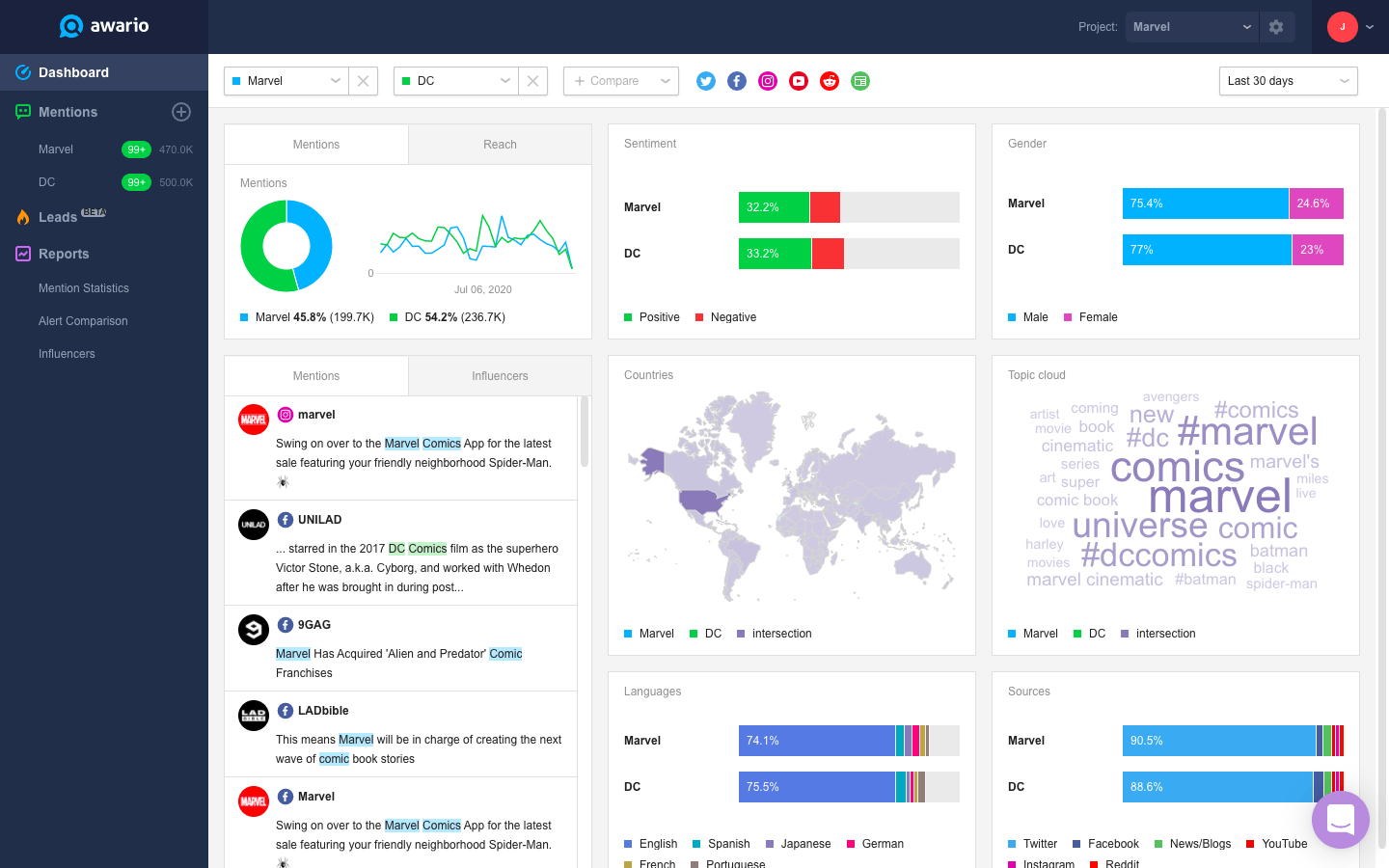 Awario is the tool I put first for several reasons. One of them is me being on Awario's team, but all the rest are related to how much of a help Awario can be for businesses willing to win the social media game. As a social listening tool, it's designed to process tons of social data to find every post featuring the seed keyword you put in (a brand or industry name, as well as competitors, products, hashtags, or anything you can think of).
What's brilliant about Awario is how quickly it delivers comprehensive market insights and a range of Facebook, Twitter, Instagram, YouTube, and Reddit analytics you can use right away:
brand health — visibility, reputation, trending brand mentions, etc.
competition intel — market shares, brand ambassadors, product feedback, etc.
audience insights — locations, languages, gender, alliances, etc.
industry insights — opinion leaders, niche media and publishers, etc.
These are only the tip of the iceberg really, as the better your monitoring is set up and the longer you keep using the tool, the more advanced and reliable social media analytics get. Learn to use Boolean search to create laser-sharp searches for common brand names, lead generation, etc. If in addition to your brand you also monitor competitors or the entire industry, you get more and more insights you can implement, reverse-engineer, and get creative with.
Pricing: $29-299/mo; save 2 months with a yearly plan.
Sign up for a free Awario trial
See Awario in action with a free 7-day trial. No credit card required.
By signing up I agree to the Terms of Use and Privacy Policy
Tip:
Fire up brand monitoring and get a quick scan of your market to know what you need to research next.
2. Talkwalker — advanced analytics for Enterprise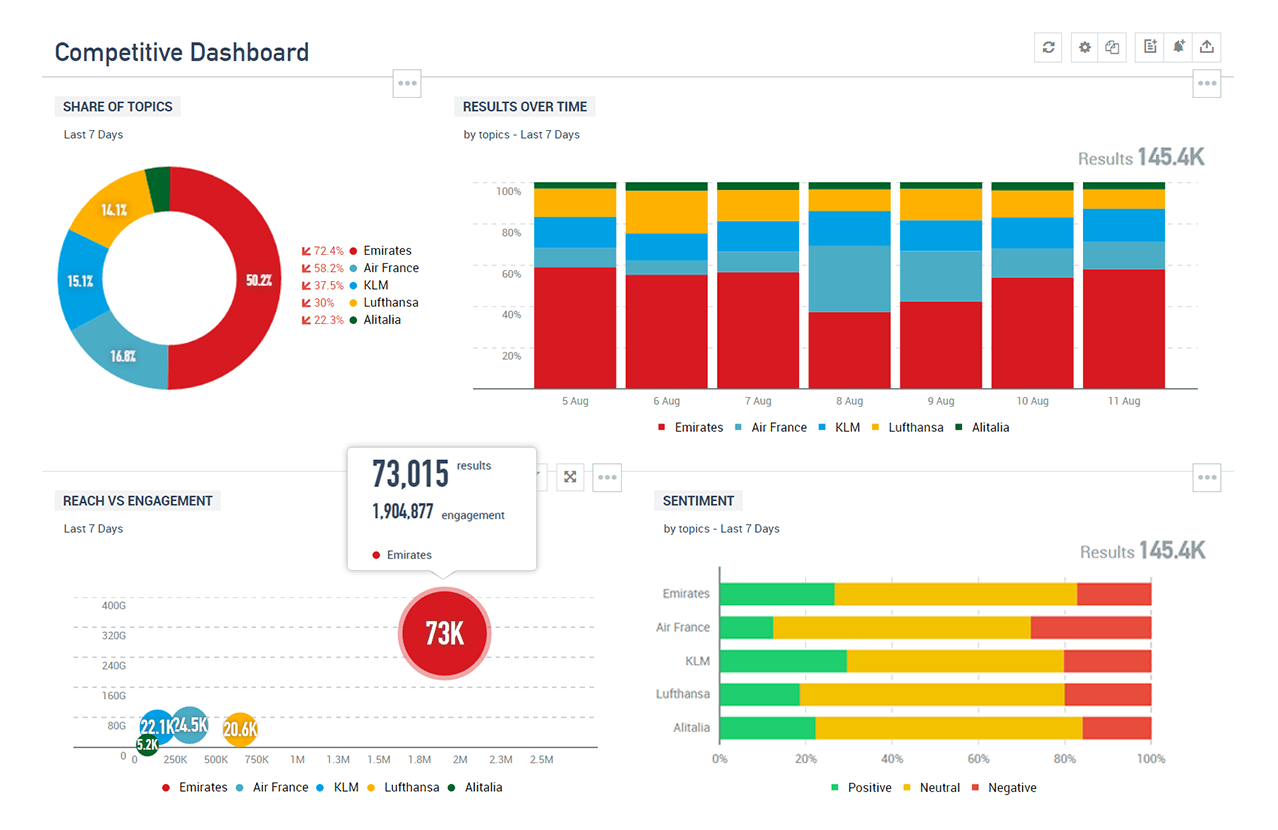 Talkwalker is another social listening tool, and it was built with global brands and large teams in mind. Being an Enterprise-level software, it delivers advanced social media analytics related to customers, competitors, campaigns, and the market as a whole. In addition to text, Talkwalker processes images to help brands make sure their logos and other brand-related visuals can always be traced to the social media post.
A brilliant campaign tracking tool, Talkwalker offers its own Virality Map for tracing how content spreads across platforms. On top of that, the tool offers Facebook Insights integration for a smoother optimization of multichannel campaigns.
Talkwalker will also deliver comprehensive influencer analytics to help you find and connect to potential brand advocates as you go. Your campaign results are then transformed into KPIs that you can benchmark against your competition and easily share with the rest of your team.
Pricing: $9,600+/year. A free demo is available.
Tip:

Run a deep scan of your competition with Competitive Intelligence IQ Apps.
3. Rival IQ — competitive analytics and social media audit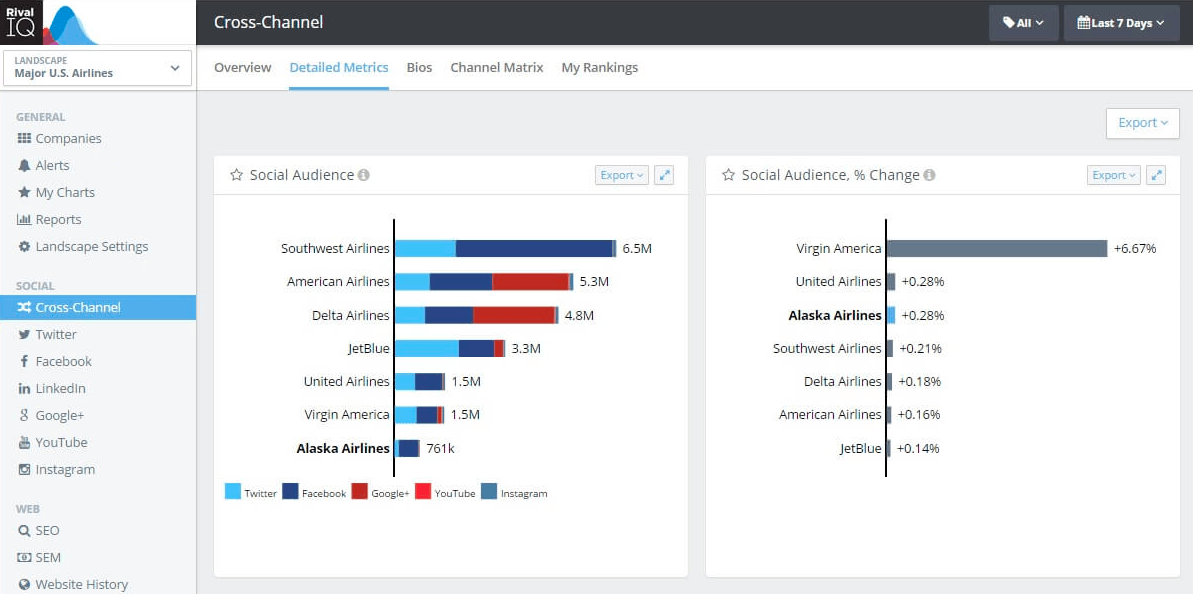 Rival IQ, as the name suggests, is a competitive intelligence tool that empowers brands to gather competition intel and use the insights in their own planning. By uncovering what works best for your direct competitors, you get to boost your own brand's visibility and improve user online engagement.
Every piece of social media analytics Rival IQ delivers for your company can be benchmarked against other companies in your niche. This way, putting social metrics into perspective becomes a matter of clicks. On top of that, you can compare bios, "About" sections, and profile attributes to refine the way you're represented on social media following best practices.
Effortless social media auditing is another strong side of Rival IQ. Powered by data from 6 social networks, as well as paid social media on Facebook + Instagram, you're always fully prepared for reporting on your social media marketing progress.
Pricing: $199-499/mo; yearly plans save you 15%. A 14-day free trial is also available.
Tip:

Explore side-by-side social media audits to benchmark your progress.
4. Sendible — publishing and data-powered management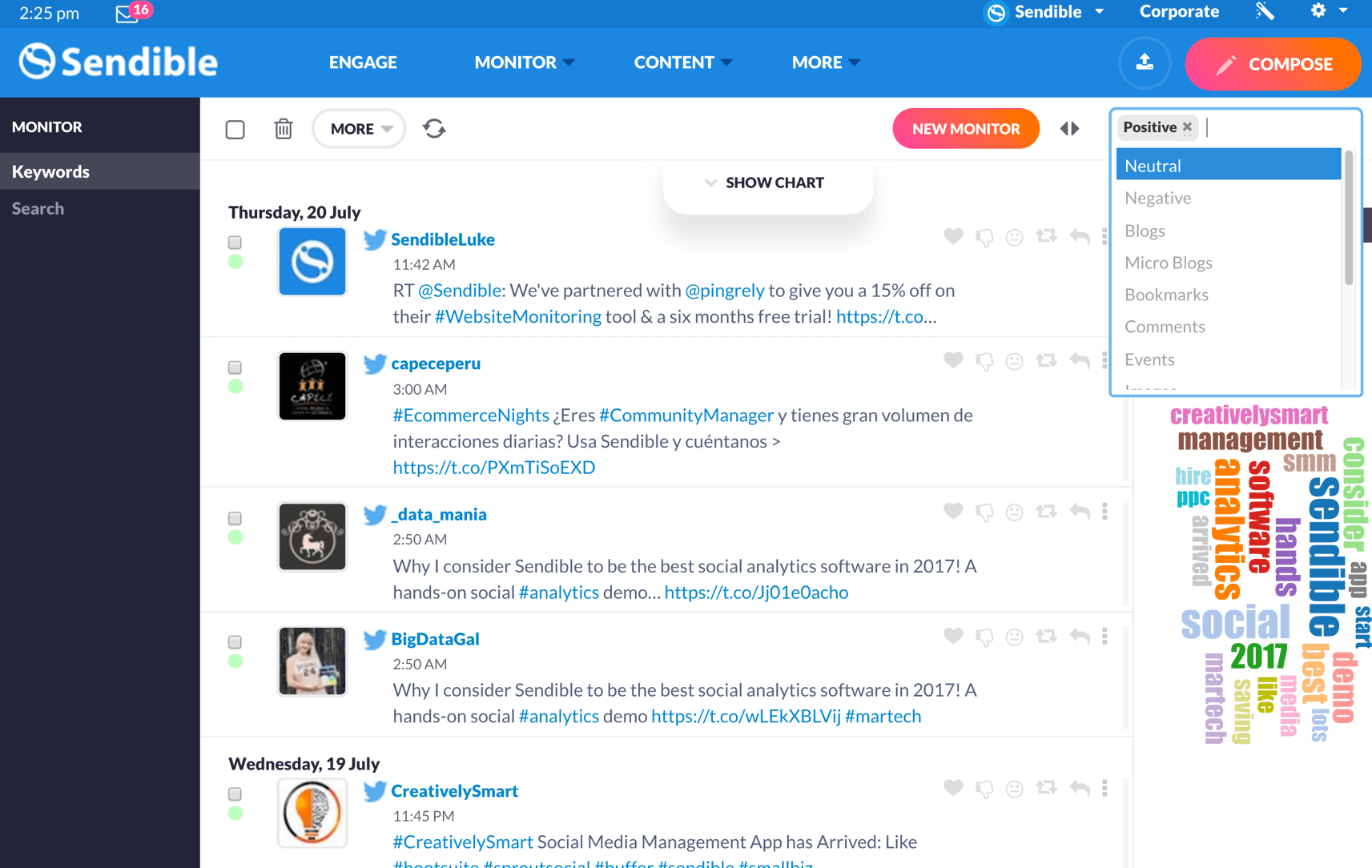 Sendible is a 2-in-1 social media tool that brings social media management and social analytics together. Sendible makes reporting on social data easy with email reports to clients and colleagues, as well as 8 reporting templates packed with insights specific to all of your brand's social media channels. Engagement report, in particular, lets you transform social media monitoring and performance insights into actionable steps.
Since you can use Sendible as a publishing platform, social media analytics (engagement, best posting time, response time, top-performing content, influencers, etc.) can be immediately translated into tips for maintaining a better presence on social. Moreover, because Sendible offers a Google Analytics integration, you get to measure the effectiveness of your social media activities in very concrete traffic points.
Pricing: $29-299/mo; yearly plans save you 15%. A 14-day free trial is also available.
Tip:

Fine-tune your social media posting and overall presence based on performance analytics.
5. Zoho Social — managing social media as a team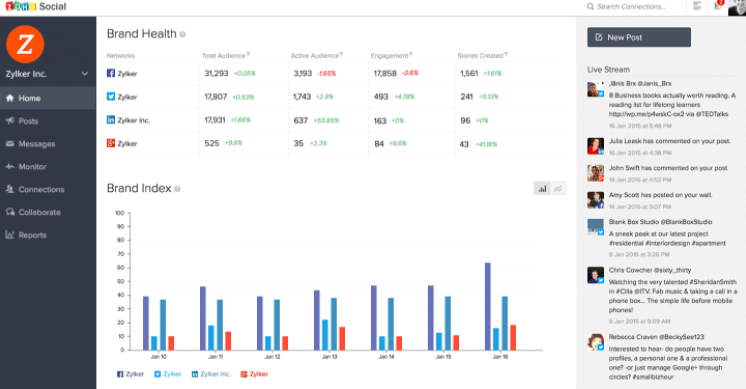 Zoho Social is one of the most comprehensive SMM tools built for teams managing multiple social media accounts. The tool offers extensive options for team collaboration, including scheduling, message assignments, and roles assignment for smooth delegation and management of tasks.
To measure the efficiency of your social media activities, Zoho Social offers extensive data analytics and performance stats. The analytics help you better understand your audience and the types of engagement they have with your social media posts, the kind of sentiment they display in relation to your company, as well as the overall performance of your brand on social.
On top of that, Zoho Social boasts Facebook Lead Ads integration for real-time monitoring of social selling opportunities, Zoho Desk integration for swift customer care, and zShare browser plugin for truly smooth content curation with an option to re-post, re-shape, and amplify on top-performing content — all within one and the same toolkit.
Pricing: €15-400/mo; yearly plans save you 25%. A 15-day free trial is available.
Tip:

Analyze user engagement by post type and see how content resonates with audiences.

Enjoying the post? There's more.

Sign up for our newsletter to get our best content by email.
6. Traject Social — SMM for agencies with multiple clients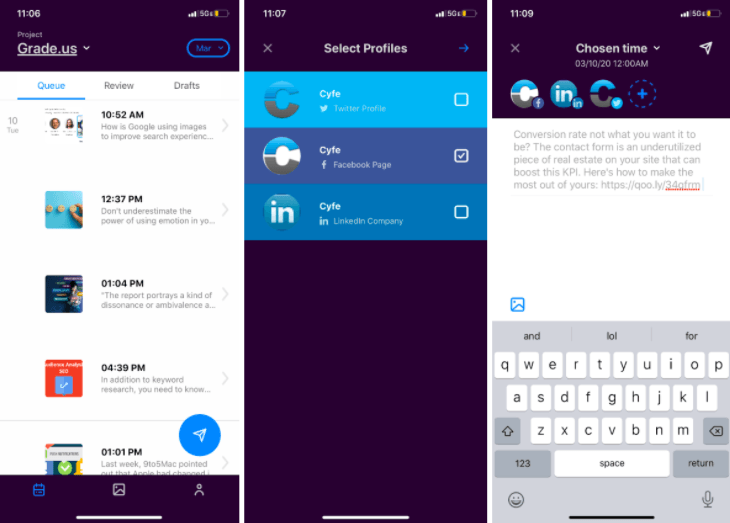 Traject Social is a social media management software that covers every aspect of maintaining a meaningful brand presence on social networks. It's a perfect fit for SMM agencies working with multiple clients as it offers scheduling, publishing, and white label reporting on hundreds of profiles — all organized neatly under one dashboard.
On the analytics front, Traject Social offers automated reports packed with every KPI you can think of, as well as continuous monitoring of social metrics such as audience growth, engagement, and goal performance broken down by platform. As part of more in-depth audience analysis, the tool also delivers demographic and geographic insights that power further marketing decisions.
Traject Social lets you benchmark social data analytics by providing a side-by-side comparison option for individual profiles and social platforms. Similar to other social media analytics tools, Traject Social will also run a deep scan of the types of content that deliver the most engagement, suggest the best time for posting, and offer insights on the social media platforms that work the best for the brand.
Pricing: $49-199/mo; a 14-day free trial is also available.
Tip:

Compare your top-performing social profiles to identify gaps and growth opportunities.
7. Quintly — custom metrics and integrations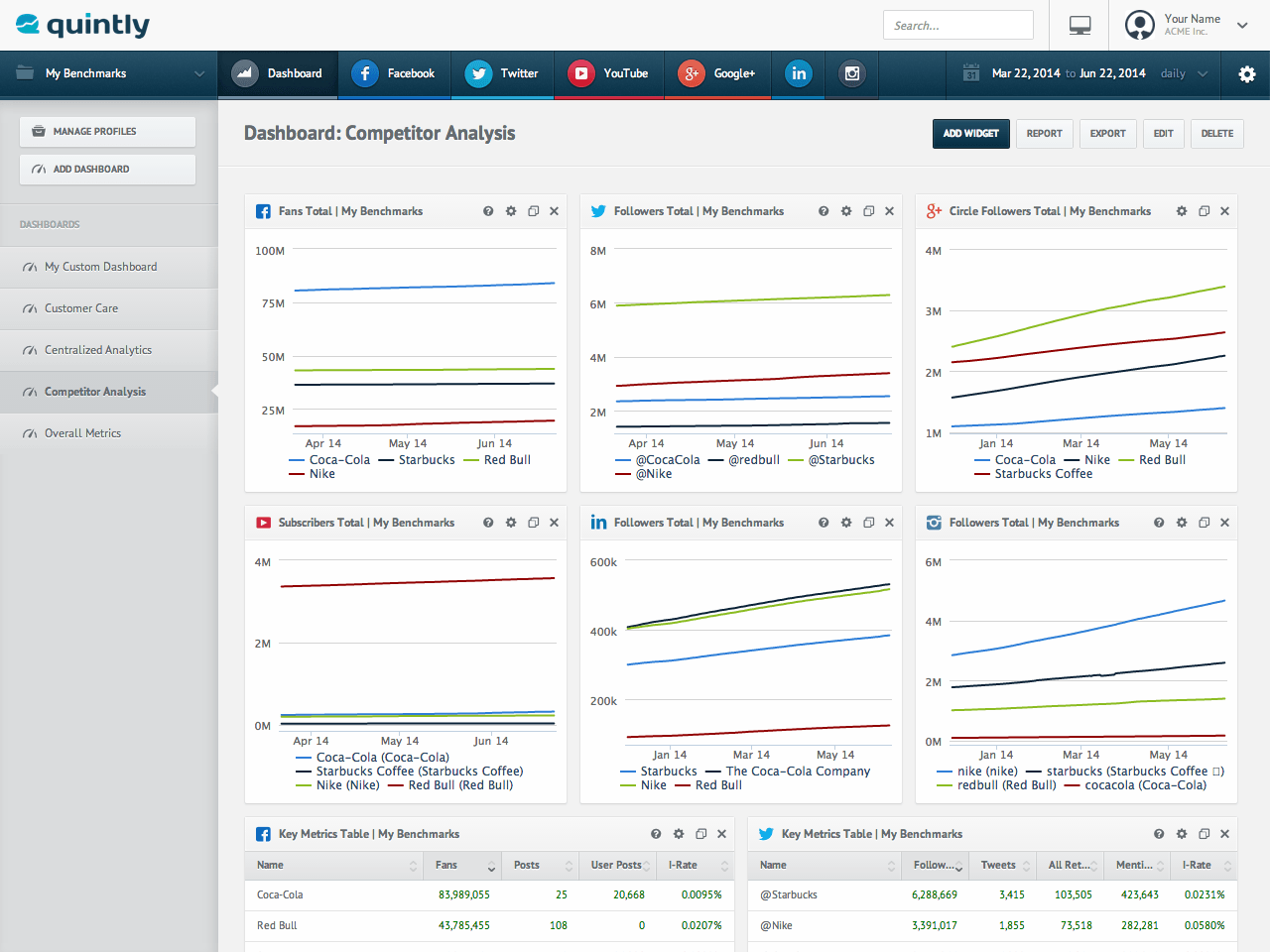 Quintly is an advanced social media analytics tool that offers solutions to brands, agencies, and media. It boasts 350+ customizable metrics and flexible dashboards to make sure you can focus on the KPIs that matter to you the most. With so many reportable metrics to choose from (+ you can add your own), analyzing and reporting becomes a breeze. If you need social data integrations into business intelligence systems, Quintly is your perfect option.
Since the tool offers flexible dashboards, organizing your social profiles and metrics can be done easily and efficiently. To help you get an even better perspective on your social performance, Quintly offers benchmarking options that extend from comparing your own social channels to running a competitive analysis. Facebook analytics, Twitter analytics, Instagram analytics (including Stories), as well as LinkedIn, YouTube, Snapchat — with Quintly, you're fully informed on your brand's social impact.
Pricing: custom plans start at $300/mo.
Tip:

Integrate social data points into your custom dashboards via API.
8. Socialbakers — AI-powered cross-channel insights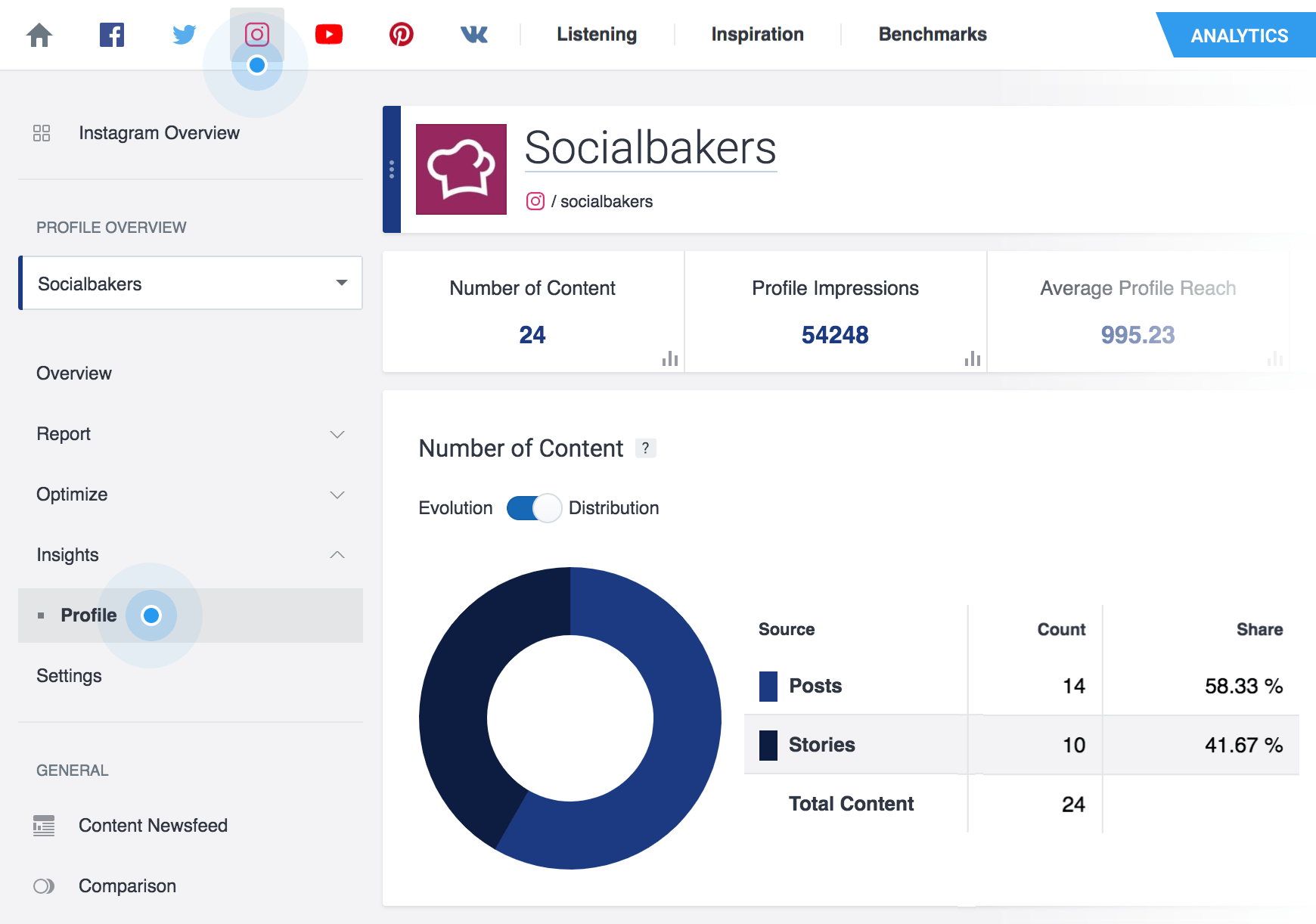 Socialbakers is a 360-solution for social media management and an analytics platform powered by AI insights. It offers features for every step of maintaining a brand's social presence as a team: planning, reviewing, posting, managing messages, and collaborating efficiently. Socialbakers measures performance across social channels, provides extremely detailed, AI-powered insights, and helps you automate most of your analysis tasks.
On top of that, the tool has you covered on advertising benchmarks, with next-generation insights on the actual ad account spending on any given day. Meanwhile, Socialbakers' AI is there to help you instantly measure and benchmark influencer marketing impact and measure the potential of your prospective brand ambassadors.
To understand the full impact your activities are having both on social media and the web, you can refer to the tool's multi-channel ROI attribution insights. This way, you're empowered to translate your social media efforts into business KPIs and easily see all causations in your social media performance.
Pricing: available upon request.
Tip:

Automate your social data analysis for every post and comment.
9. Union Metrics — strategizing with guaranteed results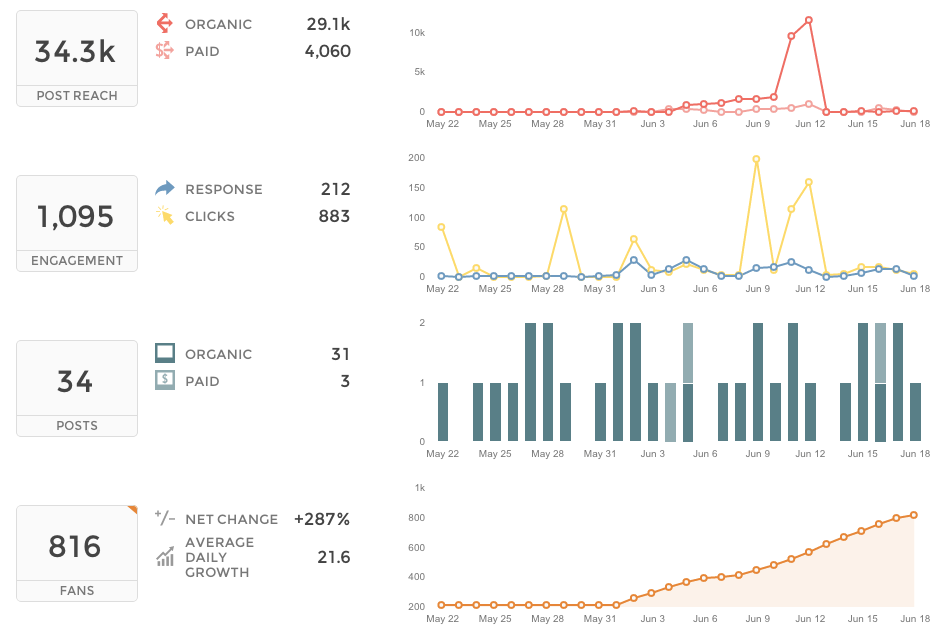 Union Metrics is a social media analytics tool that offers real-time monitoring and insights across social media channels. This includes best- and worst-performing posts, the optimal time for social media content to be uploaded, as well as trends, profile analysis, and even content mix suggestions for maximum user online engagement.
Union Metrics is a great option for campaign tracking and analytics, as it delivers real-time insights ranging from social conversations analysis to new opportunities for growing campaign reach as you go. Similar to other social media analytics tools, Union Metrics provides competitive intelligence and industry analysis for better targeting and reverse-engineering of best-performing strategies.
A Twitter Official Partner, Union Metrics gives you full access to the social network's archive and provides comprehensive data support for your next social marketing move. Moreover, you get to analyze your Twitter accounts, keywords, and hashtags potential for more effective planning.
Pricing: $49-199/mo; a free trial is available upon request.
Tip:

Plan and test-drive your Twitter campaigns with predictive insights.
10. Google Analytics — social data analytics as part of SEO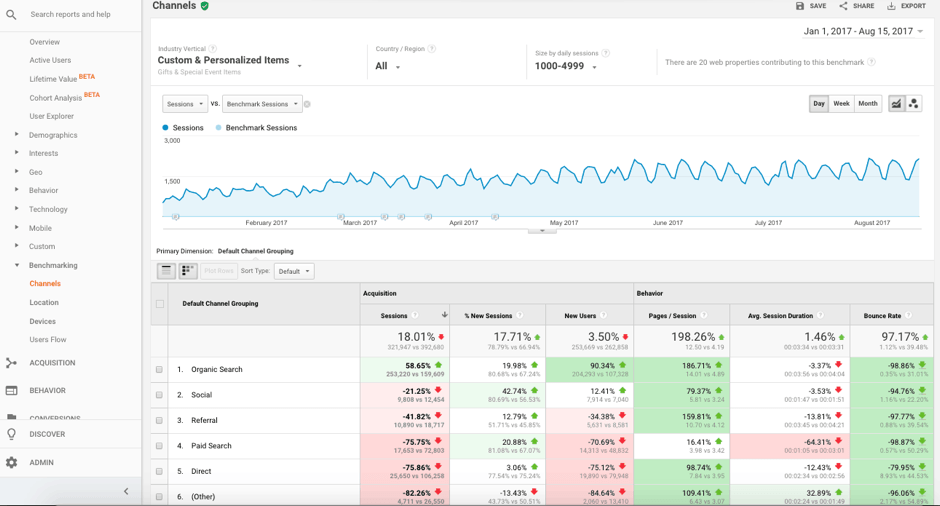 Google Analytics is one of the most tried and tested website analytics tools. However, its analytics are not limited to websites and extend all the way to social media channels that can make or break website traffic. The tool offers social media reports full of valuable social media analytics ranging from campaign ROI to sales conversions. The trick is to put some time and effort into learning how to get the social insights quickly.
Once you got your Google Analytics workflow sorted out, jump right into reports and explore your traffic by channel, social media traffic, as well as multi-channel reports and UTM campaign results. These will help you see, among other things, which of your social profiles brings the most visitors to your domain, or how effective a social media campaign is in referring new visitors to your website.
Pricing: you can check referral traffic, social conversions, and traffic flow for free.
Tip:

See how effective your social media activities are in bringing people to your website.
Bonus tool: Social Status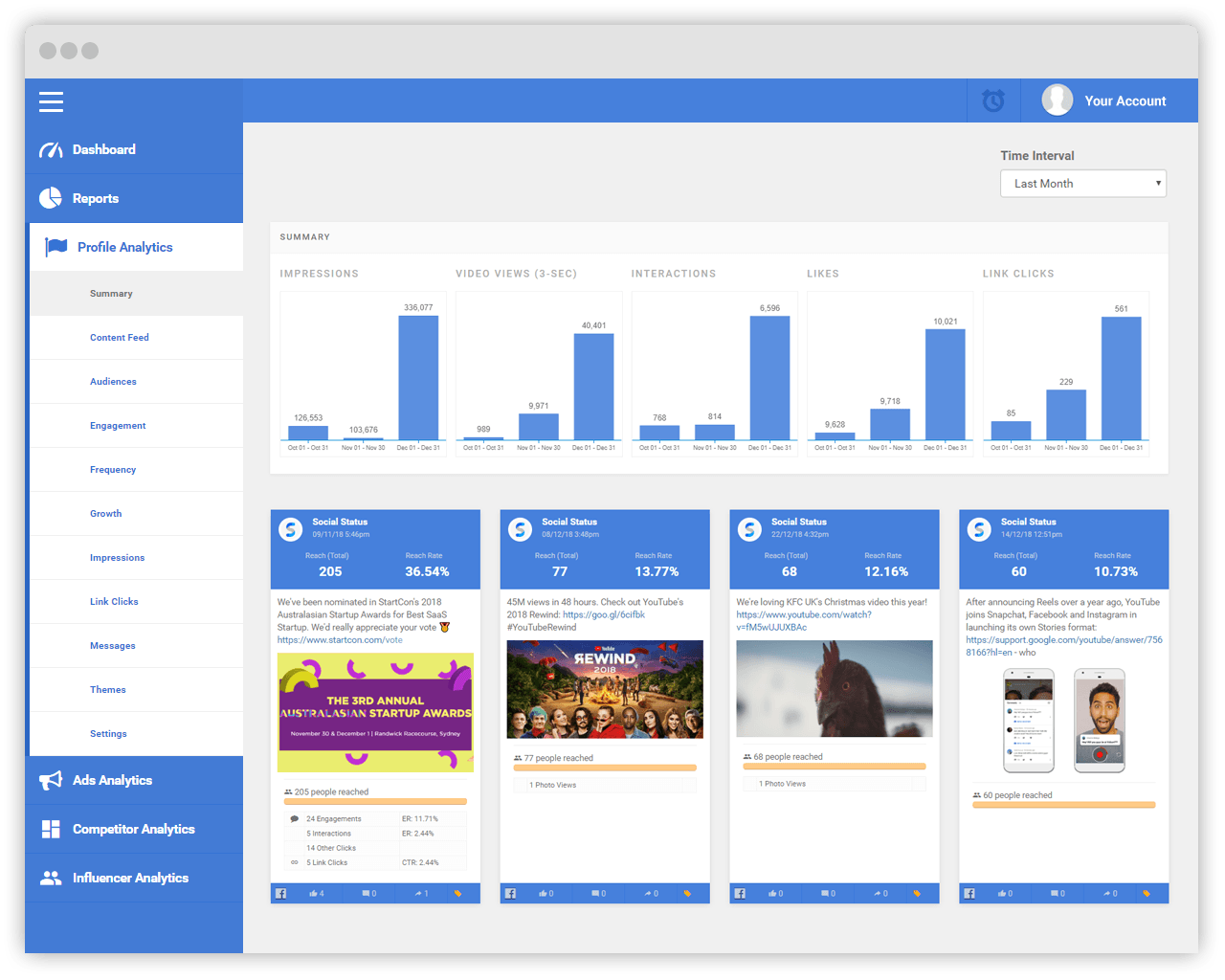 Another tool on our list, Social Status, combines four powerful social media analytics tools. It provides in-depth metrics on Twitter, Instagram, YouTube, Facebook and LinkedIn. The metrics include impressions, reach, views, engagement, growth, and clicks. You can break down the performance by day, time, frequency, and media type. The tool also shows audience demographics and follower count. Besides, Social Status performs ads analytics, competitor analytics, and influencer analytics.
Pricing: all four analytics tools are available from $29/mo. Social Status also has a free option.
Wrapping up
The world is big and social media is in many ways even bigger. Yet it's full of insights that can make a difference to the way you run your business — from planning and executing marketing activities to generating leads and growing conversions. Make sure you invest some time in exploring social media analytics as those are the shortcuts to reliable metrics and data-grounded guidance in your business and marketing decisions. I hope my list of social media analytics tools helps you navigate among the many options and pick your perfect toolkit.