Brand health: what it is and how to measure it

Article summary
In common sense, brand health shows is your brand OK or not. In terms of marketing, this indicator helps you see where your brand's strengths and weaknesses are and whether your strategy performs well. In this article, you will find brand health metrics and learn how to use them.
A strong brand is important for the company's success – I am sure you agree. It boosts sales, attracts talent and free publicity. So, where's your brand at? Do people know about it? How do they perceive it? What is your brand associated with? How does it stand in relation to its main competitors?
Here brand health tracking comes in handy!
What is brand health?
The term "brand health" tends to confuse people. Is it just another buzzword? Does it have anything to do with the viruses? Should you be worried?
First, this is obviously an unfortunate term. While "health" sounds like something broad and vague, "brand health" is just a collection of metrics that shows you how well your brand is doing. Not your company (for that you have your sales numbers), but your brand.
There is no single correct brand health meaning. However, all they are based on customer experience and emotions associated with your products or services.
According to Rob Rush, a Deloitte Risk and Financial Advisory managing director, a healthy brand delivers consistent, memorable, and differentiated experiences for the customers.
Less satisfactory brands are perceived differently. Customers have little emotional connection to them and do not distinguish them from similar products.
Why measure brand health?
Brand health shows you where your brand's strengths and weaknesses are.
Should you focus on getting the word out? Or on improving your reputation? Does improving your reputation means halting controversial marketing campaigns or upgrading your customer service?
The numbers behind "brand health" metrics will give you answers to these questions.
Measuring brand health helps you get precious marketing insights. For instance, you take increased brand awareness as a good sign. However, brand awareness can be either positive and negative. When Facebook users are scolding your new product or service, you will get a big number of brand mentions, and with them – gain notoriety.
This is why you need to dissect every metric.
Brand health monitoring gives you answers to clarifying questions as "What's behind these brand mentions on LinkedIn?" or "Is my reach bigger than competitive brands have?"
Besides, the brand health check is an effective way to understand your position on the market, reveal your competitors, and listen to your employees and clients.
Of course, you can ignore brand health study and continue to collect raw data like the number of likes or followers. Unfortunately, these are just details, not the full picture.
Also, your brand health matters for personnel recruitment because strong experts prefer to work with strong brands.
Let's get to know the key brand health metrics and learn how to assess brand health.
Protect your brand reputation.
See Awario in action with a free 7-day trial. No credit card required.
By signing up I agree to the Terms of Use and Privacy Policy
Brand health metrics
There are metrics that can you analyze and measure your brand health:
Brand awareness
Brand reputation
Employee engagement
Brand positioning
Share of voice
1. Brand awareness
A social media monitoring tool shows how the number of brand mentions has grown over time. It shows the volume of conversation online and its dynamics, as well as where and when the conversations happen.
It answers questions such as:
Where do people talk about your brand?
Which countries, states, cities?
Which social media networks?
Which news sites?
You get all of this information in real time. Similarly, you discover when the conversation happens. Does the buzz online correlate with product launches, marketing campaigns, high season? Or does it depend on something else completely?
The mentions' growth graph provides you with this information.


2. Brand reputation
Knowing the level of conversation around your brand, its growth over time, and what this growth depends on is a good start. However, it's also important to know what it is that people are saying about your brand.
Awario breaks down the mentions into positive, negative, and neutral to give you a clear idea of your brand's reputation on social media.

To not only know the overall number, but understand the details, you can look at positive, negative, and neutral mentions one by one in the mentions feed.
You can also look at the topic cloud that shows the words that appear most often around your brand.

Follow this link to see more brand reputation tools.
3. Employee engagement
Thinking on how to measure brand reputation, companies often overlook this metric. For some CEOs, it is insignificant. However, up-to-date statistics can change such opinion.
For 66% of zoomers, a company's values matter the most, global marketing agency LEWIS finds. Just 1 in 5 employees would work for a company that doesn't share their values. Some of the recent HR trends and statistics show that employee engagement has direct effect on the profitability of the company too.
What does this mean for brand reputation?
The more engaged your employees are, the more brand advocates you have. People who like their job tend to share ideas, events, updates of companies where they work on social media. Just remember all these LinkedIn posts about beginning a dream job in Google.
On the opposite, dissatisfied employees often become a part of public HR scandals.
For example, in 2019, an American real estate company WeWork faced financial troubles and leadership issues due to toxic corporative culture. Employees complained about the company's CEO, Adam Neumann. It reported that he had created a culture where nobody could challenge him. Also, he was accused of discrimination and harassment.
Major media outlets as The Wall Street Journal covered the story. As a result, Neumann had to step down. Besides, WeWork shelved the upcoming IPO and lost more than $11 billion.
4. Brand positioning
Brand positioning defines what your customers are associated with your company. Is your brand get them inspired or make them stand out? Maybe, the reality is different, and people don't understand the message behind your company's mission.
This is why you need to check this metric within the brand health tracking study.
Apple, Tesla, and Nike are good examples of companies that have strong and clear brand positioning. Their missions are based on modern design and innovations. As a result, their customers consider themselves part of the brand. For instance, Apple users believe they are innovative and creative, Tesla drivers are eco-friendly and exclusive, and Nike sports lovers are full of inspiration to conquer and win.
However, there are a lot of brand positioning failures in the history of marketing. One may recall, a Colgate case. In 1982, a minty toothpaste producer tried to hit the market of frozen ready-to-eat meals and launched Colgate Kitchen Entrées.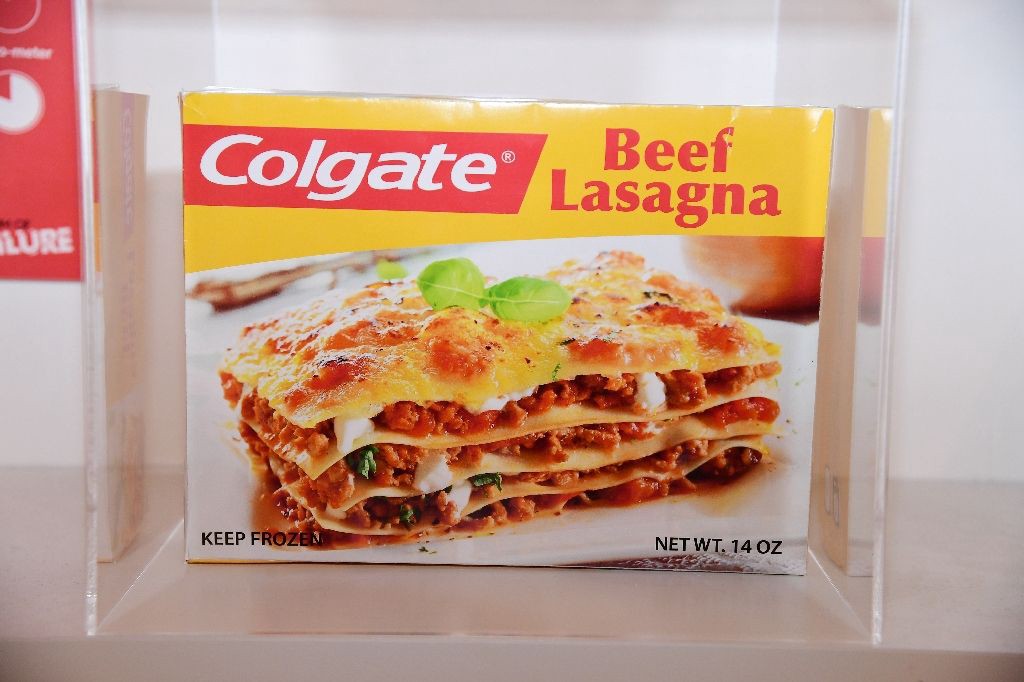 Customers didn't appreciate that idea. Colgate frozen lunches quickly ended up in the consumer graveyard. Besides, that campaign decreased Colgate toothpaste sales.
5. Share of voice
You can't know where your brand stands without comparing its results to the competition. That's when the share of voice metrics enters the room.
By monitoring not only your own brand, but also the brands of your competitors, you discover the share of voice that belongs to your brand on social media. This is a vital metric for benchmarking your brand's success.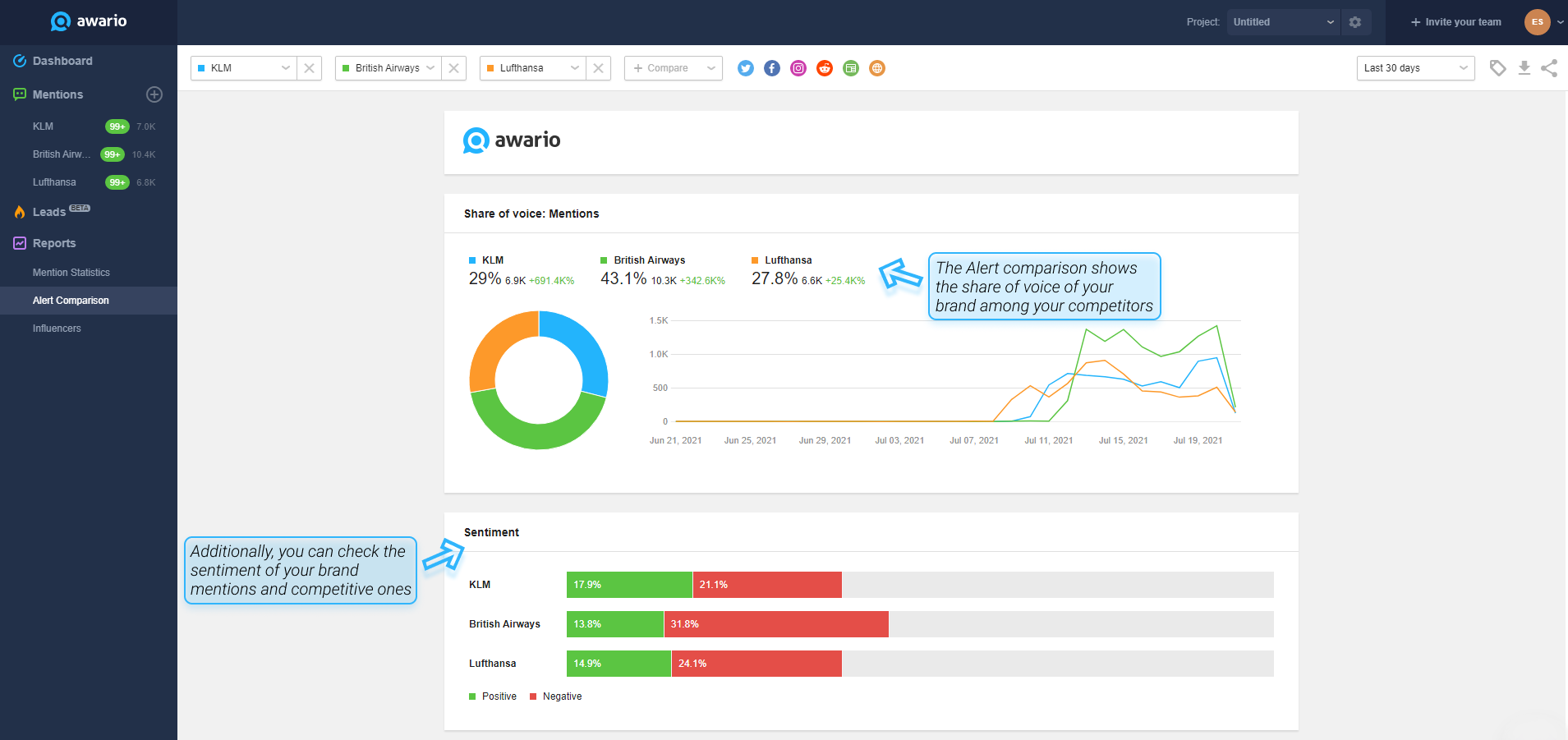 How to assess brand health?
There are three common ways to measure brand health:
Social listening
Focus groups and surveys
Customer feedback
Let's go through these methods one by one.
Meet your personal brand health assistant.
Try fully automated, 24/7 brand health monitoring with Awario for free.
By signing up I agree to the Terms of Use and Privacy Policy
1. Social listening: monitor the number of mentions around your brand and social media sentiment
Social listening shows brand awareness, brand reputation, and share of voice – the most demonstrative brand health metrics. All these metrics are measured on social media (social networks, news sites, blogs, forums).
Note: this means that if your target audience doesn't spend time on social media, social listening won't work for you, and you have to move to other methods that will be described later. Read further if your target audience is like most people out there and hangs out on social media quite a lot.
Social listening implies using a social listening/social media monitoring tool that finds mentions of keywords on social media networks, news, forums, and the web.
In case you wondered, our own Awario is such a tool and we use it successfully to measure our own brand health. Very meta, I know.
After collecting mentions of the brand (but also of a product, CEO, or any relevant hashtags), the tool analyzes the mentions to show you the big picture, including the sentiment analysis.
Enjoying the post? There's more.
Sign up for our newsletter to get our best content by email.
2. Focus groups and surveys: collect in-depth qualitative data
Social listening gathers information that people put up online themselves. This means that this information isn't biased by the questions asked.
However, sometimes we need the answers to the specific questions. That's when we need good old focus groups and surveys.
In-depth qualitative data provided by the participants will give a clearer understanding of how people see the brand.
These methods will help you to define your employee engagement and brand positioning as well.
3. Customer feedback analysis: spot customer needs, suggestions and complaints
After you've had enough information from your target audience, it's time to focus on existing customers. In many cases, brand reputation and brand awareness are made by customers. They either make it or break it, tell all their friends about it or keep quiet, leave good reviews or bad ones.
To gather customer feedback, most companies turn to interviews. Conducting regular interviews provides marketers with detailed insights into brand health. You can get the information on what the customers like and dislike about the brand, how their perception of your brand has changed over time, why they chose your brand and not your competitors' brand, and so on.
To collect customer feedback, you can use simple feedback forms or conduct in-depth interviews. Ideally, it makes sense to do both and do it regularly, however, unlike social listening, this one takes a lot of resources.
Brand health tracking
Organize your data
After you've gathered all kinds of data, it's time to pause and try to make sense of it. For qualitative data, you have NVivo and similar software that lets you analyze the interviews and draw conclusions on common themes.
By the way, here is the list of marketing tools for analysis.
For quantitative data, you have Excel (Excel is famously magic). Here's how your data set might look like:

You can download this template for free. With Awario, you can speed up calculations there. For example, to get your Net Promoter Score, add to the table relevant parameters from the Sentiment report. The tool reveals the percentage of negative and positive mentions automatically.
Brand Health template.
Get your template with the key brand health metrics for free.
This is obviously just the beginning. In time, you'll see the "healthy" and "unhealthy" months, as well as weaknesses and strengths straight away. And work to get your brand in the best possible condition.
Final thoughts
The brand health check is a great way to be sure that the image of your company is OK. Maybe you already track some of its metrics as brand mentions. Then, all you need to start is adding two or three columns to your content marketing or SMM report.