5 brilliant Facebook marketing examples

Article summary
In this article, we gathered inspiring examples of Facebook marketing, from specific campaigns to individual posts. Get some tips and try new tricks!
12 minute read
Brands that know Facebook marketing
Facebook is trickier than it seems when it comes to marketing.
Firstly, it's desperately hard to get anywhere without paying for Facebook Ads (but still possible as ALS Bucket Challenge proves).
Secondly, even with the most precise targeting and amazing reach metrics, conversions from Facebook posts aren't always what you expect them to be.
So how to make sure your marketing efforts and social media budget don't go wasted? I suggest learning from the best Facebook marketing examples. In this post, I've gathered brands, big and small, that do it right - specifically on Facebook.
1. Slack: perfect message for your audience
Slack - a cloud-based team collaboration software released in 2013. Their Facebook page counts more than 130 000 followers.
Besides having a helpful, responsive, and full of images Facebook page, they rock Facebook Ads. Here's an example of one: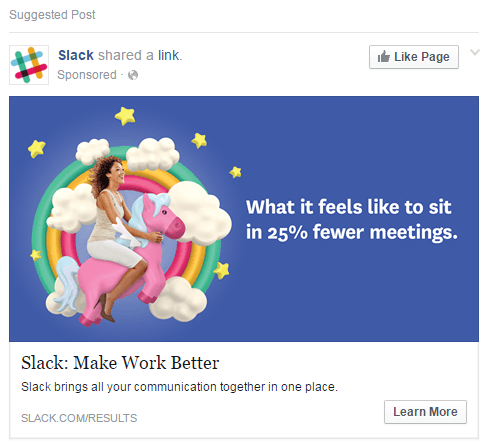 Other slogans include "What it feels like to get 48% less email", "What it feels like to be 32% more productive", and so on.
See what they did there? In their copy, Slack is solving the problems every member of their target audience has.
Not just that, they are solving it with very precise numbers, which makes us feel that they know what they're doing - it's not just a whimsical promise. Now that you've appreciated the written part of the ad (including the one when they explain in short what the app is for), take a look at the image.
It has everything: it's so bright it will catch your attention any time; it's positive, it promises fun in the tough world of work productivity. So really, it's not surprising Facebook drives conversions for Slack like crazy.
Sign up for a free Awario trial
See Awario in action with a free 7-day trial. No credit card required.
By signing up I agree to the Terms of Use and Privacy Policy
2. Nike: just do it (design amazing content strategy)
As I said, we'll be going through different types of companies, and even if you feel like it's easy for Nike with their golden marketing budget, there's still a lot we can learn from them.
Nike is the absolute star of social media - the main brand page has around 35 million likes. That's bigger than a substantial number of countries... So what are their tactics?
a) Almost every update lately is a video.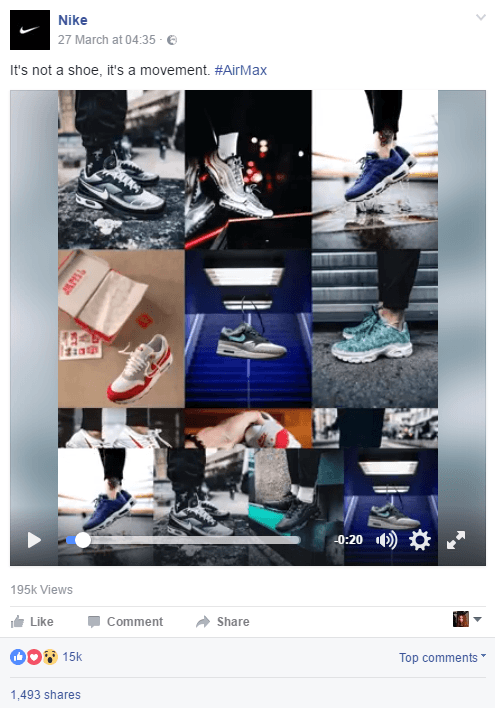 Full video: https://www.facebook.com/nike/videos/10154765645488445/
Some videos are literally just a combination of photos (as the one above), but they are still posted as a video. Nike must know something! (Namely, those videos work better for Facebook).
b) Nike has a separate Facebook page for many products.
For example, Nike Football has more than 44 million likes.
This tactic makes sense if you offer diverse products: some people might be interested only in the updates of one kind.
For example, if you're selling electronics, you can have a specific page for the most popular product category - TVs, or headphones, or mobile phones. Your users will be much less likely to unsubscribe and convert.
с) Nike has stressed different major points throughout its existence.
This year, their social media is all about equality, women's rights, underdogs, and so on.
There is a good explanation for that - it's a trend. Nike keeps a very close look on every controversy that happens in their industry (or is vaguely connected to their industry), and makes a stand on it. As you can imagine, there's nothing like a controversial trendy topic that produces hype and engagement.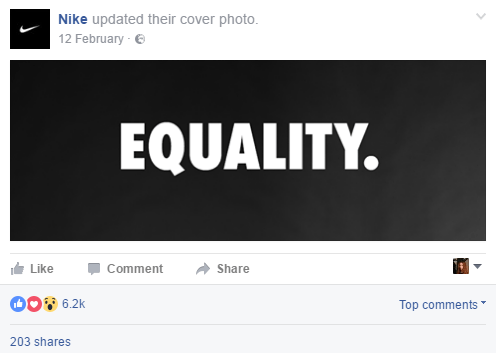 Besides, if Nike can play on supporting underdogs being the biggest sport brand in the world, so can any business :)
Don't miss our next analysis.
Subscribe to Awario blog to get social data analyses, case studies, and social listening how-tos in your inbox.
Let's make a major shift to something completely different and look at motorcycles.
As it says on their Facebook page, Biltwell makes the parts and accessories that make riding and building custom motorcycles more fun. It probably wouldn't drive much engagement if Biltwell just posted their products. So they are doing something completely different: they're building the image of the brand with the Facebook page.
Their page is filled with beautiful photos of nature, people, and motorcycles, and quotes about being wild, tough, and free. Like these: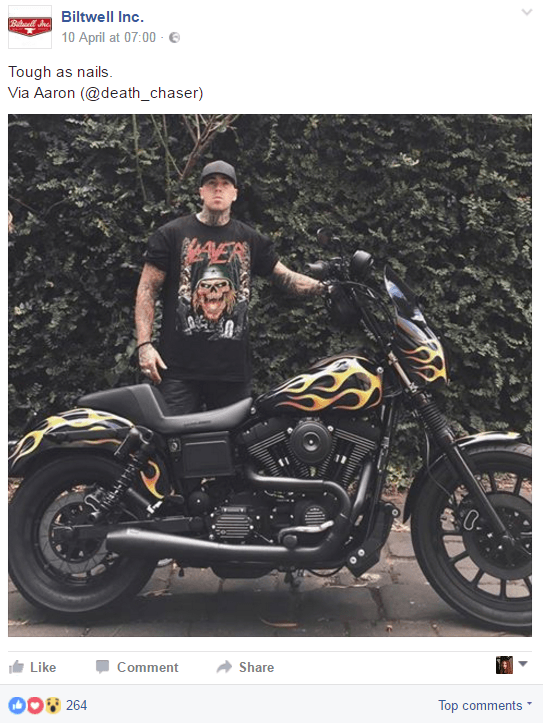 It has around 130 000 likes and people actively engage with the content.
Customers also seek support, praise, and review the brand on their Facebook page, while Biltwell stuff provides "excellent" customer service according to most reviews.
They also practice best "customer service on social media" practices, such as sending free accessories to some of their active social media customers.
What's the secret and how can you use it with your own brand? The secret is knowing your target audience really well (OK maybe that one is not such a secret) and showing with every step of your Facebook marketing campaign that you understand your target audience. You know they enjoy speed and nature, and are absolutely tough.
With every photo and with every quote Biltwell associates themselves with the freedom that is motorcycling for their customers, and makes sure they'll be the first to come to mind when the customers will need parts and accessories for their bikes.
4. Red Bull: create a story
And finally, Red Bull. Their whole marketing strategy is impressive, and it's no less impressive on Facebook.
Their page has 47 000 000 likes (and remember, it's a $2 energy drink, people aren't on their page eagerly awaiting a discount so that they can finally afford the product). How did they get there?
Thing is, Red Bull isn't a company selling energy drinks - it's a publishing house. They are what everyone is wishing to become.
Red Bull creates content and makes people associate this content with their brand - much like Biltwell does. But while accessories for motorcycles have a lot to do with, well, motorcycles and the life they promise, Red Bull has not that much to do with sports. Let's face it: people either drink it in the university libraries to keep studying, or mix it with vodka at parties, or drink it not to fall asleep while driving after a hard day.
So that's real Red Bull's target audience. But who are they? Students and active young adults. And what do they want to see on Facebook? Epic, exciting things. So on Red Bull's Facebook you won't see promotions, free cans, ads, or indeed anything that hints that you should go out there and buy some Red Bull. You'll see photos, videos, and stories of people mountain biking, bungee-jumping, skiing, and outrunning.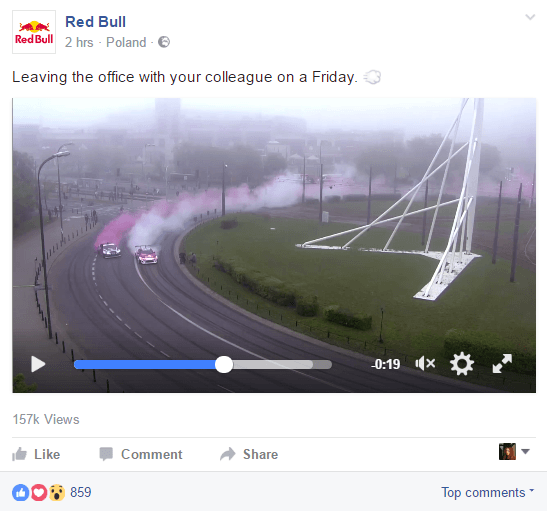 The world of Red Bull is the world of extreme sports. You "Like" their Facebook just to see all the crazy things that people can do - if you're into that at all. And while watching a girl praying and then jumping from some enormous cliff and someone driving a motorbike on the roller-coaster, you get a vague feeling that some Red Bull would be nice.
Sign up for a free Awario trial
See Awario in action with a free 7-day trial. No credit card required.
By signing up I agree to the Terms of Use and Privacy Policy
5. Volvo: use new tools
Volvo has upped the ante when it comes to Facebook ads, tapping into the power of augmented reality (AR). When the car brand launched a new electric SUV, it turned to Facebook ads to drive product awareness.
Like most industries, the auto industry has faced challenges due to the COVID-19 pandemic. It's been especially challenging for car companies, considering these purchases have historically mostly been made in-person. But the pandemic has shifted these behaviors, and Volvo needed to respond. That's where AR technology came into play.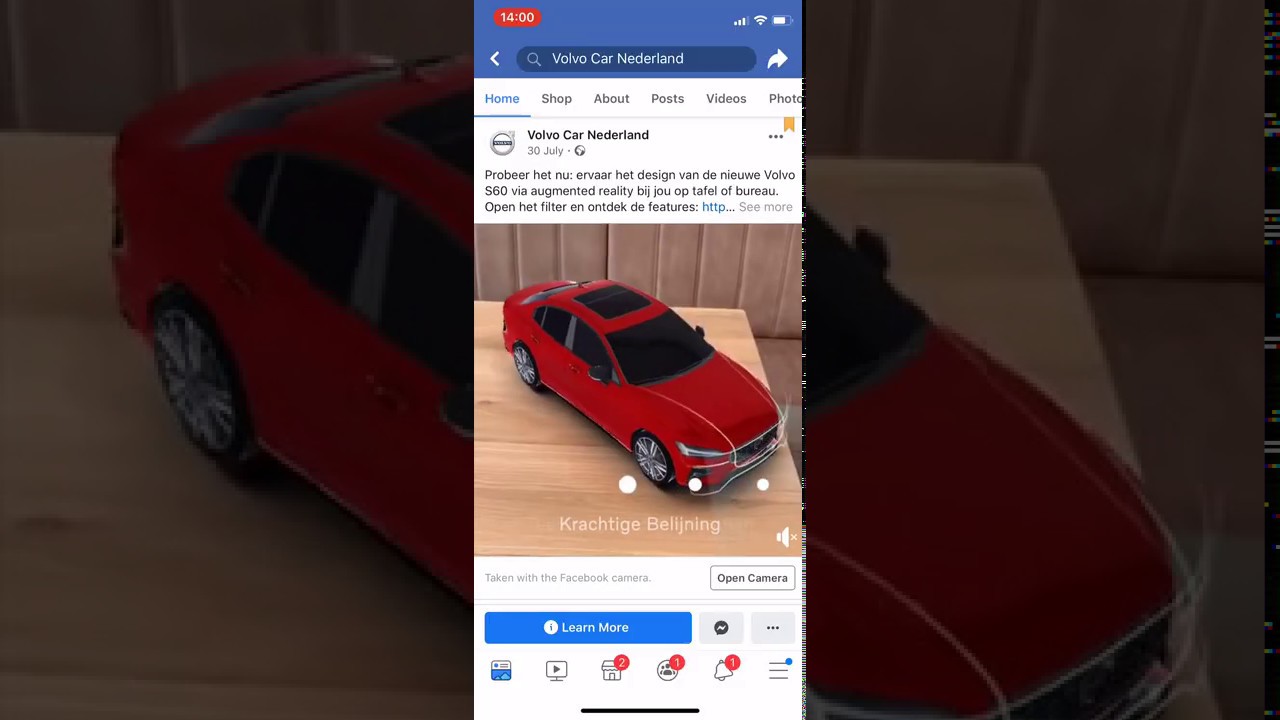 Users were served an interactive ad that highlighted the vehicle's various features. It created a safe online shopping environment that mimicked the in-person experience as closely as you can through a Facebook ad. The campaign led to a 6.7-point increase in product awareness.
---
Feel inspired yet? Get out there and start a Facebook campaign that I'll include in the next list :) Don't forget colorful images, videos, consistency throughout the page, and powerful messages that show the kind of life that is behind your product. Good luck!