19 native Facebook features that can boost your marketing campaigns (the ultimate list)

Summary
Facebook is packed with lots of bells and whistles for marketers. Check out the top 20 features that can turn your marketing campaigns into a smooth and easy journey
21 minute read
As marketers, we are always searching for the latest, hottest features that will make our lives a little easier. And that's cool. But, if like us, you've got a hot-feature list as long as your to-do task list, then it's time to make some changes. Check out our list of the top Facebook features for marketers that really make a difference and save yourself some data space. The rest? Close the tab and forget about 'em.
Top Facebook content hacks
But where to start? Time to up your content game online with these unmissable Facebook content hacks that will help you to stay on top of the latest trends and connect with your audience.
Sign up for a free Awario trial
See Awario in action with a free 7-day trial. No credit card required.
By signing up I agree to the Terms of Use and Privacy Policy
Save relevant info with "Save link"
Seems obvious, right? Facebook is a goldmine of inspiring ideas for marketing campaigns. But what if you've run into something interesting in your newsfeed worth sharing with your team, yet you're busy with other things? Hold onto the best ideas for later with Facebook's "Save link" feature.
Save link allows saving any link, video, photo, or post and getting back to it whenever you want. The saving algorithm is simple, you need to click the three dots in the corner of the post you like and pick up "Save post" in the dropdown menu. Now, you don't need to worry that you might lose an excellent idea in the hectic information flow. Save link works as a strongbox for the best content samples you can find on Facebook. The difficult part? Remembering that you saved it.
Search published posts for specific phrases and insights
If Facebook is one of your main social media platforms and you run dozens of marketing campaigns there then finding a particular post you published a month ago can be a real challenge. Mark Zuckerberg foresaw this problem and added a simple, yet, effective search to Published Posts in Ads Manager.
In the search bar, you can look for certain posts by keywords or specific phrases. This way, you'll be able to quickly get to the posts you need, check their reach and engagement, or get ideas and recycle them for a new marketing campaign. Handy? We know.
Filter your page posts by type
While searching posts by keywords is effective, not all of them contain words or phrases. For example, videos or images won't always show up on these searches. In this case, Facebook also has a solution—filtering posts by type whether it's a video, image, or polls.
To filter your posts by type, you need to get to the Activity Log in the left corner of the Settings sidebar. There you'll find a list of your posts in chronological order to which you can apply various filters—by photos, videos, spam, comments, events, and others.
Find music for your videos available in Meta Business
Facebook offers its users an entire Sound Collection where you can find free music and sounds for your videos. The social media network lets you download tracks from the site and use them in your video editor. You can mix and alter the downloaded tracks though you can't share them with other people, only in the videos you create and upload back to Facebook.
Sound Collection makes it easy for marketers to quickly find and use the music in their promos and they don't have to worry about any audio copyrights.
Next-Level Facebook engagement hacks
Like a Facebook page as a brand
Liking other businesses' pages is a great way to support other brands and show your interests. That said there are two "liking options" on Facebook. You can like other brands and influencers from your personal page, which makes little sense if you want to be noticed as a brand, but may make sense if you're building your personal profile, or do it from your business page.
While putting like from a personal account is easy, for a business page it requires a couple more steps than just finding the thumbs-up icon. To put a "brand like" you need to log into your business account and find the brand you want to like.
Interact with posts from the correct profile
Facebook is home both for individual users and businesses. While it is handy, people often have several accounts they access from a singular device. If this is you, then we're sure that you've been in a situation where you've almost answered a question about your brand from your personal account or commented on your friends and relatives from your business one. Not cool, right?
To get this confusing situation straight, you can select to always post either from your personal account or your business page. Just go to Page Settings and click the Post Attribution option on the left sidebar to tune it up, and make sure your account is consistently set to one profile or another.
There you can choose to always post as your business account or your personal profile page. Though don't worry, you don't need to switch your pages in settings each time you create or reply to a post, you'll still have an option to post as another profile or page.
Welcome new group members
Facebook has been putting a lot of emphasis on Groups and to encourage their growth and popularity, it provides Group managers with tons of tools. If you're a group manager and there is a new Group member who has just joined your community, don't let them get lost and help them start contributing right away.
To make it more personalized, write a welcome post to your new members. For this, you can go to your Group and click Write Post on the right sidebar.
By the way, did you know that we have a group where we share exclusive updates on Awario and social listening hacks as well as answer your questions?
Acknowledge the most active group members
People who often post, comment, and react to your posts in your Group make it come alive and seem interesting to other Facebook members. To find out who are your top contributors and thank them, you can go to Group insights and check out the Member details tab.
There you'll see the top contributors who were active on your business page for the previous 28 days. Acknowledge them by publicly mentioning them in the group, encouraging others to do more of the same!
Turn post likes into Page fans
Facebook is a great place to go viral: people are ready to share the content that impacted them with their friends and to discuss it. But getting a boost in reactions and comments only creates a temporary effect. For a long-lasting impact from your viral post, ask people that reacted to it to like your page.
To suggest liking your page you need to click on the reactions under your post and see a popup with all the people who reacted to it. From there you can invite them to like your page.

Facebook Ads hacks
Gain audience insights (research and segment audiences)
Lots of marketers love Facebook for its detailed statistics on its audiences. As a result, it's simple to segment, target, and adjust marketing campaigns to them. Using Audience Insights in Facebook Ads is a perfect tool for learning more about your followers and finding new ones.
In Audience Insights you can check your Facebook audience demographics and behavior. This will give you more ideas on how to improve your marketing campaigns to make them even more effective and engaging.
You can also research which Facebook pages an audience with specific interests (for example, cycling) would like. You can find this information in the Page Likes tab. These insights can help you figure out the right audience for your ads.
Custom and lookalike audiences
Learning about your existing audience on Facebook opens the path to new followers. Using the lookalike audience feature, marketers can single out groups of people on Facebook who are similar to their audiences by certain characteristics.
For example, finding people with similar interests and hobbies, who are celebrating certain occasions like weddings or anniversaries, live in the same location, and more. As a result, the lookalike audience makes one of the most effective targeting features on Facebook.

Sign up for a free Awario trial
See Awario in action with a free 7-day trial. No credit card required.
By signing up I agree to the Terms of Use and Privacy Policy
According to Meta (parent company of Facebook), marketers can create up to 500 lookalike audiences using just a single data source. You can set up new lookalike audiences by going to your Audiences in Facebook Ads Manager and selecting Lookalike audience in the Create Audience dropdown. Then, pick up the source you use to create your audience, audience location, and size. Now, you'll have to wait a bit, Meta says that it can take 6 to 24 hours for Facebook algorithms to sort out its users and create an audience. Moreover, it'll also refresh the created audiences automatically every 3-7 days.
Create ads from existing posts
You never know when your post can go viral and challenging to find out why certain ones perform better than others. If you have several that you think will really hit a home run and catch a lot of attention, it's a good idea to convert them into ads. Turning your successful post into an ad will help you reach wider audiences, skipping the limitations of a boosted post such as targeting only by a small set of features.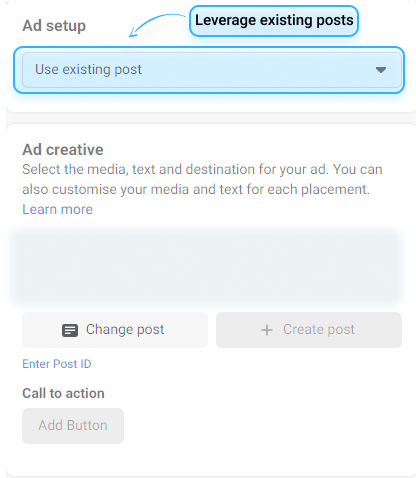 To do this, you need to create the campaign in Ads Manager setting up targeting and bidding as you do. Then, when you get to the creative part, click on the Use Existing Post tab. Here you can choose the post you want to turn into an ad.
Run split tests
Running split tests is an effective way for marketers to avoid over-budget spending. That's why it's always good to test your ads before adding them to your marketing campaigns.
When you create a campaign in Ads Manager, make sure you select the Create Split Test checkbox. This will allow you to launch split tests and adjust them depending on your marketing needs.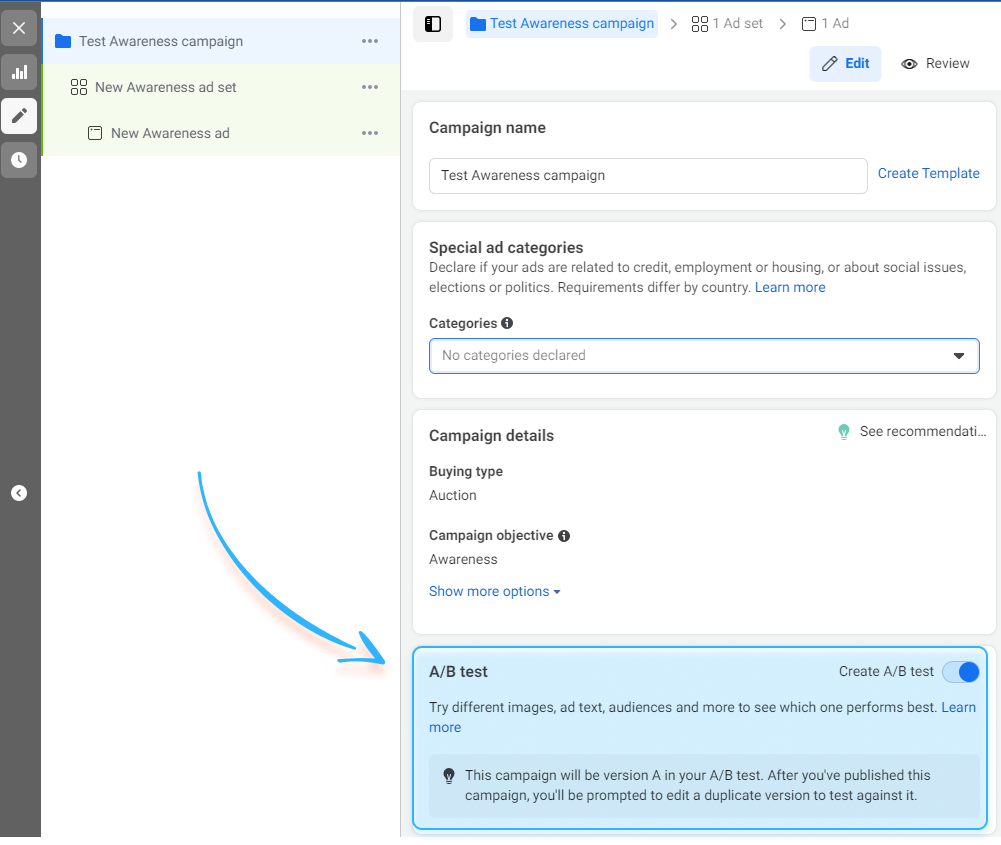 You can choose what kind of split tests you want to run—Creative, Audience, or Placement split tests. This feature will slightly affect the options you are given during the campaign setup: if, for example, you're split testing the audiences your ad is shown to, the options for selecting your ad targeting will reflect this.
Facebook lets you split your budget evenly across all tests or weigh it.
Monitor your competitors' Ads
Knowing what your competitors do and how they advertise is an essential part of any successful marketing campaign. Luckily, on Facebook, it's easy to check your competitors' advertising strategies with the Page Transparency feature.
Gain more insights into what your competitors do right or wrong about their ads with Page Transparency. For this, on a competitor's business page, go to the Transparency Page and click on it. You'll see a popup with various info about the page—Page History, People Who Manage This Page, and Ads From This Page with Ad Library. In the FB Ads Library, you'll see the ads your competitor is currently running and filter them by county. In More Details, you can check the ad versions for each ad, which content competitors use to create ads, and more.
Use lead ads
Facebook's lead ads are an outstanding opportunity for brands to collect leads for their products right on this social media platform. This way, customers don't have to leave the platform and go to an external website to register there once they're interested in the product. Brands, in their turn, don't have to waste time creating long registration forms or landing pages to offer their products.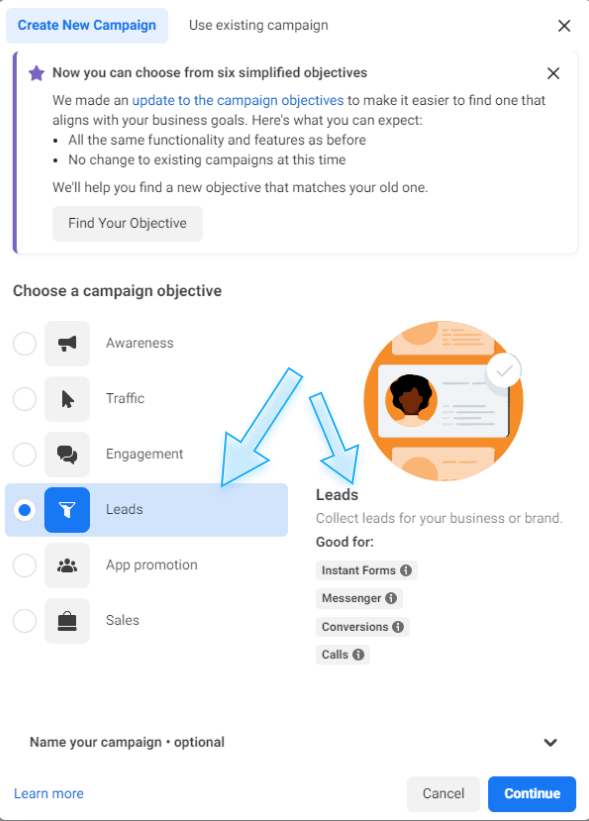 So, how can you collect lead information never leaving Facebook? Find the Promote option on your Facebook business page and click Get more Leads. There you can create various types of forms or use the default ones. Moreover, if you have your own website and you'd love to gather the lead data from there, Facebook also provides this opportunity by suggesting creating contact information forms for your website.
Remarketing ads
With the remarketing ads feature, businesses can effectively convert their followers into leads and minimize their bounce rate. For this, they use pixel tracking to identify the visitors who refused to buy a product for some reason and retarget their ads at them. These ads usually offer some attractive bonus that encourages the buyers to complete the purchase.
The main Remarketing ads benefit is that you can have a tailored approach to each customer and offer something that will convince them to buy your product. Whereas Facebook ads work better for segmented groups.
Placement Selection
Facebook ads can appear at different parts of the screen on various devices. Facebook creators have taken hold of this 'bug' and now help companies optimize their ad location depending on the goals they set and their ad performance.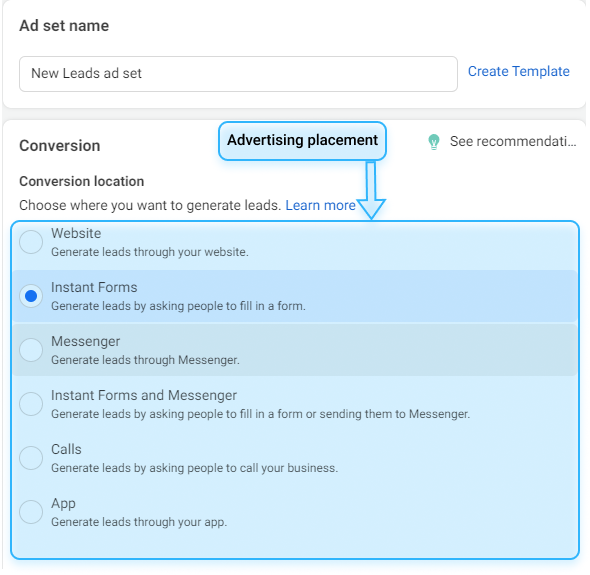 To choose your ad placement, you need to get to the Placements section in Ads Manager and set your ad objectives. The platform will suggest where is best to place your ad and explain the advantages of each location. If you have your own ad placement vision, you can always switch to Manual placements and adjust the ad to different devices by opting for Mobile or Desktop screens in the dropdown menu in Devices.
Attribution Models
Attribution models are an excellent opportunity for marketers to tune up their touchpoints when they're converting their followers into leads. Using these models, you can determine which touchpoints are essential to track during user conversion and during which time frame. This will help you estimate your ads' impact on Facebook and better understand the customer path weak points that should be improved.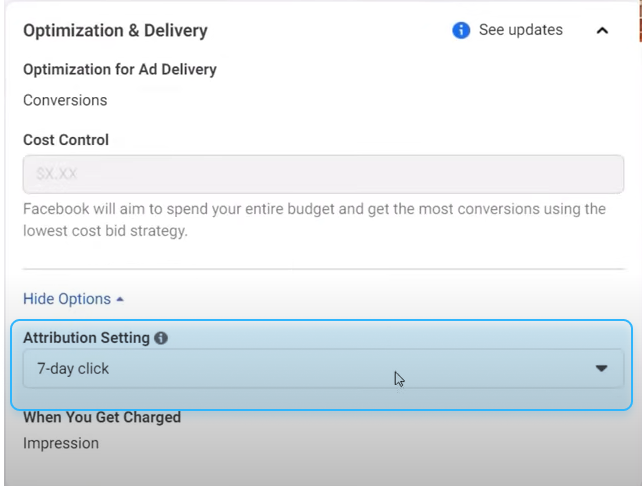 To choose the necessary metrics and touchpoints that you'd like to consider for your ads, you need to go to manage Adverts, choose Columns, and find the Change Attribution Window in Customize Columns. There you can choose various performance options and set the time during which Facebook will track actions users take after seeing your ad.
Conversion lift
Another valuable feature that can help you better understand the effectiveness of your ads is Conversion Lift. When using Conversion Lifts, marketers hold experiments where they compare two groups of people—the test group involves the people who have seen your ads and the control group includes those who haven't seen your ads. Then, by using the data from Custom Audiences pixel, conversion pixel, POS data, and other sources, Facebook compares conversions in two groups, providing the results in the Ads Manager.
With Conversion Lift, you can better realize how your ads work and impact people and how your marketing campaigns influence people outside the platform.
Let's get social…
After introducing the rebranded Meta company at Connect 2021, Mark Zuckerberg also planned lots of changes for the Facebook platform. Already in early 2022, marketers started noticing some of these exciting, new changes…and more importantly, marketing features. Since then we've spent a lot of time exploring the best ones and wrapping our heads around their functions. In this article, we've shared some of the ones we think are the most helpful, and hope you've learned a trick or two to make your marketing campaigns even more effective on Facebook. Got a trick that we don't know? Send it over to us on…you guessed it—our Facebook!