10 alternatives to paid Facebook Groups (and why you might want to start one)

Article Summary
Facebook's Paid Groups are a new subscription-based way to connect. But how do they compare when it comes to features? Let's look at the alternatives.
20 minutes read. Updated article.
A chance to step behind the velvet curtain, exclusive access, or a source of extra revenue for your business? Ever since Facebook's Subscription Groups were introduced, companies have been finding ways to effectively utilize them to boost their audience's engagement and revenue. But is this the best option out there? Let's take a look at Facebook's Paid Subscription Groups and the best alternatives on the market.
What is a paid Facebook Group and why might you need one?
In 2018, Facebook introduced its subscriptions for Facebook Groups. This feature, focusing on establishing closer ties between like-minded people, was carefully scheduled. Its purpose was to mitigate the annoyance linked to Facebook's privacy issues and news feed algorithms, as well as attract more community-focused and community-monetizing businesses.
In four years, after all the political and social storms around Facebook subsided, and Mark Zuckerberg rebranded Facebook into Meta, Facebook Groups still exist, together with a myriad of accompanying issues, and some benefits too. For example:
Facebook is well-known and easy-to-use platform

There is a potential market of 2.11 billion Facebook users

It's a great place for sharing paid content
However, alongside these benefits there are some other factors that make community founders reluctant to start groups on Facebook. Instead, they prefer other trustworthy alternative platforms to launch communities on, more of which we will explore later.
Why you might not want to use Facebook's subscription groups
Establishing and growing a community using Facebook Groups might seem an attractive option for lots of businesses. Facebook already has large, ready-made audiences that visit it daily, the platform is sharpened on advertising and brand promotion, and on top of that, it provides detailed follower analytics. It's true! Everything is likely to go smoothly. That is until you get into Facebook Groups details, here users sometimes find hidden pitfalls that encourage them to seek out alternative platforms to Facebook Groups. Let's take a look at why this platform might not be for you.
Customer trust
Since Facebook has gone through a series of scandals connected to revealing user data to third parties, lots of people are still reluctant to register on the platform. The most sensational explosion happened in 2018 when it became known that Cambridge Analytica used the personal data of millions of Facebook users collected without their consent. Facebook immediately lost user trust—which dropped from 79% to 27%, showing a decline of 66%—and since then the platform strives to improve its reputation.
Today, Facebook provides much more info on how it collects and uses sensitive user data, yet it still hasn't entirely recovered from that reputation damage.
Facebook is king (to Facebook)
Businesses that consider Facebook as a means of brand promotion should remember that Facebook is a business first. As a public company, Facebook always needs to prioritize its success over the creators and communities it supports. It must be committed to shareholders and advertisers, and ensure they're satisfied with its performance. Conversely, this may not always be in favor of small businesses and creators using its platform.
Low-reach metrics
It doesn't matter how much valuable content you provide if your followers constantly get distracted. Facebook is staffed with myriads of distracting elements from notifications from diverse groups to haunting ads, to friends and family posing and sharing. In such a grab bag of everything, it's rather complicated to establish a Facebook Group and reach the target audience on the platform.
Above all, Facebook is constantly improving and frequently changing its recommender algorithms, resulting in even poorer content reach. For example, its latest machine-learning-based algorithm analyses each user's NewsFeed and offers the content in the preferred formats. This means that if a user doesn't pay much attention to posts with photos and opts for videos, the algorithm will start showing fewer photos and more videos over time. This has a direct impact on content visibility and reach.
Even if you manage to catch some Facebook users and get them interested in your content, no one guarantees that they will remember to visit your Facebook Group regularly. The reason is simple—initially, Facebook was created as a social entertainment platform.
Minimal customization
Facebook isn't the best place to express your brand identity. That's because Facebook Group customization is quite rigid and limited only to a cover photo and some lines about your brand. You can't use any branded colors or design to alter a Facebook page and, therefore, it's much harder to create that vibe in your community space that would unite your followers under your brand.
Aside from its inflexible design, Facebook doesn't allow you to adapt its Groups to your business needs. It doesn't matter if you launch a new educational course, want to sell service equipment, or promote a new fragrance line, all you'll get on Facebook is a standard form for starting any community. There isn't any monetization that would be a perfect option for an educational course, nor the ability to create subgroups that could work great for niche-specialized discussions.
No organic growth
For effective community growth, you should work on making it visible to new users, and it can be quite problematic on Facebook. You already know that although this platform has an extremely big number of followers, it's not that simple to reach them. Meanwhile, Facebook doesn't provide any possibility to attract users beyond the platform's borders.
By its nature, Facebook Groups are firmly closed communities. This means that search engines can't crawl through the posts in your groups. As a result, search engine bots can't index the content, nor send organic traffic to your Facebook group. Moreover, the content shared in Facebook Groups stays there. It means that no blog or platform outside the community will be able to simply use and share the info you post.
Alternatives to Facebook you might want to try
Despite the fact that Facebook is a big brand that offers attractive-at-first-glance options for starting your own community, it has its own flaws and weaknesses. The good news is, there's no shortage of other places for you to grow and monetize your brand's community.
Here are just a few of the other platforms that marketers and content creators have that may be better options than Facebook.
1. Kajabi Communities
Your first option is a Kajabi community, which is a stark contrast to Facebook Groups in terms of brand integration. Whereas Facebook Groups are totally built into Facebook's own platform and brand, you can build a Kajabi community that's completely branded like and built into your own website.
Kajabi is an all-in-one business management platform for creators. So your forum can live in the same place as your website, blog, and any other digital products you create for your audience. Because there's so much else in their platform, you'll easily be able to use analytics and integrations to successfully use your community to drive traffic around your website, send triggered emails based on in-community engagement, and other marketing.
Most importantly, you're able to customize your theme, member experience, and everything else that would scream "This is part of Facebook" in a paid Facebook community, so your customers can clearly see it's you, someone they trust, behind the community
2. Slack teams
Slack? Yes, Slack! It's not just a work platform. In fact, it's another great option that you can use to monetize your community. And all you have to do is create a Slack team. Yes, the app is traditionally used for team chat, but it's long been a common place for the members of those teams to communicate with other groups, too.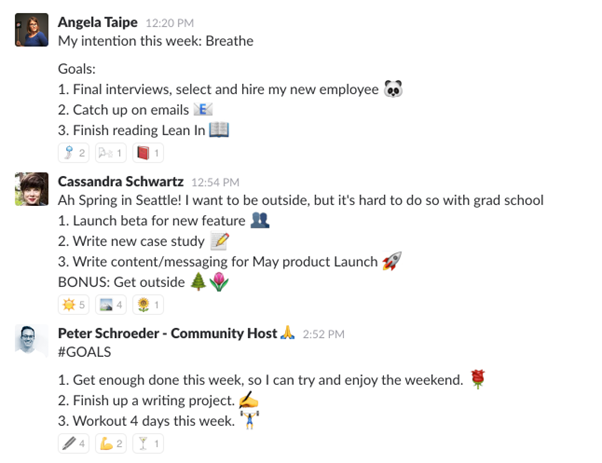 People use Slack teams to organize family information, school communication, and even wedding planning. Buffer has grown their brand's Slack community to thousands of members, hundreds of whom post regularly, enjoying the lively discussion. And when Wistia moved their community to Slack, their active member base grew by 500%.
The fact that so many companies use it for work means that if you target people with desk jobs, many members of your audience already know of and have the app. This makes it easy for them to get started with your paid community and know their way around, while still remaining a more closed and focused atmosphere than Facebook Groups. Plus, its reputation as a work resource helps to make your content seem more professional or serious.
3. Telegram groups
Another more niche option is Telegram. It's a group messaging app that's popular with certain audiences—like the cryptocurrency community and people with high-level privacy concerns.
So if your own community has high overlap with either of those audiences, Telegram is a great tool to explore. Once again, this is because monetizing your community is easier with a platform your members already know how to use and feel comfortable interacting on.
Especially if your target audience is one with lots of privacy concerns, Facebook Groups aren't going to be your best option for small, private communities. But Telegram's encryption processes put privacy concerns at bay and keep your group conversations closed off to people who haven't been invited to see it.
4. Mighty Networks Apps
If you're creating a community for people always on-the-go, mobile compatibility is going to be a priority for you. One advantage Facebook does have with their Groups is that millions of people already have the app, and therefore access to your group, in their pocket.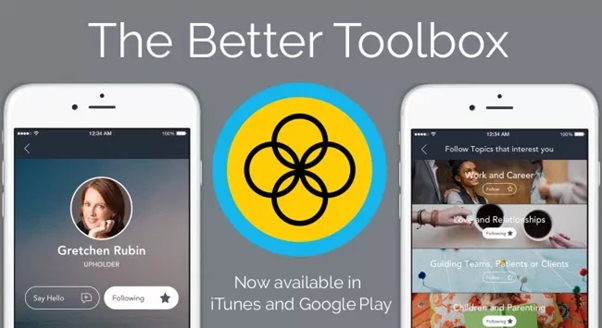 This is the issue that Mighty Networks's mobile apps effectively address. The mobile aspect of their product line makes it especially popular for creators like podcasters, whose audiences are already on their smartphones and on the go when engaging with their brand. For example, popular podcaster and author Gretchen Rubin uses it to power her Better mobile app and community, to help fans implement her content's advice.
When you create an app for your community with Mighty, the whole signup and onboarding process is focused on that. Unlike with a Facebook Group or Slack community, you don't need to teach the users what to do. They sign up, can easily send themselves a text to download the app, and go from there.
5. Patreon communities
Shortly after Facebook announced their Patreon competitor service, Patreon announced improvements to their own solution for creators and brands to monetize their audience. Their Community tab offers creators and their patrons a way to socialize similar to how a Facebook Group would.
You can create members-only content posts in addition to your additional Patreon content to regularly interact with your patrons. And they can also talk and engage with each other with basic discussion threads.
If you're in a niche where a patronage model is common, like the arts, or one of the newer communities turning to Patreon, definitely explore this option. If your audience members are already supporting other creators on the platform, it's a seamless experience for them to support you too.
6. Discord Servers
Finally, consider creating a Discord server if your audience is already active on the platform. Discord is popular among gamers, livestreamers, and other hobbyists as it focuses more on voice chat than most of the other community options for creators.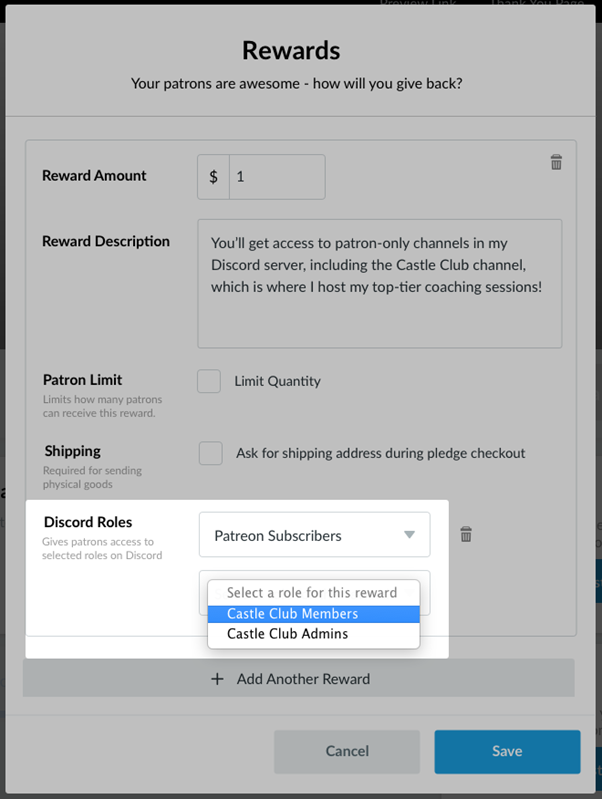 It also integrates with Patreon, so you can easily use their platform to distribute content and Discord to host your community. When you connect these channels, your Patreon community will be linked to your Discord server, letting supporters easily go between the two.
As soon as someone decides to support you on Patreon (in a tier that offers access to your server), they'll see a widget on the "thank you" page that prompts them to join your Discord server.
7. Groups.io
A viable option for Facebook is to use the time-tested method—email newsletters. Groups.io uses an email group system to keep the community updated on the latest news.
Unlike most synchronous means of communication, asynchronous messages don't require an immediate response. They don't get lost in message streams, remaining safe in a separate folder until the followers have time to read them.
Meanwhile, Groups.io is more than just a tool with a number of email-style subscription groups. It offers community managers such features as a calendar, wiki, an area to share files and photos, and chats. This way, the community can keep discussing things in real-time and collaborate while preserving the essential group posts in a safe space.
Such asynchronous communication style has proven to be effective for large teams and "loosely coupled groups" as everyone remains updated on the latest news, avoiding the tedious necessity to be always present online for instant messaging.
8. Reddit
Reddit is a popular social media platform with various groups of interest called subreddits. The platform is community-focused and cares about "how users feel" there. For this, Reddit has its own user and comment assessing system.
For example, to start a community on Reddit, you need to gain positive karma via your personal account first by being active in various communities. This way, you can't launch your own subreddit unless you're a proven and proactive Reddit user.
The platform also provides some handy customization features. You can create a subreddit with a custom URL that includes your community name in it. Above that, you can make your subreddit public, restricted, or private with your own community rules, e.g. no link sharing, no off-topic comments, and more. For the followers that use the Reddit app, you can choose colors for your Reddit groups, add several communities in one feed, and more.
As for the shortcomings, Reddit isn't the best option when it comes to monetization. It doesn't allow any ads on subreddits, nor charge fees from subreddit visitors.
9. WhatsApp groups
People love messengers because they're handy and available on smartphones—meaning they are practically everywhere you go. To add groups to WhatsApp was a smart idea as everybody knows how to use instant messengers and when it comes to WhatsApp. It's super simple and user-friendly. This way, group followers on this platform don't have to spend time learning how to deal with it.
WhatsApp creators are considering making the platform more group-focused and soon we'll see the "Communities" feature added to it. It'll allow group admins to moderate their groups much more simply and have more control over group chats with a large number of visitors.
Note: Since its acquisition, WhatsApp is part of the Meta family, so this one is a Facebook alternative that doesn't head too far away from the original.
10. HumHub
If you've not found a viable option for building your community from the ones listed above, maybe it's time to establish your own social media platform? HumHub will help you to do just that.
HumHub is a great option for tech-advanced community managers and enterprise-level businesses. To run HumHub, you'll need to install this social media platform using a server first and then customize it to your business needs. In HumHub you can create several Spaces with various Member profiles, Groups, Messengers, Activity streams, Polls, and much more.
Being highly customizable, HumHub also comes with its limits—it requires some tech skills, you'll be responsible for the platform maintenance, and will have to invite users to the platform. On the other hand, this platform can be a great option for businesses with big plans and a broad perspective. So, if your plans include mass expansions, step this way.
Think outside Facebook's blue box and connect
As you can see, there's no shortage of options for creating paid communities that put what's best for you and your users first. When decided which is right for your brand, always consider both your company and your users' needs:
Do you need a familiar platform or something new?

How much customization do you require?

What is your monetization model?

Do you need to connect with another platform?

Do my audience use Facebook?
Once you've answered these questions, you'll have a better idea about the best platform to use to connect with your community. Remember, it's up to you to decide and put your customers' best interests at heart.