The anti-vax movement on social media: an analysis

Anti-vaxxers are not having it easy. The world is in the middle of a mysterious and frankly terrifying pandemic: people are speculating, governments and brands are responding the best they can, and anti-vaxxers seem to be the only ones standing alone. Or are they?
Now more than ever, though, anti-vaсcine people get us wondering. While many of us are self-quarantined and contemplating health-related questions anyway, we might as well find out whether anti-vaxxers have a shot at winning the social media debate (pun intended).
Immunization is an extremely attractive target: political, comedic, and otherwise. Yet it's not exactly easy to analyze the vaccination debate on social media. This is because social networks aim to combat vaccine misinformation (or so they say).
While Facebook, determined to provide a safe and preferably healthy flow of vaccine awareness, was comfortable running anti-vax ads, Instagram banned vaccine hoax hashtags altogether.
As one would expect, anti-vaxxers still found a way to spread their message, adopting hashtags used by the pro-choice movement among others. The result being, it's become extremely tricky to trace vaccine doubters' activity and influence online.
Contained and curious, we set Awario to collect all social media posts featuring hashtags used by the two sides of the vaccine debate. What we wanted to find out with social listening is how big the no-vax talk is on social media compared to the pro-vax talk. Two weeks later, we have the results.
Methodology
To determine the amount of buzz generated by the pro- and anti-vaccine movements, we took a handful of not yet banned hashtags featured on social media when the subject of vaccination pops up. Here they are.
Pro-vaccine hashtags
No-vaccine hashtags
#VaccinesWork
#VaccineInjury
#VaccinesDontCauseAutism
#VaccineInjuryIsReal
#VaccinesSaveLives
#VaccineDamage
#WhyIVax
#VaccineFailure
#GetVaccinated
#Educateb4uVax
#VaccinateYourKids
#StopMandatoryVaccination
#IAmVaccinated
#BigPharmaSins
#VaccinateTC
#BigPharmafia
#Immunizations
#VaççinesKill
#VaccinesCauseAdults
+ vaççines, va$$ines, va((ines
You might have noticed the odd spellings used by anti-vaxxers for the word vaccine: vaççines, va$$ines, va((ines. These were coined by the no-vaccination community to get around social networks' policies aimed at combating vaccine misinformation.
To track these modified versions of the word vaccine or any other special character keywords you'll be tracking, you'll need to get acquainted with Awario's keyword formats. The symbol sensitive format is what I used when setting up mentions monitoring for the anti-vax community.
In two weeks, Awario picked up over 21K vaccination-related mentions, including some historical data: 3K posts by no-vaxxers and over 18K posts by the pro-vax community. Accordingly, the total reach of mentions is close to 10M impressions for anti-vaxxers vs. over 66M impressions for vaccination advocates.

As you can see, the volume and reach of no-vaxxers are significantly lower than pro-vaxxers', which is not exactly surprising. But the Reach metric is tied to mentions and not unique authors, i.e. one person could produce multiple posts, therefore flooding the conversation and increasing the overall reach. That's why we rearranged all mentions by Authors to see how many people were involved in the discussion on both sides.
Without further ado, let's take a closer look at the vaccination debate to hear everybody out.
Anti-vaxxers vs. pro-vaxxers by country
Grouped by unique authors, the vaccination conversations that Awario collected can be easily mapped out. In this research, we focused on vaccine mentions in English. Hence, below comes the distribution of no- and pro-vax authors among English-speaking countries.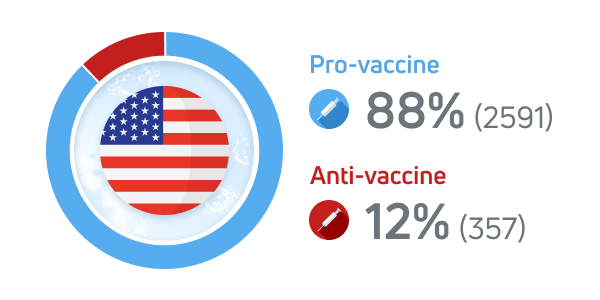 The U.S. homed the absolute most of the vaccine talk. It's also the country with the largest share of no-vax authors —12%. This is hardly surprising, as the vaccination debate is at its loudest in the USA. While the rest of the world is hoping for a COVID-19 vaccine, American anti-vaxxers keep making news with statements like "I'll let them vaccinate my daughter over my dead body."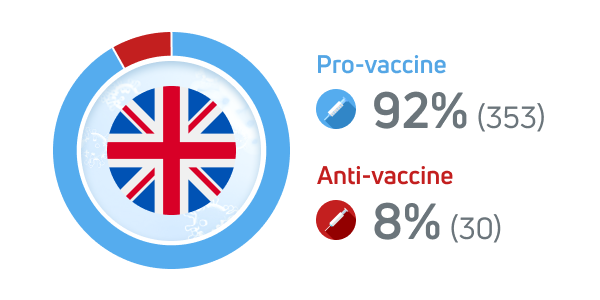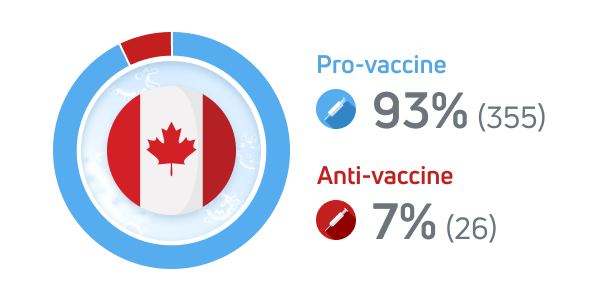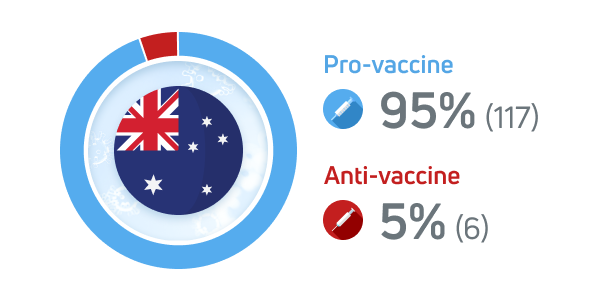 For the rest of the English-speaking world covered in this analysis, the share of anti-vaxxers didn't rise above 8%. Even the UK, carrying one of the most extensive anti-vax heritages, roomed very little vaccination debate in the past couple of weeks.
Anti-vaxxers vs. pro-vaxxers by social network
We then wanted to see where on social media the vaccine debate takes place. For this, we looked at the breakdown by sources. Here are the top-3 social media platforms that hosted the most of no- and pro-vaccine talk. Again, we're looking at unique authors and not the total number of social media posts here.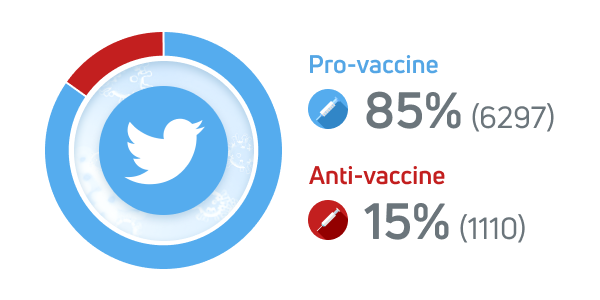 The majority of vaccine-invested authors chose to post on Twitter. The platform, hosting most of the vaccination debate, also has the largest share of no-vax advocates —15%. It's no coincidence, given that Twitter was the last social network to embark on fighting vaccine misinformation.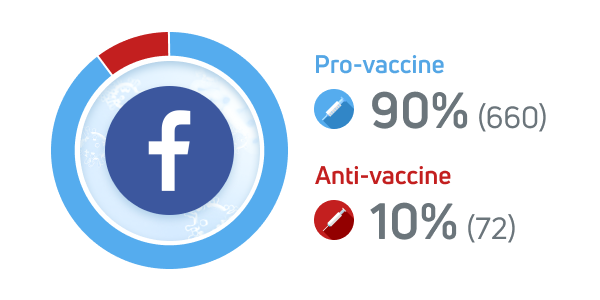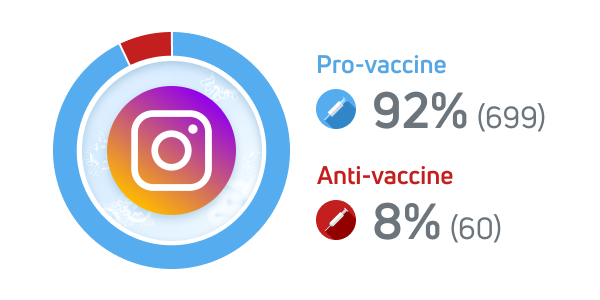 Facebook and Instagram — both committed to policing vaccine hoax posts with varying degrees of success — hosted much smaller volumes of the vaccine talk. Similar to the distribution by countries, the breakdown by sources reinforces that the less overall vaccine buzz there is on a platform, the lower anti-vaxxers' share will be.
Enjoying the post? There's more.
Sign up for our newsletter to get our best content by email.
What is the talk all about?
Naturally, we couldn't not make use of Awario's analytics to take a sneak peek at the main topics brought up in the vaccine debate. The feature we're looking at here is the Topic cloud — the storage of the biggest keywords dominating the mentions. By combining the pro-vax and anti-vax alerts in one dashboard, we get a joint Topic cloud with keywords used by either side + intersections.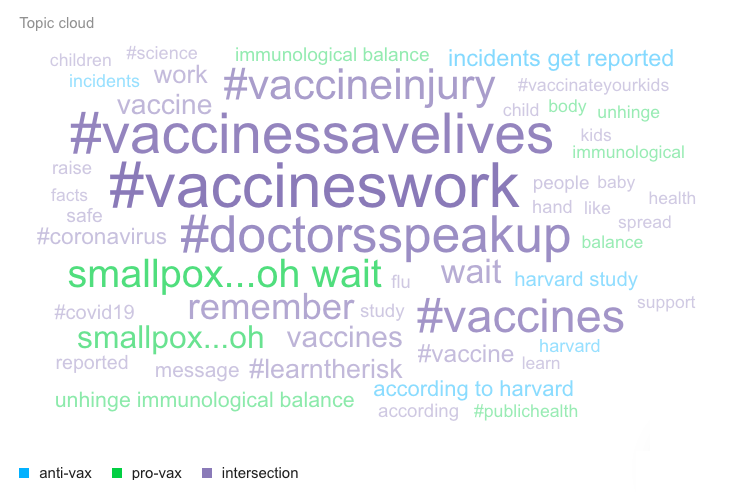 What stands out immediately is the intersections, particularly the hashtags used by both sides of the debate to prove their point. Take the example of #DoctorsSpeakUp — the hashtag we deliberately left out of the analysis. Although coined by the pro-vax movement, it was 'hijacked' by anti-vaxxers. Still, it ended up in Awario's Topic cloud as one of the biggest buzzwords because it was used in combination with other hashtags we were tracking.
When will #DoctorsSpeakUp that only 1% #vaccineInjury incidents get reported, according to a Harvard study?

— ??Deplorable Lauren?? (@Lauren1real) March 6, 2020
Why won't #DoctorsSpeakUp that #vaccines #harm many of their patients?

$4B paid in injury compensation - #vaccineinjury is real. #HealthFreedom#VaccineChoice#MedicalFreedom

— Flo Butterman (@FloBo2018) March 5, 2020
Meanwhile, in combination with pro-vaccine hashtags, #DoctorsSpeakUp is used for the purposes of the pro-vax movement as intended initially.
Whenever you spot an intersection in Awario's Topic cloud, the tool lets you choose which corresponding alert you wish to explore. By clicking on the keyword, you can pick the alert (pro-vax and anti-vax in our case) to go to respective mentions. This way, you get to see both sides of the story.
Who drives the conversations?
Now that we have a picture of the distribution of vaccination-interested authors across the world and social media, as well as the biggest topics featured in the debate, let's take a closer look at the influencers behind the posts. These are the people with the largest following and reach.
The pro-vaccine movement takes a lead here, as the impressive 66M reach we talked about earlier needs to come from highly influential sources. On the front line, we have mass media, non-profits, and foundations with recognizable names.
This new study from @LSHTM suggests that #HPV vaccination in girls can save more lives than previously thought, especially in African countries. Learn more about how these #VaccinesWork ? https://t.co/Q0evjT2833 pic.twitter.com/P6INJ86W2a

— Gates Foundation (@gatesfoundation) March 12, 2020
On the other hand, in the lead of anti-vaxxers are mainly individuals: homeopathic medicine advocates, wellness educators, and 'vaccine risk aware' groups.
#VaccineInjury Video Goes Viral & Raises Vaccination Risk Awarenesshttps://t.co/VKWZTc9GC0pic.twitter.com/XE9Tqx2XEA
"I know what happened to my little boy"
~ Hillary Simpson

SHARE far & wide & let the truth be known!#LearnTheRisk #VaccineDamage #ParentsSpeakUp #DoctorsSpeakUp

— LotusOak (@LotusOak2) March 5, 2020
Whether or not this is a fair fight is not for us to decide. As far as social listening metrics go, the total reach of pro-vax vs. no-vax talk corresponds to the reach and influence of its advocates on both sides, and, quite frankly, speaks for itself.
People who do not want to drive the vaccination talk but end up being dragged into the discussion anyway are celebrities. Anybody monitoring the immunization debate will inevitably stumble upon a high-profile personality fighting the "anti-vaxxer" label. So did we, after we set up another mentions monitoring alert for "anti-vax", no hashtags.
Jessica Biel, Kat Von D, and Marianne Williamson (to name a few) might not be brought up in one and the same conversation very often. Yet all three of them have been called out over the past year to defend their allegedly anti-vax moves. In the course of our social media monitoring with Awario, some of the biggest posts featured celebrities shaking no-vax accusations off their social media accounts.
You will find nothing I have ever said that was anti-vax. Nothing. Not one thing. We are living at a time when if anyone asks one single question, they are labeled anti-vax by Big Pharma and their dupes who take it from there.

— Marianne Williamson (@marwilliamson) March 18, 2020
So do anti-vaxxers have a point?
In the debate as complex as public health, picking sides is a matter of education, personal experience, but more than anything, personal convictions. What we know for sure is that no-vaccine talk is there even in the times of a global pandemic, and it will be there for anyone willing to listen.
Having analyzed social media conversations around vaccination, we saw for ourselves that pro-vaxxers boast a much bigger Share of voice — the volume and reach of mentions — than no-vaxxers. Behind the pro-vaccine movement are institutions, while behind the no-vaccine movement are individuals and non-institutionalized groups.
This leaves us with a somewhat reassuring conclusion. The vaccination debate on social gives us both perspectives and plenty of food for thought. Whether you choose to speak up on the topic is for you to decide. But you can always use social media to learn from the advocates and make up your mind on the vaccination issue.