Brands in the time of coronavirus: 10 heartwarming examples

Before you say anything, this isn't a guide on how to capitalize on a pandemic. Doing that is both unethical and extremely dangerous for brands. People tend to see through ill-intended promotions, and increasing prices for items in deficit might raise sales immediately, but definitely won't pay off in the long term.
So if you're unsure whether your marketing campaign is smart or offensive, better stay clear of it. As most brands do at this time.
However, it's good to be nice. Generally, but especially in the challenging times. To show that you care and to help in any way you can. To be a bro - even if you're a brand.
This post is about brands being bros.
Pornhub comes first not because I think it's the type of product most needed during a pandemic, but because Pornhub is my personal marketing hero.
The adult website was one of the first to do something special for those stuck at home: they offered a month of free Premium subscription (and donated the money) to Italians who are experiencing Europe's worst coronavirus outbreak.
Pornhub is donating its March proceeds from Modelhub to support Italy during this unfortunate time (model earnings will remain untouched). Italy will also have free access to Pornhub Premium throughout the month. Forza Italia, we love you! ? pic.twitter.com/DD0nYDyrJ4

— Pornhub ARIA (@Pornhub) March 12, 2020
Pornhub's gesture goes further than you might suspect: not only do they entertain the ones already on quarantine, they give the extra nudge to those ignoring the measures. Staying at home for weeks is challenging for some people (presumably, even more challenging for the famously sociable Italians), so a Premium might actually help stop the spreading of the virus.
In case you're doubting if anyone actually cares about porn in the scary times like this, even if stuck at home, here are some stats. Note that the stats were collected on March, 11th, while free Premium was announced a day later - on March, 12th.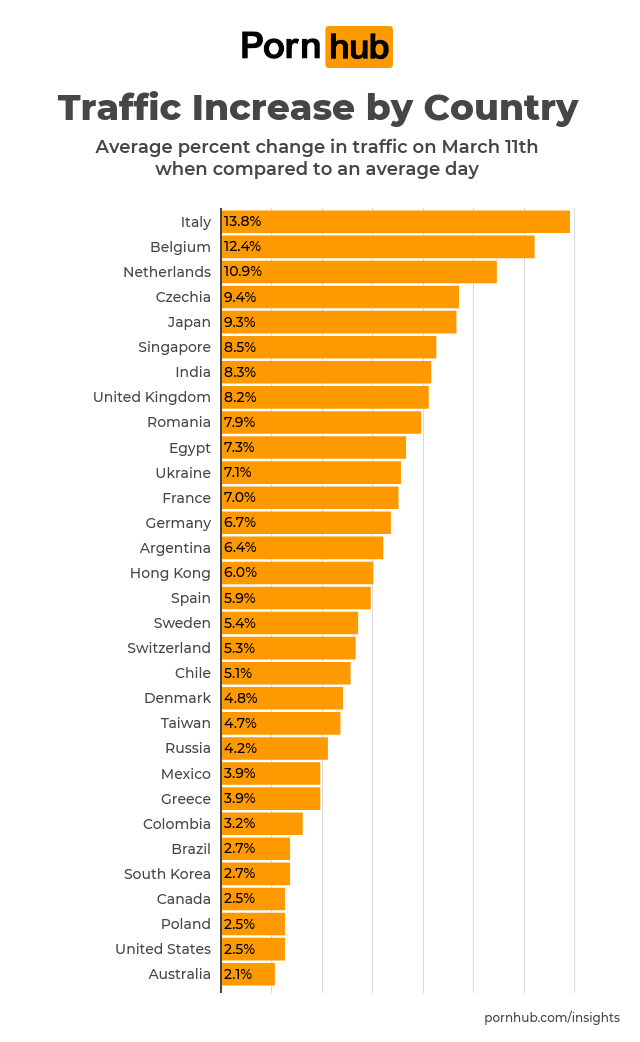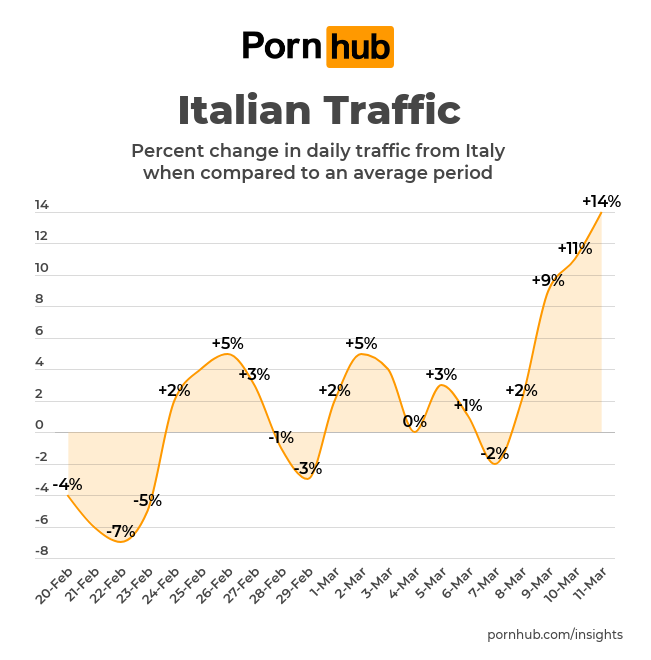 UPD: Free Premium now worldwide. Stay home!
Enjoying the post? There's more.
Sign up for our newsletter to get our best content by email.
Brands that naturally made money on coronavirus are delivery brands. Not that they had to do something for that to happen: people simply order more, much more online when they are stuck at home. Chipotle - Mexican grill that does delivery - now offers free delivery for at least all of March.
this didn't age well ? delivery is free the rest of march. hang in there friends. terms: https://t.co/hKLX3xUB4P https://t.co/tKKRKFlzZx

— Chipotle (@ChipotleTweets) March 15, 2020
It might be that that's Chipotle's way to stand out from its competitors and that there's nothing altruistic about their offer - just business. But in any case, free delivery is a great and useful thing for anyone on quarantine, and we are grateful.
3. Google, Microsoft, Cisco, Zoom, Loom
since we getting our degree from zoom now I made some logos for our new school pic.twitter.com/1eKeQMRlpJ

— ? (@SaulPraado) March 17, 2020
Technology giants (and tech companies that are getting there) came to the rescue to help companies and schools shift to remote work without spending all of their budgets on video conferencing.
Zoom has lifted time limits on its video calls for the free versions in China, as well as for schools in Japan, Italy, and the US.
Loom has made Loom Pro free for teachers and students at K-12 schools, universities, and educational institutions. They have also updated their free plans in response to the coronavirus: the recording limit on free plans is now removed. Finally, they've cut the price for Loom Pro by 50% to help businesses survive the pandemic.
Microsoft is offering anyone its premium version of Teams for free for six months. It has also lifted existing user limits on the free version.
Google now offers its Enterprise video conferencing features, such as larger meetings of up to 250 people and the option to record, for free to G Suite and G Suite for Education customers until July 1, 2020.
Cisco is offering temporarily unlimited usage (with no time restrictions) of Webex in all countries where the service is available.
Continuing the helpful business software trend, Box - a content management platform - now offers a free 90-day Business Plan. Box Business includes unlimited storage, up to 5 GB of file uploads, advanced user and security reporting, mobile security controls and more. The offer is only available to small and medium businesses.
For any small and medium businesses that need Box right now, we've made our Box business edition free for 90 days here: https://t.co/Q3kJTvJcne

— Aaron Levie (@levie) March 12, 2020
Italian media shows solidarity by offering a free 3-month subscription to their digital content (newspapers La Republica, La Stampa). Mondadori - a huge publishing house - is giving away 10,000 free e-books and 50,000 free three-month subscriptions to its magazines.
The learning platform Coursera launched a global campaign to assist schools and universities in distant teaching. Coursera for Campus is now available globally at no cost to any university impacted by the coronavirus.
We're committed to helping educators minimize disruption during the COVID-19 outbreak. Starting today, with the support of our partners, we'll provide every impacted university with free access to our course catalog through Coursera for Campus. Learn more: https://t.co/fIo10NfFWo

— Coursera (@coursera) March 12, 2020
Lush, a UK cosmetics retailer, invited the British public to come in and wash their hands in-store for free. According to WHO, washing hands is vital when it comes to protecting oneself and others from COVID-19, so the cosmetics shop that sells wonderfully colorful soaps decided it was their job to promote the idea.
Lush's CEO Mark Constantine pointed out:
The simplest thing you can do to not get a virus is to regularly wash your hands. So we're saying people can come in off the street and wash their hands in our place. We've got loads of soap and plenty of hot water.
Lush isn't the only brand that has focused its efforts on washing hands. Louis Vuitton owner LVMH recently announced that the company will produce large quantities of hand disinfectant gel that's becoming a nationwide shortage in France. LVMH will use the production lines of its perfume and cosmetic brands to produce gels that will be delivered free of charge to health authorities.
The people behind the Yoga app called Down Dog point out the necessity to carry on working out in spite of quarantine, closed gyms, canceled classes. They are also aware that the calming effect of yoga can be absolutely priceless in times like these. So the app offers free access to its content until April 1st.
Due to the COVID-19 outbreak, we are making all of our apps - Down Dog, Yoga for Beginners, HIIT, Barre, and 7 Minute Workout - completely free until April 1st.

We hope that everyone will stay healthy and safe in these uncertain times.

Love, Down Doghttps://t.co/tNqI59HbhS pic.twitter.com/PPaCIWdvaQ

— Down Dog (@downdogapp) March 11, 2020
10. Comcast, Charter, Verizon, Google, T-Mobile, Sprint
All these companies signed a pledge to keep Americans internet-connected for the next 60 days, even if people cannot afford to pay.
So keep calm, wash hands, and maybe have a Netflix Party movie night instead of going out. It's more fun anyway.