5 secrets to drive conversions with Facebook retargeting ads

Article Summary
Facebook retargetting is a cheaper and arguably more effective way to use the marketing budget than alternative options. Check out our top reasons for choosing this method and learn insider tricks and tips.
30 minutes read
When Facebook ads launched in 2007, the targeting options were pretty limited. Marketers could target a handful of different audiences, but most ads relied on the social actions—those of friends and brands that users followed to make it actually work.
A lot of things have changed since then.
Facebook is gathering more information than ever, video is a huge deal, influencers are taking over the platform, and there are dozens of social media tools that make it easier than ever for brands to stay engaged with followers. Great!
Now, Facebook ad targeting is incredibly precise — so precise that one marketing pro managed to drive his roommate crazy with hyper-targeted ads only he saw. (Note. We don't recommend this approach).
You don't want to drive your customers crazy — but you can ensure the ads they see are personalized for their actions through Facebook's retargeting ads. These ads allow you to target users who have taken specific actions — such as looking at your contact page or viewing a blog post.
Whether you're already using Facebook retargeting or are considering jumping in, there's a good chance you aren't making the most of these ads — which could cost you thousands in ad spend and lost revenue.
So, why are Facebook retargeting ads so valuable, and how do you make them work for you?
Why Facebook retargeting works
Facebook is, by far, the most popular social media platform in the world. With more than 2.7 billion active users, you can almost always be sure your audience is on Facebook — no matter who they are or where they are located, with some exceptions.
The problem is you aren't the only business on Facebook. Not even close.
According to the platform's own stats, three million businesses are actively hawking their services and products on the social media giant — proving it is an amazing tool that everyone wants a piece of.
By creating personalized ads based specifically on users' behavior — aka Facebook's retargeted ads. But what are they?
Here's how it works. Let's say for example, you want to target Facebook users who visited a specific page on your website, added an item to their cart but never checked out, or viewed one of your Facebook marketing videos — retargetted ads let you do this. Their purpose is to nudge or remind your consumers about your product and, hopefully, increase your sales.
As an added benefit, retargeting ads actually cost less. The average cost per click for Facebook ads is around $1.72, while retargeting ads cost an average of $0.75 to $1.25, depending on industry and targeting.
Cheaper and more effective? Yes, please, sign us up.
General rules for running successful ad campaigns
Now you understand why Facebook remarketing is so powerful — but how do you make it work for you? After all, seeing is believing.
So, let's start from the very basics. Each successful marketing campaign — no matter what platform it's launched on — goes through a number of well-established stages.
Determining the ad campaign objective
This is the first step of starting a marketing campaign. At this stage, the main goal is to find the purpose of your marketing campaign and answer the question "What do you want the campaign to achieve?" The goals can be strikingly different depending on what stage of the marketing funnel you're targeting, where your company is in their growth journey, etc. For example, you may have goals, such as:
Increasing of local awareness

Improving engagement with your potential customers and improve conversion

Launching a new product or company

Reminding/nudging for your brand and stimulating your old customer to come back to your company

Rebranding or company shift
Whatever your goal, you will only achieve great results if you determine the objective right at the beginning. After all, if you don't, how will you know which direction to head in?
The ad objective will depend on current business needs. Since you know your business better than anyone else, coming up with the campaign objective should not be a hard task, but it does require a bit of strategizing.
It is at this stage that you also clearly outline your goals. For example, how many sales do you want to make at the end of the ads campaign? This makes it easy for you to get the bigger picture. Once you have your goal visualized, go a step further and break it further into short-term goals. You can have daily or weekly goals, as these will look more achievable. Short-term goals will also help you stay on track throughout the ad cycle.
Coming up with an ad plan
Once the campaign goals are set, it is time to come up with a plan on how the campaign will be carried out. Put that plan on paper and include all the details.
Outline an overall vision of your advertising plan. You can include campaign name and description, your target audience, advertising platforms, campaign goals and the ideal ROI you want to achieve.

Think about the platform you'll advertise on. Here, it's important to indicate the platform name and ad types, advert description, for how long you're planning to show your ads and what budget you're planning to spend on them.

Establish the timeline. Include all the time estimates and info your team should know about, e.g. the campaign depth, its reach, how much effort it requires to prepare the ads, post scheduling, and more.

Estimate your budget. It's challenging to set a budget if you're running ads on a certain platform for the first time. But, as you'll gain more and more experience, you'll be more precise on your budgets. In the meantime, you can experiment with the advert budget or consult the marketers who have run similar marketing campaigns on the same social media platforms.

Add the DACI framework to your plan. This framework defines the key campaign contributors and their responsibilities during the marketing campaign.
A solid plan will help keep you organized, help you rectify errors early enough, and also help you determine the efforts you need to put into getting the desired results.
Creating the ads campaign
Once you have a well laid down plan, you can start to make the ads campaign. The Facebook Ads Manager is a great resource to use at this point —better bookmark it now. All you have to do is go to the Ads Manager and click "create" to start setting up your campaign.
For those who're planning to use more than just conventional Facebook adverts but create Facebook retargeting ads, we'll describe a step-by-step process on how to do it in the next part.
Monitoring and testing
Monitoring your ad campaign once it is up and running is important. Facebook Ads Manager helps a great deal when it comes to monitoring. From here, you get to see the level of engagement, the number of clicks, and the general impression on your ad.
It is up to you to determine the metrics that best measure your objective. For example, if you want the ads campaign to help in increasing traffic, the number of link clicks will be a better measure for monitoring. A professional marketer will also point you in the right direction as far as metrics are concerned.
If your ad is not performing as expected, you may decide to dedicate your efforts to other performing ads. You can also choose to test the same ad on a different audience. Even if the performance does not improve after changing the audience, at least you get valuable data that you can use when coming up with the next ads campaign.
Ads monitoring and optimization
Ads monitoring and optimization is important for success. For effective and pinpoint monitoring, you can use various digital assistants that will significantly alleviate the monitoring and interpreting burden for you — why do all that manual labor if you don't have to? For example, various social media listening tools can bring you much valuable data on how your ad campaign is going, what audience it resonates with, which sentiment it evokes, and much more. All this data will help you better optimize your ads so that they become even more precise and effective.
Meanwhile, there are many optimization strategies you can use while running your ads. You can start by including all the right keywords in your ads. You can also include a call for action and captivating images among other strategies. An SEO analyzer, in this case, will be of great help and will ensure that your Ads looks great and ranks high on search engines
5 secrets to making Facebook retargeting ads work for you
Now, as you know how to set up and launch a successful advertising campaign, it's time to get into specifics of Facebook ads, find out how Facebook retargeting ads work, and, most importantly, how to make them work for you.
Here are five tips for making sure this powerful ad option drives revenue, not just clicks. After all, we're after real results here, not just Facebook fame.
Create a Facebook retargeting group for website viewers
Facebook allows you to target just about anyone in the world — from middle managers in Dubai to moms with preschool kids in the Midwest. But, Facebook retargeting ads let you dig in even deeper and target people who have taken a specific action on your website.
For example, you could target people who have visited your website but didn't actually convert, like this ConvertKit Facebook ad example: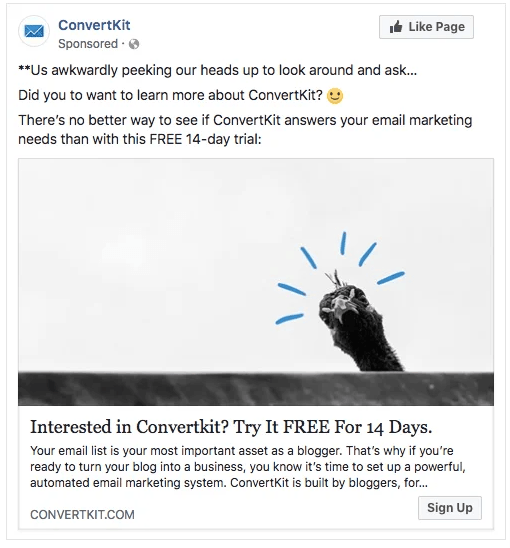 Make sure to target site visitors who are most likely to covert. For example, you might target people who have visited your pricing page or viewed two or more service pages.
Visitors who have taken at least two actions on your website (or other actions that indicate they are almost ready to buy) are more likely to convert. If it is in doubt, check with your analytics or product team to get all the insight you need to find out who's just a watcher and who might be nudged to become a buyer.
Use a website visitor tracking tool like Leadfeeder that turns anonymous website visitors into companies you can then target on Facebook. Then, upload your site company visitors email list to Facebook and create a new custom audience.
Now, you can show specific ads to people who have already expressed an interest in what you have to offer.
Target current customers
When it comes to low-hanging fruit, current customers are the best of the bunch. These are people who already know who your brand is, the value of what you have to offer, and, even better, they trust you.
But, they are already your customers. So, what's the point of targeting them?
Well, there's a good chance you have more than one type of offering, right? And what better way to increase your sales than to level up your sales potential — aka cross-selling and up-selling.
Instead of spending the time to convert new prospects (which can also take forever if you have a long sales cycle), look for ways to turn current customers into even more valuable clients.
To do this, upload your current customer list and create a Facebook audience to retarget them with carefully crafted ads. Consider creating ads to:
Upsell current customers to higher software packages
Sell add-on items, such as a social media monitoring tool to people who already use your SEO tool
Sell related products by promoting items that often go together, such as a comforter set to customers who already bought a bed frame
Launch new products or services by promoting them directly to people who already use your brand
Show current customers items they added to their cart but didn't purchase (You'll need to add in dynamic ads to make this happen!)
Keeping current customers happy — and increasing the amount they spend with your brand — is cheaper and often more effective than working to convert new prospects.
Get the timing right
Ad fatigue is an issue with all ads, but especially with hyper-personalized retargeting ads. While some ads actually get more effective the longer you run them, retargeted ads tend to lose efficacy in just a few days.
Luckily, Facebook allows you to adjust the length of your retargeting campaign. For example, you can choose to remarket to people who engaged with your Facebook page for two weeks, then stop showing them the ad.
The amount of time you'll want to target customers depends on your sales cycle. If your sales cycle is short — say a few days — you'll want to stop retargeting to those prospects a week or so. If they were going to buy, they would have made their decision already.
However, B2B companies often have longer sales cycles — often as long as several months. If you have a longer sales cycle, then consider adjusting your frequency window to 30 days. This will give your prospect enough time to make their purchase decision.
Use dynamic ads
Dynamic Facebook ads are ads that automatically adjust the content users see based on actions they've taken or other targeting features. The goal is to show users products they are most likely to be interested in.
Here's how it works:
Say two different customers search your product page and add a chair to their cart

Customer 1 adds a blue chair, and Customer 2 adds a red chair

Then you set up retargeting ads to show ads to people who have added an item to their cart

Rather than showing both customers the same ad, Facebook will show Customer 1 an ad with the blue chair they added to their cart and Customer 2 an ad with the red chair.
Dynamic ads allow brands to target customers with personal ads — which can increase conversion rates by 5X.
Leverage Facebook's lookalike audiences
Another way to leverage retargeting data is through Facebook's lookalike audiences, which create custom audiences filled with people who share similar interests, likes, and demographics to your target audience.
It's easy (and affordable!) way to reach users who are likely to be interested in what you have to offer.
For example, you could upload a list of your current customers and then create a lookalike audience from this, which will be based on the common qualities customers share. Facebook uses this information to find other users who are likely to be in your target audience.
To create a lookalike audience, sign into your Ad Manager (or Business Suite), create a new Audience, then choose Lookalike Audience from the dropdown menu, and choose the source data.
Keep in mind that your source audience must be at least 100 people in a single country to create a lookalike audience.
Bonus tips to guarantee success for your ad campaigns
Knowing the basics of how to establish and launch retargeting ads on Facebook is no doubt an essential part of any marketing campaign. However, to handle them like a real pro, you should also avoid frequent mistakes that rookie social media marketers make.
We've analyzed the most common pitfalls of ad campaigns on Facebook and other social media platforms and organized them in some additional tips that guarantee success — and we're sharing them with you.
Make an offer
A great offer is a sure way to boost your ad campaign's success. Whether you take off a portion of the initial cost or plan to donate a portion of your sales to charity, a good offer will attract more people, and this often translates to increased sales at the end of the day.
They say that a good offer sells without selling and you have to take your time to ensure that your offer sounds good — and delivers value to your consumers. Otherwise, like the wise fish, they just won't bite.
Go off the beaten path and think outside the box. Get inspiration from your competition but make sure you outsmart them. Do anything you can to ensure that your offer stands out. Get creative and use data to find out what motivates your customers.
Optimize your website for conversions
Think it's all about the 'book? Think again. Facebook ads aren't only about the ad on the main page, they are just as much about the webpage the ads lead to. So, you have to make sure all your ducks are in order.
If you are running an ad just to get page likes, you simply need to optimize your Facebook page and set up a good ad campaign to catch their eyes. But when you are running a campaign to drive traffic and leads you need to meticulously optimize the webpage you are sending the traffic to.
So, optimize your website for conversions before you create the ad. Any page you are driving traffic to must be optimized for generating leads, even if it is a blog post. You will achieve the best ROI only if your website converts the most traffic. After all, intention is everything.
This also includes technical issues such as speeding up the loading time, fortifying copy, adding attractive call to action buttons, etc. Here are 53 Ways to Increase the Conversion Rate of Your Website from Peep Laja — we just loved them and think it's worthwhile having a look.
Upgrade website for sharing
Sharing is caring, after all. Even more so when you want others to share your brand. When a person visits your website from Facebook, they will be highly inclined to share it on Facebook because they are already logged in. More shares will help your ad drive some extra free traffic. That's why it's essential to make sure you optimize the page for sharing by adding share buttons.
Also ensure that you set an image of at least 560 X 292 pixels as the Facebook thumbnail for the post. These dimensions make sure that the large thumbnail appears on Facebook when the page is shared on both desktops and mobile devices.
An example of a page that is well optimized for Facebook sharing is this Facebook Ads Guide from Adomas Baltagalvis. It has share buttons at the top of the post. Check it out and be wowed by the visual simplicity.

When you click the Facebook share button, the cover image set at the top appears as the thumbnail as seen below.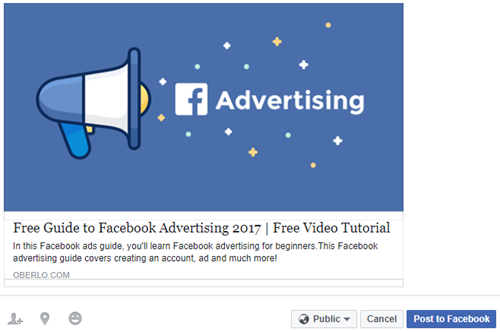 The large thumbnail will stand out on Facebook and attract more engagement and clicks. This traffic from shares is free, therefore, you get more traffic from your ad spend.

This blog post is also optimized for generating leads as they have an option form both in the right, side bar and at the bottom of the post.
This is how you should optimize all your webpages to generate both shares and leads.
Implement conversion scent
Do you know what conversion scent is? Let us tell you.
It's when the ad matches the landing page. When the design of the ad and the text present on it is similar to that of the landing page, it indicates a strong scent. This can boost conversions as people see some familiarity between the ad on Facebook and the website they visited for the first time.
Here's an example of a strong conversion scent between the ad and the landing page…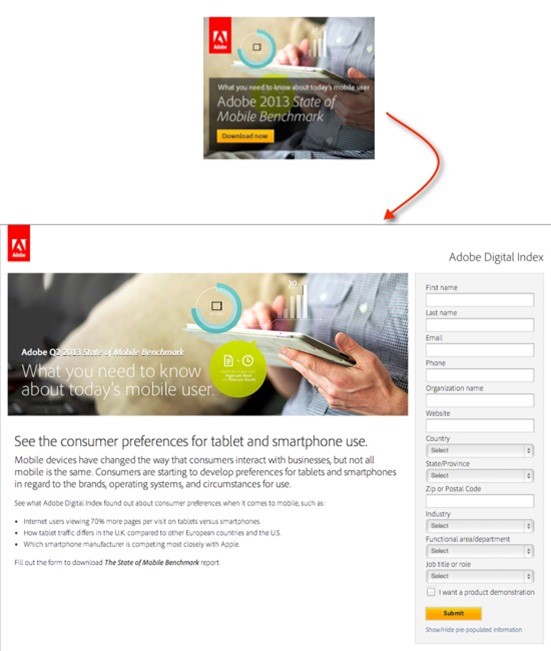 As you can see the ad and the landing page have the same image. The copy is the same. The call to action button is also the same color. They also branded the ad and the landing page with their logo.
In a similar manner you should create a Facebook ad image that resembles your landing page's design. Just tossing in any image you randomly created using a template won't do the job.
The text headline and description present right below the image of your Facebook ad should also be similar to that on the landing page. Observe your landing page and determine which text present above the fold is the most likely to attract attention and drive traffic to your site. Then copy and paste it to your ad headline and description.
You can modify it a little as it doesn't have to be an exact replica.
Test out your ad
You probably won't create the best version of your ad in your first attempt. That's why you should create different versions of your ads and test them out with Facebook analytics to see which ones generate the most traffic and conversions. After all, Da Vinci didn't paint a masterpiece on his first try, did he?
The best way to test them out is with Facebook's split testing feature as you can try out different versions simultaneously — this is a lot of fun too.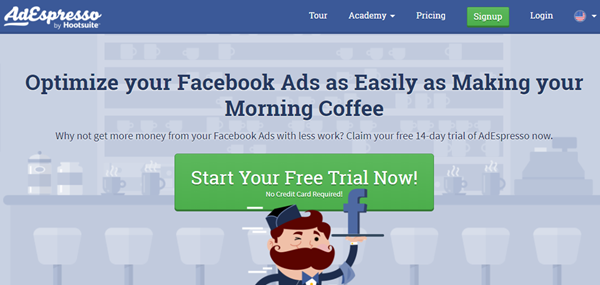 There are also tools like Adespresso that help simplify split testing and collection of data from Facebook ads.
Note! No matter how many changes you make to the ad you should always keep the conversion scent strong.
Testing will also help your ad gather initial engagement in the form of likes and comments which can add social proof. This social proof will boost results when you dedicate a higher budget to the ad.
Be specific with targeting
Do you know why Apple's iPad and Amazon's Fire are so successful? It is because they are specific on who they target. Apple markets their expensive mobile devices towards people who don't mind purchasing expensive products, while Amazon targets people who have a tight budget.
When you are extremely specific with the people you target, your conversion rates will be higher as you can write better copy that resonates with individuals. But most people fear that this will result in them only reaching a small group of people. Therefore, they create ads that target everyone, which ruins their conversion rates.
To target the right people, you need to first know who they are. So, spend some time interviewing your customers and blog readers to find out everything you need. Nothing beats individual interviews when it comes to audience research. But also do a survey along with this interview as interviewing can be time-consuming.
You should interview at least 10 people and conduct a survey that gets a minimum of 100 participants.

A tool like Survey Monkey can help you create and run surveys.
Once you know who your audience is you can set your ads to only target them. You can adjust the placement of the ad, but don't play around with the targeting settings. Even if you create new ads in the future make sure they target these people only.
Use Facebook's own retargeting features
We've talked a lot about the tricks and tips, but this is one golden rule you don't want to break. If you aren't using Facebook's retargeting feature you are missing out on lots of leads and customers — essentially, it's important to make sure that you include retargeting itself as an integral part of your marketing campaign and utilize the tools already available to you.
Let's recap how you can do it.
We already know that retargeting is when you set your Facebook ads to target people who visited your website. So, what's next?
Facebook provides you with a code known as a pixel. Once you add this to your website, it tracks visitors and makes a note of all the Facebook users who visited your website so that you can create ads that target them.

Now, when you target people who already visited your website they will be more likely to convert to a lead or sale as they are familiar with your work. So make sure you use them.
Need something more? Here's a video from Facebook on how to add the pixel…
You can also set the pixel to separately track people who visited a certain part like a single blog post or landing page so that you can then target these visitors with highly relevant ads.
The pixel even tells you when an ad converts to a lead or sale. This helps check if your ads are working or not.
Retargeting can also be executed by uploading an email list of subscribers and then setting the ad to target these people
Take that next nudge to conversion — retargeting secrets
Most customers don't convert the first time they visit your website — they might not even convert the second or third visit. This is especially true if you sell large-ticket items. Facebook retargeting ads allow you to reel those prospects back in using careful targeting and dynamic ads that adjust to your audience's actions.
Keep in mind that showing customers the same retargeting ad for weeks on end is annoying. Don't be that brand! However, a thoughtfully created, time-sensitive campaign will give visitors the nudge they need to take the plunge