How to find trending hashtags on Instagram: an ultimate guide for brands

Article summary
In this article, we give you a comprehensive guide to using hashtags on Instagram. We explain how to find trending hashtags on Instagram, how to choose relevant hashtags, how many hashtags to use in an Instagram post, where to put them, and more.
15 minute read
If you're on social media, you'll definitely see hashtags everywhere. Location hashtags, branded hashtags, industry hashtags, product hashtags, slogans — anything you can think of can be turned into a hashtag.
Hashtags have become so ubiquitous that they even entered our everyday vocabulary: #blessed and #yolo are used in conversations just as any other word.
Even though oftentimes hashtags lead topics or even political movements into the real world, we don't really give them much thought. We don't think about why people and brands actually use them and how they make our lives on the Internet easier.
When I was in high school we used to laugh at our classmates on Instagram who spammed their posts with the most general popular Instagram hashtags such as #love, #friends, #followforfollow, and so on.
Little did we know that these girls were gaming Instagram's algorithm and boosting their Instagram reach at the time — something all social media managers (and regular Instagram users) including myself are trying to do by using Instagram hashtags now. Don't worry - there's still time to perfect your hashtags for Instagram even if your high school days are long gone.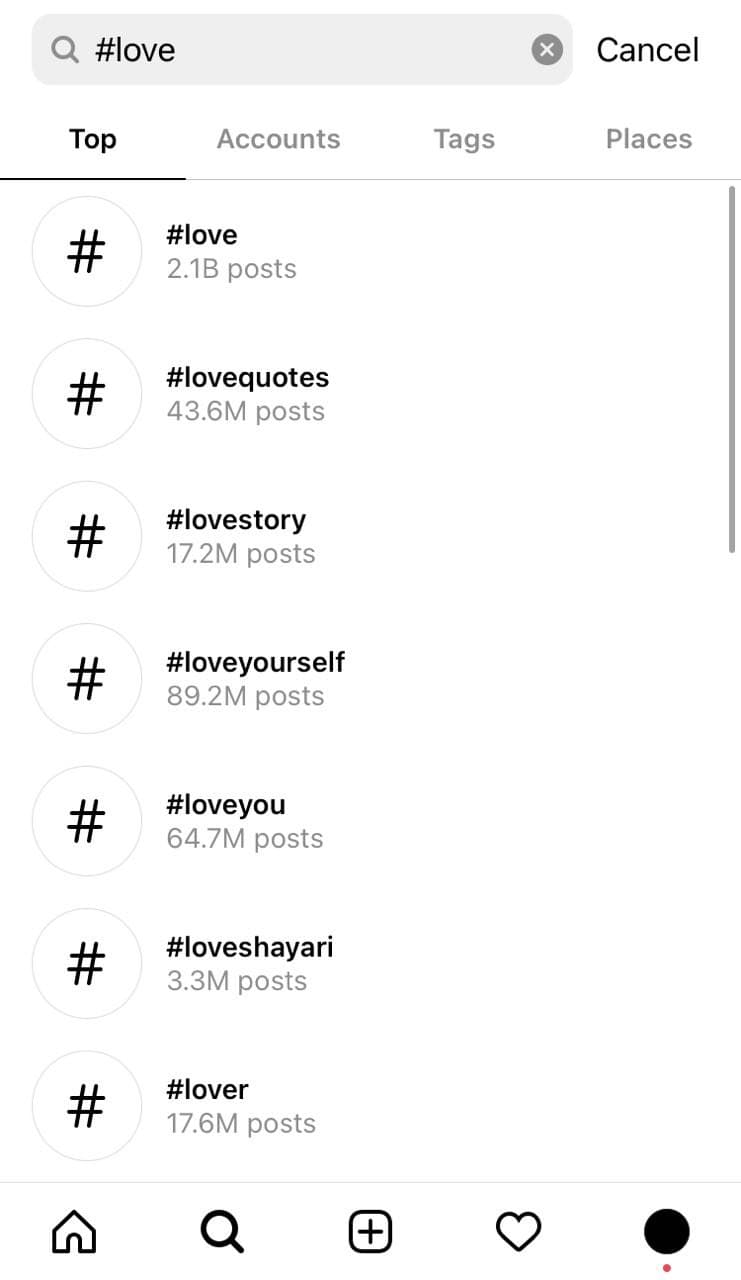 Of course, this tactic I described doesn't work anymore. Love and followforfollow are long gone from the list of top hashtags. In fact, you may be shadowbanned for using irrelevant popular hashtags. That's why finding trending relevant hashtags is such an important task. The best Instagram hashtags are the ones that actually work for you, not the ones everyone is using.
While the Instagram hashtag doesn't work like it used to due to many algorithm changes, trending hashtags are still an effective way to increase your reach and discoverability on the social network.
In this article, we will explain how to find trending hashtags on Instagram that are actually related to your brand, how to see how many times a popular hashtag was used, and the best practices for Instagram hashtag strategy.
If you want to learn about hashtag strategies for other platforms, you can check out our Twitter hashtag guide.
Before we dive into the practicalities, let's look at how Instagram hashtags work from the users' perspective and from the perspective of the platform.
How do the hashtags on Instagram work?
As an Instagram user who is surfing the app, you probably already know that you can click on a relevant hashtag to see more similar content. You can also follow hashtags to get this content in your Instagram feed.
For example, I follow hashtags related to tattoos to see Instagram Stories, posts, and Reels with the works of tattoo artists. Hashtags for Instagram work kind of like Topics for Twitter (but better).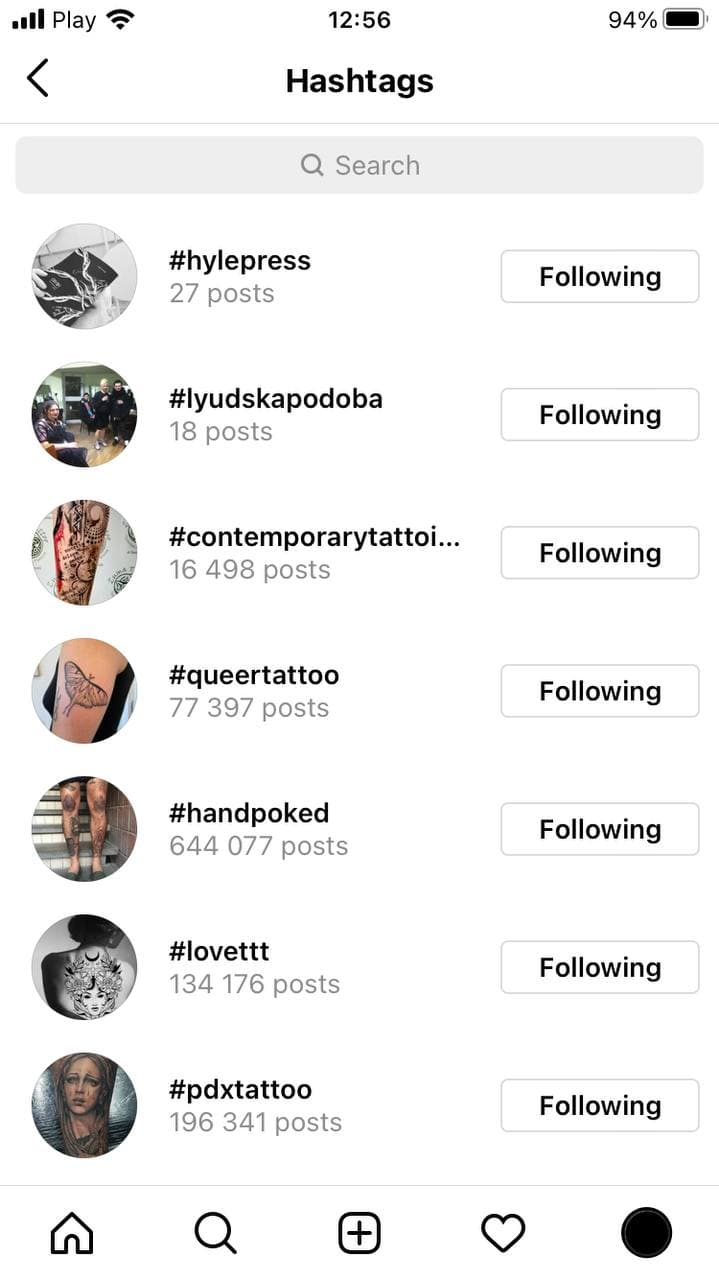 All in all, for a user Instagram hashtags make it easier to find the content you're interested in. But what about the app itself and its algorithm?
Well, actually their perspective is not that far off. For a while, Instagram hashtags have been the only way to search for content on the platform. Recently, Instagram added the ability to search by topics and keywords, but hashtags on Instagram remain vital for finding the posts you want to see.
As for Instagram for brands, here are three points that the app executives highlight when talking about hashtags:
Discoverability — the Instagram hashtags allow brands and influencers to make their content easily discoverable.

Categorization — hashtags help Instagram's algorithm identify content and categorize it. You can group several posts with one hashtag.

Subscription — Instagram hashtags that you follow allow the app to build an Instagram feed for users.
Using both these perspectives, let's figure out how hashtags on Instagram can benefit your business.
Instagram hashtags for brands: why use them
Many small businesses rely on Instagram as their main channel of promotion. Raising their brand awareness on the platforms is essential for their business strategy.
Even for businesses that have other channels of communication, Instagram is oftentimes the place to showcase your product, style, and vision, a digital shopping window so to say. That's why bringing more potential customers to your profile is extremely important and the top hashtags help you do that.
A branded hashtag is the first type of hashtags we typically use, but there are so many more!
Find trending hashtags!
Fire up brand monitoring and see Awario fetch social data in real-time.
By signing up I agree to the Terms of Use and Privacy Policy
Social media managers LOVE discussing hashtags on Instagram. They share rumours and hacks as if they were top secrets. They reject a particular hashtag just because it's said to be shadowbanned. The perfect amount of hashtags per post; how to find trending hashtags on Instagram; how to see if the hashtag you're using was shadowbanned and so on.
So why are we, social media managers, are so obsessed with Instagram hashtags? Let's go through some reasons why they can benefit your business.
Using Instagram hashtags increase your brand's reach
Since search is the main Instagram focus when it comes to hashtags, it's only natural that hashtags on your posts increase your chances to be found thus increasing your posts reach.
On a Business profile, you can check analytics for any Instagram post and see the number of people that discovered your post through hashtags.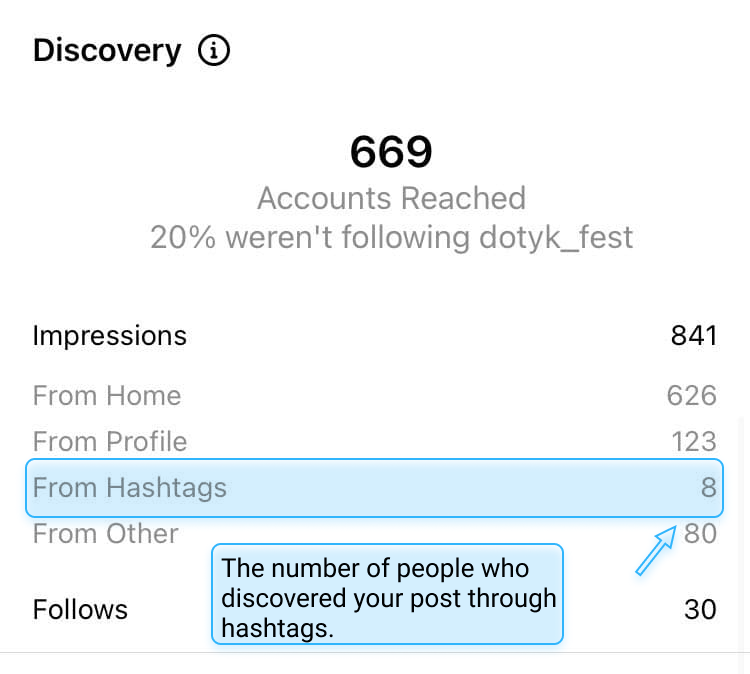 If you're using the hashtags that nobody is looking up, it's highly unlikely they will affect your reach. And if you're using popular Instagram hashtags that have nothing to do with your posts, you probably won't be able to win new followers on Instagram and fans. That's why it's as important to know how to find trending AND relevant Instagram hashtags — hashtag analytics can help you with that (more on that later).
Hashtags get you on people's Instagram feed and Explore tab and give you a chance to go viral
As I mentioned before, Instagram's algorithm takes into consideration hashtags when deciding what Instagram posts it is going to show to the users.
That's why relevant hashtags are so important: they help Instagram identify your content and give it more exposure to the people who could be potentially interested in it. And it's not just popular hashtags - if your interests are super-niche, you may see posts with hashtags which are used by 300 people.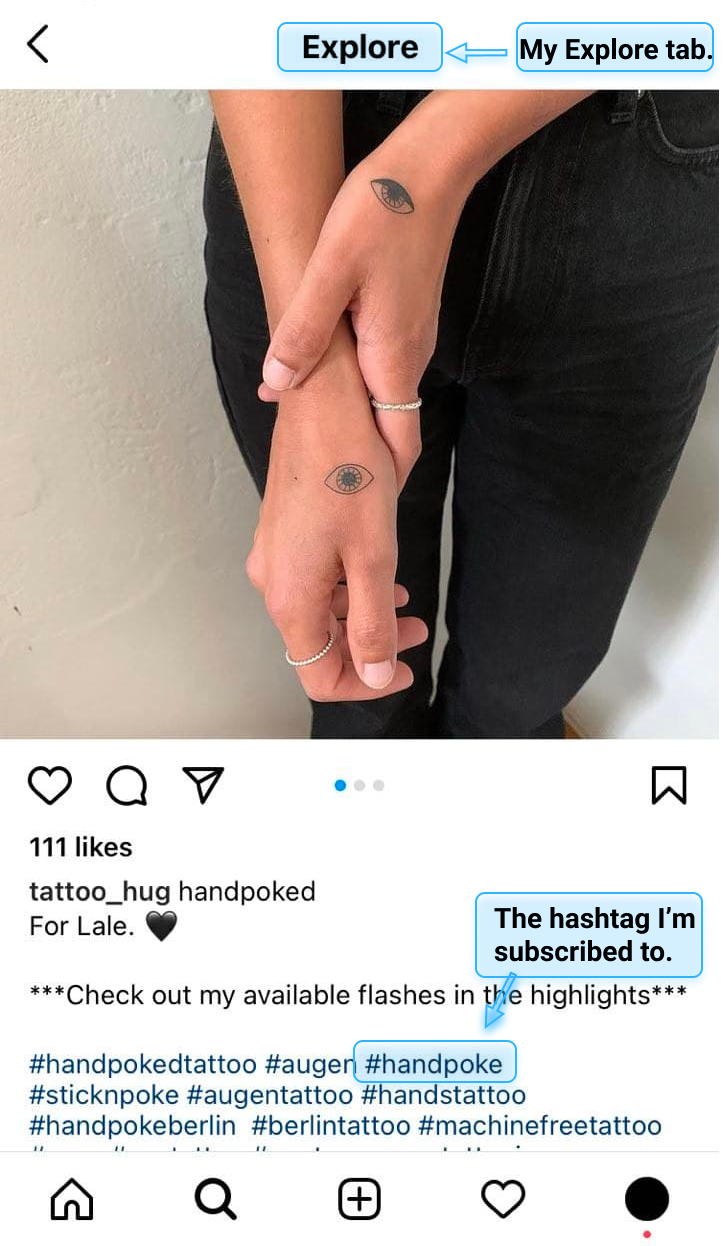 Hashtags help you find new audiences
There are so many types of hashtags: location hashtags, campaign hashtags, industry hashtags, branded hashtags, and more. All of them are describing your content from a specific angle, and are aimed at a target audience. By using related hashtags, you can tap into these audiences (for example, people from your city interested in modern technology #sanfranciscotech).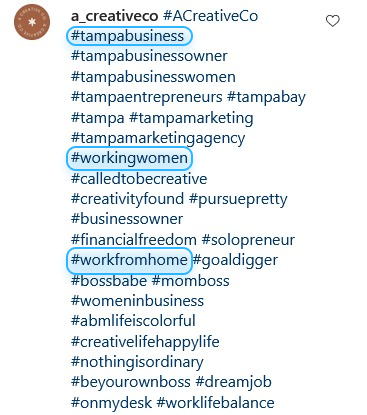 Moreover, you can curate your Instagram posts and branded hashtags in such a way that specific posts will target a specific Instagram audience. A hashtag related to your niche can bring people interested in your industry, and branded Instagram hashtags bring your customers. So you can cater to several audiences at once.
That's the main reasons brands are so eager to find the best Instagram hashtags. Depending on your brand and business model, you can find various other cases for building a robust strategy.
There are different ways to find trending hashtags and free and paid tools to help you with that.
How to find trending hashtags on Instagram
Analyzing Instagram hashtags can take quite a lot of time and effort.
One way to do it is to go through your competitors' pages, see what hashtags they use under their most successful Instagram posts and replicate them. But this move won't always help your engagement rate or reach. After all, you won't get a lot of information about relevant hashtags and trending content from just a couple of your competitors.
To do a proper Instagram search that will give you insights to design an effective Instagram strategy, you'll need either LOTS of time for research or a tool. You can use an Instagram hashtags' tracking tool or a social listening tool — the latter can do hashtag analytics as well as many other types of social media analysis.
Let's go down through the steps of how to find trending hashtags on Instagram with a social listening tool. I'll be using Awario — if you want to follow along, you can sign up for a free trial here.
How to see popular Instagram hashtags with a social listening tool
Step 1: Consider your content
We can separate Instagram hashtags into two big groups: the ones you'll be using for every post (branded hashtags, product hashtags, industry hashtags, and location hashtags); and the ones that will be content-dependent, varying from post to post.
Before you can work with the tool, you need to understand, what kind of content you're going to post. Think of the broader categories that will describe the topic of your content — this will be your keywords for the Instagram hashtag search.
Step 2: Set up an alert
Now that you have your keywords at the ready, it's time to start searching for hashtags. To do this, you need to set up a monitoring alert. You can check this short video to see how to do this.
Add your keywords you came up with in the previous step along with keywords based on your niche and any hashtags you already use.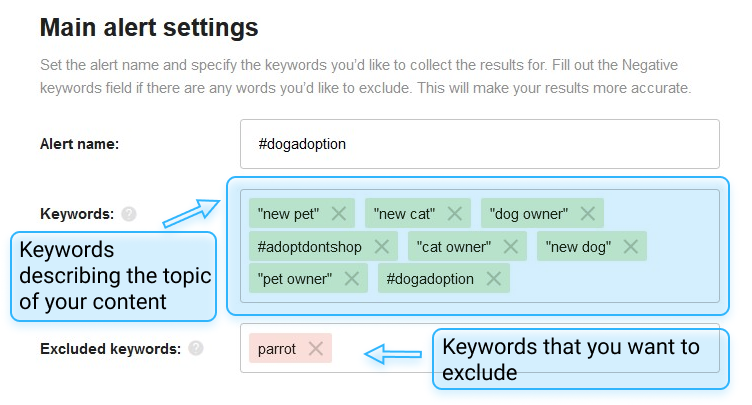 You can also specify the location, languages, sources, and dates of the data you want to analyze. A social media monitoring tool will analyze all the posts mentioning these keywords and collect hashtags that are featured in these posts. It then will rank them by popularity.
Step 3: Analyze the hashtags
Remember when we talked about different Instagram audiences for different hashtags? With most social listening tools, you're not just able to see popular hashtags, you also understand what kind of people are using them.
The tool gives you tons of insights on the hashtags you analyze, their popularity, demographics, and more. Go to the Dashboard to see the most essential information, and if you want to dive deeper into the hashtag analytics, check out the Mention Statistics report.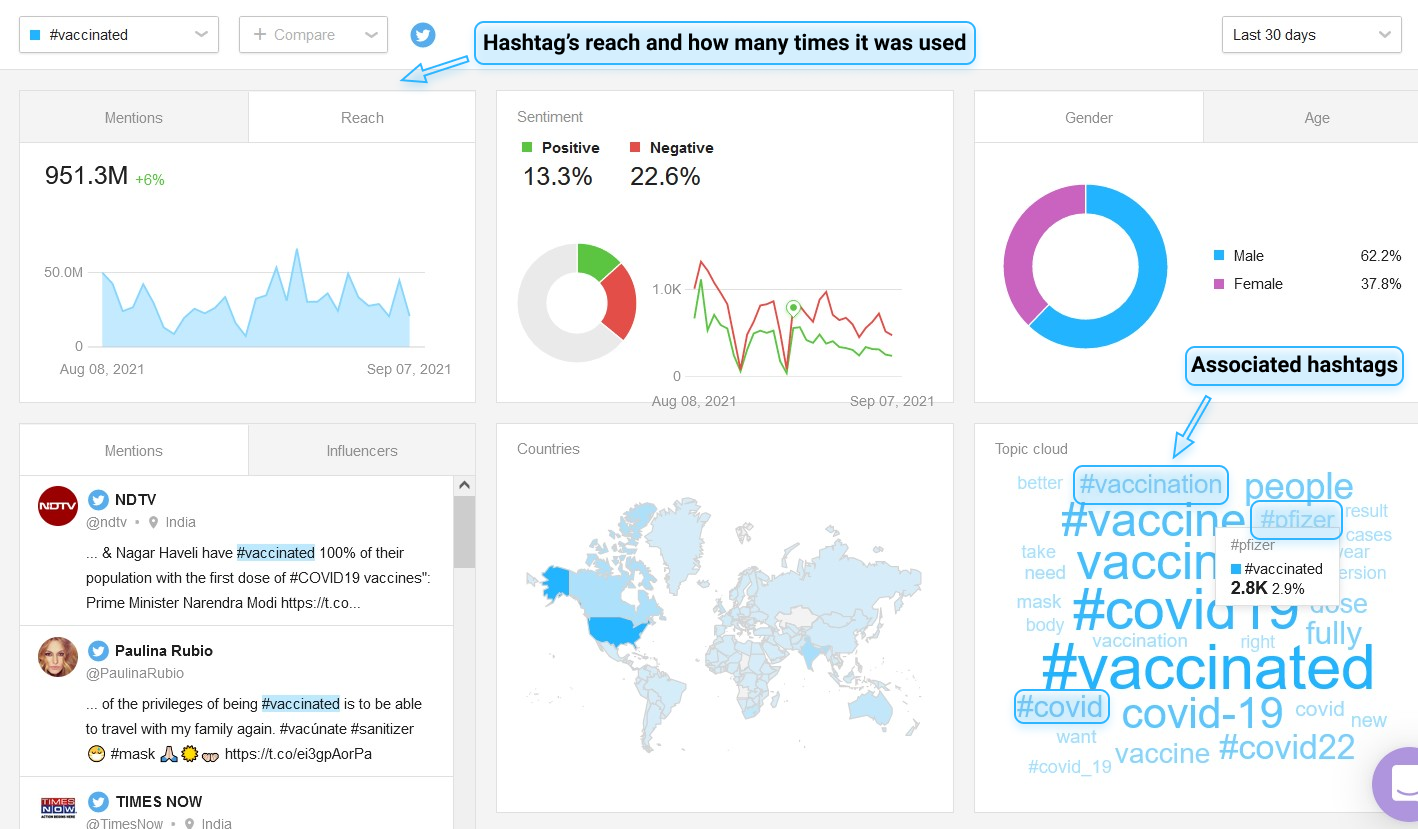 To find trending hashtags for your posts, check out the Topic cloud — it will tell you what hashtags in your niche are the most popular.
You can run the same analysis for any hashtag. If you're wondering how to see how many times a hashtag was used, how much reach it gets, and what kind of people use it — simply create a monitoring alert with this hashtag as a keyword.
Step 4: Track your hashtags
But your job here is not done. Once you collected the trending hashtags you can't just leave them in your social media management tool or an Excel file — you need to monitor them and make sure they stay relevant.
You can see how the reach of a hashtag and its popularity changes over time in Awario.

I'd suggest grouping hashtags by topics into pairs and thirds and creating monitoring alerts with them to track their relevancy, popularity, and audience stats.
Sign up for a free Awario trial
Track hashtags with a free 7-day trial. No credit card required.
By signing up I agree to the Terms of Use and Privacy Policy
Many articles on hashtag marketing include lists of popular hashtags for specific industries. For SEO purposes, we have to include such list as well, but here's what I suggest: use social listening to do hashtag research and then come back to this table and compare your results with it. I can guarantee that your results will be much more effective on Instagram.
Most popular Instagram hashtags in 2022
Best Instagram hashtags for fitness brands
#exercise #bodybuilding #life #gymlife #motivation #healthy #lifestyle #health #gym #sport #training #workout #HealthyLifestyle #muscle #fit #CrossFit #fitness #FitFam #goals #PersonalTrainer #FitnessMotivation
Best Instagram hashtags for the fashion Industry
#bhfyp #smile #OutfitOfTheDay #FashionPhotography #FollowBack #ootd #FashionBlogger #WhatIWore #follow #fashionista #PhotoOfTheDay #StyleInspo #instastyle #love #CurrentlyWearing #FashionBlog #ShoppingAddict #LookGoodFeelGood #FashionAddict #FashionStyle #BeautyDoesntHaveToBePain #style #fashion #FollowForFollowBack #fashionable #PicOfTheDay #fashiongram
Best Instagram hashtags for brands related to traveling
#TravelPhotography #PicOfTheDay #NaturePhotography #TravelBlogger #beautiful #landscape #adventure #explore #instatravel #travelphoto #trip #summer #travelgram #photography #art #travel #wanderlust #nature #instagood #PhotoOfTheDay
Best Instagram hashtags related to food
#instafood #FoodBlogger #lunch #PicOfTheDay #instadaily #FoodPhotography #PhotoOfTheDay #food #healthy #foodie #FoodLover #bhfyp #instagood
#tasty #delicious #foodstagram #homemade #cooking #FoodPorn #love #foodgasm #foodies #HealthyFood #dinner #yummy #restaurant
Best practices for Instagram hashtags in 2022
Well, you have done the Instagram hashtag search the right way and found relevant hashtags for your content. Now that you have results, how do you apply them?
There are lots of different questions people ask about the correct hashtag usage on Instagram. Here are the most popular ones.
How many hashtags should I use per post?
Instagram allows you to add up to 30 hashtags to your post. Naturally, people have questions: do I use all of them or is it too many?
Some social media managers claim that if you add all 30 trending hashtags, Instagram will think you're spamming. However, most people don't agree. As Amber Romero, social media expert, said in an interview with Awario: "Instagram gives you 30 opportunities to increase your post's reach. Why would you not take it?"
So, to answer your questions: use all the 30 hashtags Instagram permits. However, don't try to spam — all of these hashtags should be chosen with some thought behind them. Here's how to choose what hashtags to use.
Which Instagram hashtags are the best to use?
The ones that are trending and relevant to your post. I already gave you some tips when we discussed Instagram hashtag search and how to find trending hashtags on Instagram. You start with the type of content you're going to post, but generally, here are the types of hashtags you'll want to add to any post:
Location hashtags to signify the location of your business
Industry hashtags to get some reach in your niche
Branded hashtags to raise brand awareness
Campaign hashtags (if you're running a campaign)
Product-based hashtags
Topical hashtags that are trending in your niche (use Awario to find the trending ones)
All in all, you end up with about 5 hashtags per group, and voilà, you have your 30 hashtags ready to go.
Where to put your hashtags?
Instagram gives you multiple opportunities to place your hashtags: in your Instagram bio, in the post's caption, or in the comments.
First of all, let's talk about hashtags in the Instagram bio. Instagram bio offers a limited number of characters and I'd reccommend only adding a couple of branded hashtags to secure your branding across all the elements of your profile. Instagram for brands is a great opportunity to flaunt their name.

As for putting hashtags in the caption (usually separated from the rest of the text by spaces or dots) and putting them in the first comment, there had been no agreement on the issue until recently. Since Instagram changed its search algorithm and added keyword Search, it's much more beneficial to add comments to the post's caption.
Should I put hashtags in Instagram Stories?
Ephemeral content works best for live hashtags i.e. hashtags dedicated to some event or location hashtags (if you're travelng for example). When you search for a hashtag, Instagram suggests Stories featuring it, so it's a good idea to include it in your Stories.
In conclusion
Using hashtags shouldn't be complicated! The right hashtags can do wonders for your Instagram page and your business overall. Hashtags and analytics of those play immesurable role in your Instagram marketing.
The key is to approach your hashtag strategu with thought and consideration: do Instagram hashtag search with the right tools, combine different groups of hashtags, track their performance over time, and always test the new ones!
Enjoying the post? There's more.
Sign up for our newsletter to get our best content by email.