How to find trending Twitter hashtags for a winning marketing strategy

Article summary
In this article, we explain how to find popular Twitter hashtags to increase your reach and brand awareness. We discuss why trending hashtags are important, and how to find hashtags that are trending in your niche using Twitter and hashtag tracking tools.
Hashtags help you increase your reach and raise brand awareness. And, of course, the best hashtags to use are trending hashtags, since they can be seen by many many people.
But here's the kicker: you need to use the right hashtags in the right context to have a truly effective hashtag marketing campaign. And it's quite hard to find the right hashtags. You can't just go on Twitter's trending topics and pick a random hashtag, it should be relevant to your audience.
A well-thought-out Twitter hashtag strategy can help you get more impressions and raise brand awareness.
If you want to reach as many people as possible, your hashtag marketing strategy should consider Twitter trends. In other words, it should include trending topics and hashtags.
The main question is how to track those Twitter trends and find relevant hashtags. But before we move on to the main question, let's tackle a different one: why do we need Twitter hashtags?
Once we understand why we should use trending hashtags on Twitter, we can move on to the practicalities of building a Twitter hashtag strategy:
How to find relevant hashtags

How to track trending hashtags and topics

How to analyze Twitter hashtags

How to develop a hashtag strategy
So let's start with our marketing goals: why do social media marketers need hashtags?
Why do we need Twitter hashtags?
For many people, hashtag is the symbol of social media, and for a good reason too. The right hashtags connect people and create communities. They allow Internet users to track topics they are interested in, find allies, and quickly spread important information.
On Twitter, hashtags are useful both from the users' and from the algorithm's perspective.
For users, they help to group content and make it more searchable. When someone clicks on or searches for a specific hashtag, they will be able to find all the profiles and public posts that used it. For instance, if I search for #hiking, I can see plenty of posts about hiking trails, gear, tips, etc.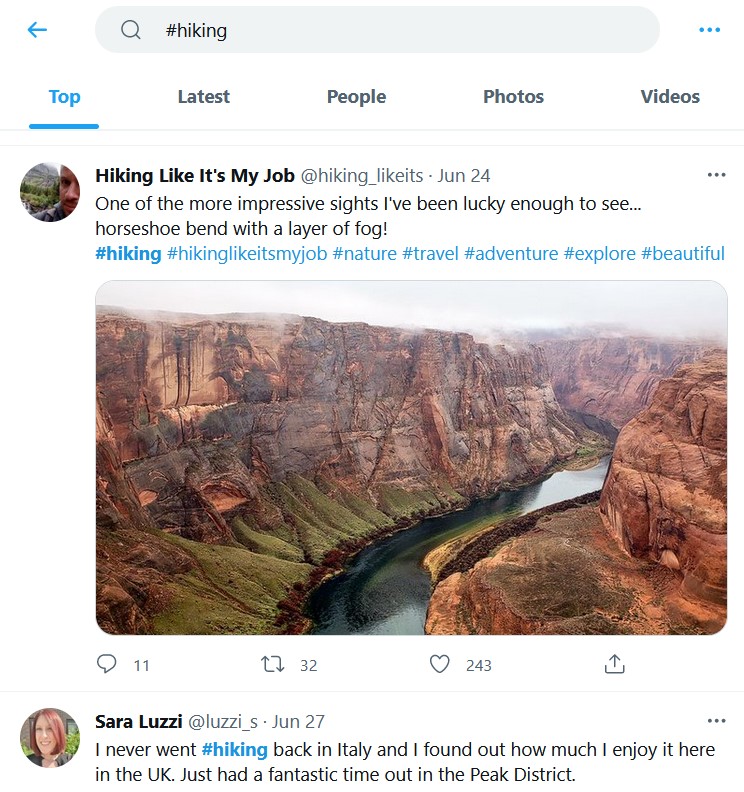 In addition to that, Twitter takes into account hashtags when they select a post to show in the Topics — a Twitter feature that groups content around a certain interes such as a particular TV Show, local news, sports team and so on.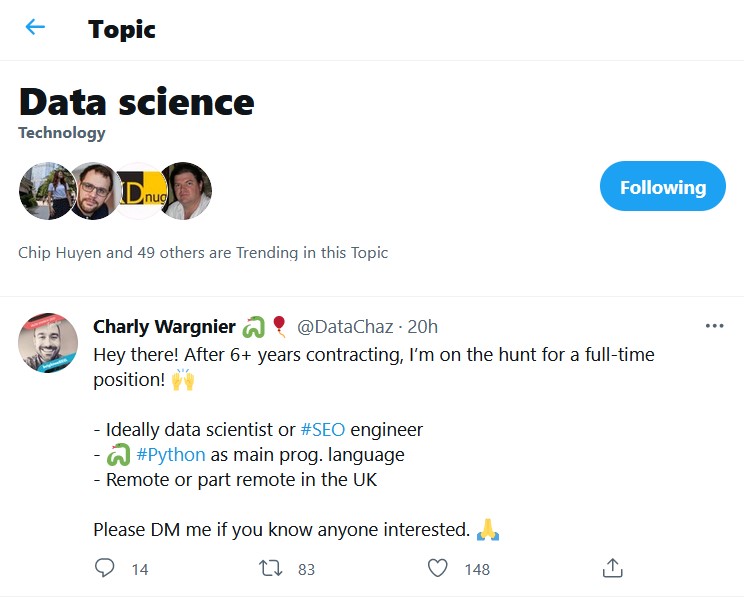 Thus, by adding the right hashtags to your posts, you can tap into a specific audience created around shared interests that follows a Twitter Topic.
Essentially, hashtags make your content easy to discover.
For businesses, hashtags present an opportunity to expand your audience outside of your following and enhance the searchability and reach of your content. That's why it's absolutely necessary to add popular hashtags to your tweets.
What are trending Twitter hashtags?
Now we know why we should add a hashtag on Twitter and why it's important to track relevant hashtags. So what are trending hashtags?
In the most common understanding, trending hashtags are the hashtags included in Twitter trending topics.
These are the hashtags you see when you click on a looking glass icon in the Twitter app or on the right side of your screen if you're logging in from the desktop. They are placed in the "What's happening" block that gives you a kind of Twitter trends' report.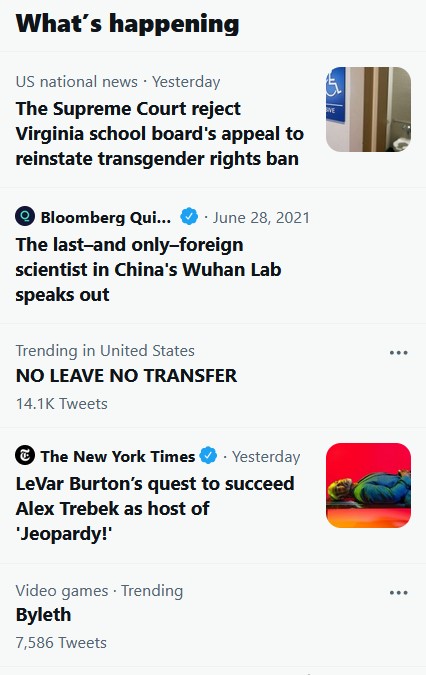 Twitter trending topics are based on your location (although you can choose to see World Topics) so you'll get different trending hashtags in Madrid and in Sydney.
Moreover, the relevant hashtags may differ for each person based on their interests which are defined by Twitter's algorithm.
These hashtags are selected due to the current popularity of a recent topic. For example, if people in your country all are discussing new lockdown rules, #lockdown will probably start trending.
Hashtags that you discover through Twitter trending topics are not always useful for your brand. Naturally, it's quite difficult to track any hashtag and predict the popularity of specific topics since they emerge rapidly around world events, viral tweets and memes.
Besides, oftentimes Twitter trending topics are not that relevant for your hashtag marketing strategy anyway if you're focusing on a specific target audience.
However, there are ways to find hashtags that are trending among your desired audience — and these will be more beneficial if your goal is to get an engaged following.
We will talk about how to find hashtags like these later, but now let's go through all the types of trending hashtags on Twitter.
Your mentions are almost here!
Fire up brand monitoring and see Awario fetch social data in real-time.
By signing up I agree to the Terms of Use and Privacy Policy
Types of Twitter trending hashtags
The hashtags that get into Twitter trends can be divided into several categories. These categories are important to consider for your hashtag marketing strategy. You should decide which types of trending hashtags you want to include.
Regularly occurring trending hashtags
This is the only type of hashtag that is predictable to trend at a certain moment. It includes hashtags related to holidays and annual, monthly or weekly events.
Holiday-related hashtags are regularly featured in Twitter trends. To find these hashtags, check out Twitter's official guide. This calendar can help you find not only established celebrations such as Easter and Christmas, but also unconventional holidays, for example, #InternationalDayofYoiga.
How can yoga make the world a better place? Brook, who runs virtual sessions for our people, explains all. #InternationalDayofYoga pic.twitter.com/LnZUfmdyRI

— GSK careers (@GSK_careers) June 21, 2021
Hashtags related to regular events. This can be sports championships like #Superbowl, award ceremonies, for example, #Oscars, and contests.
Weekly "inspiration hashtags" specific to Twitter. There are hashtags that encourage Twitter users to share some motivational ideas throughout the week, for example, #MondayMotivation, #TuesdayThoughts, and so on.
New week, new opportunity. We will be fighting with every weapon we have, and the battle is still full on ? #MondayMotivation pic.twitter.com/J86N6ysiQH

— Mercedes-AMG PETRONAS F1 Team (@MercedesAMGF1) June 28, 2021
News and events hashtags
These are hashtags related to current events that you most often see in Twitter trending topics. They emerge quite unexpectedly so it can be quite hard to track these hashtags or utilize them to your advantage.
However, if your brand voice is naturally presuposed to talk about a trending event, using a trending hashtag can be extremely beneficial. For example, take a look at this post.
Katie really just did THAT ? #TheBachelorette pic.twitter.com/od63IGDvP6

— Chicks in the Office (@ChicksInTheOff) June 29, 2021
The hosts of Chicks in the Office talk about pop culture and media, so it's only natural for them to jump on the hashtag related to the launch of a new season of the reality show Bachelorette.
Notice how they posted a dramatic video with a mysterious and enticing caption: by using this element of clickbait they made sure their post goes viral.
This is a good lesson to learn: if you're jumping on a trending hashtag, make sure that your brand image and voice match the topic of discussion.
Moreover, you need to be really knowledgeable about the topic to make your tweet go viral and not to embarrass yourself and cause a PR crisis (especially if the hashtag is associated with a sensitive topic).
Memes and internet trends
Just like world events, memes and viral Twitter trends are quite hard to predict. They usually spawn from a viral tweet or a social media trend. These hashtags vary from popular phrases to obscure wordplay and jokes.
#Thatfeelingwhen you connect prospects and customers to the right resources at the right time. pic.twitter.com/aTCynHGtal

— HubSpot (@HubSpot) April 11, 2019
As a social media manager, your task is to keep an eye on viral tweets, monitor relevant content, and follow trendy Twitter accounts to always stay in the know.
Once again, remember not to hop on a meme trend before you fully know what the trend is about. Having a vague understanding of the Internet culture often results in embarrassing tweets or can even cause controversy if the hashtag is used by a radical group, for example.
That's why using hashtag search and various research tools can help you efficiently and effectively incorporate hashtags into your content without committing any Internet faux-pas.
Niche hashtags
These are hashtags directly related to your niche. For example, #MarketingTwitter is popular for posting digital marketing tips, hiring announcements and sharing some marketing inspiration.
Alright #MarketingTwitter I need your help finding some great #SMM talent! ?

Hiring for 2 new Senior Social Media Manager roles on @Shopify's global marketing team ?

— Katie Jane Parkes (@katiejanebrain) June 23, 2021
These hashtags can emerge in response to some industry news or tie in specific communities or topics inside your niche. For example, the #adoptdontshop hashtag on Twitter is a trending hashtag for the pet owners community. It promotes pet adoption and unites the part of the community that cares about this specific topic.
My first day in my forever home.#Caturday #CatsOfTwitter #AdoptDontShop pic.twitter.com/82FUs7PnhX

— Minou The Rescue Cat ?? (@MinousJewels) June 26, 2021
If you know who your audience is and what their Internet habits are, these hashtags can bring incredible marketing results. They show your following that you speak the same language while raising your brand awareness at the same time.
The only caveat is that this type of a hashtag on Twitter is quite tricky to find and track. Twitter's native hashtag analytics won't always be able to help here. Niche hashtags don't get into the "What's happening" tab or Twitter trending topics since they are only relevant to a specific part of Twitter users.
Luckily, we know how to find niche hashtags using other hashtag research strategies and hashtag tracking tools. Social media listening tools can help identify trending Twitter hashtags for a specific industry and audience.
Your mentions are almost here!
Fire up brand monitoring and see Awario fetch social data in real-time.
By signing up I agree to the Terms of Use and Privacy Policy
Let's explore the two ways to find trending hashtags on Twitter: with social listening tools and with Twitter's native search.
How to find trending Twitter hashtags
Once you decide what types of hashtags you want to use in your social media strategy, it's time to get to research.
Given the nature of popular hashtags, you need to search for them quite often. Twitter trends come and go and it's important to stay up to date: that's why hashtag search should become a part of your social media routine.
There are two ways to find relevant Twitter hashtags: by using Twitter's native hashtag analytics or a hashtag research tool.
Of course, a specialized hashtag tracking tool gives you more opportunities and makes it easy to explore different tweets and analyze Twitter content. But if you need to run an initial search, Twitter trends report can be a great source as well.
Let's start with the in-depth hashtag search and explore how social listening tools like Awario can help you find popular hashtags in your niche.
How to find trending Twitter hashtags with Awario
As I mentioned, Awario is a social listening tool that analyzes social media and online conversations including tweets. Awario is not simply a hashtag tracking tool, it's a social media analytics tool first and foremost, so there's a lot you can do with it, including:
Track any hashtag

Track your Twitter account's brand awareness level and sentiment

Track any influencer across several social media platforms

Find people mentioning your brand and branded hashtag

Track your campaign hashtag and analyze its reach

and more!
The tool will collect all the tweets that mention relevant topics, analyze them and get insights on popular hashtags in your niche. To find the best hashtags for your Twitter account, you'll need to create a monitoring alert. Awario asks you to create an alert once you sign up.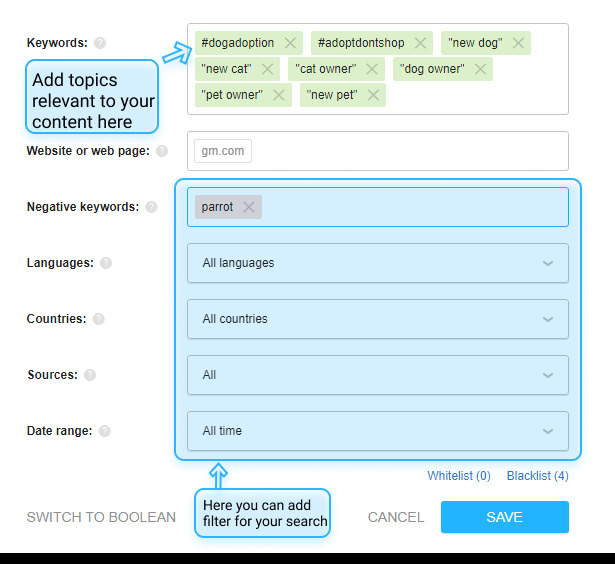 Add industry-related words and phrases as keywords. Think of different phrases your audience might use and add them to the keywords as well. Moreover, if you already know some hashtags relevant to your industry, add them as well.
You can add negative keywords to signal that you don't want to analyze tweets containing these keywords. This can come in handy when there's a risk of getting a lot of irrelevant results.
You can specify the countries and languages of search as well.
Awario will immediately start collecting and analyzing tweets that mention these keywords. After a few minutes, go to the Mentions Statistics report. Here you can find all the insights you need to find popular hashtags in your niche.
The first thing to do is to go to the Topic cloud. It will show you the most common phrases and most importantly hashtags used in your niche. For example, here's a Topic cloud for the alert I created earlier centered around pet owners.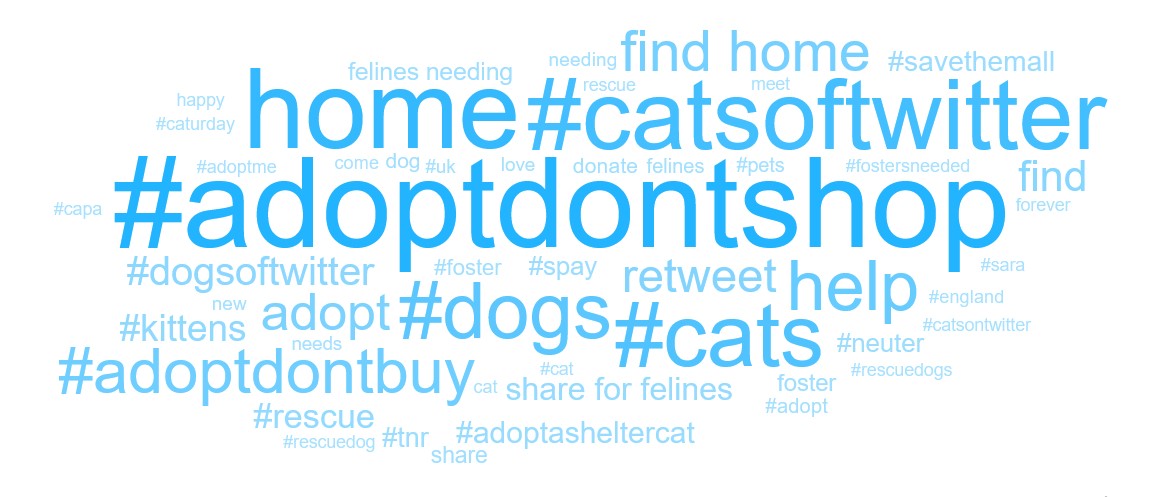 As you can see, I got plenty of hashtags to choose from. When you point at a hashtag you can see the number of tweets using it and the percentage of tweets compared to all the tweets collected by the monitoring alert. These numbers can give you insights on which hashtags are more popular.
By clicking on the hashtag you get taken to a feed of all the tweets mentioning it and can fully understand the context in which it's used. This is extremely helpful for social media managers: it can give you some content inspiration and prevent you from using a wrong hashtag as I mentioned previously. Make sure to follow popular Twitter accounts in your niche.
With Awario, you also get audience analytics such as age, gender, their location and more, so you can better understand your target audience. You can also accomplish different marketing goals: check out this article on how to use social listening tools to learn more.
Awario is a paid tool, but we offer a free trial, so you can try hashtag tracking by signing up with your email right now. It takes no more than 2 minutes to set up an alert and start hashtag search.
You can also run a quick hashtag search on Twitter. It won't give you as much information, but it's a good place to start when planning out your hashtag marketing strategy. You can later add the hashtags you discovered through Twitter search to Awario and get some deeper insights.
How to find trending hashtags through native Twitter search
There are several ways to check for trending hashtags through native Twitter search options.
Firstly, you can click the Explore tab on the left side of the screen (or click the looking glass icon in the app) and go to the Trending tab. Here you can see trending topics for your account which, thanks to Twitter algorithm, should be somewhat relevant to your account.
You can also look up Twitter's Topics and search for those relevant to your brand. Then go through the tweets in this Topic and take notice of the hashtags used in them. For example, I noticed that Marketing tweets include hashtags like #contentmarketing #ux and
so on.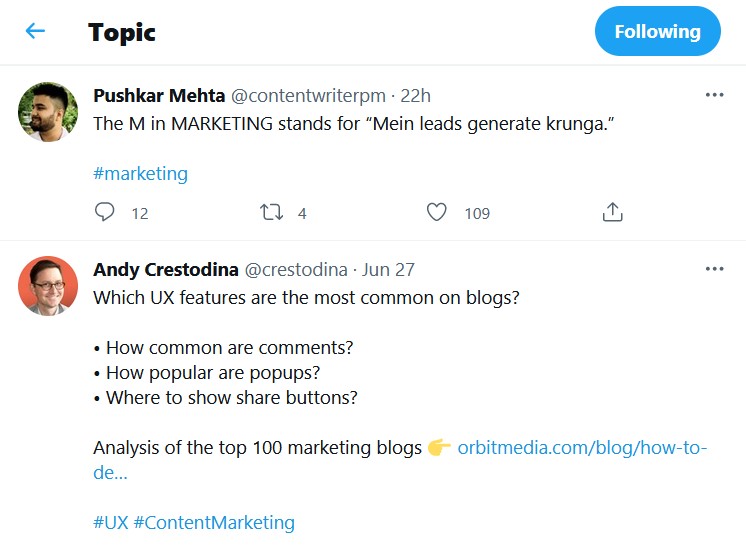 This way to research hashtags is far from perfect but it's a great first step for building a hashtag strategy. Besides, it's a great techique to find meme hashtags and viral trends that you can join.
Wrap up
Ultimately, trending hashtags should be an important part of your strategy, though not its cornerstone. Mix them up with branded hashtags and community hashtags, and you'll get a robust social media content plan.
You can try to make your own hashtag go viral and get into Twitter trending topics. It's hard but not impossible — check out our recipe for creating viral posts.
All in all, it's important to define what trending hashtags match your brand voice and use them in the right context — and you'll be sure to reach a new engaged audience.