A beginner's guide to boosting e-commerce leads through Instagram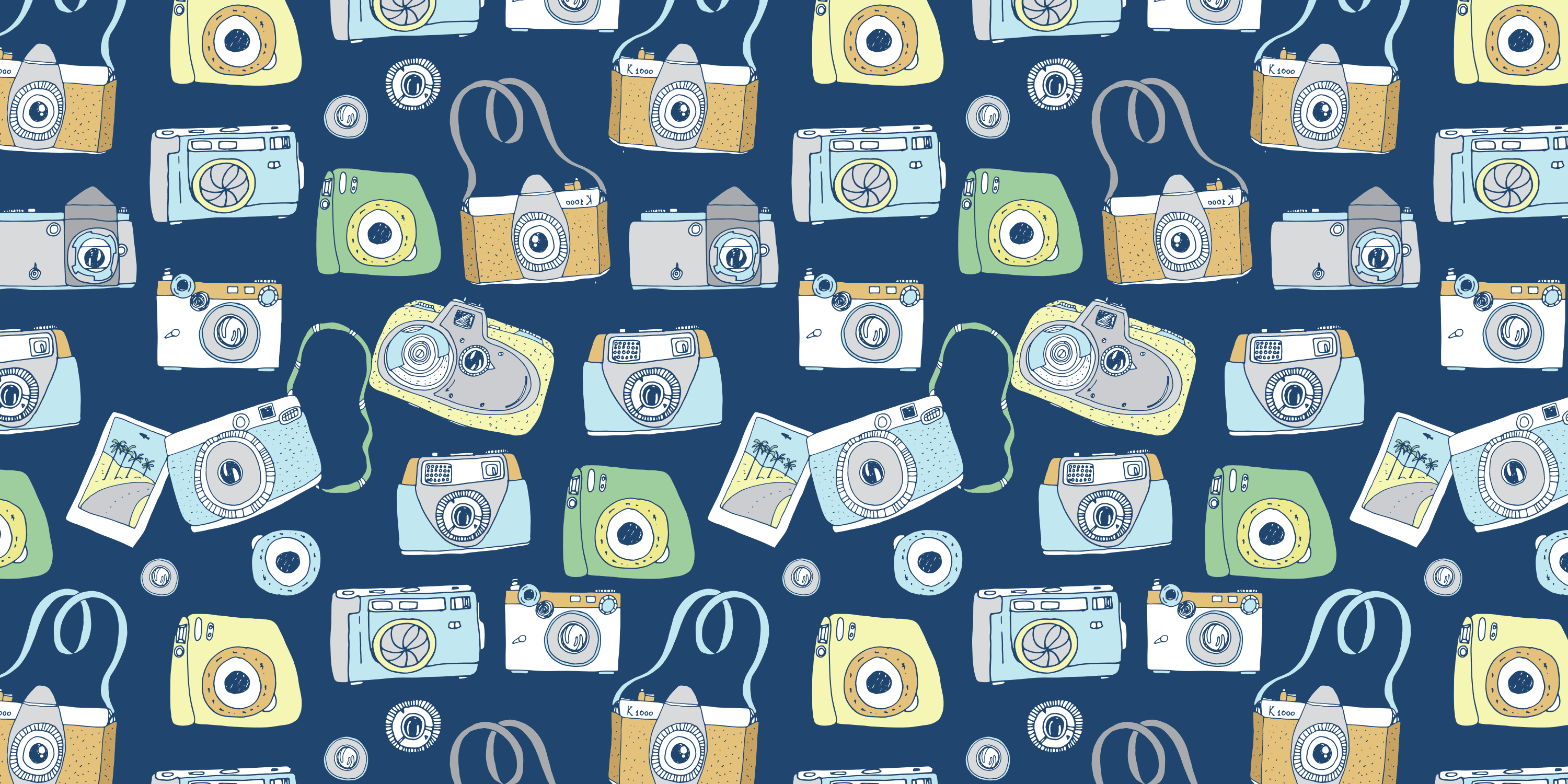 From social selling to nurturing returning customers, social media is a staple of modern e-commerce. There's perhaps no better place for e-commerce brands to be than Instagram right now. With a staggering 90 percent of users already following businesses and brands, the platform is a prime place to show off what you're selling. Meanwhile, Instagram is consistently rolling out new features that make it easier than ever to engage with customers.
Becoming an Instagram success story doesn't happen by accident, though.
That's exactly why I've put together this guide that breaks down everything you need to know about Instagram for e-commerce if you're new to boosting leads from the platform.
How to optimize your Instagram profile for e-commerce
Before you worry about posting a single snapshot, let's dive into the basics of setting up an e-commerce profile on Instagram. The following elements of your account might not seem too pressing at a glance. However, they can ultimately make or break your ability to effectively engage with customers and understand your ROI from the platform.
Convert to a business profile
Instagram for e-commerce is all about "looking the part."
Make sure that you switch to a business profile as soon as possible. Doing so gives you access to Instagram Insights and enables your profile to run paid ads down the line. But most importantly, a business profile enables one-click contact buttons on your profile which makes it easier for your leads to get in touch with you. Below is an example from Worn Wear by Patagonia, including an Instagram specific-email, phone number and physical address.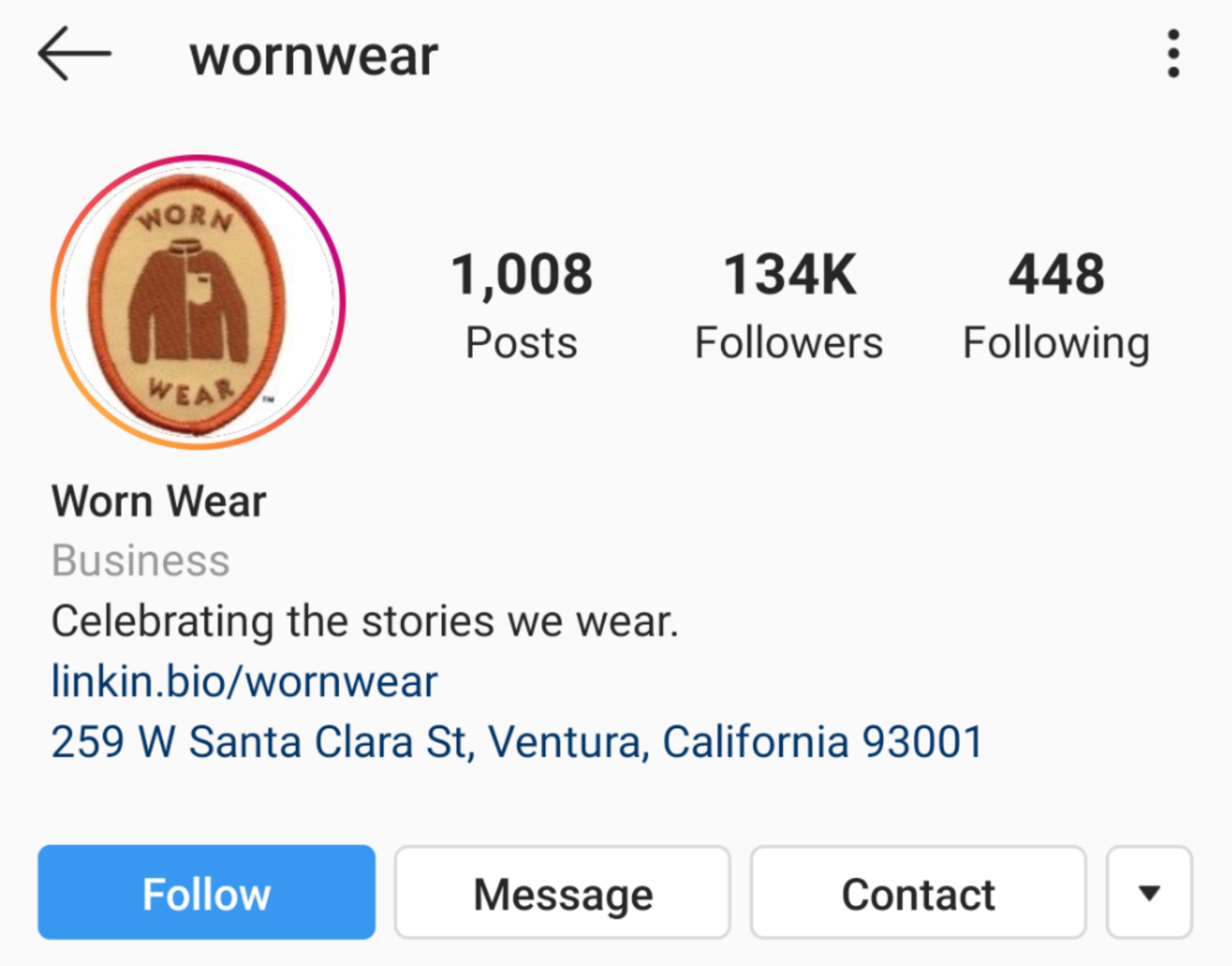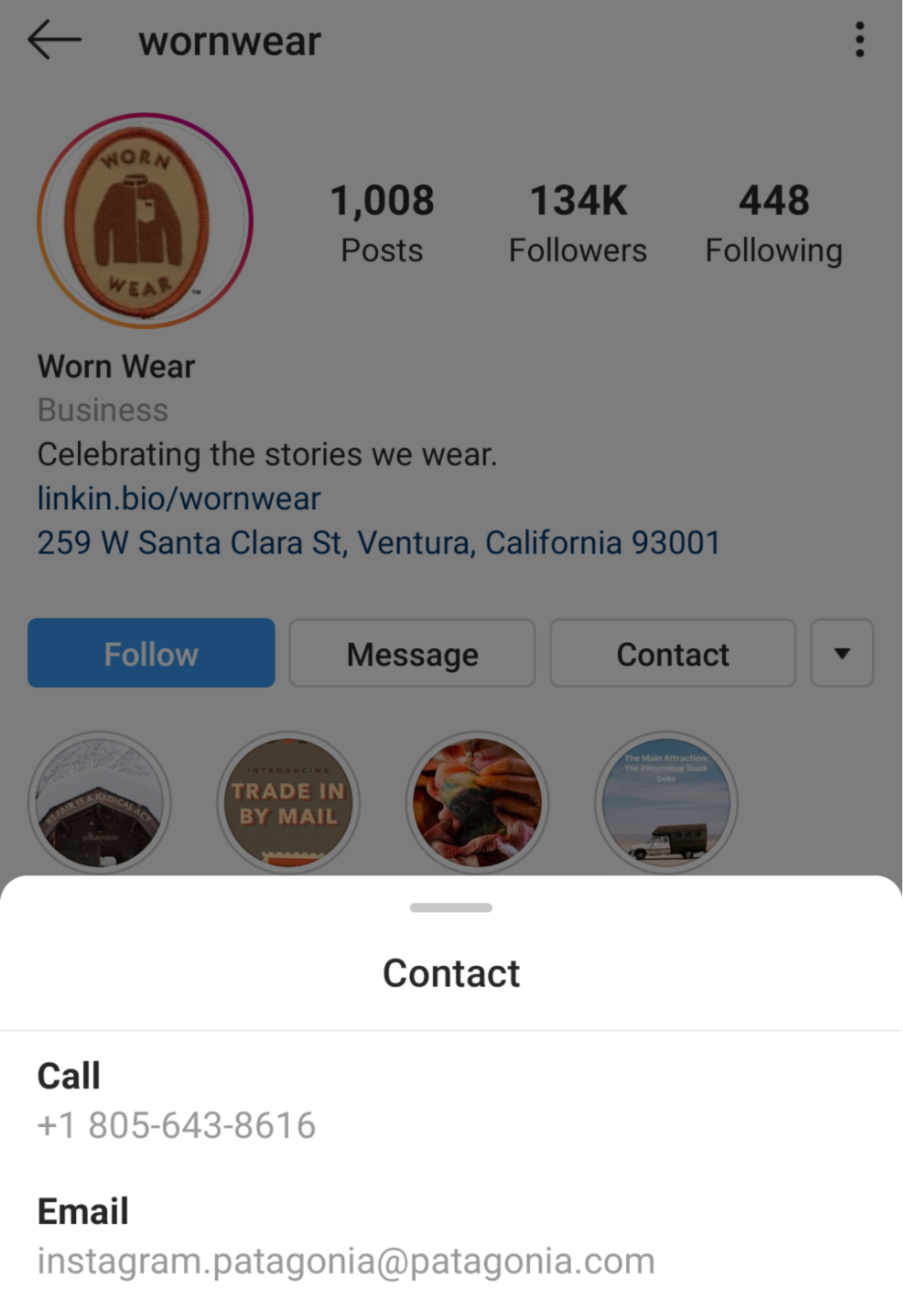 The added bonus of having these details present via a business profile is that it doesn't have to take away from the character count of your Instagram bio.
And hey, that leads us directly to our next point.
Craft a сompelling Instagram bio
For e-commerce brands, your bio is arguably the most important piece of real estate on your profile.
Why, though? For starters, it's likely the first section of your profile that customers will see.
Specifically, your bio is home to your Instagram's single external link to funnel followers to your storefront. This same space provides multiple opportunities to show off your business' personality and encourage people to engage with your content.
Limited to only 150 characters, businesses must get their message across without being too wordy.
Most Instagram bios for e-commerce are presented as a punchy list. For example, your bio should ideally include a combination of the following:
A call-to-action ("tag us in your photos," "check out bio")
A brand-related hashtag (#toms or #standfortomorrow)
A slogan, tag-line or mission statement
A link to a shoppable landing page
Emojis
Below is a brilliant example of an e-commerce bio from Coastal who manages to do all of the above.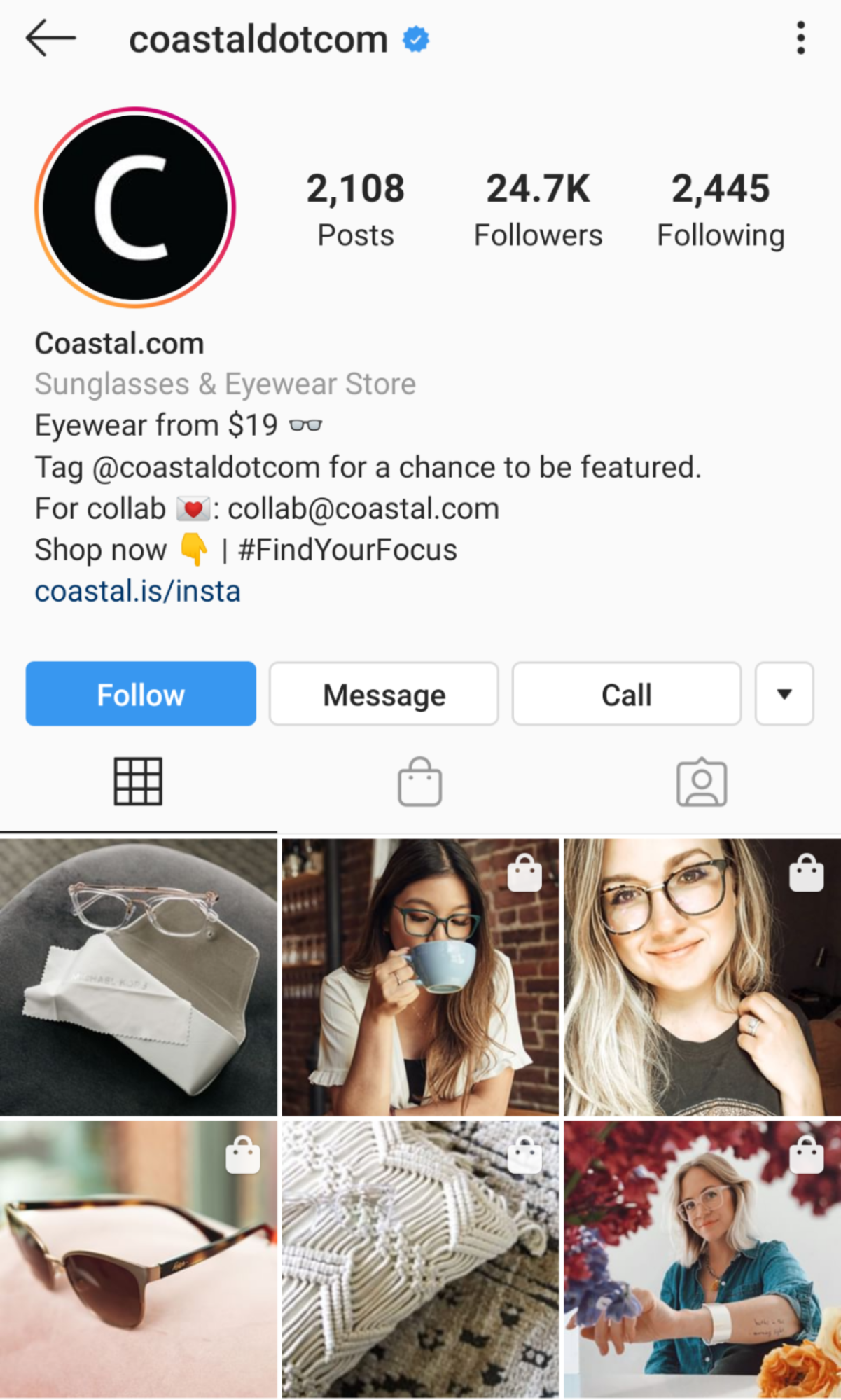 Pay attention to your bio link
Remember: you can't post individual links within Instagram posts.
In other words, your bio link is your leads' single avenue to your storefront.
For the sake of style as the ability to track your leads once they click through, putting together a custom bio link is a smart move.
For example, URL shorteners like Bitly allow you to customize your bio link and likewise track visitor behavior by integrating with Google Analytics
Meanwhile, tools such as Linktree do the same in addition to enabling your bio link to point to multiple landing pages.
Oh, and premium tools such as Curalate and Yotpo are also staples of e-commerce, essentially converting your Instagram content into a shoppable feed in addition to robust analytics.
Chances are you've seen a Like2buy link from Curalate before, right?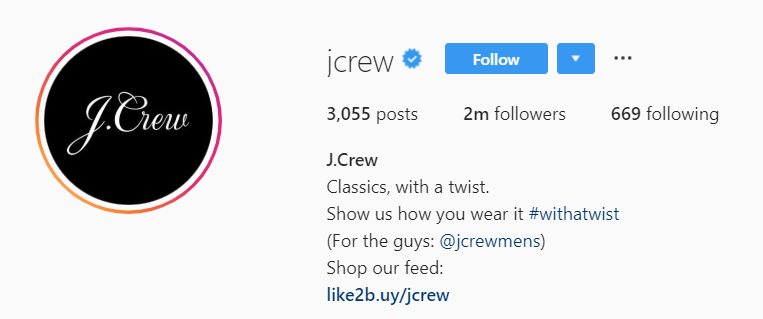 Once visitors click through, they're able to shop products directly sourced from your Instagram feed.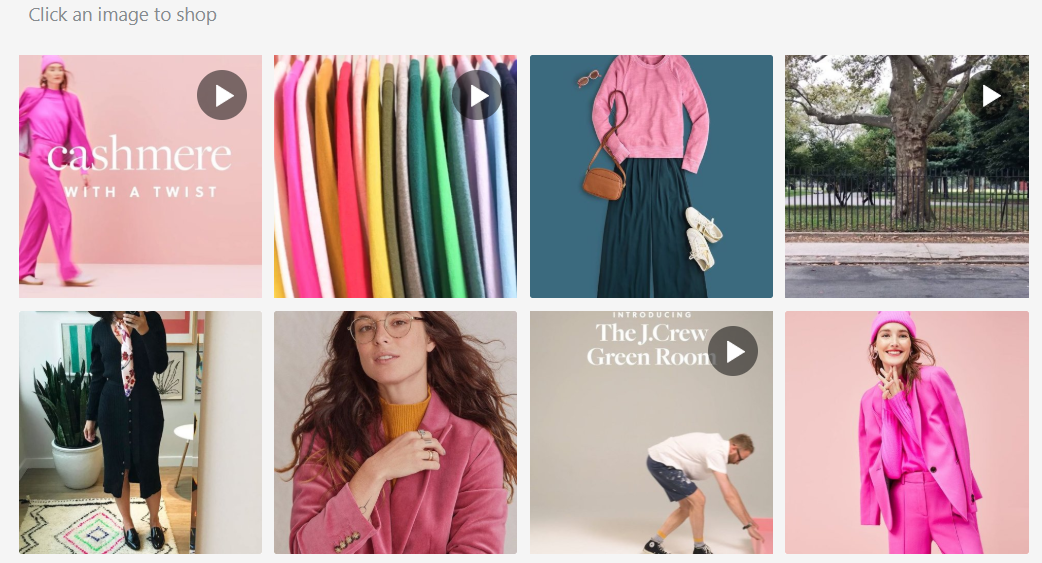 See how that works?
Bear in mind that there is no "right" way to format your bio link. Regardless, we recommend a trackable link rather than a generic homepage link to make it easier to measure your ROI from Instagram.
Putting together an effective e-commerce content strategy
Let's say that your profile is set up and you're ready to start publishing content.
Now what?
The good news is that e-commerce businesses are spoiled for choice in terms of what types of content they can post.
Brands should have a diverse content calendar for the sake of keeping their current followers entertained while also encouraging new followers, too.
But note that your Instagram content strategy shouldn't be totally random. Instead, consider how publishing specific types of content on a consistent basis can help you nurture and convert more leads.
Here's what you should publish to Instagram
Below is a snapshot of what most e-commerce businesses publish to Instagram to keep their feeds fresh and catch the eyes of shoppers.
i.Product Photos
Posting product photos might seem like an obvious first step for any business on Instagram.
That said, consider how much presentation matters when it comes to showing off your products to leads.
For example, a brand like Drop It Modern uses bold colors and stunning settings to showcase wallpapers and fabrics. Rather than post pictures you'd see on a typical product page, they use creative settings to score style points with their followers.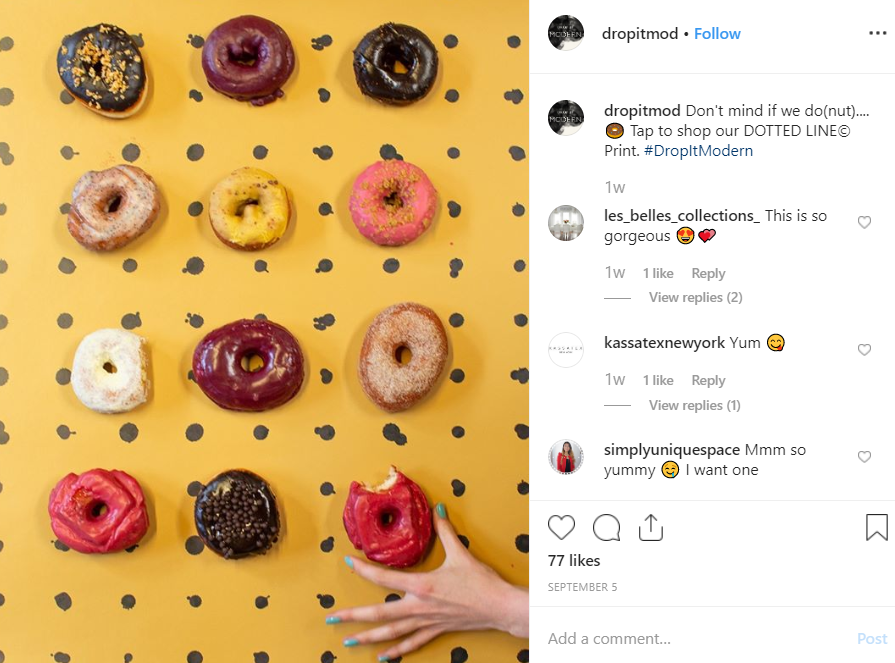 Anything you can do to put your product in a real-world setting is a major plus.
Whenever you post a product-centric photo on Instagram, ask yourself: might someone like this organically if it didn't come from a brand account?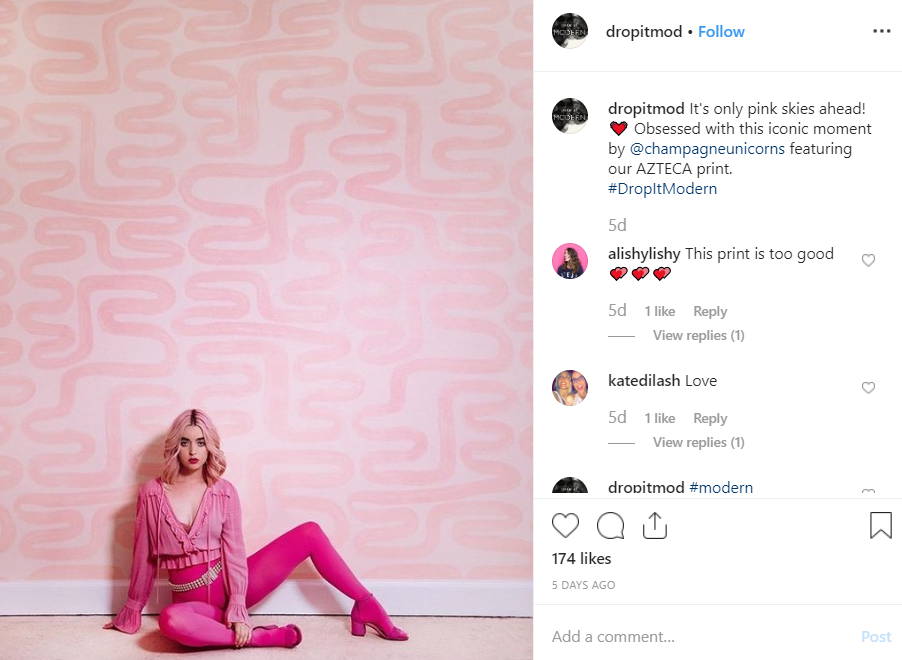 ii. User-Generated Content
Customer photos are a sort of holy grail for e-commerce brands on Instagram.
Not only are they a powerful form of social proof, but also a way to introduce your brand to new followers and customers.
In short, curating user-generated content requires having a branded hashtag (think: #drmartenstyle) while also paying attention to customers who tag your account in their photos.
These tags provide you with a place to curate customer content and see who's showing your products some love.
In turn, you can promote these customer photos to your own audience through regrams. This only encourages your fans and followers to post about you more in the future in hopes of a shout-out.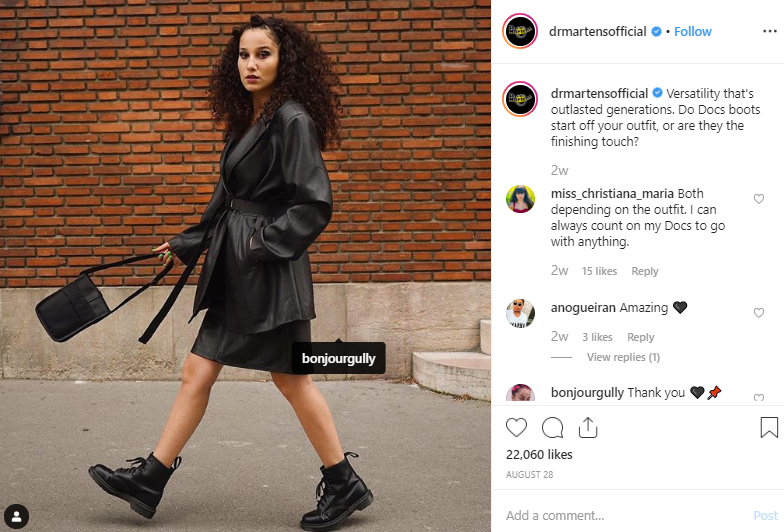 Customer photos can likewise be used throughout your other marketing campaigns such as email and print.
However, take the time to understand user-generated content rights and permission rules before plastering your customer photos across the web.
iii. Educational Content
The beauty of Instagram for e-commerce is that you don't have to be shy about advertising your products.
Even so, sometimes it's nice to give your customers a break from sales messages.
Educational and how-to content that teaches your target audience about your product without selling directly is a clever way to do just that.
For example, Harry's publishes slideshows of shaving tips to their grooming-focused fanbase.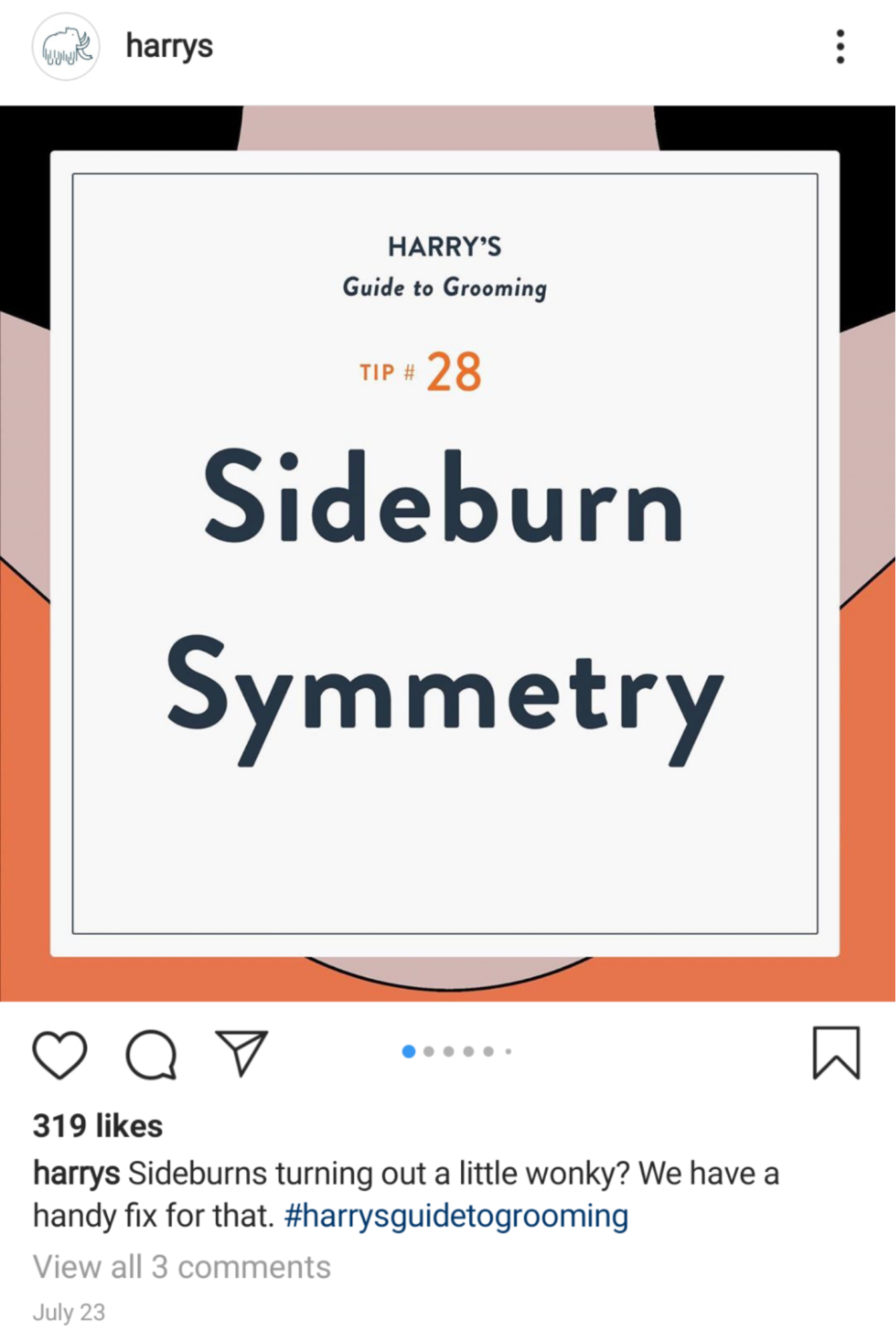 Meanwhile, Glossier posts tutorial videos showcasing various makeup brands to inspire their followers to try a new style.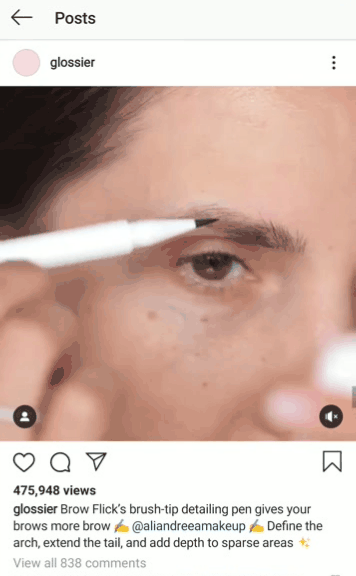 These types of posts do double duty of highlighting your products while also adding some much-needed flavor to your Instagram feed.
iv. Question-based content
Instagram's algorithm thrives on engagement.
In other words, brands that score more "likes" and comments are more likely to have their content rewarded with additional reach.
That's why it's so common for e-commerce brands to publish question-based posts that serve as a sort of call-and-response.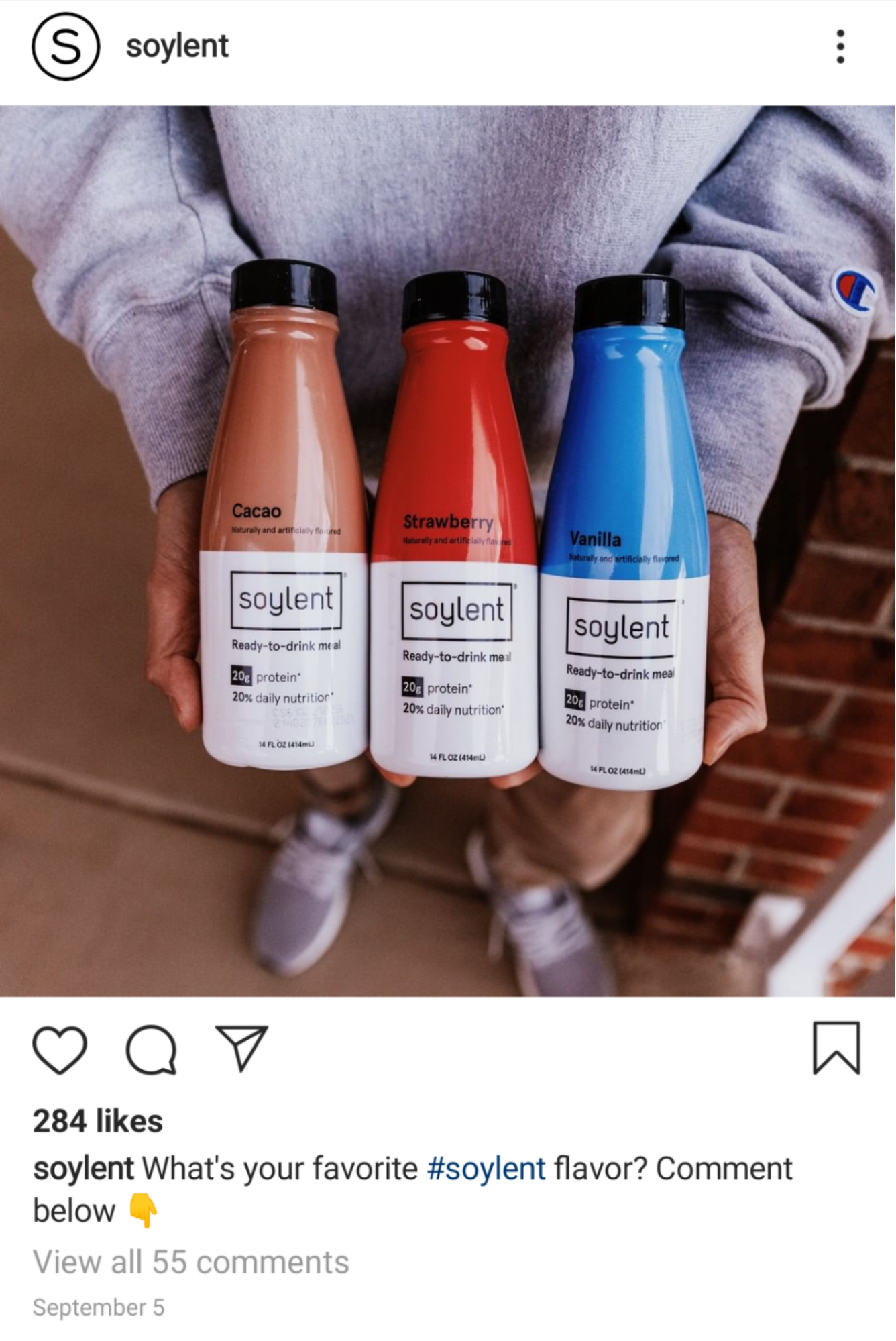 Question-based posts provide an opportunity to pick your followers' brain and show them that your listening to them.
If nothing else, they're a great way to go back-and-forth with followers and show off the human side of your business as you get to know them better.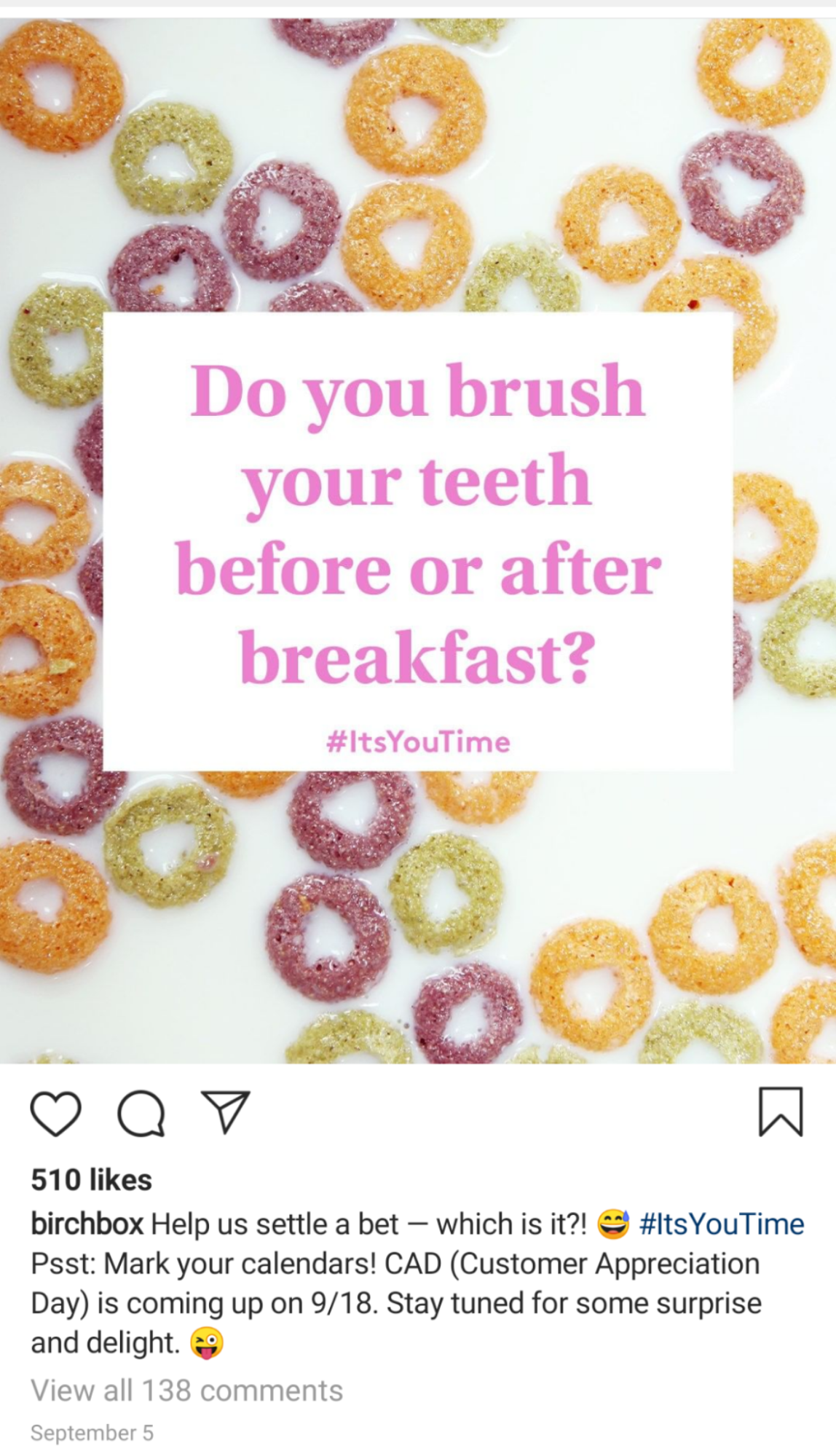 v. Memes and humor-centric content
A common thread between e-commerce brands on Instagram is that they know how to let their personality shine through.
Through memes and humorous posts, you can once again signal that you aren't only after a quick buck from your followers.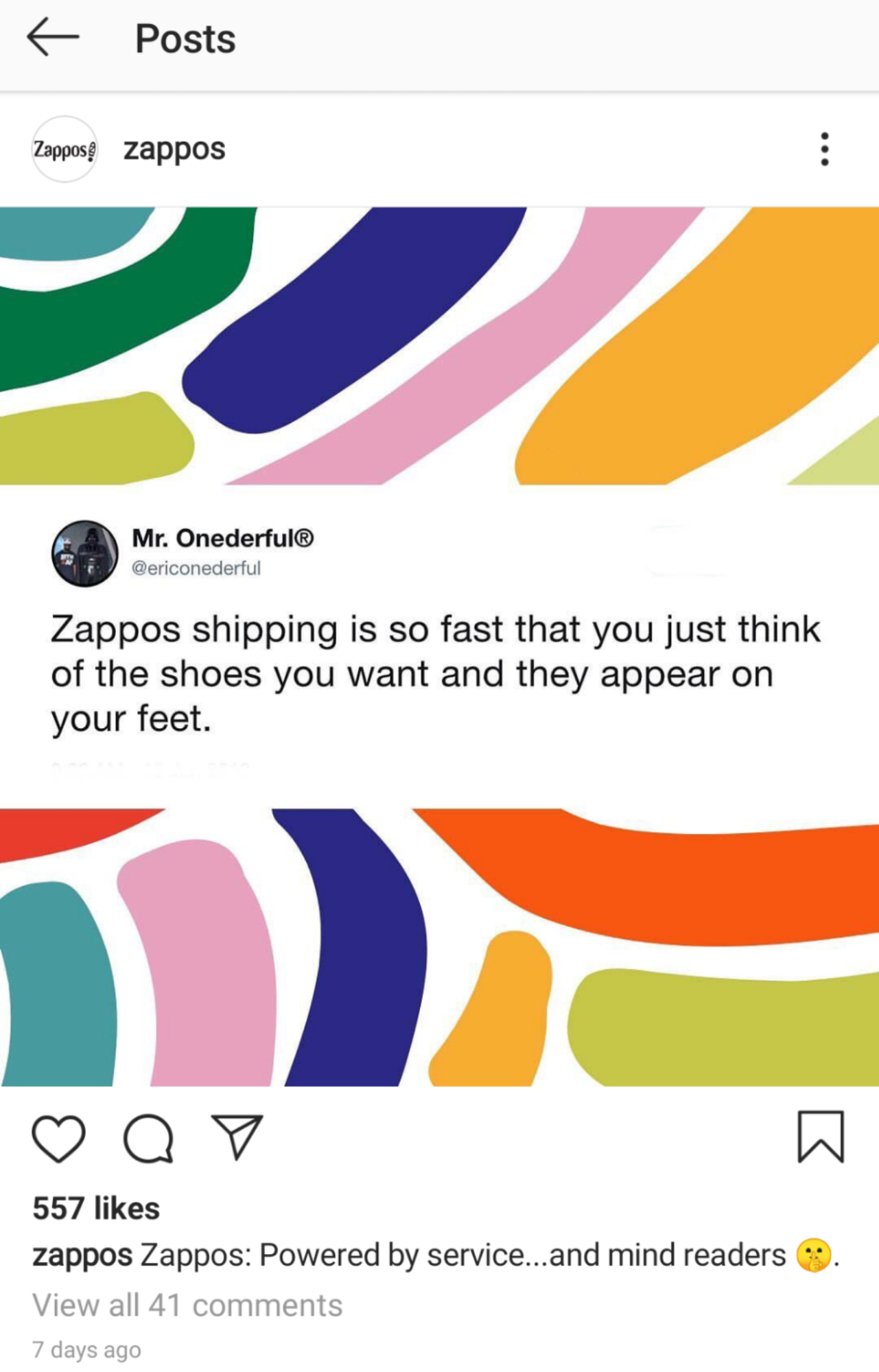 Note that these types of posts can be put together in a matter of minutes and contribute to having a diverse content calendar.
vi. Giveaways and contests
Especially for brands in their infant stages on Instagram, giveaways and contests can help you gain traction and build up your base of followers.
Small and occasional giveaways can spike your engagement rate and sow the seeds of a follower-base that sticks around the long haul.
Note how this caption contest post from Benefit managed to bring commenters out of the woodwork, scoring more than triple the typical amount of comments as a result.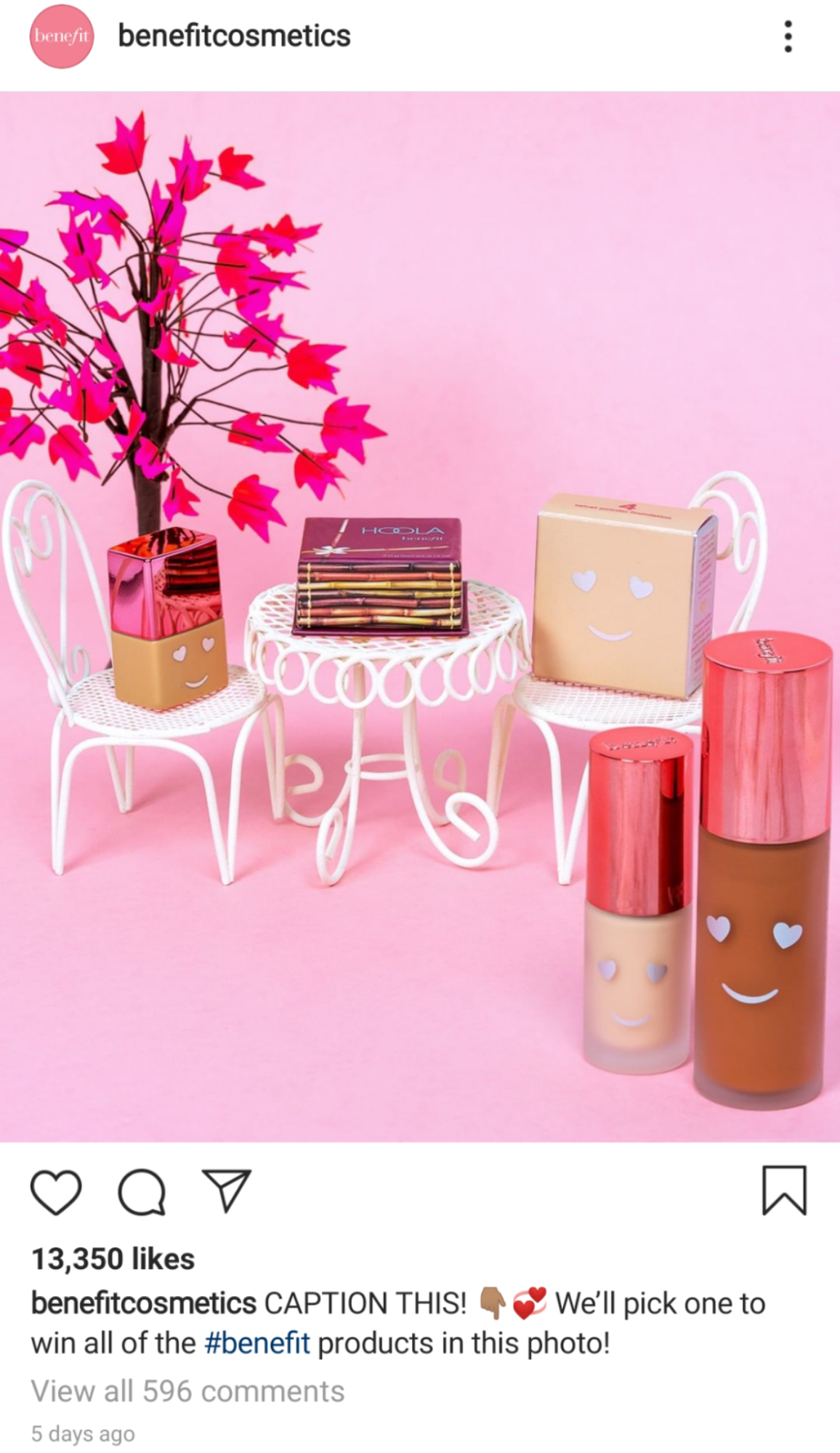 Of course, review the rules for giveaways and promotions on Instagram before getting too contest crazy.
vii. Instagram Stories
Instagram Stories have emerged as the platform's most popular type of content.
Instagram Stories are posts that appear on your account's feed for a 24-hour period. Each time you publish a Story, you automatically hop to the front of your followers' Stories feed.
Brands typically use Stories to publish behind-the-scenes or off-the-cuff content that isn't quite as polished as their traditional feed. Stories provide an opportunity to allow your customers to feel like insiders, cluing them on exclusive deals or customer photos that help build rapport with your brand.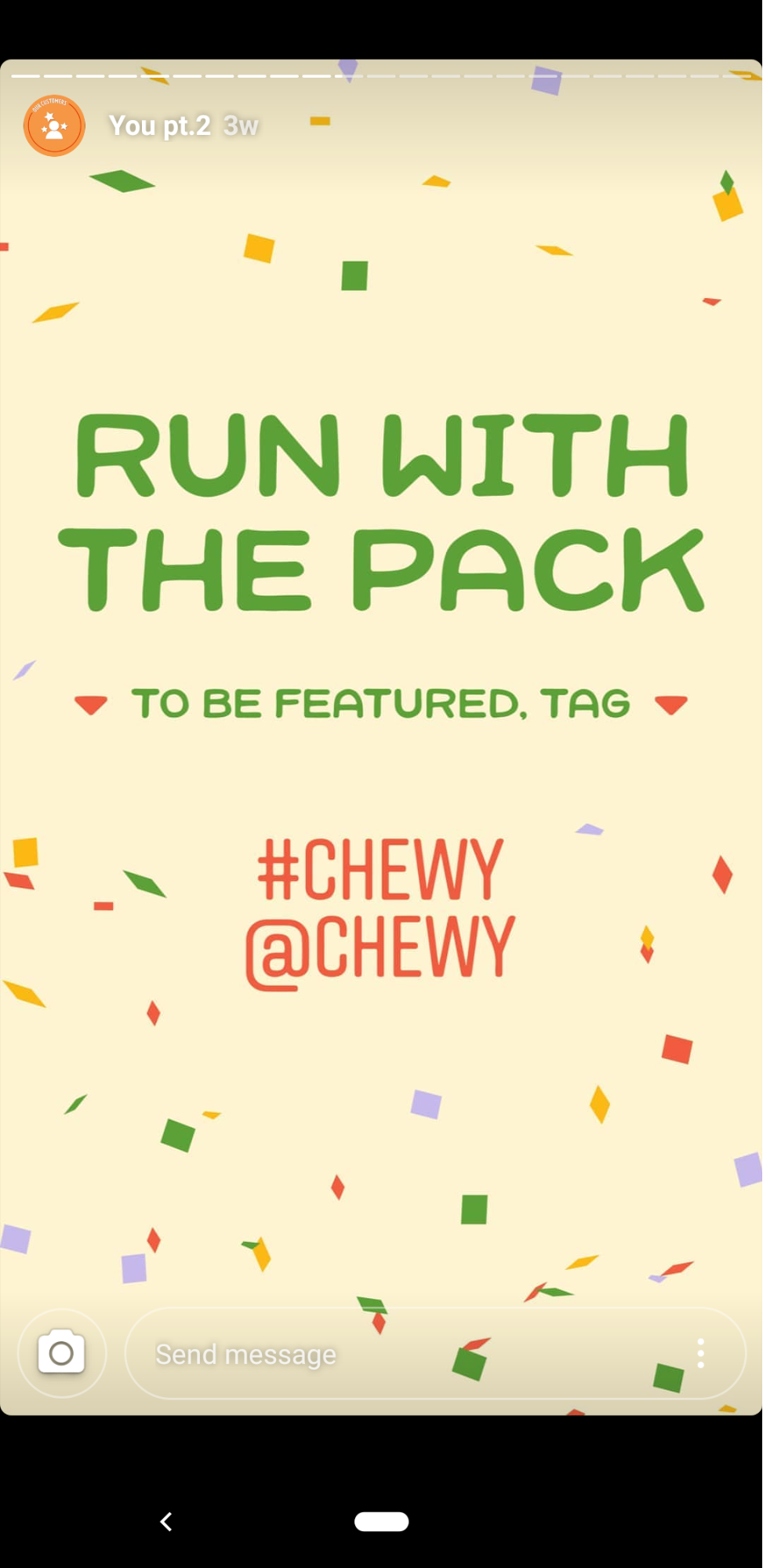 We recommend spending some time following major brands to see how they use Stories. From contests to customer showcases and event coverage, there's a ton to experiment with via Stories.
The types of posts highlighted can represent the foundation of your content strategy. By paying attention to your analytics and engagement, you can determine yourself which types of posts your followers are interested in.
And beyond simply publishing content, also consider how you can drive more direct leads with the help of features within Instagram Shopping such as product tagging and shoppable posts.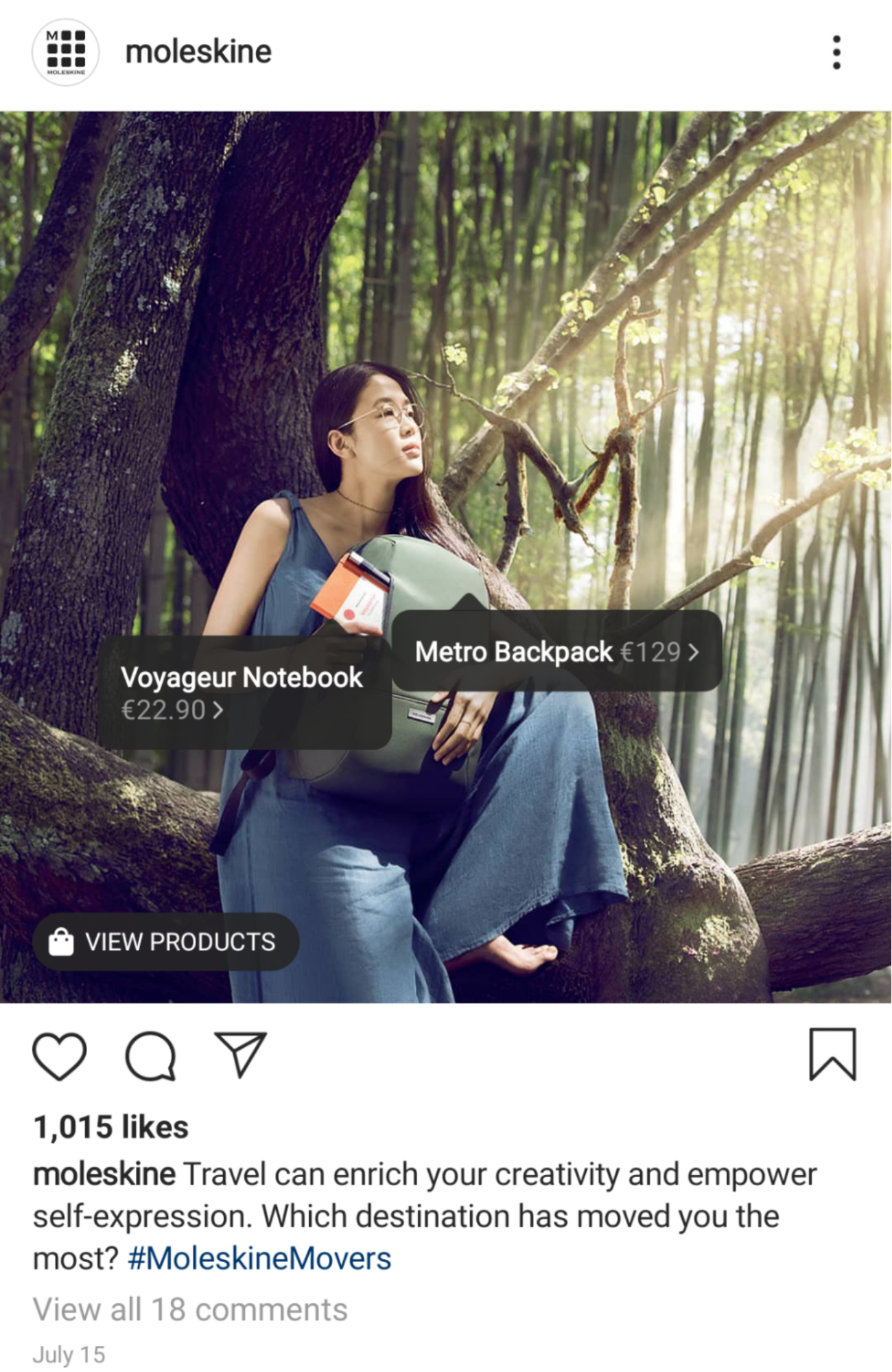 Maximizing your engagement on Instagram for commerce
There's no denying that competition is fierce between e-commerce brands on Instagram.
That's why you need to do everything you can to expand the reach of any given post.
Below are some key steps to take to optimize your posts before you publish 'em.
Hashtags
Hashtags on Instagram help categorize your content and essentially make it searchable to users who are browsing specific tags (think: #festivalfashion or #cookingtips).
Beyond general tags, branded hashtags allow users to tag their purchases directly and essentially create a feed where you can keep an eye on your customers' activity.
Typically, brands tack on hashtags at the end of their captions or as the first comment on a post.
Although Instagram allows you to include 30 hashtags on a post, some might feel that doing so seems spammy or distracts from the message behind a caption.
There's plenty of debate over what's considered "optimal" in terms of hashtag usage, but 5 -10 hashtags per post seem to be the "sweet spot" for most brands. For example, check out how Timbuk2 manages to tack on relevant tags to their product post without coming across as spammy.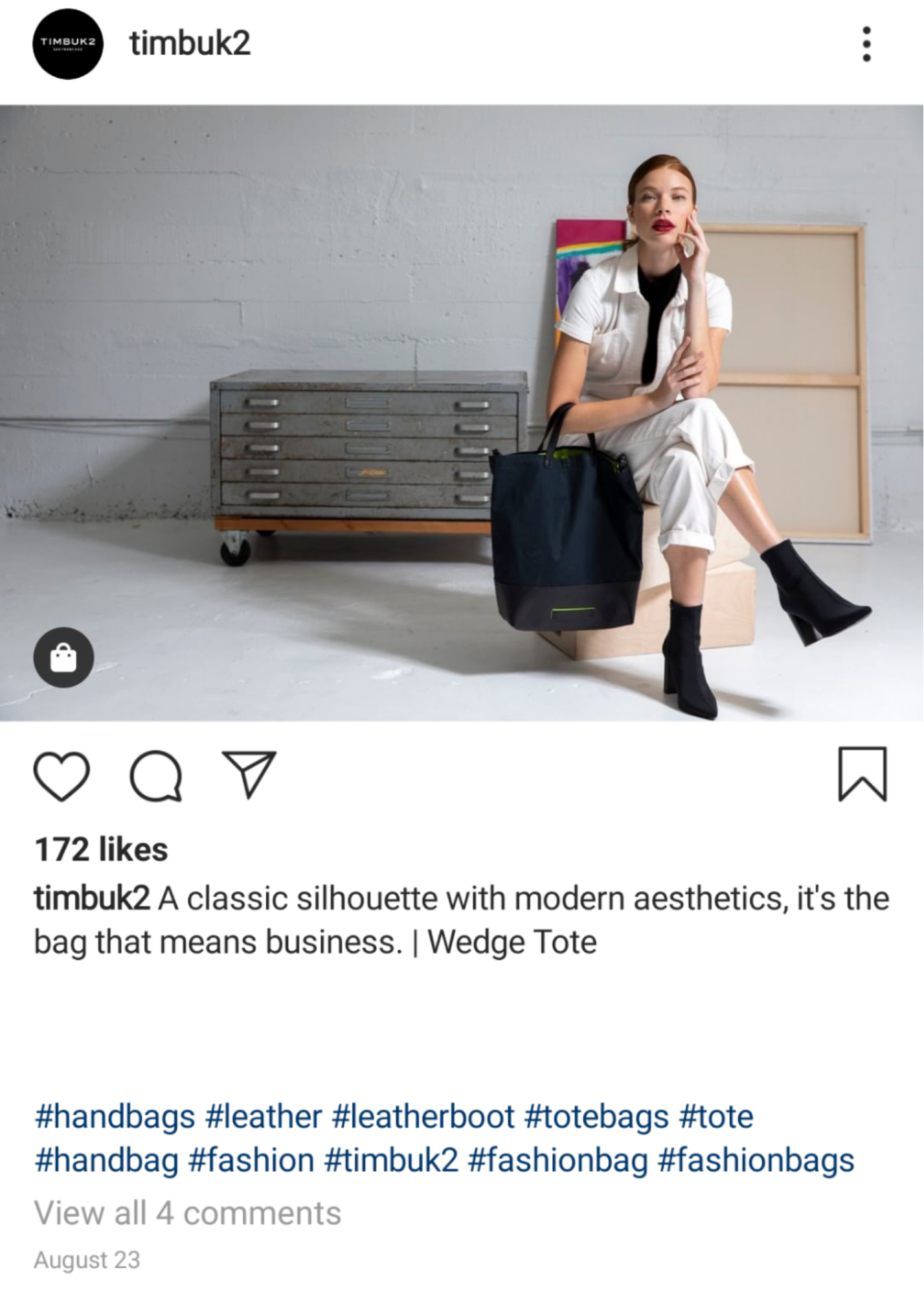 Much like your content strategy, it might take a bit of trial-and-error to discover which hashtags are best for your business. When in doubt, take a look at Instagram's recommended tags or test-drive a tool like Hashtagify to explore options relevant to what you're selling.
Captions
With so much emphasis on stylish photos and hashtags, it's easy to let your post captions fly under the radar.
However, a well-crafted caption can drive engagement among your leads and followers with a bit of creativity.
For example, this playful caption from Crate and Barrel is personable while clearly inviting comments from followers.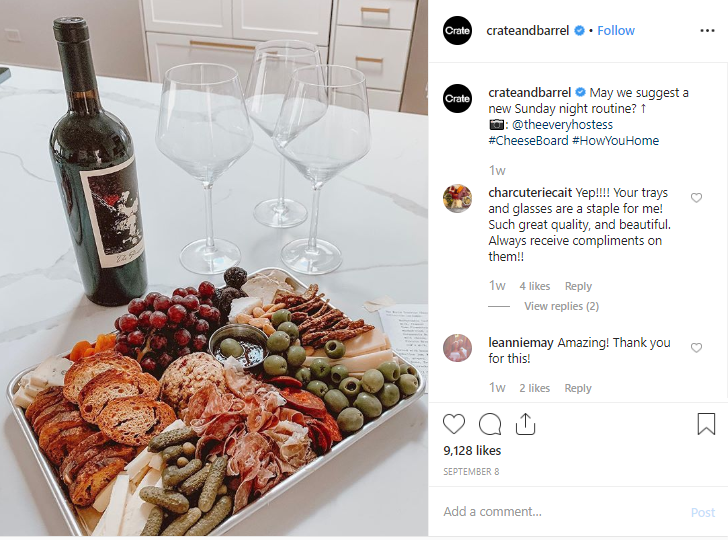 Meanwhile, this sales-based caption has a direct call-to-action to encourage followers to check out the brand's latest deals.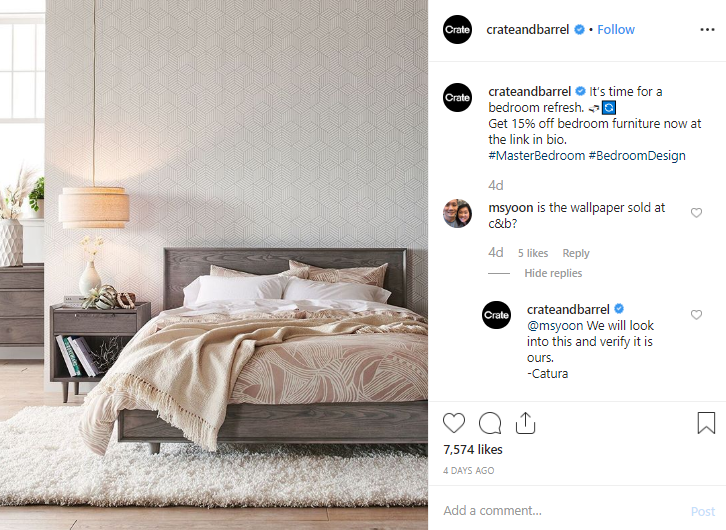 In short, a caption should drive followers to take some sort of action in the form of checking out your bio, tagging a friend or simply answering a question. Doing so makes your posts seem less passive and subtly encourages interaction without being too in-your-face about it.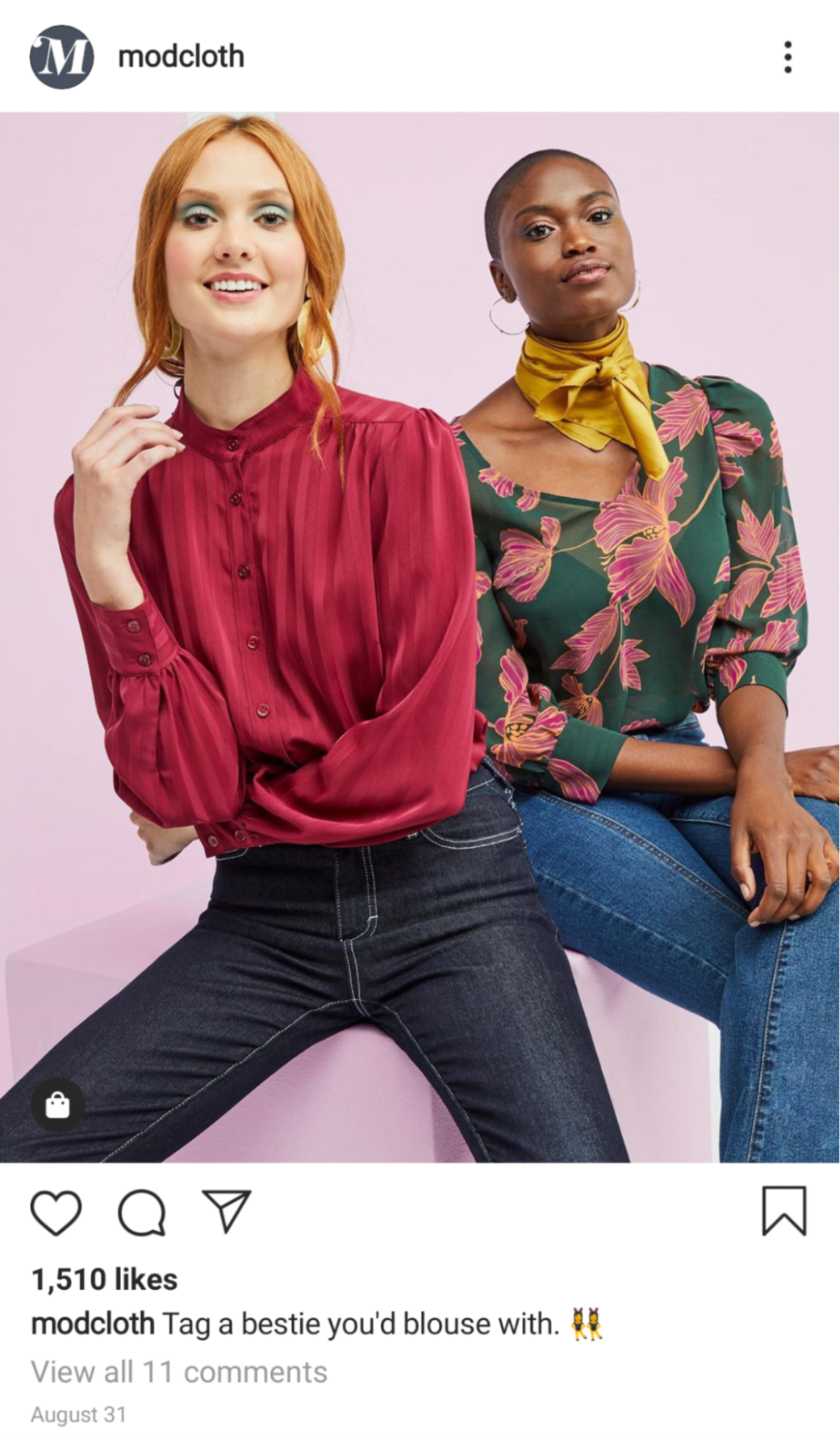 Post frequency and timing
Like any social algorithm, Instagram can be fickle in terms of which posts it rewards with exposure.
Consider first that consistency counts on Instagram. If you want to score leads on Instagram, expect to publish on a regular basis.
According to CoSchedule, one post per day on average is recommended and seems to be in line with what we see from most major e-commerce brands. Additionally, CoSchedule recommends posting their during the morning hours if possible.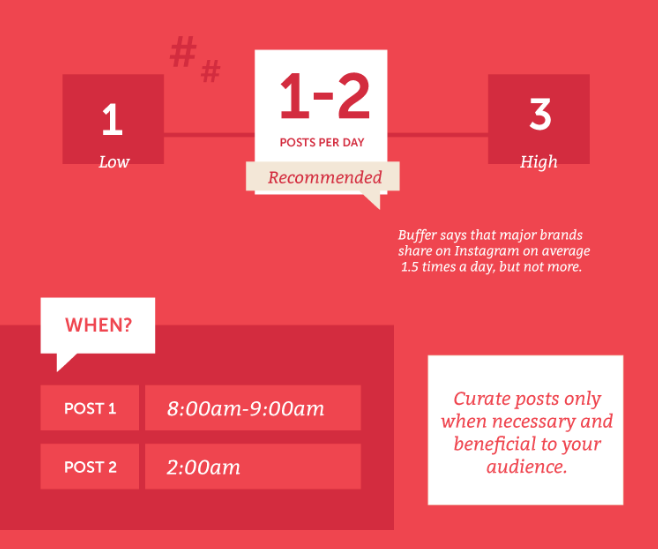 Research from Sprout Social seems to back up the once-per-day frequency, while also noting optimal global engagement during the late morning and early afternoon during weekdays.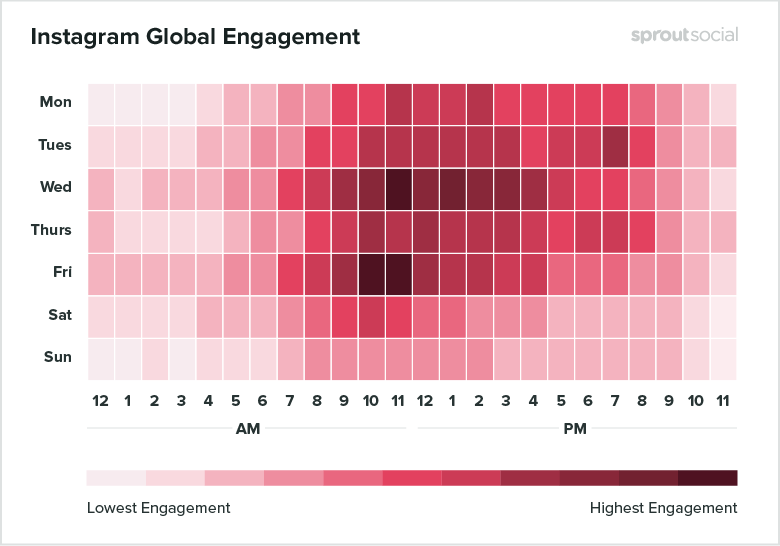 Although it isn't absolutely necessary to post during these hours, doing so could give you an edge to score that ever-so-valuable likes and comments.
Third-party scheduling and analytics tools such as Sprout Social, Buffer or Hootsuite can help determine the "optimal" times to post on Instagram based on your actual customers.
How to turn Instagram followers into customers (and vice-versa)
To wrap things up this guide, let's talk about what it means to play the "long-game" on Instagram for e-commerce.
In other words, how do you ensure that you're consistently gathering leads and encouraging your current customers to engage with your Instagram content as well?
Hey, we're glad you asked. Here are some additional promotional tips to squeeze the absolute most out of your time spent promoting products on Instagram.
Promote your Instagram presence via email and on-site
Consumers today are more than happy to follow brands on Instagram, but that doesn't mean you should assume your current customers are already following you.
That's why it's crucial to consistently promote your Instagram both on-site and via email where current and prospective customers are most likely to see your promos.
For example, note how Paravel uses an Instagram-centric marketing email to show their customers some love and remind their list to follow their account.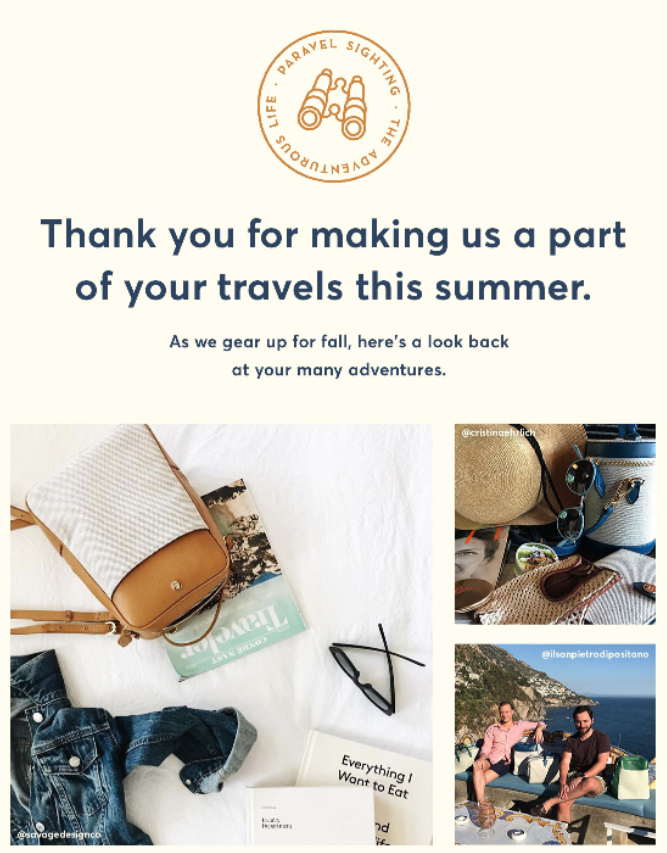 Meanwhile, their website promotes their #TRAVELHAPPY hashtag and user-generated content with the help of an on-site lookbook. This is yet another example of how to use customer photos to promote your Instagram.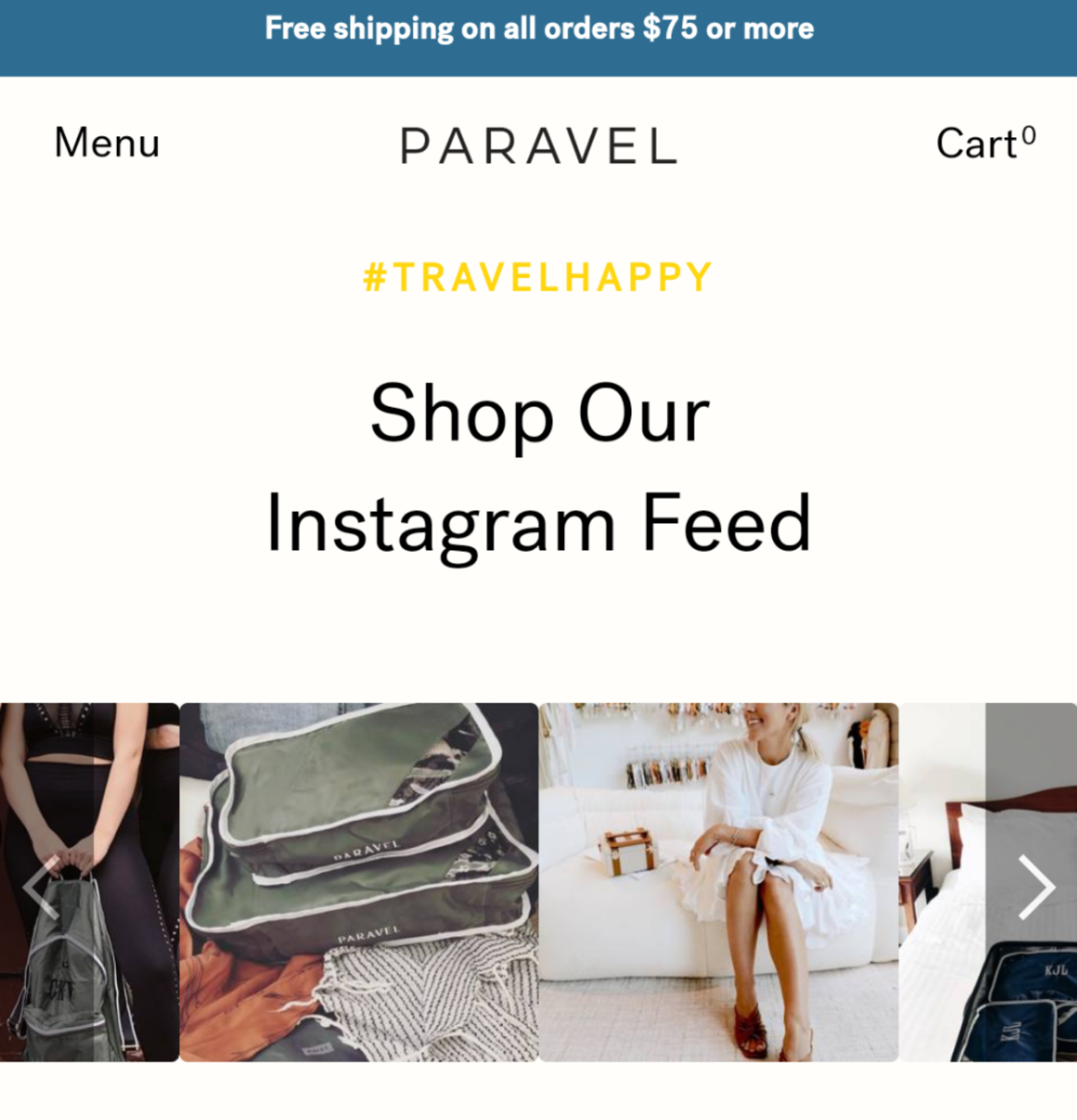 Oh, and don't forget about low-hanging promotional tactics such as social media buttons you can include on-site and in your email footer. The more avenues you give your traffic and subscribers to find your Instagram, the better.
Optimize your Instagram landing pages
So much of your business' ability to convert customers from Instagram boils down to the anatomy of your landing page.
If you send customers to your homepage or to a clunky, slow-loading mess, you can't be surprised when they bounce.
Beyond using previously noted services like Curalate or Yotpo, simply making sure that your Instagram landing pages are optimized for mobile is a good starting point. The bulk of your traffic will likely be browsing via smartphone, after all.
Below is an example of Bellroy's Instagram landing page which is simple and straightforward. Rather than make your landing page too "busy," limited visuals and text are easy for visitors to navigate.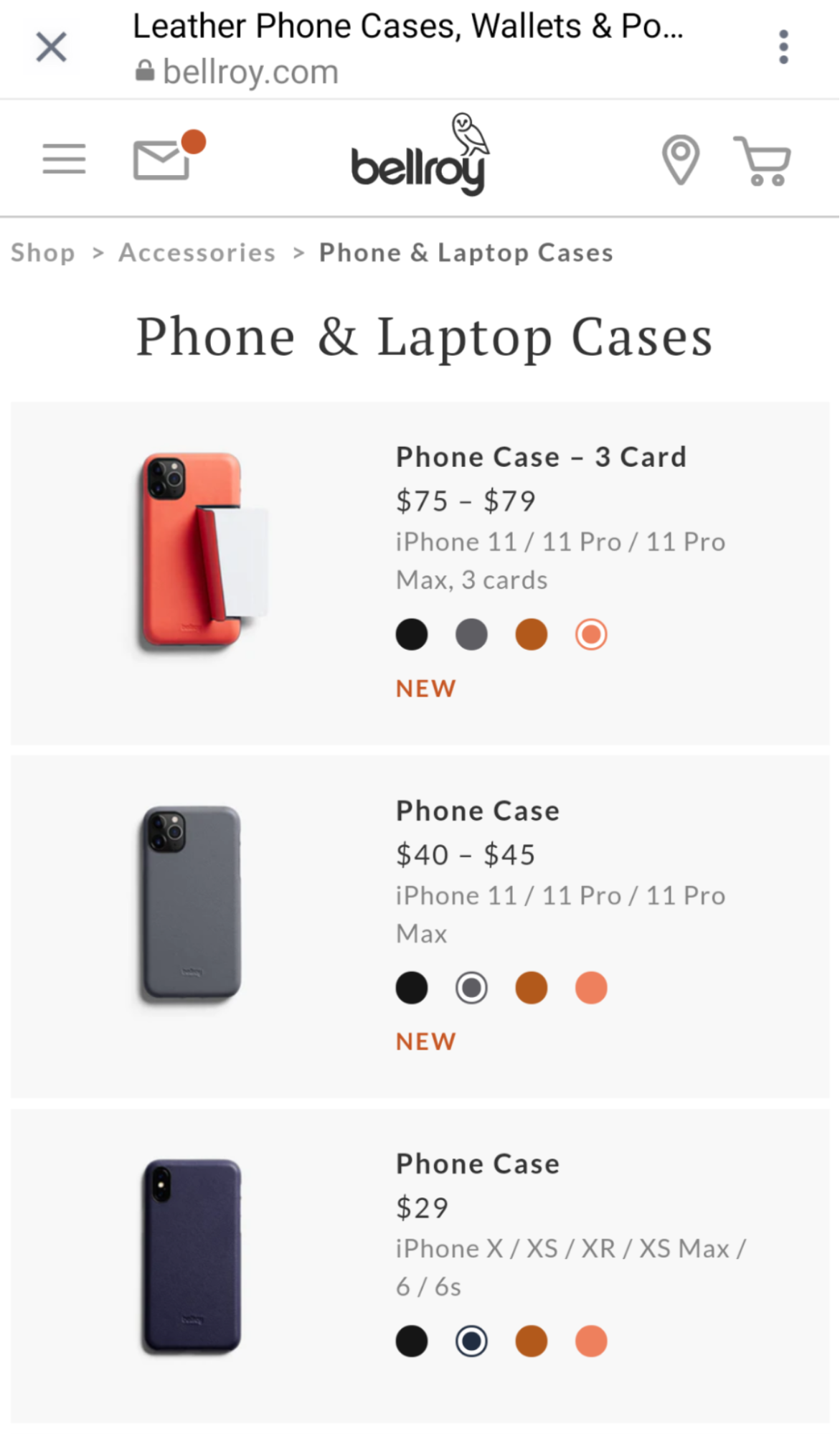 As noted by Instapage, optimizing your landing pages for conversions means paying attention to details such as:
Bullet points and scannable copy
Use of headlines and subheaders
Clear pricing
Large, tappable icons and buttons
Scroll-friendly flow and page design
Invest in paid promotion
I recommend that e-commerce brands on Instagram learn the ropes of scoring organic engagement before investing in paid ads.
That said, Instagram ads can result in huge returns if you have a visually striking product. From ads in Stories to sponsored posts, there are plenty of paid success stories from brands who managed to use their top-performing posts ad ads.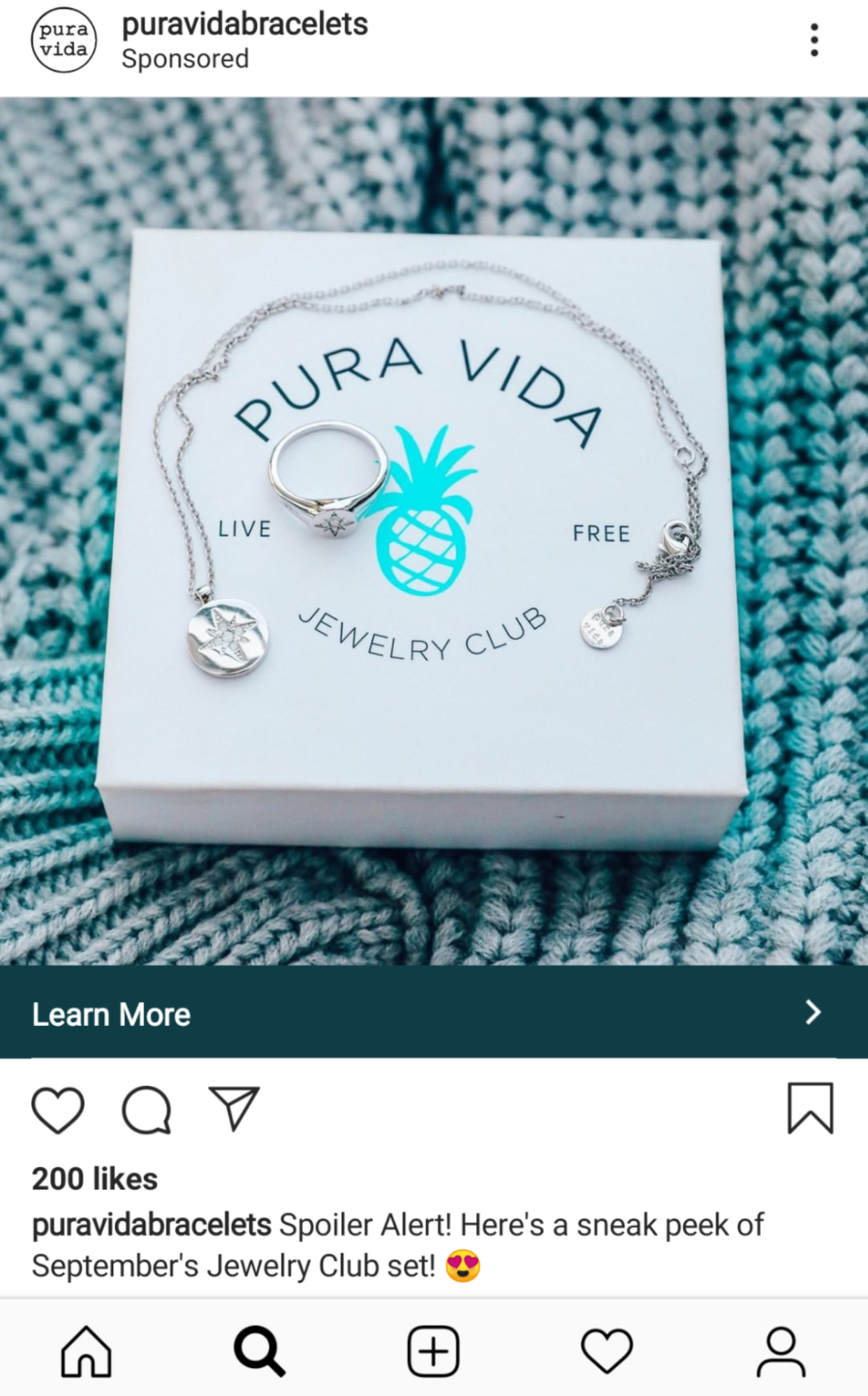 Another popular avenue of paid promotion comes in the form of Instagram influencer marketing.
The concept is simple. Brands find influencers (think: users with sizeable follower counts and high engagement rates) to promote products to their audience.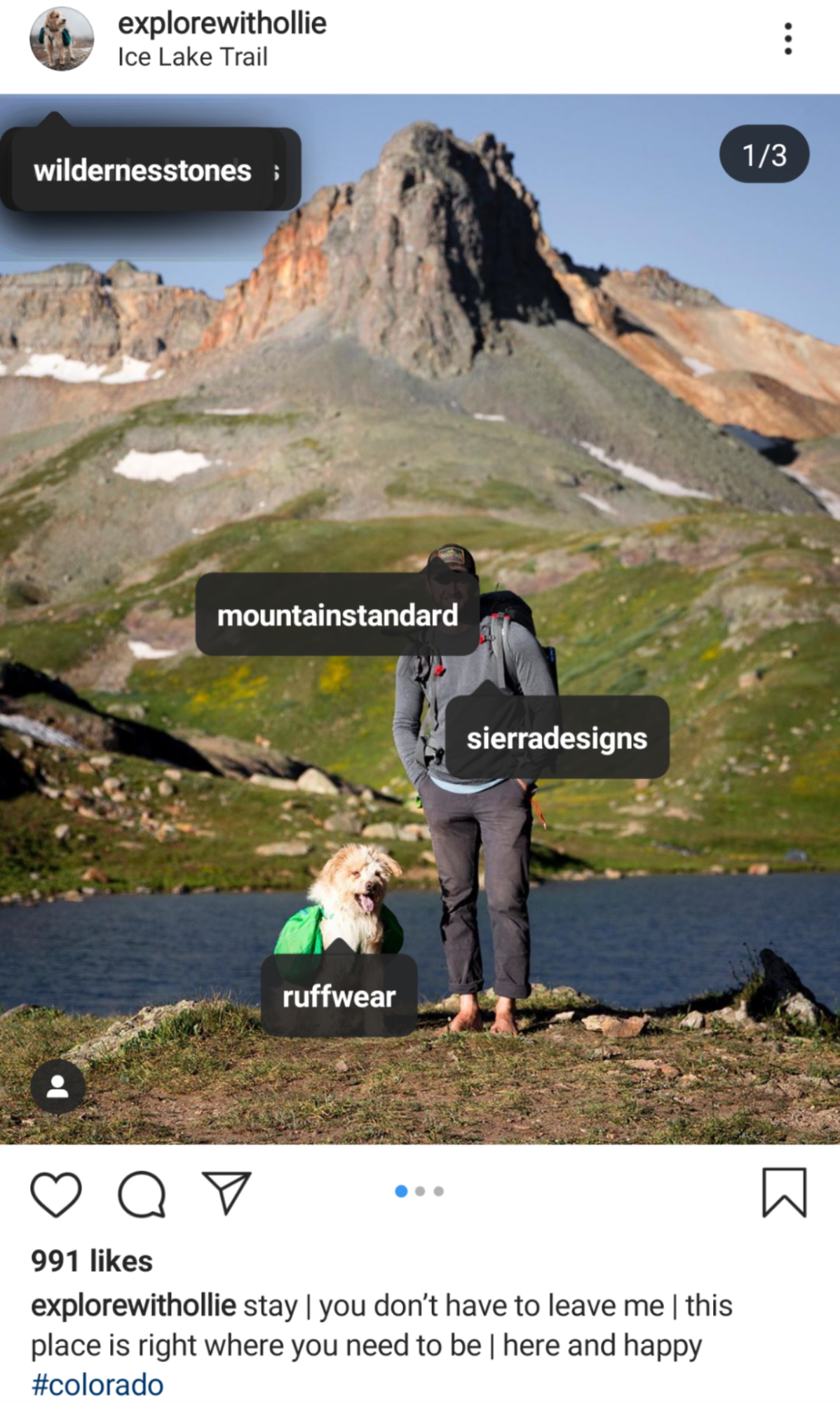 Influencer campaigns boast the benefit of not having as rigid of a price tag as paid Instagram ads, and provide yet another way for brands to give their marketing a much-needed human touch.
And that's Instagram for e-commerce in a nutshell!
Ready to win more leads from Instagram?
Listen: Instagram is a hub of social selling for e-commerce brands. Making those sales happen means understanding how to optimize your Instagram presence and publish content that customers will actually engage with.
With the help of this guide, you have a roadmap of what to do to score more leads from Instagram.
No matter what your selling, any combination of these tips are fair game for winning more sales and growing your following from scratch.