Social media monitoring for Instagram: what is it and how to do it

Article summary
In this article, we explain why you need Instagram monitoring and how to use Instagram listening with Awario.
63% of Instagram users check the app at least once per day, and 42% open the app multiple times within the same day according to Pew Research. They do it because there's always something new to see - Instagram has become so popular that billions of posts appear each day.
And while for regular users it's appealing, for brands it may pose an unexpected challenge. How do you deal with many posts that tag your profile, use your hashtags, show off your product, etc? How do you make sure you're not missing what's important without getting lost in the social media noise?
Sign up for a free Awario trial
See Awario in action with a free 7-day trial. No credit card required.
By signing up I agree to the Terms of Use and Privacy Policy
That's where Instagram monitoring comes in.
What is Instagram monitoring?
Instagram monitoring is the continuous process of searching and combing through Instagram posts to find those that are relevant to your business goals. These can be posts about your brand, competitors, niche, influencers that work with you, and so on.
Typically, Instagram monitoring tools use hashtags and keywords as the basis for the search. For example, Awario finds all the posts with the keywords you include in your monitoring alerts and analyzes them for marketing insights.
Why Instagram monitoring is important?
As I mentioned above, it's easy to get lost with the sheer amount of content posted on Instagram.
Depending on your business goals, you might need to track Instagram mentions to:
and more! The truth is, the more relevant posts you find, the more data you have to examine the perception of your brand, your customers, and your marketing opportunities.
Not only you can track your brand mentions and make sure no one is posting bad reviews without you taking care of it, but you can also discover new marketing and audience segments, analyze your competitors' Instagram strategy, find influencers or even get hot leads!
So now that you know all the benefits of Instagram monitoring, the only question is: how do you actually do it?
Sign up for a free Awario trial
See Awario in action with a free 7-day trial. No credit card required.
By signing up I agree to the Terms of Use and Privacy Policy
How to track Instagram mentions with Awario
Awario is a social media monitoring tool that tracks the mentions of your keywords across many Internet platforms and social networks, including Instagram.
Step 1: Connect your account
To start Instagram monitoring with Awario you need to connect your Instagram account. This is required by Instagram's API but it also allows you to engage with Instagram posts right from Awario's dashboard without opening another tab. The tool will prompt you to connect your social accounts as you sign up.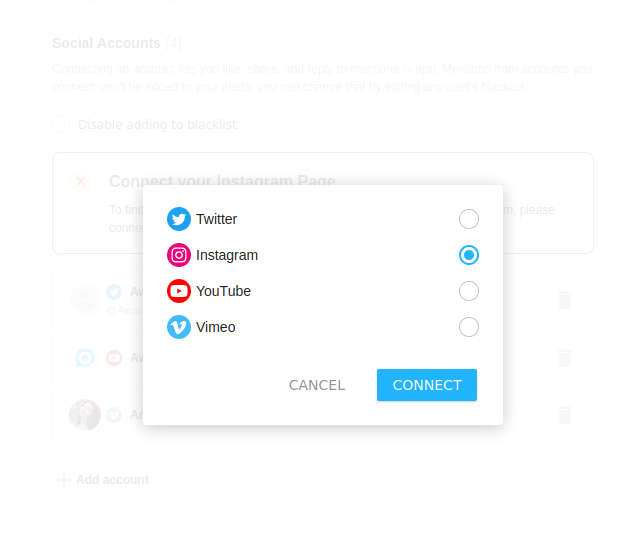 Step 2: Set up a monitoring alert
Now you need to create a monitoring alert with all the keywords you want to track.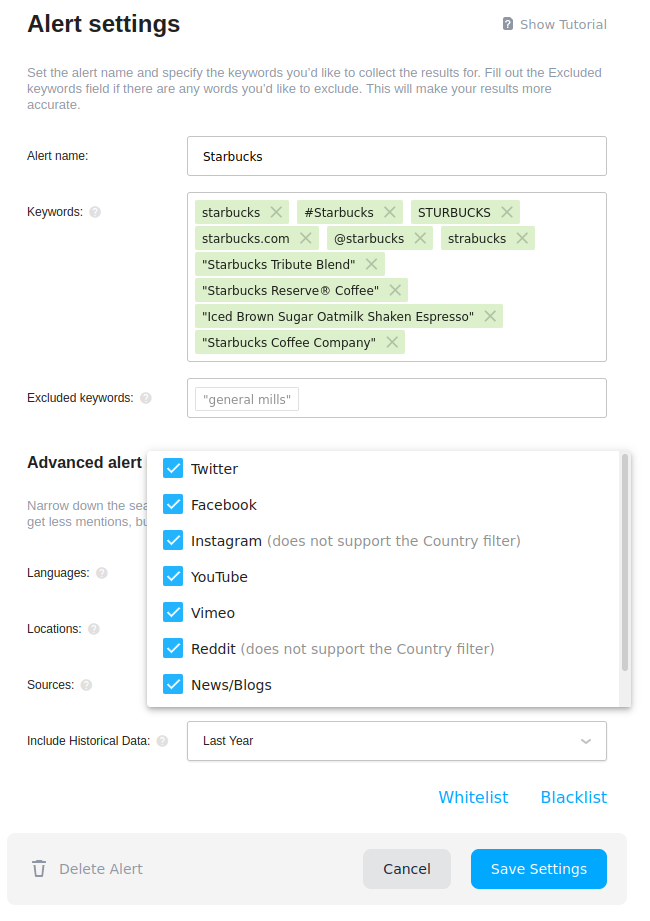 The keywords are what signal Awario to include the relevant Instagram posts in your data so choose them carefully. You need to add hashtags to your search since Instagram's API relies on them to find posts.
You can also add misspellings or abbreviations to make sure you discover every post that might be interesting to you.
Once you put in the keywords, you can choose what languages you're targeting and whether you want to get mentions from other sources as well or just for Instagram. You can also choose to include historical data.
Awario tracks Instagram mentions in real-time but you can find and analyze the posts published up to ten years ago if you want to.
Click the Save settings button and Awario immediately starts to collect Instagram posts.
Note that Instagram monitoring tools are only able to collect publically available data from Business and Creator accounts. So you won't be able to see posts from personal or closed profiles.
Step 3: Working with the data
So now that Instagram monitoring is up and running, what do you do with it?
Firstly I suggest you take look at the most recent posts.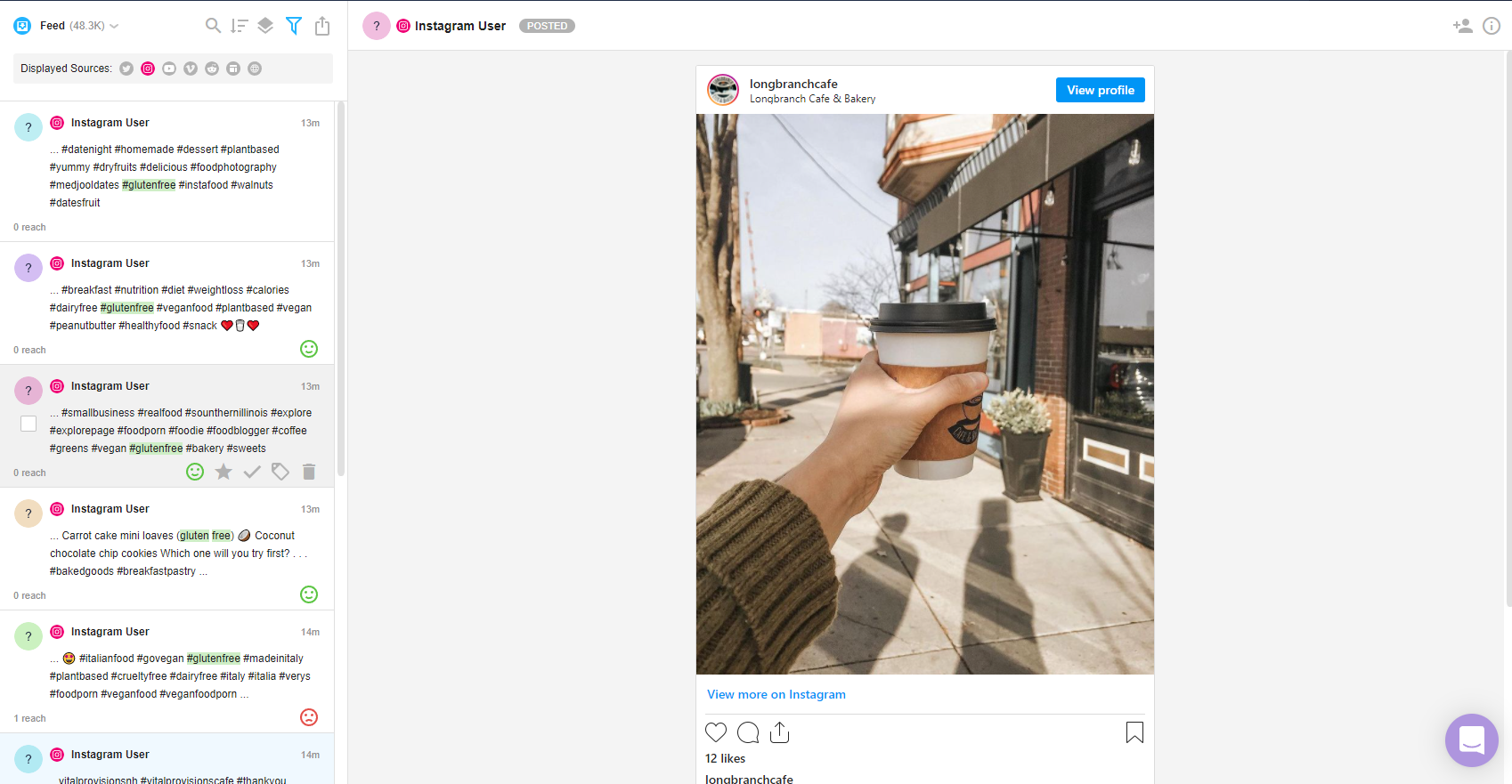 The posts are sorted in chronological order by default, but you can sort them by popularity (reach) as well. Look through the mentions and see if there are any posts that need a response from your brand or anything you might want to repost to your Stories.
Then it's time to look at the analysis of your Instagram mentions. You can go to the Dashboard or the Mention Statistics report and see various marketing insights including your audience's gender, age, what they talk about, how they perceive your brand, and so on.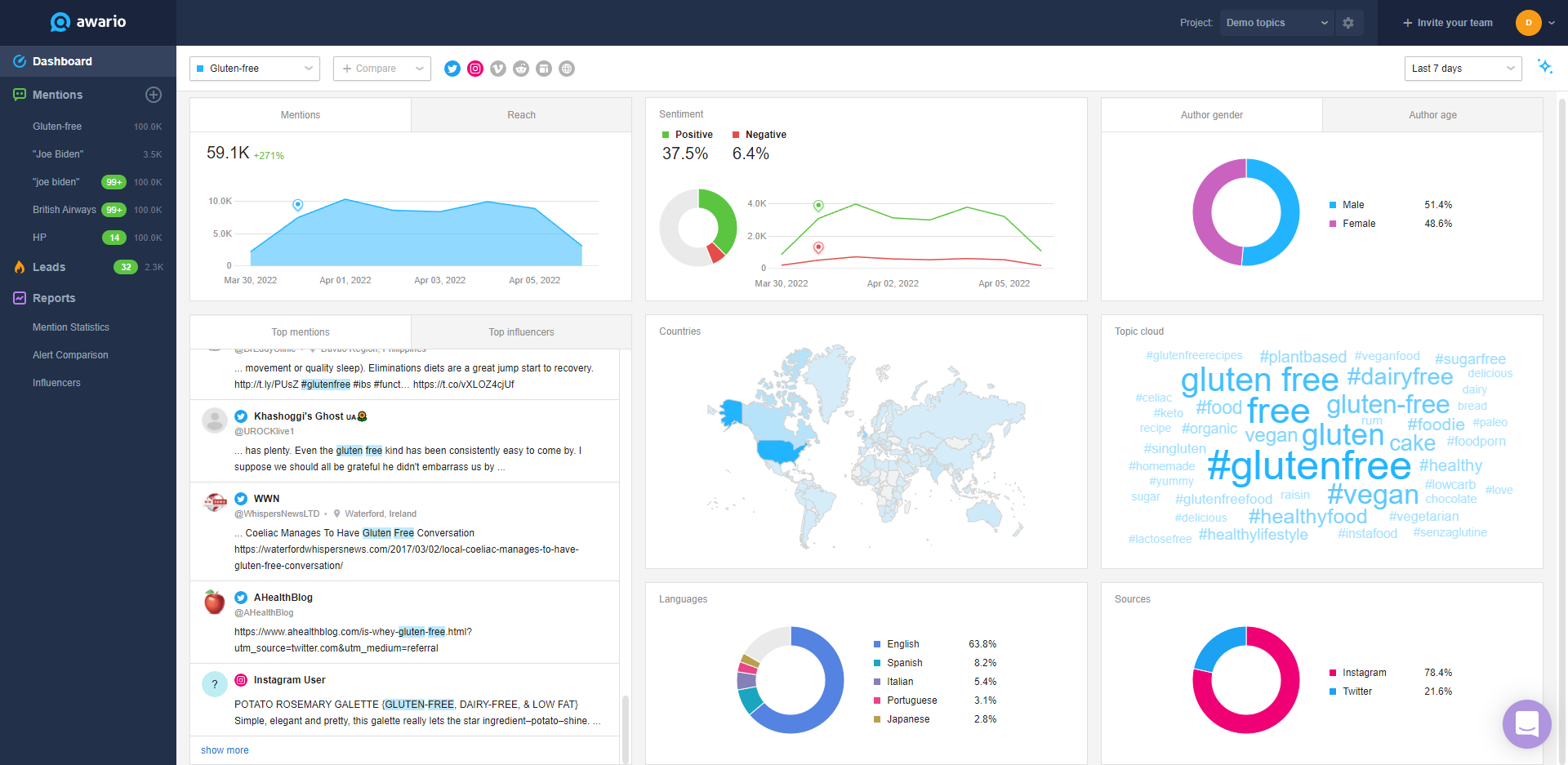 While Instagram monitoring seems like a simple task, the outcome is so much more rewarding than you could expect. You get access to valuable analytics that can even inform business decisions. And given how easy it is to do, you just have to try Instagram monitoring with Awario!
Enjoying the post? There's more.
Sign up for our newsletter to get our best content by email.