How to create a Social Media Marketing funnel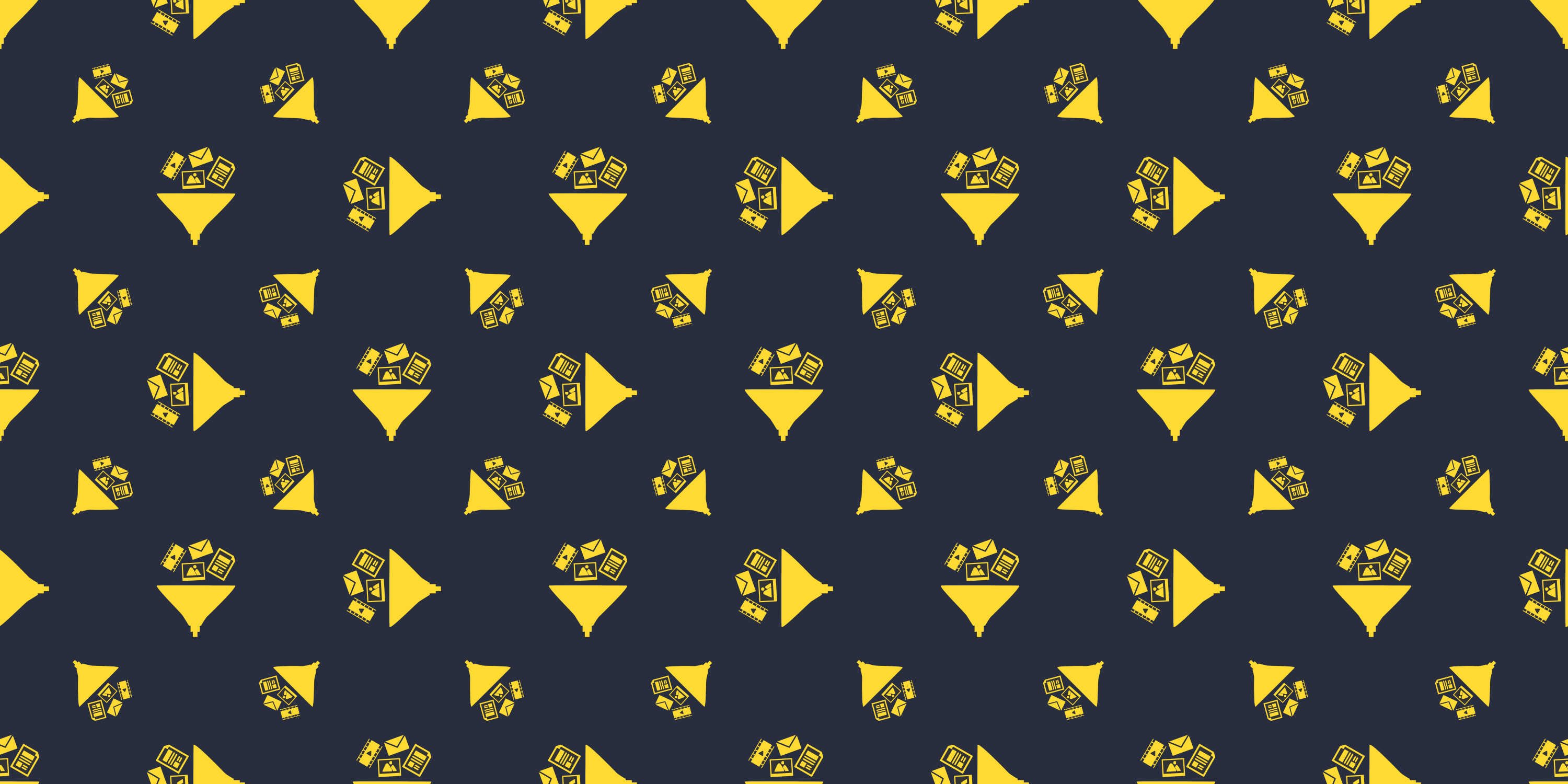 Social media marketing is likely to be a significant component within your overall marketing strategy. Ultimately, social media channels play a major role in helping your business reach a wider audience.
With a social presence, your business can benefit from increased customer awareness and strengthened bonds between the business and your customers. With 3.4 billion social media users across the world, platforms such as Facebook and Instagram are now considered to be essential components of your marketing strategy.
However, with the abundance of services and products available online, the consumer now requires a little more persuasion than simply being exposed to what your business can offer. For business owners, this means hitting sales targets can be a time-consuming process that now requires more than strong salesmanship. A social media marketing funnel can be a solution to this, allowing you to create a strategic process that converts leads.
What is a marketing funnel?
Several abbreviations or infographics can explain a marketing funnel, but overall, it is made up of the steps that your customer follows on the path to completing their purchase. Therefore, marketing or sales funnels are strategies crafted to nurture the customer's journey when buying your products or services.
To visualise your sales funnel, think about the path that the customer travels before the conversion takes place. Generally, the funnel is separated into three categories: the top, the middle, and the bottom. Within these stages, the customer becomes aware of your business, develops an interest in your brand, forms a desire to purchase one of your products or services, and then converts.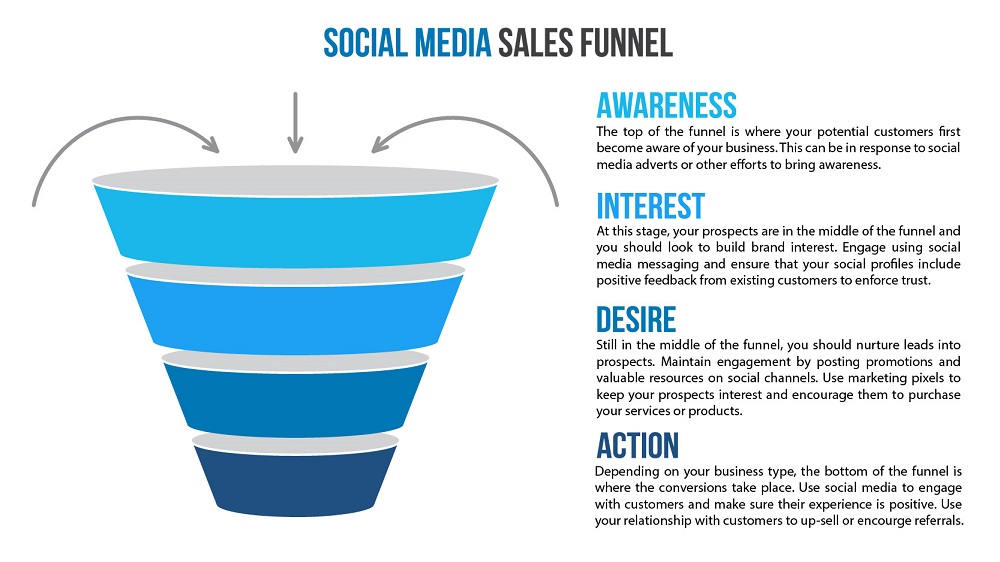 By visualising your sales in this way, a marketing funnel allows you to adapt your strategies and enable you to nurture leads into customers. Regardless of which part of the funnel they're within, you can apply calculated strategies that will attract and retarget your leads to bring conversions.
How is social media used within a marketing funnel strategy?
Within marketing strategies, social media is often used as a tool to bring awareness to your brand. By making use of this tool, businesses can provoke engagement with customers, therefore enabling trust from those who have stumbled across your brand for the first time. However, you can further this by creating relevant, personalised content that will result in a higher conversion rate, increased engagement, and positive customer experiences.
Beyond increasing awareness, paid adverts are a significant part of social media strategy. You can use Facebook's tracking and targeting pixels to form personalised audiences that are more likely to react to your marketing strategy. By tracking the user's interactions, targeting pixels can present your business to those who are interested in your products or services and are likely to convert. If you combine this with intending to provide a valuable experience for your prospects, your social media sales funnel will be incredibly successful.
To increase value, ensure that your leads click on your advert to find engaging content, or a squeeze page offering valuable resources. A common method is to create pages that generate data, giving you access to an accurate picture of your audience. Then, using this information, you can use social media to remarket to prospects who have accessed resources that set you apart from competitors.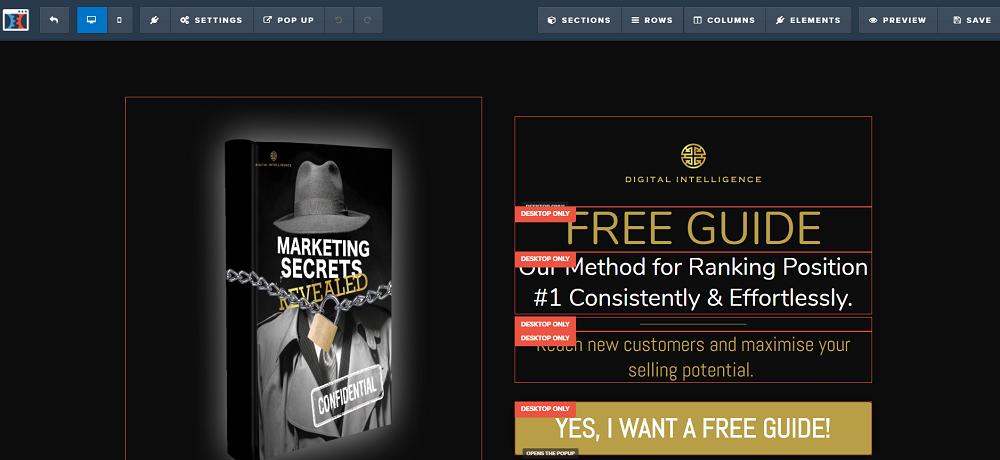 At this stage, making use of social media functions become vital within your funnel strategy. Yes, paid social media advertising is an excellent investment that results in potential prospects becoming aware of your business. But without nurturing your leads, they may also become aware of competitors who have a more appealing offer in place.
What should you consider when creating a social media marketing funnel strategy?
To determine how social media funnels fit within your marketing strategy, think about your brand's consumer. To nurture your leads, you should have a good understanding of your customer, their needs, and how they interact with your business.
When planning your funnel, think about the social media platforms in which your customer is present. Usually, Facebook is an all-rounder that covers a broader spectrum of customers regardless of their identities and interests. However, if your business forms part of a niche, where a community is present on specific social media platforms, such as Instagram or Linkedin, be sure to cover the appropriate platforms.
From here, you'll need to think about what your customers value. Whether you explore marketing funnel options or amplify your content marketing, maintaining your prospect's interest is vital. The difference between generic marketing and a funnel perspective is the recognition that inflexible sales tactics are dying out.
Consumers are looking to find value and appeal in your business long before they think about buying your services or products. So, it's essential to take your strategies further and give back to your prospects to maintain their interest.
Create business awareness at the top of the funnel.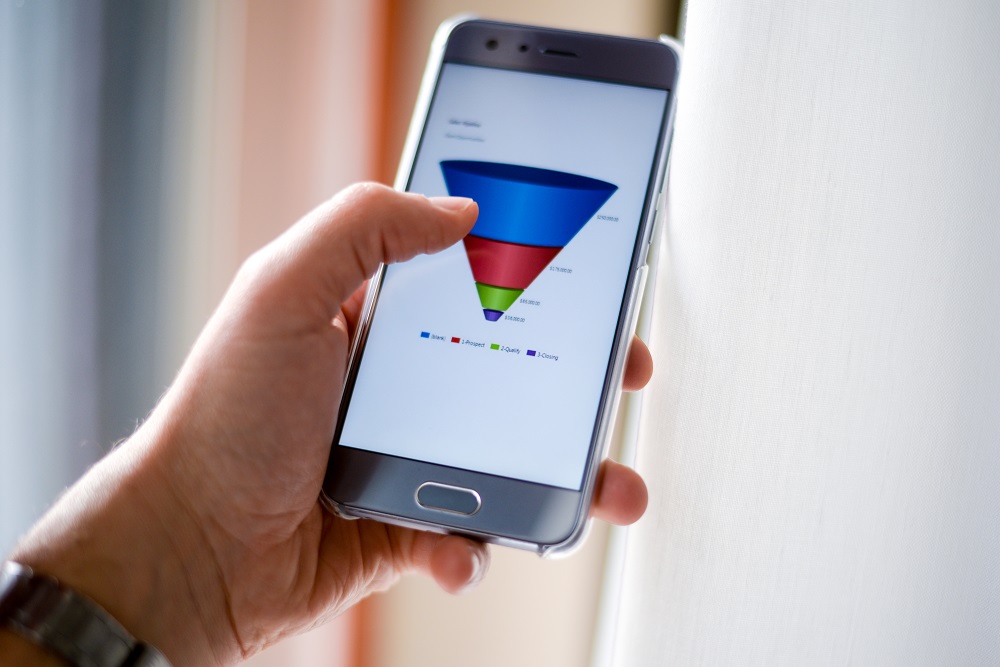 Social media is a perfect place to introduce your brand to a wide audience. If you provide relevant information, your business will appear legitimate and trustworthy.
However, as a business owner, there are plenty of additional ways to utilise social media beyond merely being present online. After all, a social profile with no visuals or activity is not very compelling.
Include relevant information
When it comes to brand awareness, first impressions do count. Your social media landing page should include all the necessary contact information, a call to action, and plenty of content that will engage your audience.
If you're an experienced social media user, you'll know that the space to share information is often limited. For example, an Instagram bio can only be 125 characters before it appears under a "See more" section. So, keep that in mind to make sure you don't include any contact information where it may be overlooked.
Produce engaging and on-trend content
Your social pages need content in place so that your business appears legitimate. Use social media features like image and video sharing, status posting, and live updates on Facebook and Instagram. By keeping your profiles active, consumers are likely to maintain any interest.
Aside from this, It's important to know what type of content is trending currently and have some understanding of social media algorithms to make the most of each platform. If you have an audience who is digitally present, this is especially important as your engagement can increase massively with the right content.
Incorporate paid adverts
Paid adverts are the most frequent way to increase brand awareness on social media with multiple options to explore. Facebook offers pay-per-click adverts and sponsored post solutions to bringing traffic to your digital content. Likewise, you can promote your tweets on Twitter or use Instagram's various options to share your content as people scroll through their social feed or watch Stories.
As well, influencer marketing may be appropriate if your customers are likely to engage with any social media influencers. This ensures that your brand is promoted by influential individuals that your audience may be inspired by, potentially bringing brand awareness to thousands of leads depending on the influencer's reach.
While these methods can bring lots of traffic to your brand and into the top of your funnel, you should ensure you have a process in place to maintain this. With a marketing funnel in place, you can use strategies to build rapport with prospects and encourage conversion.
Maintaining your lead's interest and developing prospects in the middle of the funnel.
Within the middle of the funnel, you should aim to keep your lead interested in your business and develop a desire to purchase. At this stage, it's about proving that your company has a goal of delivering positive customer experience. After all, consumers are more likely to purchase from brands that appear to be trustworthy with excellent customer service.
Increase brand-trust
To increase trust, consider asking your current customers to leave reviews on your social media pages about their experiences with your business. Hopefully, you'll then have a bank of good references to prove that your business is legitimate and trustworthy. As well, make sure to share any testimonials on your social media pages so that new and existing customers are aware of your successes.
From here, work to maintain the newly-formed interests in your brand that your prospects have developed. Seek to encourage candidates to engage with your business, like your pages, and comment on your social media posts.
To provoke more engagement on your social profiles, post content that encourages your customers to respond. For example, run a social media contest on
Facebook that requires leads to share your content to enter the competition. By doing this, you'll have gained free promotion on social media due to the number of people that share your content with their friends.
Bring automation to your sales with funnel templates
Creating a sales funnel can simplify the process of bringing valuable resources to both you and your customer. Social media exposure and an automated sales funnel can go hand in hand if you're looking to boost conversions. By creating a positive and engaging social presence that will bring clicks to your squeeze pages, you can build lead-interest but also collect data for use.
Using the landing page builders such as Clickfunnels, you can create squeeze pages that will gather data in exchange for useful resources such as free guides or handbooks. Then use social media for retargeting the individuals with the data you've collected to maintain your prospect's interest.
With the use of this software, creating landing pages optimised to sell doesn't have to be overwhelming. You don't need advanced technical knowledge to build landing pages, choose a template and create your page with ease.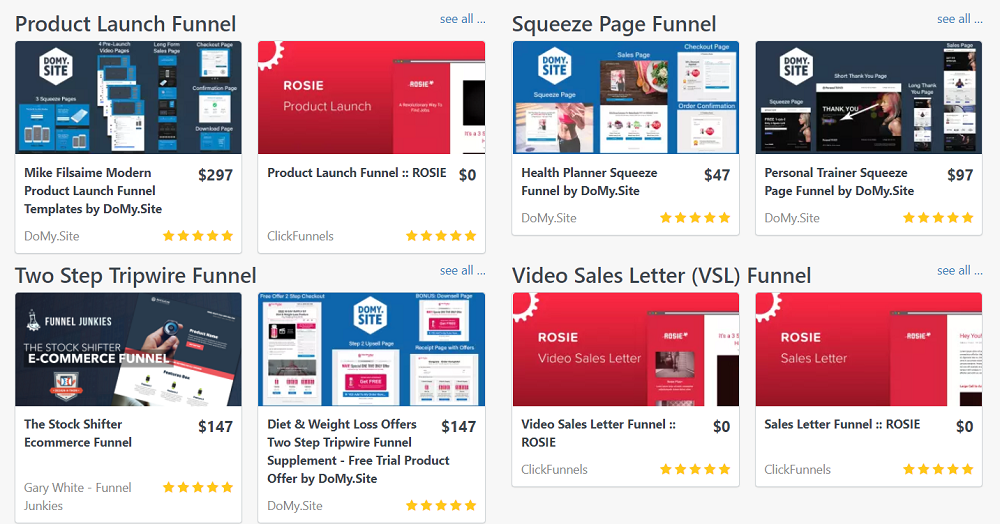 A well-designed funnel and the use of monitoring tools like Hotjar Heatmaps will enable you to see how consumers navigate your pages. From here, you can personalise your approaches for each prospect to build a rapport and use social media to push content that encourages conversions.
Convert prospects into customers and encourage brand-loyalty at the bottom of the funnel.
At this stage of the social media sales funnel, prospects are looking for an incentive to commit to making a purchase or sales inquiry. Therefore, after you've worked to provide a valuable experience for your customer, it's critical to maintain this approach.
Maintain brand-customer rapport to encourage sales
At this stage, potential customers are looking for answers to their questions or concerns regarding the purchase. With a successful funnel, you'll have built a strong rapport with your prospects built on a history of interactions. To resolve this, use social media messaging to reach out to your prospects and let them know that you're happy to help and have their best interests in mind.
Within the average consumer's life, there are plenty of distractions that may draw their attention away from your funnel. Working hours, family, and even a credit card further than an arm's reach can deter from making a purchase. So, if prospects need more encouragement or risk dropping interest, use the data acquired in the middle of the funnel to reach out with deals that cannot be refused. Whether you use strategies like email marketing, social media targeting pixels, or sponsored posts, you can reconnect with those who are likely to convert at the right time.
Encourage brand-loyalty
After making the sale, encourage the customer to continue to engage and interact with your social media profiles. Maintain your content marketing strategies and share content that is likely to catch the attention of your customers.
It's essential to maintain the positive relationship that you've built with your customer. Whether you reach out to them to ask how they're finding their newly purchased product, or prompt them to leave a review, you should aim to keep them within your circle.
From here, you can use their experience to target the customer with products or services that will supplement their purchases. This will encourage recurring purchases and creates an additional strong referral that emphasises trust in your brand.