The ultimate guide to Instagram hashtags

When I was interviewed for this job of a know-it-all content writer in Awario, one of the questions I got asked was "how would you explain the concept of a hashtag to your grandma". Don't worry, there will be no explanations of what a hashtag is in this article, grandma-friendly or not. After all, the hashtag has become one of the symbols of the Internet. I can't imagine that you're reading this article and don't know what it is!
What I'm going to explain instead is how to use hashtags on Instagram — in thorough details. Why Instagram specifically? Well, because Instagram is one of the few platforms that heavily rely on hashtags for content discovery. In fact, Instagram hashtags can be responsible for more than 60% of your posts' reach.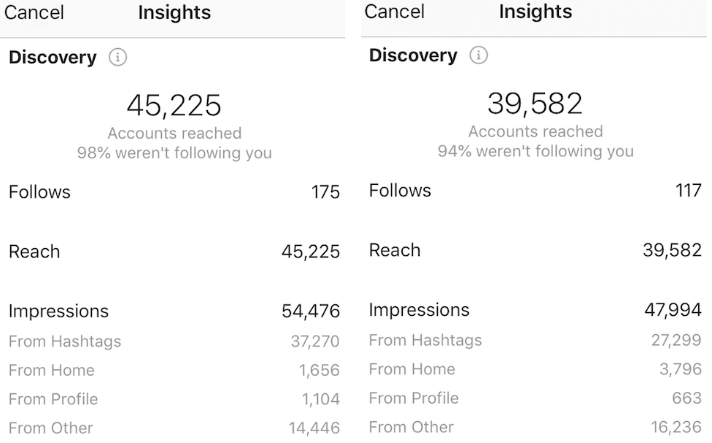 But before we figure out how to choose the hashtags that will bring you views, engagement, and followers, let's talk about the way Instagram hashtags work.
Enjoying the post? There's more.
Sign up for our newsletter to get our best content by email.
How do hashtags work on Instagram?
As stated above, Instagram puts a lot of emphasis on hashtags when it comes to content discovery. In addition to the regular deal (clicking on a hashtag to see more similar posts), you can also follow hashtags of your choice to see Stories and posts that feature these hashtags in your feed. That's what you should know about hashtags from a user's standpoint.
The rest of this section (and this article) is for social media managers. When you're publishing content on the platform, Instagram allows you to add up to 30 hashtags to a post and up to 10 to an Instagram Story. For posts, when you start typing out the hashtag, you can immediately see how popular it is i.e. how many posts there are with this hashtag. We will talk about the best number of hashtags and how popular the hashtags you add should be later in this article.
Another important thing to know about hashtags is that they can get banned. Instagram identifies hashtags that are used in posts tagged as spam and bans them — meaning it cuts the reach for posts using these hashtags not even showing them to your followers. Moreover, users can report specific hashtags as spammy to ban them. Oftentimes these are hashtags like #follow4follow but it can also be something random like #valentinesday. If your post is getting much lower engagement and reach than usual, perhaps one of the hashtags you used is banned.
That's all you need to know to get the idea of how hashtags work on Instagram. But why should you use them? Can't you just post awesome content and let people come to your profile?
Why you should use hashtags?
If the numbers above weren't enough, let's talk a bit more about the benefits of using hashtags on Instagram. Your core audience on Instagram is your followers — but even they might not see all your posts since Instagram's feed is not chronological.
One way to reach a new audience is to get on the Explore page. There's a sophisticated algorithm that takes into account user preferences to curate Explore content, and one of the deciding factors are the hashtags that users like and follow.
However, it's quite difficult to get on the Explore page. What's not difficult is to appear in the feed of the people who don't follow you based on the hashtags they follow. Most of the time, these hashtags will be connected to their interests, so it's a great way to connect with your target audience (and not just random Instagram users).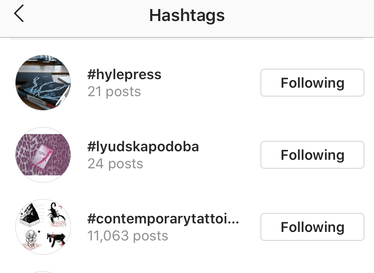 In addition to all that, hashtags dedicated to specific events and campaigns allow you to build a community around your brand event and quickly find user-generated content that you can reuse in your social media marketing activities.
So now that you know why you should use hashtags let's talk about how you should use them.
How to use hashtags on Instagram
First of all, there are several types of hashtags that can be used in your posts besides the most obvious ones you're probably using. Here are some of them:
Niche hashtags: These are the hashtags that don't just describe the topic of your post bu go into a little more detail. For example, if you're a tattoo artist you can specify the style you're working with (#blackwork, #stickandpoke) to reach people specifically interested in this style.

Community hashtags: Communities exist on Instagram, and these hashtags help you find and join them. They are usually known to the members of this community so it's hard to come across them unless you do some research. For example, to stick to our previous example, many tattoo artists and wearers use #lovettt to tag their posts. To find such hashtags you can use Awario — I'll explain how to do it later in this post.

Special event or seasonal hashtags: These can refer to real holidays or seasons, like #Superbowl, they can be used for all those National [Thing] Day holidays popular on social media, like #nationalicecreamday or #nationalnailpolishday, or used for a specific industry event like #E3. When organizing an event, it's a good idea to create your own hashtag for people to use when posting about it.

Location hashtags: Even if you geotag your Instagram post, it can still be a good idea to include a hashtag describing your location, especially if you're promoting an event or a brick and mortar business.

Acronym hashtags: These usually describe a particular Instagram trend, for example, the best-known acronym hashtag is #tbt for Throwback Thursday, when you post old pictures.

Branded hashtags: These hashtags are directly tied to your brand, usually it's simply a #brandname, but sometimes your slogans or phrases associated with it can become hashtags as well, for example, #imlovingit.

Campaign hashtags: Nowadays any marketing campaign creates hashtags to go with it. What's great about campaign hashtags is that they can outlive campaigns and become a long-term brand awareness generator if they work. Similar to those, there are hashtags that describe grassroots movements and become social phenomena such as #metoo, #blacklivesmatter, or as a smaller example, #adoptdontshop movement promoting animal adoption.
You can mix and match hashtags from these categories with your usual ones. When you are choosing which hashtags you want to use, try to think of the audience you want to reach and the goals of you post. Even making a customer persona, or borrowing one from the marketing team might help.
How many hashtags you should use?
Since there are so many options, how do you know how many hashtags to use on a post? Instagram sets a limit of 30 hashtags and it might be tempting to add all 30, but actually the recommended number is from 3 to 15. Many experiments prove that exceeding this limit puts you at risk of being shadowbanned for spam, going under just won't have much effect on your reach.
For Stories, social media experts suggest limiting hashtags to one — event or campaign hashtags work great for ephemeral content.
How to hide Instagram hashtags?
Oftentimes, social media managers like to separate hashtags from their main caption. You can do it in two ways: either by adding several spaces or dots between your caption and hashtags (don't forget to use an Instagram line breaker app) or by adding hashtags to the comments. There's no preference for Instagram's algorithm for one or the other, so it's just an aesthetic choice.
However, we know now that not all hashtags are good. And even if you're not using banned hashtags, to truly benefit from hashtags you need to do a little research first. Here's how to choose the best hashtags on Instagram for your posts.
How to find the right hashtags on Instagram?
Sometimes this question is also phrased as "how to find trending hashtags on Instagram". Well, the thing is, the "popular" hashtags are not always the best ones to use to get more eyeballs on your content. The thing is the most popular hashtags get thousands of new posts every day, so there's very little chance that people will see your content. Besides, they are usually too vague and broad to have any strong community or defined audience.
Many social media experts recommend hashtags with no more than 100,000 posts using them— this way you have more chances to get noticed.
So, if you're not just using your branded hashtags and most popular relevant hashtags, how do you find the best hashtags for your Instagram posts? Well, there are several ways to do it: you can do it manually or with using tools. Here's the workflow I go through when I choose hashtags for my posts:
Step 1: Researching your niche
First of all, try to think like the user you want to reach. What are they looking for when they are clicking on a hashtag? Why would they follow a hashtag? Think about the keywords they might want to look up on Instagram.
Once you thought about keywords, you can run social listening research. Create a new monitoring topic in Awario and put in as many keywords related to your brand as you can as well as your brand name and products.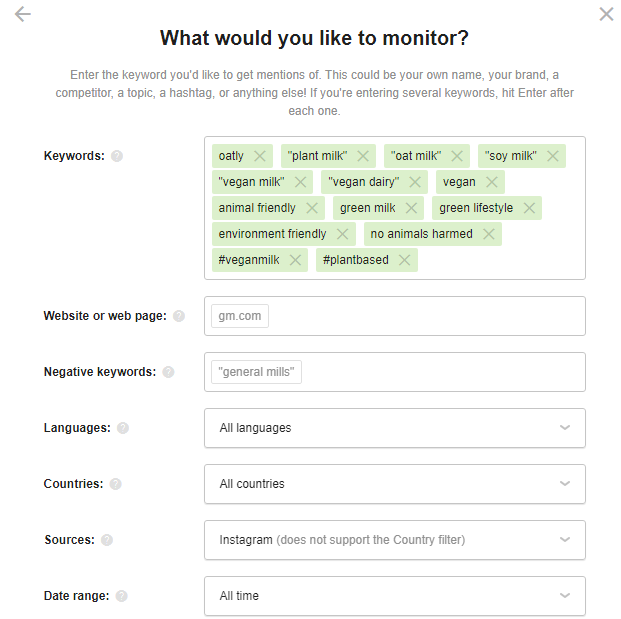 Then let the tool collect data for a little bit and then go to your Mention Statistics and take a look at the Topic cloud to see the hashtags most often used in posts covering this topic.
You can also check out the Influencers tab, go on their profiles, and check what hashtags they are using.
Write down all the hashtags you came up with and discovered with the tool in an Excel Sheet.
Step 2: Competitor research
Checking what hashtags your competitors are using can also give you a lot of insights. Go to their profiles and check what hashtags they are using for which posts: for example, they might be using one set of hashtags with product launches and another to talk about their team.
You can also use Awario to spy on your competitors. Create an alert with common words, for example, articles and prepositions, add to Whitelist all your competitors, and then turn on Strict mode — this way the tool will only collect hashtags from the profiles you included in the list. Once again go to the Topic cloud to see the most common hashtags they are using or check out the Mention feed to see individual posts and check their performance.
Once again, write down all the hashtags you discovered in the Excel Sheet.
Step 3: Experimenting with hashtags
So now you have a list of hashtags that your audience, competitors, and influencers in your field are using. Of course, you can just stop at that and put these hashtags in your posts, but if you want to know for certain which of them are the most beneficial, I suggest experimenting.
Try different hashtag sets for different posts and see if it affects reach. If you notice that a post has a much higher reach than usual note the hashtags you used in it in your Excel sheet. Try different combinations and see what works. In a while, you'll have your own little database of hashtags and stats that prove that they work.
Come back to your research from time to time to update your database — that way you'll always have up-to-date data to build your Instagram hashtag strategy on.
---
And that's all you need to know about hashtags in 2020. Building an Instagram hashtag strategy can be a great way to dive into your target audience and learn more about them. It also helps you get the feeling of general Instagram trends ultimately strengthening your Instagram strategy. By researching hashtags you are actually doing so much more for your marketing strategy so hurry up and use this guide to up your Instagram hashtag game!