How to gain followers on Twitter: 20 rules to grow your profile in 2023

Article summary
In this article, we give you tips on how to get Twitter followers based on three Twitter strategy pillars: optimizing your profile, increasing Twitter engagement, and creating appealing posts.
No matter how much we say vanity metrics don't matter, we still want our brand's social media profiles to grow.
This can seem like quite a challenge, especially when you are just starting out. However, out of all the social media platforms, there are a couple of factors that make Twitter especially business-friendly and easy to grow, and all thanks to knowing how to get more Twitter followers. If you were looking for a Twitter followers guide, we are here to provide you with the key Twitter tips and will begin with saying that Twitter is a perfect platform to target growth for many reasons:
First of all, among Twitter followers there are more millennials than on any other social media network. Incidentally, millennials are leading online sales — the market's gain consists of more than 80% of millennials shopping online at least once a month.
Twitter algorithm is getting more and more brand-friendly than Instagram or Facebook — it hasn't turned to the pay-to-play model yet, so there are chances for a high organic reach rate. Read more about social media algorithms and how to hack them in our article.
Everyone remembers during posting that Twitter has a limit of 280 characters — that means you have to deliver your message as precisely and clearly as you can. It can be challenging, but it only improves your copywriting.
Some industries are overwhelmingly present on Twitter. For example, there are a lot of media and marketing professionals, tech geeks, and governmental employers among Twitter followers — and the platform might be the best way to reach them.
So how do you actually grow the fruitful interest in your Twitter profile for free: without buying followers or paying for advertising? You need to understand what makes your audience click Follow.
How to get more Twitter followers: Ultimate Twitter follower guide.
There are three main pillars when it comes to the platform marketing: profile, content, and engagement. To get more Twitter followers, you need to:
optimize your Twitter profile,
keep your audience engaged,
and publish amazing content.
In this article, we go through each of these pillars and give you tips, hacks, and tricks on how to get followers and increase Twitter interaction boosting your strategy.
Optimize your Twitter profile
Your profile data is the first thing Twitter followers see when they go to your account, see your personality, so your Twitter profile should respond to several requirements:
It should convey what your brand does.
It should present your brand image and tone.
It should give your followers opportunities to learn more about you and if your goal is to convert them, to purchase your product and get more loyal customers.
With all this in mind, let's make sure every component of your account is designed to get more Twitter followers and corresponds to these requirements.
1. Choose a perfect profile picture
A picture says a thousand words and your profile picture says a thousand words about your brand personality: make sure they are good words. Brands regularly use their logo as a Twitter profile picture — this helps with branding and raises brand awareness.
You can have fun with it by changing your Twitter profile picture for special events like Christmas or Pride Month if your Twitter audience celebrates these occasions.
Obviously, if you are a professional who wants to promote and sell their services on Twitter, it's much better to have a photo of you as your profile pic. People connect much more easily with other people than with things and businesses, and Twitter followers are no different. If you're a freelancer and knowing how to get followers is your priority – just tweet from an account with your face on it. It builds trust and makes your tweets more genuine.
You can add your brand colors in the background and add logos and other brand visuals to your header instead.
Sign up for a free Awario trial
See Awario in action with a free 7-day trial. No credit card required.
By signing up I agree to the Terms of Use and Privacy Policy
2. Make a creative Twitter profile header
Since we started talking about all things profile headers, let's see how to choose the best one for your platform account. Your Twitter profile header gives you a bit more space to work with meaning you can fit more data, getting more remarkable and intelligible for a user and building relationships quicker: so I strongly suggest you use both text and images. It should still have your brand colors on it and your logo.
You can use graphic tools such as Canva or Visme to design attractive graphics for your profile.
Here's Awario's Twitter header: it explains what Awario is and uses our logo and colors to tie everything together. It also looks very cute!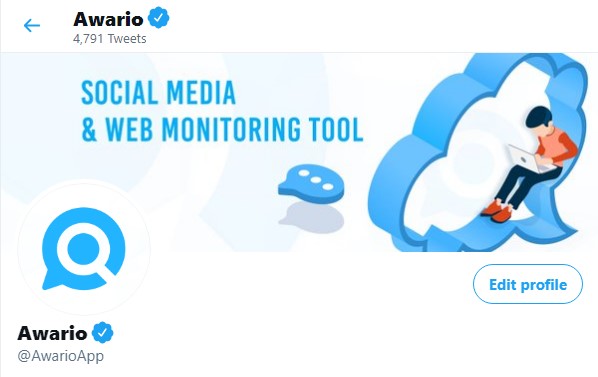 3. Write an eye-catching bio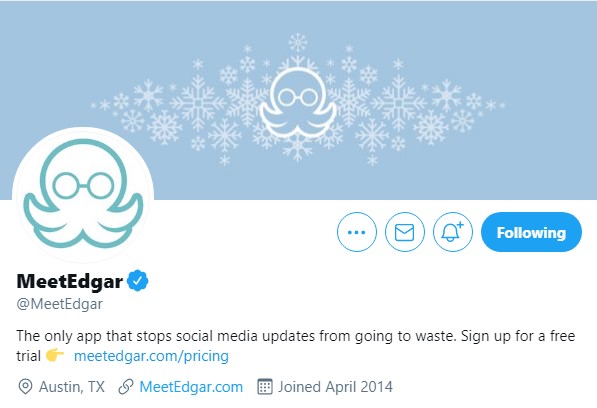 You can only include 160 characters in your Twitter bio, so make them count. Your bio should briefly describe what your brand does in your brand voice. It also should mention your brand hashtags if you have any. In some cases, it's a good idea to specify what you tweet about: industry news, your own products, your business story, even cases from your customers if they give consent to share details, and so on.
You can include calls to action like follow us, click the link in bio to learn more, or join our community in the bio. This helps with increasing our Twitter engagement and conversions.
4. Add your location (for local businesses)
If you run a brick-and-mortar business or target a specific area, stating your location in the bio is crucial. Not only it helps your audience, but it also allows Twitter algorithm to suggest your tweets as local news and select them for Topics about your city/area. That way you'll appear in their Twitter feed even if they don't follow you (yet), so don't neglect this opportunity.
5. Link your website or a Twitter-specific landing page
Of course, anyone's Twitter business strategy welcomes conversions — and they are only able to happen if Twitter followers go to your website. You should always link your website or a landing page where people can learn more about your company and maybe purchase your products. Don't forget to add UTM parameters to your link to track the involvement of your Twitter followers.
Creating a landing page specifically for Twitter traffic makes sense if you run a Twitter marketing campaign with specific goals in mind. For example, if you're amplifying your goal is to get more newsletter subscribers, it's better to add the link to your newsletter in the bio. However, if you want to promote several links, pay attention to the next Twitter hacks.
6. Pin a selling tweet
If you're annoyed by the limitations of the bio and only one profile link, here's a perfect Twitter hack for you — a pinned tweet. Pinned tweets are great because not only you get 280 more characters to deliver your message, but you can also add another link that will stand out for a Twitter follower.
A perfect pinned tweet should have the second call to action. For example, if your bio encourages Twitter followers to add your account to their lists, your pinned tweet might offer them to check out your website. If you're trying to develop a Twitter community, it might be a good idea to pin the schedule of your Twitter Chats or Twitter Spaces streams (more on that later), and your Twitter tags.
Another finding for your Twitter strategy is to make your pinned tweet a beginning of a thread: this makes Twitter followers curious to learn more about you and your Twitter content.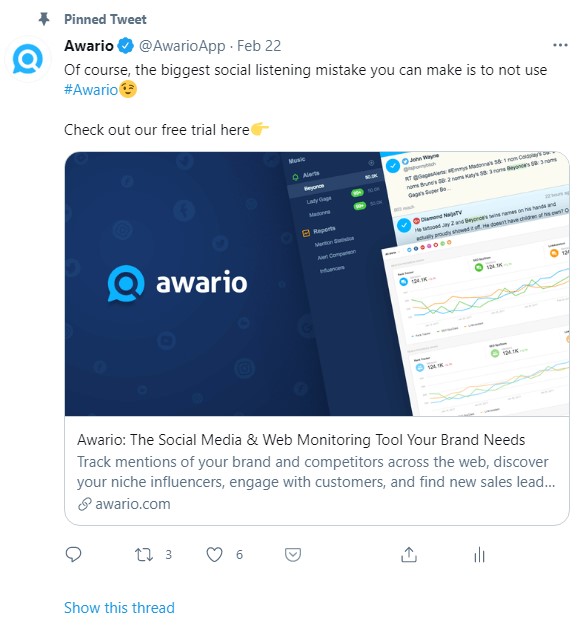 7. Try to get verified
Twitter verification is marketers' favorite topic to complain about. First, Twitter closed its verification process in 2017 and now they promised to reopen the verification process with no clear deadline in sight (but it's supposed to happen this year).
Nevertheless, having a verified Twitter account makes you look more credible to Twitter followers, so it definitely helps when you are eager to know how to get followers. While there's no sure way to get Twitter verification (for now), you can always contact the Twitter Support team and ask for it — after all, it worked for Awario!
In the future, Twitter promises an automated verification process for which you'll be able to apply in the settings.
Focus on your social engagement

It is recommended to focus on your Twitter engagement, and it's not just about Twitter analytics (although you should definitely track those things as well). While your engagement rate is a good sign of how many actual followers you have since fake followers regularly don't engage with your tweets, engagement is also the thing you need to do, not just track.
Twitter feed is a two-way street — you engage with others and your potential Twitter follower starts engaging with you. That's why it's not enough posting high-quality content or optimize your Twitter profile. You need to keep getting truly social to succeed on this social network — and here's how to do it.
8. Tag other Twitter accounts
What's the best tool to analyze your Twitter performance?
What's the best tool to analyze your Twitter performance?

Here are five for you to check out!@AwarioApp @TweetDeck @TweetBinder @TwitonomyApp @UnionMetrics https://t.co/T4OqU6DQEF

— Awario (@AwarioApp) April 6, 2021
Mentioning other accounts is always the best way to gain new followers and do it fast, thus Twitter followers are no exception. We proved it ourselves: Awario tweets that tag other brands and users, even bots get the most impressions and engagement. You can learn more about the Twitter lessons we learned from our experience in this article.
But who should you tag? Here's a list of types of accounts you can tag in your tweets:
Your clients and followers. Keep them engaged: praise them, ask for feedback to get some valuable data, or share case studies featuring them.
Industry leaders. You can share their content, ask their opinion, or suggest your audience follow them.
Competitors. You can complement your competitors or engage in witty banter with them.
9. Make Twitter lists
Speaking about lists, a Twitter List is a great tool to segment your audience and design specific Twitter strategies to engage with them. A Twitter List unites several Twitter accounts based on one parameter. For example, we at Awario curate lists for digital marketers, social media marketers, agency owners, social media marketing experts, and social media marketing tools.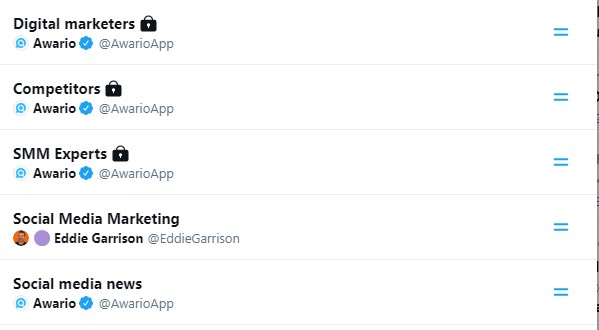 For a successful research of accounts for your Twitter List, you can and should use Awario app. This way you can be sure you find all the influential Twitter accounts in your niche.
Your mentions are almost here!
Fire up brand monitoring and see Awario fetch social data in real-time.
By signing up I agree to the Terms of Use and Privacy Policy
All you need to do is build a monitoring alert with your industry keywords and Twitter as the main source.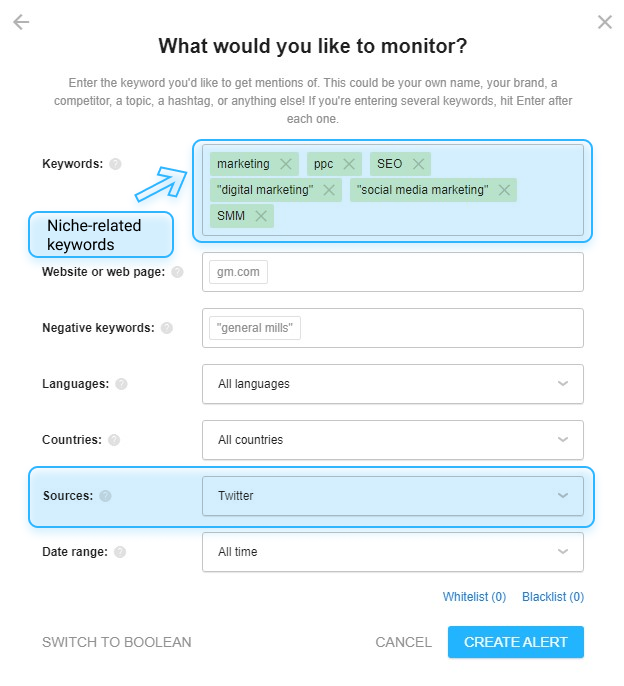 Awario will immediately start analyzing Twitter content and will find every Twitter account having conversations about these topics. You can then sort them by reach to see the most popular profiles first, hit follow, and add them to your list.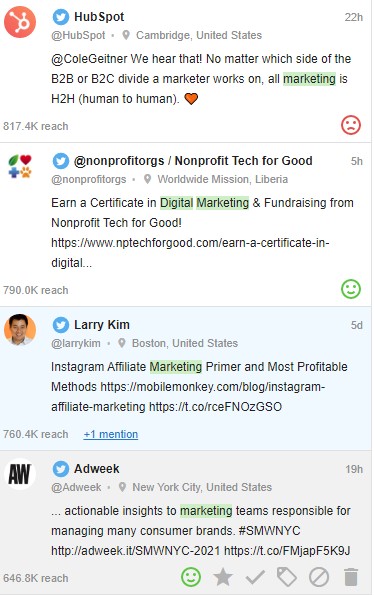 Sign up for Awario's free trial and build your Twitter Lists!
10. Always reply to tweets about your brand
It seems obvious, but many marketers make this mistake — they only reply when there's a direct request or a comment with a question from a Twitter follower. But, if you're trying to grow your Twitter following, always replying is a must. Whether a profile shared your content, commented something nice on your tweet, or praised your product without tagging you — say something nice in the comments. That helps people discover you on Twitter if they don't follow you and raises brand awareness.
To make sure you don't miss those untagged mentions or tweets linking to your website, try Awario app. You can simply build a brand monitoring alert with your brand name as the keyword and a link to your domain, and you'll get all the tweets (and retweets) related to your brand in your mention feed in real time.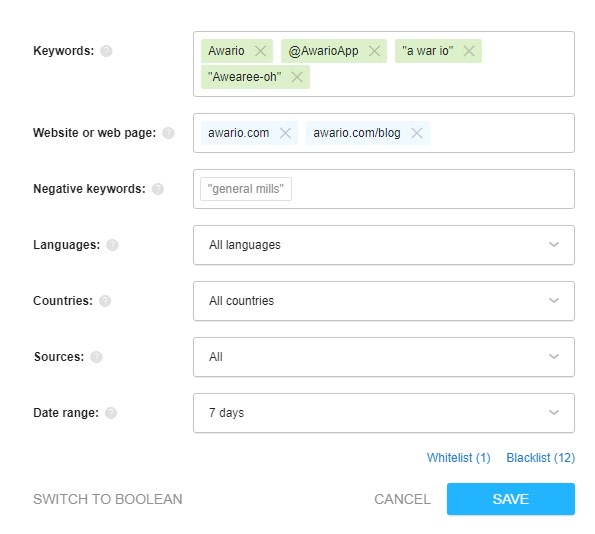 11. Ask questions
This is another surprising hack we've discovered through experience: questions lead to more followers. They encourage engagement from your followers and thus increase Twitter popularity.
You might have noticed that your Twitter feed regularly shows tweets from an account which you are not a Twitter follower of. This happens because a person you do follow replied to this tweet — now imagine if it were your tweet that unexpectedly turned up in someone's Twitter feed. This a Twitter marketing dream come true!
Pro tip
Combine this tip with the one about tagging and ask questions that prompt followers to tag other accounts in response. For example, asking who their role models are or who gave them the best professional advice or the latest approach to something and what it was can be a true finding for your strategy.
12. Use quote retweet instead of regular retweets
Retweeting is an essential part of Twitter marketing, but if you're running a brand account, the quote retweet button should be your default retweet button. This way you make sure your followers still see your brand first AND you attract attention from the account you retweet. They will be curious to see what you added to your tweet, check your profile, and maybe follow you!
Another hack is to quote retweet your own tweets: you make them relevant again and make sure your new followers see them.
13. Engage in Twitter chats
Twitter Chats can be high-quality community-building tools: they make you learn more about your industry and Twitter audience. Basically, A Twitter Chat is a scheduled event where you can respond to questions using a Twitter Chat hashtag.
Want to learn how to optimize your social media content strategy? Join me and @SFerika on the #TwitterSmarter chat tomorrow at 1pm ET. pic.twitter.com/ekwDL79sAO

— Madalyn Sklar  Digital Marketing since 1996 (@MadalynSklar) May 5, 2021
Participation in Twitter Chats in your industry exposes you to the Twitter audience you target. Answer questions with your own unique take and grow your Twitter!
You can also start your own Twitter Chat, but if your follower number is relatively small (and it probably is since you're reading this article) it might take time to take off. Invite an influencer with a bigger audience to host your chat — that way you make sure to engage people, increase Twitter interaction and gain more followers.
Check out our list of Marketing Twitter Chats to join to learn more about digital marketing and find your community on Twitter.
Create content that keeps people interested
While your Twitter profile and your interactions with a current or possible Twitter follower may raise your brand awareness, content is what makes people stay. That's why to get Twitter followers and actually keep them you need to post amazing, engaging, and exciting content. Here are some tips on how to do it!
14. Mix up entertainment, education, and selling
There's a famous social media marketing rule that states that you should have 80% non-promotional content to 20% promotional. That means that if you tweet 10 times a day, eight of your tweets shouldn't sell (at least not directly).
This is a great rule to start your Twitter marketing strategy. Make sure you don't just post to sell — you need to bring value to your followers and entertain them. Don't be afraid to make jokes and use humor no matter the niche you're in. If the CIA posts funny tweets, why can't your business be witty on social media?
Sorry for not following you back @TheEllenShow. But if you visit us maybe we can take a selfie? #twitterversary

— CIA (@CIA) July 7, 2014
15. Establish your Twitter routine
There are two questions that you need to answer when you develop your Twitter marketing strategy: how actively should you tweet, when to tweet, if you should tweet daily and so on.
Twitter is a very fast-paced platform. According to Moz, a tweet's lifespan is 18 minutes. That means that if people don't see your tweet during these 18 minutes after you posted it, it's likely they won't see it at all.
That's why the more actively you tweet, the better. However, don't be spammy — if you have nothing to say, it's better to make sure that you have a consistent schedule to follow with a smaller number of tweets daily. Consistency is key. It's better to tweet five times each day than exhaust yourself with 20 tweets for a week and then give up. You can use a free Twitter scheduler such as TweetDeck to stay consistent.
What's the best time to tweet? The simple answer is when your audience is on Twitter. The more complicated answer is to check your Twitter analytics and see your Best Time to Tweet based on Twitter's analysis of your profile. You can access these Insights through Twitter Media Studio.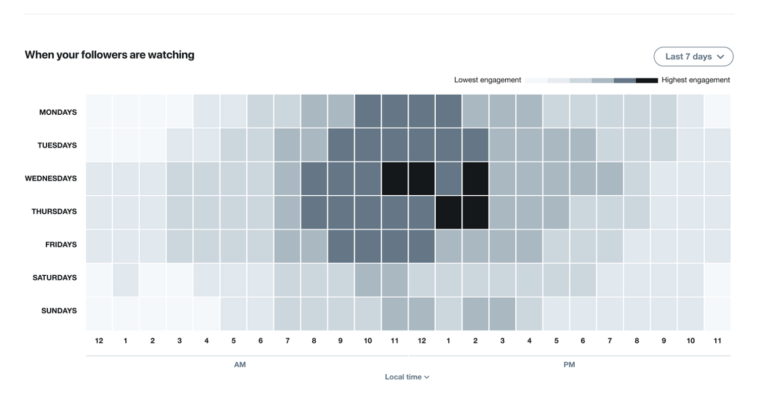 16. Use hashtags
While you can't follow hashtags on Twitter like you can on Instagram or LinkedIn or other social media platforms, they still affect your reach. First of all, Twitter's algorithm takes tags into consideration and can mark your profile to other audiences as recommended based on the hashtags you use, even a bot accumulating the information similar to yours will notice you and retweet you thanks to your hashtags.
Secondly, Twitter Topics may feature tweets based on the hashtags included and once again bring them to a new audience.
And thirdly, Twitter hashtags allow you to highlight certain words and phrases and make them stand out visually so it's easier for your future Twitter follower to see what your content is about.
17. Diversify your content with different media
Speaking about visuals, let's talk about media on Twitter. Since Twitter platform has a character limit, you can use pictures, videos, and GIFs to deliver your message to a Twitter follower in its full form. Twitter also offers you several other media tools including polls and audio recording (available in test mode). Here's an example of a Twitter poll that got a lot of engagement:
Not to be controversial, but… Is there really a difference between B2B and B2C?

— HubSpot (@HubSpot) May 5, 2021
Take advantage of all these different kinds of media and make your content diverse! For example, a Twitter infographic can present old content in a fresh way, saving you time spent on developing new content.
Check out our articles about GIF marketing and video marketing to get some global tips on how to use these media in your Twitter strategy.
18. Use Twitter Spaces
And since I mentioned many media tools Twitter offers, let's talk about Twitter Spaces. Right now this feature is available to anyone with 400+ followers — and you can use it to get more. Just like with Twitter Chats, join interesting Spaces and have conversations with people. Be friendly and give good advice — and people will follow. We wrote a comprehensive guide on how to use Twitter Spaces full of tricks and hacks, so check it out if you haven't already!
19. Amplify your global reach through influencer marketing
I briefly touched on influencer marketing when I was talking about Twitter chats already, but it's not the only way to collaborate with influencers. You can launch an influencer marketing campaign, tag each other in tweets, cross-promote your content, and more.
Using Awario app makes Twitter influencers in your niche easily searchable. The tool has a dedicated Influencers report that ranks all the influencers in your niche by popularity and how relevant they are to your brand. Learn more about discovering Twitter influencers with Awario in our article.
20. Live tweet an event
One of Twitter's main use cases is live-tweeting. Every Twitter follower loves to discuss current events and live tweet them using a specific hashtag. Joining them can give you tons of exposure and potential followers.
Best booth activation ever #SMMW20

— Hootsuite 🦉 (@hootsuite) March 2, 2020
Think of events that might interest your audience: conferences, presentations, live premieres. In 2021, most events are digitalized, so you don't even have to be there in the flesh. Use the event hashtag to tweet relevant commentary, ask questions, and don't forget to engage with other audiences tweeting about it.
Pro tip
Oftentimes, we try to grow our Twitter separately from all the other platforms. But you can always get more followers by asking your existing audience to follow you on Twitter: include your handle on your website, in your newsletter, add a Twitter feed to your blog, and embed your posts into your blog posts.
Enjoying the post? There's more.
Sign up for our newsletter to get our best content by email.
Trying to grow your social media profiles may seem like an overwhelmingly tall task. But there's a simple recipe to how to get Twitter followers here made of three main ingredients: profile, content, and engagement. All you need is to follow it and stay consistent (which is probably the hardest part).