How to make your website and Social Media profiles consistent
A common mistake I notice when I am referred to the social media page of a company from their website is that there is no consistency. They use a different name and design for the website and then they use a different name for their social media pages. There is also no consistency among the different social media pages.
This inconsistency can confuse social media users which can lead to you getting fewer followers, lesser visits from social media and can even reduce your conversion rates.
Therefore, I am going to show you in detail how to make your website and social media profiles consistent…
Use same or at least similar names:
The first details that should match between your website and social profile are your website's URL and your social media usernames (this is the name that appears in your social media pages URLs).
Using the same name as your website URL or at least a similar name in your social media usernames will ensure that the links to your social media accounts appear high in search engine results.
This will make it easy for people to find them when they look up your company name. It will also make it easy for people to recognize your social media pages. And it will all lead to more followers.
For example, I just looked up Dolce and Gabbana on Google.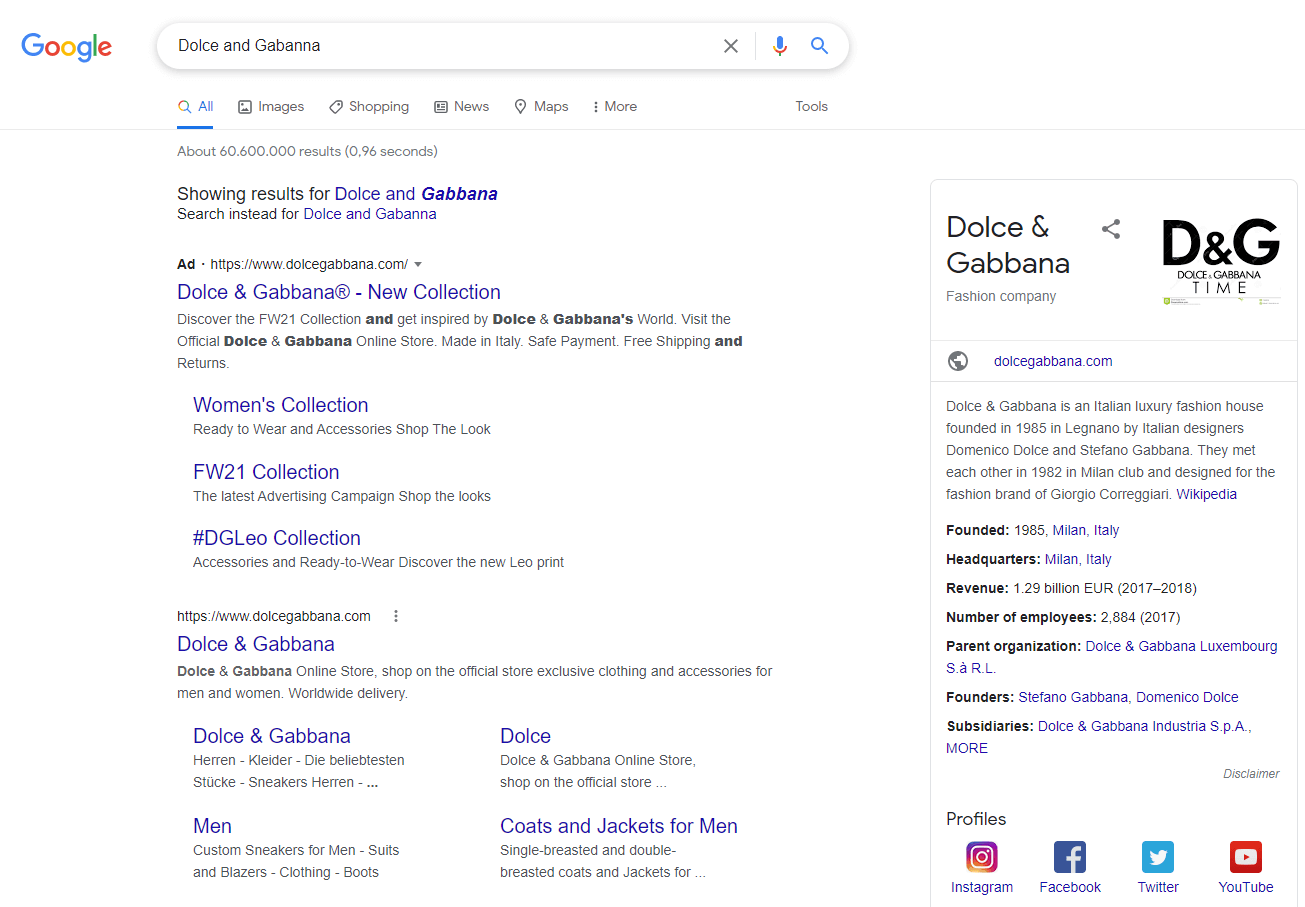 Their website appeared right at the top of the results, but as you can see above, right below it you have results for their Twitter account, Instagram page and Facebook page. This is because the user names of these social media pages are the same as the domain.
So, start by choosing the right domain name for your website.
You should use a domain name that is less than 15 characters long as there are social networks like Pinterest and Twitter that limit the number of characters to 15.
Also having a domain that is less than 15 characters will be easier for people to remember and access as there are fewer characters to type in.
To find a perfectly sized domain name you can use a domain name checking tool.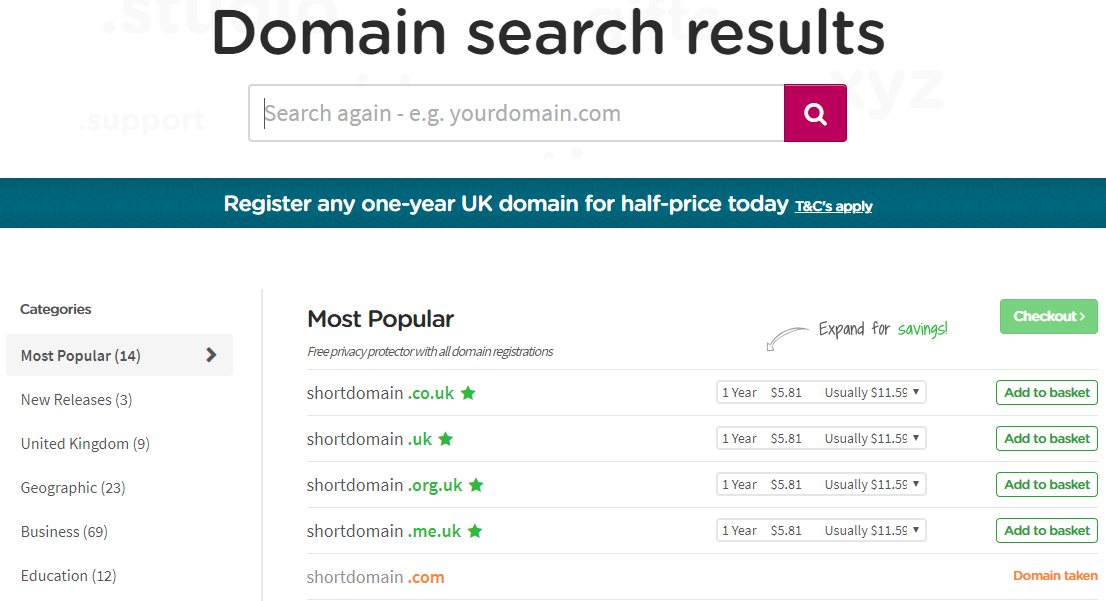 Just type in domain name ideas you have in mind in the search field provided and it will show you if they are available or not. If the .com is taken it will also show you domain names with alternative suffixes.
After you buy the domain name, you can begin setting up your social media pages and choosing your usernames. You should do this as soon as possible as you do not want anyone else to take those usernames.
If your website already has a domain name that is longer than 15 characters, you don't have to worry too much about it. You can just use an abbreviated version of your names here. But you will probably be able to use the whole name on networks like Facebook and Instagram where usernames can be longer.
Another mistake I have noticed people make is not using the right business name. Instead of just adding their company name as it is people stuff it up with keywords. Their strategy here is to be found when people look up those keywords on the social network.
This might work, and more people will discover your page. But your customers and fans won't know who the page belongs to so they might not follow you.
So, instead of stuffing keywords, just simply copy and paste your company. You should use social networks to build relationships with your audience through communication and not like search engines.
An example of a company that keeps it simple when it comes to adding the business name is Haagen Dazs.

They just add their business name straightforwardly or they follow it with the word "ice cream" like they do here on Instagram.
Make sure the images match:
The next step is to make sure the images match. The URL might help people find the page through search engines and the business name will help them recognize your page, but what seals the deal is the profile image. If you use the right profile image, it will confirm to visitors that the page definitely belongs to you.
If you are a company and people recognize you by your logo, you should simply use the logo as your profile image. Use the same logo you place on the header of the site.
If you haven't got a logo, you can use a free tool like Canva to create one. Just login to their site and choose the 'Logo' option under 'Marketing Materials'.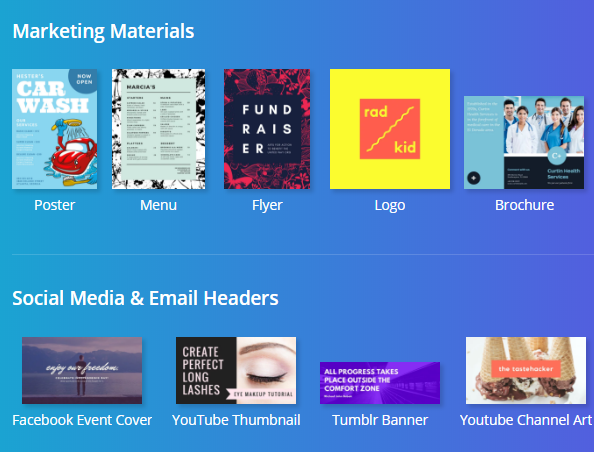 It will then show you all the templates available. You can just choose one and add in your business name and save it.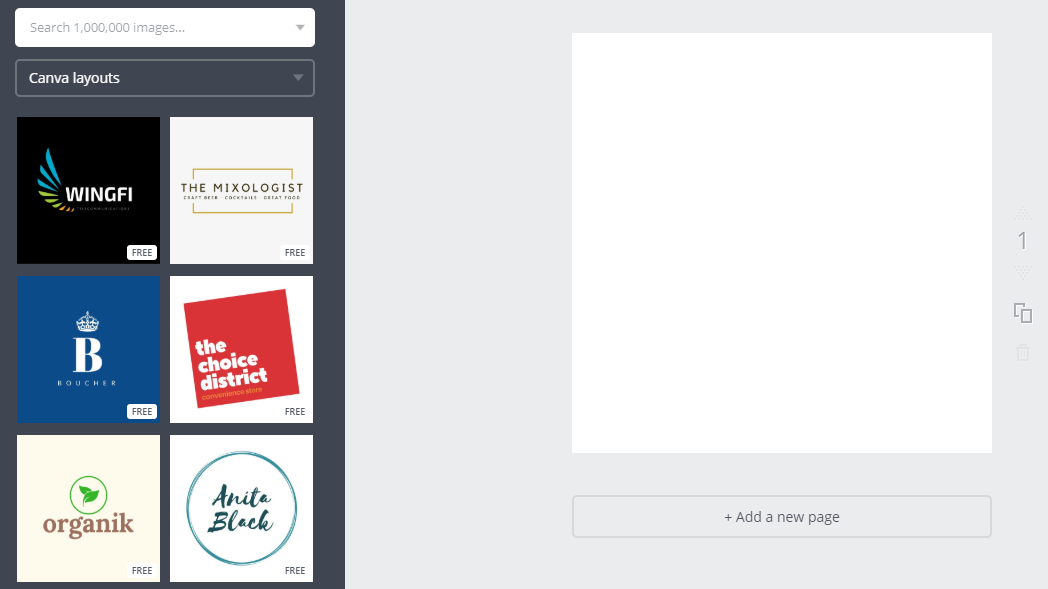 You can also design your logo from scratch as they provide access to various elements, fonts, backgrounds and layouts.
You don't need to create a sophisticated logo, a simple one that consists the name of your company or your company's initials should do.
If your fans recognize your company more by your face, you should use a headshot of yourself as your profile picture instead of your logo.
An example of a company consistently using the same logo on their website and all their social media pages is Asda.
It is a simple logo with the company name in capitals. It shows that even if you are a big brand a simple logo should do.
Optimize pages with perfectly designed social media visuals:
Once you follow the above steps your social media pages will look very similar to your website. This will help you get more followers as people will be able to easily find your social media pages and follow you. But if you want to get traffic and increase your conversion rate as well, there is another step you need to take.
This is to follow the principle of conversion scent. This is where you design the social media images to look just like the content and product landing pages they promote. Following this principle ensure that when someone clicks on the image on a social network and visits your site they will feel a sense of familiarity and they will be more likely to convert.
Most people follow this principle only while creating images to promote their ads as discussed in the below video.
But it is important to do this for your organic posts as well.
When someone clicks on the social media update and visits the landing page they will be certain they are in the right place. They won't wonder if they somehow got tricked into visiting another page.
So, go through all or at least the most important landing pages and blog posts on your website and create unique images that look just like them. Then use them to promote the page on networks like Facebook, Instagram and Pinterest.
Now make your website and social media pages consistent…
These are all the steps you must follow to make your social media pages appear consistent with your website. This will benefit both your social media pages and your website. As discussed above the pages will gain more followers and fans as a result of this, and the website will receive more traffic that converts.
So, go ahead and do your best to make them more similar to each other.
How do you make your social media pages consistent with your website? What techniques have worked best for you? Please leave your comments below.