Instagram marketing guide for small businesses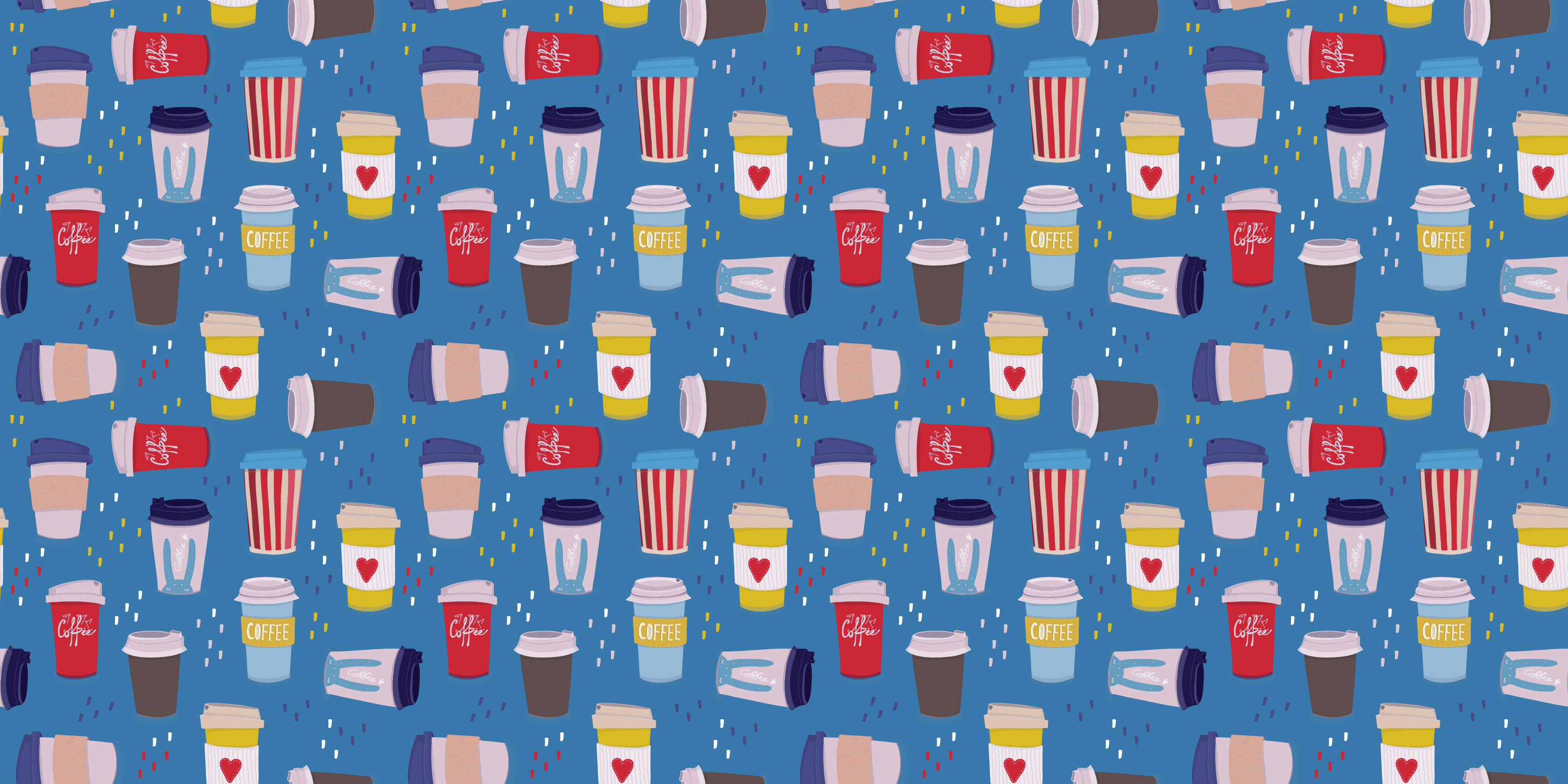 Do you want your small business to succeed in 2019? If yes, then you should try your best to build a strong brand on Instagram. You should utilize this popular social media platform to showcase your products and to promote your brand.
In fact, you don't need to be a marketing guru to build an outstanding Instagram marketing strategy. You just need to love your products and know your target audience. In this article, you will find Instagram tips and tricks, which will help you to boost your marketing efforts.
Create your own visual style
The first rule of Instagram marketing is to make your company stand out. You should create your own style and set an appropriate tone of voice. If you copy someone else's style on Instagram, you will fail to build a strong brand identity.
There are lots of Instagram profiles which look the same. And you should do your best to prove that your company is different. Try to think outside the box and bring all your creative ideas to life, even the craziest one.
Dominos' Pizza decided to publish only one type of content – the close-up photos of the pizza in the box. It sounds like a weird idea, isn't it?
But guess what? This original content strategy works! It has helped the company to create an authentic visual style. Domino's Pizza has already posted more than 1,800 almost identical pizza pictures and attracted more than 1.4 million followers.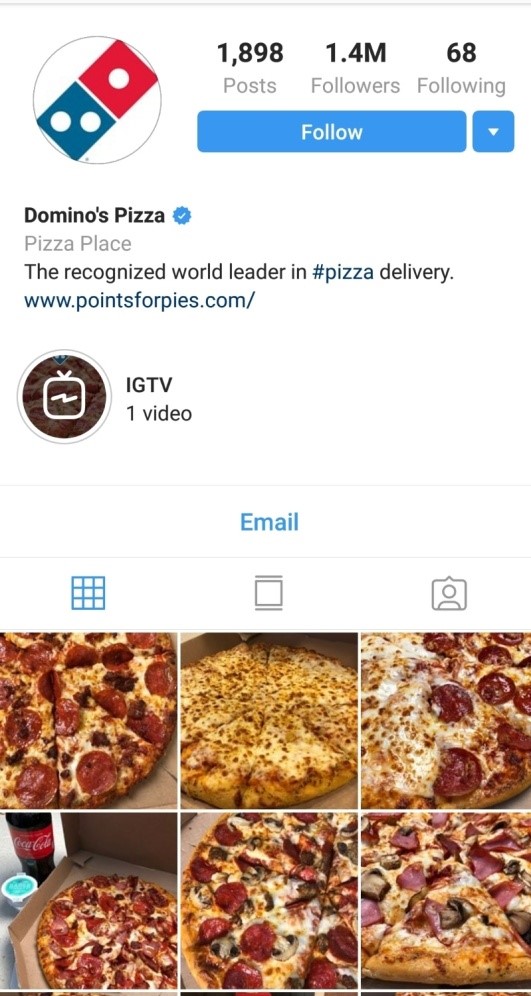 Be proud of your team
What is the most valuable asset of your company? It's your team. Your brand is worth nothing without people, who are dedicated to your company. You must be proud of every employee, who contributes to the success of your small business.
And you should show your key team members to your audience. You should share their photos and stories on Instagram. It's a great way to impress your followers and boost brand loyalty.
Take a look at the following post published by Ford. It's just a perfect example of how to promote your brand while writing about your employee.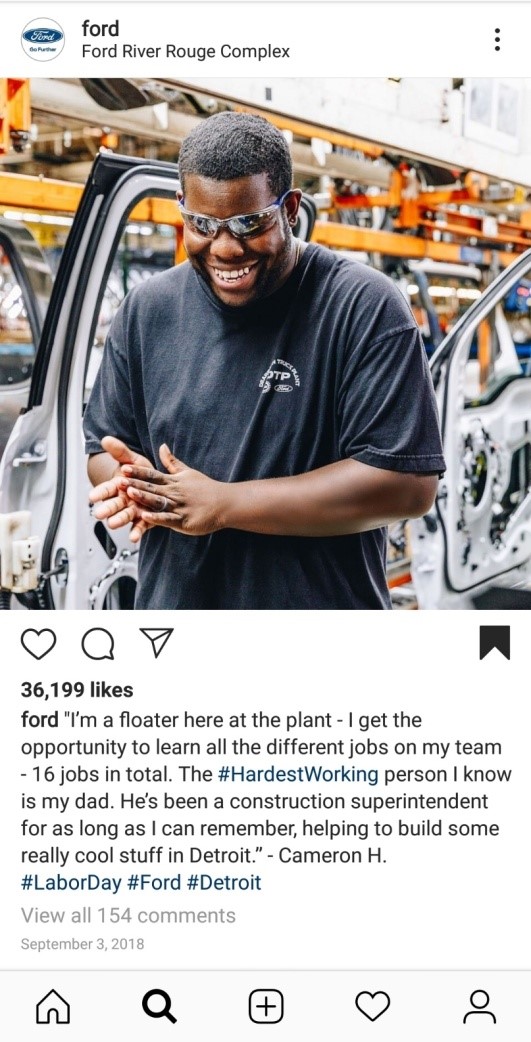 Share behind-the-scenes
Humans are curious by nature. They want to know what is happening behind the scene. They wonder which products and technologies you use to manufacture your products.
So if you share some sneak peeks, you will immediately grab the target audience's attention. You should take a chance to prove that the quality of the products and services you provide is ultimate. So you should share information, which will make people trust your brand even more.
Here is a great example of a behind-the-scenes photo. Delta Air Lines shows how it utilizes de-icing technology to ensure the safety of the passengers during the winter season. This photo convinces travelers that they should choose Delta to fly with.
Run a giveaway
Probably the most challenging task for new companies is to make the first sales. When no one knows your brand name, no one wants to buy your products.
So if you have just started your small businesses and want to start getting profit, you should try your best to raise brand awareness. Fortunately, it's not that hard to do in the era of Instagram.
The fastest way to build brand awareness is to run a giveaway in collaboration with the influencer in your niche. All you need to do is to offer a valuable prize and find the digital celebrity, who is a perfect fit for your brand.
The trick is that paid partnership works much better than a paid ad. As a rule, people have negative attitudes toward the ads. But they have positive attitudes to the influencers they follow and to the brands they recommend.

Share user-generated content
If you want to improve brand loyalty, you should demonstrate that you care about your customers. You should show that you value their opinions and that you are thankful for the genuine feedback.
Do you know how to do it on Instagram? You just need to share user-generated content. Here are a few tips for you:
Encourage users to tag your company on photos and videos
Ask your followers to use your branded hashtag
Choose the best user-generated pictures and repost them
Tag and mention content creators on your profile
User-generated content on Instagram works the same as testimonials on your website. It helps to convince potential customers that they can trust your brand. This little marketing trick works for all companies: from small local shops to international airlines.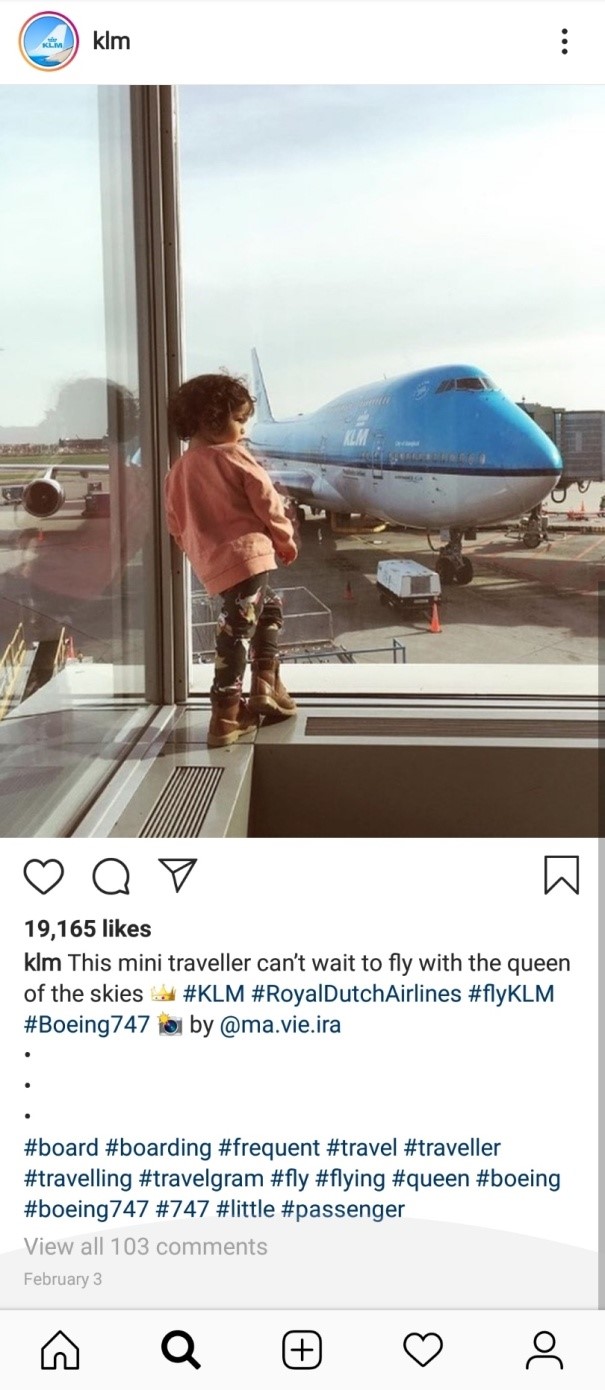 Create shoppable posts
One of the best features, which Instagram can offer is shoppable posts. This feature allows you to transform ordinary social media profile into an effective sales platform.
Which two questions does a user have when browsing your products on Instagram? The first question is "How much this item costs?" And the second question is "Where can I buy it?"
When you create a shoppable post, you immediately answer both these questions. Once a user taps a shoppable picture, he will see the price. And if he taps the price, he will get directly to your website.
So if you want to boost sales, you are welcome to publish shoppable posts. All you need to do is to add a link to the product page on your site.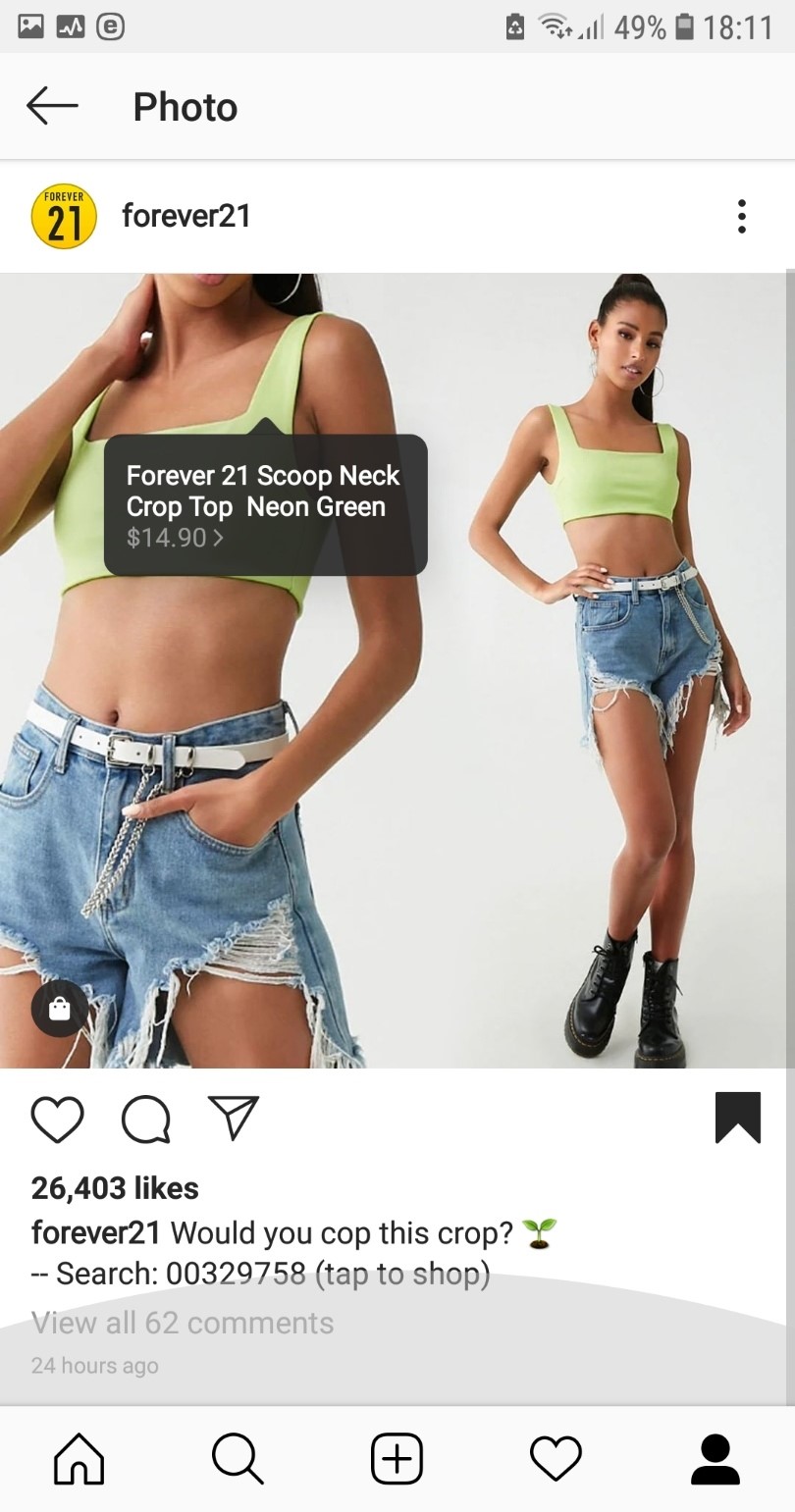 Make your Instagram stories shoppable
The great news is that not only posts but also Instagram stories can be shoppable. You can add a direct link to every story in order to drive traffic to your website.
You just need to place a CTA button "learn more", "buy now", or "book now" on the bottom of the stories.
Here are a few Instagram stories tips for you:
Publish from one to six stories every day to boost your marketing efforts
Place the most interesting stories first to retain the viewers
Add mention, hashtags, and other stickers to grab the attention
Share user-generated content in stories to drive engagement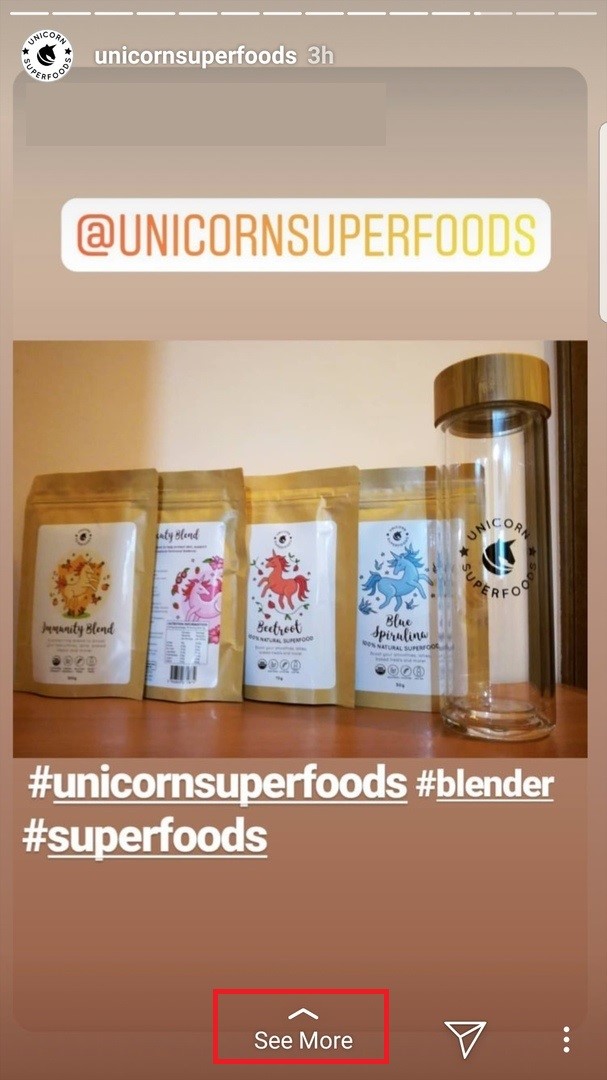 Тake advantage of modern tools and services
If you want to boost your efforts, you should utilize reliable digital tools on every stage of strategy development and implementation. Yep, you are not a hero, and you can't design an ideal marketing strategy without the use of modern technologies.
First of all, you should apply such a tool as Awario to monitor the mentions of your company through social media. It will help you to understand what users have already known about your company and which questions they have. You will need this information to create content that will be 100% useful and interesting for your target audience.
Secondly, you should use writing and proofreading tools to edit your Instagram captions. For instance, you can use TrustMyPaper for human proofreading or Grammarly for automatic proofreading.
Thirdly, you should use photo editing software to make your Instagram profile catchy. The most popular options to use are Adobe Lightroom and VSCO.
Wrapping it up
Today, Instagram provides you with a bunch of opportunities to take your small business to the next level. And if you genuinely want your company to succeed, you should take all those opportunities. The perfect moment to build your Instagram marketing strategy is right here and right now.