LinkedIn organic video marketing as a secret weapon to get more clients

LinkedIn can be called the wealthiest social platform in the world. According to various estimates, about 40% of world millionaires are on this social network. In total, there are already 675 million users on board. They scroll the news feed during their working hours to find industry insider scoops, new partners, noteworthy business events, and relevant offers.
It is also the best place for growing your influence, brand community, and identifying quality leads.
Probably this is the reason why the LinkedIn Ad campaign requires a royal marketing budget.
While staying on the platform, you can start lead generation through organic video content and not pay a cent! Sometimes it works even better than ads.
What is special about LinkedIn video?
Launched in 2017, the feature is improving yearly. The network offers two video default options:
You can shoot a video through LinkedIn Camera on your smartphone, adding stickers and overlaid text to it.
You can upload a ready-to-use clip from your device.
The acceptable length of a video is from 3 seconds to 10 minutes. The maximum uploaded video size is 5 Gb.
Also, you can add captions to your video as an SRT file.
Some users can stream Live video content on LinkedIn, using third-party broadcast tools like Socialive. If your page has a big following, you can fill out the application and get access to the Live video option. It is in beta testing now.
LinkedIn is working now on introducing short-form video content like Instagram Stories and an embedded video editor for creating cleaner looking clips right on the platform.
Start monitoring your brand today.
You should've been doing it yesterday – but the next best time is now with Awario.
By signing up I agree to the Terms of Use and Privacy Policy
How to befriend the LinkedIn algorithm?
With clear rules of the game, LinkedIn is more friendly to your content than other social channels. The more engagement your video has, the longer its lifetime is. LinkedIn popular posts can stay on the top of the news feed for around two weeks! It is hard to imagine this on Instagram, Facebook, or Twitter.
First of all, the platform pulls up the content of small and medium-sized businesses helping them to gain great organic traction. Michaela Alexis, the social network consultant, called this peculiarity Robin Hood algorithm. This rule applies to posts of new users as well.
Do not panic if you registered on LinkedIn back in 2003. The platform considers not only your experience but also your user behavior. It matters who you comment on, how many times you do it, how often you respond to comments to your posts, and tag other users. LinkedIn will detect your activity and appreciate it!
Why organic video works for lead generation?
Most people would rather watch videos to receive information than read texts. Video is a quick, simple, and emotional explanation of the topic. Users easily get the point within a matter of minutes.
Hubspot's statistics confirms it: 55% of internet users watch online videos daily, and 78% of them view videos weekly. According to Cisco forecasts, 82% of internet traffic will be online videos in 2022.
Also, videos are potentially viral content. Users share organic video posts 20 times more than traditional types of content on LinkedIn.
As a result, organic video delivers a higher level of engagement that is vital for lead generation.
Video marketing for lead generation on LinkedIn: where to start
A customer journey includes three stages: awareness, consideration, and conversion. Initially, people need to learn about your brand. Then they check its values and apply your clients' and employees' experience to themselves. At the final stage, you need to convince prospects that your company offers the best solution to their problem.
A well-prepared LinkedIn lead genertaion campaign helps you to achieve the goal.
Build awareness through LinkedIn videos
You need to spark people's curiosity leading them to seek more information about your company, follow your page or visit your website.
Post event-oriented clips.
You can invite people to your workshop, or conference via clips. It is a double benefit. Potential customers will learn about your company and probably visit your event.
Showcase your product features.
Introducing your brand to the LinkedIn community, you can show a new or flagship product in action. Explain how it works and what problems it is designed to solve. Look at how Ford did it.
How to use LinkedIn video at the consideration stage
When potential leads noticed your company, it is about time to enhance their first impressions about your brand.
Shoot hacks or how-to clips.
LinkedIn is the best place for sharing expertise. Emphasize how skilled your specialists are through filming educational content.
When shooting your videos, try to be of the moment. The company experts can discuss breaking news in the industry and share hacks about new market rules. You can invite famous guests to the dialogue as well.
Do not hesitate to promote your product clips explaining how it solves a customer's problem. At this phase, potential leads are in an educational frame of mind. They are starving for as much information about your company as possible. Being able to keep users contented means a better chance to succeed in the lead generation campaign.
It is also helpful to link in the caption to the full instructions or checklists on your website or landing pages. Sharing is caring!
Nudge LinkedIn users to the purchase
At the final stage of the sales funnel, you need to convert your prospects into your clients. Try to prove to them why dealing with you is the right choice, why buying now is the best option, and how easy it is to sign up for a free trial or make a purchase on your website.
Shoot FAQ to handle rejections.
Answering popular questions about your product or service is another efficient way of lead generation on LinkedIn. Perhaps your sales team has the list of questions your prospects ask most often. Use it for making a script for your video.
The engagement of video is three times higher than that of traditional text posts on LinkedIn. There are high chances people will ask more questions or start arguing with your statements in the comments. Try being persuasive in your answers, you may be able to change their minds and turn them into qualified leads in future.
Share customer testimonials and case studies.
Video case studies and testimonials are very persuasive as they provoke emotions in viewers. We trust people more when we see and hear them.
Use clips about your customers' positive experiences as a social proof for your target audience. Do not forget to leave a clear CTA in the caption.
Where to find topics for the LinkedIn video?
Repurpose evergreen and actual video content from other platforms. Create videos (up to 3 minutes) from long-form webinars, presentations, important corporative events to post over the next couple of weeks on your LinkedIn page.
Start competitive intel. Follow your competitors to monitor their activity on LinkedIn for stealing brilliant ideas. If your brand is innovative and first-of-its-kind, expand the search field to related companies and industries.
Check Answers and Questions resources. Look through Quora and Reddit threads regularly to build your content plan upon the FAQs and hot conversations before the hype dies.
Use social listening for research. Social listening tools like Awario come in handy when you need to learn what is trending in your niche now.
Imagine your company provides organic food. Open the tool and type in keywords related to your industry on the first screen.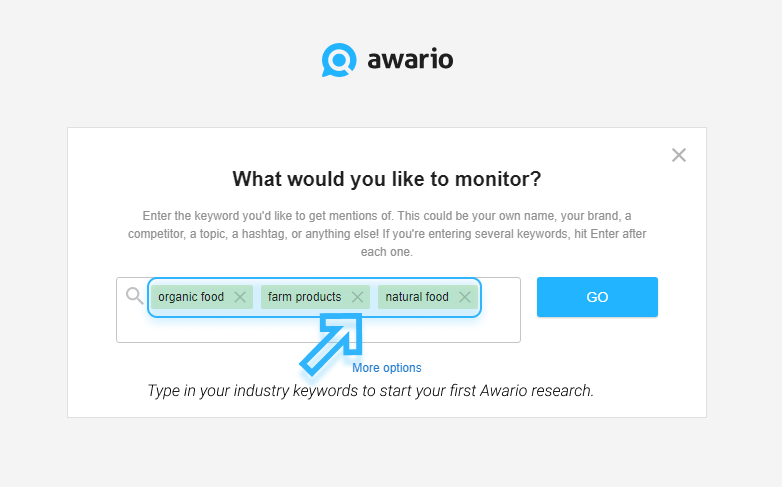 Awario automatically scans social networks, news, blogs, and videos on the Internet, catching any mention about your topic.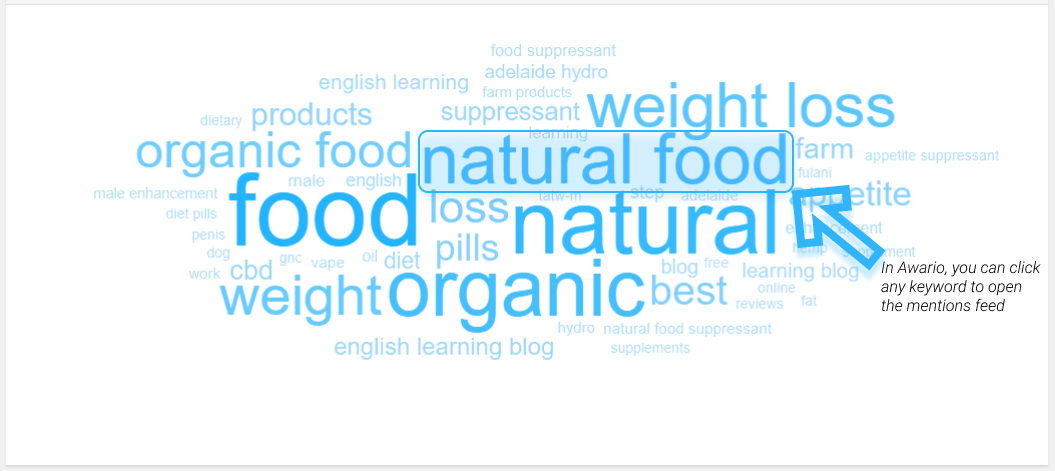 By clicking on the keyword, you can open the feed with all posts where users mentioned it. Awario shows discussions around your topic in media and on social networks. Look through articles, comments, tweets for sentiment and reach analysis.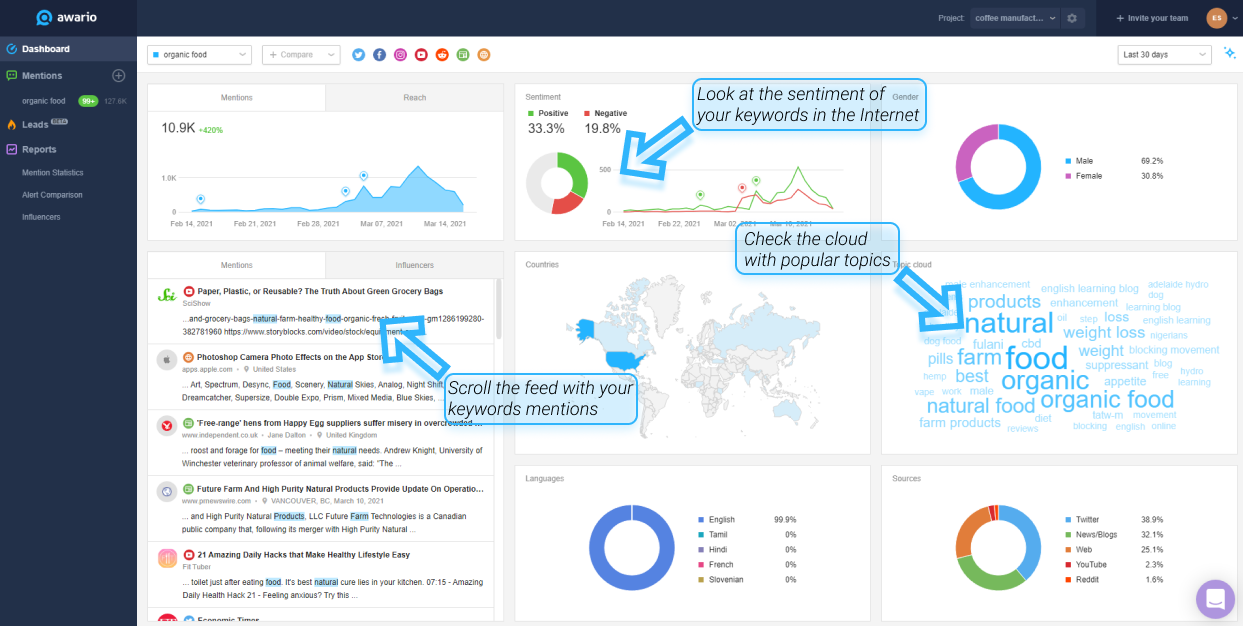 Meet your personal content marketing assistant.
Grab Awario's free trial and run a social listening analysis of your own.
By signing up I agree to the Terms of Use and Privacy Policy
How to fail video marketing on LinkedIn
Making videos for lead generation on LinkedIn, try to avoid these mistakes:
1. Share YouTube or Vimeo links instead of native LinkedIn videos. The platform does not appreciate external links to other video hosts. If you upload your video directly to LinkedIn, it will get far more reach.
These guys tested this. At first, they uploaded a video via the YouTube link.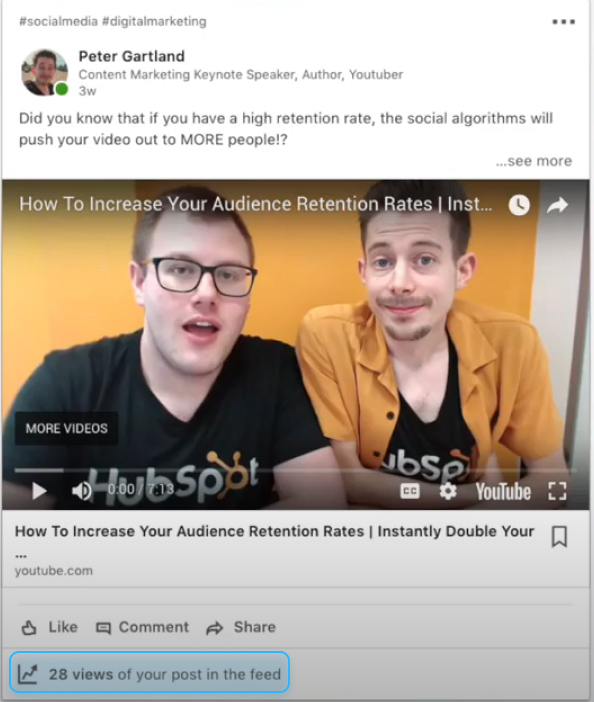 Then, they uploaded the same video natively to LinkedIn. Look at the number of views!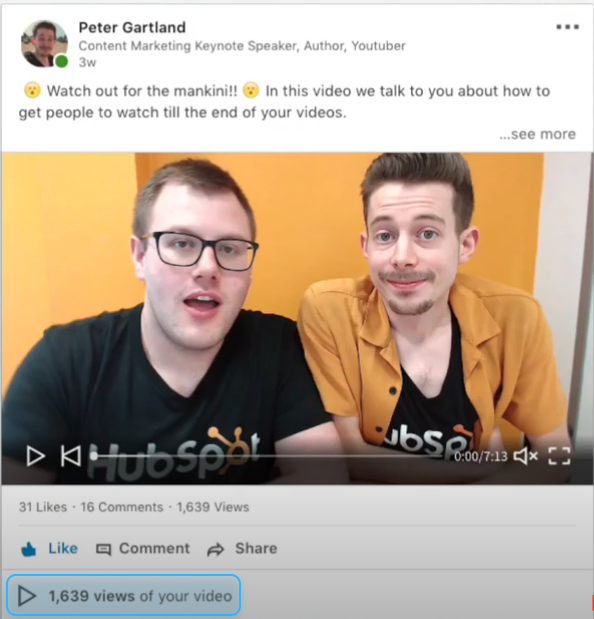 2. Create funny videos. LinkedIn is not an entertaining platform like Instagram, YouTube, or TikTok. People rarely open it after work hours or on the weekend. Preparing your content, do not forget that your core audience wears suits.
3. Ignore the correct aspect ratio. Square or rectangle is the classic form for a neat LinkedIn video. If your clip has a non-standard format, the platform will add blurry bars at its edges automatically.
To film a nice-looking clip, check this detailed tutorial:
4. Shoot 'talking head' clips. Do not boil your video down to speaking only. It's boring! Show viewers something else – your office, manufacturing, product, employees. Adding four or more scene changes in the first three seconds of a video increases CTR by 19%, the LinkedIn marketing team said.
5. Do not stand out with your clip thumbnail. It is the first frame of your video by default. If your clip starts with an empty screen, viewers will see something like this Talkdesk clip below.
Customized thumbnails draw attention and help people to understand what your video is about. To get more views, you can add the brand logo and an eye-catching headline for a few seconds at the beginning of your clip.
6. Do not add CTA. Your video has to turn your prospects into customers. Strong CTA moves people to further action pushing them into the next stage of your LinkedIn lead generation funnel. When action-oriented words – start, make, discover – appear on the screen, the CTR of the post is 20% higher on average, LinkedIn claimed.
7. Post video out of business hours. When choosing the time for posting, consider that people use LinkedIn during commuting or working hours basically. Do not share your post later in the evening or on the weekend.
Enjoying the post? There's more.
Sign up for our newsletter to get our best content by email.
---
Many people blame LinkedIn for being old-fashioned. However, the traditional style is an advantage of the social network. Video content itself is still something new and attention-getting there. Use it wisely, peppering organic clips about your brand strengths throughout the weekly content plan.