How to use Awario for Reddit lead generation

Article summary
In this article, we explain how your social media and sales teams can find and generate leads on Reddit and how to engage them in the conversion process.
15 minute read
As the pandemic stays as a threat, people integrate their lives into the online space more than ever. This is especially true for work lives, as the Net evolves into a cornerstone underpinning today's businesses.
With that in mind, it's fair to say that online marketing has evolved along, and every business needs to up their game. In this article, we'll go over one of the ways to tap into the stream of businesses going online — social media selling on Reddit.
Specifically, how a social listening tool can be used to find leads there, and how to behave for the best results.
Social media lead generation basics
A recurring theme across tons of posts on social media is people asking for recommendations on all sorts of business products and services.
Social selling, then, is a process of finding and approaching the right people online, learning about the problem they want solved, and handing them the solution. Finding the appropriate people could be described as a lead gen process.
While traditional lead generation includes cold emails and calls, social selling gives you opportunities to learn more about your leads and plan your tactics better.
But beware, diving into it head-on is likely to be a huge waste of time. To create an efficient startegy, it's best to consider a few points first:
What social channels fit your offer the best?
Who are your potential users, and which social networks they use?
What exactly are they doing on these social channels?
It's important to realize which social media channels are popular among your business' potential customers.
For example, Instagram is best used to showcase captivating pictures rather than thought-provoking texts. Thus, Instagram is a perfect channel for products focused on visuals — like apparel, beauty, or food brands. Your lead gen there can consist of engaging in direct messages or chatting with people in the comments.
But if you're trying to set up a campaign for complex enterprise-level software, LinkedIn is a better option. Lots of conversations found on LinkedIn center around businesses looking for ways to optimize their workflow, improve ROI, or even branch out into a new niche. So, people there are already primed to talk about business development, creative solutions, and ways to tackle particular pain points.
Sign up for a free Awario trial
See Awario in action with a free 7-day trial. No credit card required.
By signing up I agree to the Terms of Use and Privacy Policy
How does social listening fit into online lead generation?
Social listening seems to be the often forsaken piece of the intricate social selling puzzle, even though it's easy to mix into your established routine.
A good setup ensures that potential leads are laid down before you, as opposed to a tiresome manual search. Generally, all you would need to do with social listening powered lead gen is choose a few keywords to track and wait until conversations matching your search are posted.
After that, you're free to take a look at discovered leads, estimate their potential, and plan ahead on how to proceed. There're a lot of choices to make when considering your best way forward.
Do you use the brand's account to reply, or your own? Is it better to reply to their post publicly, or go right to direct messaging? When is the right moment to go straight to business? Unique context aside, the answers revolve around the platform you're using and the audience you're targeting.
It's important to identify the best platform for your various marketing strategies and tactics.
Say, people on LinkedIn are more receptive to business talk, as finding new opportunities, methods, or tools is the reason they're here. So, you can afford to be a bit more direct and sales-y there.
Or say, Twitter's audience is in there for a mix of entertaining and informative content, as well as sharing or debating opinions or news.
Dry "strictly-business" talk is not the best path to choose then.
With that in mind, your communication on Twitter should tap into the reasons people use it — amusement, information, and having their voices heard.
On TikTok gen Z created a whole new language with ellaborate meme formats and jokes, which you need to understand if you want to sell them something.
Reddit is a whole different story though.
What is Reddit, and why is it so special?
Redddit for marketers is a bit of an undiscovered platform. Surely, there are ads, but other social platforms have noticeably larger presence of brand accounts and campaigns that target organic growth.
So what makes this platform so different?
In essence, one can define Reddit as a collection of unrelated niche communities, or subreddits.
Some subreddits represent communities with certain interests, like stock markets, sports, or literature, both in general or in particular (e.g. r/wallstreetbets, r/formula1, etc).
Others take on a more forum-esque setup, where all content posted is in a question-answer or open discussion format (e.g. r/AskReddit, r/LegalAdvice, r/TooAfraidToAsk, etc).
And of course, there're all kinds of communities centered around niche memes, irony, inside jokes, and modern Internet culture (r/BikiniBottomTwitter, r/RoastMe, etc).
One thing to always keep in mind is that each subreddit features its own moderator team, and a unique, often strict, set of rules to adhere to for Reddit users.
For example, there are subreddits that don't allow submitting new posts without a certain amount of karma (a sum of upvotes and downvotes on your own comments or posts).
Others might restrict your commenting ability until your account has existed for a set period of time.
On top of that, you might notice that many subreddits sport a few rules designed to outlaw sales, marketing efforts, or ads specifically.
But they won't catch you if you're sneaky. The list of individual subreddit rules, community description, wiki, and posting guidelines are always found in the right panel. Make sure to go through this information beforehand.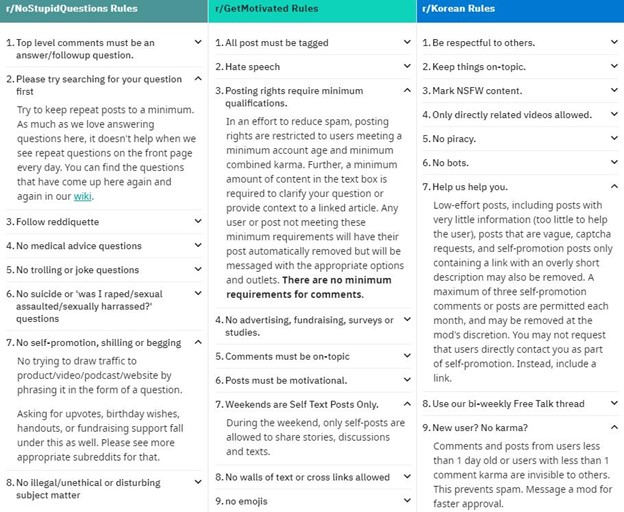 Reddit auddience skews older, 30+ years old, and there are more men than women on the platform. Make sure you take these demographics into consideration to make sure you're targeting the right market with your campaigns.
One of the great things about the platform is that subreddits can take on practically any content format there is. Posting on Reddit is quite a creative task.
Text games, image and video galleries, personal stories, heated opinion debates, legal advice, and many others can be found on Reddit. This is a similarity it shares with the multitude of Internet forums popular before the rise of social media. The most important thing for a marketer is the fact that people go on Reddit to ask for recommendations on all sorts of products and services too.

This is the kind of post to gun for. And I didn't spend an eternity to find them!
How to Reddit — tips and tricks
As it stands, starting out a fruitful marketing campaign on Reddit can be tricky and exhausting. It's not enoigh to just pay for ads and be done with it.
Reddit marketing requires time, effort, and genuine contributions to at least some of the communities you decided to join.
Moreover, the overall atmoshpere and the style of communication make people wonder if you can market on Reddit for real.
For these reasons, tackling the platform may seem daunting or not worthy of your time at all. But fear not, as we have compiled a few bullet points that should help you along the journey. Whatever strategies you choose to emply, these general rules will help you to conquer Reddit.
Create your Reddit account in advance.
This is an important step, as many communities don't allow fresh accounts to interact at all. That'll help you save time for the actual campaign. Of course, if you have a Reddit profile already, you can use it, just remember that people can see the history of your posts from this profile.
Take part in the subreddits you take a genuine interest in
To succeed in social selling, or any other marketing activity on Reddit, you need to become a regular first.
Being active in communities unrelated to your line of work helps you get a grip on so-called "reddiquette" and build a trustworthy account-image.
While engaging in any discussion or dispute, you should expect people to go and check your comment/post history to get a clearer picture of who you are.
The absence of content outside of blatant marketing mars your image, as redditors aren't known to like or trust marketers.
Shortlist the communities related to your work
While this is not necessarily separate from the previous point, it's worth noting that searching Reddit can be a pain. Social listening tools, like Awario, can help you find the relevant communities hassle-free.

Be active in discussions
Keeping yourself in the loop of relevant discussions helps you understand the audience better, get recognized as a field expert, and accumulate karma.
High karma helps you build trust and bypass posting limitations on some of the subreddits.
Be original, honest, and casual
Whenever you're going to reply to a post asking for recommendations, it's best to not go in as a marketer. Your strategy needs to be smarter.
Your reply should read as if you're an experienced user of the product you recommend, and know its strong and weak points inside-out.
Make sure to give an unbiased and concise overview of your recommended product. Meaning, avoid hiding or excessive downplay of any flaws.
Casual language helps your post look natural and honest, while sales-y talk can speed you along a suspension or even a ban.
If your post turns into a discussion, make sure to stick around, engage, and be prepared for mean comments or uncomfortable questions.
In your replies, address the criticism head-on, but try to not sound too defensive.
Awario's lead generation features to conquer Reddit
For many reasons, manual lead generation on social media can be a time-consuming, tedious and repetitive process. It's sometimes hard to find quality leads with automation, it becomes alsmost impossible to get high-quality without it.
This is especially true for Reddit, where the in-built search engine was a running joke until very recently.
But, the proper use of social listening tools counters all the hardships of identifying leads, allowing you some time to work on other tasks.
Awario has made a step further in that direction with its dedicated Leads module. It helps you indentify purchase intent in social media posts.
In essence, this module will search for posts where users ask for advice on products/services that match your product description, or voice their dissatisfaction with competitors you put in.
All you need to do is to describe your product/service in a few short phrases, throw in a couple of competitor names, and let the magic begin.
Starting out with Awario's Leads module is very straightforward. Once you've signed up, the app will offer you to create a project.
The project creation menu follows a very simple structure. The details for each field will pop up if you hover over the question marks.
For the Leads module, you'd want to focus on Product description and Competitors fields. Once you've filled these out, hit the Create project button.
The search for mentions and leads will start right away and will go on in the background all the time.
Don't worry if you didn't set up a perfect search from the get-go — you're free to finetune and iterate on the settings at any point.
Social listening has a bit of a learning curve, so don't hesitate to ask for help from the support team.
It's a good idea to give the app a bit of time before coming back to check the findings. To take a look through the results, just click on the Leads icon in the left panel.

This will reveal your Leads alert's feed, containing each individual post and some basic data on them.
Let's imagine that your product is a social listening tool too, and you're interested in Reddit only. This is how your alert's settings would look like: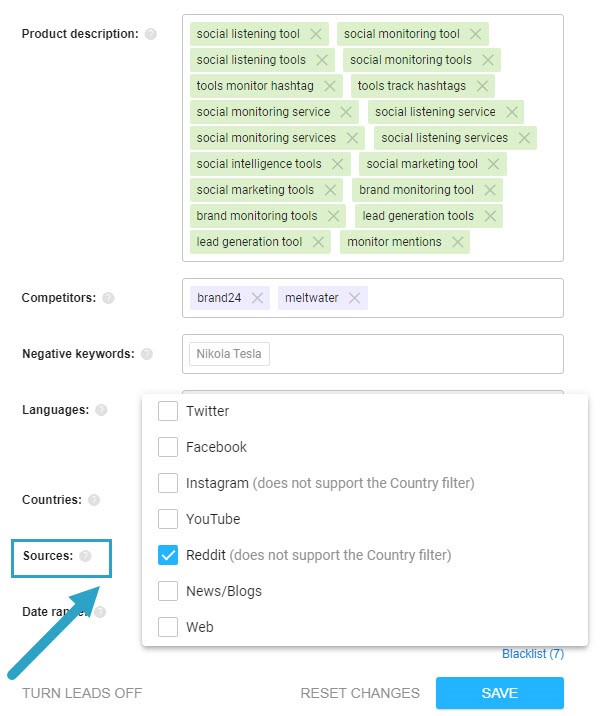 As seen above, I've added a bunch of synonyms and variations of "social listening tool" phrase in the Product description field, tossed in two competitors, and made sure to disable every source except for Reddit.
Synonyms and variations ensure that the app doesn't miss any relevant conversations. Competitor names allow the app to find posts where people express how they've been let down by your competitor.
It is worth noting that Reddit does not share geographical data, so you will not be able to limit the search via the Country filter.
The posts you can expect to find with this query will look somewhat like the following:


From the posts above, it looks like these people are ready to try out solutions.
All there's left to do is log onto Reddit and write a reply to let fellow Redditors know your solution is out there.
As long as your offering matches the original poster's description, they will try it out. Now that you're free of justifying the need and proving you're the best, you can focus on going extra for your potential client.
For example, you can offer your insight into how a social listening tool can help their case, an extended trial period, or even a small discount. Although winning the potential leads' heart is another story.
Awario also provides leads tracking meaning you can see how many leads you acquited in a certain time-period and see the basic metadata around them (for example, the reach of the post). You can then use this data for reporting to your management and analyzing revenue.
There's a whole page of examples found over in Awario's Help Center, so give it a shot if you need some more.
Enjoying the post? There's more.
Sign up for our newsletter to get our best content by email.
Conclusion
While Reddit might be harsh on marketers, its rising popularity makes it hard to ignore. It's tricky to find a way to use Reddit for lead generation but it's worth it.
Success there is intertwined with how much time you dedicate to grasping the ins and outs of the unique aspects of the platform. Awario can help you find hot leads on Reddit and generate less obvious ones.
Yet, finding and joining the relevant conversations on Reddit gets easier with the help of social listening tools.