SaaS marketing: 5 brilliant examples from tech companies

Article summary
Your SaaS marketing strategies should be as great and thought-out as your product! In this article, we gathered five of the best SaaS marketing campaigns to give you some ideas for your own campaigns. Check out our examples and get inspired!
The idea that if you create a great SaaS product the users will come with no extra effort is still often debated in the IT communities. Yet, most SaaS companies choose to get better at SaaS marketing strategies and promoting their products rather than wait and hope for the best. For a good reason: the market is booming. There are plenty of truly good products: it's genuinely hard for the audience to bump into yours if it's not marketed well.
Besides, there're always companies that use SaaS marketing strategies to their full potential. It becomes impossible to compete with them if you're not on the same popularity level, so you need to amp up your own SaaS marketing campaigns.
This post gives you some examples of how SaaS companies rocked specific marketing strategies, attracted millions of users, and became top in their respective niche. Surely, the strategies described won't be the only ones that led to success. And it goes without saying that the products of these companies are truly great products. However, sometimes it's also an idea, a specific campaign, or a general marketing strategy that gets the engine running.
Sign up for a free Awario trial
See Awario in action with a free 7-day trial. No credit card required.
By signing up I agree to the Terms of Use and Privacy Policy
1. Canva and influencer marketing
When we talk about SaaS marketing strategies, we often neglect influencer marketing. This is the marketing strategu commonly associated with makeup brands and soft drink ad campaign, not software. Well here's one example of succesful SaaS marketing campaigns that heavily rely on influencers — Canva!
Canva is a graphic-design tool website. It's a freemium tool and a total lifesaver for companies that don't have an in-house designer or anyone that has to do design without any skill or knowledge.
While the brand has indeed become popular due to its unique product and freemium model, its most successful growth method was influencer marketing campaigns.
They went online and discovered brand evangelists: people who've talked about their brand, YouTubers that made video tutorials, and even taught classes using Canva. At some point, they've also discovered that Guy Kawasaki's social media graphics were designed with their tools. So naturally, they contacted him. Now Guy Kawasaki is Canva's brand evangelist. His sole advocacy helped Canva double its users' numbers.
When you think about SaaS marketing ideas, don't ignore the trends from other fileds. Yes, sometimes SaaS platforms like Producthunt or IndieHacker can seem the better marketing approach than influencers or ad campaigns, but as Canva shows us, these are great SaaS marketing strategies.
2. Dropbox and friend referral program
People don't trust advertising, they ignore banners, and organic reach on social media is declining every day. Or so it feels like. Word-of-mouth, where each person tells their friend how good the X product is, is priceless. It's every marketer's life goal. However, how often do you discuss file hosting services with your friends even if you really enjoy yours?
Dropbox, a file hosting service (surprise, isn't it) used a great way of facilitating, if not forcing, word-of-mouth. It used incentives: for example, it would give out a 500MB increase to both you and the person you referred to join when the signup process is pending. Dropbox also makes it very easy for users to tell one another about the product - you don't have to take any extra steps to get your incentive.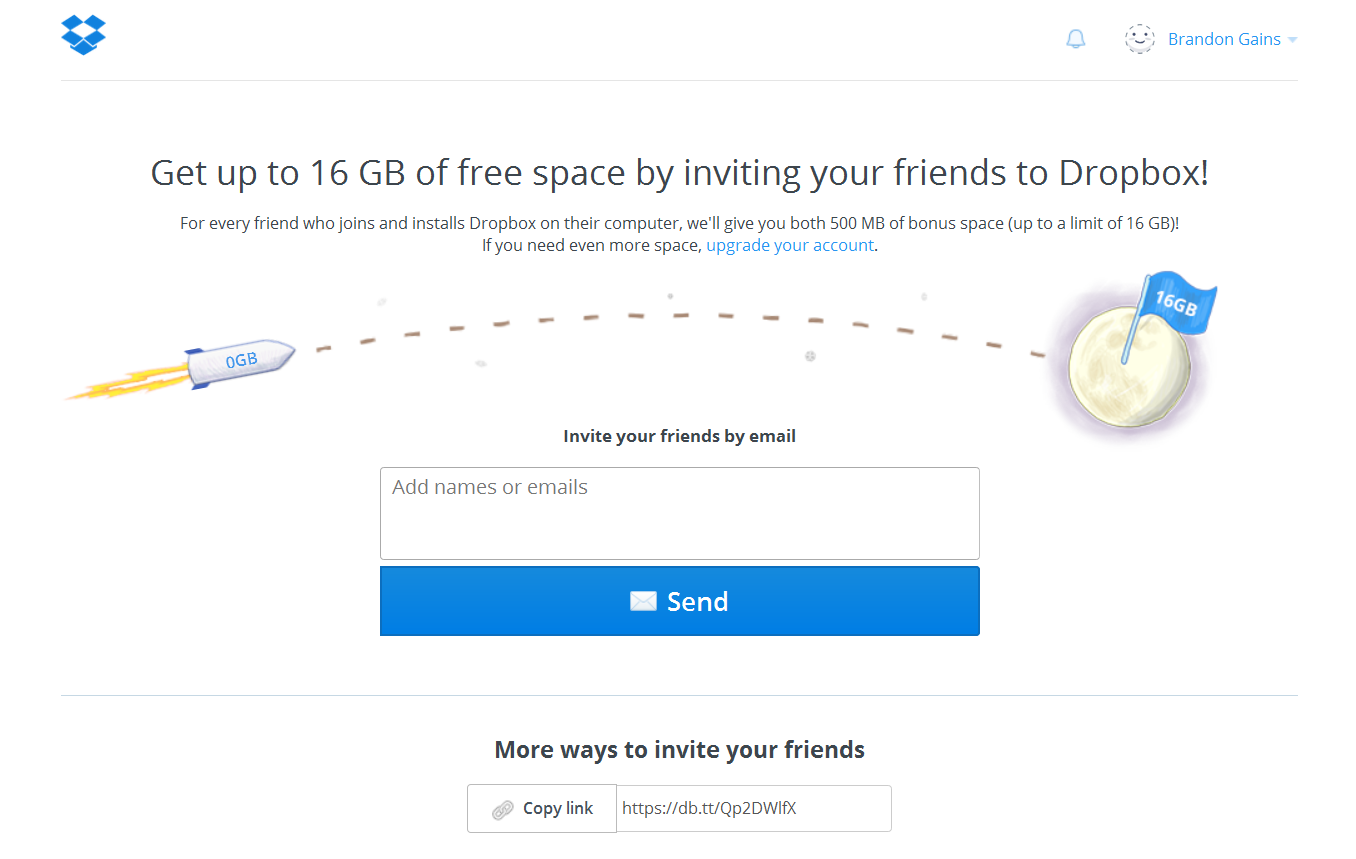 According to Houston, referrals increased Dropbox signups by 60%.
3. HubSpot and content marketing
HubSpot is a brand that turned content marketing into pure magic. It's an inbound marketing platform whose marketing blog is famous for being comprehensive and well-researched. Moreover, it covers all marketing-related topics. At this point, HubSpot blog is a go-to source for marketers and PRs.
How did this happen? Is the blog just that good?
First, the primary goal for their blog posts is SEO, so sometimes their articles cover topics that are important for SEO even if unrelated to inbound marketing. Such is their How to use Excel post which is ranked third in Google.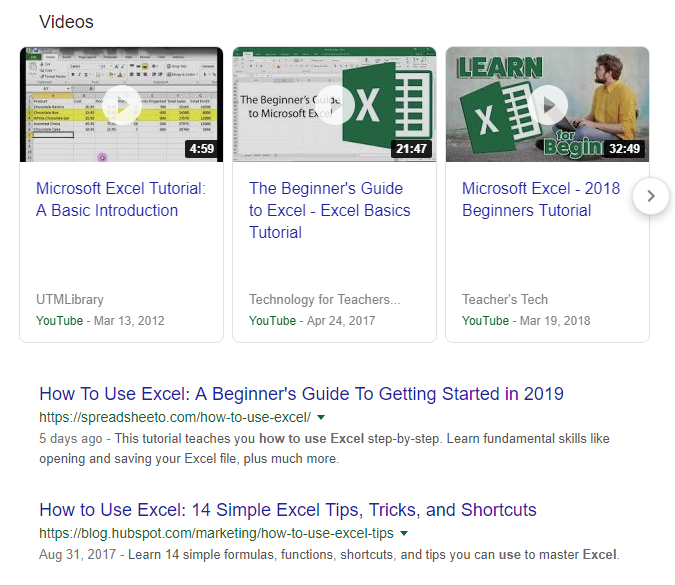 This keyword is searched for a lot and HubSpot decided to make use of that. Second, HubSpot does content collaboration, mostly with industry experts who attract new readers.
Content marketing isn't an easy marketing strategy and its results are often hard to calculate. HubSpot took the no-pressure no-rush approach with content marketing: they nurture their leads for years feeding them great content until one day the reader needs a marketing automation software. And that's when it becomes hard for them to think of any brand but HubSpot.
4. Spotify and data insights
Spotify is an audio streaming platform. As of 2018, the platform had 170 million active users, including more than 75 million paying subscribers.
It's hard to choose one defining marketing strategy when it comes to Spotify. And it's even harder to prove that it was marketing that drove their user growth because Spotify was a truly disruptive product. First, it was freemium and legal, second, it allowed users to upload their tracks so they didn't have to leave their own playlists behind in order to switch to Spotify.
Sign up for a free Awario trial
See Awario in action with a free 7-day trial. No credit card required.
By signing up I agree to the Terms of Use and Privacy Policy
Their marketing tactics were diverse and thought-through. For example, in 2016, Spotify teamed up with Starbucks. This way, Spotify aimed to attract Starbucks visitors and Starbucks wanted to allow their customers to easily engage with music played in their locations. Starbucks customers got an opportunity to choose which music will be played in the stores and earned points for their reward cards when signing up for Spotify.
Spotify also piggybacked on the success of Facebook Messenger. It integrated with the most popular messenger allowing people to share their Spotify songs or playlists directly within a chat box. Sharing music is vital for most people that are active on social media, so the fact that Spotify playlists are shareable was very important for their success as well.
However, the marketing campaign that I want you to remember is the Thanks 2016, it's been weird campaign. Having access to all the stats on what their users listen to, Spotify put together posters that showed insights into the weird, amusing, and sometimes heartbreaking audio streaming facts. For example, how can we ignore the fact that 3,749 streamed 'It's The End Of The World As We Know It' the day of the Brexit Vote?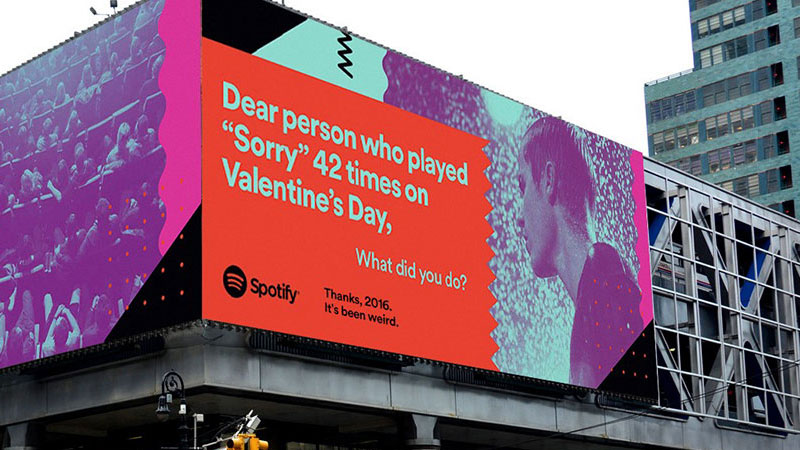 5. Zendesk and SEO
Zendesk is a customer service software and support ticketing system. They've got plenty of competitors and often people search for "Zendesk alternatives" if they've already tried Zendesk and didn't like something. Noticing the traffic that goes to their competitors from keywords "Zendesk alternatives" and wishing the users would give Zendesk another chance, the company came up with a brilliant idea. They created a website for a made-up alt-rock band called Zendesk Alternative. In the band's description, there are lines such as "On the surface, it's a collection of songs about customer service. Underneath, it's about so much more."
First, this is a great way to win back your customers with humor and prove to them that your product is worth trying out for the second time. Second, this idea is amazing in terms of SEO: now the highest non-advertised website that you see in Google when searching for Zendesk competitors takes you back to Zendesk.
Conclusion:
Creating a great product is half the battle. The other is being creative and getting the most out of marketing trends.
Do you know any other SaaS examples of brilliant marketing? Please share in the comments!
Don't miss our next analysis.
Subscribe to Awario blog to get social data analyses, case studies, and social listening how-tos in your inbox.