The marketing genius of Oatly: A case study

Summary
While Oatly is busy taking over the world, we looked into the brand's marketing to find out what's driving its commercial success.
The only way to start this is the Oatly way.
You actually read this tweet? Total success! pic.twitter.com/DPZlyB96qU

— Oatly (@oatly) May 31, 2018
Just so we're clear: you reading this blog post is a total success as well. So is Oatly — the Swedish oat milk brand that is taking over the world. Whether it's the outstanding quality of dairy-alternative products or the 'nonsensical' advertising that hits the spot, Oatly is making it big.
It's doing so while entertaining and awing people all over the place. The brand went full rockstar when it embraced the feedback of somebody trying the oat drink for the first time — 'It tastes like shit! Blah!' — and made a case of wackaging out of it. Oatly not only printed the comment on the packaging of the oat drink itself but also used it generously online.
In case you haven't noticed, striving for a more oatsome world, Oatly is fierce and fearless.
What if there was a delicious drink you could use like milk, only it was made from oats that came straight from an oat field without taking a detour through the body of a cow?

— Oatly (@oatly) July 8, 2019
The brand means it, too. In Germany, Oatly petitioned that all food sold in retail should be labeled with the greenhouse gases emitted during production. In Sweden, the company is literally at 'Milk War' with the dairy lobby, and even that seems like no reason for Oatly to take it easier. It's persistent in fighting for a more sustainable world; in the meantime, it's earning itself more and more profits and fans.
We at Awario are also big fans — of marketing that works as brilliantly as Oatly's. That's why we took a closer look at Oatly to see what makes it as successful as it is. Here are the lessons we learned in the process.
Start monitoring your brand today.
You should've been doing it yesterday – but the next best time is now with Awario.
By signing up I agree to the Terms of Use and Privacy Policy
1. Putting content first
Anybody following Oatly on social media will tell you that it's good vibes all around. Witty observations, felines and/or other evergreen online trends, a bit of pep talk here and there, oat-based life hacks, and little known facts wrapped in palm tree wallpaper — Oatly is winning the social media content game.
Did you know the Oatly researchers who invented oat drink back in the 90s made sure it tasted good so people might switich from cow's milk? This photo of a palm tree doesn't really have anything to do with it other than providing something nice to look at on this Monday morning. pic.twitter.com/Jo5uBgJpXh

— Oatly (@oatly) May 6, 2019
Please go outside and enjoy the crisp autumn weather.
This tweet will still be here when you get back.

— Oatly (@oatly) October 24, 2018
In case you haven't, you're welcome to scroll up a notch and copy Oatly's content recipe for personal use. The brand consistently proves that its approach to content curation yields steady user engagement and one of a kind sense of community. And we have (the support of?) fellow content creators to prove the point.
Bring me the head of the Oatly copywriter

— Nathalie Olah (@nrolah) January 31, 2020
It doesn't take (copy)writing or marketing skills to recognize the greatness of Oatly's content creation. Therefore, we salute the brand both as (copy)writers/marketers and as appreciative and ever-inspired social media followers.
2. Campaigning like oat punks
Spinning negative product feedback is far from the only badass move Oatly has pulled over the years. The brand aims to inspire change and mobilize the public, referring to its own team as 'unpredictable and unrelenting oat punks' spreading the message of oatsome living.
The Post Milk Generation is a planet-friendly movement pioneered by Oatly. What started as a marketing move is now a message worn proudly by committed consumers across countries.
it's the LA version of cold today but i want to wear this t shirt i got from oatly that says "post milk generation"

— bryn ? (@brynreads) November 13, 2019
It's one thing to be marketing plant milk products, and another — to be promoting plant-based living at large. When campaigning for Mother Nature, Oatly gets unconditionally protective, and it seems to resonate greatly with Mother Nature's other children inspired to take action.
Nice Statement! ?#oatly#oatmilk#foodindustry#climatefootprint pic.twitter.com/MC9DvNlXha

— littlefatpanda (@littlefatpanda1) January 25, 2020
? Idea: what if products were legally required to write how much CO2 was emitted to produce & transport them?

Oatly do this and I'm thinking this idea would help consumers make climate friendly choices and encourage companies to reduce emissions. #climatechange #climate pic.twitter.com/YCiQjFHLsy

— James Wallis (@jamesmwallis) January 24, 2020
And even when it doesn't, Oatly proves once again that transforming negative customer feedback into an opportunity to make a positive change is only a matter of one reply.
We really want the global shift to a climate friendly food consumption and production to happen. We're desperate for it, mommy! Love, Oatly

— Oatly (@oatly) December 23, 2019
3. Connecting with the audience
Speaking of consumer engagement, Oatly loves to give back. Its Je Ne Sais Quoi of the month is not only a reminder that you wanted to learn French at some point. It's also a project meant to celebrate the Oatly gang — outstanding individuals, each in their own way. The project features scientists, artists, entrepreneurs, activists, and foodies doing good by the planet and their local communities.
These two are amazing! They're also our Je Ne Sais Quoi of the month, Anna and Mark of Turning Tables Sweden, a non-profit organization that builds creative spaces to offer marginalized young people a platform to express themselves through film and music. https://t.co/1pKg51yq8D pic.twitter.com/wn5X7c7848

— Oatly (@oatly) October 17, 2019
Analyze this, analyze that.
Grab Awario's free trial and run a social listening analysis of your own.
By signing up I agree to the Terms of Use and Privacy Policy
Hey Barista! is another project meant to promote consumer engagement and not at all the Barista Edition of the oat drink.

Instead, Hey Barista! is a way of introducing the coffee masters behind Oatly's products. It's also a way of targeting a professional community and reaching small businesses serving coffee and looking for dairy alternatives to incorporate into their menus.
4. Having unapologetic fun
As much as Oatly is forever devoted to Mother Nature and climate action, it's also devoted to enjoying every step of the way. By this point, the brand is famous for its advertising that makes fun of advertising. This approach transcends into every form of marketing and PR the company embarks on.
Oatly is serious about its cause, yet it's never 100% serious with the means it employs. The precise percentage of seriousness is probably one of the most classified of company secrets, as the Oatly brand is continually reinforced as refreshing.
We like that you like it! All the best, Oatly

— Oatly (@oatly) January 17, 2020
Being a corporate entity, Oatly doesn't miss a chance to appear human. By recognizing its own limits while still being open about what it takes to create the beloved products, the brand makes you feel good (about yourself very much included). Playing with form while playing it cool is what makes Oatly marketing uniquely outstanding.
I (the social media writer person) just got a big natural energy boost from drinking a glass of oat drink and now I have so many great ideas for this tweet.

— Oatly (@oatly) January 21, 2019
Our designer spent days carefully considering the colors for this Organic oat drink carton so they'd evoke the subtle hues of tree branches and blue sky and sure, he's totally good with the writer's idea to have the blue sky screaming Buy Now! in a giant starburst on the side. pic.twitter.com/kuPah9CuAq

— Oatly (@oatly) December 17, 2018
4. Making really good products
Did we mention we used our own social media monitoring tool to examine everything that's been said about Oatly in the past 5 months? Anyway, now might be a good time to tell you about this one exciting feature that is the Topic cloud. For the Oatly mentions, a quick look at the topic cloud is enough to make anyone at least a little bit hungry (and get a good handful of beverage ideas to incorporate into your diet).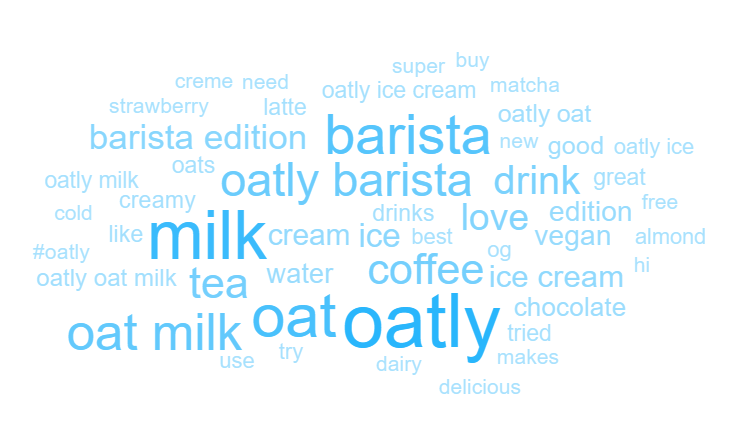 This goes to show that on top of ingenious marketing that speaks right to you, the company makes really good products that speak for themselves. It's unclear at this point what came first: Oatly or the unprecedented love for oat milk. What's certain now is that the two are interdependent, with no prospect of a sagging demand anywhere on the horizon.
I feel this, every supermarket I've been to since the start of the semester has sold out of oatly :((

— Emma (@emmalberger) October 29, 2019
This is me when oatly isn't sold out at Target pic.twitter.com/v1ffrgKQq8

— ? (@sweetpotatoBB) October 7, 2019
As if 'permanently sold out' wasn't enough of an indication of the brand's commercial success, there are even bigger brands and publishers to validate the Oatly hype.
For a good reason, Oatly enjoys extensive coverage from major media, industry influencers, and opinion leaders. Now that the brand has milked it, the job is to keep up with the ever-growing demand.
Enjoying the post? There's more.
Sign up for our newsletter to get our best content by email.
Pre-recap bonus
Before you go, there's one more good thing to Oatly we never mentioned in this blog post. We're talking about the company's CEO Toni Petersson, who is obviously doing a great job but is also generous enough to appear regularly on Oatly's social media and packaging. Below are a few of his memorable appearances to inspire you in your work.
Exhibit A: That one time CEO's autograph got into Oatly ice cream.
No lottery involved here, sorry. We realize only getting our CEO's autograph may be a downer but we hope you still enjoyed the ice cream! Love, Oatly

— Oatly (@oatly) December 9, 2019
Exhibit B: That one time CEO was awarded Employee of the Year.
Exhibit C: That one time we got the backstory.
Over and oat
For what it's worth, Oatly is a brand to remember. The company consistently offers a fresh take on every form of marketing and PR there is. It might seem that Oatly has an easier time marketing plant milk in the climate action-obsessed world. But ultimately, the company's strongest asset is its authenticity, followed by really good products. For any marketer aspiring to convert authenticity into commercial success, Oatly is the case to study.