3 tips for perfect social customer care: an interview with Brooke Sellas

Article summary
In this interview, Brooke Sellas reveals the best practices and secrets of successful customer care on social media.
Brooke Sellas is the founder and CEO of B Squared Media that specializes in social media marketing and customer care.
Listen to this interview!
Anna: Could you tell me more about B Squared Media and how you got into social customer care?
Brooke: We are a social-first agency. We focus our services mainly on social media including organic social media management and paid advertising. However, we also include paid search like Google, Bing, Amazon Marketplace, Google Shopping, and so on.
The most recent service that we launched in 2020 is what we call "social-first customer care". By that, we mean services for brands that have a high volume of social media requests either for support or acquisition.
For example, we deal with people who are customers and have a question or a complaint about the product or service. We also work with the brand's internal customer support team to kind of explain what's happening on social media and support them.
Why social customer care is necessary?
Anna: Why did you decide it was time to double down on social customer care? Was there a higher demand for this? Do you think it was influenced by the pandemic?
Brooke: Actually, we beta tested this for two years before we launched it publicly.
Well before the COVID 19 pandemic, we started to see the demand. Some of our larger middle-market and Enterprise-size brands saw that if they service younger audiences (millennials and younger), instead of picking up the phone or putting in an email to support, their clients would often go to social media, especially to send a complaint, but also to say positive things as well.
Analyze your social media mentions!
Fire up brand monitoring and see Awario fetch social data in real-time.
By signing up I agree to the Terms of Use and Privacy Policy
I think more and more brands are becoming aware of the importance of social customer care. They know that from an acquisition standpoint, like pre-becoming a customer, people are constantly making buying decisions on social media. And a lot of times that involves two things: mentioning the brand and saying things like, "Hey, I'm looking at your product and another product. Can you tell me more about yours?"
Or sometimes this could be a peer-to-peer conversation where your brand isn't even tagged. For example, you and I could be talking about a product, and I could say: "Oh, you use Awario, that's amazing! Tell me what you think about it!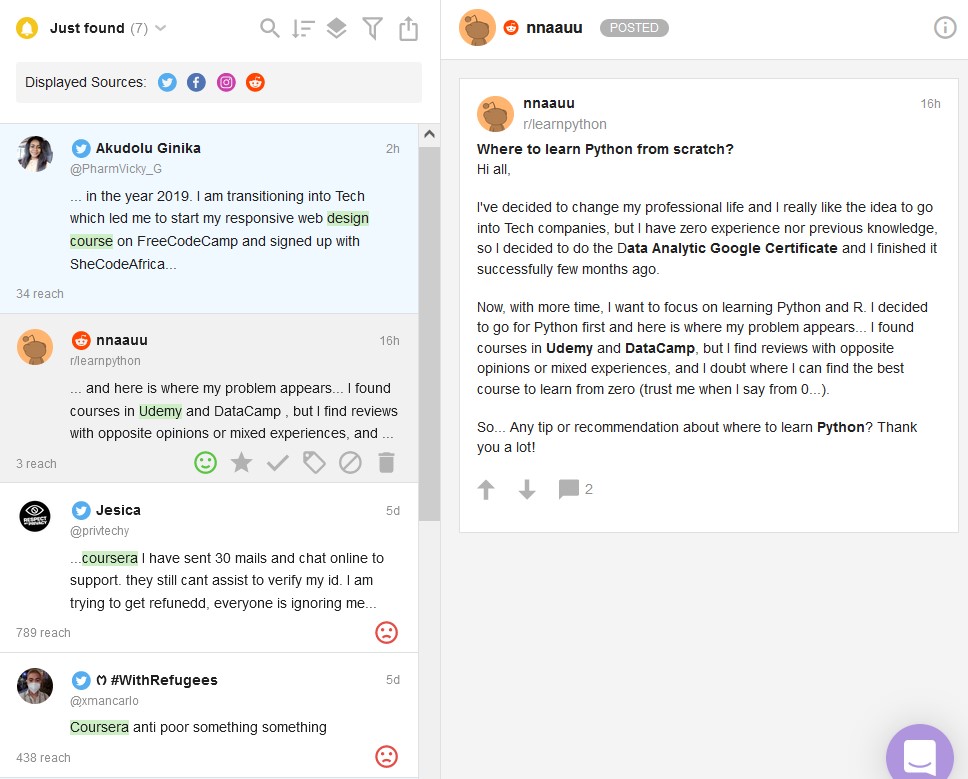 And then Awario, of course, sees that conversation on social media. A brand can decide if they're using social listening to be proactive and join that conversation or not. That goes into the acquisition part. And it covers two cases, both when you're tagged and when you're not tagged in these conversations.
We saw that our clients are starting to notice more and more of these cases. They were worried that this was happening constantly, during the night, on the weekends, on the holidays, and their employees only work Monday through Friday. So the weekend gets crazy full. And then by the time they're coming in on Monday, it's taking them until Wednesday to catch up.
Anna: And how do you handle this amount of social customer care requests?
Brooke: Well for our clients it just made sense, from a logistics standpoint, to outsource to someone who could cover it seven days a week, including holidays, meaning, to us.
We then work with the brand's internal team to process where stuff goes, how it's handled, who gets what etc.
The pandemic forced us all to live online for, like, two years now. So even people who are older than me were forced to kind of shop online, peruse online, and ask questions online in a lot of ways. We saw a large uptick in the number of people who are using social media to ask questions again, either for acquisition or customer support.
What is the best social media platform for customer care?
Anna: Do you think there is a channel or a social media platform that gets used most often for customer care?
Brooke: It definitely depends on the brand, but it tends to be on the Big Four, as we say.
Twitter is kind of an obvious support channel.

Facebook is another channel that often gets used for support.

Instagram.
Those are the top ones that we see and then interchangeable in the fourth place would be LinkedIn for B2B companies or Pinterest or something like that for a retail or B2C brand.
However, it really depends on the brand and where their customers mostly live.
Tip from Awario team
You can find out which social media channel is popular with your audience by setting up a social media monitoring alert and checking the Sources widget in the Mention Statistics report.
Anna: Does the customer care approach change depending on the social media platform?
Brooke: No. I don't think it really differs.
Ultimately, the reason why people are reaching out is to solve a problem whether we're talking about the acquisition or we're talking about customer support. I think the biggest mistake is that people get caught up in the medium. They get caught up in the channel, and we need to care less about the channel and more about the customer answering with empathy, answering quickly, solving that problem, keeping the lines of communication open, making sure that we actually resolve the issue.
A lot of times a weird question might come through and we can't solve it that second. So we need to promise we need to give empathy and then make a commitment to when we're going to get back and then follow up on that commitment or that promise.
If we say we're going to get back to you by the end of the day with some sort of update, then we're going to get back to you by the end of the day with an update, even if that update is, we're still looking for an answer.
That's what people want when we're in crisis mode. The biggest way to extinguish that fire is through open communication.
Meet your personal social listening assistant.
Try fully automated, 24/7 brand monitoring with Awario for free.
By signing up I agree to the Terms of Use and Privacy Policy
The biggest social customer care mistake
Anna: So since you already mentioned, what are the biggest mistakes brands make when it comes to social customer service?
Brooke: I think the biggest mistake is the lack of empathy.
You're a consumer. I'm a consumer. We probably use social media. I think we both saw the cases when the brands simply ignore social requests. The biggest mistake is just not answering. There are still companies that do not answer messages on social. And I think that's a huge mistake.
Customer care If you do it strategically covers both acquisition and retention. And knowing that it's very hard to get loyalty and trust that would be the first place I would start. If I had any sort of marketing and sales budget, this is where I would put it first and foremost because without customers you don't have a business.
How social listening saved a luxury product
Anna: Do you have an example of social listening working for social customer care? Maybe from your own practice.
Brooke: Yes, actually I do! We work with a global luxury appliance brand. I can't mention them by name due to the non-disclosure agreement but they released a very expensive coffee machine. Obviously, we started monitoring this product through social listening because we wanted to see how people were talking about it.
As you know, part of what social listening does is that it gives you the sentiment analysis of online conversations. It analyzes whether the social mentions are positive, negative, or neutral.

Surprisingly, we saw a lot of negative sentiment happening with this new product so we wanted to dig in and go look at all of the negative mentions. You can kind of slice and dice the data. We looked at just the negative mentions and we looked at the word clouds and we saw people saying they had a hard time understanding how to change the coffee filter in this very expensive machine.
So we went back to the client and we said: "People are having a really hard time figuring out how to change the coffee filter. So you're having a lot of negative chatter happen online, which is obviously not good for this new product." So our suggestion was for them to make a video showing people how to change this coffee filter. And then we could go back to all of these people who had the negative conversation as the brand and say: "Hey, have you seen this video on how to do this?"
What's the first thing people do when they have a problem, they Google it, right? So that little piece of the video also helps with the search and then the chatter does
Over six months we noticed that not only did negative chatter go down, positive chatter went up, which is exactly what you want to see as a brand manager. Because when people are talking positively about this very expensive coffee machine on social media, their peer-to-peer recommendations might entice someone else to also buy it.
Three tips for amazing customer support
Anna: So to round this up, what are the top three rules or tips for businesses when it comes to social customer care?
Brooke: I think the first thing small brands should do is go out there, and take look at your channels. Where do you have a presence? Do an audit of each one of those channels and see how many requests are coming through. Quantify what's coming through and try to understand the volume.
Then if you see that there's a lot of chatter happening on Facebook let's say, then, moving forward, you should assign someone on your team to manage that part of Facebook and make sure that they understand how to document questions that are asked, how to answers to those questions, what's the process if somebody wants a refund, and so on.
Sometimes people who manage social are not the best in customer support. But the customers don't care — they are contacting the company because they are in a crisis situation and want help. Find the right person and make sure that they answer very quickly and that they answer with empathy. These are the most important things when it comes to customer care: speed, empathy, making sure you don't leave customers hanging.
All in all, start with the audit, understand what you have coming in and see if there's a need for doing customer care through social. Then set up the processes for getting that handled because you don't want to be quiet. That's what we just said — the number one mistake, you don't want to leave people hanging.
And if you get in there and you find that you have the need and it's too crazy to work through on your own, contact me, I'll help you.
Enjoying the post? There's more.
Sign up for our newsletter to get our best content by email.