Instagram marketing rules for businesses to follow in 2022

Article summary
In this article, we'll help you discover the secrets to Instagram efficiency, compare the different types of accounts, review metrics, goals that can be achieved, and which tools actually matter for your Instagram account's performance.
30 minutes read
Why Instagram marketing?
Instagram is a go-to place when you need to entertain your eyes or want to sneak a peek at the latest FOMO moments from your friends and other accounts.
Marketing on Instagram creates unprecedently quick and unrivaled access for customers to interact with your brand. This makes having an Instagram marketing strategy one of the most efficient social media marketing techniques.
Instagram advertising reach has increased by 20.5% this past year. In 2022, advertising via the platform's Instagram stories is expected to result in $16 billion constituting a significant share of the world's net ad revenues. 500 million users —half the audience on Instagram—are looking through stories daily.
What type of IG account suits best and why?
As we choose to promote our brands or ideas on Instagram, we need to make sure we opt for the right account type. There are different types of accounts—personal, business and creator. Let's take a look at the specifics:
Sign up for a free Awario trial
See Awario in action with a free 7-day trial. No credit card required.
By signing up I agree to the Terms of Use and Privacy Policy
Personal account
This account is yours for the posting. You are allowed to adjust privacy settings limiting people's access to your account. This is the only Instagram account type that lets you do so. There are no analytics dashboards, which are only enabled for professional accounts. Apart from this difference, it unlocks practically the same range of posting and streaming possibilities as other Instagram account types.
Business account
This type is meant for organizations, enterprises, providers, brands of any scale, and well-established market players. Their priority is to bring as many people as possible to their websites and for them to make a purchase.
What practical features are added here?
The Professional Dashboard, which we have already mentioned. The built-in analytics keeps you aware of your Instagram account's performance, or how many users are reached within a specified period, and the level of engagement. Using Instagram for marketing gives you tools for creating Instagram ads and for working with branded content to add Brand Partners and Paid Partnerships.
Instagram Shopping, which lets a user purchase without leaving the app. Around 130 million users shop straight via Instagram.
Versatile call-to-action buttons can be found in Contact options and added to your Instagram Business profile, letting potential customers connect with you directly from Instagram.
Swipe-up, is a dream function for small businesses that haven't gathered 10,000 followers yet, but are still pretty popular. It lets you add an external link to your Instagram stories and lead an Instagram user to any online store or website, which increases the effectiveness of stories.
Features such as Verification and Business information, which give your account the required authority.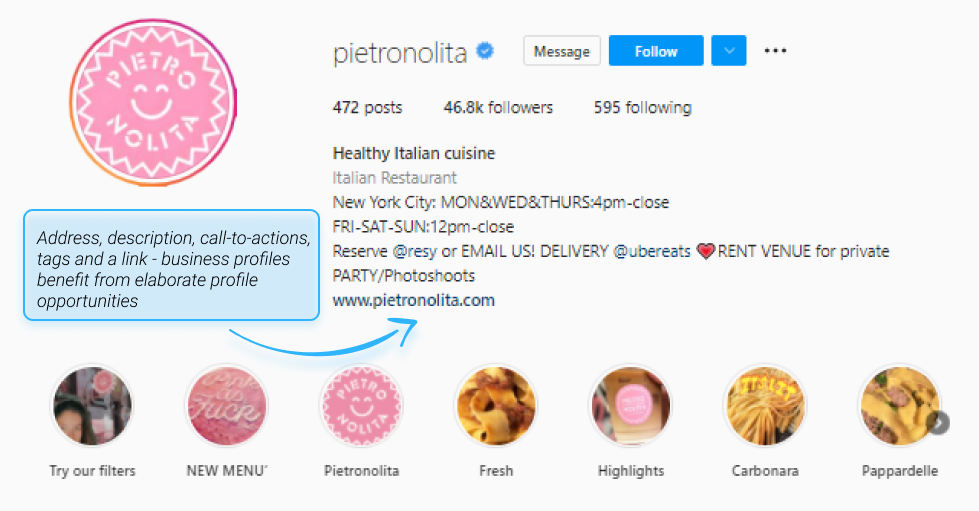 Creator account
Like it says in the name, the Creator account is for you to create the most unique Instagram accounts with this type! Choose a Category that suits your profession, and enjoy the variety of Call-to-Action options, which are not that salesy. Also, you don't have to publicly share your address or invite people to call you.
The Creator account is granted with an inbox filter opportunity. Balance your priorities and privacy— decide which messages you want to be notified about and have them sorted into three folders: Primary, General, and Request.
The analytics potential puts your performance into perspective, as it gives you more details than the Business account. You can see daily visitors' dynamics, you can track down the content which caused the highest peaks and deepest drops in your Instagram statistics graph.
Account aesthetic: is it necessary?
Instagram is all about the aesthetics. Unlike TikTok, which is more about raw, connectable content, Instagram is more so focused on content that shows the best of your brand. Here we'll highlight the cornerstone of the successful Instagram marketer facade, it has three components:
Concept emphasis
Visual presentation
Content sequencing
As soon as you decide which type of Instagram account you can benefit from the most, there comes another question: how should it look?
Conformity to content posting rules is as important as your profile's individuality.
For your brand to be a brand, you need to have consistency and unity. Think of your color scheme, pattern, theme, and general message you want to convey. For this,you need to know your audience. How? We'll offer you some high-quality strategy ideas a few scrolls down.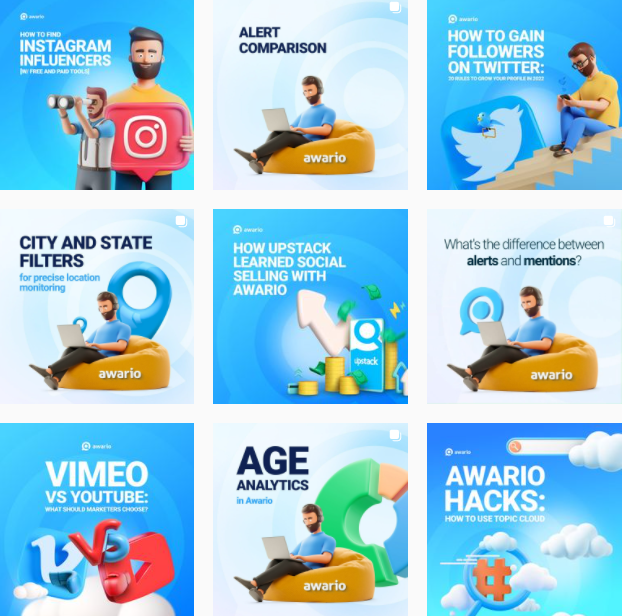 If you have already chosen a specific pattern for your grid, stick to it. If you create a professional Instagram account now, you're probably not new to PR and know how to plan your activities. But in any case, it's always good to start with your style.
And be aware of trends! Sure, blind trend following won't make you stand out from the crowd, but showing you are part of global fun will help you get accepted by more people. Photo dumps, Reels aesthetic, and à-la-magazine-shoot filters are among recent trends lots of Instagram users have already factored into their Instagram routine.
Meet your personal social listening assistant.
Try fully automated, 24/7 brand monitoring with Awario for free.
By signing up I agree to the Terms of Use and Privacy Policy
Goals and Objectives: what do you try to achieve?
Now, let's take the next step and determine what you try to achieve:
find new audience or expand the existing one?
increase brand awareness or sell directly?
promote new products or a concept?
Whatever your goal is, whether it's about followers or conversions, Instagram is the right place to score. The platform is the 7th most visited website in the world and can boast of 2.9 billion visits in total per month. Instagram is ranked 2nd among the most frequently downloaded apps.
As for the impact Instagram has on businesses: 90% of users follow at least one business account, every second user discovers a new company looking for new brands on Instagram, and almost half of users do Instagram shopping weekly.
How do you do that?
There is a well-defined strategy behind every effective Instagram marketing campaign.
What to do to become visible and instill trust?
Switch to business
You should definitely switch to a Business account to use the analytics and contact info details Instagram offers.
Use Stories
Don't overload your followers with stories but let them know that you remember about them, and you communicate at least every day. Fraction your message to make, for example, two or three stories instead of limiting yourself to one image or video per occasion.
Regram
Encourage your followers to share photos of them using the product. Let them know that you will be picking some of them and posting user-generated content among your company's publications or adding to your stories.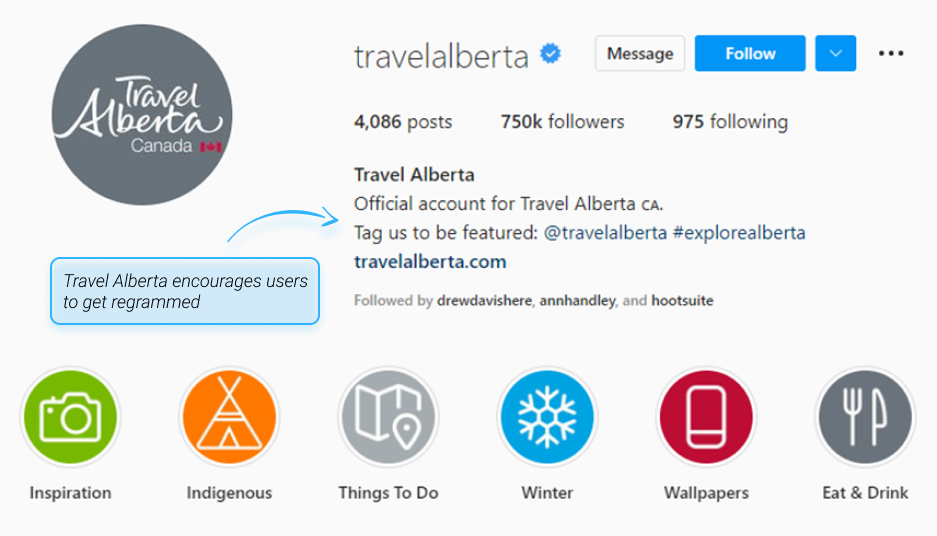 Instagram influencer marketing via collaborations presents you to audiences not just ensuring more impressions but boosting the number of purchases because an influencer's word is gold for followers.
Advertise
Sponsored Instagram posts will bring your content far beyond your followers and are a crucial part of Instagram content strategy. Sometimes it's the only way to find new people who fit your target but don't know about you yet.
As your presence will be expanding, you will have to measure your popularity.
Metrics: Do you measure your Instagram performance?
Business accounts provide you with a Professional Dashboard. When you tap on it you see Account insights graph showing account reach dynamics within a set timeframe.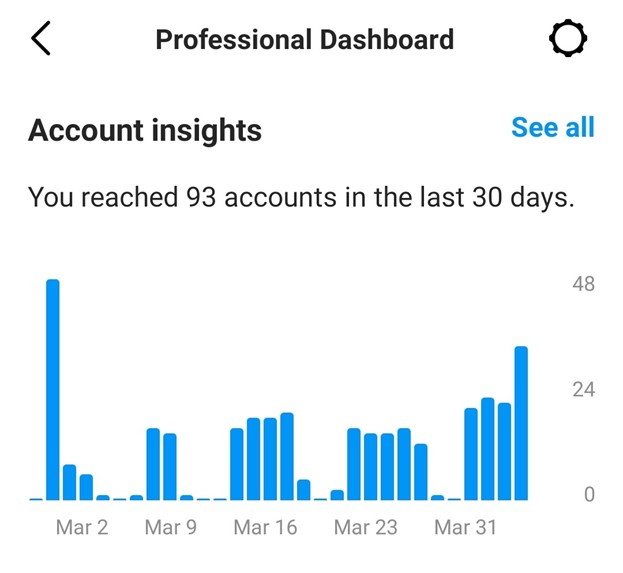 To learn more, press See all to access Insights Overview (which is also available straight via Insights under Edit profile button in your account profile).
Here you can delve into your metrics by clicking:
Accounts reached – see how many of your followers and non-followers were reached by your content and have it compared with the previous period receiving results in percentage. Results are segmented and offer the data on how many followers were reached by posts, stories and videos. Here you can also see the total number of Impressions and general Profile activity: Profile visits, Email button taps.
Accounts engaged – learn how many of them responded with an action as well as the amount and type of interactions.
Total followers – discover the increase or decline in the number of Instagram followers. Having over 100 followers allows you to see more detailed info, including where they come from, spikes of activity, etc.
These are the metrics that also include demographics analysis breaking it down to cities, gender, and age. Remember that these stats are available only if at least 100 accounts interacted or were reached.
Content you shared – here you can view all your posted content and analyze the performance of each content type: posts, stories, videos, lives, and boosted posts.
What tools to use?
Instagram Insights let you assess your visibility and performance. The tools we'll demonstrate below can do much more.
Discovering what people say about your company is the tool's forte. Awario provides you with immediate response, as its engine begins collecting Mentions about you as soon as you adjust the monitoring settings. Simply create an Alert, name it, fill in the necessary Keywords, exclude the keywords you don't want to get mentioned in a corresponding field and give the tools more details for a concise search, such as Languages, Locations, Sources and Date range.
When the Alert is created, Mentions are accumulated. To learn the details, you can go to the Dashboard and find out how many people talk about you online and what they say. Also, you can get analytics on the audiences who mention you:
Mentions and Reach open up for you the number of messages you were mentioned in within a specific timeframe and the amount of people who could read them.

Sentiment, the most crucial feature to show you how satisfied or disappointed people are with your product or idea, has clickable Positive and Negative tabs: press any of them to see gratitude for your work or detect and mitigate any arising issues.

Awario Dashboard let you see Top mentions, Top influencers, the average Age of those who mention you, Gender, Countries, where you are mentioned, topics which come along your mentions in the Topic cloud section. If you chose several languages when setting the new Alert, you will be able to analyze the percentage of languages in which the mentions of you were made. The same goes about the Sources section if you chose Instagram in the settings, you will only see the mentions on Instagram.
Pricing: The Starter plan will cost you $39/mo, the Pro – $119/mo, opting for the Enterprise plan will be $399/mo within a monthly subscription. Annual billing will save ou up to 40% each month offering Starter at $24/mo, Pro - $74/mo and Enterprise – $249/mo.
Free trial: Available.
This social media marketing platform provides you with its best practices in planning your content and analyzing performance. It is designed for making Instagram marketing strategy easier and more transparent.
Later allows you to schedule your posts with Auto Publish, saving your time, find on-brand content, so that you'd have to just add some personality to it and publish without losing too much time on finding patterns.
It provides you with profound analytics through Linkin.bio: after you sign up for Later, you get access to this built-in tool, or a mini website, which becomes enabled right in your Instagram profile. The feature helps you get more traffic – just create your link and paste it to your Instagram bio. You can tag your posts with links as well. You will see which content gets clicked the most.
Later Instagram analytics dashboards vividly introduce you to the details of your performance. The analytic dashboards in Profile overview show engagement metrics, growth rate within a period, the most efficient posts.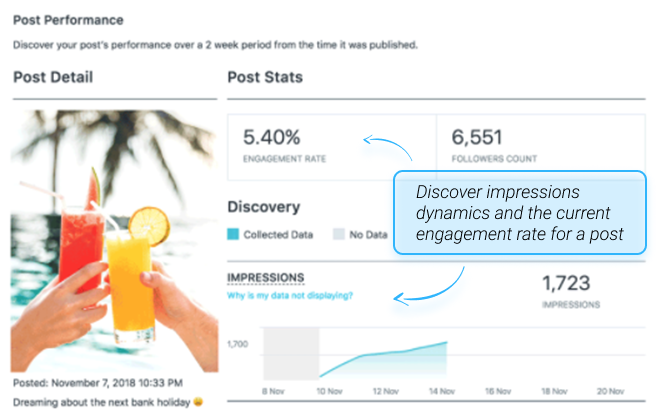 Detailed post performance elaborates on likes, comments and clicks analysis letting you assess which content influences higher engagement.
Discover completion rate, taps, impressions and reach via Stories analytics.
There's even a built-in Hashtag analytics, suggesting which hashtags will be the best choice for you.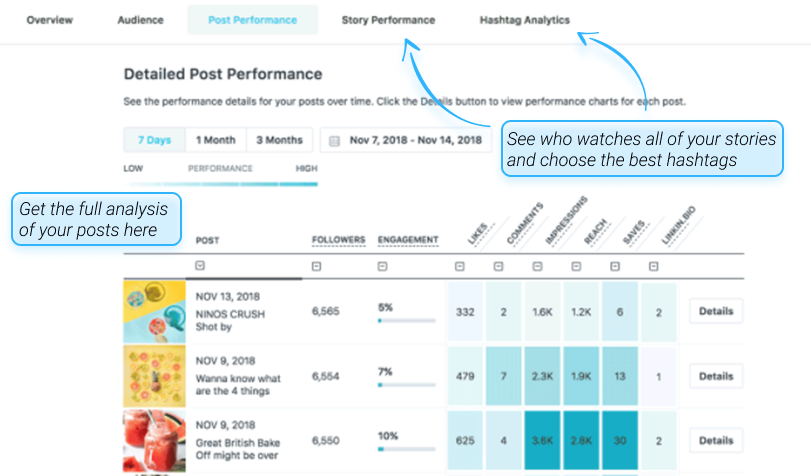 Pricing: Later offers the Starter plan for $15/mo, the Growth plan for $40/mo and the Advanced one for $80/mo if billed monthly. You will save 17% if choose yearly billing making it $12.50/mo, $33.33/mo and 66.67%/mo correspondingly.
Free trial: Any plan is available for free for 14 days.
Linktree is a popular tool for social media, especially widely used for Instagram accounts. It allows you to share several links in your profile, thus bypassing the character limits of Instagram bio.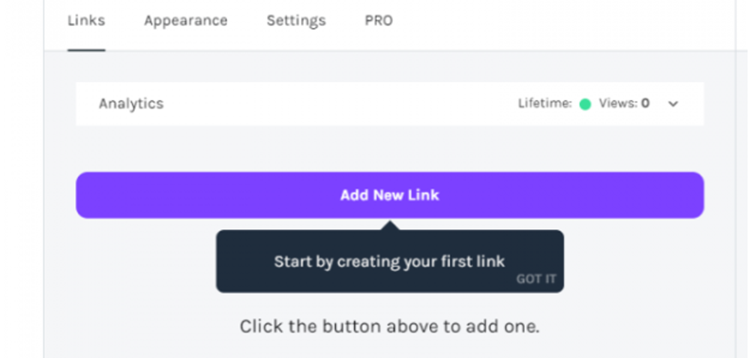 Besides linking your profile to any external sources you want, it provides you with analytics and insights into your traffic and content performance. Analytics opportunities differ in plans you opt to purchase and offer a vast variety of features. We'll review a number of them:
Lifetime analytics shows you information about clicks and views, such as click-through rate, average time to click, total unique clicks and unique views.
Individual link analytics processes rate and time for any link you choose to analyze.
Commerce links revenue informs you of how profitable your Commerce links appeared to be.
Commerce links analytics give the insight into what content brings more traffic, analyzes conversion rates, gross revenue, net revenue a link generated, or generated via links in total, and more.
Location-based and device-based analytics reveal geography of clicks and devices they were done from.
Linktree offers flexible customization and a huge number of templates to make sure your user enjoys following your links and call-to-actions are always relevant.
The tool is powerful in third-party integration and supports connection with MailChimp, Google Sheets, Google Analytics, TikTok Pixel, Facebook Conversion API and more.
Pricing: Opting for monthly plans you get to pay €12/mo* for Starter, €24/mo for PRO and €64 for Premium. Annual billing will cut the cost leaving Starter with €8, PRO - €18 and Premium - €52.
*The prices are shown in EUR on the official website.
Free trial: Linktree offers a free version unlimited in time, though with reduced customization and analytics features.
BeFunky is an incredibly intricate photo editing software that allows anyone, whether they're novice editors or professional designers, the tools they need to make something stunning.
If you want to create images for your feed, reel, or story, know that BeFunky doesn't mess around. With a single click, you can perform editing tricks like:
Crops or resize images;

Turn photos into art;

Remove backgrounds;

Retouch portraits;

Batch edit photos and;

Create a collage.
If you need customizable Instagram templates, BeFunky has you covered. Whether you want something crisp and simple or abstract and impactful, their templates will instantly improve all of your posts. Don't worry if you don't have enough photos to fill out your designs, as this tool will set you up with thousands of vector graphics and icons and over a million free stock images.
And why stop at adding photos to these templates? BeFunky's drag-and-drop editor makes adding text and frames to your images a breeze. With hundreds of fonts, letter stamps, and word art at your disposal, the customization options are endless.
All businesses selling on Instagram will want to showcase their brand's values through its visuals. Fortunately, BeFunky allows you to bring in your own assets and store them for later.
If, at any point, you need to tweak a few things, you can launch right back into the software and work your magic. The tool's low barrier of entry means you'll be editing images in no time.
Pricing: Befunky's plans are pretty straightforward and won't charge you more if multiple people are using the same product. BeFunky has one plan: BeFunky Plus. You only have to pay $11.99/month or $71.88/year (equivalent to $5.99/month) to access all of this tool's features.
FreeTrial: BeFunky has a forever free trial that gives you limited access to its tools.
Canva is a popular graphical tool helping you keep your visuals professional-looking and maintain your style requiring the minimum effort.
Considering that Instagram is all about images, Canva comes in handy as one of the best Instagram marketing tips and is really simple:
Find template
Use instruments
Customize
Download or share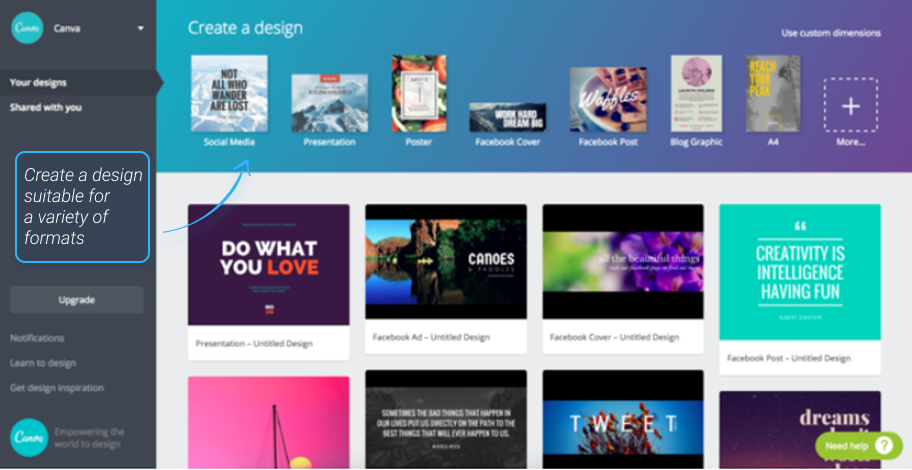 Its Instagram Story maker gives you the variety of templates – just choose one. The next step is to decide which instruments should work on your draft: use eye catching images, icons, graphic elements, frames, shapes, colors and even animation. Canva encourages you to upload your own images and photos to mix them into the output.
The tool allows for collaboration, letting you create stories with your team. Select those who you want to add and work on the design together.
Canva supplies you with multiple templates for your posts making your Instagram feed look all thought-out. It depends on how much you want to participate in the process – get the result in just a few tweaks or process the template through profound customization.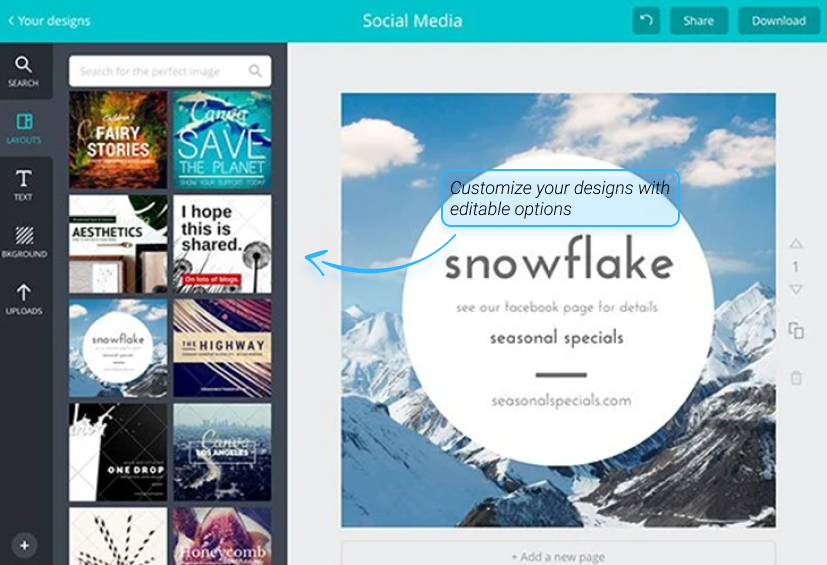 Your design can be done quick and redone in a few clicks with the help of countless schemes and elements as well as drag-and-drop interface.
Pricing: Canva offers plans depending on the number of people who will be using the product starting at 1-5 people and going up to 10, 25 and 50. Custom plan is available.
Pro price starts from €109.9/year (for up to 5 people) billed yearly and €11.99/mo billed monthly, Enterprise – from €27.00/mo, but requires the minimum of 25 people. See more options on the website.
Free trial: Canva is available for free with no limits regarding the number of people. This version will have less templates, designs and less cloud storage space.
We got content.
Subscribe and we'll be delivering new posts to your inbox for free.
Iconosquare is a social media analytic tool for various platforms, including TikTok, LinkedIn, Facebook, Instagram, and Twitter. With Iconosquare, you'll be able to gather your social media performance data, effectively manage your marketing campaigns, and schedule content posting.
Iconosquare allows tracking data for various companies from SMEs to Enterprises, to Agencies, and even non-profit and governmental organizations. It allows tracking data on:
Followers — gained/lost followers, page likes, impressions, reach, page engagement, etc.

Content — recent posts, reactions, comments, shares, average clicks/likes per post, etc.

Content type — how many videos, photos, and links you've posted through your marketing campaign.

Competitors — you'll find out how often your competitors post, what they post, what type of posts they use as well as comments, reactions, and engagement rate of their audience.

Industry benchmarks — Iconosquare allows you to compare how well you perform against the industry you work in. The app provides detailed stats of the average number of fans, posts, and clicks per post in the industry and compares it to your performance.
Benefits:
Apart from the detailed stats, you can also perform social media listening, schedule your posts on various social media platforms, and create detailed reports including different time periods.
A great thing about Iconosquare is that you can provide role-based access for several users to your account. This way, an entire marketing team can effectively track the latest data on your business's Instagram account.
Cost of the platform:
Iconosquare offers a generous trial–14 free days of use for you to get your hands dirty and try yourself all the marketing benefits it provides. After the trial, you can switch between Pro, Advanced, and Enterprise level plans. The plan level depends on how many profiles you need to track and the analytic depth.
For example, the Pro plan offers general analytics across various social media platforms.
The Advanced level plan includes such features as Promoted post analytics for Instagram profiles, tags and Mentions analytics, Unlimited team members, and the ability to create your own dashboards.
The Enterprise plan adds a Customer Success Program and PDF reports tailored for your company.
Choose Smartly.io if you need a handy app for creating stunning visual posts appealing to most of your audience. With Smartly.io you'll quickly create catchy images for promoting your products and services. Moreover, the app crawls through the web and finds the features that social media users consider the most attractive in visuals, providing you with insights on how you could enhance your adverts.
Benefits:
Based on the principle "Create, Test, Launch, and Iterate", Smartly.io helps marketers simply create and experiment with their visual content, finding the best one for their marketing campaigns.
The service allows creating content for various social media platforms relying on predictive algorithms. These algorithms help marketers easily adjust their social promoting strategies with targeting, creatives, budgets, and bidding. Moreover, the Smartly.io team offers:
Social media management services such as social media scaling to new platforms and markets, meeting most business KPIs, running cross-channel marketing campaigns, and more.

Creative services include the creation and testing of a company's social media performance, sales improvement across platforms through creating actionable content, performing budget testing, brand enhancement activities, and more.
Cost of the platform:
Smartly.io offers a demo version of their product and charges a % fee of media spend for their services. No specific pricing is available online.
Leetags is a handy hashtag generator that helps businesses gain more followers on Instagram. With Leetags, you'll be able to quickly find the most relevant hashtags and add them to your posts, captions, comments, and more.
Benefits:
Leetags will bring the most popular hashtags to your fingertips. All you need to do is to type in any related to your post, brand, and industry keywords.
In the app, you can check the hashtag popularity by rating, save the hashtags you've liked, and search for hashtags in different languages. The app creators state that they work with over 100 languages. Moreover, they provide you with an offline database that includes millions of hashtags for any social media platform, including Instagram, Tik Tok, Twitter, FB, and others.
Cost of the platform:
Download LeeTags from GooglePlay or AppStore and use it free for your business promotion on any social media platform.
Renderforest is a handy set of tools for creating effective visuals, including animations, videos, presentations, SMM graphics, and even websites. The app is a real catch for creating educational and entertaining content.
Benefits:
Using Renderforest you'll be able to:
Create explainer animations, tutorials, stylish video adverts, and more.

Build from scratch websites hosted by the Renderforest company.

Use SEO toolkit for improved traffic and lead management.

Develop graphics, mockups, and everything related to image design.
With Renderforest you don't have to learn how to deal with Photoshop or any complex video editing apps. Renderforest puts your visual content to a new level, allowing you to simply create professionally-looking and stunning videos and images of any kind.
Cost of the platform:
Renderforest has several subscription plans, including:
Free tier with 500 MB storage space, HD270 videos, thousands of free templates, scenes, presets, limited video and images stock, logo creation in PNG.

Lite for $9.99 per month. For this sum you get 10 GB storage, creation of unlimited HD720 videos, creation of 1 website for your own domain, full access to templates, mockups, scenes, and presets, 100K+ stock videos, music, and photos, SVG and PNG logos.

Pro comes at a price of $19.99 per month. It offers the Lite suite + 30GB of storage, creation of unlimited HD1080 videos, full access to music and photo stock, branding guidelines for logos, advanced tools for website management and editing.

Business for $24.99 per month for 1 person. It offers everything that goes in Pro + 50 GB storage, unlimited creation of 4K videos, 1 premium website for your domain, account management, team management, custom watermarks, various branding tool sets, and a reseller license.
Magisto
Magisto is a useful online video editor. With this app, you'll be able to create music slideshows, images, collages, and videos.
Benefits:
This lightweight and simple solution allows you to:
Pick up fonts for captions on your videos

Add special effects, e.g. layouts, emojis, backgrounds, and more

Change colors and use filters

Set video duration time, and cut and trim your video clips.
Magisto allows sharing scroll-stopping videos on various social media platforms, messengers, or email. Moreover, the app uses Artificial Intelligence to detect the best frames in your video clips.
Cost of the platform
The app offers several subscription plans:
Premium tier has premium styles, removes Magisto watermark, and you can create videos of 10 min length

Professional tier has everything that is in Premium + more styles and templates, a vast range of stock video clips and photos, adjustable colors and fonts, and free access to Vimeo Pro.
To sum up
Opting for the Business account in Instagram is unavoidable if your priority is not only to grow in social media and measure feedback, but also to ensure smooth marketing performance and see your conversion rate increases. Don't get scared off by the time or effort you might spend on becoming prominent doing marketing through Instagram. The tools we've reviewed in this post will cover the main activities Instagram requires from you and will simplify considerably the whole process for you. Embrace the opportunities social media gives and have some fun letting these Instagram marketing platforms bring you results.