How social listening helps to make use of user-generated content

Article summary
Social media and Internet users create tones of content daily, and many of their posts and tweets contain mentions of brands. This is a good chance for your company to convert them to brand advocates! Keep reading to find out how to define brand lovers in cluttered social media feeds and use user-generated content like a pro.
Everyone does it.
Remember, did you write a review on TripAdvisor about the hotel where you spent your summer vacation? How many photos of fascinating dishes from new restaurants did you post on Instagram? Have you ever participated in brand contests on social media (like post a Story from our shop with *brand name* mention to get a 20% discount)?
All these reviews, photos, and posts with brand mentions are the content generated by you as a user.
Usually, people do it of their own free will. This is good news for marketing specialists because it is a hassle-free way to promote brand authentically, drive purchasing decisions, and increase brand loyalty on social networks and the web at all.
All that is left to do is figure out how to use it correctly.
What is user-generated content?
Let's clarify the definition.
On the web, all texts, videos, and pics with brand mentions created by people rather than companies can be called consumer-generated or user-generated content (UGC). Namely, each Story, Reel, tweet, Yelp review, or Facebook post not generated by your employees, affiliates, or brand advocates is UGC.
Sometimes such content can work as word-of-mouth and helps companies boost sales and increase brand awareness like this Instagram post.
However, there are many examples when brands face tons of UGC with negative sentiment.
Victoria's Secret is a good example. This year the brand is experiencing a major comeback after years of declining sales and big PR scandals. In the 2000s, the company was on fire with its bright yearly runaway shows that helped launch model careers of Tyra Banks, Gisele Bündchen, and Heidi Klum.
Today the company does not want to be associated with oversexualized ads and skinny sexy angels. "We're moving from what men want to what women want," a new CEO, Martin Waters said.
Let's take a look at how this new policy affects users (there is a spoiler below) and reveal the secrets of the use of user-generated content.

Finding user-generated content with social listening
The best way to define and analyze UGC is to create an alert in any social listening tool. You can use your brand name as a keyword for searching, set up date range, language, location, and the like. It enables you to collect all data from different social platforms and websites in one interface and study them to a T.
By the way, Awario that I use has a 7-day free trial. In any case, you are free to choose the other tool you like most.
Check out this short video tutorial on how to create your first Awario alert.
Social listening tools scan social networks, blogs, news sites to pull posts and articles where your brand was mentioned out of there. As a result, you have a custom Mentions feed that is constantly updated.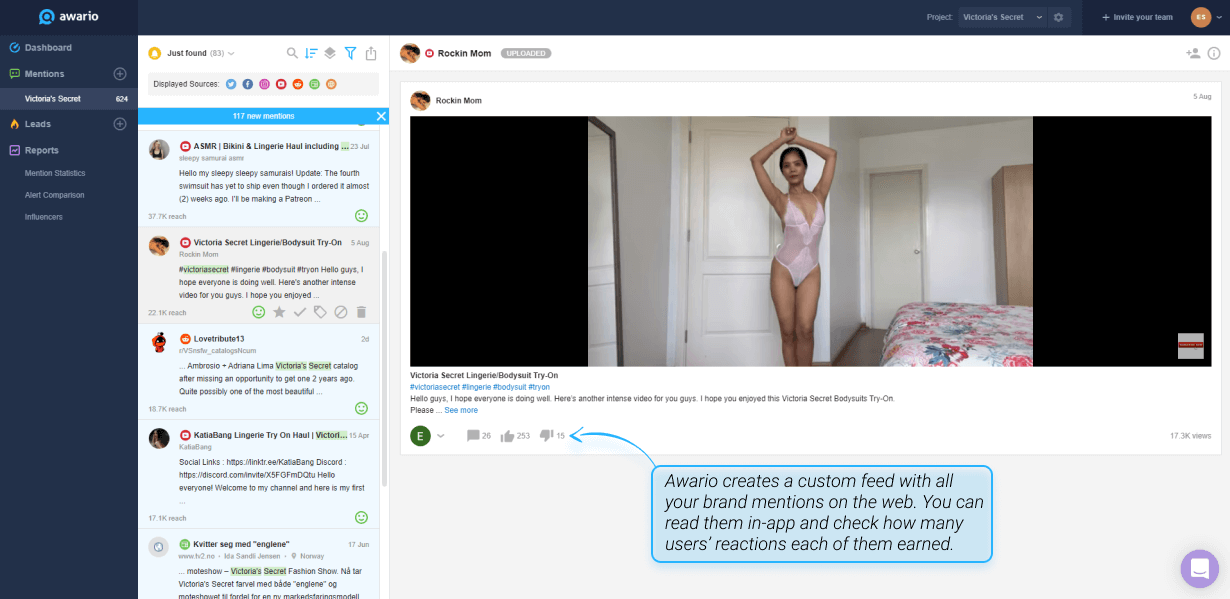 To narrow down the search results, you can use filters like # of mentions (from the largest to the lowest number of mentions in the thread), Reach, Date, or sort all mentions by sources, positive/negative/neutral sentiment, language, or location.
Sign up for a free Awario trial
See Awario in action with a free 7-day trial. No credit card required.
By signing up I agree to the Terms of Use and Privacy Policy
For instance, I chose the mentions of Victoria's Secret with the highest reach.
They have been launching more body-positive campaigns lately. Also, they abandoned their previous standards and started collaborations with plus-size and even transgender models.
Seems many people appreciate these changes.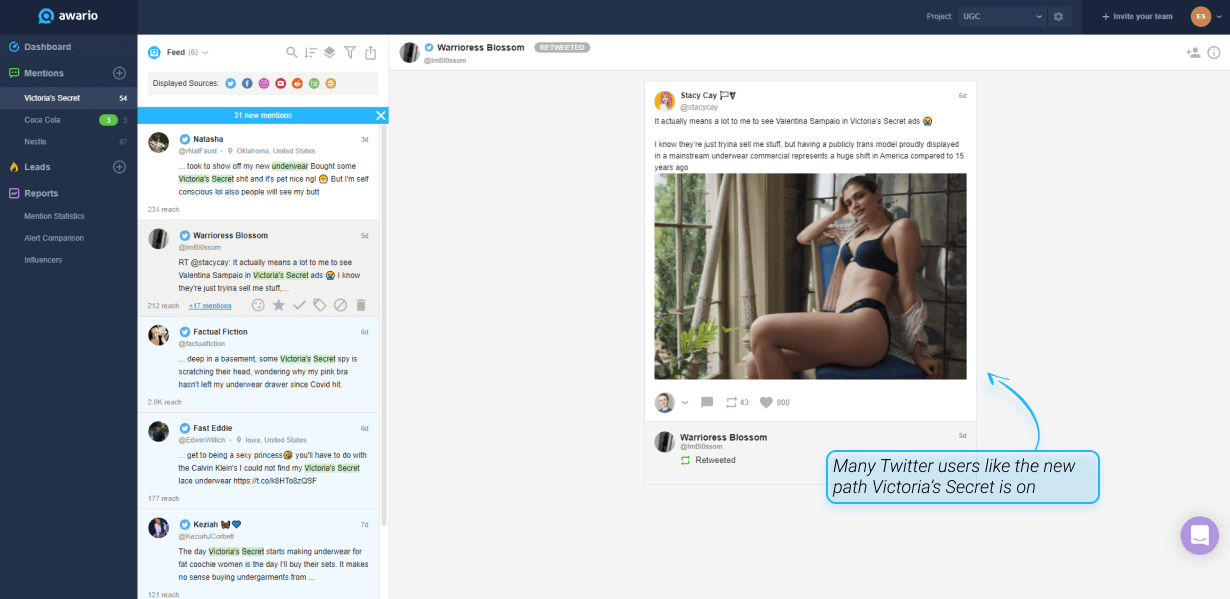 Another helpful feature when you analyze user-generated content is the Topic cloud. You can find the popular topics and hashtags related to your brand that people post and discuss there. In Awario, the Topic cloud is available on the bar with Mentions Statistics.
Generally, users mention your brand name most. Victoria's secret is not an exception.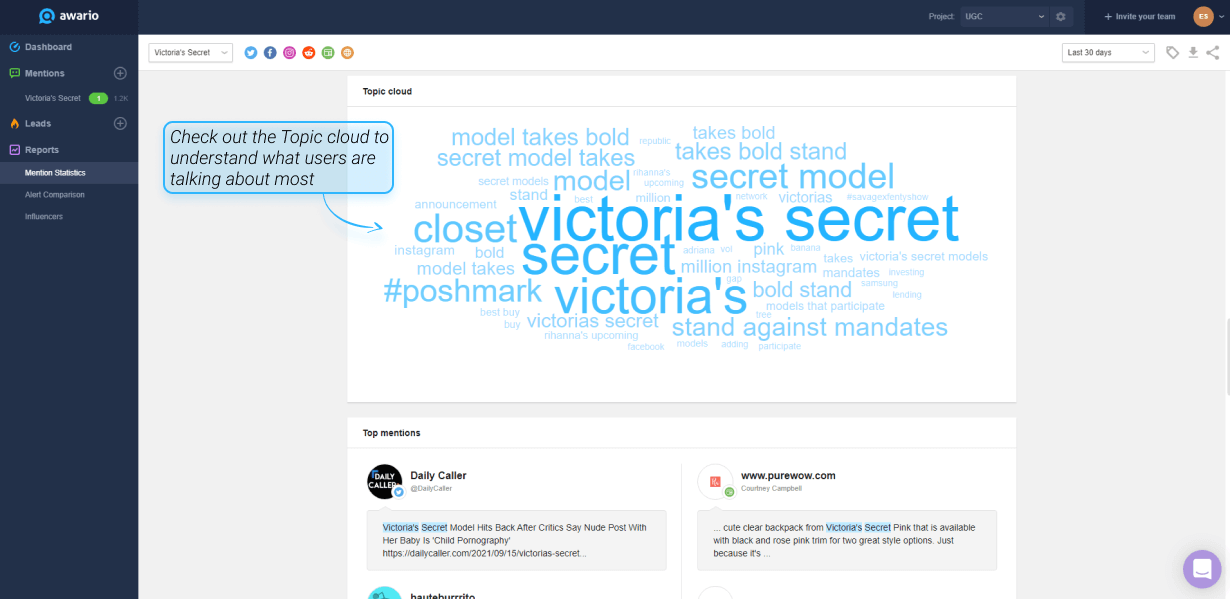 You can search for any of these topics in the Mentions feed to understand what users do mean. For instance, all mentions with victoria's secret model are about a recent controversial spoke out of their model Brittany Martinez on the COVID-19 vaccination campaign.
By the way, let's take a look at the sentiment graph one more time. In Awario, it is available on the Dashboard and in Mentions Statistics. This graph shows how many positive, negative, and neutral mentions your brand earned.
There are two graphs of Victoria's Secret below. We can compare the sentiment the brand had last month…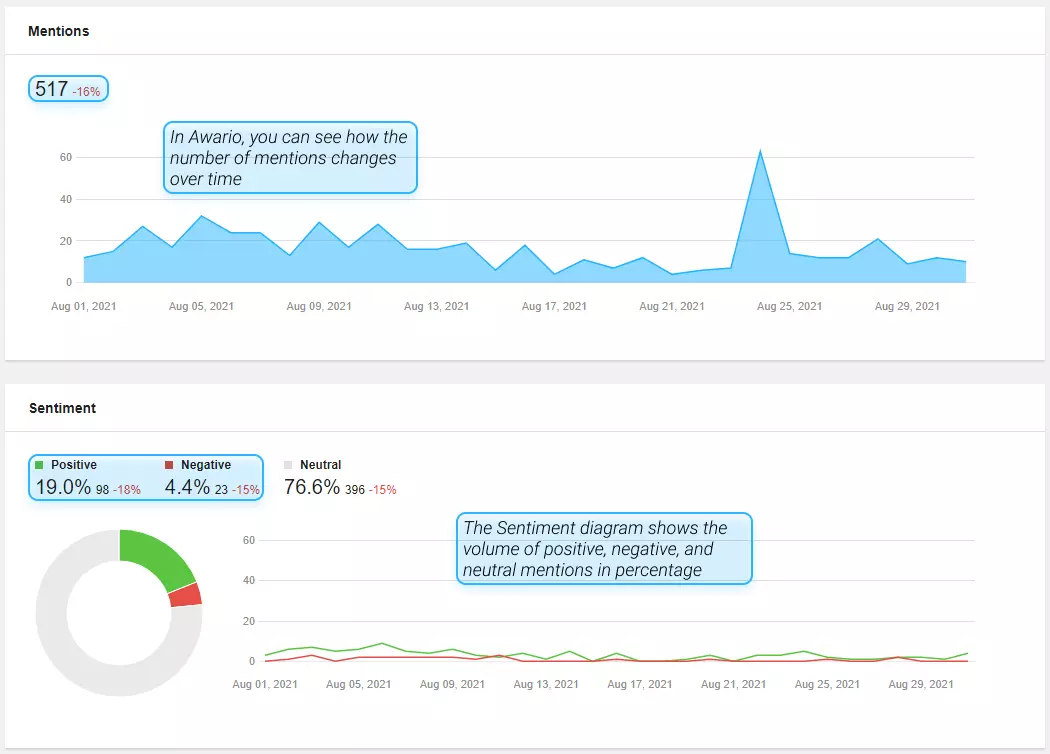 …and during the last seven days.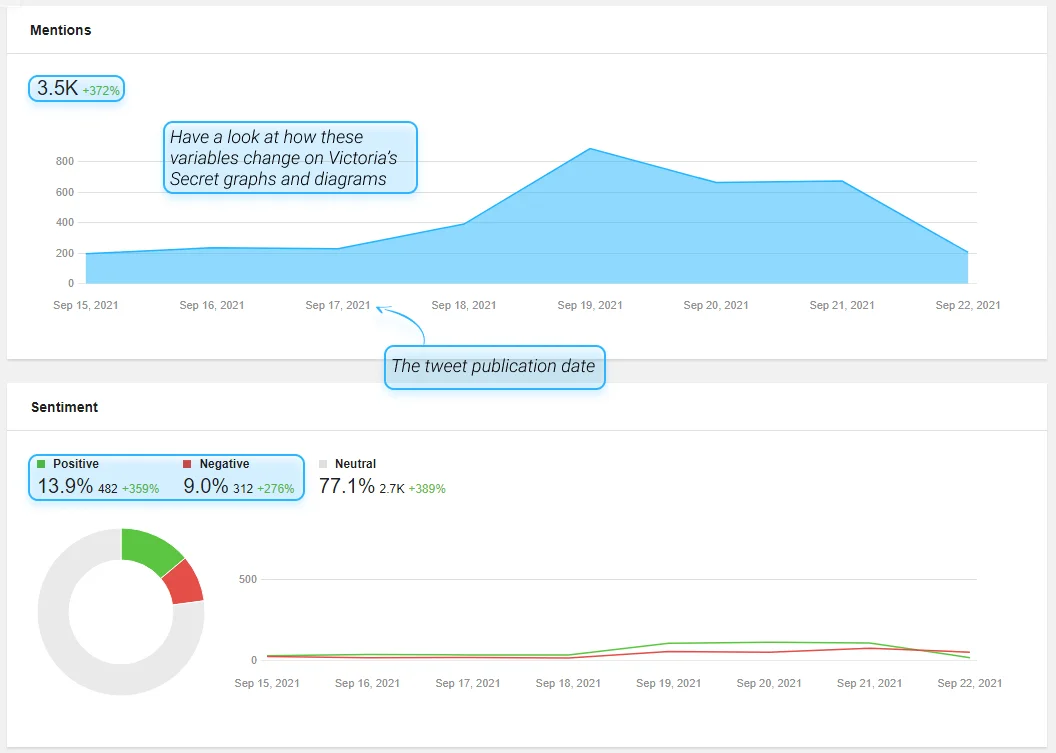 They are much different!
Seems Brittany Martinez (with 54.5K Twitter followers) was a little too harsh in her 17th September statement. Her post earned 7 967 retweets and 45.6K likes. It is a loud buzz!
Thanks to social listening, you can collect thousands of user-generated content examples. However, what does it mean for your brand?
Why would you need a UGC?
Usually, user-generated content works itself while helping to achieve marketing goals. Checking what people speak about your company on the web is all you need to get started with them. Of course, feel free to respond to comments and reach out to bloggers and journalists who mentioned your brand.
Here are five main reasons why consumer-generated content sometimes crushes ad campaigns and TV commercials.
1. It is true
Users do not have a large content budget, but they often are fiercely sincere and natural in their YouTube reviews, Instagram Stories, and tweets. Their followers feel and appreciate it.
Hate when the Victoria's Secret employees ask if I'm there to "buy something for the wife or girlfriend." I'm there for the vibes.

— J.P. McDade (@jp_mcdade) September 19, 2021
For now, millennials (25 years old and above people) trust UGC 50% more than original content created by the brands.
Here is where UGC magic starts! The more independent brand advocates you have, the more customers and purchases you will get in the future.
2. It is engaging
There are high chances that user-generated content will earn more views, likes, comments, and shares than a piece of content posted by any brand. On social media, every person has his own squad of friends, colleagues, and relatives who are ready to engage with photos and videos he or she posts.
Also, user-generated content often goes viral. Promoted posts very seldom can boast of it.
For example, this random TikTok video I found by a #victoriassecret hashtag has already earned more than 2 million likes and 14.2K comments. What a result indeed!
In comparison, no one of the official social pages of Victoria's Secret has such an impressive engagement rate. Their 70-million Instagram community is not even half as active as these TikTok viewers. By the way, the girl who posted this video has only 55.9K followers.
3. It is SEO
Sometimes user-generated content means free backlinks to your website. Journalists and bloggers can link to your company's web resources in their articles and posts.
Google get these activities and pushes your landing pages to the top of the search results. Profit! You have optimized your website by doing nothing!
Additionally, you can ask for backlinks to your pages when finding your brand mentions on news sites, blogs, and forums. Authors often are ready to do it free.
Finally, all these links drive more traffic to your website.
Meet your personal social listening assistant.
Try fully automated, 24/7 brand monitoring with Awario for free.
By signing up I agree to the Terms of Use and Privacy Policy
4. It is cost-effective
Probably you have already figured out that user-generated content is the cheapest kind of advertising ever. When real people share the information about your brand and their positive experience with their audience, you just need to encourage their activities.
Some brands build their content strategy around UGC and outsource a big part of talking and posting about their products and services to social media users. It enables them to cut their content budget because they no longer have to pay big dollars for studios, professional photographers, and copywriters.
For instance, Awario found a lot of positive mentions of Victoria's Secret on Reddit. Every marketer knows that it is almost impossible to market on this social platform. However, Reddit can green-light user-generated content around any brand instead.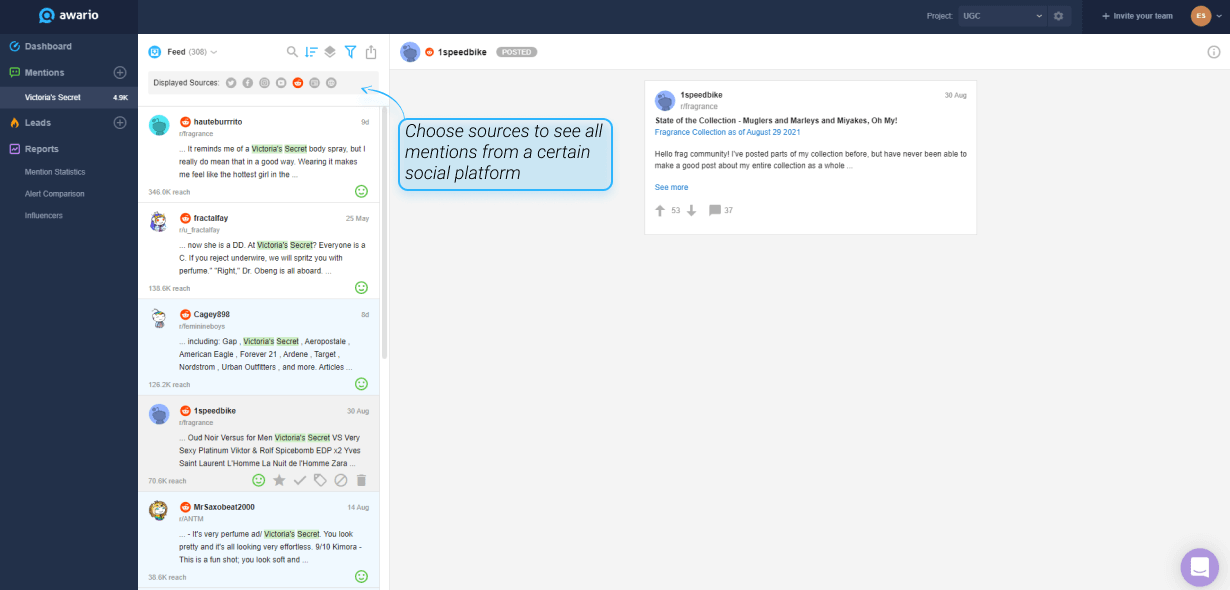 5. It is converting
The final benefit of UGC using is money! Imagine Instagram blogger with 50K followers has shot an unpacking live video with your product. It earned 3K views and hundreds of comments with questions "Where can I order this?". How will this activity affect your sales?
Yes, consumer-generated content sells your brand best. For other users, these photos, videos, and texts are friend recommendations, even quality marks. If your target audience is reading or watching it, brace yourself for sales boost.
Now when you understand the importance of user-generated content for your company, it is about time to find out how you can make use of all these posts, articles, and tweets.
How to get the most out of UGC?
Back to practice then! Dive deeper into all the brand mentions to identify what kind of people do it, where they publish it, and the like.
1. Explore the content around your brand.
At this stage, social listening comes in handy again. Awario shows all the main stats around your brand mentions on the Dashboard.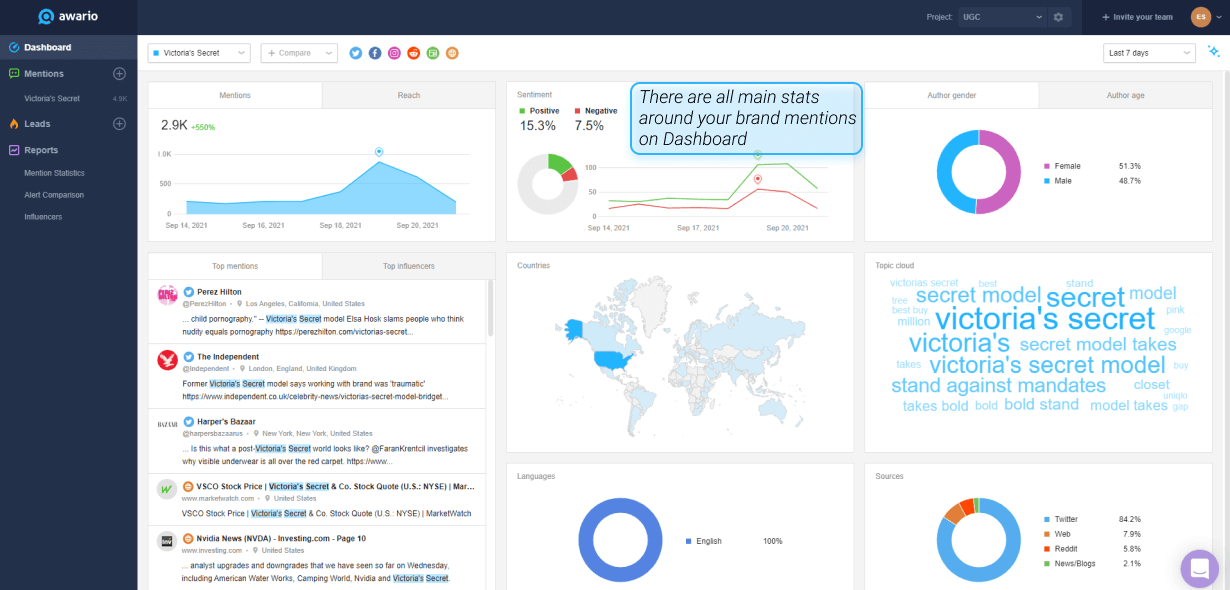 Studying these numbers and graphs, you can identify:
Age, gender, and location of people who create content about your company. Compare these results to your customer persona portrait. Are there any similarities? Good! It means that your target audience potentially consumes this content, too.
Sources where your mentions appear most often. Are these social platforms or news sites and blogs? You can be more active on your own pages there (or create them if you do not already have an account there).
Top mentions and influencers with the biggest reach and following. It is amazing for your brand awareness if popular media outlets and bloggers write about it.
Additionally, you can identify the type of content your audience loves most by reading the Mentions feed. Awario shows the number of likes, comments, and shares of each post.
2. Keep your brand advocates engaged.
Stepping on the ground of user-generated content, leave your naivety behind. People will not mention your brand every week or month! One day you will need to stimulate them to do it through the official social pages.
For example, you can let your followers do the promo of your product and ask them for honest feedback. To get more volunteers, limit the offer by time and quantity like "just first 25 people who fill in this form will get full access to our tool. You have just 2 days to join the test squad. Time is ticking out!"
Also, you can launch interactive social activities like tests, quizzes, contests, challenges, questions, or games. Your products or personal discounts can be prizes for all participants who will mark your page at their posts or Stories dedicated to your brand.
Enjoying the post? There's more.
Sign up for our newsletter to get our best content by email.
3. Do not be a thief!
Naturally, you can add UGC to your content plan for social networks. However, do not steal from users without any credits. Posting somebody's else video or photo, always mention their social profile or blog.
For example, Victoria's Secret collects all mentions from media with credits on its highlighted Stories. You can do the same with your followers' content where your brand was mentioned.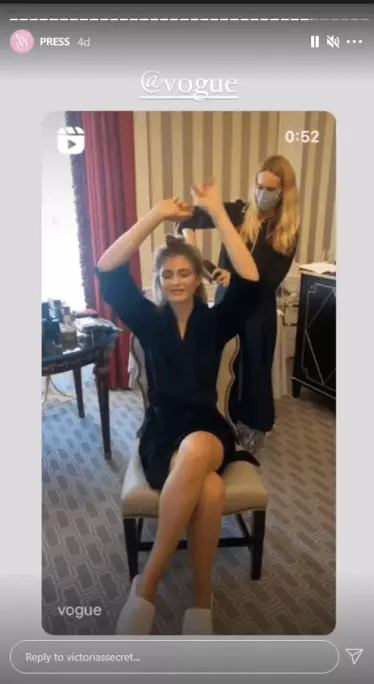 4. Let the bad times roll.
Yes, it is not the best part of working with user-generated content. You have to read and respond to not only positive brand mentions, but also negative ones.
Of course, you can ignore trolls, however, do not ignore user complaints about bad shipping service, unresponsive support team, or low quality of your products. These are alerts that help your company becomes better.
Working with social media tools, you can reply to rage commentators in-app.
Awario has a super handy tag feature that allows you to organize your mentions.
Say you can go to the Mentions feed and filter all negative messages from Twitter for the last 30 days. Then, tag them as media or personal. Voila! You can reply to them later (sometimes, you need to coordinate an official response with the PR department).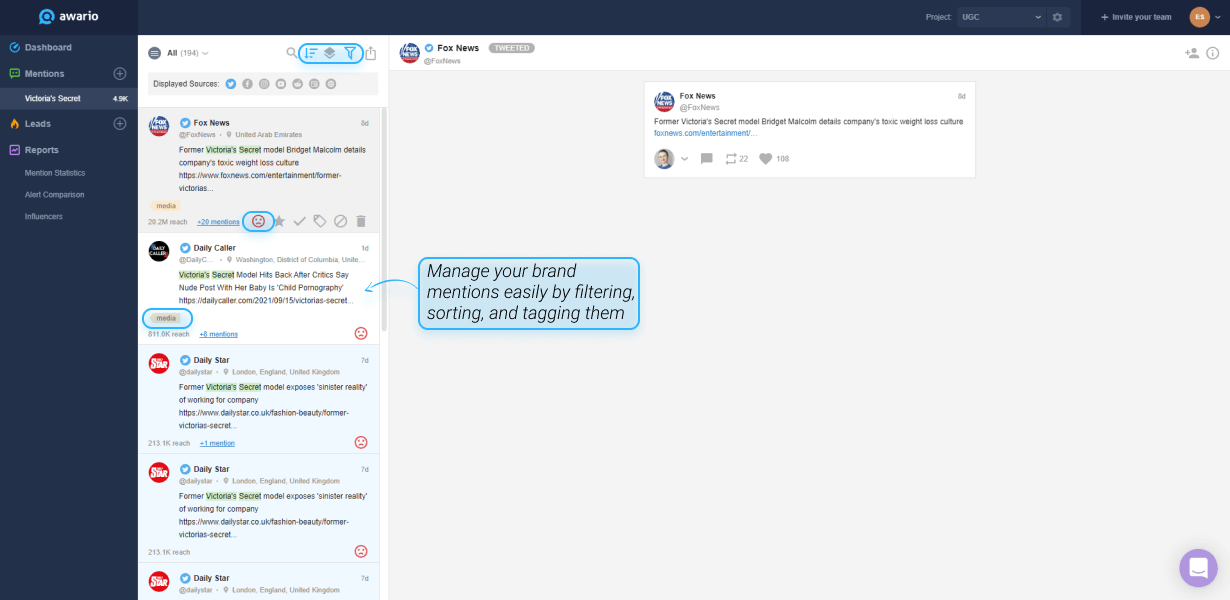 Before you leave
To prove the power of consumer-generated content, here are some stats around this marketing approach:
Wake up, UGC is a gold mine. Grab Awario's 7-day trial to take possession of it!