Social listening guide for outsourcing companies

In this guide, I'll describe how you can use social listening to analyze and improve your company's reputation, develop your content marketing strategy, analyze and improve your social media marketing strategy and PR, as well as how to perform best in class competitor analysis.
For all of that, you'll need a social media monitoring tool. As Awario is ours, all examples in this article will be from Awario.
Start monitoring your brand today.
You should've been doing it yesterday – but the next best time is now with Awario.
By signing up I agree to the Terms of Use and Privacy Policy
Quick reminder: Awario monitors your online presence on all major social networks, news sites, blogs, and forums.
I'll take you through the workflow of creating an alert for your company and getting the social listening results. If you already have an alert for your brand (or know the workflow), scroll down to see what you can do with the data.
How to start monitoring your company's online presence?
1. Create an alert for your company's name
Sign up for Awario's free trial and create a project. A social media monitoring tool will ask you to specify your brand name, product description, and your competitors. Ignore product description and competitors - they are for the Leads module that you won't need. Specify your company's name. Use multiple keywords if you have more than one brand. Click Create Project.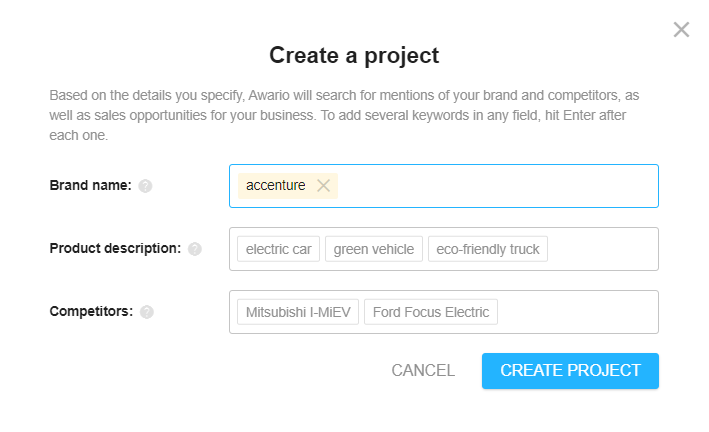 This is it! Your company is being monitored on social media platforms, news sites, blogs, forums, and the web in all locations and all languages.
Now I recommend doing the following: adjusting alert settings. Click on the gear button next to your alert and you'll see the settings that you can adjust to make sure you only get relevant mentions and don't run out of search limits too quickly.
Add your website, specify languages and countries, and delete the web from your sources - it's rarely of any use when you have articles, blogs, and news monitored separately.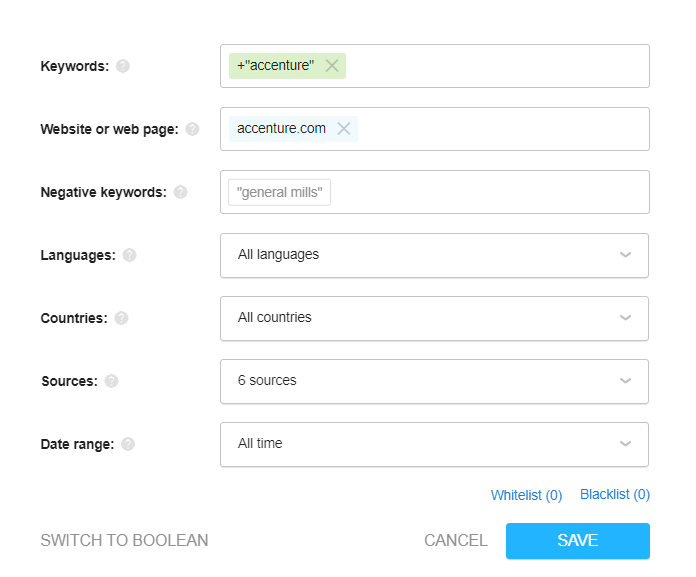 Note: If you have social media accounts, a company blog, or other sources that you don't want to be searched because you already know what's on them add these sources to Blacklist. You can access Blacklist from your alert settings.

2. Look through your mentions' feed
It will take Awario a couple of hours to collect your mentions, so take a cup of coffee and turn to your other tasks. Come back to the tool in a couple of hours or even the next day. That's when you'll have your results.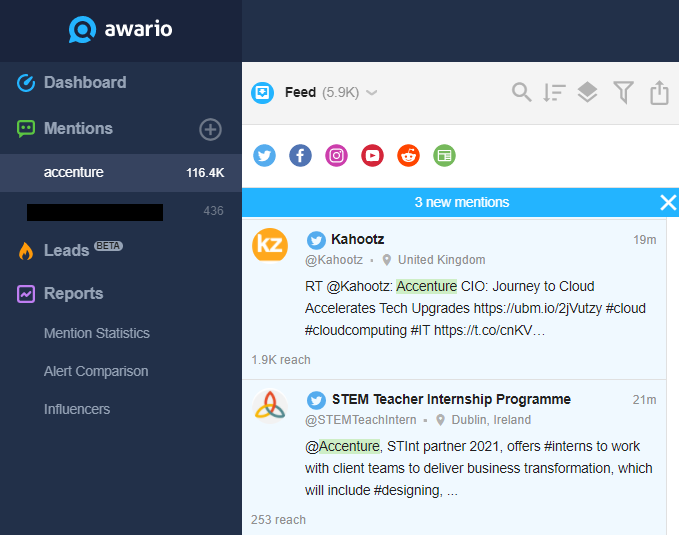 You can go through the Mentions' Feed to see what the world is saying about you. Every mention is clickable - you'll see the author and will be able to reply to the post. You can also filter mentions by any criteria (popularity, influence, location, language, time period, etc.). If there are thousands of mentions, which is a very likely situation, don't waste your time reading them - the process can get quite addictive. Instead, move on to analytics.
3. Explore social listening analytics
The most exciting thing about your mentions is analytics. Access it by clicking Awario's Dashboard - the feature gives you a full view of your company's online performance. It's all of the social listening metrics in one place in real time.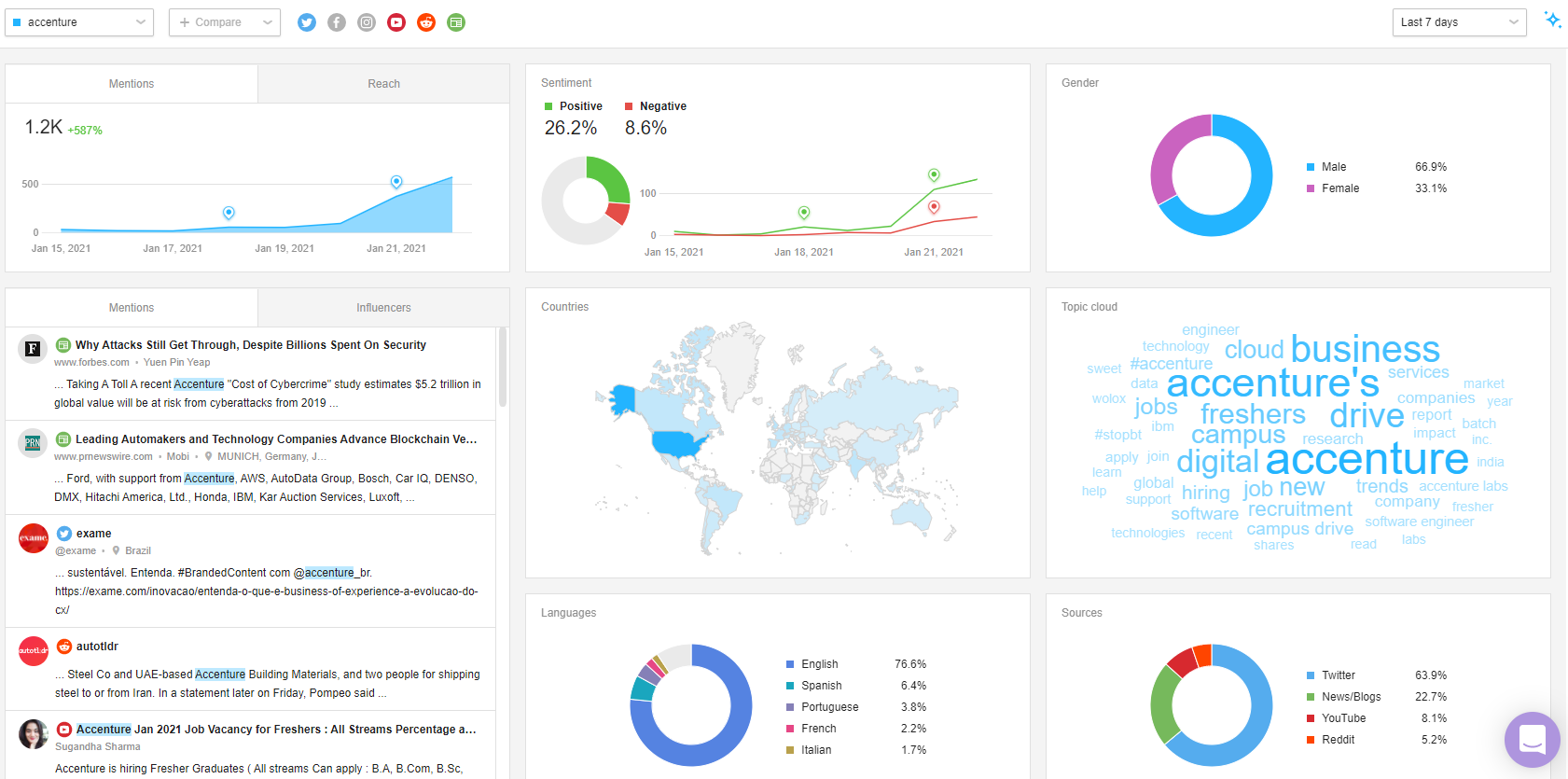 You'll see the overall growth and reach of conversations around your brand. You'll see your brand reputation metrics: the breakdown of positive, negative, and neutral mentions of your company. If you see any spikes in positive or negative conversations, click on the graph to find out what the buzz is all about.
The Topic Cloud shows you topics that pop up most often around your brand.
The breakdown by languages, locations, and sources is also there. So are the lists of most popular mentions and most influential authors who've talked about your company.
How can you use social listening stats for your goals?
Now that you know how to work with a social listening tool and what stats you get, let's see what you can do with these as an outsourcing company.
1. Reputation analysis & PR
Reputation is crucial for outsourcing companies.
A social listening tool will give you a quick overview of your company's reputation and pinpoints good and bad things about it that have been mentioned in the news, blogs, or on social media.
For example, we've been monitoring Accenture's reputation and noticed positive and negative spikes in the past 7 days.

Positive spikes refer to Accenture's recent studies that are being quoted. Negative spikes refer to the #stopbt hashtag that went viral.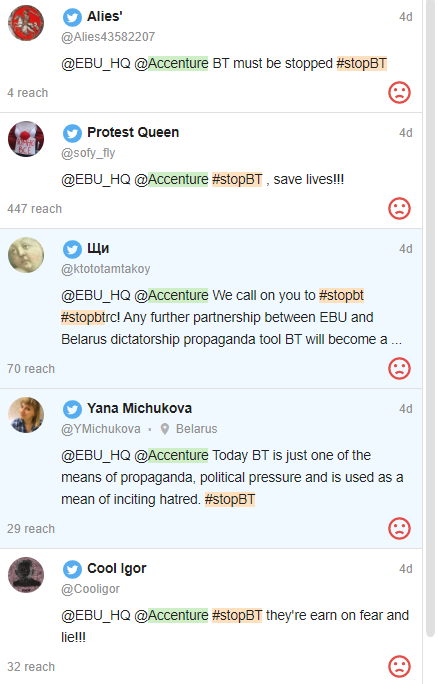 Both events can be used for further PR: from this data, it's quite clear that Accenture should promote their research and address the #stopBT movement.
But the PR benefits of social listening stats don't stop there.
In the Mentions/Influencfers tab you can see which articles got the most attention and widen your PR strategy based on this information. You can filter mentions by the negative tone and see which marketing decisions have brought negative publicity. You can also monitor campaigns, product launches, and press releases in the future and see how your company's reputation is affected by the actions of your PR team.
2. Social media marketing
Despite their B2B nature, outsourcing companies tend to have an active social media presence. For example, both Accenture and Tata Consulting have around half a million followers on Twitter.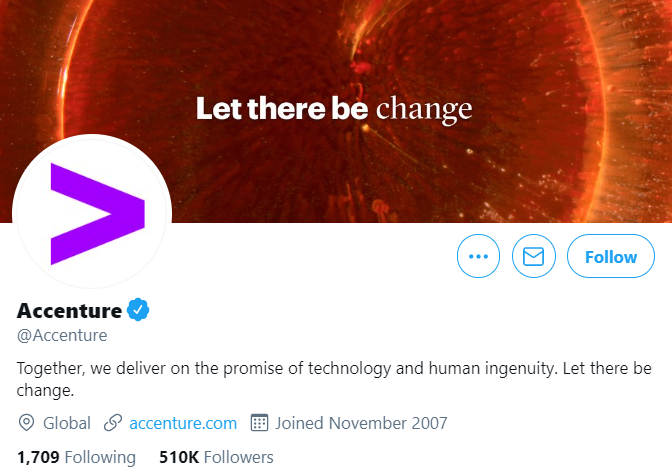 This means, social media marketing is on your list of marketing tasks, and you can't do social media marketing without social listening.
Firstly, social listening helps concentrate on sources that bring the most value - the sources where people talk about your company already.

Secondly, social listening helps track the results of your efforts: you'll instantly see if your social media campaign is increasing your brand awareness, if people talk about it, and what they say.

Finally, social listening hugely improves communication with your audience: all posts, comments, and questions about your company, tagged or untagged, on all chosen social media platforms end up in one app.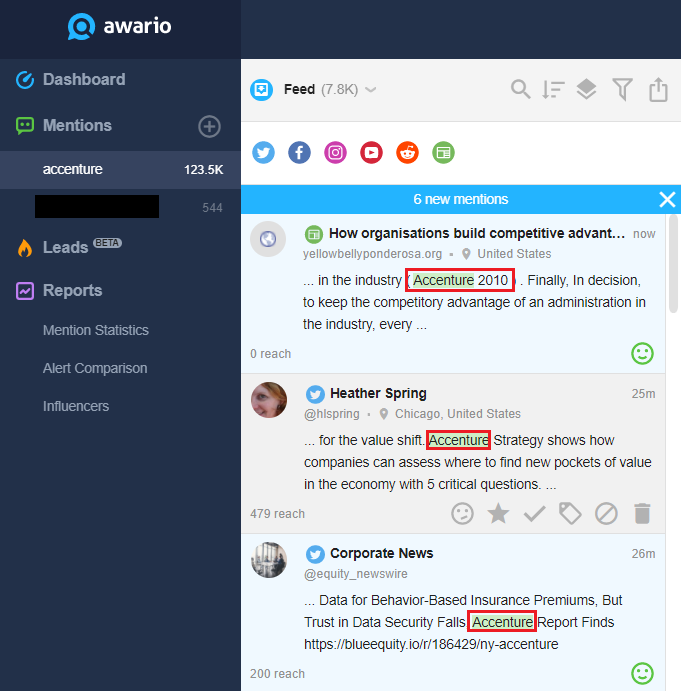 You can reply to the most influential authors or to most viral mentions only, take part in the discussions and always know what's being discussed in relation to your company.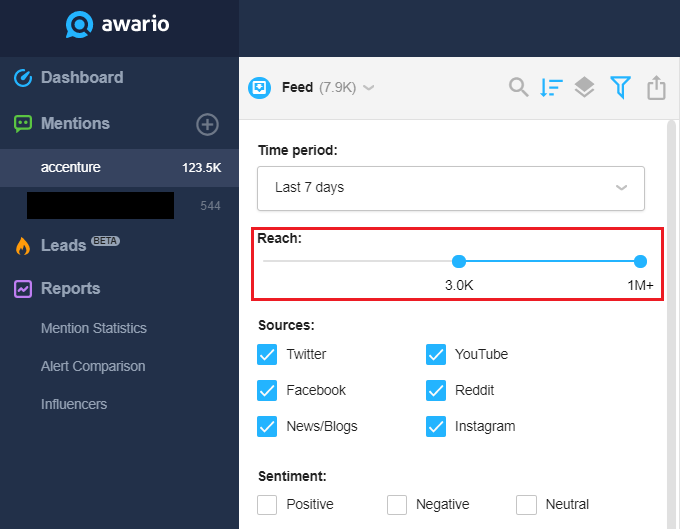 3. Content marketing
Content marketing is on the rise like never before. And outsourcing companies want to make the most out of it - just like anyone else. This means, you probably face the same problems as other content marketing strategists. Which topics to cover? What to do when you've run out of ideas? Where to guest post? Where to promote your content?
Social listening helps with all of that. Topic cloud shows which topics are being discussed around your brand already, which might give you new ideas.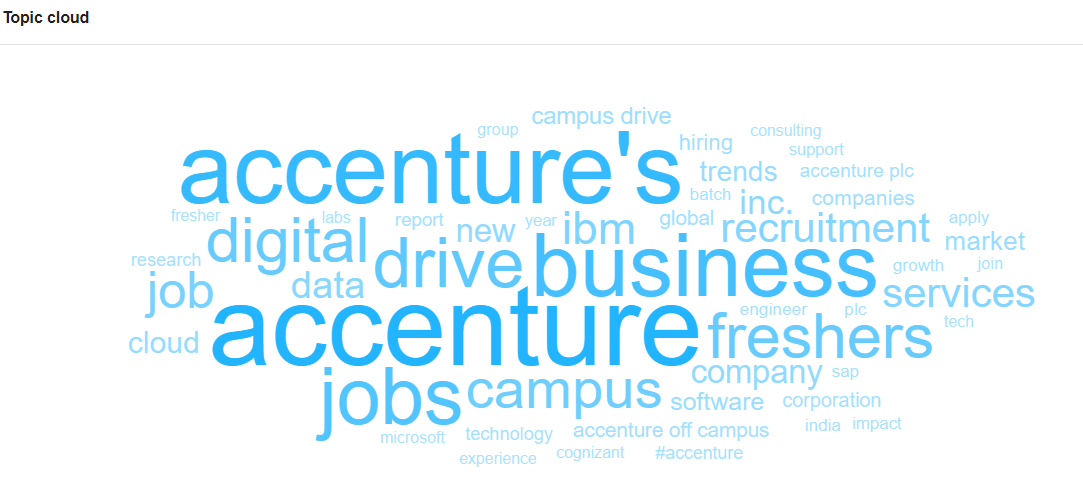 Filtered News Feed shows articles that are already performing well.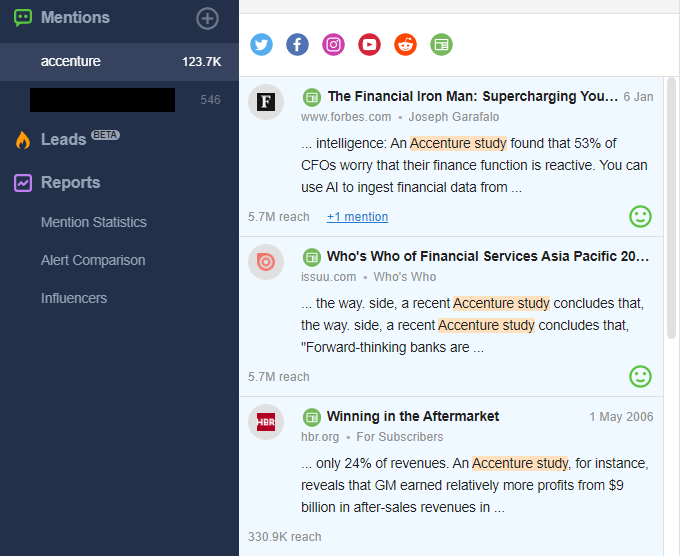 Rewriting, cross-promoting, and repurposing your well-performed and regularly mentioned articles can be an effective part of your content marketing strategy.
The Influencers tab shows people who have talked about your brand before and might be interested in accepting your guest posts.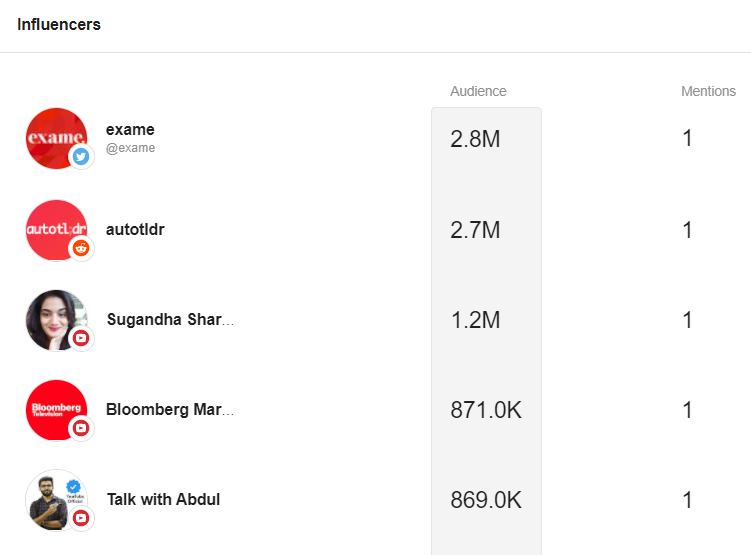 If you combine social listening with content discovery tools, such as Buzzsumo, you'll never run out of ideas.
Use Buzzsumo to see which kinds of topics perform best across the Internet. Type in the broad topic you're interested in (e.g., health technology) and see which niche topics come up.

4. Competitor analysis
Your full competitor analysis will consist of many parts. Comparing the online presence of your brand to your competitors' brands is one of those.
In Awario, you can simultaneously compare up to 15 brands. The tools will gather the data and tell you which percentage of online presence (i.e. Share of Voice) your brand occupies, and which share every one of your competitors has.
For example, in the airline industry report, you can find the share of voice of each airline, as well as comparisons of their brand awareness, brand reputation, demographics, locations, languages, and resources.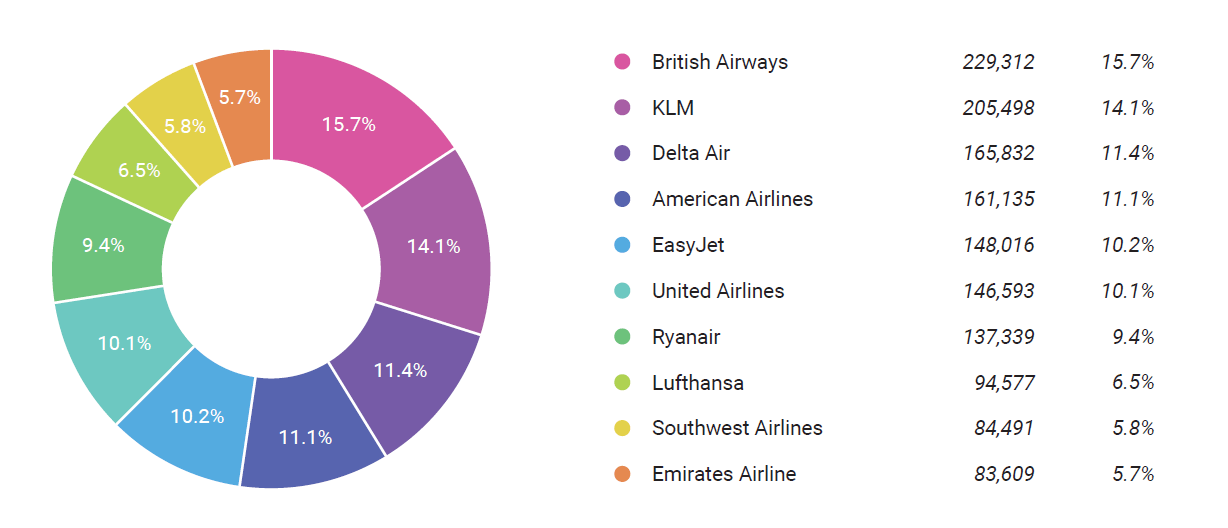 Social listening will also reveal the opinion leaders and media outlets that write about your competitors.
Reach out to them, contact journalists and media outlets that write about your competitors. Chances are, they'll be just as interested in your input!
Benchmarking your online presence against your competitors will give you a clear idea of where you are, what can be done better, which markets are left uncovered, and where your Unique Value Proposition lies.
Conclusion
Just like almost any other industry, the industry of outsourcing can benefit from social listening. From reputation management to competitor analysis, there is something that can be improved with the stats that social listening reveals. Just go ahead and try it yourself!
Meet your personal social listening assistant.
Try fully automated, 24/7 brand monitoring with Awario for free.
By signing up I agree to the Terms of Use and Privacy Policy