Social Media Marketing in the entertainment industry [5 awesome examples]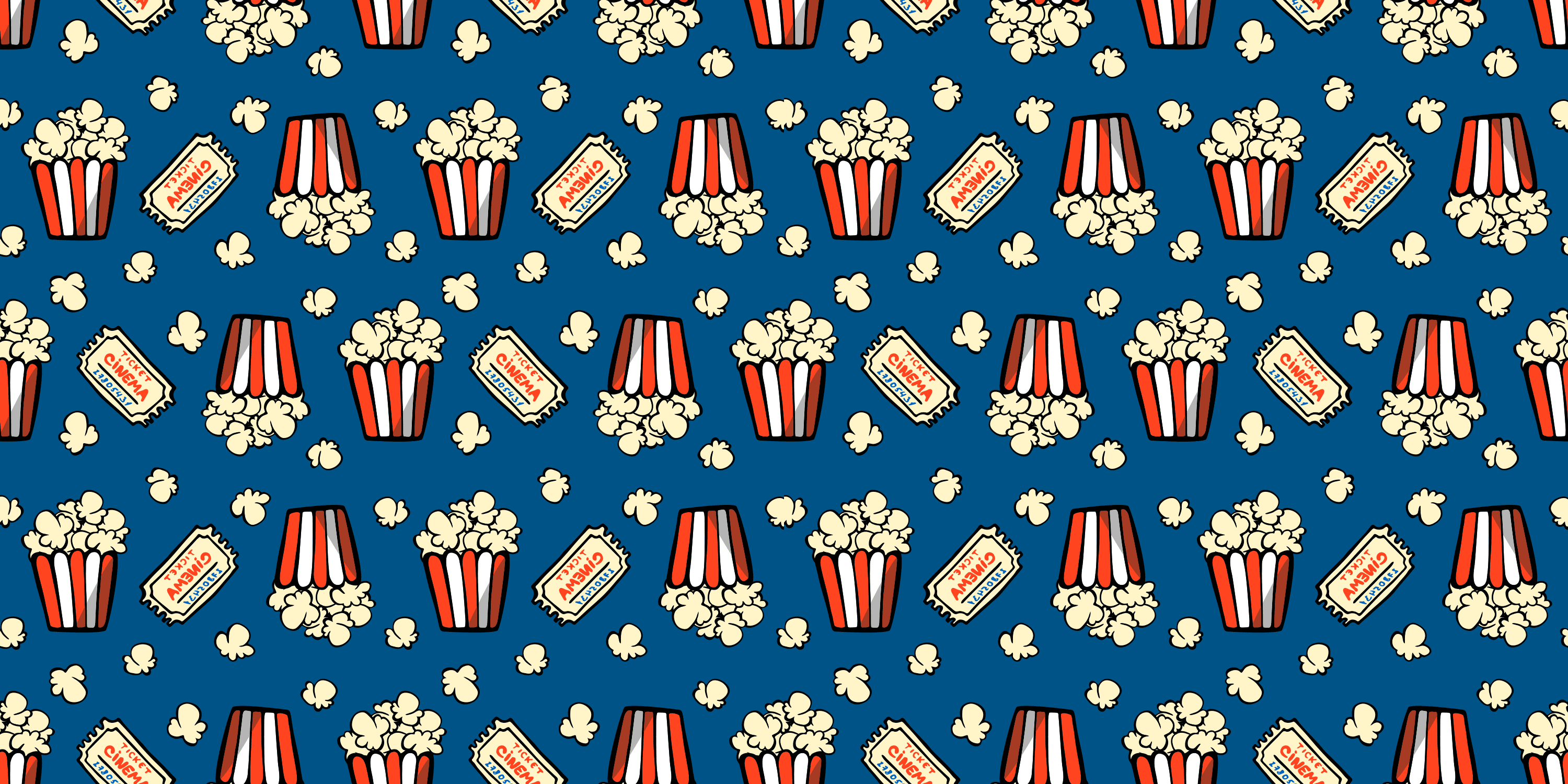 Social media and the entertainment industry have a strong love-hate relationship. On the one hand, social media has stolen much of the audience that used to watch TV, go to the movies and read books. Social media simply takes loads of our leisure time. It also has YouTube, which is right on your laptop and 100% free. YouTube viewership is much higher than that of any TV channel. On the other hand, social media is a Holy Grail of marketing for the entertainment industry. Before social media, it was just the word-of-mouth that did all the advertising. Now the opportunities are huge. Let's see what exactly has changed and how marketers of the entertainment industry make use of the new universe of possibilities.
First of all, it's worth noting that no industry is as active on social as the entertainment one. In a 2015 study of Facebook, the entertainment industry accounted for 63.2 percent of all posts across six different industries (retail, auto, telecom, financial services, food, and beverage). Retail had the second largest share, with only 12.4 percent.
What is it that artists do online? They build a relationship with their audience, bring the fans "backstage" and create a community. Nothing bonds people and spreads the word for the artist quite like a community built around that artist. Something as simple as sharing a movie trailer or a music video has a much bigger potential on social media – the Pew Research Center found that the average Facebook user is connected with 338 friends. Word-of-mouth works so much better with this kind of exposure! But the creative minds of the entertainment industry went beyond that.
1. Paranormal activity
One of the most successful horror films ever, Paranormal Activity, was made by Oren Peli, a videogame designer with no formal film training. The film was shot in a week in 2006 for $11,000. What made it such a huge success? To a large extent, it was an ingenious social media marketing campaign. It was one of the first uses of the viral marketing in the film industry and it generated 100 million dollars. Not bad for social media in 2009, is it? How did Paranormal Activity made it to the nationwide release in less than a month?
In short, Paramount announced that if the film received 1 million hits on the Internet, where people "Demanded It" for their town, they would release the film nationally. Paramount cracked the "exposure" code. Internet users were passing the information with no further involvement of the paid advertising campaigns. Paranormal Activity used Reddit, StumbleUpon, Facebook and Twitter. Users could "tweet their screams" directly from the Paranormal Activity website. As a result, people were intrigued and excited long before the movie was released in their home town. They also felt powerful and connected – the distribution was in their hands! They could control what Paramount was doing! Has this ever happened in the history of cinema at all?
2. Despicable Me 2
Moving on to 2013, let's look at Despicable Me 2. The film is the fourth highest grossing animated film ever. Surely, it's great. But is that it? Despicable Me 2 was slowly building up excitement on social media starting a year prior to the release. They first released a trailer on YouTube with minions singing an extremely catchy song. The only thing that hinted that it was a trailer was a number 2 in the end of the video. Needless to say, half of the kids in the country were singing the song for a year before the movie came out. I mean, just listen to it!
The second teaser was released 8 months later. It also redirected the users from YouTube to Facebook so that they can be up-to-date. Facebook posts indeed wouldn't let people forget about minions. Posts were coming out regularly, Social Media Managers were interacting with users asking for their opinions and comments. Posts were especially exciting and fun on different holidays, so kids regularly had some new videos and images to share with their friends. In the run up before release the campaign went mad: they released 57 short videos on YouTube.
Don't miss our next analysis.
Subscribe to Awario blog to get social data analyses, case studies, and social listening how-tos in your inbox.
Despicable Me 2 also integrated online and offline marketing by going big: they've made a minion blimp and a minion hot air balloon and encouraged the public to spot it and post the photos online. Which the latter did, obviously.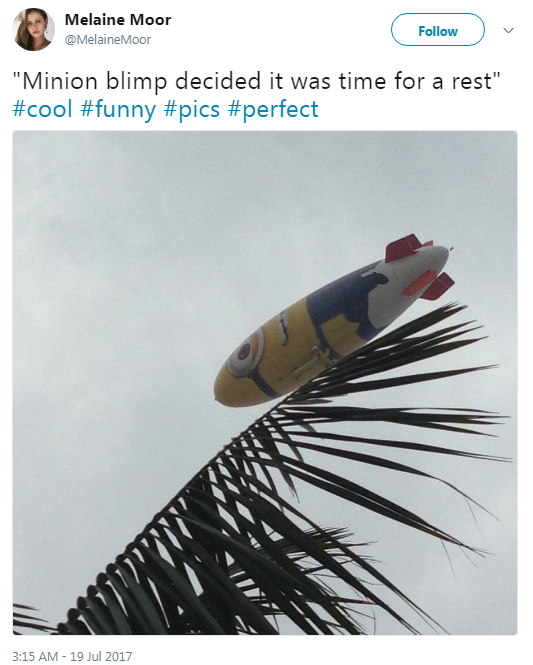 Marketing didn't stop after the movie release either. And the efforts paid off: minions have almost a cult status among kids. There are games, toys, apps – all about minions and a film dedicated strictly to minions was released in 2015.
3. Deadpool (1,2)
Deadpool was released on Valentine's Day. Holidays are a gift for all marketers, and surely, Deadpool went on YouTube and made it clear that the movie is a perfect one for your Valentine's date. Not only did they release a couple of promo clips, they also went a bit further, and released some controversial romance advice. Why not.
While YouTube is the obvious exposure tool for films (at least in 2016!), Twitter is still underrated. Not by Deadpool though. These guys went viral every week before the release. And a number of times after. And surely, now with the Deadpool 2 coming out, the official Twitter and Twitter of the main actor, Ryan Reynolds, are so much fun to read.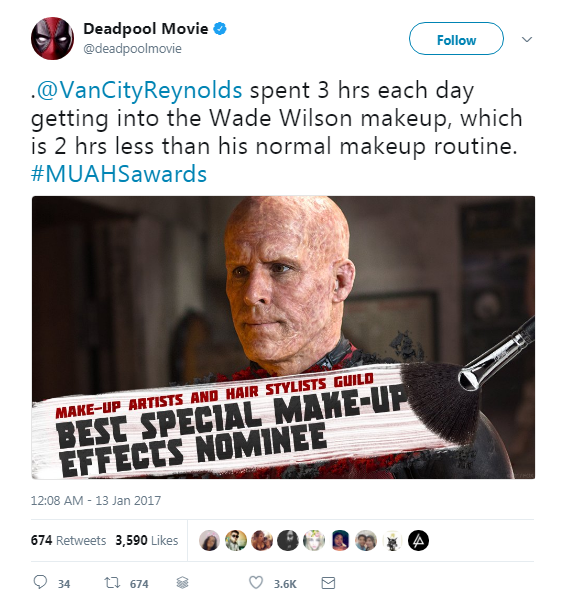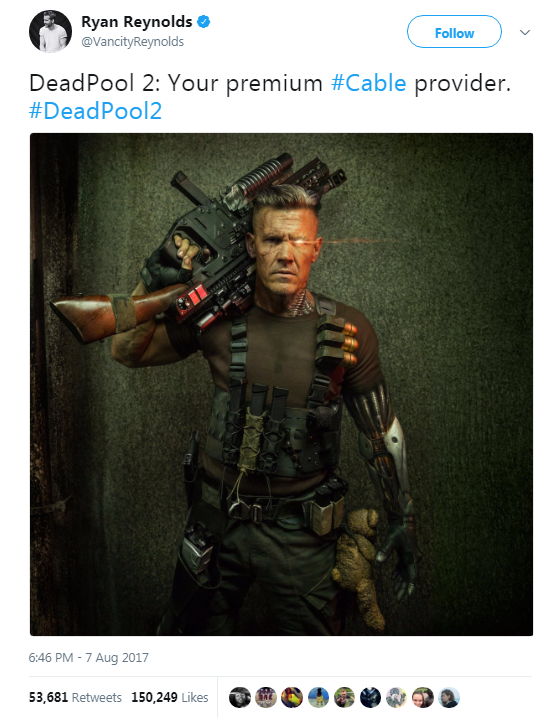 As you can see, they don't promote the film quite like anyone else. They are being hilarious, self-aware, rude and weird. Just like social media and the movie themselves. That's Deadpool's key to success.
Deadpool was the highest-grossing X-Men film and the highest-grossing worldwide R-rated film of all time (surpassing The Matrix Reloaded's $742 million). I'm pretty sure Deadpool 2 won't fall behind.
4. Amanda Palmer
And again let's drive back to 2009, when social media was just about to conquer the marketing world. Amanda Palmer, a singer from The Dresden Dolls, started embracing the Internet much earlier than the stars that now "win the Internet". Her official website is called: Amanda Palmer: The Official Website of Amanda Fucking Palmer. Today she has more than 1.15 million followers on Twitter only. That's keeping in mind that The Dresden Dolls plays Punk Cabaret – a niche music genre that can't compete for popularity with, well, pop. Yet you'd be amazed with the level of engagement on her social media pages.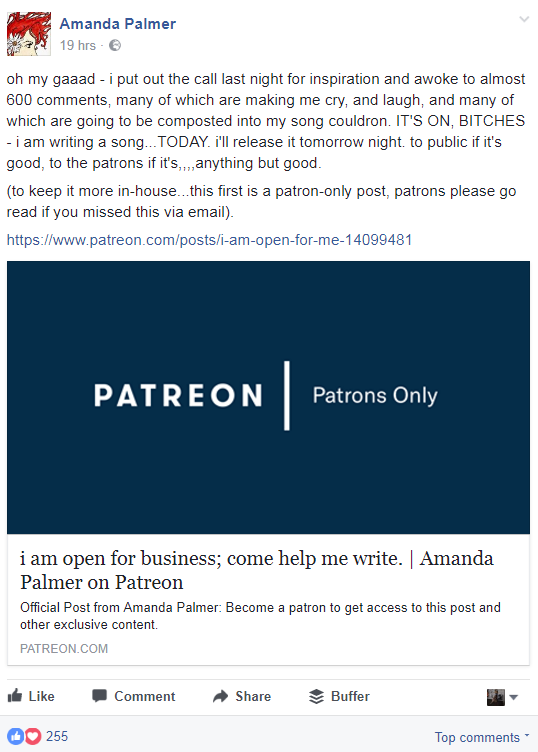 As everyone on this list, Amanda doesn't stop at regular posting and engaging with the audience. Already in 2009 she turned the power of Twitter into $11,000 in just 2 hours. One Friday night Amanda tweeted that she's alone, again, on a Friday night sitting in front of her computer. Her followers related to this feeling: they started commenting and claiming how they are losers too. Amanda kept the dialog going. Soon it grew so much that she introduced a hashtag #LOFNOTC (The Losers of Friday Night on their Computers). Thousands then joined the conversation. Amanda didn't stop at that. She started the faux organization "The Losers of Friday Night on their Computers." When a follower suggested that group should create a t-shirt, Amanda quickly made a t-shirt design. In a night a website was thrown up with the t-shirts available for $25 a piece. 2 hours later Amanda had $11,000. Profit!
5. Disclosure
And another social media marketing success story from Disclosure – an electronic music duo. They've decided to embrace the power of social media, namely Instagram, prior to the release of their new album Caracal. What they did was a Heatmap using Twitter, called "Disclosure Moments Map", showcasing their most engaged tweets worldwide. The moment someone would tweet using the #Caracal hashtag, she would appear on the live, interactive heat map. It's almost magical! Followers were encouraged to take part, and soon the campaign massively raised awareness for the album release and also Disclosure increased their Twitter following by 63% within just a few days. The map looked like this: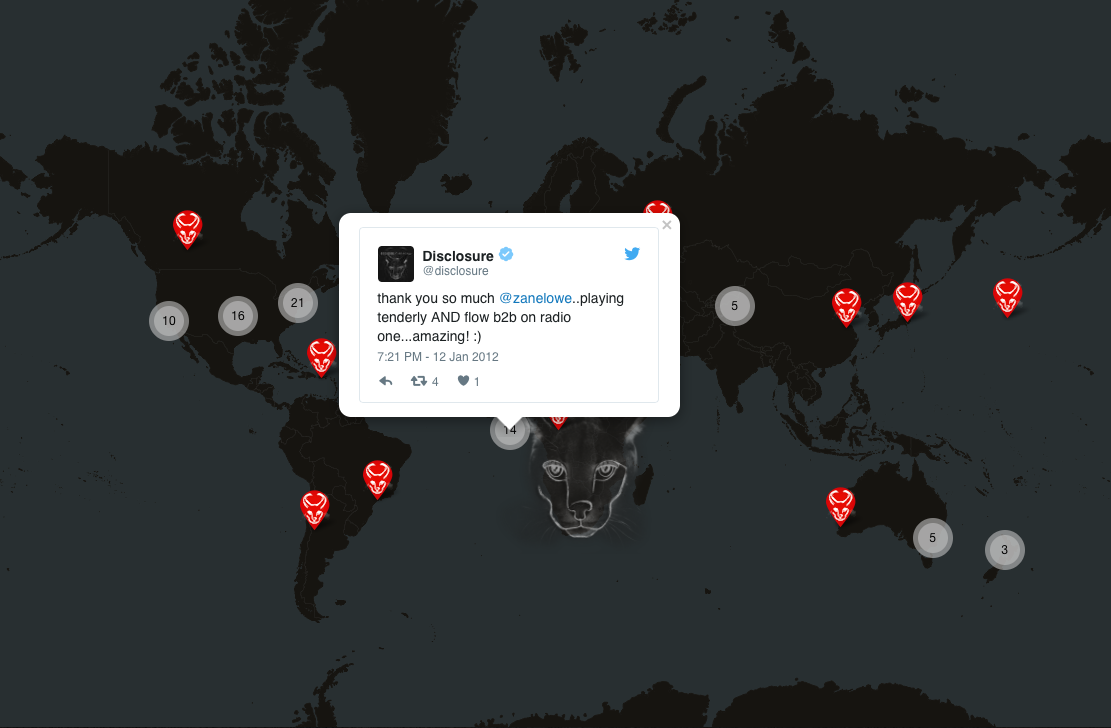 Conclusion
What can we learn from these examples?
1. Interact with the audience, don't just mass broadcast.
2. Be yourself. It works both if you're bold and weird, and if you're humble and lonely.
3. Act quickly. Preferably have some budget saved for the social media marketing opportunities.
4. Come up with creative ways to engage your audience – don't just stop at what everyone's doing.
What social media campaigns made you get out there and go to the cinema, read a book or buy an album? Which ones did you like and which ones inspired you? Share in the comments!