What happened on Social Media in June: monthly round-up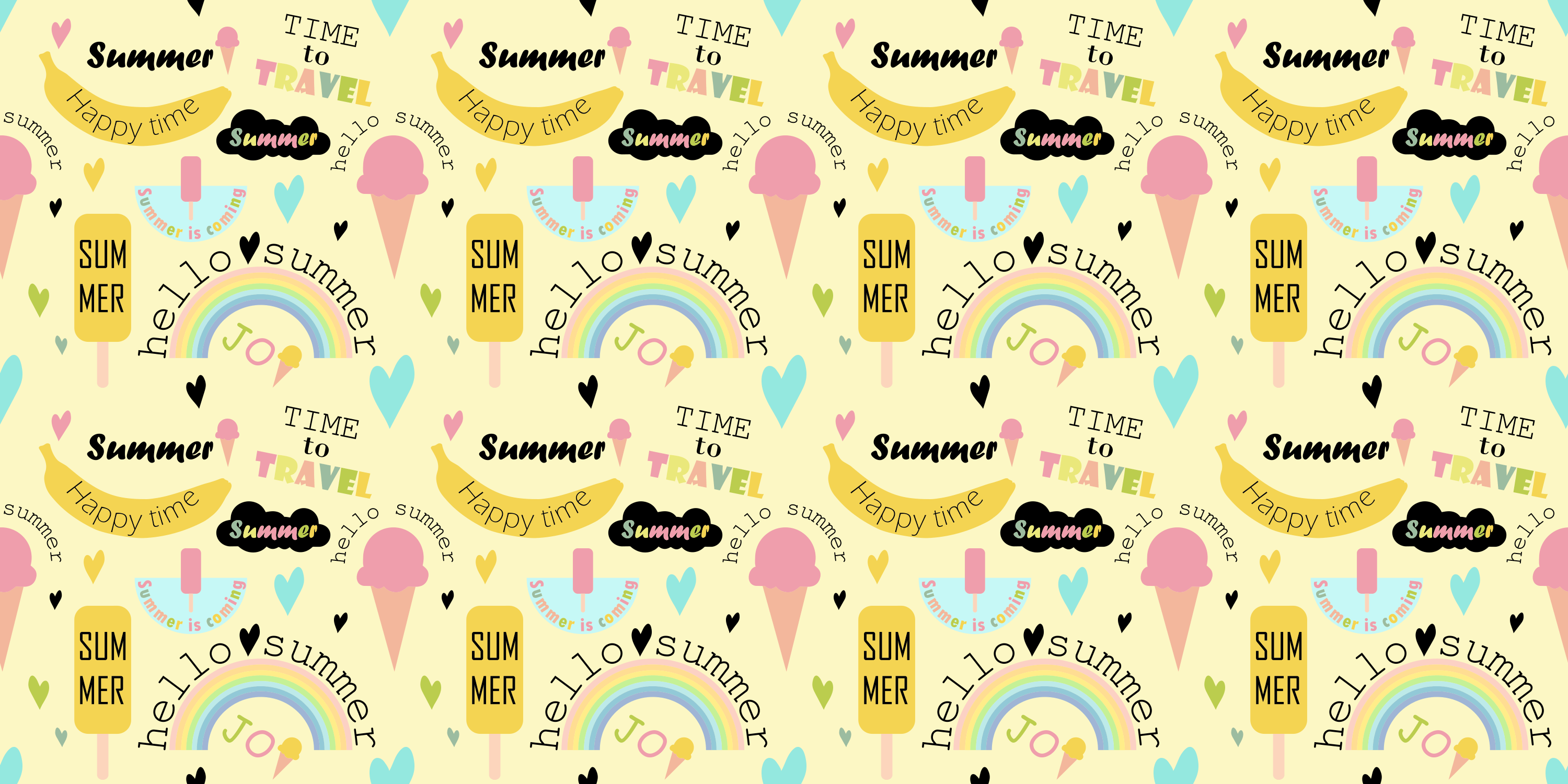 The summer is here! Finally, those of us who don't live in LA can go swimming, eat tons of fruits and berries, and complain about the heat!
Social media companies seemingly took note and decided to start the summer season in a very chill way. June didn't bring us any game-changing updates (if we don't count Twitter's ongoing crusade to clean up the platform), but there was a lot of small tweaks and additions that could improve the lives of social media managers everywhere.
Also, this month we're trying to solve a riddle from Instagram's leader Adam Mosseri. Sounds intriguing? Then read on!
Twitter
'Hide Replies' option is in testing
We already covered Twitter's intention to change the UI of the app in multiple meaningful ways. One of them is hiding replies to your tweets from yourself and other users.
The feature was rumoured to be released in June, and it was — for now, for Canadian users only.
The way this works is a bit similar to Facebook's 'Hide comment' feature: if you came across an unwanted reply to your tweet, you can click on the 'Hide Tweet' option to hide the reply from yours and anyone else's timeline. It doesn't mean that the tweet will disappear forever since others will still be able to choose the 'View Hidden Tweets' option on the tweet in question.
Twitter is testing Hidden Replies in Canada. pic.twitter.com/MeBFAOmqg8

— Jane Manchun Wong (@wongmjane) June 10, 2019
The feature might alleviate abuse on the platform and clean up one's timeline — however, some people might see it as an impediment to sharing opinions freely.
Twitter's multiple attempts to regulate negative aspects of the platform have come under fire from both sides: some people say that the company is not doing enough, others think that the platform should remain an unregulated town square, where all the ideas can roam the fields free of any control. Of course, Twitter is not happy with this Mad Max scenario, but hiding tweets is not the same as deleting them from the platform, which is important to remember when reading the following update.
Warning labels for controversial tweets from politicians
Speaking about being blamed for opinion silencing, Twitter is planning to introduce warning labels to tweets from world leaders which violate the platform's rules. As per the statement, the update was motivated by the desire for clarity around controversial tweets which Twitter allows to remain on the platform.
The platform's policy claims that if a tweet that breaks the rules is "in the public interest", it can remain. Twitter explains what "in the public interest" means:
By nature of their positions these leaders have outsized influence and sometimes say things that could be considered controversial or invite debate and discussion. A critical function of our service is providing a place where people can openly and publicly respond to their leaders and hold them accountable.
From now on, such tweets will be concealed by a notice — a screen you have to click or tap through before you see the Tweet.
The notice will not just conceal the tweet from your timeline, it will also prevent it from appearing in:
Safe search

Timeline when switched to Top Tweets

Live events pages

Recommended Tweet push notifications

Notifications tab

Explore
To get the notice you have to be a government official, have more than 100,000 followers, and be verified (and have some controversial opinions, of course).
The media immediately connected the new feature to president Trump's infamous tweeting habits. With the elections getting closer and closer, I'm sure you'll start seeing more notices like this in your timeline.
Last month Twitter really doubled down on cleaning up their platform - besides the aforementioned tweaks to its UI, it also simplified the rules to make them more transparent and understandable. The guidelines were trimmed to 600 words from the 2,500-word document they used to be and broke down into five sections: safety, privacy, authenticity, enforcement and appeals, and third-party advertising in video content. Each section contains straight-to-the point rules and links to further details.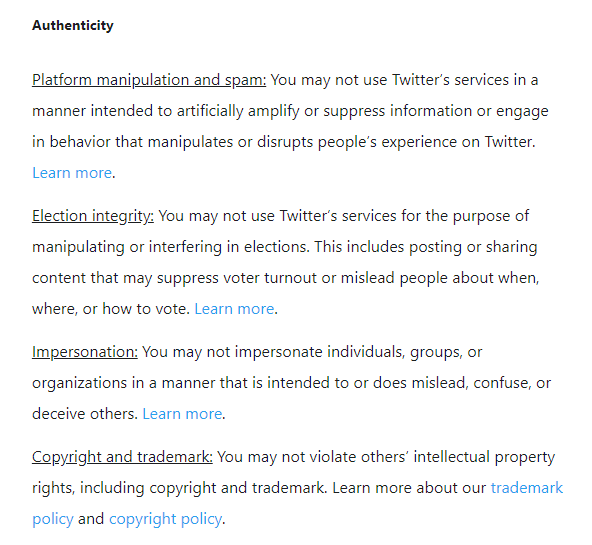 Twitter has long been under fire for its inability to handle hate speech and abuse as well as for allowing prominent neo-Nazis on the platform — and the reason for this could be the very same politicians whose tweets will now get warning labels. Allegedly, the algorithm that would identify and ban neo-nazi ideas could affect some politicians — however, Twitter denied these allegations.
As I see it, the fact that these tweets will not be promoted by Twitter's algorithm is much more important than the fact that you will now have to click through to read them. Nevertheless, I'm sure you'll still see Trump's hot takes in all the news outlets — after all, it's more of a question of the human psyche than UI.
Easier access to Twitter Lists
Customizable timelines that are easy to access? We're thinking about ways to do this! One idea we had is for you to be able to swipe to your lists from home. If you're in the test tell us what you think! pic.twitter.com/g5WMaNZ57N

— Twitter (@Twitter) June 25, 2019
Twitter Lists is an amazing feature which allows you to create custom timelines adding specific users. For example, one of the lists I check daily includes people and publications which share social media news: that's how I stay up to date. But unlike your regular timeline, Lists are quite difficult to get to from the main feed. Hopefully, this will change soon.
Last month Twitter revealed that they are thinking of new ways to make Lists more accessible, for example, in the GIF presented you see swipable Lists. Social media expert Matt Navarra also shared screenshots from TWTTR which present another way to switch between your main timeline and Lists.
Here's what Twitter's NEW multiple home tab timeline feature looks like...

You can add lists as new timeline feeds to your home tab pic.twitter.com/ufJcXRCKFg

— Matt Navarra (@MattNavarra) June 27, 2019
Personally, I prefer the second option — swipable feeds may require you to go through several Lists until you get to the one you want to check out. What do you think?
The ability to add precise location to tweets is gone
Even though a bit creepy, the ability to add your precise location to your tweets was pretty useful for live tweeting specific events and keeping up with local news. Last month, however, Twitter decided to remove this option due to a lack of usage.
Most people don't tag their precise location in Tweets, so we're removing this ability to simplify your Tweeting experience. You'll still be able to tag your precise location in Tweets through our updated camera. It's helpful when sharing on-the-ground moments.

— Twitter Support (@TwitterSupport) June 18, 2019
As noted in the announcement, you're still able to add precise geotagging in Twitter's camera. Tweets that are published via FourSquare and Yelp will also have geotagging enabled.
Facebook
Libra cryptocurrency announcement
The rumours were true (as they almost always are in the world of social media). In June Facebook officially announced Calibra, a new Facebook subsidiary for financial services.
The Libra cryptocurrency will be its first project along with a digital wallet fro said currency available in Messenger, WhatsApp and a standalone app. As stated in the announcement, the aim is to enable money transfers for "almost anyone with a smartphone, as easily and instantly as a text message and at a low to no cost". Eventually, Facebook is planning to expand the service to paying bills, making purchases offline and online, and paying for services such as public transport.
As pointed out in the announcement, Calibra is a separate entity from Facebook, and Facebook will not have access to your financial data if you use it.
Diving into the waters of financial operations, Facebook faces many challenges, from lack of trust towards the company to financial regulations of particular countries. But there have been successful examples of such ecosystem, most notably WeChat, so Facebook's bold quest to help people who don't have an active bank account seems a bit more realistic.
New ranking factors for comments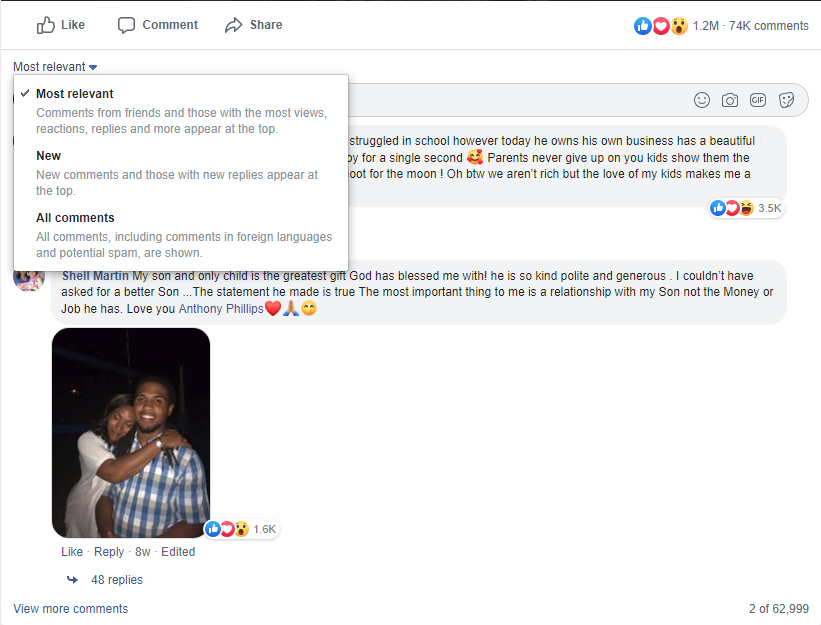 Just like your News Feed, comments on Facebook are also affected by an algorithm. You probably know already that the comments you see are not displayed chronologically. But do you know the ranking factors which affect the order of comments displayed? Last month Facebook added a few more to the list!
The ranking factors that have been in place before include:
Integrity signals: The comments that violate Community Standards or include engagement-bait and spam get removed.
What people say they want to see in comments: Facebook takes into account the results of User Surveys to identify what users want to see.
How people interact with comments: This includes people liking, reacting to, or replying to a comment.
Last month, two new factors were introduced. Now Facebook prioritizes comments that:
get interactions from the Page or person who originally posted, or
are posted by friends of the person who posted, or get reactions from friends of the poster.
If you or your Page has a lot of followers, Ranking is on by default, but you can always turn it off in the settings. People and Pages that don't have as many followers will not have comment ranking turned on automatically since there are fewer comments overall, but, again, you can choose to turn it on manually.
New ways to manage notifications
Facebook can be annoying in so many ways, and one of them is notifications. You know this red dot that appears on one of your tabs in the app to let you know that there are new videos on Facebook Watch. Well, seems like Facebook is finally doing something about them.
The update discovered by Matt Navarra introduces easy-access toggles to manage notifications and dots. You can now clear and mute all push notifications as well as choose whether you want to see Notification Dots and for which categories.
OMG...! Thanks Facebook!

- Mute push notifications toggle!
AND
- Mute notification red dots toggle!!
AND
- Mark ALL notifications as read!!! pic.twitter.com/sbIdjfOIwu

— Matt Navarra (@MattNavarra) June 25, 2019
The update is currently being tested with selected users and, according to TechCrunch reports, the feature is likely to see a broader roll-out — unless it results in a significant reduction in on-platform engagement.
WhatsApp tests sharing WhatsApp status to Facebook and Instagram
As you know, WhatsApp has a functionality that allows users to share text, images, and videos on your profile similarly to Instagram Stories. From the end of June, WhatsApp users see a new sharing option beneath their status, which can be used to post a status directly to their Facebook story or send it to another app like Instagram, Gmail, or Google Photos.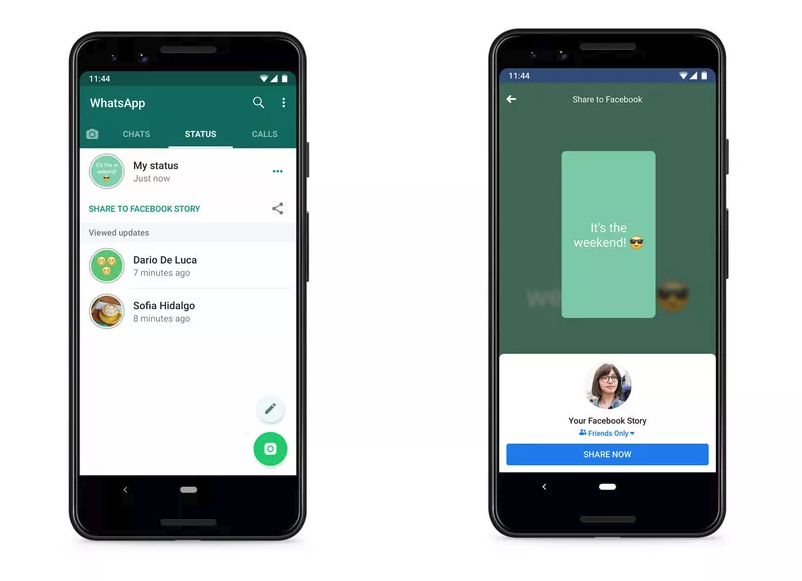 WhatsApp was very clear on the fact that it's not linking your accounts on the two services in any way, BUT, considering Facebook's intentions to integrate and unite all of its messaging platforms, this might be another step in that direction.
New preview option
As spotted by social media users, Facebook is testing a new preview option to let Page managers see how their posts will appear in a feed.
New! Facebook has a 'Preview' button for new Page posts

h/t @ahmedghanem pic.twitter.com/tNcqzyYBWo

— Matt Navarra (@MattNavarra) June 17, 2019
As you can see from the images, once you click Preview, you'll be taken to a new preview window, which shows you how your post will look in mobile and desktop format. This feature could be of great help for social media managers to manage their posts. Of course, you can already do this, in large part, via the existing Page publishing tools — if you schedule a post, you can view it from your scheduled list and see what it's going to look like to your Page fans. But if you're publishing at the moment, you'll often skip that step. This would enable you to maintain awareness of how your posts are going to look in all instances.
New 'Top Fans' targeting option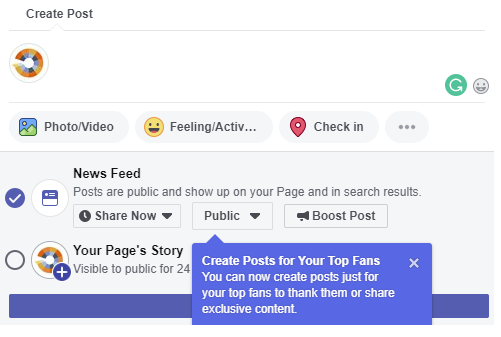 As reported by Social Media Today, Facebook introduced a new option for Page posts which allows you to create content specifically for your Top Fans. The posts targeted at Top Fans won't be visible to regular followers. This feature could be used to grow brand loyalty and build relationships with your most passionate customers.
Of course, the Top Fans badge is only available to Pages with more than 10,000 followers and you need to have Facebook Badges enabled.
Simplifying business Page Info
Facebook announced that starting August 1st it will remove the following sections of your Page Info:
Mission
Company Overview
Biography
Affiliation
Personal Interests
To be perfectly honest, most of these sections feel redundant: do people really need to see your personal interests on your business Page? This update might prompt page managers to revise their Facebook Page description and possibly integrate something from soon-to-be-gone fields in the company overview.
Instagram
Introducing ads in Explore tab
Now what you might have thought: oh, now I'll start seeing Instagram Ads when I click on the magnifying glass icon is not entirely true. As per Instagram's announcement:
We're introducing ads in Explore slowly and thoughtfully in the coming months. After tapping on a photo or video in Explore, people may begin to see ads as part of their browsing experience just like in the main feed.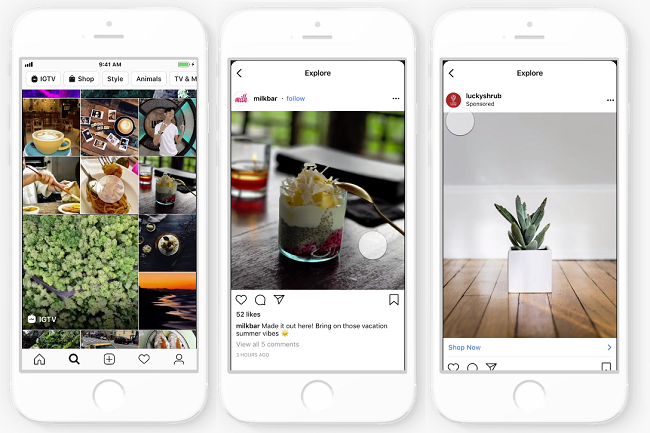 That means that you'll not see ads pop up on the main screen in Explore (for now). But you might come across a few if you scroll through a couple of posts, which could be better for targeting. Advertisers will be able to extend their on-platform ad campaigns to Explore by using automatic placements and opting into the new 'Explore' option.
Saving content captured with Stories camera
This is something that will surely make Instagram marketers happy: now Instagram Stories save any image or video you take in-app for seven days.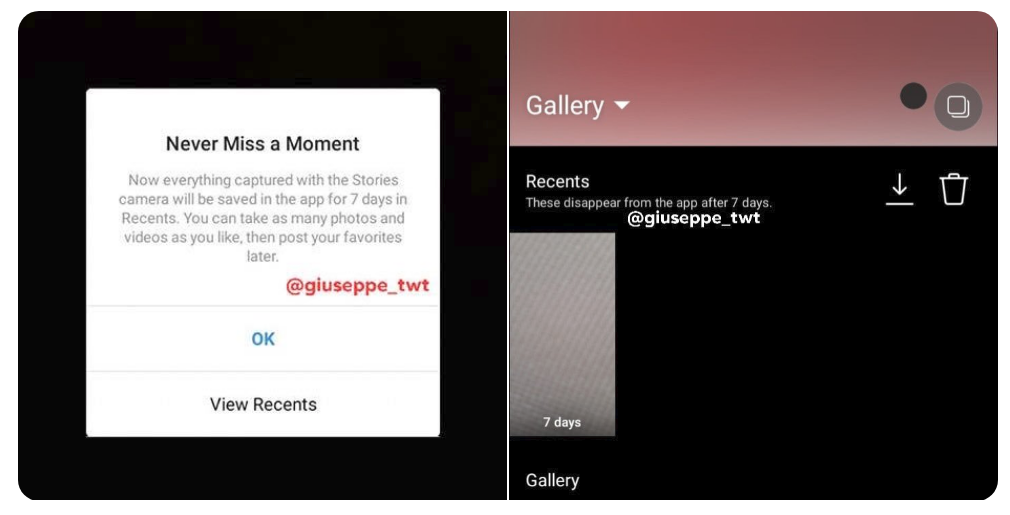 As Instagram suggests, you can now choose the best photos out of a bunch and post them or take a photo/video and save it for later (possibly, when the majority of your audience is online). Of course, you could already do this in some capacity with your own Camera Roll, but this will be native to Instagram, making it a little easier to do and allowing you to access the content you took on a different device (extremely useful if there's more than one person managing your profile).
'Stop motion' tool for stories
Discovered by social media hacker Jane Manchun Wong, Instagram might introduce a new way to create video content in Stories — without actually filming a video.
Instagram's new Stopmotion Story Camera Mode hands-on demo pic.twitter.com/AoICLYLzOd

— Jane Manchun Wong (@wongmjane) June 22, 2019
The new tool will enable you to create stop motion videos from pictures. You can add up to 10 frames per video. The tool would impose the previous frame on the next one creating a cool ghosting effect. This could be a great way to show off your product from multiple angles or create a narrative with 10 images or less.
It's unclear when the tool will roll out, but since it's basically ready for use, we can expect this update pretty soon.
Group Stories?
At the end of June Adam Mosseri, the head of Instagram, shared a Story from your usual day at the office — but social media managers pricked up their ears. The reason is that one of the slides at the presentation Mosseri attended included two mysterious words: Group Stories.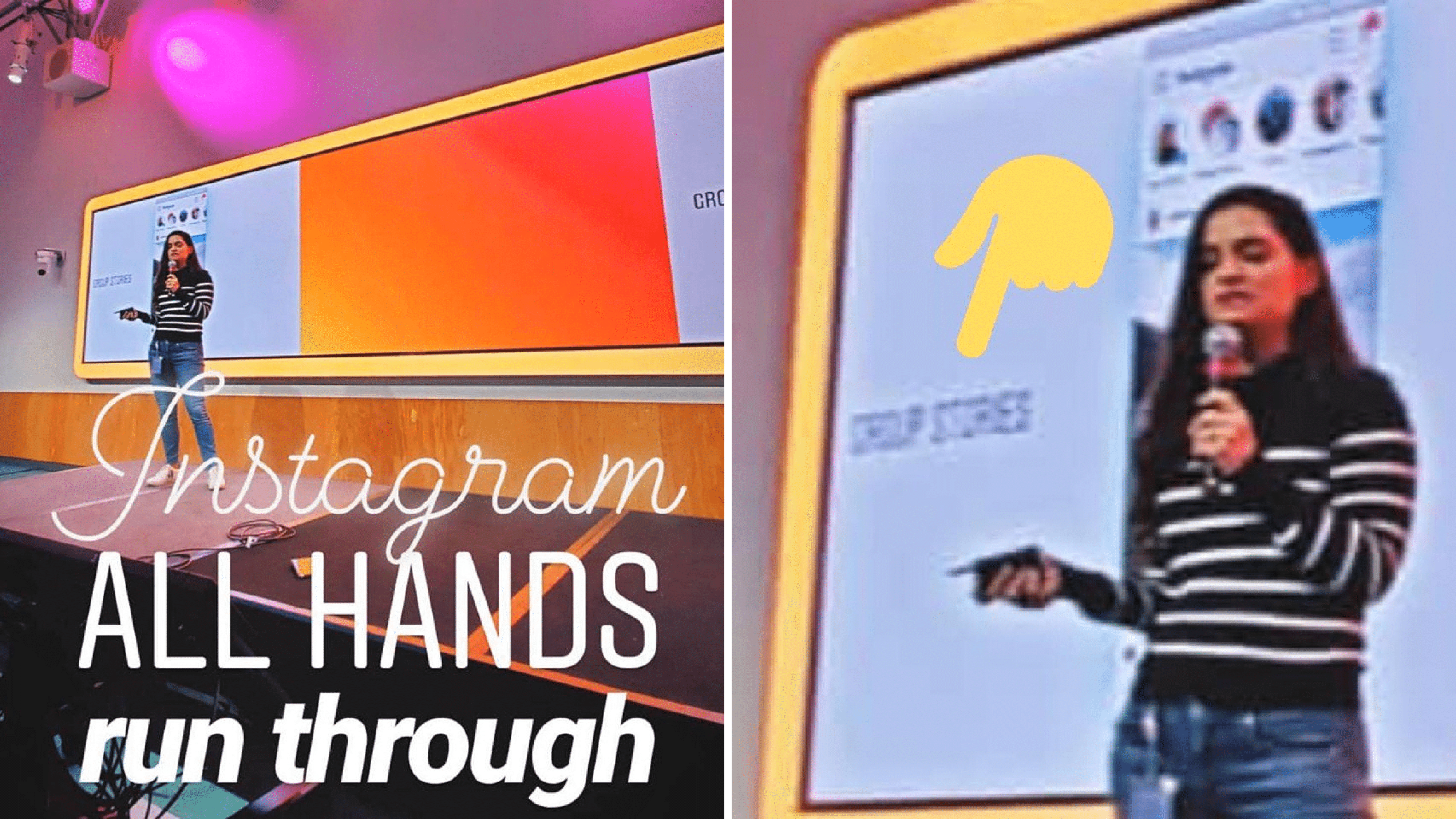 Now, we don't have anything besides this mere screenshot, so it's hard to tell what Group Stories will actually be: crossposting of FB Group Stories to your Business Profile on Instagram; the feature that allows a group of users share Stories; or something else entirely. The latter would be much more interesting to see, but you can suggest your own theories in the comments.
LinkedIn
Algorithm changes
In the continuous stream of algorithm updates, it's finally LinkedIn's turn! Now LinkedIn will put more emphasis on the posts that trigger constructive back and forth rather than viral posts. In the dedicated blog post, LinkedIn explains that they use the "People You Know, Talking About Things You Care About" when deciding which posts will appear in a user's feed. To put it less poetically, LinkedIn's ranking algorithm takes into consideration the following factors:
Their connections
Who they've interacted with directly
Who they've worked with
Who they have shared interests and experiences with (based on information in their profile)
The LinkedIn feed may also surface posts from people a user is not connected with if they're relevant to the user's professional interests.
In the same blog post, LinkedIn suggests some tips that can help you boost your reach: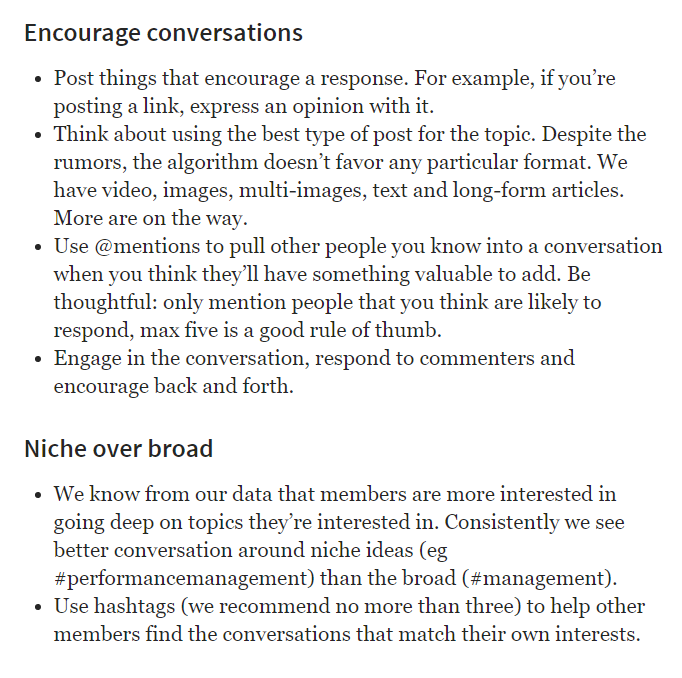 Custom CTA buttons for pages
LinkedIn added five new options for the CTA button on your page. You can now choose one of the following calls to action:
Contact us
Learn more
Register
Sign up
Visit website
It could prove to be a particularly helpful tool, with the capacity to guide LinkedIn company page visitors to a more specific outcome, rather than a basic re-direct to your website.
Along with this feature, LinkedIn announced some more improvements: Communities Hashtags, which allow you to associate your Page with relevant hashtags, and Mobile Admin editing so you can edit your Page info from mobile.
LinkedIn promised to release new features once a quarter, so I'm sure, we will see even more interesting updates from the platform in the future.
In conclusion, seems like the beginning of the summer was a month of small updates and future plans for social media platforms. Which update interest you the most? Do you think Libra coin will take off? And what could Group Stories mean after all? Let's discuss in the comments!