4 tips for improving your content creation with social media monitoring tools

Summary
Writing lots of posts and articles but seeing no sign of follower activity? In fact, social listening tools can enhance your content creation and make it engaging for your readers. In this, article we will dive deep into 4 tips that boost your approach to content development. Take a look and add it to bookmarks.
On average worldwide, people spend 147 minutes per day, that's 2.45 hours or 10.2% of their day on social media. That's 147 minutes of opportunity to utilize your content creation genius to connect with your customers. If you've created social media for your business, but your follower engagement is still low, you're probably wondering—what's going wrong?

The truth is social media marketing content creation is an art that requires a lot of effort and creativity before it starts winning your followers' hearts. Unless you luck-out and go viral, that is. So, then how can you improve your content so that it breaks through the social media noise, attracts more followers, and engages them in your brand?
There is an infinite amount of advice on creating social media content. But we've cut the wheat from the chaff and collected the most valuable tips on how to improve your social media strategy with social media listening tools.
What is social listening?
Before we get to the social media content tips, let's find out what social media listening is and why you need to use it for your content creation strategy.
Social media listening, aka social media monitoring, is a strategy where marketers use special social listening tools to better explore the social media environment. Social media listening tools are the perfect companion for those who once dreamed of becoming a professional spy when they grew up, but became marketers instead. Today, they help marketers to:
Learn the recent news and explore the latest trends showing up in a particular industry

Explore how your potential customers feel about your brand and your marketing campaigns

Find out what people talk about you and your competitors all over the web

Aggregate the recent posts and activities your competitors or social media influencers put online.
With these tools, you'll receive the most detailed and latest information about all that's happening around your brand and your competitors. Moreover, you'll be able to track all the recent marketing campaigns held in your business niche. This can help you broaden your experience with diverse content-creating strategies, making it much easier for you to craft posts and activities that really hit the spot.
Effective content creation strategy tips
Now you know the purpose, how can you unlock the secrets of social media listening? Here are the 4 most effective strategies for content creation using social media listening. Try them out to gain valuable insights and turn your social media content into a must-read for your followers (and potential ones too) that will drive them to engage with your brand.
Tip No.1: Track hashtags
Social media listening tools crawl the web and social media sites and gather all the mentions about your brand or competitors that users have ever placed online. As a result, you can end up with over 5K social media posts you'll spend days reading to find tidbits of valuable information you need.
Hashtag tracking can help you to narrow down your search to several features and receive the most recent and relevant mentions of your brand.
Here is an example of how you can do it in Awario.
We've created a new project with three sportswear brands–Kappa, Adidas, and Nike.

For Kappa and Adidas, we've put just one keyword, and a brand hashtag: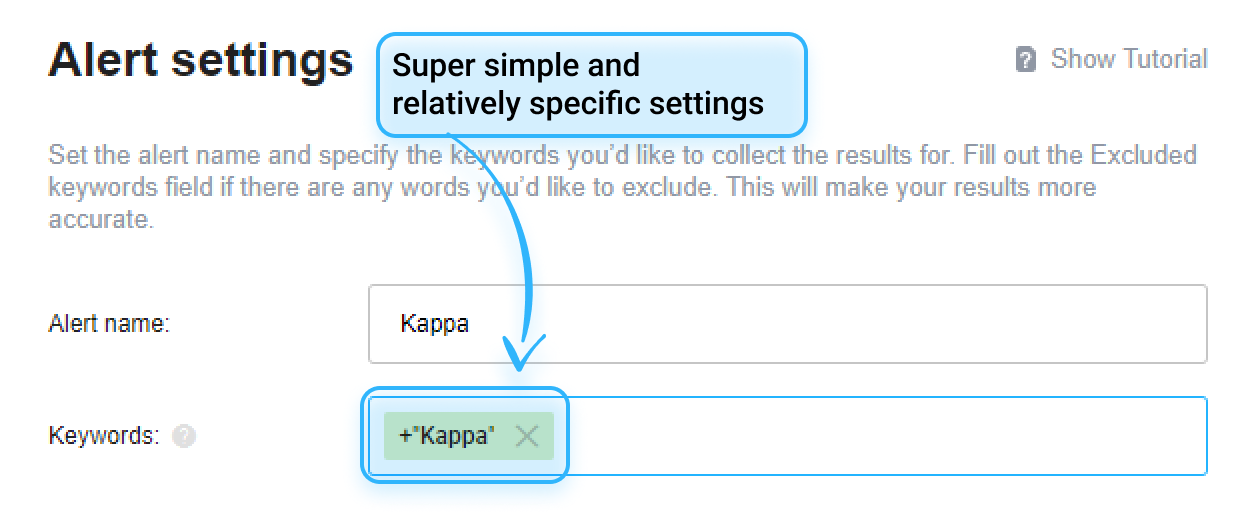 As a result, we've got a different number of mentionings at the start–—5K mentions with many irrelevant results for Kappa and Adidas and 500 more specific posts for Nike. The more hashtags you add to your search the more detailed results you get. Precise search results can help you stay updated with the latest news and posts about your brand and products put online. Based on this data you'll easily plan your future marketing campaigns and timely provide support to your customers. So, take your time and think about which keywords and hashtags you could really add power to your keyword search.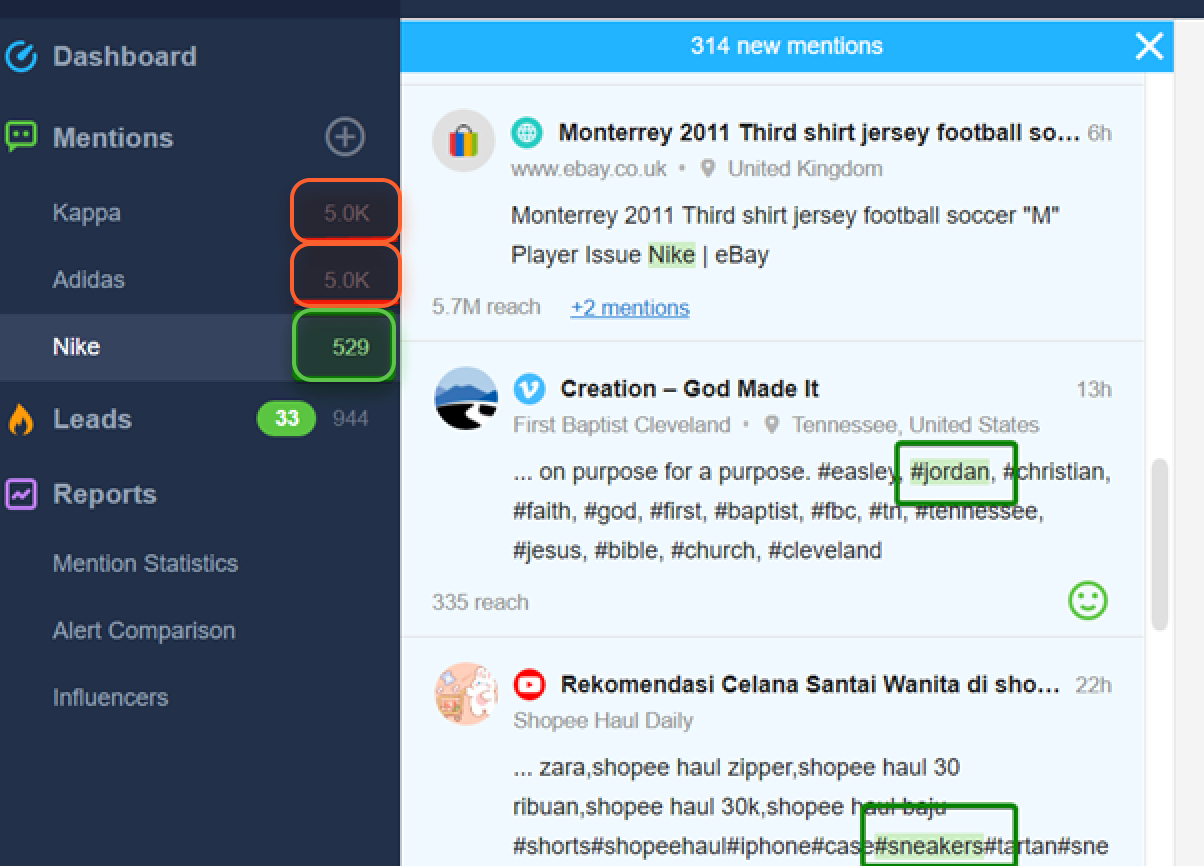 Now, it's time to review all the gathered posts and see what your competitors do to improve their content on social media and how their customers react to it. Did you find the winning secret? If not, don't worry, dust off that keyboard and try those keywords again.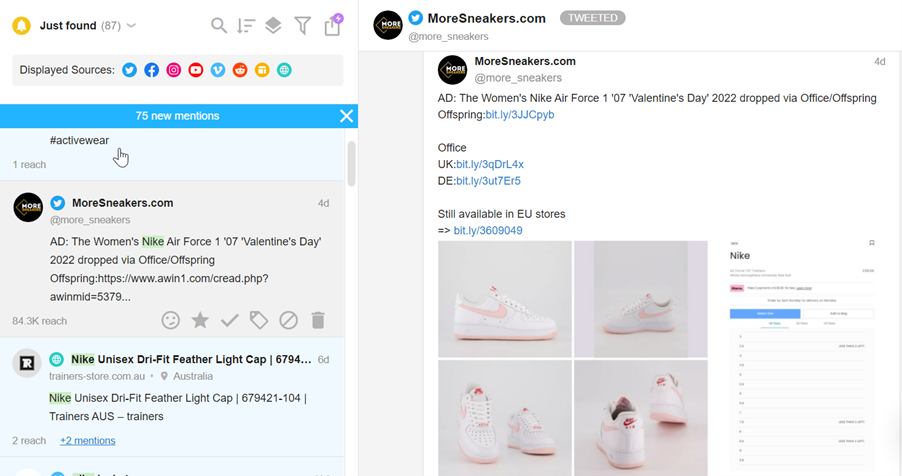 Tip No.2: Monitor industry keywords
Monitoring keywords is another effective strategy to learn what's happening in your wider business sphere. For this, many social media monitoring tools include a word cloud tool. The tool provides a visual representation of the most popular words associated with the industry. This can be effective both for B2C and B2B content creation as using word clouds you better realize the particular needs of your audience.
Awario also has its own word cloud. Here is what we've found out using Awario's Topic Cloud about the sportswear industry. To do this, we've compared Adidas and Nike by their word clouds generated by the Awario app.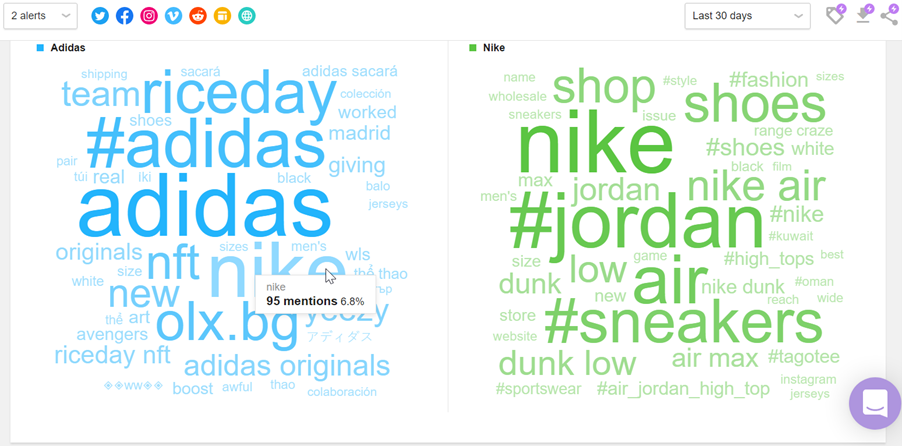 As you can see, for Adidas followers Nike is one of the main competitors with 6.8% of mentions on the web. Meanwhile, Nike fans are interested in the Nike Air Jordan brand the most. Does it mean that Adidas is the second most popular in the world? Not quite. For example, Bulgaria as olx.bg is among the word leaders in the Adidas topic cloud.
To make our search more relevant we could go further and define some odd words in the cloud. These words we can put into "Excluded keywords", making it even more precise.
Use the words from the Topic Could to improve your website content or as hashtags for your posts on social media. This way, you'll become more visible to your present and potential customers when they search for product information in Google or social media search bars.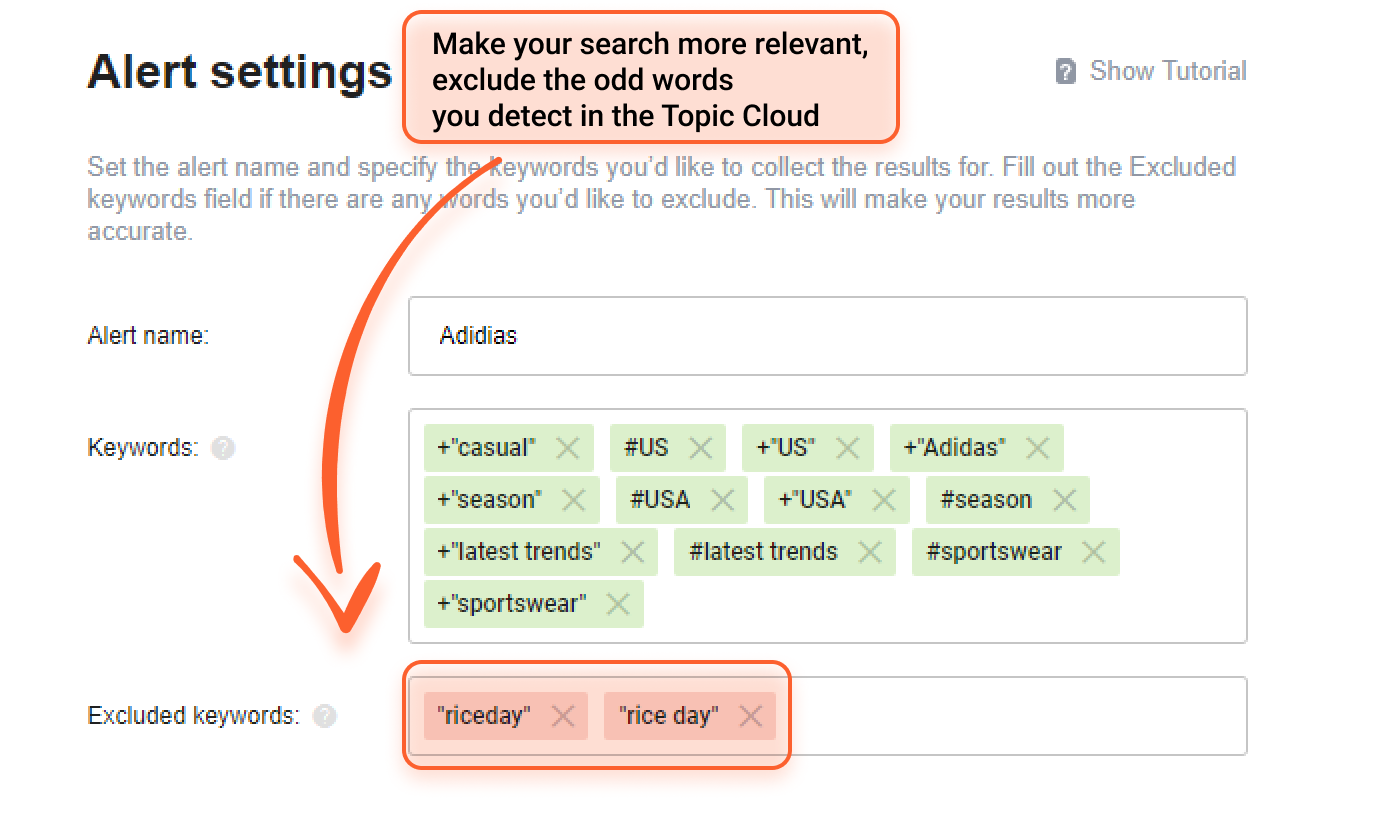 Tip.3: Make your content relevant
Making your content relevant means running marketing campaigns that resonate with your target audience. But, how to find out what your audience wants to hear from you and how to communicate your message in the best way possible so you know that they're listening?
With social media listening tools, you can simply learn how your audience reacts to your messages and posts. In Awario, it's possible to track customer sentiment. The app processes the gathered data and labels some of the posts with positive or negative smiles that correspond to the emotions expressed in a message.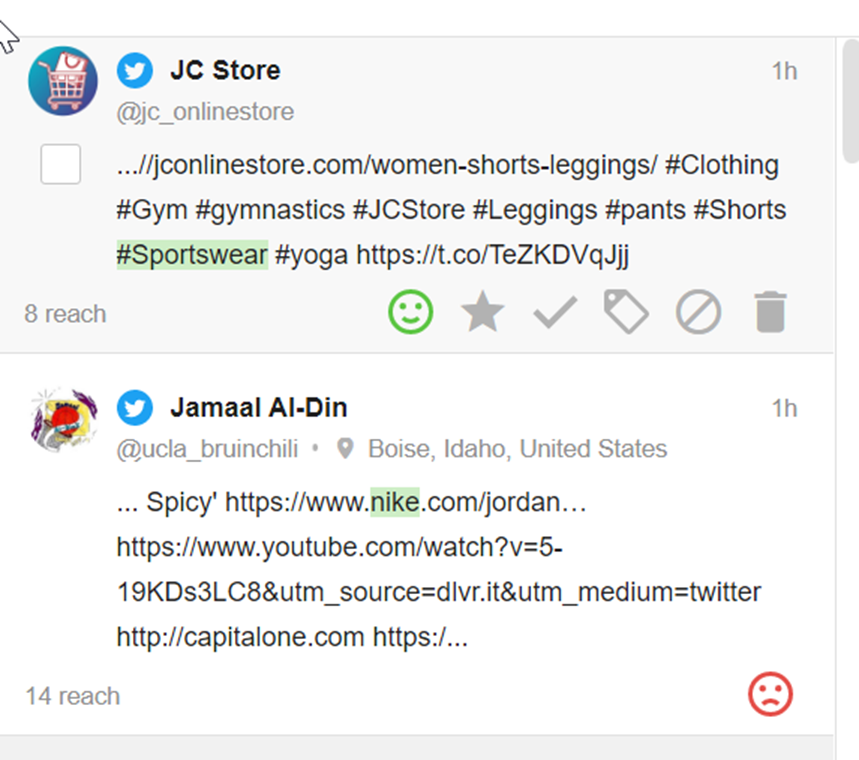 This way, you can quickly check the message and develop an action plan on how to react to it. Maybe you need to quickly jump into the conversation and provide some much-needed customer support or simply answer with a joke to ease tensions and save your brand's reputation.
You can use the keywords from Awario's Topic Cloud or use special SEO tools. Alongside using tools from keyword selection, they can also help optimize your website and minimize the number of web errors. This will make it more likely for your business to appear on Google and other searches and drive more organic traffic for your company.
Tip No.4: Leverage user-generated content
Customers and influencers generate a lot of content online and your brand can become a topic of discussion even when you don't make it a part of your marketing campaign. You've got to be well-prepared to resolve any negative issues as well as to know how to work with the positive ones. While they may say all PR is good PR, this doesn't always work in real life.
Instead, try to turn the narrative around. Use the creativity of your loyal followers and influencers by leveraging their content in your posts. Try to engage your audience in active discussions using humor or popular subjects.
For example, Adidas shows its support of the PeacocksMBB basketball team on Instagram, gathering 21.1K likes, whereas Nike creates great posts about people with disabilities in sports and tells their stories.
Meet your personal social listening assistant.
Try fully automated, 24/7 brand monitoring with Awario for free.
By signing up I agree to the Terms of Use and Privacy Policy
Putting social listening into action with your content strategy
Now you know about some of the great tools you can use and how they can affect your content plan, let's learn how to put them into action. Here are some top tips for best practices in content creation today.
Stay on brand – follow all your brand mentions in real-time from every corner of the web by utilizing social media listening tools.

Keep user intent central to your strategy – stay updated with your customers' wants and needs by carefully monitoring their activity online and anticipating their expectations.

Don't be afraid to get creative – learn more about your competitors' marketing strategies by monitoring their marketing campaigns and build your own based on that knowledge.

Ensure consistency across your channels – monitor your brand activities on various social media sites and ensure that the data they provide is consistent and relevant.

Post often, but not too often – with social listening tools you can track how often your brand posts appear online, and make a schedule to treat your followers with great content without any information overload.

Don't forget to reply – be proactive and interact with your followers across all the social media sites, answer their questions quickly, and provide customer support when they need it.
Next steps for content creation
With great power comes great responsibility, so what comes next and how can you engage these tools and ideas for your brand? Depending on your internal resources and capabilities for hiring an outsourced team, you may consider implementing these processes in-house or via content creation services providers. No matter which you pick, by keeping social listening at the heart of what you do, you can stay on top of audience demand and boost your brand's popularity.
Enjoying the post? There's more.
Sign up for our newsletter to get our best content by email.
These tools help to detect and gather the most recent trends, hypes, and topics. Based on this data, marketers develop their own ideas and create the most fascinating content that makes their audience tick. All you have to do is bring your creativity and make success a reality.
With Awario's handy toolkit, you'll be able to carefully listen to the most popular networking sites, track the activities of your competitors, and gain informative insights on how to improve your content so that it makes its way into the minds and hearts of your followers.