What is social media monitoring: everything you need to know (and best social monitoring tools to start)

Article summary
In this article, we explain what social listening is, how it works, how to use it in your social media marketing strategy, and give some social media monitoring tips and a short list of the best social media monitoring tools to start.
14 minute read
The truth is, if you're not engaging in social listening, you won't be able to help customers, you won't reach those who're interested in your products, you won't find new social audiences, and you'll be completely out of the loop in your industry.
That doesn't sound like an effective business strategy, does it?
A lot of marketing managers and businesses ignore social media monitoring because of the assumed complexity of the process.
I can assure you that a social media monitoring strategy is one of the simpler (if not the simplest) elements of social media marketing to learn. Actually, it saves you a lot of time and effort and helps you manage social media and marketing activities. You'll definitely see incredible ROI if you try it.
In this article, I'll guide you through the concept of monitoring social media, and its use cases, I'll explain how to do media monitoring and listening, and list the most popular social monitoring tools to do it.
Now let's go into the details and start with the first question: what is social media monitoring anyway?
What is social listening (and what is social media monitoring)?
The basic definition is that social media monitoring is the process of applying a social media intelligence tool to track assigned words or word combinations, and phrases, which are called keywords, on social media.
Essentially, you "listen" to the social media noise and find conversations relevant to your business goals. Simple, right?
If you were paying attention, you probably noticed that I keep altering different terms, such as "social media intelligence", "social listening" and "social media monitoring". Social media listening, like some crime novel writers from the XX century, has many aliases including but not limited to:
Online Analytics

Social listening

Social media monitoring

Buzz Analysis

Social Media Measurement

Social Media Intelligence
That's one of the reasons why it can be hard to provide one robust definition.
Most specialists agree that social media monitoring is a part of listening: social monitoring triggers an immediate response (you see a post and respond to it), whereas social listening is that plus analyzing collected social data and customer feedback, identifying marketing trends, and implementing the insights in your social media strategy. You can read more about the definition of monitoring vs listening in our blog post.
Think about it this way: by using social media monitoring, you can understand whether your customers like the shoes you sold them, while listening helps you understand what kind of shoes people like, how and when they buy them, and so on. Social media analytics reports based on monitoring can tell you how many positive reviews you got, and social listening reports explain why they are positive.
So it's not just analyzing customer feedback: it means proactively looking for trends and social feedback on your competitors to benefit your brand. You then integrate this social media analysis into your business strategies, therefore improving your performance on social media.
In this blog post, however, I'm going to use those terms interchangeably.
Sign up for a free Awario trial
See Awario in action with a free 7-day trial. No credit card required.
By signing up I agree to the Terms of Use and Privacy Policy
How do social listening tools work?
To put it simply, monitoring tools get relevant conversations containing your keywords in real-time and gather them in one dashboard.
The "real-time" aspect of online monitoring is very important – 60% of customers expect brands to respond to them within an hour.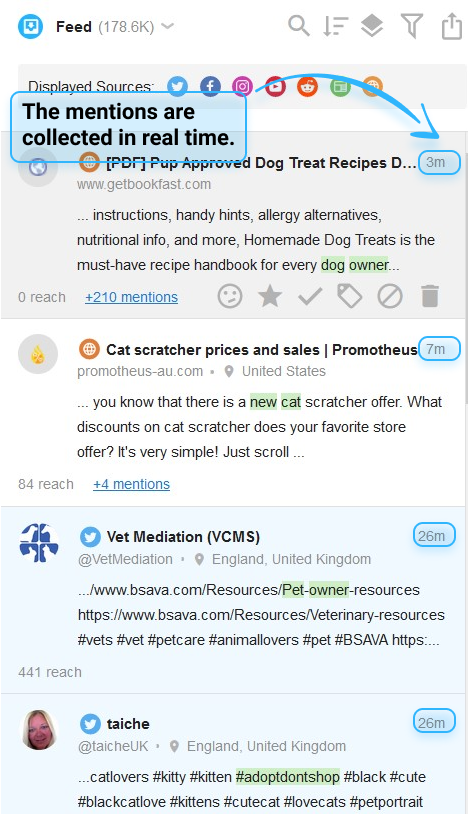 That's why real-time monitoring is oftentimes a must-have for any social media monitoring tool. It's necessary to process the data quickly.
Relevancy of the social media content you find is also highly important – you don't want to spend your time browsing through irrelevant posts and measuring the social media performance of some other brand or concept.
In order to get social listening data, tools usually connect with social networks through APIs, making it possible to monitor publicly available information. It only shows the data which users choose to share with the world. Tools cannot access private groups, posts, or messages.
With that in mind, the definition of "publicly available" varies on different social platforms. Some social networks consciously restrict access to their social media channels for software and APIs to certain parts of the platform. For example, Facebook will let you monitor public pages, but personal accounts and closed groups are beyond your reach.
Once an app got all the relevant data, it's able to analyze it through various categories starting with social engagement and ending with demographic insights.
At this stage I have to confess something: even though we're discussing social media listening, usually a social media monitoring service doesn't just monitor social media channels — it also gets mentions from the rest of the web.
For example, besides social networks, Awario also monitors forums, blogs, news, review platforms, and the rest of the web.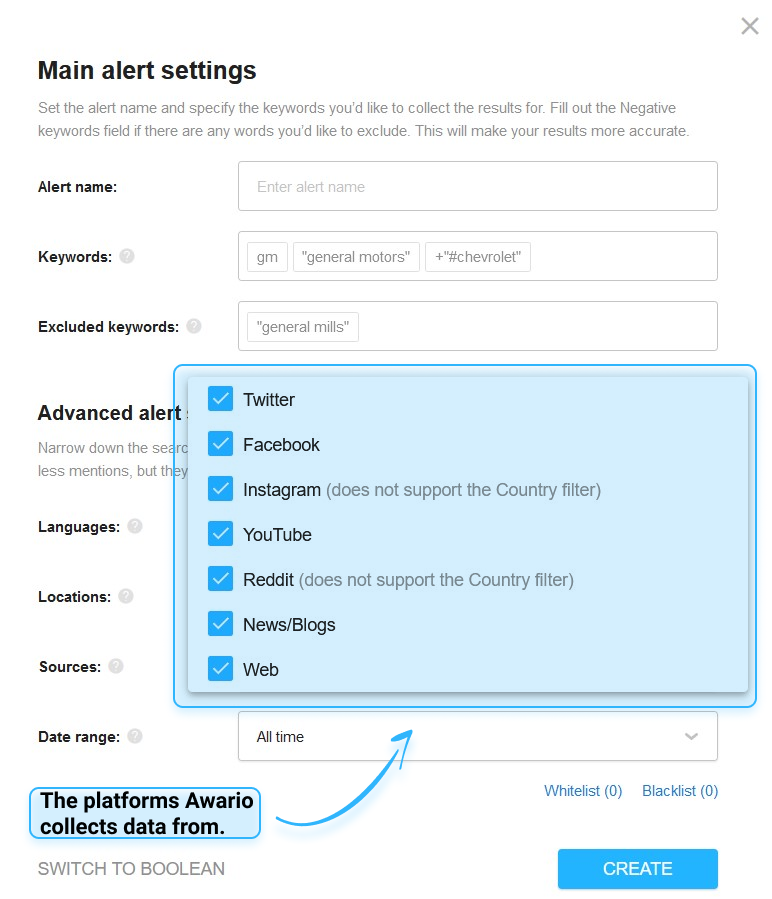 To monitor the Internet you can choose between using a third-party online monitoring provider or having your own crawlers, which is just a slightly creepy name for search bots.
Awario uses its own crawlers, so you can guess which one we think is more effective. Actually, we've been working on our crawlers for 10 years already with our colleagues at SEO PowerSuite.
The bots continuously crawl sites and index them. Once it's done, these pages are ready to get monitored! The tool prioritizes websites based on their importance and crawls them accordingly: some websites are monitored in real-time, some every 5 minutes, and some every two hours – you get the idea.
The data is gathered based on the keywords you provide: these can be brand names and hashtags, product names, key personalities in your company, public events, and so on.
So now that we've answered the question "What is social media monitoring?",
let's talk about What it's not.
It is not a simple word search.
I say the process is simple, but it's not that simple. When crawling, social media monitoring tools take many different parameters into consideration: date range, location, duplicated mentions, spam, and other search details, in order to give you the most relevant results.
Moreover, with such features as Boolean operators, you can create refined and sophisticated search queries, which allow you to get only highly relevant mentions.
It is not simply gathering mentions.
That wouldn't be fun at all! Most tools offer something more than just gathering mentions. For instance, Awario groups mentions according to different parameters, analyzes the collected data, categorizes mentions, compares several alerts, builds reports, etc.
It is not just for brand monitoring.
There are so many ways to use social media monitoring apart from boring brand monitoring. Of course, it does this job perfectly, but there's so much more you can do with an effective social listening strategy.
Benefits for businesses
But is there really a need for it? Well, for starters, people expect you to listen. Your customers, both current and potential, are already on social media, trying to reach out to you. Without social media monitoring platforms, you're just ignoring them.
Some digital marketers might believe that there's no use in specialized tracking tools – most platforms alert you on the website when you get tagged mentions anyway. But the numbers suggest the opposite: 30% of tweets including company names don't include their Twitter handle. That's nearly a third of your audience! And that's with Twitter's tag-friendly UI! Imagine what's happening on other social media platforms.
We have many examples when social media monitoring tools were able to save someone's reputation or uncover customers' pain.
However, even those who understand the importance and value of a social media monitoring service sometimes don't deploy it to its full potential. One of the biggest misconceptions is that such tools are only good for monitoring your brand mentions.
As a good marketing professional or just as a logical human being, you probably understand that the power of marketing lies in customer insights – the more you know about your target audience, the better your customer strategy is, the more profit you get, and the better the engagement rate is. The Internet is objectively the biggest source of information in the world.

But how do you find relevant information in this ocean of data? The answer is, obviously, social media monitoring tools. They can provide tangible insights about your business and your customers.
By using these tools, you can both react to immediate triggers and see the bigger picture. They help you understand how your customers' opinions change over time and show you how to adapt your future strategy accordingly to gain more engagement.
Your mentions are almost here!
Fire up brand monitoring and see Awario fetch social data in real-time.
By signing up I agree to the Terms of Use and Privacy Policy
For a social media marketer, a social media monitoring tool is a true Swiss Army knife with as many use cases as you can think of. There is no single benefit of social listening: it can solve multiple social media marketing and business problems at the same time.
I'll let you in on a secret: you can apply social media listening at every stage of your business journey, from product development to HR management. Moreover, it can help you plan out these stages.
It can have a positive effect on the following aspects of your business:
Brand monitoring

Social customer support

Social selling

Social sentiment analysis

Influencer marketing

Social audience analysis

Campaign monitoring

Reputation management

Crisis management

Collecting customer feedback

Content curation

SEO

Blogging
3 best tools to start
The market of social media monitoring software is extremely diverse: you can find specific services for any budget and any needs, from free brand monitoring software limited to one platform to an all-in-one social analytics tool or even a social media management platform.
It might be difficult to decide what app will fit your business best and figure out how to optimize it for your social media marketing strategy.
I wrote a small overview of social media monitoring tools with some tips on how to choose the best tool for you. Here are three apps at different price points (including trial options) and with different functionalities.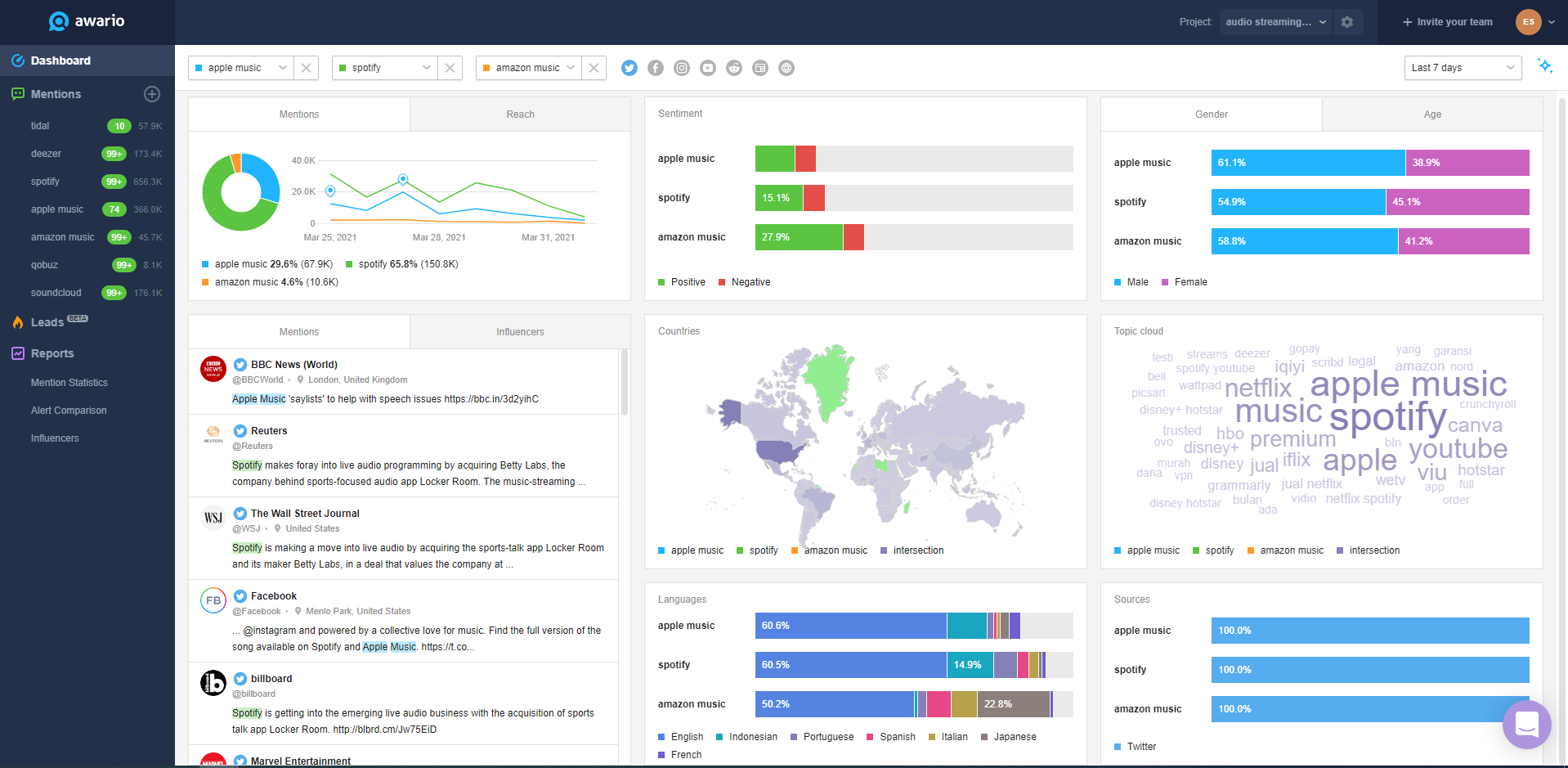 Social media platforms: Twitter, Facebook, Instagram, YouTube, Reddit, blogs and news and reviews websites, the web
Yes, I am a bit biased, but I believe that Awario is the best example of an affordable but powerful tool with Enterprise-level capabilities.
Many tools focus either on monitoring or listening, i.e., they either showcase individual mentions or analyze large amounts of social data and present visualized insights. Awario does both.
The tool offers various ways to customize and tweak your listening strategy. In addition to an elaborate system of monitoring features and filters (location, languages, date range, etc.) you can switch to a Boolean search mode where you can create long detailed search queries. You can set up the tool to notify you of the new mentions via email or push notifications.
Moreover, you can set up team access with different levels for team members so your colleagues can use the tool as well. The mentions are available in the Mention Feed.
The Awario Leads feature helps you find potential clients online through examining their public requests for advice or assistance.
Awario's analytics include demographic data such as gender and age, social media reach, social media trends discovery, and more. There also features that enable finding influencers.
Awario has three types of social media monitoring reports you can share with your team and stakeholders: Mention Statistics, Alert Comparison, and Influencers.
The Mention Statistics shows you all the data around your mentions: the number, reach, locations, languages, and source of posted mentions as well as the social sentiment around your keywords and topics associated with them. In addition to that, it gives you tons of demographic data on your social audience: their age, gender, where they live, and so on.
As you can guess from the name, the Alert Comparison compares up to 15 alerts (clusters of keywords and keyword combinations). It includes all the key social metrics mentioned above as well as the Share of Voice. Moreover, you can differentiate between your social share of voice and your media share of voice, which helps determine where to put your attention.
You can benchmark your brand against your competitors or find out which hashtags perform better on social media.
The Influencers report shows you the influencers who mentioned your keywords for each social media platform and ranks them by influence and the number of relevant mentions.
All the reports are custom and you can choose what analytics you want to include when you build them. They can be shared via a link or downloaded as a PDF file.
There are three plans that you can purchase, Starter, Pro, and Enterprise, and they vary on how much data you need to process.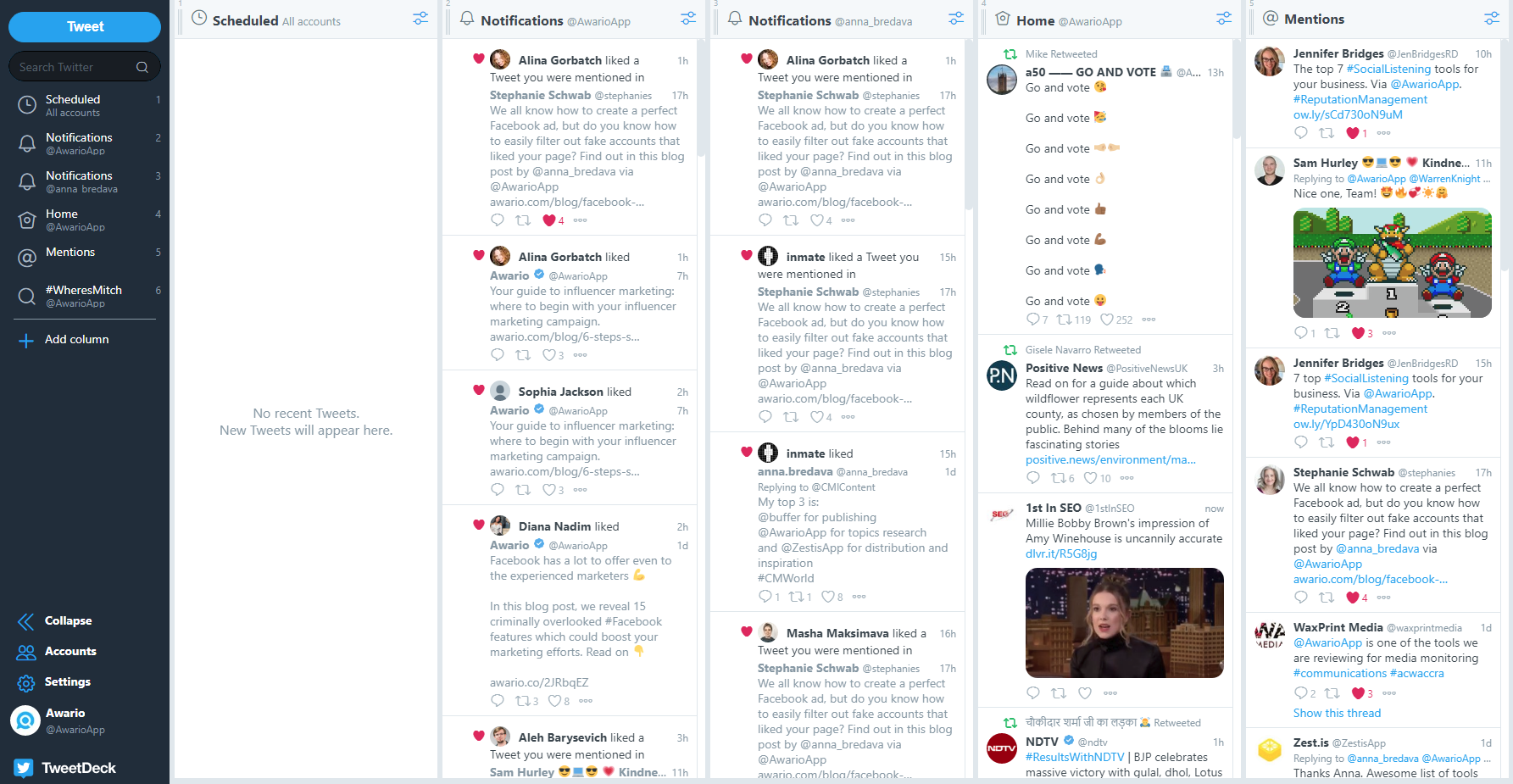 Social media latforms: Twitter
The best thing about Tweetdeck is that it's free, the worst — it doesn't monitor social media networks en masse, it's limited to only one platform.
Tweetdeck is an official Twitter software that makes managing Twitter easier. Essentially, it's a social media management tool, it enables you to schedule and publish tweets, check Twitter feeds from various accounts, and so on. Along with scheduling features, it includes social media monitoring features.
Basically, you can create a stream of all the tweets containing your keyword. Every time it's mentioned in a tweet, it will appear in the stream (excluding private profiles). You can also see all your social engagement flow in one convenient feed and run publishing from multiple profiles at once.
This social media monitoring tool is quite intuitive and doesn't require much time to work out. Thus, if you're marketing on Twitter and need free and reliable social media management solutions that can also find relevant tweets and comments, check out Tweetdeck!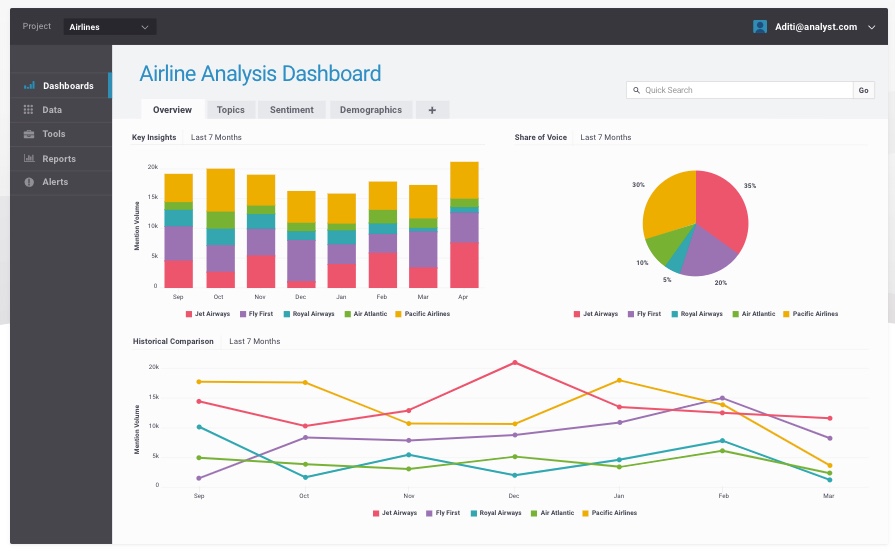 Platforms Facebook, Twitter, Instagram, YouTube, Pinterest, Sina Weibo, VK, QQ, news and blogs, and the web.
Brandwatch is "the big guns" of social data analysis meaning it's a purely Enterpise-level solution. It consists of three different platforms that use social data to give you guidance on your marketing decisions.
Brandwatch Analytics, as it's clear from the name, analyzes social media mentions and segments them based on a variety of filters and criteria. It also implements AI technology to notify you whenever there's a sudden change in the sentiment or number of mentions. It enables custom reporting so you can adapt its analysis to your needs.
Brandwatch Audiences' main goal is to do detailed research into your potential audiences. It gives you access to a database of more than 450 million people, which you can search based on various demographic data and relevant keywords. Once you find the potential audience Brandwatch will show you how to reach them: what they talk about, what influencers they follow, and what interests they share. You can compare up to three audiences to see what makes them unique.
Brandwatch Vizia will guide you through the tricky process of reporting on the analyzed data. Not only does it visualize the insights you get from Brandwatch software, but it also integrates your Google Analytics data so you can see the full picture. It also shows you who saw your reports and how many times they viewed them.
All in all, Brandwatch is perfect for a large social media agency or in-house social media teams in need of an all-encompassing social data platform.
Each Brandwatch plan is customer but you can sign up for a free demo.
Let's say you chose a tool - what's next?
Now you start your media monitoring journey! If I may, let me offer you some tips and social media monitoring examples to improve your experience.
Social media listening tips for your business
1. Choose the right keywords to monitor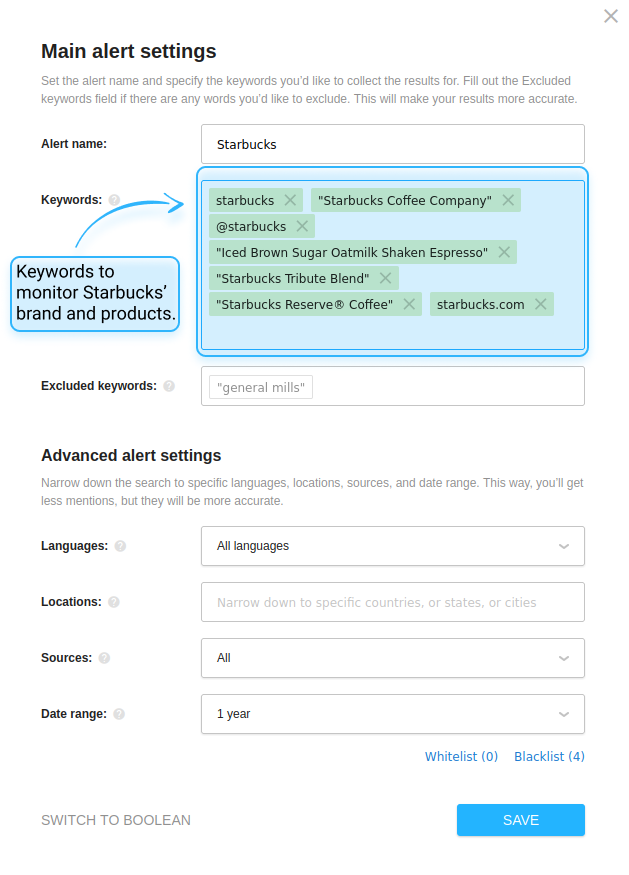 Half of the success of your strategy depends on the right keywords.
Since monitoring platforms collect data based on the keywords and keyphrases it contains, the phrases you put in are the basis of your monitoring. They will depend on your goals: your brand name for brand monitoring, competitor names for competitor analysis, product names for market research, events for event management, and so on.
Remember that you can always go back and add or delete certain keywords if you are unhappy with the results you're getting.
2. Don't forget to add misspellings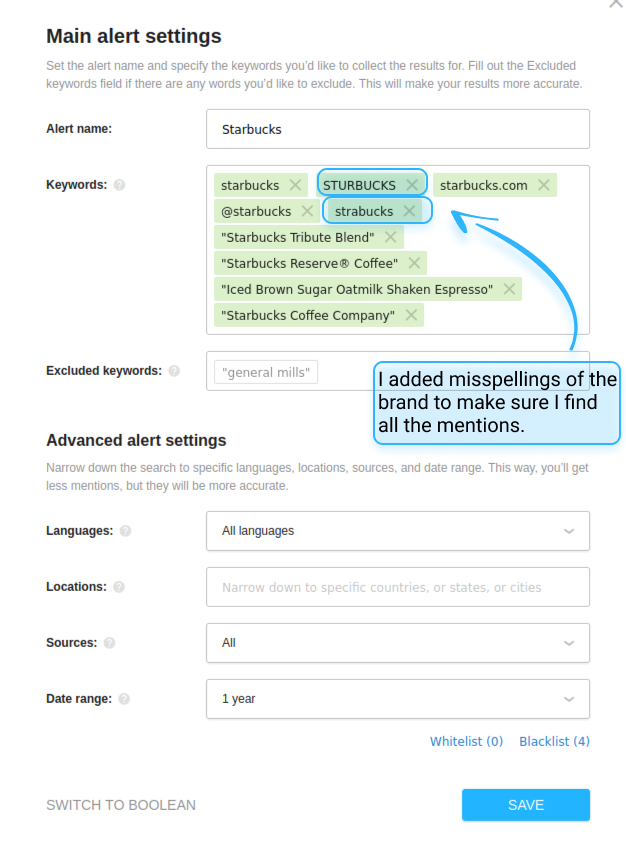 To make sure you find ALL the mentions you are interested in, you need to consider how people are talking about the subject you want to monitor. Think of the abbreviations and colloquialisms they might use.
In addition to that, add misspellings of the brand name or product name. No matter how simple your brand name is, people might post in a hurry and write it in a unique way, but it's still the social data you want to collect. That's where possible misspellings added as keywords help.
3. Embrace long-term monitoring

Social media monitoring is a long-term project - if you track your brand over an extended period of time you notice the changes in your analytics and can start spotting some trends.
That's only logical. The more data you gather and examine, the more insights you get. That's why I recommend embracing social media monitoring software not as a one-time tool specific to one campaign or task, but as continuous support for your marketing strategy.
Let the data guide your marketing and product decisions and you'll see how much value social listening can bring.
---
I hope you got the answer to the question "What is social media listening?" and were able to learn the examples of how to apply it.
Check out our guide on how to set up social media monitoring and listening tools. Learn more about marketing automation and stay around for social media management tips and resources!

Enjoying the post? There's more.
Sign up for our newsletter to get our best content by email.