Top Working Ads for Twitter

Twitter isn't just for sharing hilarious memes or wondering what Trump will post next. It's also a fantastic tool for business, with many companies gaining deeper insights into their digital strategy with social listening tools and powerful analytics.

A whopping 330 million people use Twitter monthly and, with 145 million daily active users, it's well worth using this micro-blogging site to reach your audience. But what ads work best for Twitter? And what are the benefits of tailoring ads for Twitter? Let's find out.
Benefits of Twitter Ads
As a social media marketer, you might be wondering if advertising on Twitter is worth your time. Well, the first thing to consider is that there's no minimum advertising budget. So, even if you're on a shoestring you can still test the Twitter ad water. What's more, advertising on Twitter is considered to have many benefits. For instance, it can help to:
Boost outreach by targeting users who don't already follow your brand.
Improve brand awareness and engagement
Encourage brand discussions across the globe. The geolocation of any brand mentions can also be discovered at a later date, helping you to gain more knowledge of your audience
Drive consumers down the marketing funnel by encouraging them to click through to your website or onto a specific campaign market page.
A Tailored Approach – What You Need to Know
Of course, not all ads suit all people. What interests one person won't interest another. That's why social media sites such as Twitter use algorithms and machine learning to help show content to the relevant audience based on particular ranking signals. For Twitter, these ranking signals include recency, relevancy, engagement, rich media and other factors.

When advertising on Twitter, it's therefore essential to think about who you want to reach. You can select your demographic by age, location, gender, language, device and audience features such as conversation topics. You can also target by using specific keywords relevant to your Twitter ad campaign. These might differ from ad to ad. Targeting by interests and followers is another good idea. This allows you to create a list of usernames and then target those whose interests are similar to the interests of those users' followers.
Wanna know what tweets work best for you?
Grab Awario's free trial and run a social listening analysis of your own.
By signing up I agree to the Terms of Use and Privacy Policy
Different Types of Twitter Ads
Advertising on Twitter draws attention to your brand and helps put your business in front of those most interested. Win-win. But what are the different types of Twitter ads and which ad type will work to achieve maximum results for your brand? Identifying the right advertising type is of critical importance, enabling you to elicit the response you demand from your campaigns.
#1 Promoted Tweets
In the words of Twitter, Promoted Tweets are those that have been purchased by advertisers that wish to engage a wider group of users or increase the levels of engagement among their existing followers. Each and every Promoted Tweet is clearly labelled as 'Promoted', thereby demonstrating to users when an advertiser is paying for such a placement on Twitter. In every other respect, Promoted Tweets are just like regular Tweets, with the ability for other users to Retweet, reply to, like and more.

Promoted Tweets are designed to maximise engagement and can appear:
At the top of relevant search results pages
In search results for a Promoted Trend
In the timeline of Twitter users when relevant
In user profiles that fit the targeted credentials for a campaign
Promoted Tweets are shown when an advertiser pays for their placement and help businesses connect with a relevant audience for the very best results. As such, Promoted Tweets represent the ideal option for promoting products, services or corporate responsibility.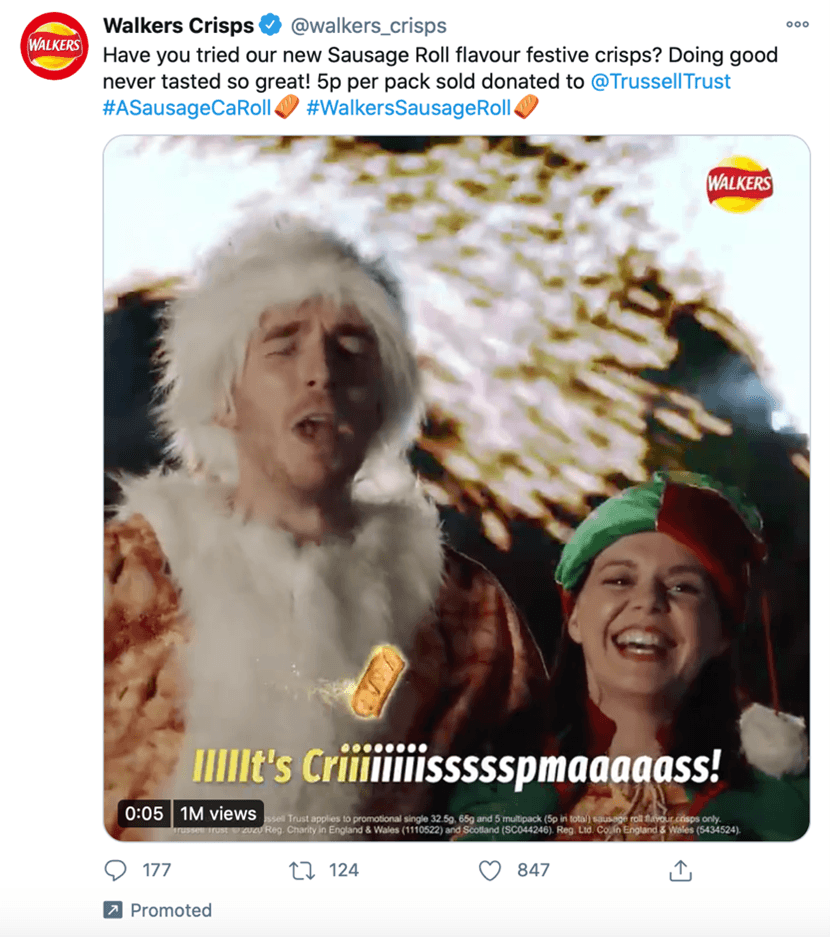 Promoted Tweets come in many different formats and allow you to convey your message in a short, efficient and effective way. For example, you can run a poll for a specific audience in order to gain important consumer feedback. Alternatively, you can add an image or a GIF to make the advert more engaging to view.
For those wanting to offer even more in their messaging, you can also tell a rich brand story in a person's timelines through a Promoted Video. This is Twitter's most proven ad solution, capable of driving brand metrics and sales. According to Twitter, the recommended length for any Promoted Video is 15 seconds or less. That said, you can go up to 2 minutes and 20 seconds if needed. And selected advertisers can request an increase up to 10 minutes.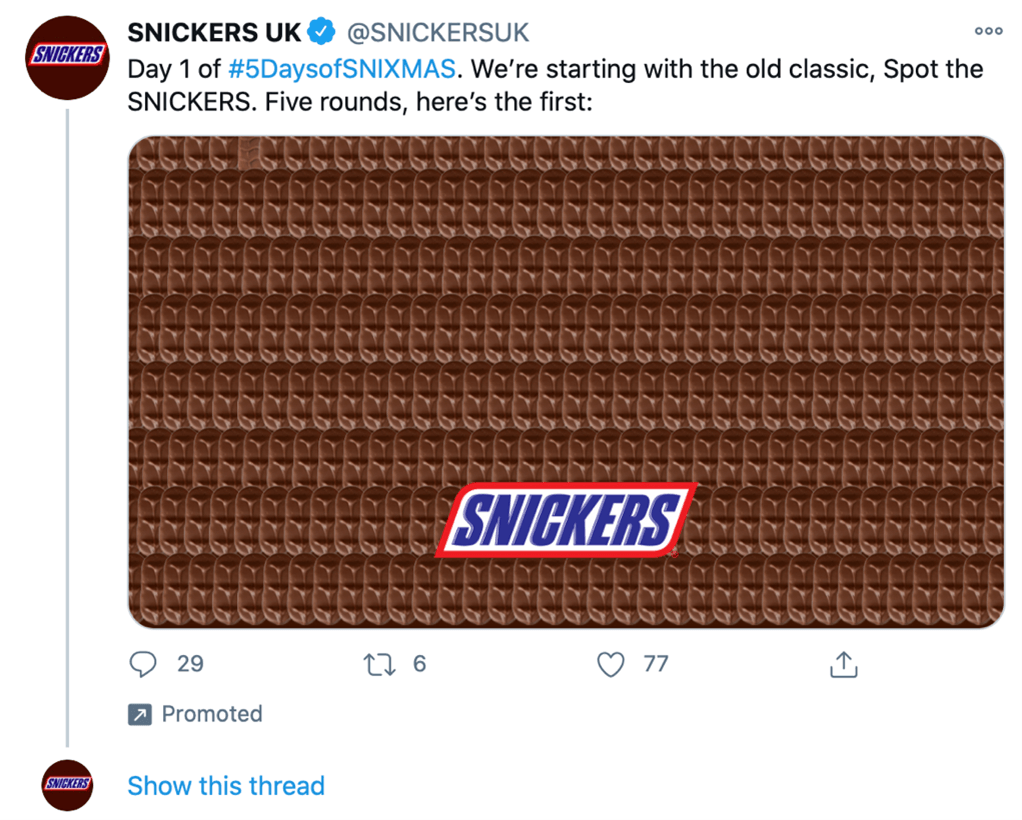 Top Tip
If you want to maximise reach on Twitter for 24 hours, you can make the most of First View, a premium, single-day 'mass awareness' ad package. With First View, your creative will be the first ad people see on their home timeline and it will have a whole lot of impact since it's a video – and Twitter users love video content.
#2 Promoted Accounts
Many businesses looking to extend their outreach to people who don't already follow their brand turn to Promoted Accounts. Instead of just promoting individual Tweets, this type of ad allows you to promote your entire Twitter account to reach new users whi will be interested in following you. Ads of this kind are shown in the timelines of potential followers. They also appear in the 'Who to Follow' suggestions and in search results to get more people eyeballing specific accounts.

As well as being labelled as 'Promoted', they also include a 'Follow' button. Such strong calls to action encourage users to make that all important click.



There are many reasons why you might want to include Promoted Accounts in your business model. For example, if you've set a Key Performance Indicator to add 1,000 more followers to Twitter over the course of the month, you'll need to streamline your advertising and marketing. Promoted Accounts can help you achieve your goals.
#3 Promoted Video
Live content is huge at the moment, with all the top platforms adding a live element to their offering. Promoted Live Video on Twitter helps brands to maximise their live content efforts, encouraging audiences to interact in real-time. This is ideal for brands looking for maximum attention during a product launch and exclusive events. There is a minimum spend of $500K with 50% of the budget dedicated to support the promoted event page.
#4 Promoted Trends
Twitter is the place social media users go to keep up with the latest trends. Therefore, it makes sense to advertise within the Trends section of this platform. When you do, your ad will show as one of the top spots under the Trends section to the right of the Twitter homepage and in the hugely popular #Explore tab. When users click on the Promoted Trend, they'll see relevant search results for that topic, as well as a Promoted Tweet from your brand at the top. This feature is primarily useful to help insert your brand into a conversation and build awareness. Check out the example below.

Clicking on this will take you to…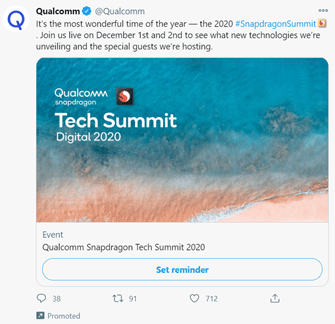 #5 Promoted Trend Spotlight

Promoted Trend Spotlight was launched at the start of 2020, taking Promoted Trend advertising to a whole new level. The first thing you need to know is that the #Explore tab is a prime retail position as it's where users go to suss out all the trending topics. With Promoted Trend Spotlight, your ad will appear at the top of the Explore tab for the first two visits per person, per day and supports not only text but six-second videos and GIFS, as well as static images for an enhanced user experience.

This relatively new marketing feature makes it possible to get even more creative with your marketing strategies. That said, due to their prime position, ads of this kind can be extremely expensive – perhaps up to $250K per day. So, if you're heading for this spot, you've got to do the maths and make sure the ROI is worth the advertising investment.
#6 Automated Ads
If you're new to the Twitter marketing world and are unsure about Twitter ad spend, then Twitter Promote Mode might be the right option for you. However, please note that this is no longer available to new users. Essentially, Twitter Promote Mode is an 'always on' advertising solution. The first ten Tweets you make each day are added to a Promoted Tweets campaign that targets your selected audience. This means you can go about your marketing day as normal, Tweeting updates, links and media you want your audience to see. Promote Mode will then do the rest for less than the price of a cup of coffee per day.
#7 Carousel Ads

The latest form of advertising to be launched by the social network is its Carousel Ads. Already present on Facebook and Instagram, this ad format enables you to upload up to six images or videos as part of a post, thereby offering a more engaging and enticing experience. And there's plenty of evidence to back up the efficacy of such an ad format, with Facebook studies revealing that Carousel ads drive a 72% higher click-through rate in comparison to single images. Quick and easy to create, a Carousel ad also enables marketers to become more creative in their promotions, and will increase the level of engagement and time spent looking at the campaign.
Time to Put Your Budget to Work
According to Twitter research, people spend 26% more time viewing ads on Twitter than other leading platforms. So it makes sense to come up with a targeted and carefully thought out campaign that'll boost traffic, increase leads and positively impact your bottom line. When your campaigns are running, always remember to use social listening tools to see what people are saying about your brand. This means also monitoring mobile engagement.
Conclusion
Twitter can be a useful channel in a diversified digital marketing strategy. Twitter ads are a great way to increase brand exposure and get more followers to grow your business. When in doubt test different approaches such as combinations of copy and creatives to fine tune your strategy!
Enjoying the post? There's more.
Sign up for our newsletter to get our best content by email.