How Upstack uses Awario to empower social selling

Article summary
In this success story, we uncover how Upstack used Awario to boost its social selling efforts. The Revenue Team required a user-friendly and affordable social listening tool that facilitated lead generation on social media, and they got it with Awario Leads!
Profile: Upstack
Upstack is the premiere private global network of top 1% talent. They seek out both clients and talented professionals, connect them and accompany the hiring process. Their clients include IKEA, Squarespace, Intercom, Invision, JUUL, Chive, Winc, to name a few.
Objectives
Facilitate the social selling process on social media

Find actionable social data insights to inform sales

Analyze competitors' social selling efforts

Find B2B influencers in specific niches
Challenge
Upstack's newly created Revenue Team had never engaged in social selling and required a tool that would assist their development of the sales and growth strategy for the company.
Start monitoring your brand today.
You should've been doing it yesterday – but the next best time is now with Awario.
By signing up I agree to the Terms of Use and Privacy Policy
Solution
Upstack used Awario's analytics suite including sentiment analysis and social listening reports and Awario Leads module to achieve its objectives.
Finding leads and using Awario to reach out
Upstack created the Revenue Team responsible for Sales, BD, Analytics, and CSM.
One of the team's tasks was to streamline the social selling process. They were looking for a tool that could help them find potential clients and talents and advance outreach. What made them decide on Awario was its flexible, intuitive, yet powerful offering that was not only highly affordable but was priced for scale.
With the help of the Customer Success team, Upstack created a social selling alert in Awario Leads that looked for social media posts mentioning tech development and engineering.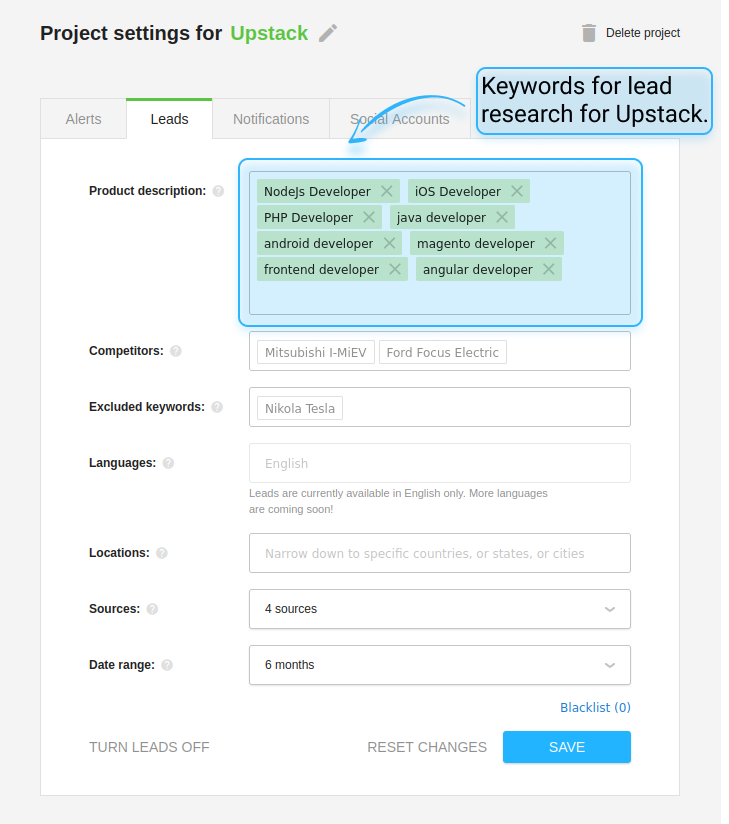 For example, if there was a company representative looking for web developers on Twitter, Awario would immediately pick up this mention and deliver it to the Upstack's dashboard.
Brendon Noyes, Sales Development Executive, started scanning through the various queries on the platform, looking for leads that have been posted on social media regarding engineering needs at their company.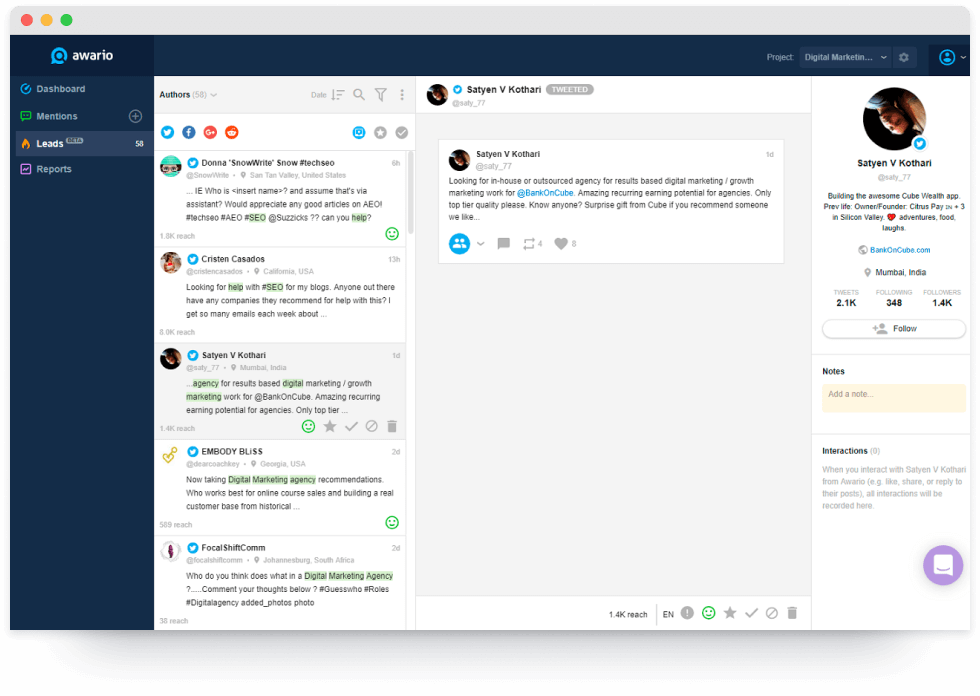 Whenever they found a post regarding needs for talent, Upstack was able to respond generally within an hour and explain how the company can help. They also looked through the client's social profile to get more information about them and personalize their communication and offer.
Simply put, Awario has provided an easy search process, displaying leads that aligned with Ûpstack perfectly.
The Upstack team pointed out, that even though they had minimal exposure to social selling tools and tactics before, they were able to fully develop their social listening strategy and implement it with Awario in 6 months.
Start monitoring your brand today.
You should've been doing it yesterday – but the next best time is now with Awario.
By signing up I agree to the Terms of Use and Privacy Policy
It's not an understatement to say that Awario helps to turn people from a novice in social selling to an expert-level practitioners within a year. I can't name another piece of software in our stack and say: in under a year it turned one of our people into an expert.
Finding B2B influencers
Influencers are key to Upstack's marketing strategies but they found it difficult to discover B2B influencers with relevant audiences.
Upstack created a social listening alert mentioning industry-related keywords. They included keywords associated with tech developers, IT, and outsourcing, and then ran an analysis of their niche. Awario pulled an influencer report from this data and organized it by popularity.
The Influencer report in Awario helped Upstack in two unexpected but welcomed and profitable ways. First, finding influencers to work with on joint ventures, co-marketing, and sponsorship.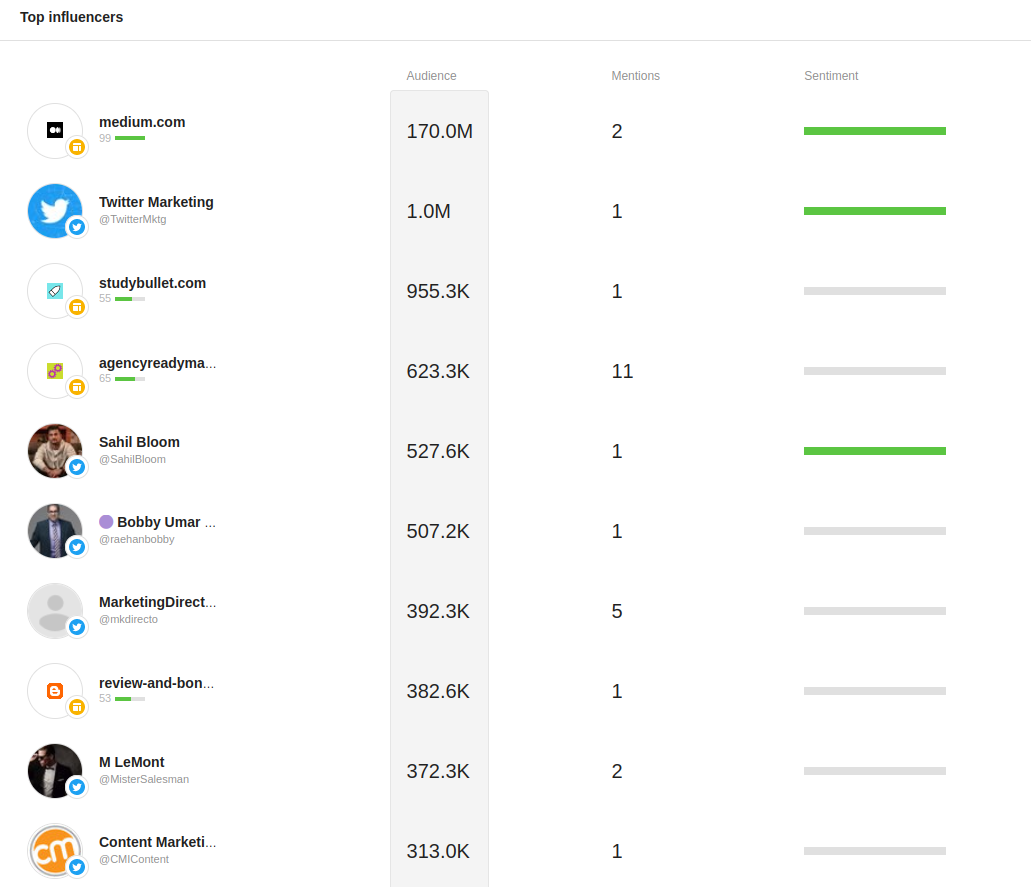 Secondly, Awario helped Upstack identify the key traits of a social media power user that's influential in the niche of talent search and hire. As a result, they got qualitative AND quantitative data about what influences their prospective customers.
Awario did the impossible: it laid the groundwork for what became both our atlas and map to understanding B2B influencers and how to engage with them. This is a nascent space that many are hungry to learn, and Awario is blazing the trail to become the gold standard.
Understanding the market & competition
Another challenge Upstack tackled with Awario's analytics is competitor analysis and market research.
As we mentioned above, Upstack created a social listening alert to analyze their market niche. The alert included industry-related keywords as well as the brand names of their most obvious competitors.
What they discovered was that they had much more competitors than they actually expected.
Awario helped the Upstack team to go beyond the list of top 10 competitors and map out smaller and more niche companies in the same industry, most of whom probably wouldn't have been surfaced by another tool.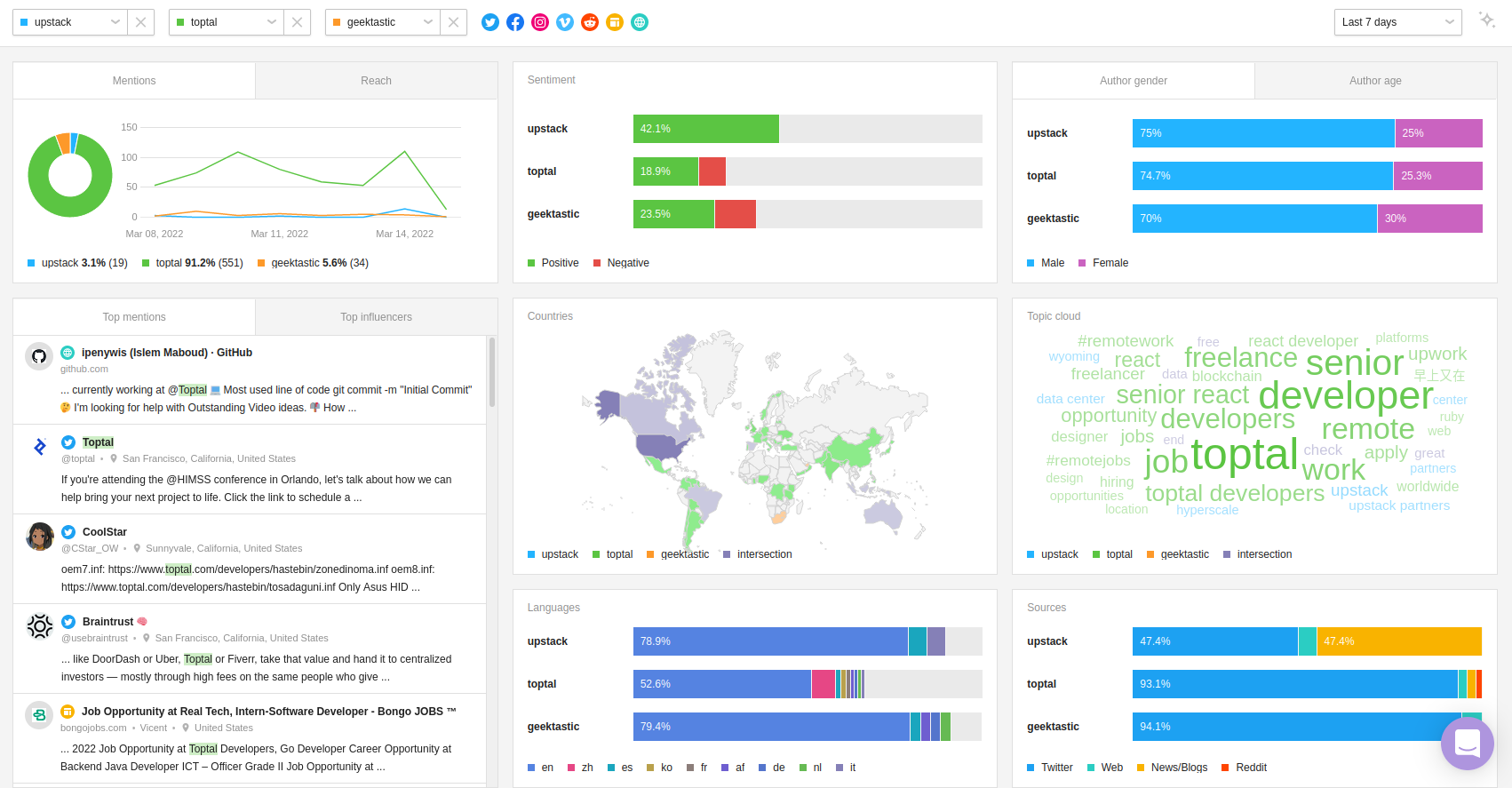 Awario's Alert Comparison report allowed them to benchmark different rivaling companies against each other, see their Share of Voice on social media, and compare the sentiment and reach of their brands.
Having a comprehensive picture of all the players on the market, Upstack was able to analyze the correlation between how their competitors rank in terms of revenue vs. how they rank in terms of social influence.
It enriched their competitor analysis and informed their strategic planning going further.
Campaign Results
50-60X ROI per month after less than a year.

New sources for lead generation were discovered.

A database of niche influencers was created.

A better informed and better-prepared sales team.

Analytics and reporting that drive actual strategic decisions and exclude vanity metrics.
Enjoying the post? There's more.
Sign up for our newsletter to get our best content by email.