Top tips for how to do a competitor analysis

Article Summary
In the article we will walk you through the steps you will need to pay attention to when doing competitors' analysis and research with Awario. You learn how to set up Awario and where to look for data reports in it.
13 minutes read
Each brand has its target audience; customers that share its values, interests, and experiences. Marketers spend years building brand identity, developing their story, and growing a dedicated audience. But how can a business become interesting to other kinds of buyers and expand beyond its initial sphere of influence, effectively engaging its potential customers?

One way to do so is competitor analysis—to find out the wants and needs of its competitors' audience and consider how to incorporate that knowledge to bring in new people. To look beyond the scope and gain further business development insights lots of businesses use social media tools for detailed competitor research.
In this article, we explain how to do competitor audience analysis on social media with the help of social monitoring tools. Let's roll!
Why do you need a competitor analysis?
For successful business development, any company should have a good understanding of its strengths and effectively address its weaknesses. But, how to know if you're successful in the market or not? And how to find the areas in your business that you need to improve to make it more appealing to a wider audience?
Surely, you need some criteria to compare yourself to other companies' performance. It's a whole lot easier to define them if you run a competitor analysis.
With competitive analysis you'll be able to:
Establish precise performance benchmarks for your business

Define potential customer pain points

Better understand how to communicate to your current and potential audience

Get more ideas on how to differentiate your brand from others

Gain insights into your business and audience
When doing competitor analysis, some businesses fall prey to a very common mistake — focusing on a brand-centric model. This model involves competitor benchmarking over various metrics, including comparison in terms of product or service metrics, marketing efforts, website stats, and more — a traditional industry analysis. However, for competitor insights, you really need the audience element.
To have a complete picture of your business performance, it's also essential to realize the type of audience your business as well as your competitors attract. For this, you can track your and competitors' followers, type of content, positive/negative mentions, post frequency, and many others.
This will help you to answer the questions:
"Who are your and your competitors' followers?"

"How well do you and your rivals target their audiences?"

"If your and your competitors' followers fit in with their target audiences at all?"
Sign up for a free Awario trial
See Awario in action with a free 7-day trial. No credit card required.
By signing up I agree to the Terms of Use and Privacy Policy
How to run a competitor audience analysis
You can undertake a competitor market analysis manually, but this can be a huge, time-consuming challenge. This would require your team to register on several social media sites, monitor 24/7 follower activity for you and your competitors, and sort out the relevant data. And that's just the beginning of your competitor analysis data journey.
That's why marketers prefer using social listening tools that automate most of this work and perform deep data analysis.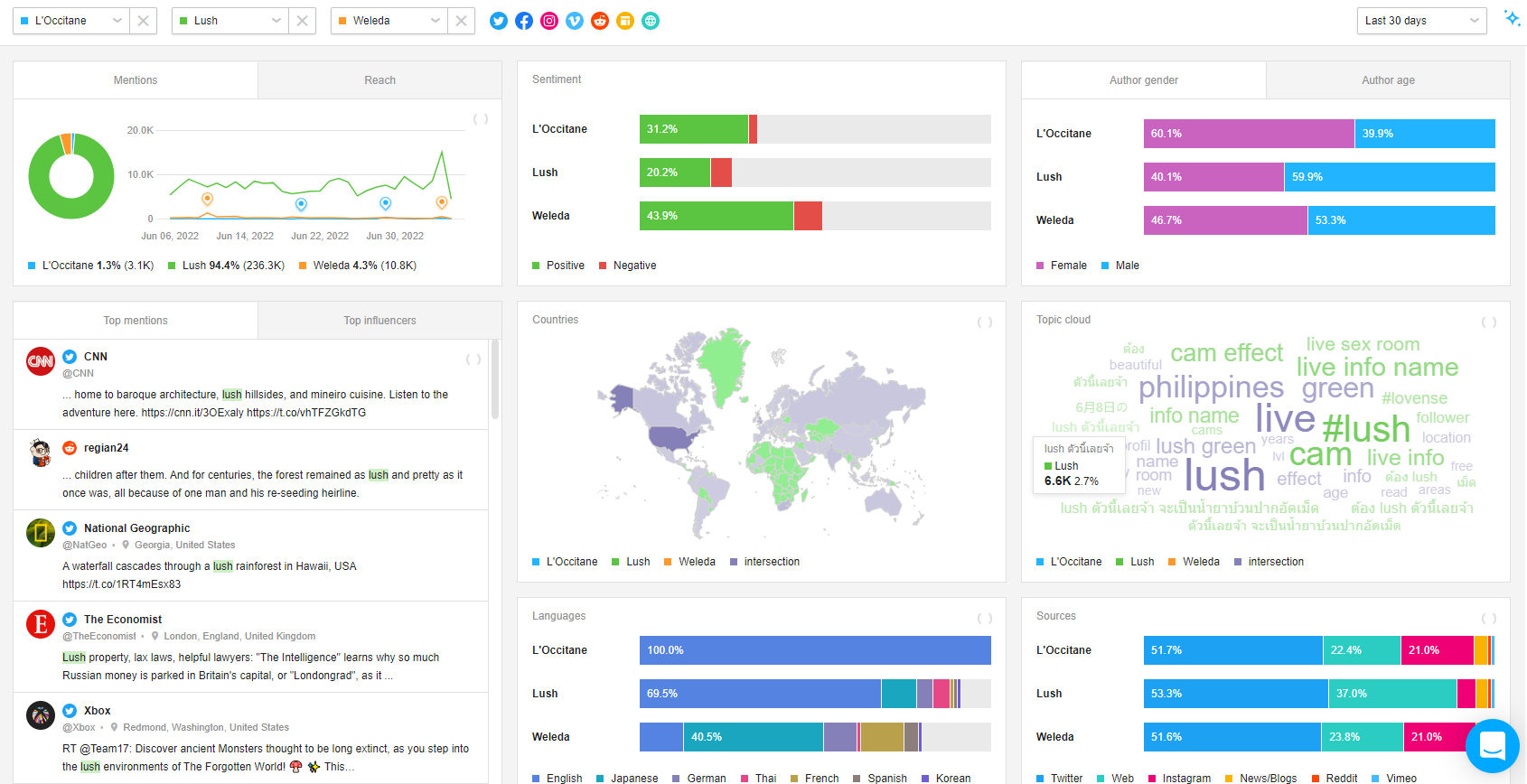 Let's find out what you can do when investigating your competitors' audience using social media monitoring tools.
Create competitor alerts
Any competitor audience monitoring activity starts with defining your direct competitors. Think of a competitor example or a few of them, that offer analogs to your products/services or address similar client needs in the same market as you do. Then create a new project in a social media monitoring app and add your direct competitors there.
Apart from listing off your competitors' names in the project, consider which keywords are associated with the competitors. Add them to the project as well. This way, you won't miss any social media messages that mention companies' names and also include related topics.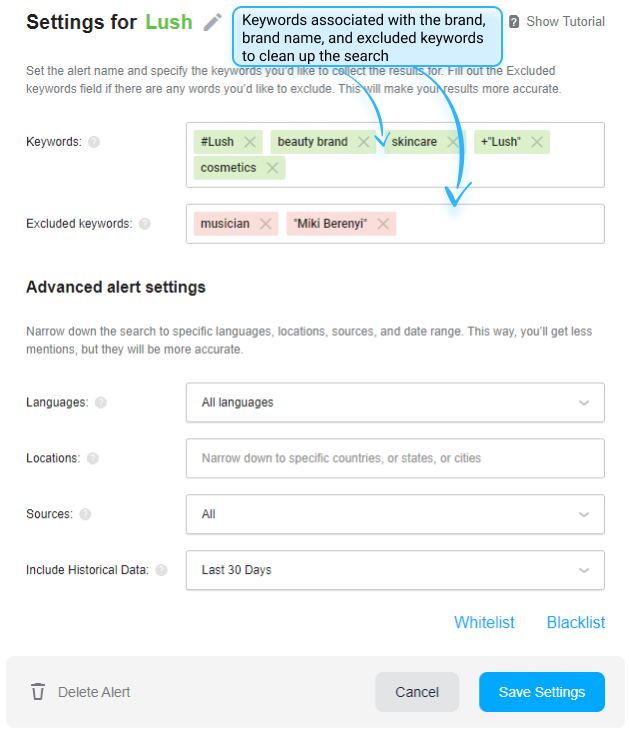 Some social media tools like Awario allow its users to complete social media competitor analysis by adding the keywords that they want to exclude from your social media post monitoring. This helps to narrow down the number of messages and make them more specified, especially when a brand has a commonly used word in its name.
Take a deep dive into competitor analytics
Strong analytical tools are the key to effective competitor audience study. Awario is one of the social media tools that can boast of its robust analytical tool suite. With Awario, you'll be able to perform a detailed analysis of competitor audience data and create precise marketing personas.
Marketing personas will show you an average customer of each of your competitor brands, which, to some extent, can characterize them. For example, if a marketing persona is a middle-aged American lady, then a rival brand inherits the traits that could help to better meet the persona's interests. Have a look at how L'Occitane does this job, posing its brand as natural, environmentally-friendly, and empowering women. Take the measure of the geography, languages, age, and gender metrics when creating marketing personas. Maybe, you should also tune up your targeting at them.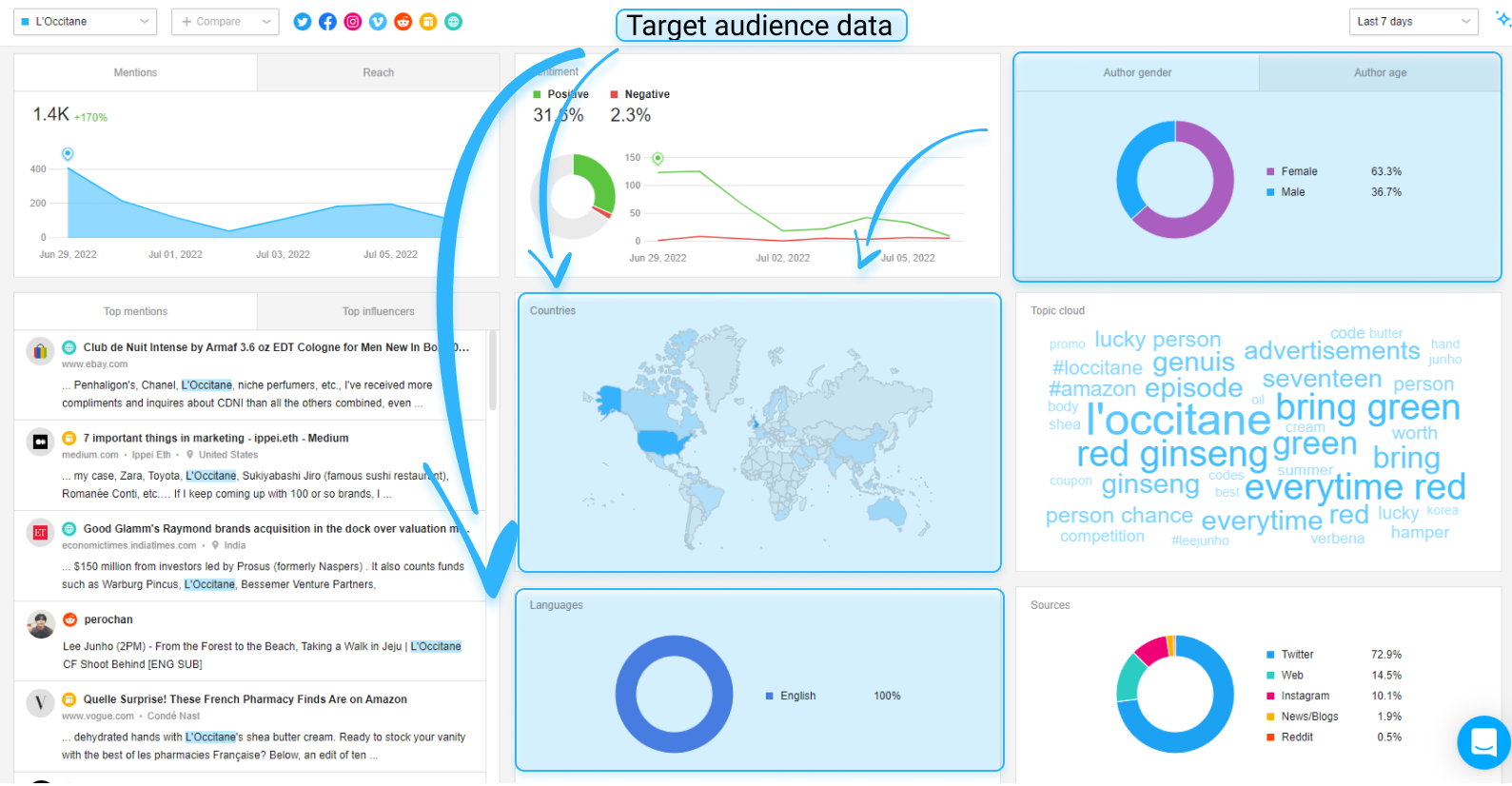 Apart from creating marketing personas, you can perform a deep audience analysis by combining alerts from different competitors. This allows comparing brands against each other as well as your business to gain competitor insights, i.e. what they do to better advertise their services, how they do it, and how they communicate with their target audiences. Awario allows comparing up to 3 alerts on analysis dashboards and up to 15 alerts in competitor analysis reports.
Define your competitors' sources
Various social media sites attract different types of audiences. Find out where your rivals are best able to promote their services. These online platforms could also become an effective marketplace for your brand—or even become one to stay away from.
Awario offers an extensive choice of social media platforms for tracking from Instagram to Reddit. Moreover, you can monitor your competitors' activities across various blogs and websites.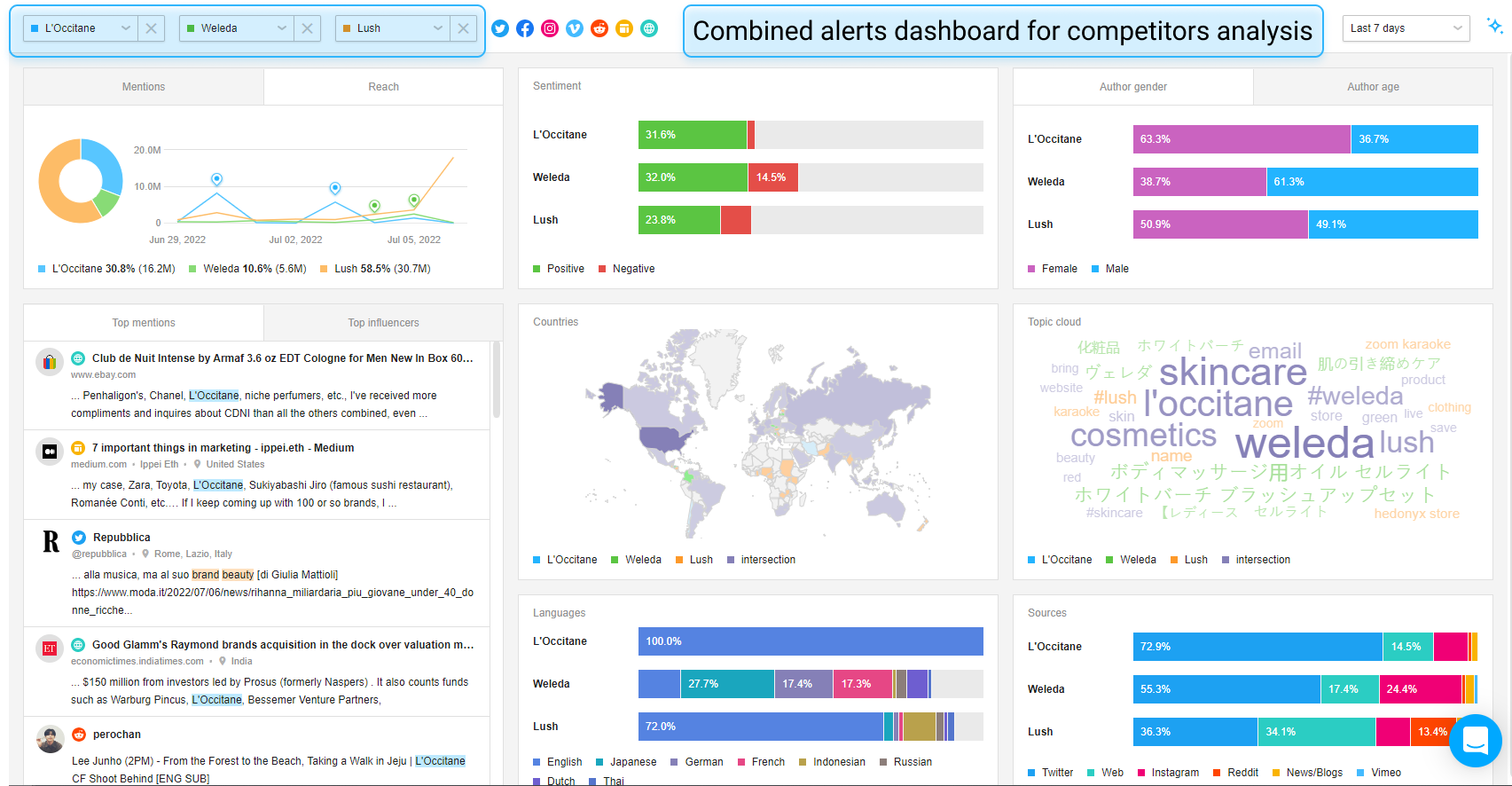 Perform industry landscape analysis via a topic cloud.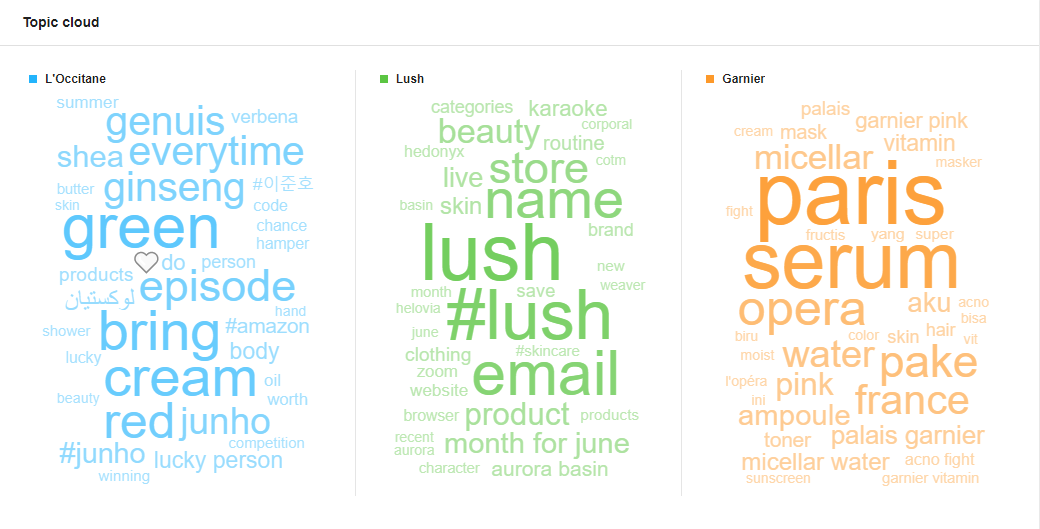 A well-chosen and carefully created content strategy is instrumental for attracting the right audience and, therefore, increasing customer conversion. Find out what content performs best for your competitors by doing keyword competition analysis in a topic cloud.
Topic clouds will show you the trend-words popular in your industry and help to pick up the best-ranked search engine keywords so that your content gets placed higher in Google, Bing, or Yahoo!.
Start your competitors' analysis today.
You should've been doing it yesterday – but the next best time is now with Awario.
By signing up I agree to the Terms of Use and Privacy Policy
When providing a topic cloud feature, Awario takes it a step further, allowing its users to compare topic clouds between each other for several competitors. This way, with Awario you can catch the similarities and differences in the topic keywords your competitors use for their content.
Find out what the audience loves the most
Explore the customer sentiment about brands by holding customer feedback analysis on their own social media pages as well as under competitors' marketing posts. This will help you define which competitors' products/services are great or come short and why. Think of how you could use this data to improve your marketing campaigns or products and services you deliver.
In Awario you can perform competitor data analysis by sentiment. For this, this social media listening tool processes social media posts and evaluates their tone–whether it's positive or negative and places a smiling or a sad face under them. This way, you can quickly grasp the overall mood a brand creates and check out what's going on inside.

Combine the results for more insights
By monitoring your competitors and their audience for some time, you'll be able to see some common patterns. They can include:
The tone and voice competitors use to address their followers

Posting frequency

The number of competitor followers and how quickly the audience grow

Type of content

Keywords and hashtags competitors use to attract their followers

Type of social channels they use

Factors that make your competitors unique

How competitor audiences behave: which product and marketing campaigns they like, what they dislike about competitor brands, and much more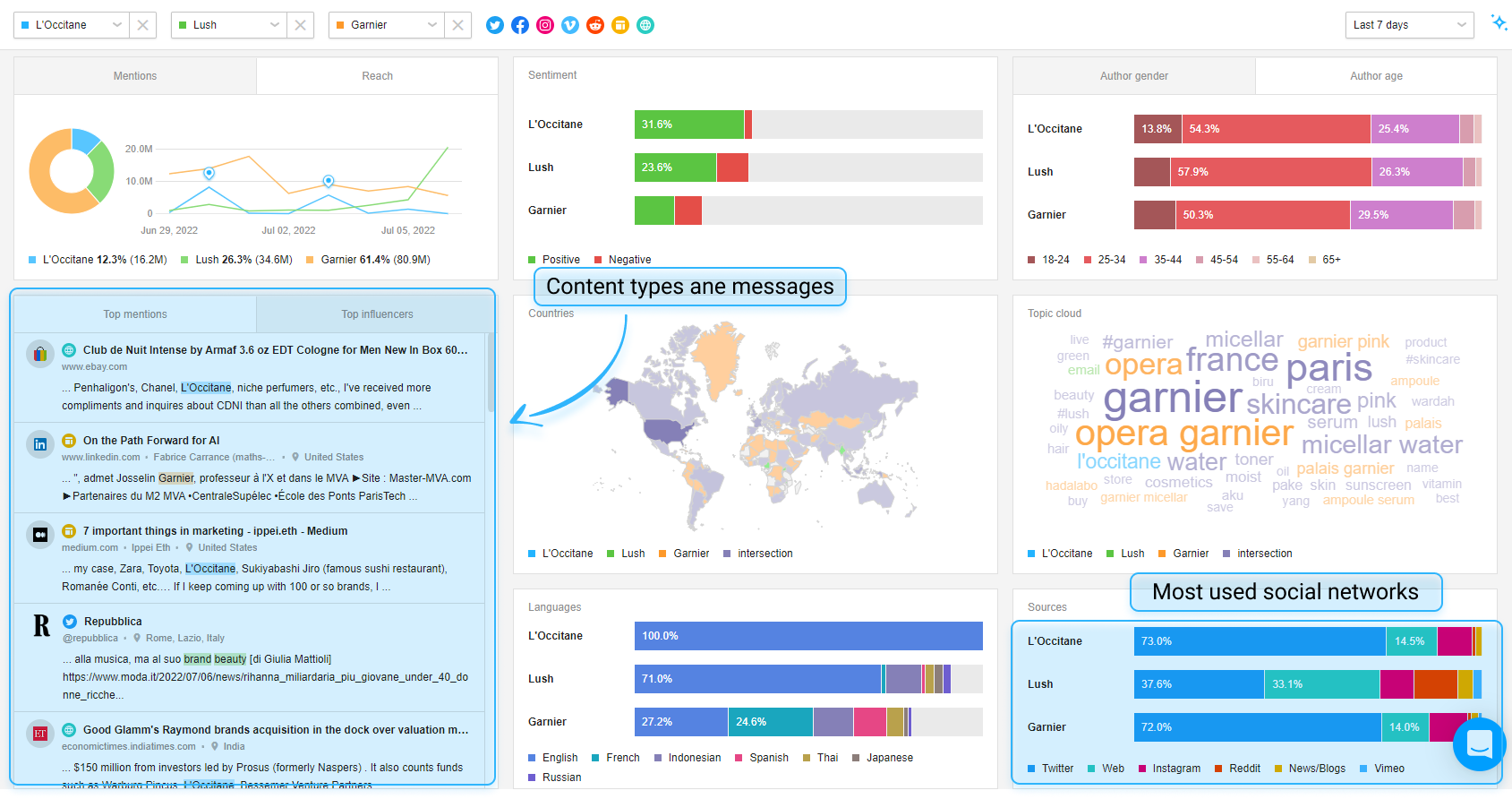 When analyzing the gathered data, try to answer the following questions:
What are the metrics that indicate business development and audience growth?

What type of content works for competitors' audiences best?

Which are the most striking examples of competitor content and how to adapt them to your marketing campaigns?

Are competitors' social media strategies consistent and what makes them consistent?

Which trends do your competitors use in their marketing campaigns?
This knowledge will help you improve your marketing strategies and provide you with some hints on how to handle various audiences. This way, you'll be well-set for pivoting your brand to a wider range of customers and establishing a stronger influence in the market.
Develop a plan based on the results of your research
When you've completed a detailed marketing analysis, it's time to create your social media marketing plan and put this data to practice. For this, you need to consider your social media marketing goals. This could be expanding your market to other audiences, improvement of the current interaction with your audience, launching brand accounts on new social media platforms, creating compelling content, and much more. Now, you can think of a step-by-step strategy to reach your goals. The more detailed steps you have in your plan, the more successful your brand media performance will be.
Enjoying the post? There's more.
Sign up for our newsletter to get our best content by email.
Putting your competitor analysis plan into action
Conducting competitors' audience analysis helps you to thoroughly audit your current social media presence and its effectiveness, as well as find new opportunities to engage your current audience and potential new ones.
But that doesn't mean you need to plan your strategy for a year or even a month. Instead, you can use social media tools to keep up-to-date on competitor activities on a more regular basis. You can use it to stay updated with the latest social media trends, your competitors' marketing campaigns, and their followers' responses to them and use this information to your advantage when developing winning social media strategies.