Victoria's Secret: what does social media say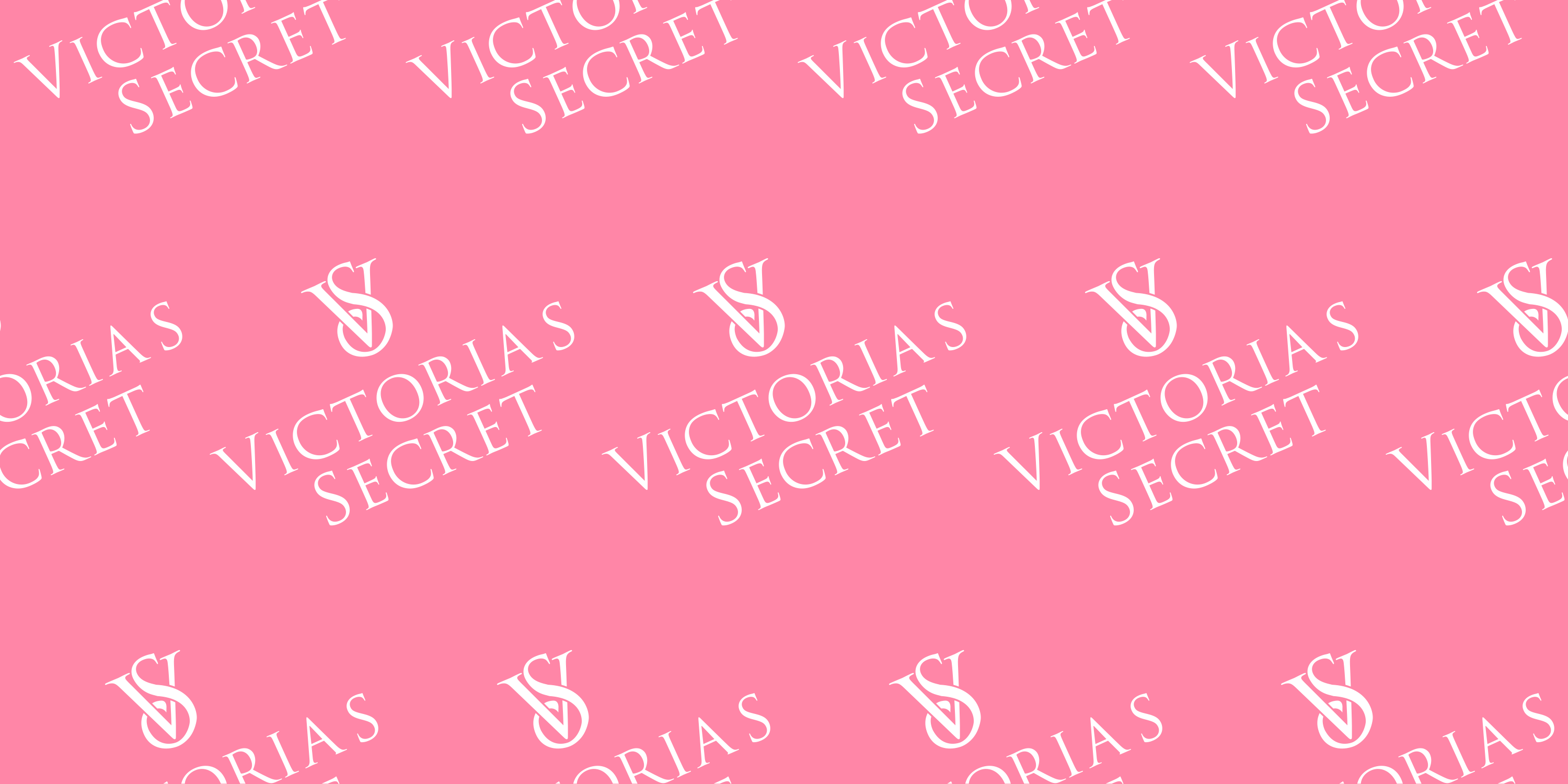 Lately, Victoria's Secret has attracted attention from the media. Not the standard joyful kind of attention like when the Internet discussed how cute Ed Sheeran was on the show or how Taylor Swift secretly wishes to be Victoria's Secret model while every Victoria's Secret model wishes to be Taylor Swift.
Neither is the conversation about how cute and sexy the brand's lingerie is. Basically, the attention the brand has been getting from media since 2018 is all very negative. Victoria's Secret, the first American brand to make luxurious lingerie affordable, the brand that controlled almost one-third of the US lingerie market up until 2018, is sinking.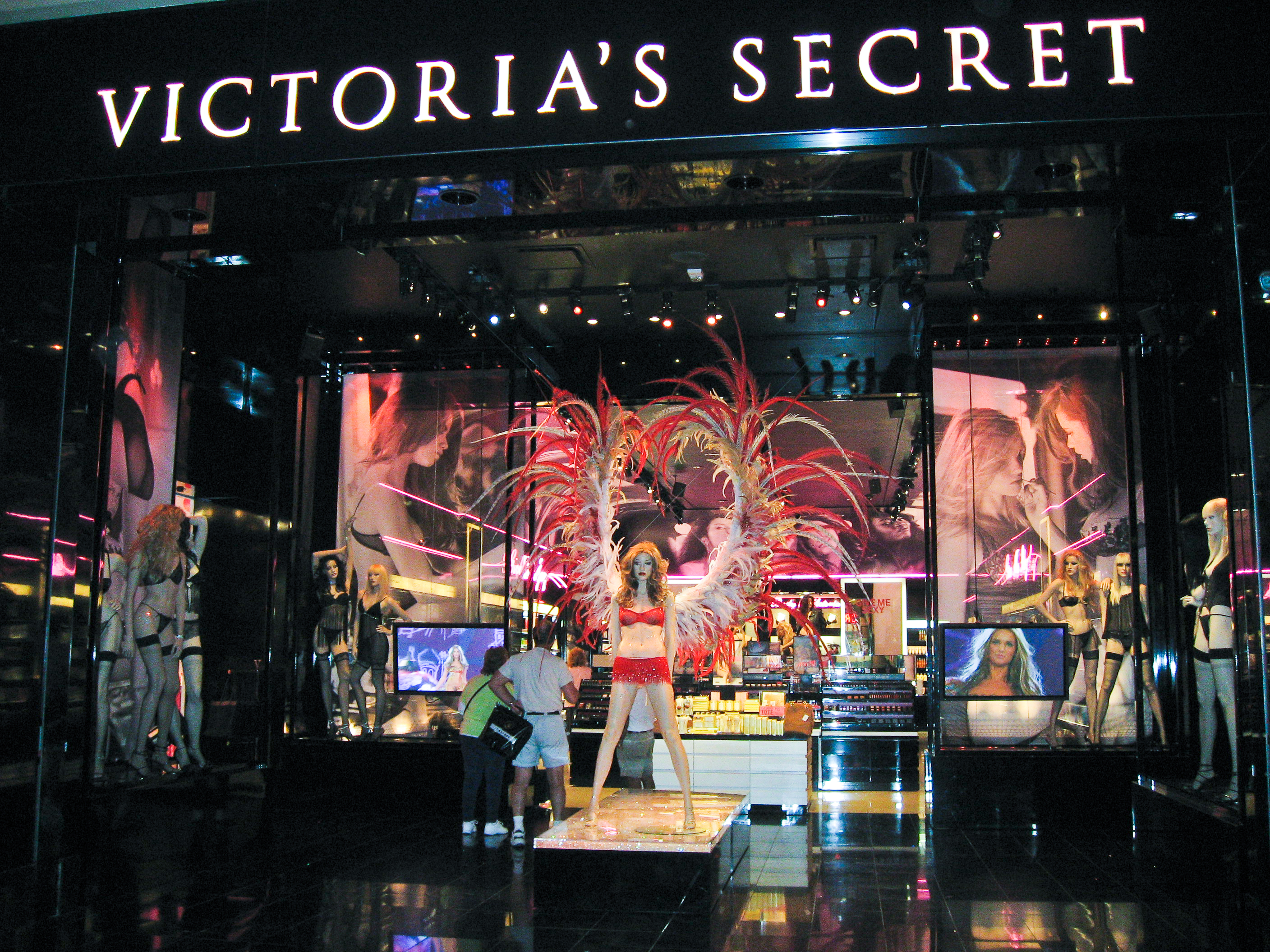 The news around the company is focused on sexual harassment and assault after it became publically known that convicted sex offender Jeffrey Epstein was linked to L Brands' COO Leslie Wexner, the owner of Victoria's Secret. They also talk about the 2019 show being canceled and the fact that the semi-annual sale was extended but brought no profit to the company. Articles analyze how the brand is falling behind "in the #metoo era" in which body positivity, diversity, and acceptance are what the public expects from brands as opposed to sexualized shows, size 4 models, and the CEO of the company openly refusing to hire trans people.
Sure, it's not just the media buzz that signals that Victoria's Secret is in trouble - it's their huge decrease in sales every year since Sharen Jester Turney stepped down as CEO and was succeeded by Wexner.
In this article, we decided to see what social media thinks (duh, we're a social media-focused company). What is mentioned the most when the Internet discusses Victoria's Secret? Is it that they are outdated and tone-deaf when it comes to today's body culture? Is it their disliked CEO? Is it scandals? Or maybe it's the quality of the clothes that has slipped and the lack of hip types of lingerie (e.g., bralettes) that caused a decrease in sales? Is it their growing competition (Rihanna's SAVAGE X FENTY, American Eagle's Aerie) that simply didn't exist before?
We searched through Victoria's Secret mentions to find out and analyzed the most popular tweets and posts.
Most popular posts that include Victoria's Secret
Given the situation, we only looked at posts that mention Victoria's Secret from the past couple of years, and guess which posts were most popular?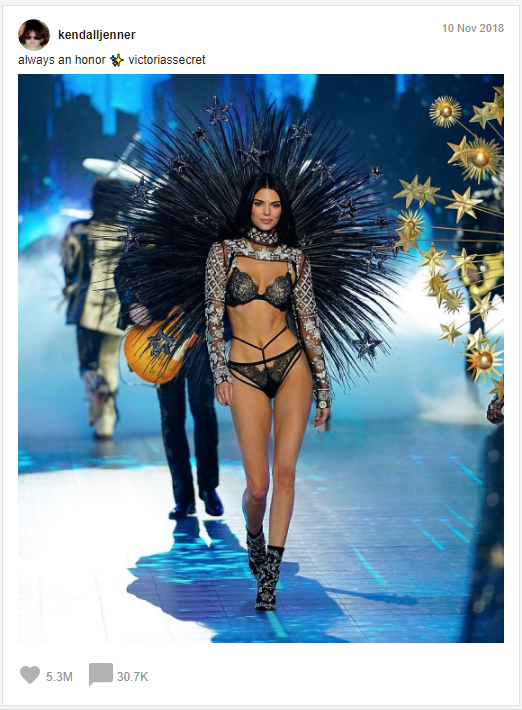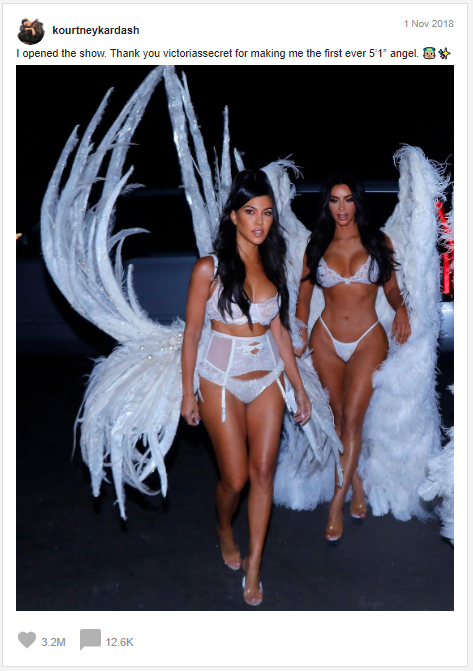 As we know, the 2019 show was canceled. When asked why, L Brands' CFO Stuart Burgdoerfer explained that the show didn't have any short-term sales impact.
Did we see a specific material impact on short-term sales response to the airing of the fashion show, as a general matter the answer to that question is no. So if you're like, 'Oh my God, Stuart, are you freaked out about the day after the fashion show result and what's going to happen?', it did air at different times over the years and we didn't see a material impact on the next few days' results.
However, we can suspect from knowing the most popular tweets that the show did have an effect on sales, just not the immediate one.
No matter how people feel about Victoria's Secret, they obviously care about Kendell Jenner, Kourtney Kardashian, and other TV and pop stars that take part in the show. Just look at the 5 million likes on a single post!
Associating Victoria's Secret with social media/TV celebrities that are most famous for being rich and attractive is fitting for the luxury lingerie brand. This is associative advertising, the one Victoria's Secret has been always good at. It's heavily responsible for making the company a success in the first place. The show basically says that wearing Victoria's Secret takes you to the luxurious world, makes you look like a celebrity, changes your lifestyle to a bohemian one. All for $39.99.
Social media talks about Victoria's Secret CEO
Unsurprisingly, monitoring Victoria's Secret CEO Leslie Wexner brought some understanding to the sinking popularity of the brand. The man is thoroughly disliked on social media. His connection to Epstein is widely discussed online.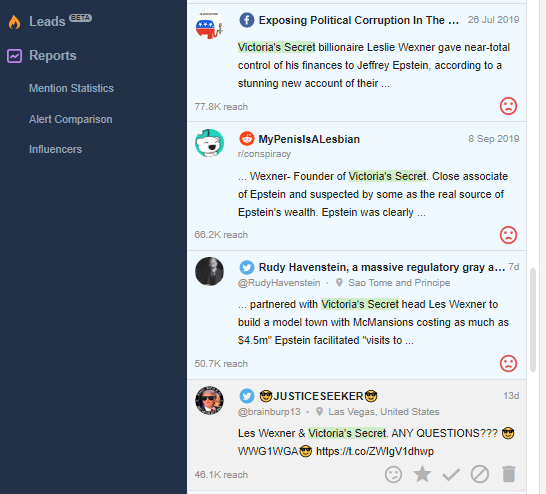 And here's one of the most popular tweets that mentions Victoria's Secret's CEO. Surely speaks volumes about Wexner's reputation.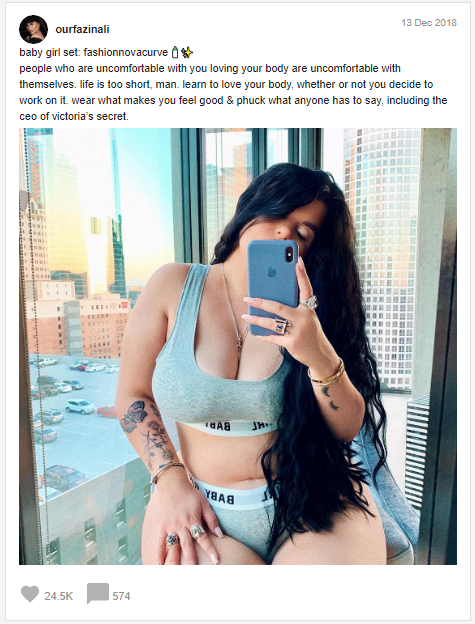 Social media talks about body image
The post above is just one of many posts that slam the body image Victoria's Secret idealizes. Just searching for "thin" among mentions returns almost 4K results. The most popular mentions about the body image look like these and, again, tell us a lot about how the brand is perceived.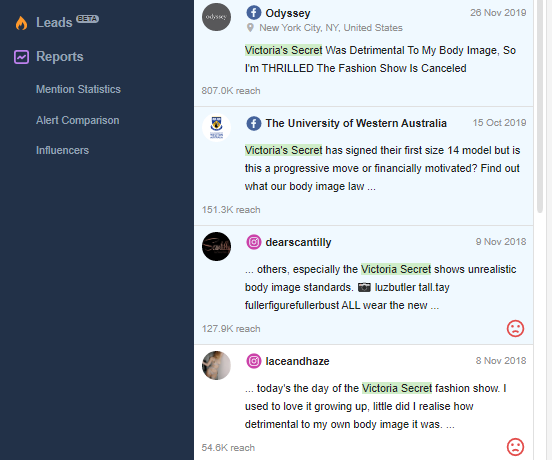 Also, body image is the first category in which user posts start mentioning Victoria's Secret's competitors and favor the latter.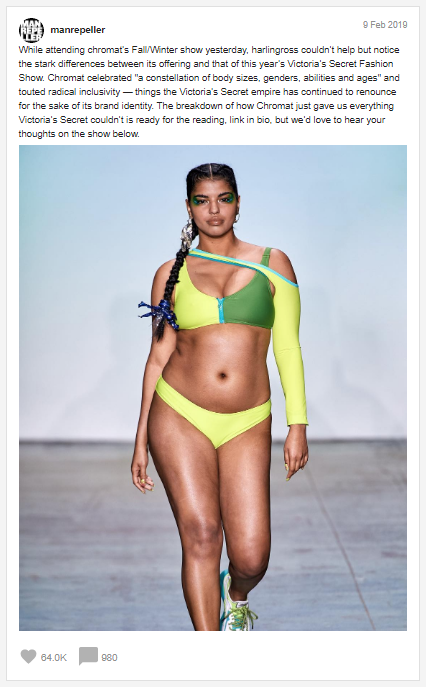 Another post the popularity of which is crucial is by Nikita Dragun, the first Victoria's Secret transgender model that was hired after L Brand's now-ex CMO Ed Razek said that Victoria's Secret won't hire trans women because "the show is a fantasy". The world reacted angrily and passionately, Nikita was hired, Ed Razek stepped down.
dear Victoria's Secret,
you said trans women can't sell the "fantasy" so here i am as a TRANS WOMAN selling the FANTASY! ?? pic.twitter.com/rKQHp7SLNq

— Nikita Dragun (@NikitaDragun) December 5, 2018
Note the number of likes. The society is surely tired of people telling them who can be and who can't be a fantasy.
Social media talks about competition
Victoria's Secret traditional competitor Agent Provocateur has been recently taken over by completely different new brands: SAVAGE X FENTY and Aerie. In the posts that mention Victoria's Secret, these two show up most often. So far each competitor singlehandedly can't compare to Victoria's Secret's popularity.

However, various single posts tell us that this might be a matter of time. Victoria's Secret's new competitors are praised for being inclusive, having all range of sizes, and avoiding retouching.
the savage x fenty fashion show really brought me to tears like damn victoria secret WHOOOO !!?

— lexisss (@xalex_is) January 13, 2020
ladies it's time to ditch victoria's secret completely cause savage x fenty got that Q U A L I T Y

— amanda (@amandatheflower) January 5, 2020
That's why I support and worked for aerie ? we are aerie REAL and we love ALL shapes and sizes. Let your friend know we have bralettes that have actual cup and band sizes online and free shipping when you order in store ???

— Ronnie (@Ron_Bon11) January 14, 2020
Social media talks about quality
Surely, Victoria's Secret is criticized for all things societal, but we found out that most negative posts mention the slipping quality of the brand. Here're just some of the examples: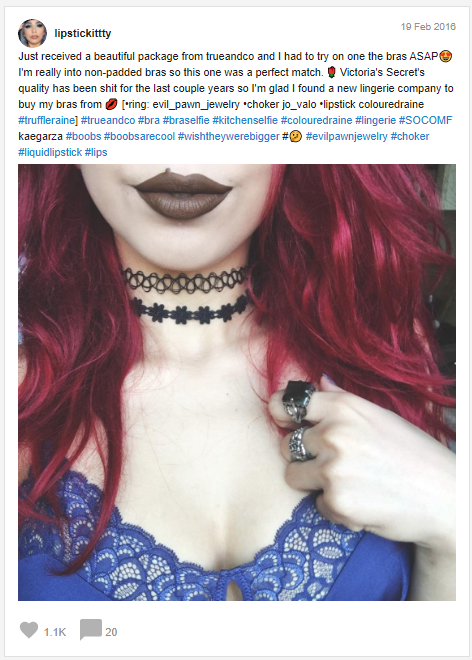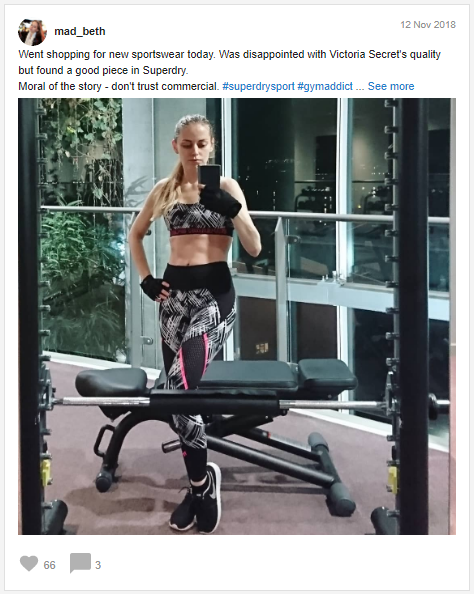 @VictoriasSecret listen to your customers. Especially us Angel Forever card holders. Your quality has gon to shit over the last 5 years and the designs are awful. And the y'all keep making the shit smaller and less comfortable. When my balance is paid, I'm closing the account. https://t.co/e4kU1LaKNZ

— Shadrach, Meshach, and A Bad Negro (@kasforpres2030) January 7, 2020
Conclusion
Seems like Victoria's Secret has problems on all fronts: marketing, PR, product. But the good news is that all of them also seem fixable and, while still holding on to a large piece of the market, the company has a solid chance to get back on track. Or maybe, the good news is that selling sex and insecurity finally doesn't work anymore, and even brands as established as Victoria's Secret don't have a chance until they change their perspective on beauty.