Nonprofits face loads of challenges in marketing that most companies don't. Charities can't show off their products, they know their target audience isn't actually gaining anything materialistic through spending their hard-earned money, and there's nothing attractive in cancer research, refugee crisis or inequality. People don't want regular updates on how many children have died this year or even how the research progress is going. The nature of most nonprofits results in the fact that in social media marketing (as in all other kinds of marketing) they can't do what most companies do: post useful information regularly, take pictures with Instagram, post sales, deals and promotions. So when they do come up with a social media campaign, it has to be creative, and so there is a lot to learn by looking at these campaigns. And that's exactly what we'll do now.
1. Cancer Research – #nomakeupselfie

In 2014 the #nomakeupselfie campaign raised 8 million pounds for cancer research. I've got to point out that the idea wasn't actually coming from the charity itself – it was the 18 year old Facebook user Fionna Cunningham who came up with the idea. Cancer Research just piggybacked off it in time. This, however, doesn't make the campaign less educational, so let's look at how this all started.
Inspired by Kim Novak who had received an award at the Oscars without makeup, Fionna asked women on Facebook to post photos of themselves without wearing makeup for cancer awareness. She asked them to use the hashtag "#nomakeupselfie" and nominate friends, which made the trend easy to follow and naturally viral. It was also successful because of the number of things:
1. The time was right for a #nomakeupselfie campaign. The culture of selfie was already there and booming, while the trend to put a lot of makeup was fading and giving space for what the Internet loves the most: exposure and authenticity. When you see something happening at the Oscars, you know it's the new trend.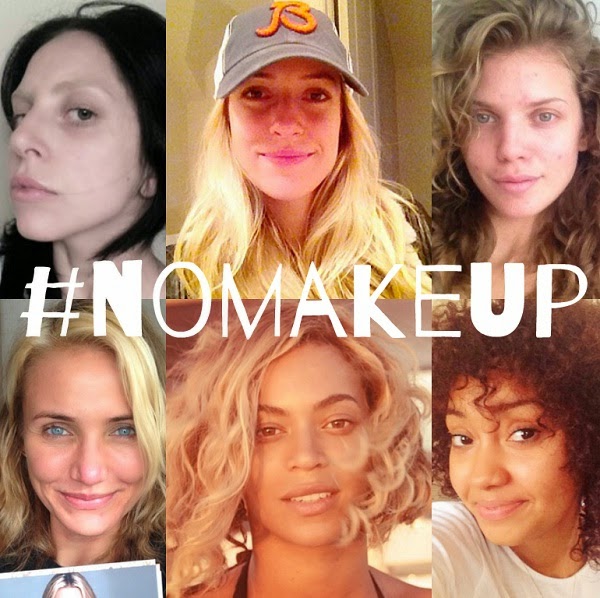 2. The campaign gave people the opportunity to do something they love – show off their beauty, while doing something good. It made them feel special and good about themselves.
3. Although the campaign was started outside of the Cancer Research marketing team, they were quick to notice it, jump on it, and promote it. Without claiming the idea!
What did this result in?
826,000 Facebook likes
140,000 Followers on Twitter
8 Million raised in donations in 1 week
10 more clinical trials able to take place
Next time you think of social media as pointless, remember this example!
2. Human Rights Campaign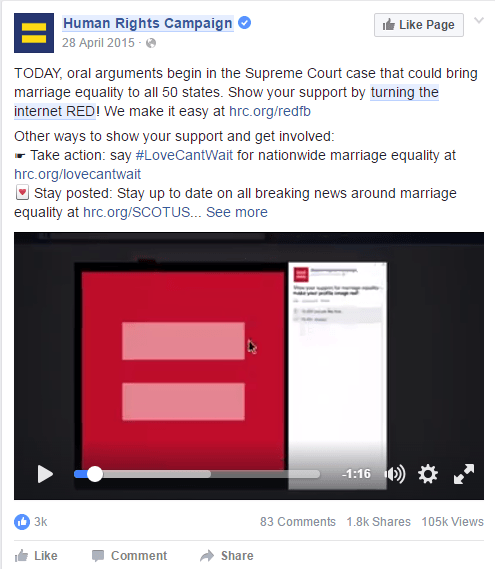 In 2015 the Supreme Court made a landmark decision regarding marriage equality. It was the HRC, who had made millions of people show their support for marriage equality and influence the decision-making process of the Supreme Court. How did that happen?
While in some countries marriage equality was a matter of voting, it didn't happen like that in the United States. Many people felt like they are not being part of the conversation and can't influence the decision that they care deeply about. On the other hand, there were people who didn't care or didn't even know what is happening at all. The Human Rights Campaign gave a voice for those who wanted one and raised awareness among the others.
During the debates, they asked social media users (basically, everyone) to support marriage equality by changing their profile pictures to the red equals sign – the organization's logo in different colors. The red equals sign image went viral. Celebrities such as Beyonce and businesses like Bud Light showed their support. Millions of social media users could see some of their friends changing the profile picture, would wonder what that meant and do the same. The engagement was huge, showing how much the American public cares about the cause.

As it happens as a result of viral campaigning, HRC's campaign got coverage from nearly every notable news organization, from the Washington Post to The Atlantic. It also got a number of design and advertising awards.
Why did it work?
1. It provided an easy way to show your opinion without getting into debates, having to type correctly or needing a reason. We're often faced with the argument "no one asked for your opinion". That's not an argument that can be successfully used on a profile picture.
2. It provided a ridiculously easy way to spread awareness. Due to Facebook news algorithm you don't always see posts of your friends – however, it's impossible to miss a change of the profile picture.
3. The ALS Ice Bucket Challenge
The most popular and the most successful charity campaign of the modern age is definitely the Ice Bucket Challenge. As the name suggests, it involved the dumping of a bucket of ice and water over a person's head to promote awareness of the disease amyotrophic lateral sclerosis. This would be filmed, posted on social media with a hashtag, and anyone could be nominated for the next Ice Bucket Challenge by being tagged on social media. This resulted in celebrities, politicians and all kinds of public figures taking part. Not only that, but the nominated person had 24 hours to do the challenge and donate the money.
Donations to the ALS Association had exceeded $100 million, and the ALS Association is just one of several ALS-related charities that have benefited from the challenge. Although the campaign received some criticism for not highlighting the nature of the disease and who's at risk and for the fact that only around 20% of those who took part actually donated the money, the numbers still make it clear that the campaign was an enormous success.
So why did it work?
1. The campaign's success is mainly attributed to what can be called "online narcissism". People create an image of themselves online that is pretty universal: they wanted to appear good, pretty and fun. The Ice Bucket Challenge made all of this possible.
2. The campaign was entertaining. It wasn't just fun for the person doing it, but also for everyone watching the short video. This increased the exposure massively.
3. It encouraged participation like no other campaign. Firstly, it gave you a time frame. Secondly, being able to tag not just friends, but any social media user, made the challenge visible to all followers of any famous person.
Summary
What we've learned from these three brilliant examples in short:
Make it super easy to participate in your social media campaign: include a #hashtag, a time frame, an encouragement for others to participate;
Your social media campaign should show off the participant's creativity, knowledge, beauty, bravery, or good personality.
Ideally, it should be also interesting to follow, not only to participate in.
If some of your followers get an interesting idea for a campaign, go with it!
Consider making a campaign around an image with no text included.
What are the social media campaigns that inspire you like these ones inspire me? Tell me in the comments!