10 Ideas for Selling Your (Unattractive) Product on Instagram and 5 more tips

Article Summary
Instagram is all about aesthetics, but does it have to be? In this article, we are sharing ideas for promoting and selling products that are far from eye-catching. Here's how to sell your not-traditionally attractive product on Instagram
Here is how to sell on Instagram
Instagram is an exceptional photo-sharing (and video) social media platform. It's young, it's extremely popular, and it's the most engaged platform after Facebook. 32% of U.S. teens cite Instagram as their favorite social network. But there is more. 53% of Instagram users follow their favorite brands on Instagram, and 44% use Instagram for product research. That's more than any other social media platform! So you need a really good reason to discard Instagram marketing from your strategy—and "my product isn't pretty" isn't good enough.
I get it: Instagram marketing can be intimidating. It seems that the only brands that can win with it should sell mouth-watering food, clothes, or beauty products. And that's pretty much it. Truth is, it might be easier for them to come up with the appropriate content, but their competition on Instagram is higher as well. Although you might need a bit more filtering and creativity to sell, say, fridges than you would sell flowers, your efforts won't be wasted. So I highly suggest considering Instagram marketing even if your product or service isn't traditionally aesthetically pleasing. And hopefully, this article will help you.
1. Post experiences, not products
Who says you have to even post your products on Instagram? I do. People should know what it is that you're selling. But you don't have to focus on your product in your images. You can include beautiful experiences that come with it. IKEA, of course, is a pro at creating these images that not only show their products but create an atmosphere and a story.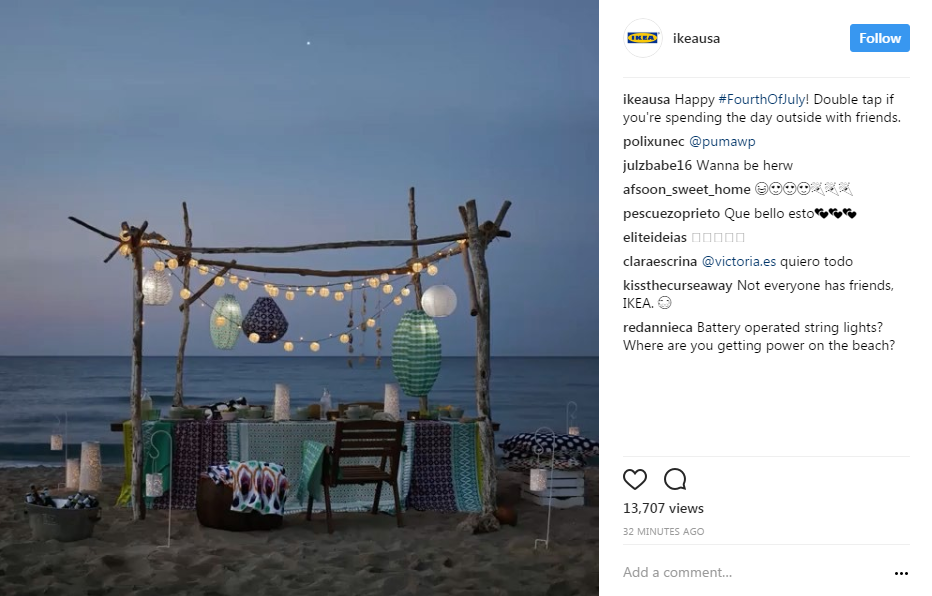 Create an appealing background for your products, and you'll see the difference.
2. Utilize Instagram tools
Instagram is made to make everything look beautiful: explore all its features (keep in mind that they're regularly updated) and experiment with your product. Some things look artsy just by being transformed with a cool filter. And they also offer special effects and editing tools. It's like there's a tiny Photoshop on your phone!
If that's an option for you, ask for some help from your creative team. They'll help you with the most visually appealing image. If not, look at the filter guide. It tells you all about filters on Ryan Gosling's example. Great choice, I think.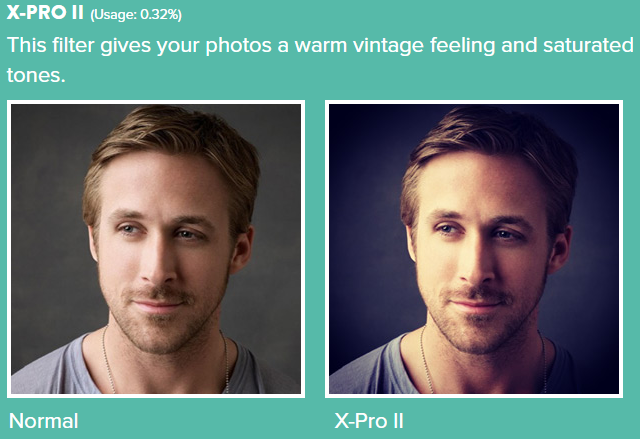 3. Feature customers using your product
People love taking photos of themselves. It's strange, really, how much people love it. So any excuse to take a photo of their own beautiful self will do. Encourage brand awareness and engagement by introducing hashtags like the #icebucketchallenge and encourage customers to take a photo with your product. For inspiration, look at American Eagle's Aerie lingerie line, which began marketing with the hashtag #aeriereal in 2014. American Eagle's raised their sales by 20%, although it has to be said that their Instagram campaign was a part of a bigger idea that included turning to non-professional models, abandoning retouching in their ads, and the overall 'real beauty' approach.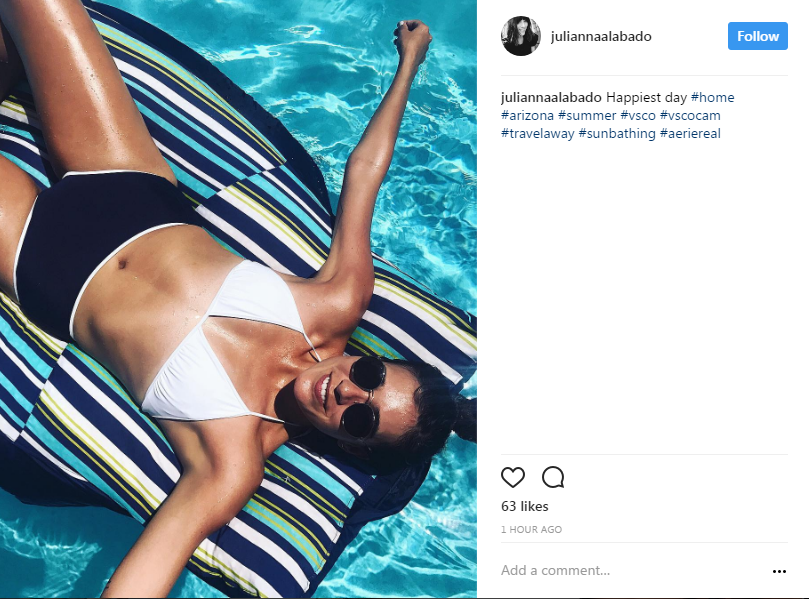 4. Utilize user-generated content
One-third of Instagram users think of themselves as photographers, which they are – I mean, it does involve taking a lot of photos. Consequently, they take photos of everything. There is a high chance that your product or some experience connected with your product is already on someone's Instagram. Now all you have to do is find it. Use Awario to find all photos on Instagram that involve your product, your brand, or any other keyword of your choosing. Gathering this content will provide your brand with social proof. You might even want to use this content in your promotion, but in this case, don't forget to ask the author for permission, and maybe a little collab.
5. Monitor your competitors
If you have doubts about how to present and advertise your products on Instagram, it can be useful to see what your competitors do. In the case of traditionally unattractive products, it'll be easy for you to find all your competitors on Instagram, as not many businesses will dare to go to an increasingly visual platform to sell let's say concrete or toothbrushes. On the other hand, it might appear that there won't be a lot of direct competitors to your brand, so you'll also need to have a glimpse at what the businesses in related sectors are doing.
It's easy to monitor all your direct and indirect market rivals if you gather them in one place and Awario can help you with that. Just add the companies' names you want to track to your next project, don't forget to add your brand's name too, and Awario will do the rest for you.
Awario will find and fetch all the data related to your competitors and provide it in the form of detailed reports. This way, you'll simply compare your brand to other brands in your business niche as well as quickly check what kind of marketing campaigns your competitors are running.
6. Add alerts to Awario
To always stay up-to-date on your competitors' marketing attempts and get notifications from them even faster than even their followers do, you need to install Awario alerts. These alerts will keep track of everything you need them to.
For this, mention the keywords related to your business niche in the product description when creating a new project. The great thing about Awario is that you can also exclude some words from your search. This way, you won't run into irrelevant to your business posts—e.g. exclude Greek gods and mythology when investigating Hermes—and it minimizes the number of post mismatches when searching twin brands such as Pink Victoria's Secret and Thomas Pink Jermyn Street London, soap Dove and chocolate Dove, Apple records and Apple computers, and many others.
As soon as you add the keywords in Awario, the app will start crawling through Instagram and pulling posts from this social media platform right into the Awario's Mentions feed. Although you might be excited to quickly find out more about your competitors, you have to give Awario some time to get through piles and piles of data and bring the relevant one. The more time it has to collect the data, the more posts it'll bring.
7. Look through top mentions
After Awario gathers lots of posts from your competitors, check out the top mentions in the left part of the Awario Dashboard. These are the most popular mentions on Instagram that have gained the most attention from your competitor's audience.
Carefully explore what's inside each post and why it is especially interesting to competitor followers. Potentially, you could copy some marketing methods to make your messages as appealing as the ones placed by the app in the top mentions.
It may happen that there are lots of posts in the top mentions. Luckily, with Awario you don't have to go back and forth between Instagram and the app to see what's inside each message. Awario cares about your time and saves it by allowing viewing all the posts right in the app—if something can be made easier, why not make it easier, right?
8. Top influencers how do they about products
Each business niche has a number of influencers who are deeply involved in the topic and know how to present it in an interesting way. For unattractive products, it can be especially valuable knowledge as you can either borrow some effective marketing methods from them or start a successful collaboration.
On the other hand, searching for relevant influencers for businesses with unattractive products can be a real challenge. You can significantly facilitate your search with Awario's top influencers.
The app searches for the best bloggers and media activists throughout the Instagram platform and gathers them in the top influencer feed tab right next to the top mentions. From there you can check the latest influencers' posts or go to the Influencer report section to find more about each one. Using the reports, you can compare Influencers by various parameters such as audience, sentiment statistics, reach, mention count, and more. This way, you'll know for sure which of them is worth collaborating with, and which aren't worth your energy.
9. Analyze Reach
Post monitoring is one of the key aspects of marketing campaign analytics. It's obvious that you need to know how well your posts are doing—whether they invoke your audience's interest or encourage them to an action you expect, be it a subscription or a purchase.
With Awario it's easy to find out if your posts reach the right audience and if your brand is popular on Instagram. Just go to Awario stats to find out more about your share of voice and reach—the more often your brand is mentioned the higher the reach. You can also measure your campaign's performance there or benchmark your brand activity against your competitors on Instagram and other social media platforms.
This will help you understand your current positioning and create your brand strategy for the coming months.
10. Engage with other Instagram users
Instagram is a lot about engagement. People and brands alike follow each other, and comment on each other's photos. Don't act as an outsider: follow brands that are related to your product, but aren't direct competitors, and engage with them. Most likely, they'll return the favor and their followers will be exposed to your Instagram account as a result. Just make sure these are likely brands your followers are interested in.
If you're serious about Instagram marketing, engage with your followers as well, i.e. comment and like their photos. Your followers will hugely appreciate that! And, of course, engage with everyone on Instagram who has mentioned your brand. This way you'll appear a lot more communicative and a lot less like a faceless business.
11. Find Instagram influencers
Instagram influencers are a modern-day phenomenon. These are people that have a huge following and whose opinions on things matter to their followers. Admittedly, these are usually fashion/beauty/travel/photography experts, so you might not find any proper influencers if you're selling toothbrushes or glue. But it's worth trying, you'll just have to get a bit more creative.
With Awario, you'll get a list of people with the biggest following who've mentioned your brand and/or your product. If there are such people, don't miss your chance! Involve them in your campaigns and promotions. This is a great way to start your influencer research without wasting hours trawling through the platform.

12. Post-Instagram-only promotions
Personalization is the way to go when you try to connect with your customers and increase sales. Come up with Instagram-only, seasonal, or other promotions—but make it meaningful.
Let people know the discount code in the image, and see your sales skyrocket! For holiday promotions, you don't have to use Christmas and Valentine's like everyone else does. Get creative and use something vaguely related to your product (or unrelated but fun). Find some holidays to celebrate here—or you can always celebrate them all. It's up to you.
13. Offer sales to commenters
Go even more personalized. Ever noticed how some people comment on product photos with something like "I need this" or tag a friend? Use this as a social selling opportunity. A simple call to action might do the trick! Or you could even offer a discount to these interested people, and bam – you've got a customer! Showing both connection and personalization is one way to draw consumers to your brand and show how much you care about them. Who said a simple message wasn't powerful!
14. Post a demo video
Instagram allows short videos, so use this to your advantage! Why not show how to use your product in them, for example? Your customers are more likely to check out a 15-second Instagram video than a full YouTube how-to video if they're not yet sure they want to buy the product. Plus, this is also a great way to engage people, give them information about your product, and answer any questions. Check out this example for inspiration: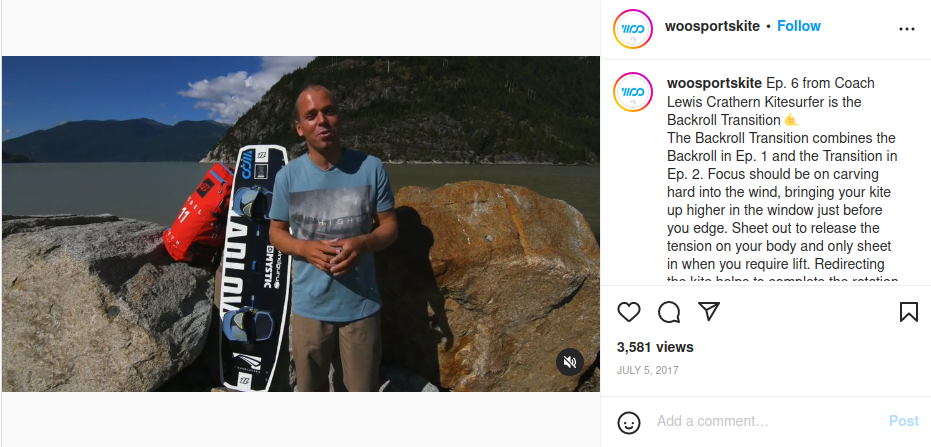 15. Use geo-tagging
If you're an actual store (not literally you, but you get it), it's really useful to tag your location. Not only will this help your followers find your business, but it'll attract people who didn't know your store is just around the corner. For example, someone may be checking out what's in the area and spot your store. But not only this. Tag other places of interest in your photo to get some love from other brands on Instagram, and share the love with return shares and follows.

Even if you don't have a stationary business or work online, you can use geo-tagging to show where your service is available and this will help increase your customer base.
Snap, snap, ka-pow! Sales knockout on Instagram
The main goals of Instagram are spreading brand awareness, building relationships, and conducting market research. However, it all depends on your marketing strategy. With the right approach, you can get to the end of the sales funnel with Instagram holding pride of place among your tools.
To reach the very best results, promote your Instagram account through email, your website, and other social media platforms. And make sure you:
Post regularly

Track post performance

Monitor Instagram trends

Track comments and use hashtags effectively

Measure audience engagement
Thanks for joining us for these top tips. Now it's over to you. What are your tactics and ideas for Instagram marketing? Let me know in the comments!