How to get more Instagram followers: 12 free and paid ways

Article summary
How to get more followers on Instagram? This is one of the biggest challenges for marketers. Searching for answers on how to grow following, we analyzed recommendations in the Instagram guides and discovered the recipe for success. Follow these steps to speed up your Instagram growth and attract more followers.
20 minutes read
Are you dreaming of a million or 5 000 active followers on Instagram?
Here are 12 legal ways on how to get more followers on Instagram. You can click any tip for more details, or read the whole article to improve your promotional strategies or create a new one from scratch.
1. Create a content strategy for Instagram and keep it

Without a clear Instagram marketing strategy and having a bunch of unique or specific ideas up your sleeve, you do not have much of a chance to grow your following.
Why are you here?
What objectives do you want to accomplish?
Who is your target audience?
What kind of content do they like?
Answering these questions, you will learn how to get more subscribers on Instagram.
Sign up for a free Awario trial
See Awario in action with a free 7-day trial. No credit card required.
By signing up I agree to the Terms of Use and Privacy Policy
For quick insights into your audience, you can use any social listening tool, for example, Awario. All you need is several keywords that describe your industry, brand, product, service, or even some feature.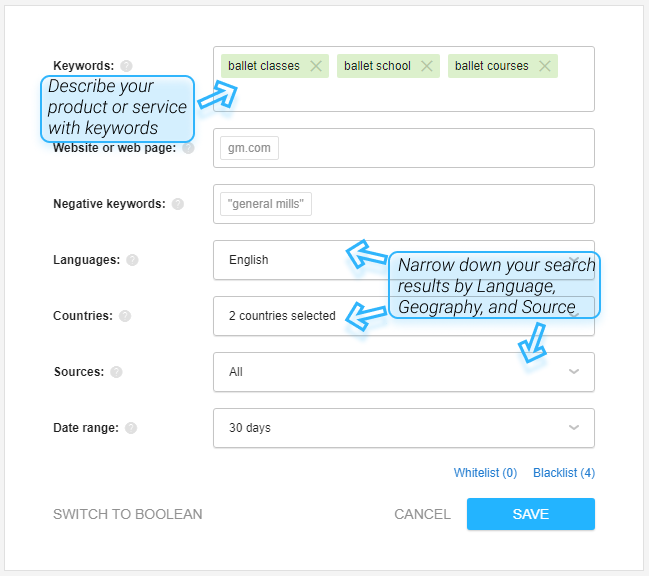 Awario searches for your keywords all over the web, including social media. After a while, you will get the portrait of your potential customers — every person who mentioned you, or your brand is subject to research — based on such metrics as Age, Gender, and Countries. Additionally, you can estimate Sentiment of their posts.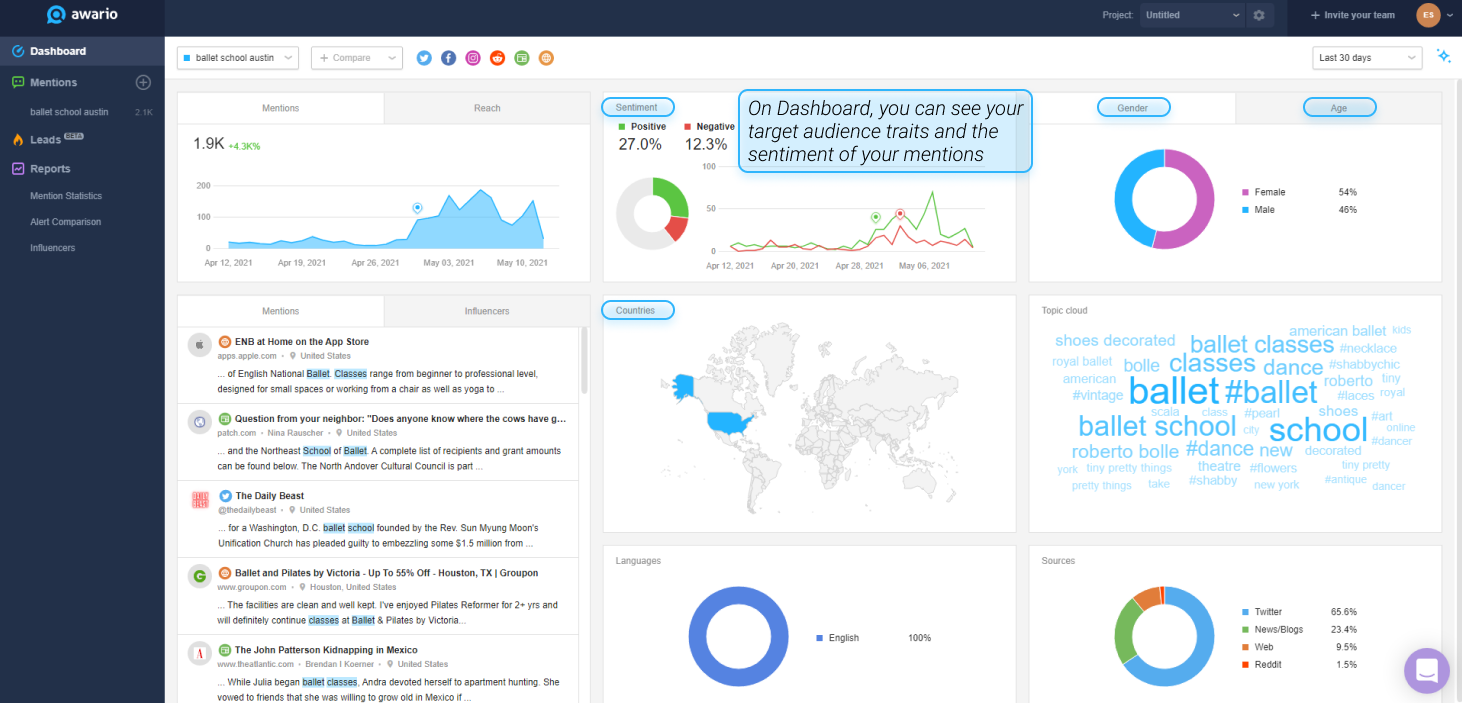 Once you have identified your target audience, it is time to create an Instagram content plan. You need to define:
when to post on Instagram and how often;
what content topics to cover;
what visuals to make;
what hashtags to use and how many.
Clarifying these points, you can specify your visual and text style, create branded hashtags, prepare and schedule an Instagram post through specific tools. It can encourage you to be consistent when posting on Instagram, which users will appreciate.
For example, this bridal dress store team created a branded Instagram hashtag encouraging the clients to replicate it under their photos. As you can see, this tactic works really well.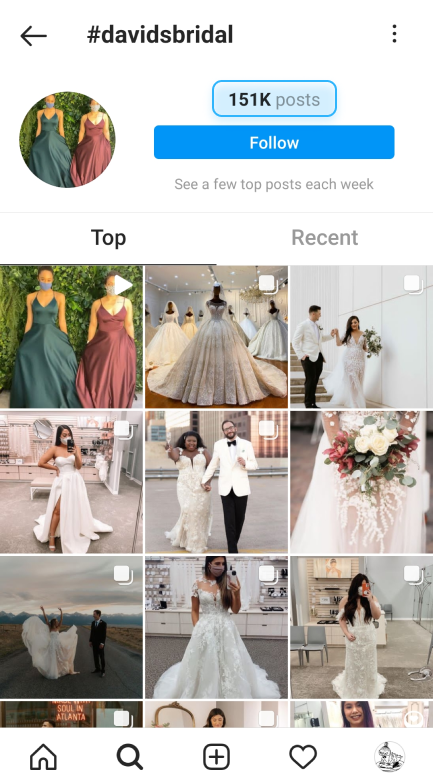 2. Optimize information in your Instagram account
Last November, Instagram upgraded search options for users in six countries, including the US, Canada, the UK, and Ireland. Now they can use not only hashtags but keywords for searching on the platform.
To bring relevant results, the Instagram algorithm considers the quality and the type of content, and the time when it was posted. It means that you should optimize your brand page to attract more followers.
If you want to see your page in the top results on the Explore tab, you need to optimize your Instagram profile:
check out your Instagram account name. It should be clear and related to your brand. Trying to avoid numbers and special characters in the name is advised. Otherwise, it will be hard to remember and recognize for users;
fill in your Instagram bio with relevant keywords. Describe what the profile is about and why a user should push Follow button. You are limited by 150 characters;
add a link to your website or landing page where users can find more information about your brand or offer. Additionally, the link will drive Instagram traffic to your web page;
encourage people to tag more, which is truly an important point, remember to tag those who you mention as well as try to frequently include your brand in collaborations, guest posts to get tagged in someone's posts more often; mutual tagging brings higher visibility, long-term partnerships and increases the number of visits to your profile;
think of hashtags as keywords, mind the words people might be using to search for your niche, your product, also consider recent news and competitors' campaigns which appeared to be popular among your target audience;
ensure your unique brand aesthetic, Instagram requires specific attention to the profile looks or focus on a feature. The visual content should be strongly associated with your brand. It's up to you in which way you will prefer to implement this aesthetic, but make sure it meets your standards an stick to it (more on this below).
Pro tip
Do you know how to add multiple links to your Instagram profile? Use services as Linktree that allows packing several links in one, which you can post in your bio. Clicking this link takes your followers to the page with other ones. It is a really great solution for holiday campaigns and several webpages promotion on Instagram.
As a business Instagram account owner, you can tag your location, share your contacts, and indicate the type of business as well.
For instance, this Instagram profile's bio contains two keywords — ceramics and pottery. The first one helped me to find the page very quickly. Think about what queries your potential followers use to find your content and add them to your Instagram bio.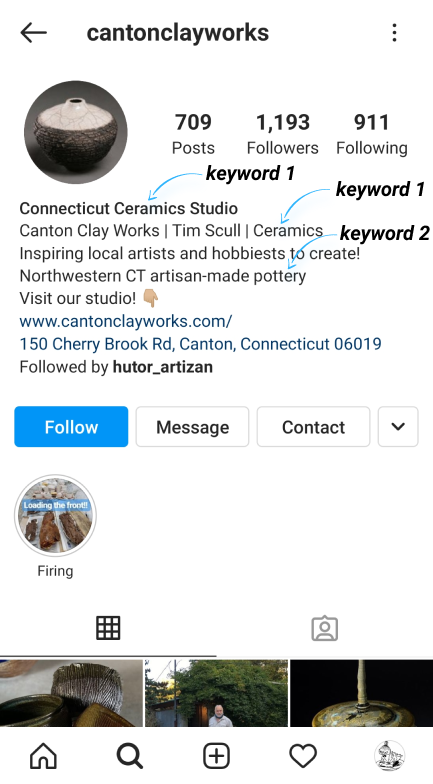 When you get started on the page optimization, do not forget about adding keywords in Instagram captions and hashtags, too.
3. Dress up your Instagram account in a branded theme
Instagram is about aesthetic and high-quality content. On this social media platform, users want to see beautiful photos similar to pictures of famous painters, not random blurry shots. Do not forget that you are competing for their attention with professional photographers and videographers. If your page looks like a big family album with photos of all times, formats, and colors, you will lose the war.
On the other hand, using glossy content can answer your question how to get more followers on Instagram. There is a plethora of themes for your home page. They are differentiated by composition, style, color, formats, and so on. Instagram relies on visuals almost completely, thus creating your own style and knowing how to wear it post by post, you undoubtedly contribute into followers' growth.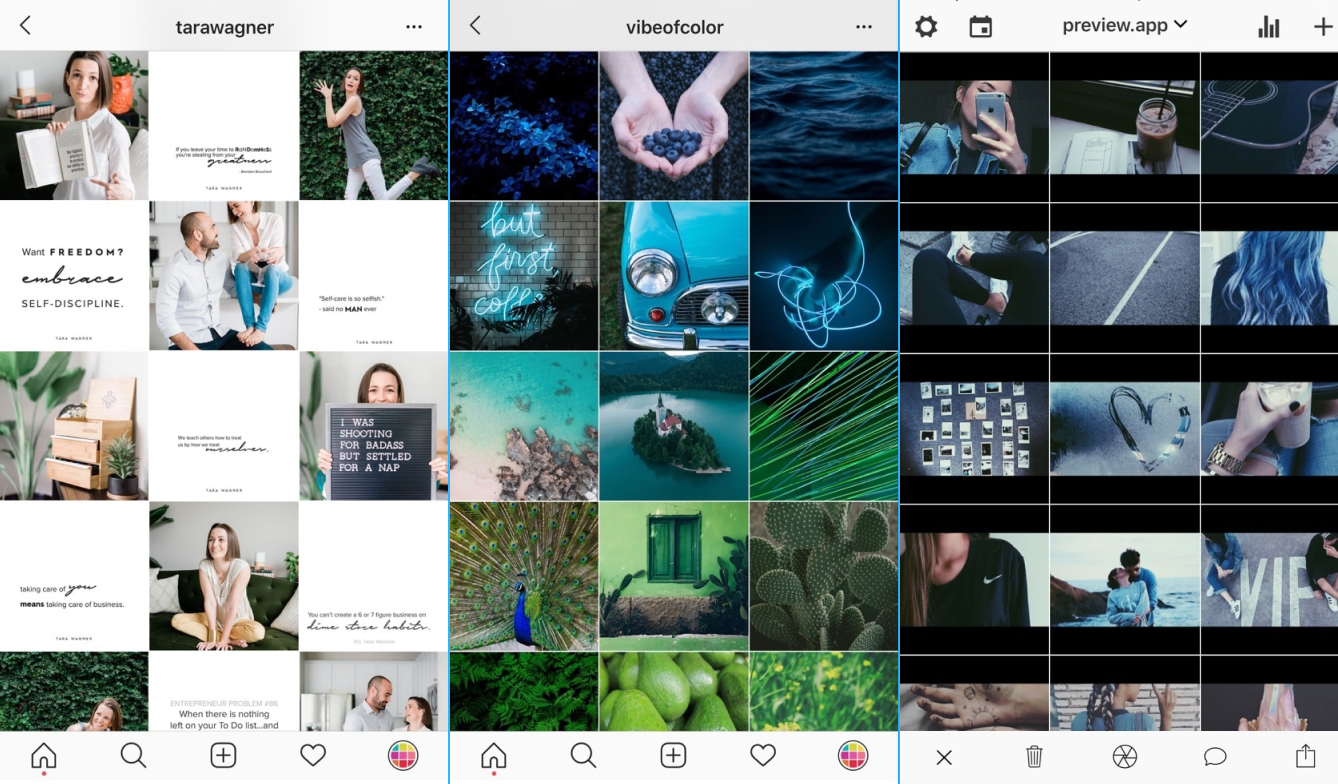 Imagine your Instagram grid is a store showcase. It should be stylishly decorated and attractive for your viewers. You can take your brand stylebook as a basis. Use branded colors, drawings and mark all content with your logo. There are no strict rules for you! Just choose your style and stick to it. It helps you to get more Instagram followers who will fall in love with your visuals.
4. Experiment with Instagram content formats
Your Instagram feed can contain different types of content. The platform provides every feature for creating enticing visuals, improving them year to year.
The Instagram algorithm evaluates your experiments positively, pushing your posts to the top of the Feed or Suggested Posts where potential users can see them.
What types of Instagram content you can use to attract organic followers:
Reels are 15-30-second entertaining videos similar to TikTok. It is one of Instagram trends now. You can shoot them to showcase your products, introduce yourself as an expert, or participate in a viral challenge (read this article if you want to learn what is Instagram Reels in more detail).
For example, this bakery company shot a short story of its business and earned tons of likes and comments.
IGTV series are ideal for guides, FAQs answering, tutorials, or other educational content. The maximum length of the video is 60 minutes.
Instagram Live session. It is a good real-time video format for online events, presentations, or industry talk shows. You can invite influencers as hosts to drive more engagement, reach, and followers. It is a great opportunity to bring an immediate focus of lots of followers on a local influencer, curious local event or happening which just can't be missed and should be broadcasted as it occurs.
Longreads in captions. You have 2 200 characters as a limit to tell a fascinating story peppered with relevant keywords for quick search. The caption length of posts between 1000 and 2000 characters is optimal. They receive the most engagement, this study finds.
Also, you can run a contest, post a meme, or infographics — all that users want to share with their friends by DMing, tagging their accounts in comments, or when they publish in their Instagram Stories.
Sponsoring user-generated content (or UGC) around your brand through a viral challenge is another way to attract new followers to your page.
Use Instagram analytics tools to measure your results and define the best formats for your business goals.
5. Make custom stickers for Instagram Stories
Nearly 500 million users create and check at least some Instagram story every day all over the world. Using this format is an answer to the question "How to get new followers?" because many Instagram users prefer to follow Stories updates rather than Feed. You can observe this even among the members of your followership.
Add stickers to their Instagram Stories, many people like this feature. Businesses try keeping up with them and provide Stories with trending and relevant additions, too. And don't do it once a week, remember that story is better to be posted every day. You can use not only ready-to-use embedded stickers but also create your own pictures and GIFs. For example, you can digitize your printed set of stickers for Instagram.
How to make your custom stickers? Firstly, select an image you want to use and save it on your smartphone as a .PNG file with transparent background. It may be your brand logo, mascot, or cool handwriting just to add your profile your brand's flair or the personality of someone who represents it. Then, you can upload it to your Instagram Stories. Read the full instruction here.
GIF stickers work even better because the searchable Instagram Sticker library can include them. Other users can find and add them to their Stories, increasing your brand awareness.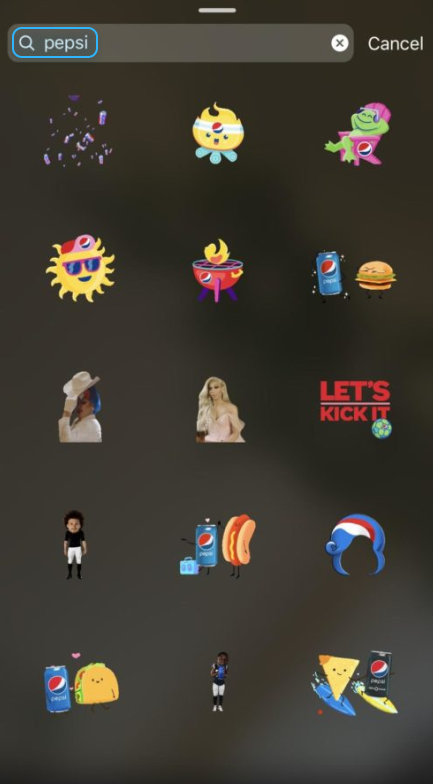 To make a GIF sticker, you need to use a special service — Giphy. Check this step-by-step lesson on how to create one.
6. Work with influencers
Top bloggers can help you to grow your Instagram following as well. I bet, on Instagram, there is a group of influencers in every business niche and category. Partnering with brands that are not your direct competitors can be fruitful, too.
Of course, you can run a paid campaign featuring celebrities as your marketing budget allows. However, collaborations with micro-influencers with 10-30K followers on average work just as good if not better.
To find influencers on social media, you can seek help from social listening tools. Usually, they select suitable accounts by estimating their audience and the number of mentions. Awario shows the sentiment of their messages — positive, negative, or neutral — around your keywords as well.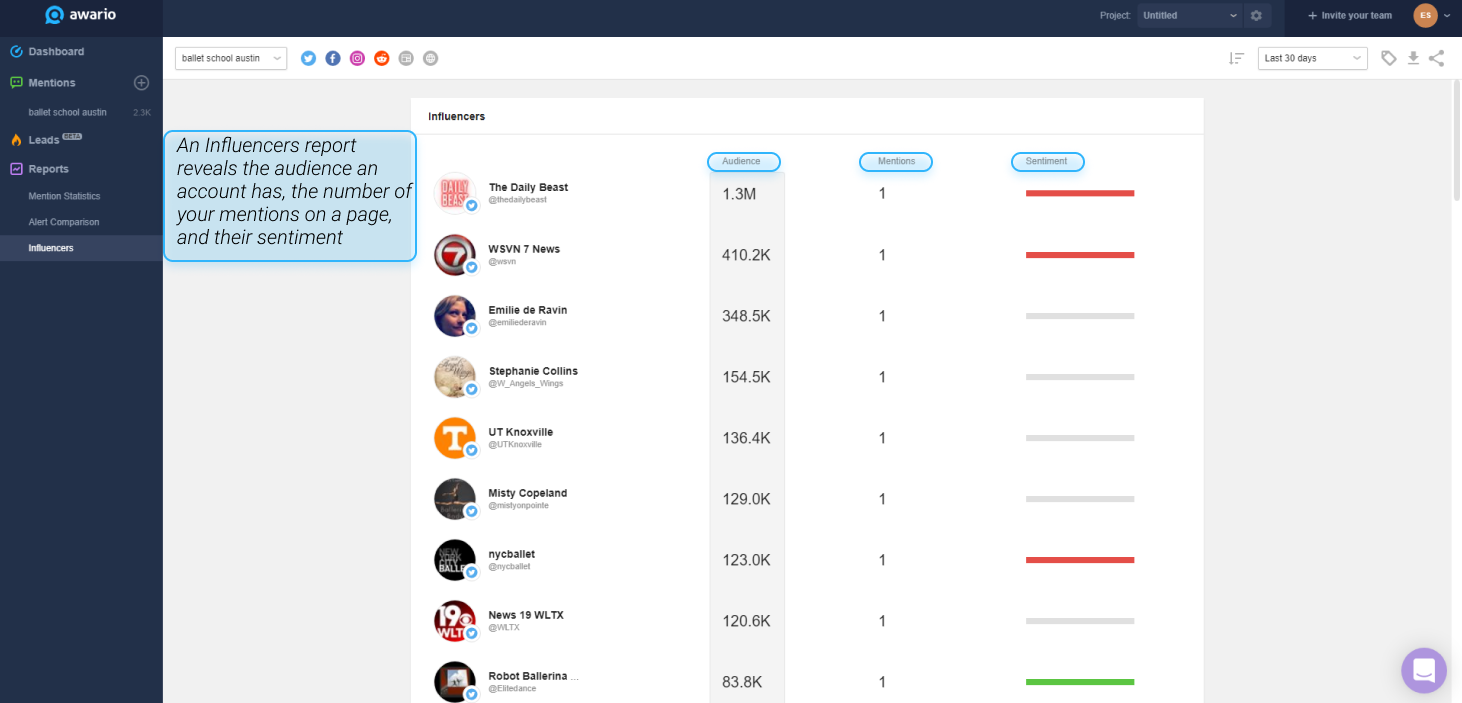 The number of followers on Instagram and the engagement rate are important criteria. However, searching for influencers, pay attention to the feel, tone, and what they value in their posts. You need to find a voice that complements your brand. The best one can reach your target audience and build trust.
Also, the Topic Cloud tab in Awario helps you discover popular topic around your subject or product. By clicking them you can see who speaks about them, thus finding new influencers who might be helpful in your strategy.
Awario has dedicated Influencers reports which can be found in the Reports tab. Here you can see the list of influencers rated by the application in accordance with your settings for each of your alerts within a chosen time period. The accounts will be ranked by the size of audience, number of mentions and sentiment giving you the overall picture to pick the ones who you can collaborate with.
7. Map out your hashtag strategy
On Instagram, hashtags design the navigation system. Your task as a marketer is to integrate your posts into it. Then, Instagram users will easily find your content by clicking on relevant hashtags in other posts or searching by hashtags that they have interest in.
Instagram allows adding up to 30 hashtags to a post but do not overuse them. Try to avoid generic words like #spring, #city, #business. It is better to choose the trending ones. Creating Instagram hashtags, focus on your topic, brand, and industry.
For example, this computer museum describes its niche with topic hashtags. Potential followers can find this post by searching for them.
Here are some tips: tricks like #followforfollowback and #tagforlikes can work on Instagram, too. However, you can't be sure in advance that Instagram followers attracted by them are your target audience.
Remember to always check if hashtags you intend to use are not banned, choose proper and popular ones, update this list all the time.
Awario can help you find suitable hashtags for your Instagram posts. Type in some keywords related to your niche or brand. After a while, go to Mention Statistics to analyze Topic cloud, an illustrative hashtag report. By the way, you can add new keywords to your alert already created and keep the results you have received earlier.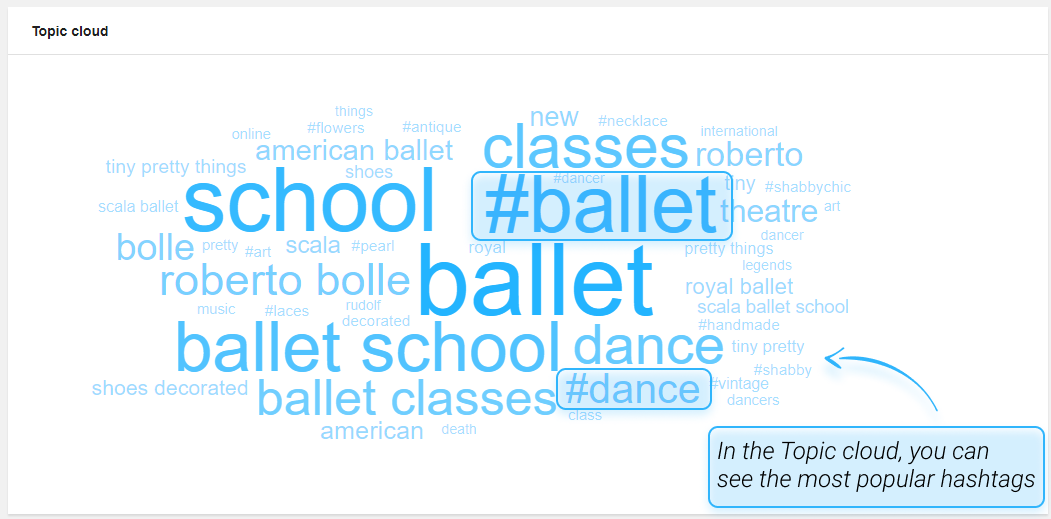 The Topic cloud shows the most frequently used hashtags and keywords on social media and the web. On Dashboard, any word in the cloud is clickable, so you can study all posts, tweets, and articles where people mentioned it.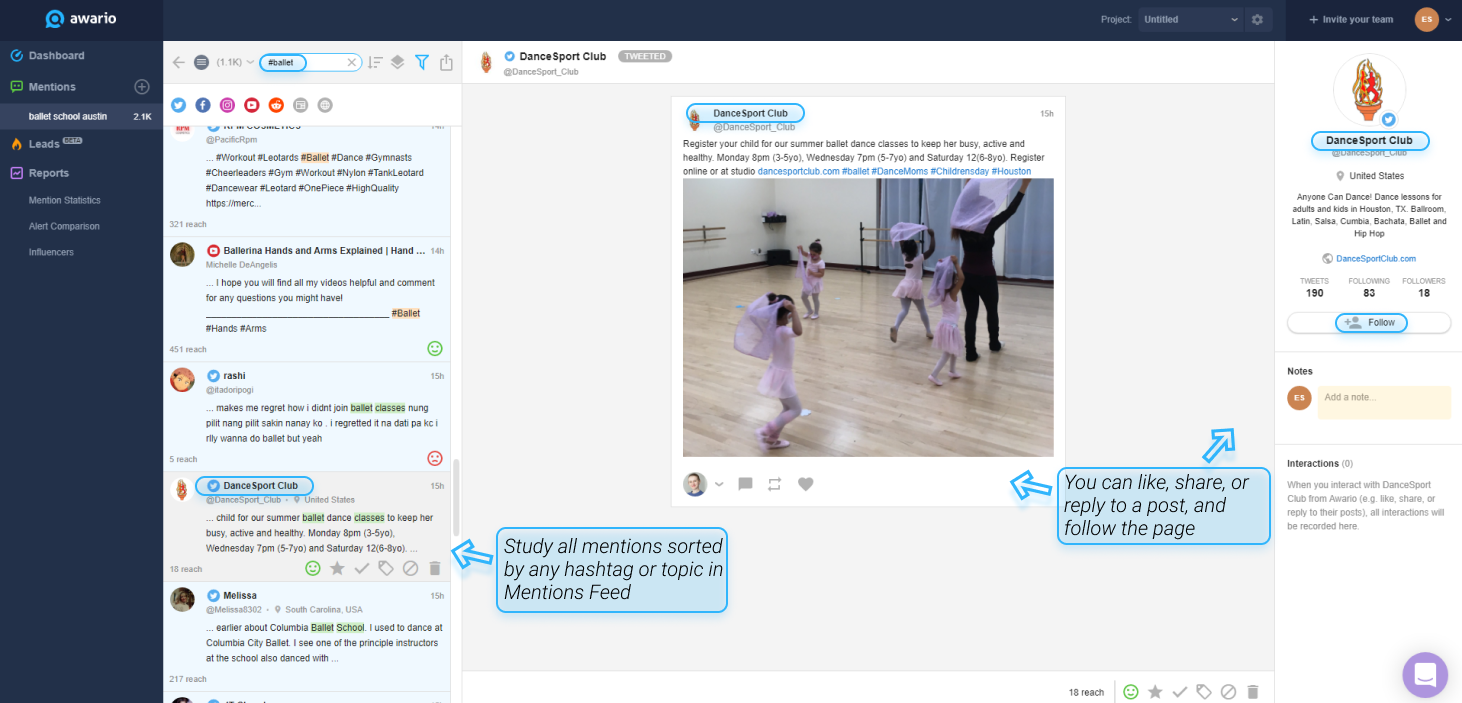 Start monitoring your brand today.
You should've been doing it yesterday – but the next best time is now with Awario.
By signing up I agree to the Terms of Use and Privacy Policy
8. Be active
If you want to grow a successful Instagram account, you need to be social on the platform. People are always interested in the personal, human side of brands. Your task as a marketing specialist is to find a unique brand voice, define its tone and the emotions that it is filled with.
Feel free to engage with your followers on Instagram, responding to their questions and replies. Take a look at how Nestle does it.
Also, you can follow other accounts — pages of your competitors or customers — to leave comments, like posts, and share user-generated content related to your brand with Instagram Stories. Tag people, for example, an Instagram influencer you want to cooperate with, or interesting Instagram profiles in your posts. Mentions always draw attention!
People will appreciate your activity if you show that your brand has a human face. However, this Instagram strategy doesn't work when you have an over-promotional account cluttered with monotonous content.
To avoid this, try to use the abovementioned user-generated content created by your followers as often as possible. That's what social networks are made for! Speak with people and share their content to encourage their future endeavors, as it creates opportunities for more activities. The campaigns comprising user-generated content are undeniably successful as they make customers part of their brand not just in a commercial but in a soulful way.
Remember to turn notifications on to provide followers with your immediate response when needed.
Answering users' comments is great, but putting some effort into visiting their pages and liking their posts or giving some shout-outs is precious and will surely be valued by your followers.
9. Try Instagram ads
In 2020, Instagram's potential advertising reach was 1.16 billion users, as Hootsuite said. One of the best formats for showcasing your product or service is Instagram Stories with a strong call-to-action. They perform better 89% of the time.
Scheduling Instagram ad campaigns, you can also choose Photo, Video, Carousel, Collection, Explore, IGTV, or Shopping ads beyond Instagram Stories. Each type of ad has a lot of CTA buttons and helps to achieve various marketing objectives, including the increasing reach of your Instagram posts among potential followers. As a result, any business can successfully promote Instagram accounts through ad tools.
10. Improve Instagram content distribution
Thinking of how to grow your Instagram following, you need to take care not only of good (and good looking) content but also decide on a distribution tactic. You content should be self-selling, informative or funny enough so that the followers whose attention it grabs hold of would want to share it naturally. It's not an easy task to do but possible, set your imagination free and animate your content's concept.
First, try to promote your posts within the social platform. There are a lot of free ways to grab attention beyond ads. For instance, scheduling Instagram posts, do not forget to use an opportunity and announce a new one on Instagram Stories or Instagram Reels. Also, you can collaborate with popular accounts and experts for mutual promotion.
Second, having other social channels will be a helper. Synchronizing your Instagram account with a Facebook page is one of the ways to gain more Instagram followers. You can share Instagram Stories or posts across linked pages in a matter of seconds. Adding a link in bio of your account on Twitter, TikTok, LinkedIn, Twitch, and other social media works well, too.
Additionally, you can use your blog to embed your Instagram posts in the articles as examples. Sharing a link to your account via your website or your email signature is a good idea, too. Also, you can announce new posts to your followers in your email newsletter and mention how to find your page via the Instagram app during online events.
Offline marketing materials also come in handy for this task. Put your Instagram nametag or QR code in your PDF presentations, printed leaflets, brochures, business cards, and even branded packaging. In the end, you can print and hang it up in your store!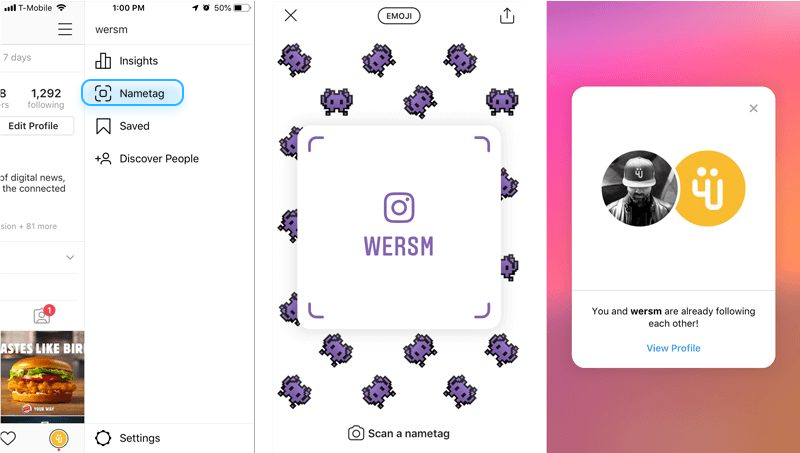 11. Be honest
Some SMM "specialists" may advise you just to buy fake Instagram followers. They justify it by saying that a potential follower won't take a look at the page with few subscribers. This is not the best of the tips, yet it's one of the highlights among bad advices.
Yes, you can get lots of Instagram followers without efforts within several days. However, instead of achieving success consistently, this dangerous Instagram strategy leads to poor results in the future and reminds us that having a close friend who you can count on is better than having a number of those who simply don't care:
You lose credibility of new followers
There are tons of pages packed with bots and fake followers on Instagram. People have learned how to spot cheaters. Boasting with lots of Instagram followers is not a social proof for them if your posts have low engagement rate.
For example, this sofa store has 3 800+ followers, but its post gets just 5 likes and no comment at all on average. This is not the result you want to get, isn't it? Real followers would bring a much more responsive reaction, and everyone will realize it straight away.
You put your money on the table without any guarantees
Your Instagram posts should work for your brand — drive traffic to your website, generate leads, increase brand awareness, and so on. Bots and paid Instagram followers won't help you to achieve these marketing goals. Also, they are extremely unreliable so they can click unfollow any minute.
Besides, the platform cleans up bots regularly. So, by buying followers on Instagram, you can throw money away.
Putting effort into establishing real relationships with your followers is the key to further development. Amicable and sincere interaction is attractive for new users. Followers know that here they will be heard, helped and even provided with some nice tips, offers, sales info and discounts, whereas becoming another follower of a fake profile or an account with low engagement will bring no benefit for a new follower as well as for the rest of those followers in the list.
Enjoying the post? There's more.
Sign up for our newsletter to get our best content by email.
12. Bonus tip
If you still haven't found an appropriate approach on how to grow a big Instagram following, listen to the story shared by a business coach Gary Vaynerchuk. Maybe his original $1.80 strategy will help you to get more Instagram followers. Spoiler: this method requires a lot of your time every day!
---
Before you go
Is a follower the king on Instagram? Both yes and no. You can rely on the number of Instagram followers as the most important metric. However, the engagement rate, comments, likes, saved posts are significant indicators, too. The more analytics you consider, the more detailed picture you receive. It helps you to improve your Instagram marketing strategies and succeed on this social platform.