4 principles for a successful social selling strategy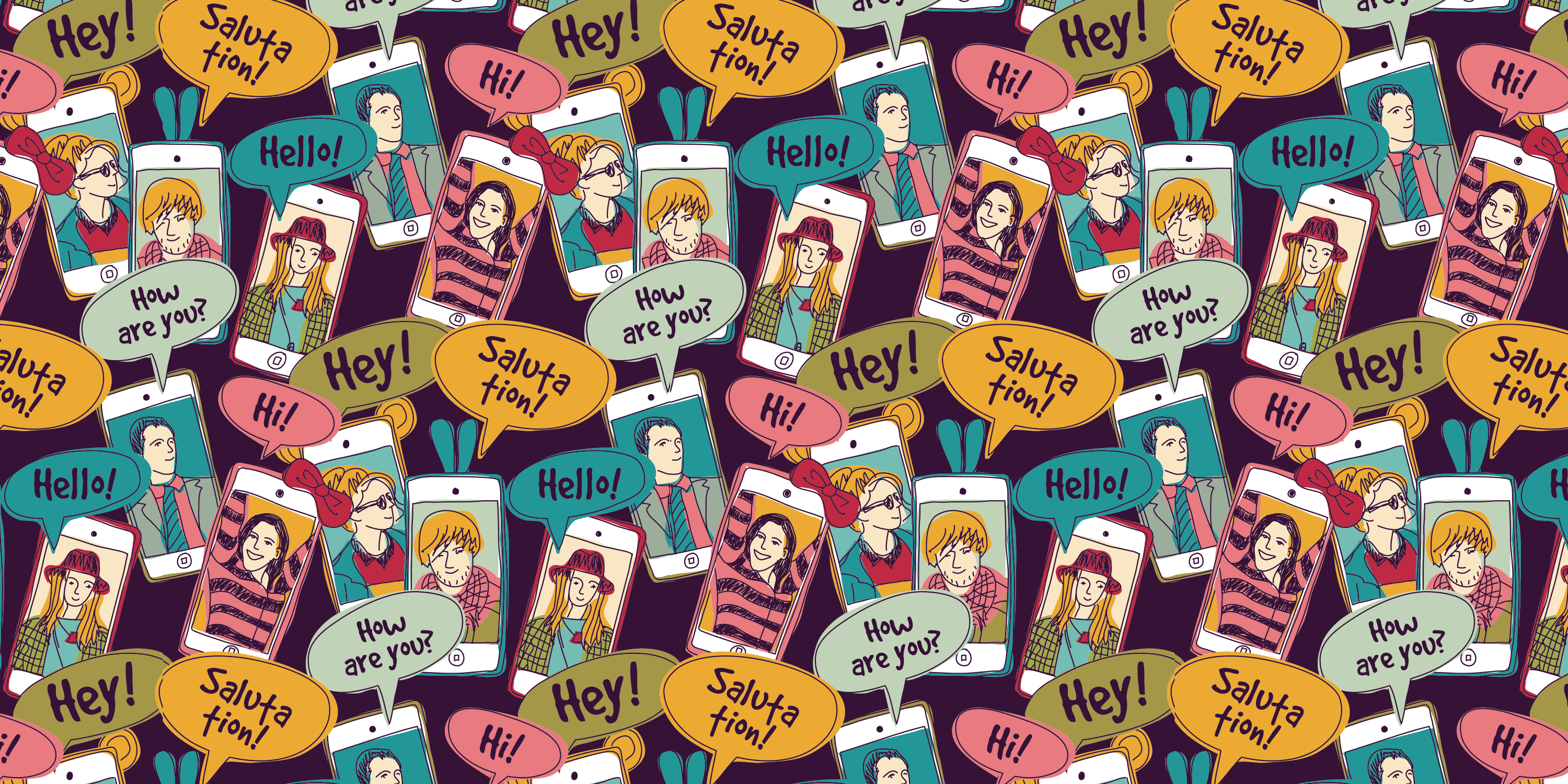 Social media marketing has been one of the most discussed topics for a long time. But despite its growing popularity, one of the most common questions companies have remains:
How do we break through the buzz and start getting leads from social media?
The problem is many businesses get drowned in too many tips and best practices, without having grasped the core principles of social selling. Let's see what those fundamentals are and why you have to understand them before planning any of your social media campaigns.
1. Listen and respond to the right people.
When you log into your Twitter account, you probably notice that your feed gets updated within a split second. No wonder, with billions of tweets sent every minute, it's hard to see how you can get through the clutter, reach out to people, and get noticed.
The solution lies in defining your target audience and then finding ways to bring their attention to your posts. Here are a couple ways you could do that:
Follow people talking about your niche topics
Using search filters on social media sites, you can actively look for and follow users of interest. You'll have to make this part of your daily or weekly routine: go to a social media website, search for relevant keywords, hashtags, product and company names and follow the accounts of interest.
Don't fall for the automated mass following of thousands of accounts - it's better to have several hundreds of real and engaged followers rather than millions of bots and spam accounts.
In addition to following people, build lists on Twitter. You can use lists to segment users based on dozens of factors - competitors, influencers, bloggers, supporters, affiliate marketers, PR gurus, etc.
Want to automate the process a bit? Set up an IFTTT recipe to add people tweeting about particular topics to your Google spreadsheet: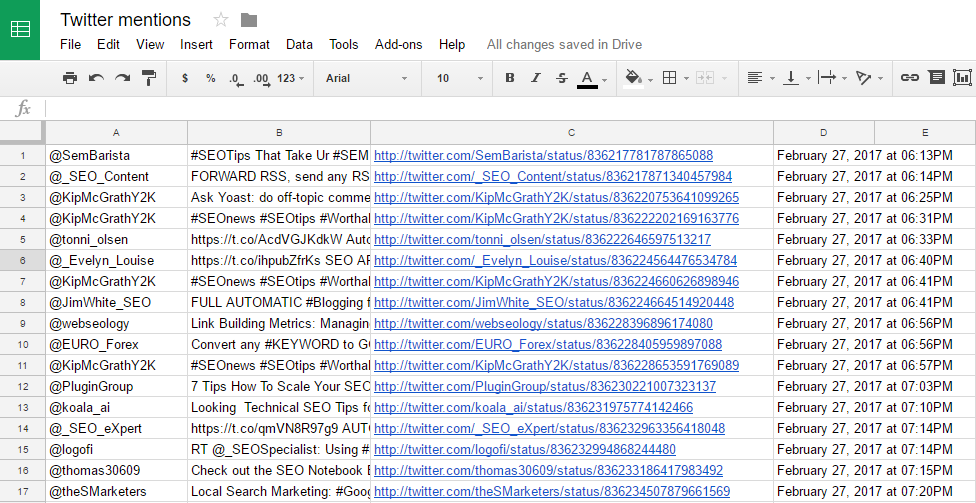 After the tool collects and copies the tweets to Google Drive, you can review them and pick accounts you'd like to follow and engage with. If you need a more time-saving solution, move on to the next point.
Set up a social media tool to collect data and send you alerts
Yep, conversations move rapidly in social media - won't it be handy to have the relevant info delivered directly into your mailbox as soon as the discussions start? The moment someone asks a question about your product, you'll get an email notification on your mobile phone and it's just a matter of seconds before you might start building a relationship with a new or existing customer.
You can use a wide range of tools to make social media monitoring more efficient. If you already have an Awario account, you're just minutes away from gathering tons of relevant mentions and conversations.
Launch the app, choose the suitable alert type, fill in the keywords and URLs, and let the tool collect the mentions: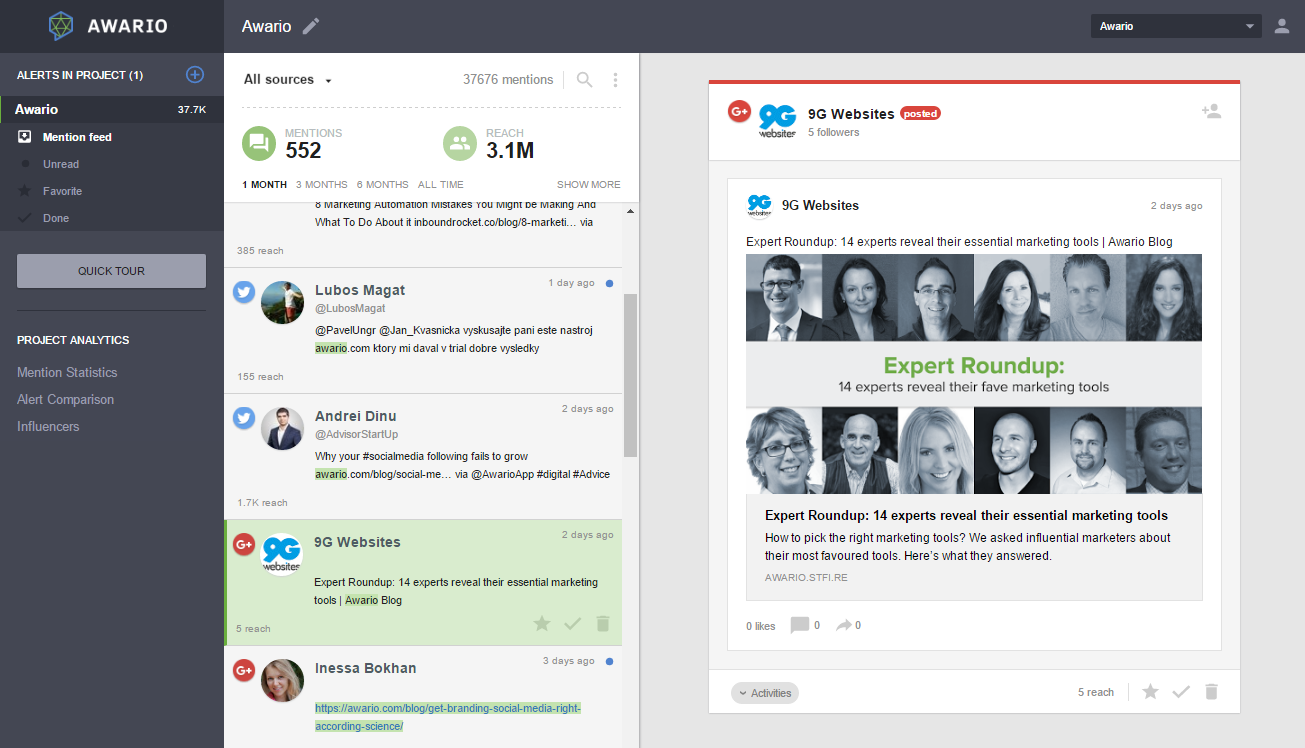 If you aren't totally satisfied with the search results (you got too many or too few), try tweaking the settings of an alert to get a better picture.
Get involved
As you start building your social circles by monitoring mentions and following people, you should start reaching out to them. Begin retweeting them, responding to questions they pose or sharing something they say that you find to be intriguing.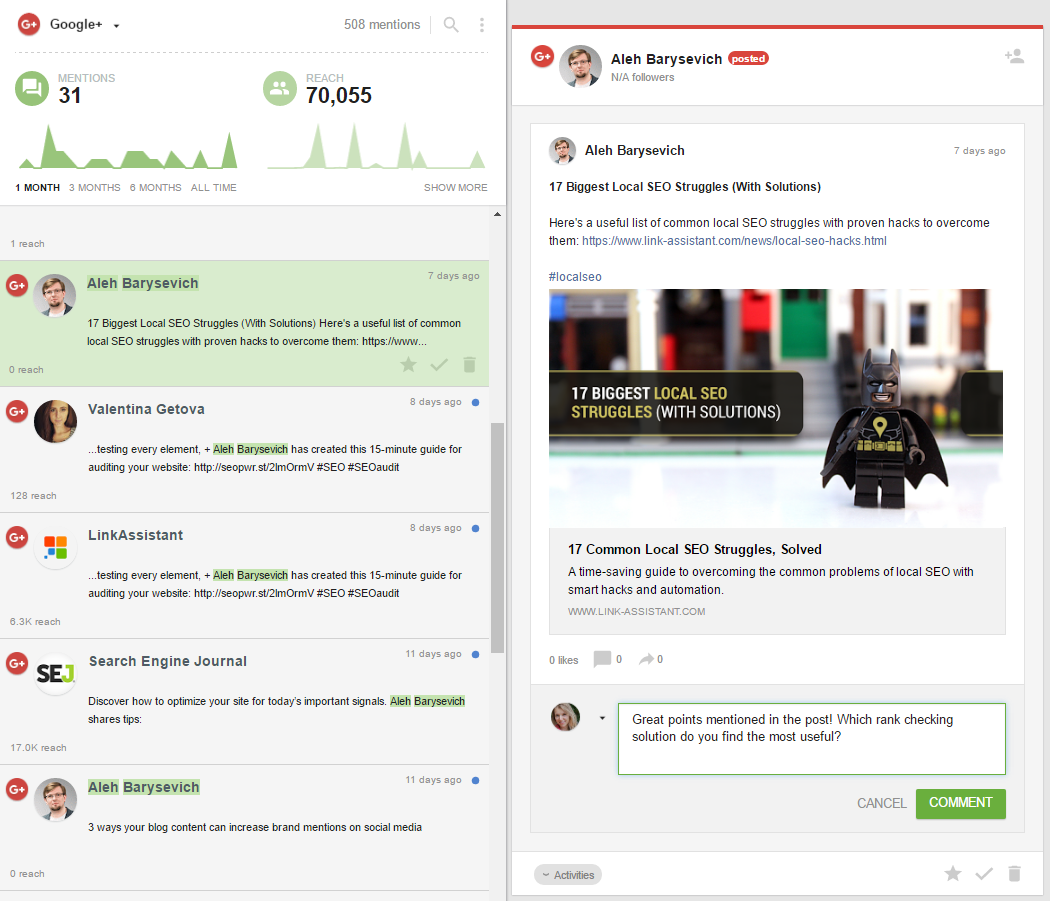 By contributing to your prospects' conversations, you build them up and add value to their network. And therefore, you build your own network with customers and influential followers.
2. Social media content marketing? Just give 'em what they really need.
Businesses spend so much time on content marketing and very often they publish sophisticated posts just to outperform their competitors (let me call that the "look, we're smarter than they are" approach).
In the end, your website and social media accounts are full of highly sophisticated studies, podcasts, and guides. But is that what your customers and users really want and need?
What they really want is often something so simple and obvious, something that would take you about a couple of minutes or hours to create and share. Want a few examples? There you go:
Answer questions
People ask questions all the time - on your pricing structure, possible discounts, money-back, goods availability, etc. You don't have to sit and wait for those questions to pop up in comments and social media posts. Instead, you can share answers to the FAQs on a regular basis.
You already have that unique and useful content everybody craves, so do not hesitate to use it.
Provide quick and easy how-tos
Let's say you make fabulous cakes - why not share some recipe with photos on Pinterest? This post, for instance, has been pinned 124.7k times: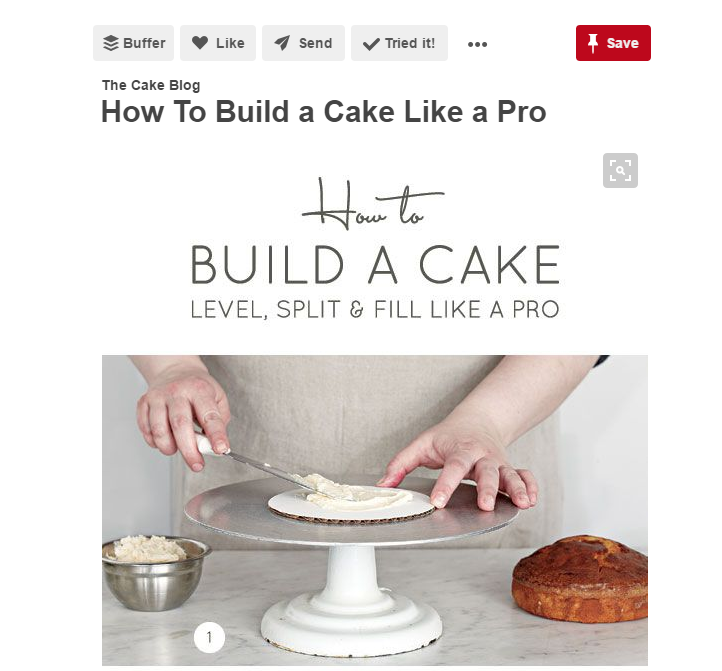 And I'm sure their traffic from Pinterest keeps growing as you're reading this blog. Again, this type of content isn't rocket science and is quite simple to create. Nevertheless, it could be hugely popular and can bring you real leads and sales.
Publish video tutorials
You're not selling cakes, but you offer professional plumbing services? Terrific! You can share your expertise in short video guides on YouTube, like these guys: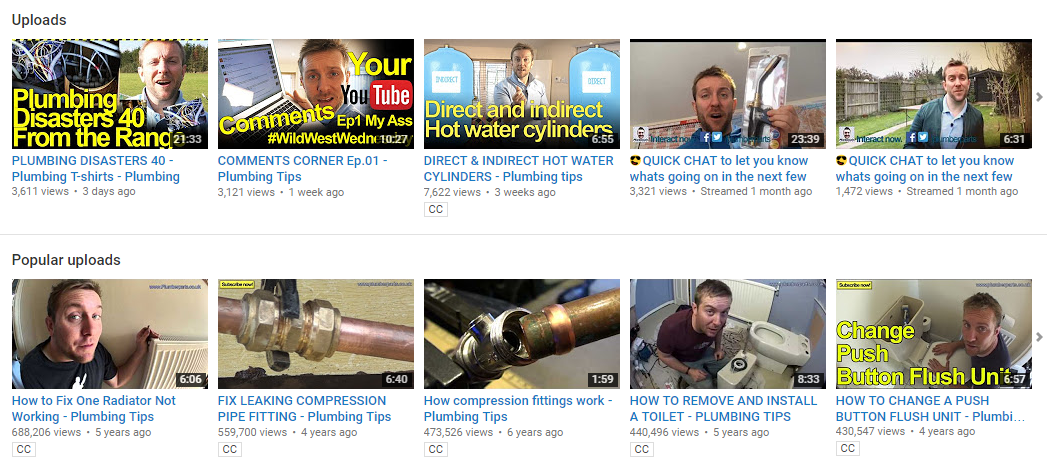 Millions of people are desperate to learn a proven way to remove and install a toilet! Now you have no "boring niche" excuses at all.
Create a mix of the different types of content and check what's working and what's not.
Last but not least in terms of content, be closer to your audience - speak their language, use emojis, have fun, and express your opinion on popular events and subjects.
3. Use paid tools on social media sites to reach more people.
Growing takes a lot of time - when you start a new Twitter account, for instance, your message will most likely reach very few people. Fortunately, you can increase your following and draw customers faster via investing into social media ads.
Before you jump to creating your first advert on Facebook or Twitter, let me remind you of the 3 probably most important things of your social media ad campaign:
Only after you strategize your social media ad campaigns, you can start working on creatives. Here are a couple of ways to take advantage of paid engagement opportunities.
Draw potential customers by addressing their issues
Blatant advertising is boring and useless. What you need is to attract attention with the help of emotions and a good way to accomplish this is to use relevant questions in your ad copy. Think about the issues and challenges your customers have to cope with and formulate your question to trigger an emotion.
Wistiki (a company that sells tracking devices) for instance asked their users if they've ever forgotten where they'd put their keys: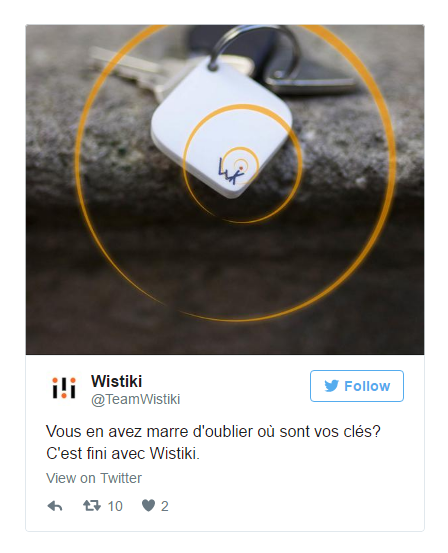 Been there, haven't you? You forgot where you left your keys right before you're leaving for the airport. And now imagine this stressful situation will never happen to you again if you start using Wistiki. Using the ad, the company managed to remind users about the tedious process of looking for one's keys and suggested an elegant tech solution to it. Eventually, the company registered a 20% increase in Web traffic.
Showcase your existing customers
People want to hear that something's really good and useful before they buy it. Why not showcase your happy and satisfied customers in your ad campaign? Surely, you'll need to get their permission first and explain how and when the ads will run. That's what Aceable did. The company sells a mobile app for drivers education and they wanted to increase app installs among teens.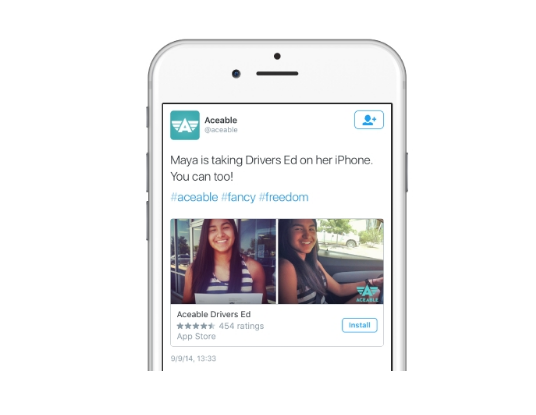 As a result, the company got 33% lower cost per install, as well as higher engagement and follower growth on Twitter.
Create localized content for your target markets
Since social media networks provide advertisers with numerous targeting options, it would be thoughtless not to try them out. You can launch creatives in multiple languages and set the target options accordingly.
If you have a physical location and want to drive visitors to your place, you can set up ads on Facebook that would be shown only to people within a short distance from you. For example, Mizzou Campus Dining launched an ad targeted at Mizzou college students: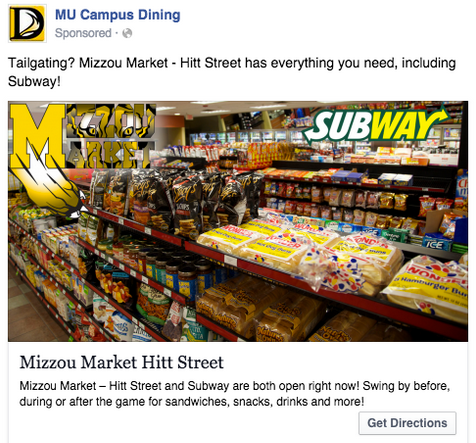 The timing was brilliant - the sports game was going on at the moment, so everyone needed their portion of snacks. If you run a cafe or a store, try using similar local targeting to reach your audience.
4. Choose platforms that are most suitable for your business
I guess you know it already that not every social media platform can be a fit for your company. Is your core customer a modern mom, a teenager, or an IT professional? That will determine which social media platform you should target in the first place.
Surely, you can find detailed descriptions of how social media platforms are different, but if you need a brief overview, here it comes.
Facebook
Not afraid of competition, are you? Then you should go for the most popular social media network with billions of users worldwide. You should keep in mind however that getting into the News feed is a challenging process and you'll have to compete with those cute kitten videos, muffin recipes, and political debates. The universal advice - create and share more visual posts - photos and videos - and you'll see your engagement rates increase over time.
Awesome Facebook pages to look through and get some inspiration:
Twitter
Topical and timely work great on Twitter. You can choose this social media platform to target younger tech-savvy users who are keen on checking news updates like all the time. You can also provide user support via Twitter and participate in chats organized by popular and influential accounts.
Here are examples of Twitter accounts doing it the right way:
LinkedIn
B2B companies can't live without LinkedIn. You can build up relationships, send messages, participate in groups and communities and publish your own articles with tips on networking, productivity, job hunting, etc.
Take a look at these LinkedIn profiles to get a better idea of what you should do:
Instagram and Pinterest
If visual imagery is your main feature or selling point, these two social media platforms would be ideal for your business. If your content covers topics such as wedding, travelling, design, fashion, foods, parenting, you can say a great deal about your products and services through stunning photos or videos.
There are thousands of outstanding Instagram and Pinterest accounts, but the following ones are really impressive:
When you decide on the social media platform(s) you're going to target, start listening for issues you can help with and share meaningful advice.
It's perfectly okay to make mistakes as you start working on social media selling campaigns, so don't be afraid of stepping back and assessing what you've been doing and which results you've reached so far. Look at the numbers and tweak your strategy to include more posts, to reach out to new audiences, to localize your content, etc. Remember that social media works only if you stay involved.