6 steps to generating more sales with social listening

In every corner of our modern culture, you'll find social media influence. Social listening is simply the art of paying attention to that influence. When you make use of the right social listening tactics, you're able to drown out the noise made by the billions of people online and pinpoint the interactions you can make use of.
Specifically, social listening is the act of monitoring the platforms on which your brand is active to collect data that allows you to react instantly, boost brand awareness, and, ultimately, generate more sales.
The difference between social media listening and social media monitoring is the taking of proactive steps in response to that data. For example, taking note of not only brand mentions but the sentiment behind those mentions.
Social listening factors
Geography
If your business operates on a local, national, or international scale, then that dictates the scope of your social listening efforts. If someone in New Zealand mentions you online, how much does that really impact you if you're only operating in Europe?
Identify the regions you should be listening to, to help manage the workload.
Industry
If your brand works in the office technology market, you should only be socially listening to that sector. The farming and pharmaceutical space wouldn't offer much actionable, relevant data to you. Even if they're speaking on a topic that's related to your brand, define a shortlist of niches you fit into in order to be a part of those conversations.
Culture
How does your target audience speak? 16-year-olds communicate much differently than you and I do! What are the cultural norms important to them? What lingo do they use? What collaboration tools do they use? This specificity allows you to identify patterns within your data.
Competition
While you shouldn't let your competition dictate your strategy too much, it's essential to know what they're doing well and what isn't working. This can help you structure your approach. Know who your competitors are on the platform and note their interactions, response time, and the general sentiment towards them online.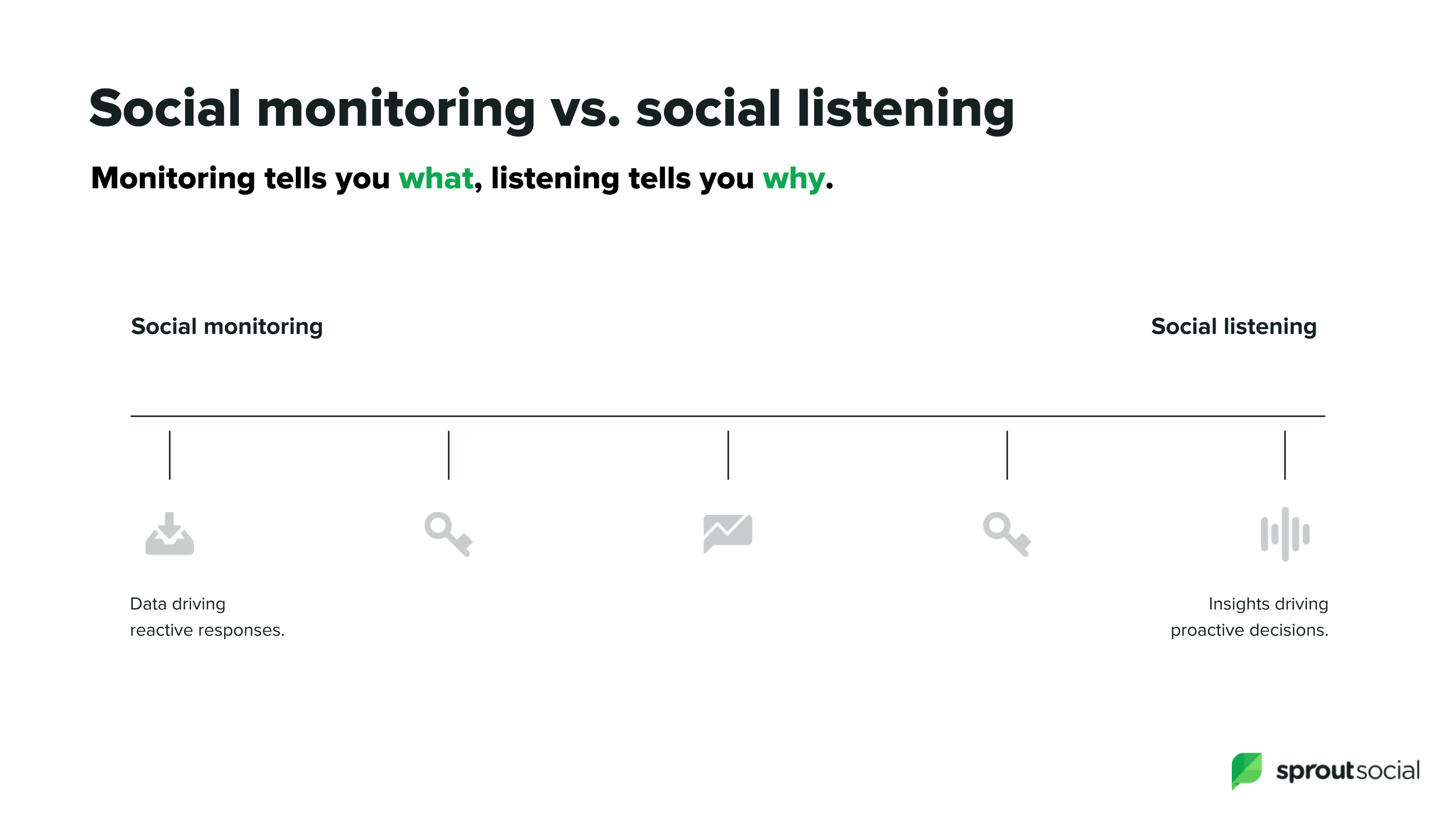 From simply monitoring sector-specific conversations to establishing a crisis management system, you need to lay out your goals straight away. For some companies, social listening is an ongoing thing; for others, it may just mean a single campaign. Your marketing team needs to precisely define what you want to achieve. They should do so by working alongside other departments like sales and customer support using contact center software because social listening can be used for:
Customer service

Brand reputation

Content generation

Campaign performance measurement

Demographic insights

Crisis management
Now that you've helped manage and define your social listening strategy, here are six ways to generate more sales or push people further down the sales funnel.
Enjoying the post? There's more.
Sign up for our newsletter to get our best content by email.
1. Locate pain points
People make use of social media all the time to express frustration. When you're paying attention, it's vital to take note of the tone. Is this gripe something that needs immediate attention? Is it not that important? Should it be addressed on such a forum?
Knowing the context of a pain point allows you to show empathy and pay it deserved attention. However, you don't want to start digging yourself in deeper when replying publicly.
Enhance marketing efforts
Marketing campaigns are always at their most effective when produced in line with the demographic profiles of your audience. And this can be revealed with proper social listening.
Take note of your mentions, your followers, and who follows them. You can then build a psychographic profile of your audience. For example, there are dozens of pharmaceutical brands offering similar products. Through good social listening, medical brand Tylenol uncovered a surprising number of knitters were complaining of migraines, discussing migraine treatments on knitting forums.
Knitting, while relaxing, puts a strain on people's eyes, which can mean migraines. In response, the brand adjusted its SEO and marketing efforts to include this new group. It resulted in increased web traffic, introducing more sore eyes to Tylenol.
Good social listening helps you uncover what your audience cares about, what they don't, how they describe products, and their cultural differences. This data is gold when refining a marketing strategy.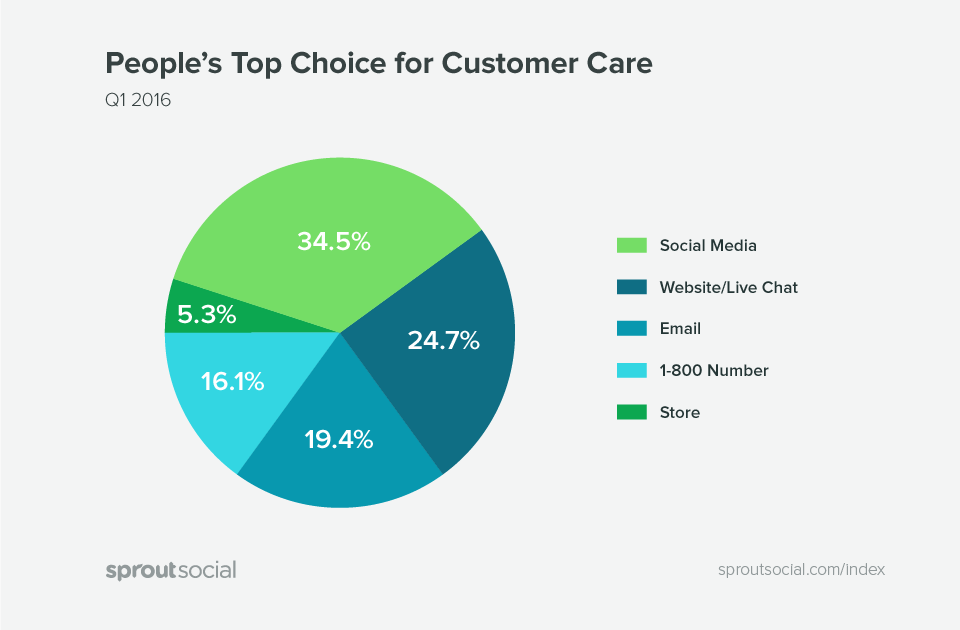 3. Boosting your brand awareness
By always having a finger on the pulse of who talks about you and what they're saying, you can interpret and defend your reputation in an incredibly competitive marketplace.
Knowing your brand's health is key to boosting its awareness. As social media is where people share their feelings freely and without any filter, it's a place you can truly find out how well your product or service is being received. Social listening gives an all-encompassing view across the conversations people are having about you.
Even if they're not talking about you directly, it's still an excellent way to target people who may find you useful. For example, if you were a teleconference company in today's remote working world, you can cast a wide net in search of those with gripes with their current provider.
Follow them, and engage next time they raise a complaint, let them know why your service is better. Tell them in 240 characters or less why your VoIP phone system for small business is streaks ahead, and encourage them with a discount code that you'll DM them.
Sure, it may upset your competitor. But if they're offering poor service in the first place, then it's they who've provided you with an opportunity. This is where the competitor analysis that we mentioned earlier comes into play. Know their weakness, and tell people why you're not the same. Customers will appreciate you offering to help, even if they weren't looking for you in the first place. Be wary of coming across as too needy or opportunist, though!
4. Build upon existing relationships
With regular social listening in place, you can build stronger relationships with long-term customers via regular interaction. Get intimate with them (no, not like that), and let them know you're there. Don't just respond to any criticism, embrace it, and promise to do better. When people outside see a brand connect with a customer on a deeper level, it gives the impression you care more about them than just their business.
If a customer reaches out happy with their purchase, set a reminder to check in again after a few weeks. Offer them a further discount if they share their experience with their network. A single purchase can soon turn into an expansive marketing opportunity if you play your cards right.
5. Convert unhappy customers
Following on from that, there's no quicker way to sour public opinion than regular negative customer feedback.
Publicly available bad reviews will instantly send people over to another vendor. Therefore, the onus is on you to reach out to those having a poor experience and offer to do better. This opens the door to a successful resolution. If you're able to react to their experience and they're satisfied with the result, you're within your rights to ask them to remove or edit their feedback in exchange for a discount on their next purchase.
You can't please everyone, but it's crucial the public get the impression that you're trying to make it work.
6. Uncover new leads by partnering with social media influencers
Love 'em or hate 'em, social media influencers have quickly become an integral part of all social platforms. All of them earn a living by sharing products or services with their vast network via affiliate marketing.
When you work alongside an influencer, you get to work within their network (which would usually be far more extensive than yours). Social listening is the key to connecting and engaging with influencers. By monitoring the relevant hashtags in your niche, you're able to find an influencer who appeals to your demographic.
Then, create an outreach campaign in the same way you did for your customers, and begin the conversation over social media. When the timing is right, reach out directly to them and come to an agreement.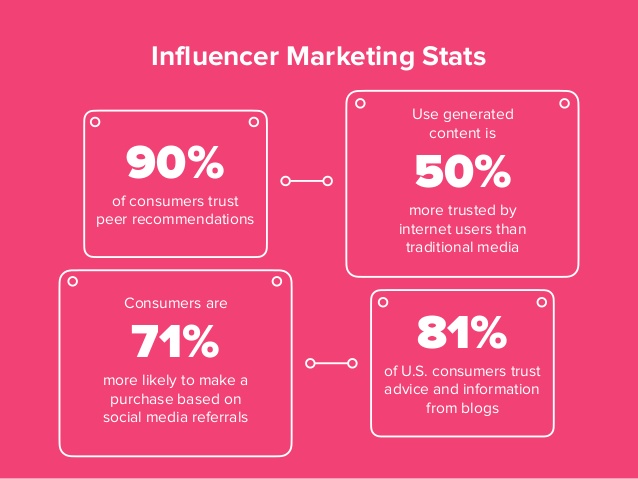 Millions of people are online at any given moment, and a fair percentage of them have the potential to become a viable lead. Often all they need is for someone to be paying attention. Having a good social listening strategy in place means that someone can be you.
Keep your ear to the ground, monitor your keywords, and be ready to jump into a conversation or lend a helping hand when suitable.
In the same breath, don't forget to take a step back and let things play out. Give yourself a chance to perceive the big picture and keep a finger on the pulse of evolving trends.
Start monitoring your brand today.
You should've been doing it yesterday – but the next best time is now with Awario.
By signing up I agree to the Terms of Use and Privacy Policy